Today we're going to discuss caskets vs coffins and what you need to know about their similarities and differences. Because while they both may serve the same purpose in respect to final disposition, there are a few key distinctions worth noting between the two.
We'll also be considering the different types of caskets and coffins that are available, as well as the price range you can expect for each.
Let's begin.
Our website is supported by our users. We sometimes earn a commission when you click through the affiliate links on our website. Learn more here.
What's the difference between a casket and a coffin?
The first thing that comes to many people's minds when confronted with this question is most likely the shape factor.
The question of "casket vs coffin" all boils down to the main, obvious fact that the two look a bit different.
Coffin Shape
Coffins are more geometric in shape, usually hexagonal or octagonal. They bear an old-fashioned design. It's the shape, really, of a human body: head, wider width for shoulders, length for legs.
The term coffin comes from the Latin term cophinus, which means "basket."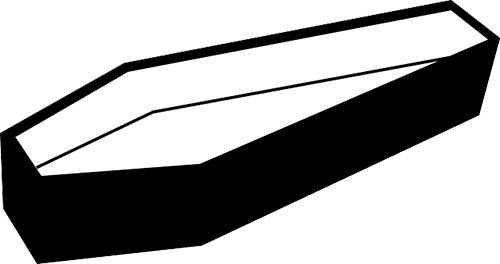 Casket Shape
Caskets by comparison have a much more modern design, but still serve the same purpose as a coffin. They are rectangular in shape and are generally round around the edges. And unlike their counterpart, their lid is often split for viewing purposes.
Back in the 19th century, when caskets first began to gain popularity in the U.S. over coffins, it was thought that their simpler, bed-like shape would bring more comfort to mourners than a body-shaped coffin would.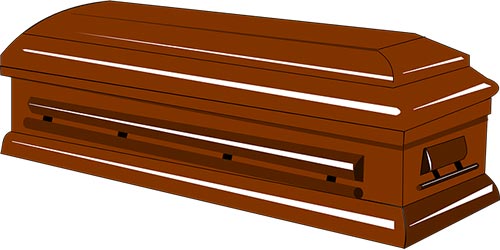 As the famed American writer Nathanial Hawthorne penned in his 1863 sketch, Our Old Home:
Caskets! A vile modern phrase, which compels a person of sense and good taste to shrink more disgustfully than ever before from the idea of being buried at all.
It's important to note that in many families and cultures, there is no such thing as caskets vs. coffins; the two terms can be interchangeable. And depending where you live, you may see more coffins than caskets, or vice versa, at funeral services.
For example, caskets are more common in the U.S.A., while coffins are still common in the U.K.
Casket vs Coffin Prices
In general, you can expect for coffins to be less costly than caskets. This is because they use less lumber and other parts to construct. They are often less ornamental than their counterpart.
Of course, many factors go into the final price of a casket or coffin. The biggest one is the material used. Both metal and wood caskets, depending on the kind of metal or wood used, can end up costing tens of thousands of dollars. A polished mahogany coffin will cost more than a plain pine one; a bronze casket will cost more than a steel one.
Also affecting price is where you purchase a casket from. It may be cheaper to purchase from a third party vendor as opposed to the funeral home. Remember, it's your right to do so.
That said, if you do opt for the funeral home, according to the Federal Trade Commission's "Funeral Rule," you are entitled to see a full price list for every casket or coffin offered to you.
Buying a Casket
Types of Caskets
There are several types of caskets available on the market today, the main ones being:
Wood caskets. These are perhaps the most common type of casket. They can range in expense, size and style.
Metal caskets. Also a very common choice of casket. Price depends on gauge and style.
Rental caskets. These are most often wood caskets and commonly rented for a service before cremation or final disposition is to take place.
Build-your-own casket kits. Typically for a simple pine casket. Building the casket yourself provides a tangible, physical way to "work out" grief through a constructive and helpful tribute. We like this DIY casket kit.
Biodegradable caskets. These are used for "green" burials and can be made of various plant-based materials.
Cremation caskets. These are often wood, fiberboard or cardboard containers designed to be cremated in the retort along with the deceased.
What Should You Look for In a Casket?
When purchasing a casket for yourself (pre-need) or a loved one (at-need), there are a few things to take into consideration.
Consider the material the casket is made of.
Consider the price and whether it can fit into your budget.
Consider any special features that may be important to you. Is it airtight? Does it offer extra padding or cushioning? Does it feature a split lid for viewing? If it's metal, does the gauge (thickness) matter to you? Does it have a "memory drawer" for keepsakes?
Consider the mode of final disposition before choosing a casket. Will cremation or burial be occurring?
Buying a Coffin
Types of Coffins
Just as with caskets, you have many options to consider when browsing coffins. Here are the most common types of coffins:
Wood coffins. As stated above, they can range in expense depending on type of wood.
Metal coffins. Price dependent upon style and metal type/gauge.
Biodegradable. Many coffins are "earth-friendly" or designed for natural burial.
The Aron. A traditional Jewish coffin.
What Should You Look for In a Coffin?
What you should look for in a coffin is much the same as what you should look for in a casket:
What is the coffin's material?
Does the price fit into your budget?
Are you wanting a simple design or would you like something a bit more elaborate/customizable?
---
As you can see, when it comes to caskets vs. coffins, there are more similarities than differences. Whether you choose casket or coffin depends on your particular taste and the needs of your family regarding the funeral service and/or final disposition.
Read next:
Pin It