What should you post when someone dies? Maybe you've lost a loved one – how do you know when it's the right time to share the sad news with the world on social media? And what do you say?
Or perhaps you know someone who has lost a loved one, and you want to show your love and support. What is ok to post on Facebook (or Twitter, Instagram, other social media)? What should you say, and what sort of etiquette should you follow?
Learn everything you need to know here. We'll also include plenty of examples of Facebook posts to share when someone dies.
What to Post When Someone Dies
There are essentially three categories of social media posts about the death of a person you know.
Death announcements
Memorial tributes
Condolences
Death announcements or death notifications must be made by the immediate family. Using social media such as Facebook, Twitter, or Instagram can be a perfectly acceptable way to announce that someone has passed away, but if you are not the closest one to the decedent (spouse, parent, adult child) the wait to post your tributes, condolences, or any other information until you know the family has made the news public.
But please be respectful of the family and friends that are left behind and missing their cherished loved ones.
Etiquette for Family
You shouldn't announce a death if you aren't the "immediate" family. The only exception would be if the family requests you to be the one to announce the event. It is best to inform other family members and close friends personally – don't let them read about it as they're scrolling through photos and status updates.
Once the news of the loved one's passing has been made public by the immediate family, then you have the freedom to share the funeral information with your circle of friends, express your grief, pay tribute to the departed, and send sympathy messages to others in the family.
Make the death announcement public only after sharing personally with close family and friends
If you're not the immediate family, wait until the news is public before sharing anything
Share memories, photos, and stories
Pay tribute to their life and legacy
Be respectful of their memory
Do not bring out grievances, failures, or embarrassments
Share the funeral information if it is a public funeral
It's ok to ask others to share photos and stories with you
Etiquette for Friends
Wait until the family has announced the death publicly before you express condolences or a memorial tribute. You don't want close relatives to hear first from you.
Comment on the grieving family's post(s) with an expression of condolences – it means a lot, and only takes a moment
If you're close to the grieving family member, also be sure to send your condolences in a private message
Focus on the positive by honoring their memory
Do not air grievances, make jokes, or share embarrassing stories
Be sensitive to the wider family; your "inside joke" might be meaningful to your small group of friends, but it may offend or upset others who do not understand the context
Share photos, videos, and stories with the family
If they've created a memorial website, write your condolences and share memories there
Be aware and respectful of private information
Think your response through and make sure it is appropriate, respectful, and free from any spelling or factual errors
Remember to only include information that anyone would be comfortable sharing with a few hundred people
50 Examples of Facebook Posts About the Death of a Loved One
While these examples are for Facebook, the same words and principles apply to all social media accounts, including Instagram, Twitter, and more.
Facebook Death Announcements
What should you write when a friend or loved one passes away? These announcements should be posted by the family of the deceased. You shouldn't post before the family announces the death.
1. It is with great sadness we announce the death of our beloved brother, Andrew. He died peacefully on Sunday, October 20, 2021. Service to be announced.
2. My heart is breaking as I announce that my Uncle Jonas has died. He was a light to all who knew him. He will be laid to rest on Tuesday, November 23, 2021 at Bleeding Heart Cemetery in Detroit. The time is TBD.
3. My family has suffered a tragedy today. My father lost his life in a car accident on I90, coming home from a business trip. I will post more as it becomes available.
4. I am sorry to announce that my grandmother has died this morning. Per her wishes, we are having a private ceremony followed by a cremation.
5. The funeral arrangements for James Aven are pending at Beck Funeral Home in Benson, North Dakota. Click on the link for more information: www.beckfuneralhome.com
6. As most of you know by now, Uncle Bill passed away last night. Once we have made all of the arrangements, I will post the information. Thank you for your thoughts and heartfelt messages.
7. Our precious grandma passed away after a long battle with cancer. If you are interested in the details of her funeral, PM me.
8. My cousin, Erin, has asked me to announce that her mother-in-law, Julie, passed away last night. The family asks for privacy at this time. They are not planning on a funeral or service of any kind.
9. The world has lost a wonderful man, but Heaven has gained him! Our beloved Uncle Jason has gone home to the Lord – he passed away on Sunday. No plans have been made at this time. All I know is he will be cremated.
10. A life so wonderfully lived deserves to be wonderfully remembered. Please join us to mourn the passing of my mom, Jane McCloud.
11. Our sister, Jenny Smith, died suddenly on Sunday, December 23, 2021. Memorial arrangements are entrusted to the Stevenson's Funeral Home in Dyer Ridge.
12. It is with sorrow that I am announcing that our beloved Aunt Macy has died. The funeral will be held at the Morning Glory Chapel on Thursday, January 15 at 11:00 a.m., followed by burial at the Morning Glory Cemetery. Aunt Macy will be laid to rest next to her mother.
13. The Declan Family announces the loss of their father, Sam. The visitation will be held Sunday from 1-3pm at Langley Funeral Home in Cavalier. Cremation will follow.
14. We mourn the passing of John Glidden. Feel free to comment below, but beyond that our family asks for privacy at this time.
15. In loving memory of Salvatore Morales, we are saddened to announce his death on Saturday, July 15. Mass will be said on Sunday at Sacred Heart Catholic Church. There will be no burial for his cremated remains.
More: How to Write a Death Announcement
Facebook Memorial Tributes
This would be something you would post after the announcement has been made. Whether you're a family member or a friend, if anyone wants to pay some sort of tribute to the person who has died, these are examples of what they could say. Don't ask any questions concerning the death just let the family know you are thinking of them.
16. Jimmy H. was a wonderful friend to our family for over 35 years. He was a vital part of our community and will be greatly missed.
17. Henry was my best friend, and I'll always remember him.
18. Our family has some beautiful and funny memories of Aunt Phyllis. I'll probably share some of the funny memories later, but for now we mourn and honor her amazing life. Until we all meet again…
19. Jonah Brach was a strong and caring man. He will be missed by all who knew him.
20. Charlie was always the life of the party. No-one could tell a joke like he could.
21. There will never be another person like your mom. Her laughter was infectious.
22. Sally was the best friend I could have asked for. She took all of our secrets with her. I will miss her until we see each other again.
23. Robert will be greatly missed by me and all who came to know and love him.
24. Janice was a beautiful person – both inside and out. I will never forget her.
25. Margaret, your dad was one in a million. You were so lucky to have him. You should be proud of the legacy he has left behind.
26. Your grandmother adored you so much. Never forget the love and the bond you two shared.
27. Uncle James was my favorite! He treated me like I was his own daughter instead of his niece. I will always love him.
28. Even though Lawrence is no longer physically here, his spirit is always with us.
29. Matthew was a wonderful father and husband. My heart is hurting at this great loss.
30. Your son was the light that held back the darkness. My life will never be the same without him. He was truly a hero and his death will be felt by everyone he's left behind.
More: 50 In Loving Memory Quotes & Messages
Facebook Condolence Messages
These are condolence/sympathy messages you can say to your grieving friends on Facebook.
31. Thinking of you, Sarah. I am so sorry for your loss. If there is anything you need, I am just a text or phone call away.
32. I would like to offer my support to the Miller family during their period of grieving. We are all saddened to hear of Mark's untimely death.
33. Sending my condolences and love to your family at this tragic time. Nothing can replace the love you two shared.
34. We are sending our love your way. Cherish the memories you have.
35. Please know that we are holding you close in our thoughts and prayers.
36. There are no words to express my sadness for you and your family. Just know that my heartfelt sympathies are with you.
37. You are not alone in your grief. My family is here to support you.
38. I am praying for you during this time of loss.
39. You have my deepest condolences on the passing of Bob, and we are all here for you.
40. My sincerest consolations for an incredibly sad loss.
41. From your "office family"; we offer you our encouragement, love, and condolences.
42. May your brother R.I.P. for all eternity.
43. Jerry, you are in my heart and mind this morning. I will miss your mom, too. She was a wonderful lady.
44. Wishing you the peace that passes understanding.
45. Remember, the Lord is close to the brokenhearted and saves those who are crushed in spirit. This is His promise to us.
46. Appreciate the good memories you have of Bobby. You have fifty three wonderful years to pull your memories from.
47. I find it hard to believe Roger is gone. He loved you so much. Keep that close in your heart. I will miss him always.
48. I am sorry for your loss. I know you are hurting, and I am here for you.
49. May the happy memories you have of your brother help you through this dark time.
50. Nothing can replace your friendship with Nicky. He was that special someone we all wish we had. We were all lucky to know him.
More: 101 Best Condolence Messages
Death is a part of life. Eventually – we will all have to deal with a friend who has lost someone. Knowing what to say or post could bring the comfort to a grieving friend that they need.
Here are some more resources for what to say in response to a death: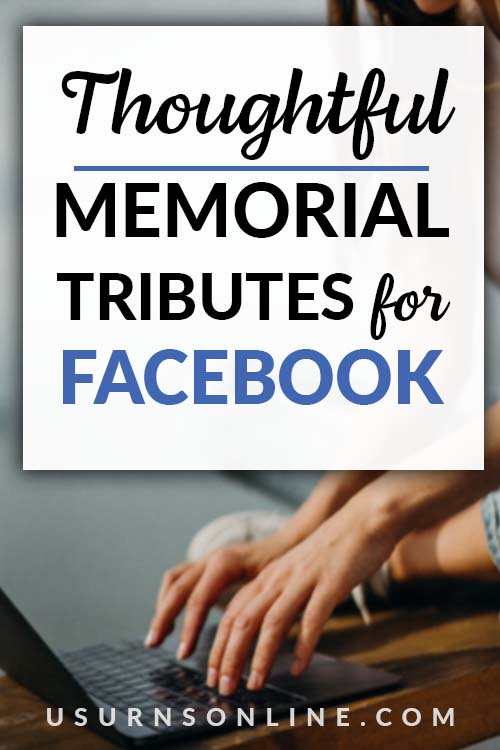 Karen Roldan has been in the funeral industry since 2006, and a licensed funeral director and embalmer since 2008. She is currently licensed in the states of Indiana and Pennsylvania.
She attended Worsham College of Mortuary Science in Wheeling, IL, and graduated with an associate degree in Mortuary Science.
Karen enjoys wring about the funeral industry because her passion is helping families in their deepest time of need. She feels being a funeral director is a calling and she is proud to fulfill this role.
Karen is a wife and the mother of four sons. She, her husband and their youngest son call Pennsylvania home.