Motorcycles give people the feeling of freedom. Open the map, choose your destination, and go! The wind enfolds you even as the open road calls you further.
Motorcycles are fun to ride; there isn't a motorcyclist that would disagree with that. The incredible adventure that comes with an open-air ride is unrivaled.
People that ride motorcycles LOVE their bikes.
We have put together an exhaustive list of the best motorcycle urns we could find. So if you are looking for an urn, you've come to the right place.
Best Motorcycle Urns
Our website is supported by our users. We sometimes earn a commission when you click through the affiliate links on our website. See our privacy policy & disclosures for more information.
1. Wall Mounted Motorcycle Urn Plaque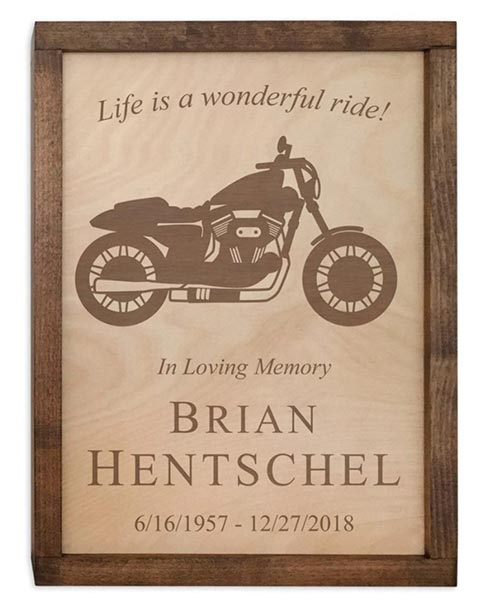 Our motorcycle wall-mounted wood cremation urn plaque is the ideal way to honor someone who loved to ride. The plaque is handcrafted in Oregon, and is a very subtle way to honor your loved one while safely storing their remains.
This design is laser engraved with a motorcycle silhouette and "In Loving Memory." In addition, you can add a name, dates, and other custom text to complete this urn.
This wooden urn is 3″ deep and will hold the cremated remains of a person who weighed up to about 237 lbs.
2. Road Home Motorcycle Urn with 3-Dimensional Inlay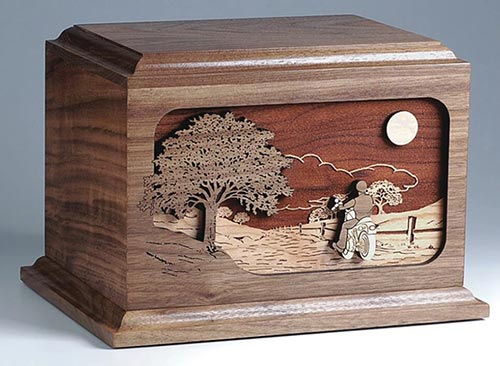 Our beautiful, timeless hardwood urn comes in walnut or oak and is layered with various laser-cut hardwoods to give it its color. The Road Home Motorcycle Urn can be engraved with a name and dates on the top or back.
This urn makes a great memorial to your loved one. You can keep this urn at home, place it in a niche, or bury it.
3. Motorcycle Tank Urn
Remember the motorcycle enthusiast in your life with this Motorcycle Tank Urn. You can customize the elegant bust with the attached engraved plaque.
This urn is made from cold cast resin and has a shiny bronze-tone finish. You can create a beautiful memorial for your loved one with this Motorcycle Tank Urn.
4. Heartland Motorcycle Urn with 3-Dimensional Inlays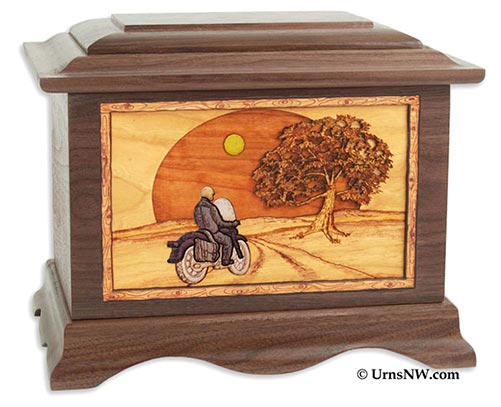 Our solid wood Heartland Motorcycle Urn is a truly artistic way to honor your motorcycle enthusiast. This urn features a 3-dimensional laser-cut wood inlay scene of a rider headed into the sunset.
Each piece of the scene is carved from genuine solid wood in its natural color, then etched for detail and layered together to create a sense of depth and dynamism.
These urns are crafted from a choice of premium wood: mahogany, oak, walnut (as shown), or maple. You can add your loved one's name, dates, or other inscription.
5. Motorcycle Engine Urn Tower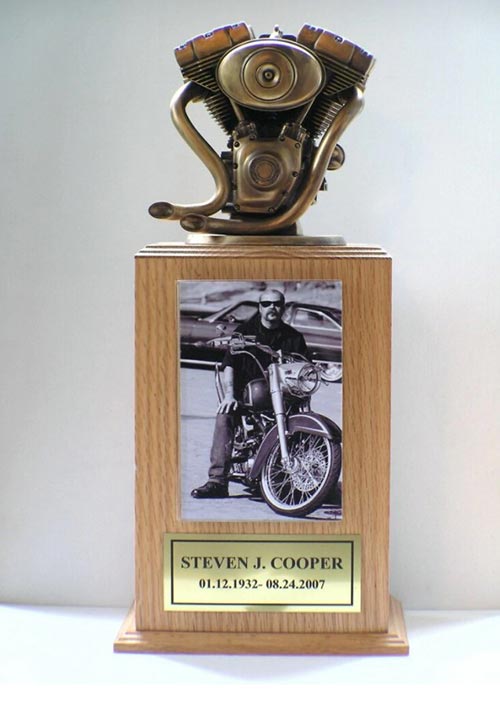 Wow! Our Motorcycle Engine Urn Tower is the perfect memorial for the motorcycle lover. This stunning urn comes in oak, walnut, or cherry. It features a highly detailed motorcycle engine bust. In addition, you can choose from a bronze or silver finish.
Additional options for this motorcyclist urn include a 3″ x 5″ or 4″ x 6″ photo holder. You can place a photo or logo card of your loved one's bike. You also have the option of a personalized nameplate.
6. Final Ride Motorcycle Engine Keepsake Urn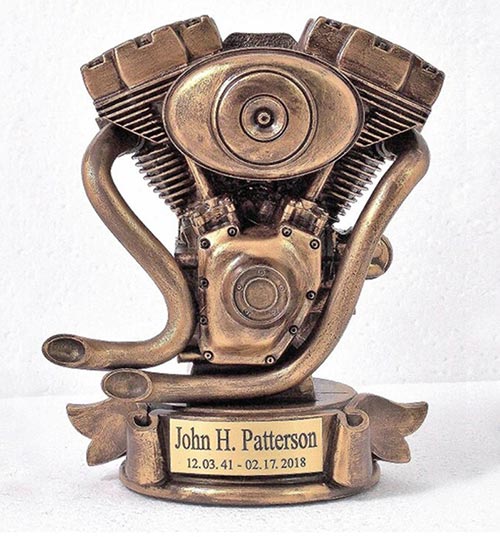 The Final Ride Motorcycle Engine Urn is the right size to save a smaller portion (10 cubic inches) of cremains. Our urn is made from cold cast bronze and will last for years.
The urn arrives with a nameplate, custom-engraved with your loved one's name and dates. This is a genuine motorcycle lover's urn.
Learn: What Size Urn Should I Get?
7. Biker Urn Bust
Superbly crafted from cold cast resin, this motorcycle urn is a fitting tribute to any biker. The urn is hand-painted with a bronze finish that is burnished to a high shine.
The cremains are held securely in the urn with a rubber gasket and several small screws. You can display this beautiful piece in any room of your home.
8. Motocross Urn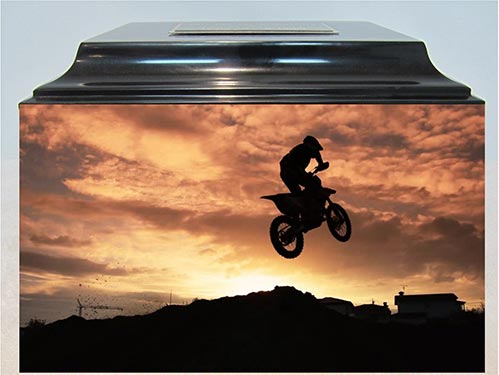 This is a full-size urn made from polyresin and fiber composite with a colorful image of a biker's silhouette jumping into the golden sunset.
Being made from poly-composites (not heavy cultured marble), The Motocross Urn is extremely lightweight but very strong.
This urn is a wonderful tribute to anyone who is a motocross buff.
9. Last Ride Metal Motorcycle Urn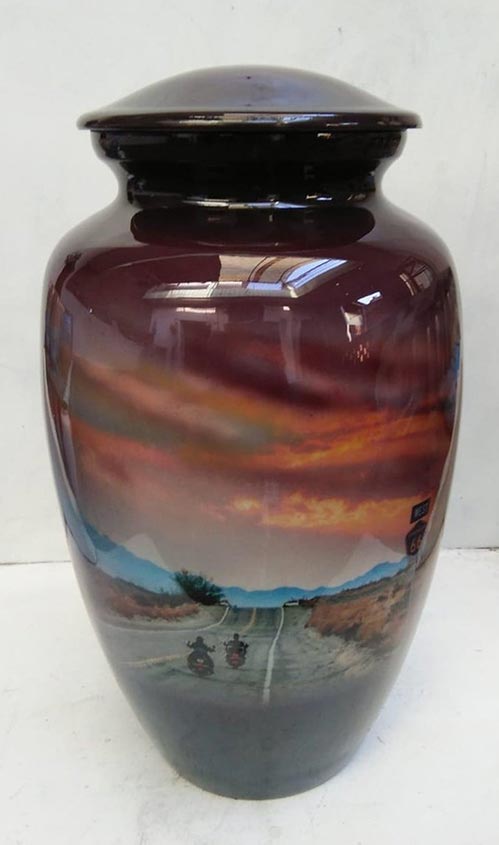 The Last Ride Urn is dedicated to anyone who loved the open road and motorcycles. This gorgeous and colorful metal urn portrays two bikers riding along Route 66 into the sunset.
The Last Ride is perfect for displaying in your home or placing in a niche.
10. Motorcycle Gas Tank Ceramic Urn
This ceramic Motorcycle Gas Tank Urn is for bikers whose motorcycle is more than just a pastime. This urn is so unique and very attractive. The red gas tank urn is a charming way to honor your loved one.
11. Motorcycle Riding Home Urn with Barn 3-Dimensional Inlay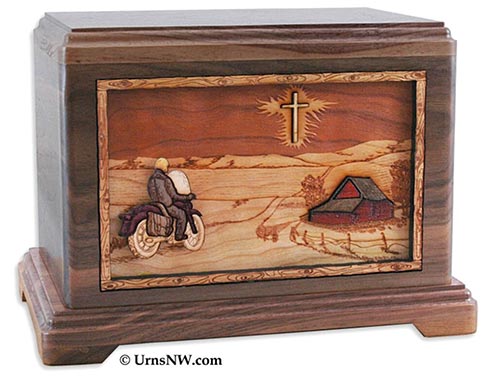 Our Motorcycle Riding Home Wood Cremation Urn is a great way to pay tribute to anyone who enjoyed riding. This urn is designed with a 3-dimensional inlay wood art scene. The scene is composed of various hardwoods in their natural colors, and the urn box is hand-crafted from your choice of solid oak, mahogany, maple, or walnut (pictured above).
You can add personalization to the top of the Motorcycle Wood Cremation Urn, and it also includes your choice of a flaming cross in the sky (as shown) or a simple setting sun figure (as seen in the next memorial urn).
12. Motorcycle Riding Home Urn with Mountains 3-Dimensional Inlay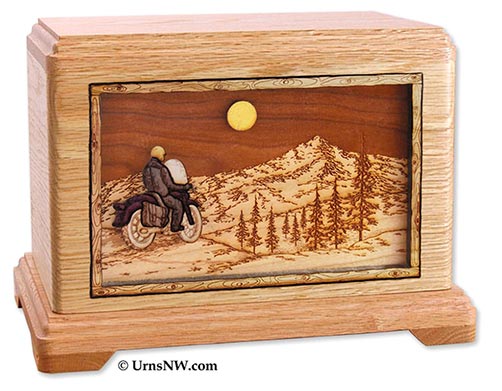 You can choose to have your Motorcycle Riding Home Urn With Mountains made from solid oak, mahogany, walnut, or maple. The inlay art scene is created by using cherry, maple, oak, and walnut, layered to create a 3-dimensional feel.
This hardwood urn is handcrafted in the USA, using skill, precision, and the finest materials.
13. Motorcycle Urn Necklace
This stainless steel cremation jewelry piece pays homage to any motorcycle lover. The impressive craftsmanship makes this motorcycle pendant a lovely gift.
The bottom of the motorcycle pendant has a tiny threaded stopper, which allows access to the inside where you can store a very small amount of cremated remains. You will be able to keep your loved one close to you at all times.
14. Motorcycle Urn Bell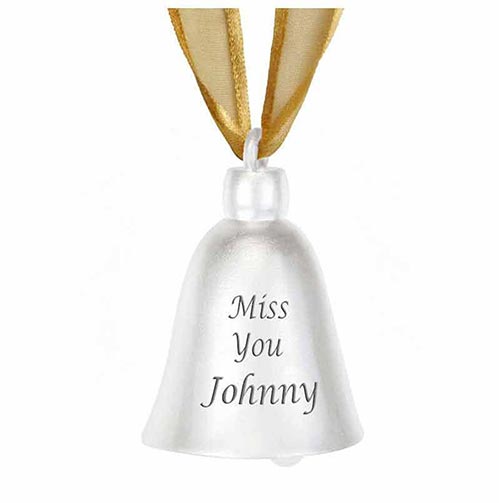 This hand-made, engraved bell will keep your loved one in mind. The tradition of ringing a bell to honor the dead goes back centuries; this motorcycle cremation bell is a beautiful way to continue that tradition—with the added function as a keepsake urn.
You can engrave a tribute to your loved one on the outer surface of the bell.
15. Motorcycle Helmet Urn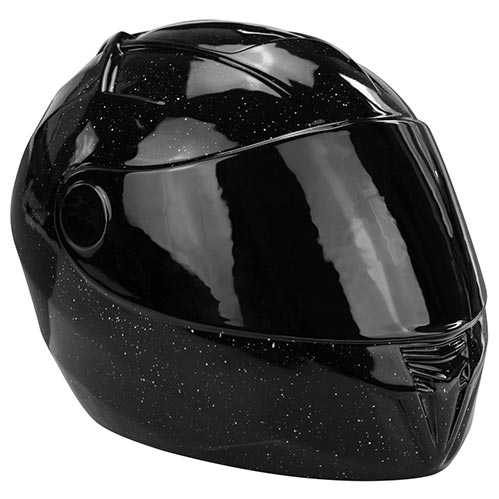 This is a hand-made motorcycle helmet urn, made from sleek black ceramic and looks amazingly like the real thing. It is an incredible way to honor your loved one.
You can display this urn in your living room, office, or den.
16. Affordable Metal Urn with "Motorcycle Hills" Scene
This aluminum vessel offers a motorcycle riding scene on a desert mountain road reminiscent of the Southwest. The Motorcycle Hills Metal Cremation Urn is an excellent way to respect your biker fanatic.
This is the perfect urn for any man who loved the outdoors and road trips.
17. Brass Plaque Motorcycle Urn Box
This burl urn features an elegant customized brass plaque, which includes laser etched imagery of a motorcycle. The memories of your loved one remain secure within this classy memorial.
Stylish and approachable, this urn will last forever. The urn is made of durable MDF with a high-gloss finish that will not break or chip.
Your loved one's urn is perfect for displaying in your home or placing in a niche.
18. Set of 7 Silver Motorcycle Urn Necklaces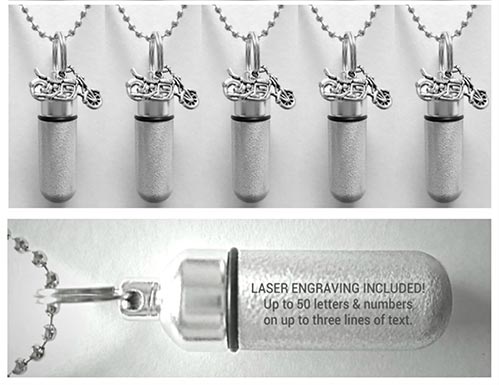 These motorcycle cremation jewelry pendants are made from aluminum, stainless steel. Ideal for sharing with the family, these urn necklaces include laser engraving and come on a 24″ chain.
Keep your loved one close to your heart and secure in your motorcycle pendant.
19. Engraved Sleek Motorcycle Urn
This attractive urn displays a silver motorcycle. This is the ideal resting place for a free spirit, the person that enjoyed riding on the open road.
This simple yet elegant design can be engraved with your loved one's name and dates.
20. Black & Chrome Motorcycle Detailed Urn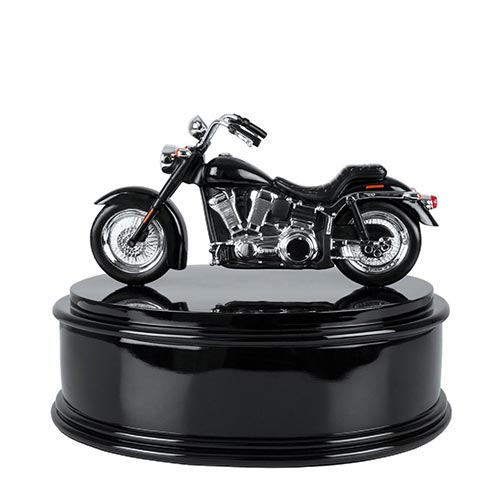 This Black and Chrome Motorcycle Cremation Urn is carefully painted with a shiny black finish and genuine chrome plating. The motorcycle urn is a truly unique and special memorial to your loved one.
This sculpture is made from cold cast resin. It is s strong and durable and will keep your loved one secure.
21. Live to Ride Wooden Urn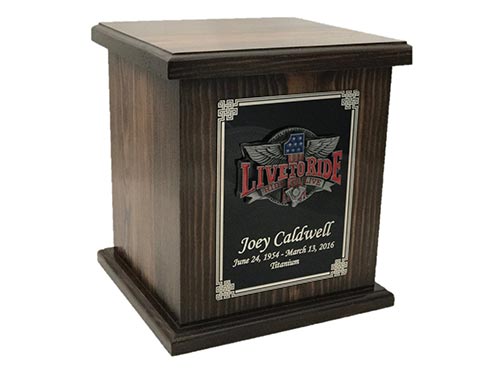 This solid wood "Live to Ride" Motorcycle Cremation Urn is hand-made in the USA. A resin-based 3-dimensional plaque with a design for bikers says, "Ride to Live, Live to Ride." You can add your loved one's name and dates to the plaque.
Screws secure the bottom panel to keep the cremated remains safe. This urn is built to last forever.
22. Small Motorcycle Cremation Urn
This Keepsake Motorcycle Cremation Urn is highly detailed and a beautiful tribute to the motorcycle fan in your life. "Keepsake", in funeral industry terms, means that it is a smaller urn meant to hold only a portion of the remains.
Learn more: Urn Sizes: How to Pick the Right Urn for Ashes
This motorcycle urn features details so clear! Because of this, you can see the teeth on the wheel gear and the tread on the tires. Personalize your keepsake with an engraved plaque, which can be attached to the front of the urn.
23. Motorcycle Urn Charm Bracelet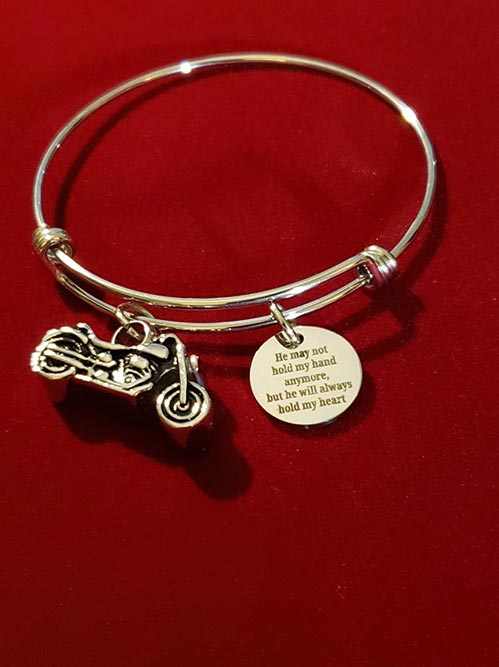 Here is a hand-made stainless steel bracelet that is a sweet way to keep your loved one close to you. The motorcycle urn charm bracelet will hold a tiny amount of cremated remains.
The charm says, "He may not hold my hand anymore, but he will always hold my heart." This is a unique piece of jewelry you will be sure to cherish for a lifetime.
24. Biodegradable Scattering Urn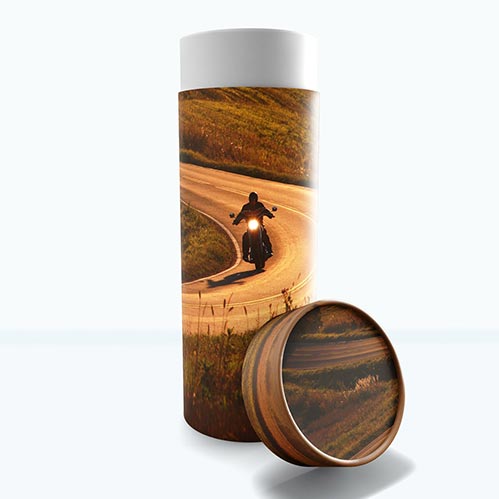 This eco-friendly biodegradable urn can be used for scattering or burial. The all-natural scattering tubes provide a temporary or permanent resting place for your loved one.
If you choose to scatter, the lid slides off, and a perforated tab is pushed. Then, you can gently shake the cremated remains from the tube. If you choose to bury the urn, it will naturally decompose.
Learn more: What is a scattering urn? And how do you use them?
25. Motorcycle Badge Pendant Keepsake Urn
Keep memories of your loved one near your heart by wearing this Motorcycle Badge Pendant Keepsake Urn. The back of the pendant is suitable for engraving.
The stainless steel pendant comes on a 22″ chain.
Harley Davidson Urns
Harley Davidson is the most popular and beloved of all motorcycle manufacturers. As a result, many people request the Harley logo engraved on an urn. Or perhaps would like to have their ashes interred in a Harley Davidson cremation urn.
Unfortunately, the Harley-Davidson Motor Company does not license its logo to any cremation urn manufacturers. So any "Harley Urns" you might see online is, in all likelihood, unauthorized. There are none available through Amazon, Walmart, and other major retailers.
But you're not without options! There are two ways you can create your Harley-themed urn or memorial.
Option 1: Use a generic likeness of a Harley
There are many urns with Harley-esque motorcycle clipart or busts. If getting pretty close without having the actual branding on there is good enough for you, then by all means, look around until you find an urn with a bike that most resembles your loved one's pride and joy.
Option 2: Add on a Harley logo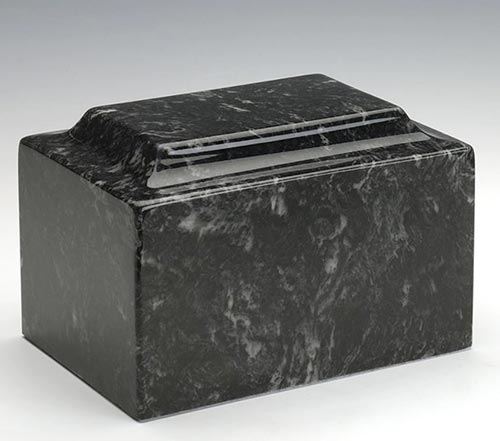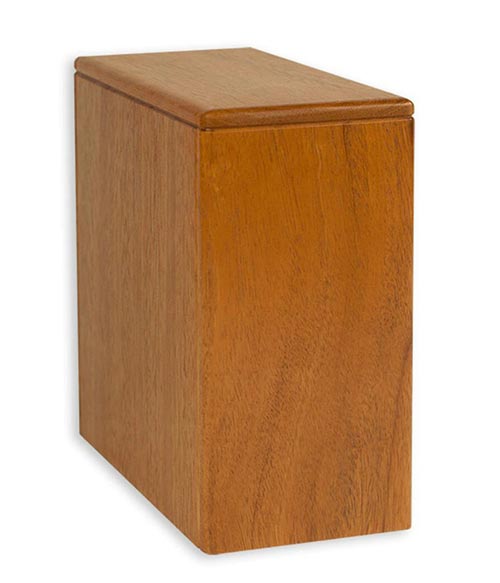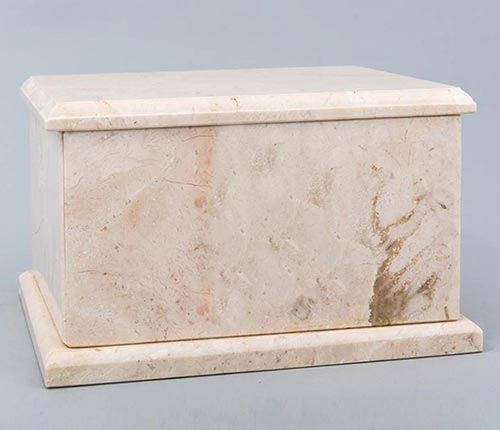 Option 3: Add on a Harley photo
A final option is that you can add your photo. For example, this might be a picture of your beloved riding his Harley; in addition, we will laser etch it into a wood or granite urn. Or it might be a photo you purchase or print out at home or even a hand-drawn work of art.
Here are some engraved photo and picture frame urns that will help you create your own Harley urn:
Engraved Granite Photo Urn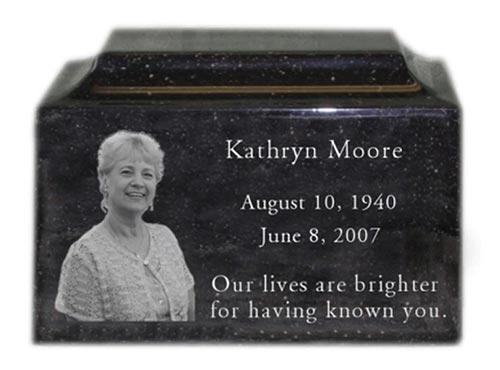 Engraved Wood Photo Urn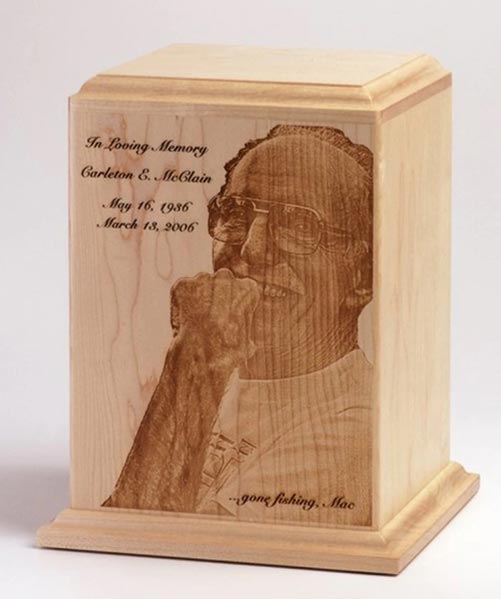 Wooden Picture Frame Urn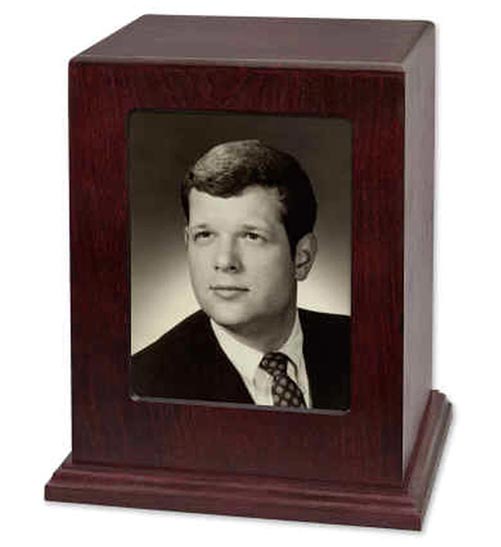 Companion Picture Frame Urn (for two people)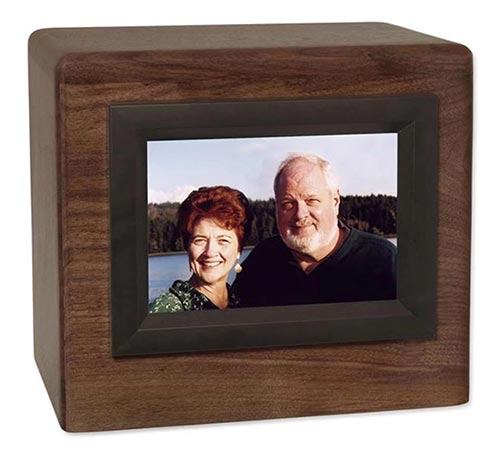 Motorcycle Memorials
Here are some more motorcycle memorials (which don't hold cremated remains). You can use these as a sympathy gift or memorial tribute to honor an avid motorcycle enthusiast.
Personalized Motorcycle Bird Feeder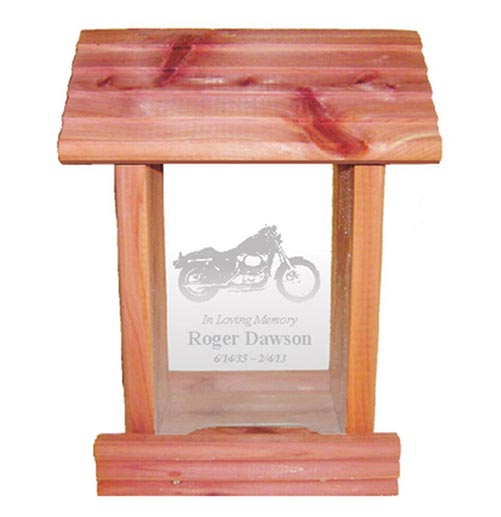 Our Motorcycle Memorial Birdfeeder is made from natural solid cedar wood. Cedar is a hardwood that will stand up to the weather for years and years.
The acrylic front panel is laser-engraved with a motorcycle scene. It reads "In Loving Memory." In addition, you can add your loved one's name and dates.
They Ride With Us Everyday Keychain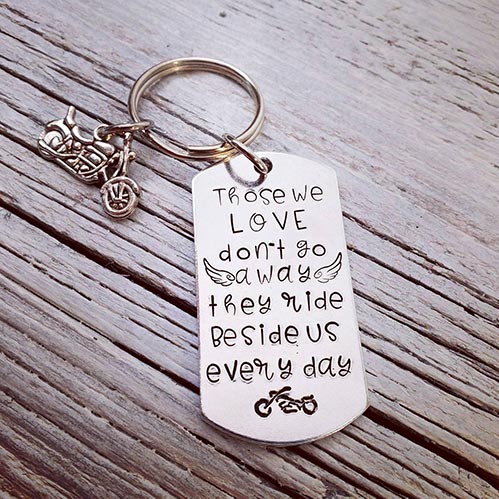 This hand-made memorial keychain features a motorcycle charm and tag. The tag is aluminum and hand stamped with a sweet sentiment. It reads, "Those we LOVE don't go away they ride beside us every day."
Give as a gift to your motorcycle family and friends.
Riding with the Angels Memorial Car Sticker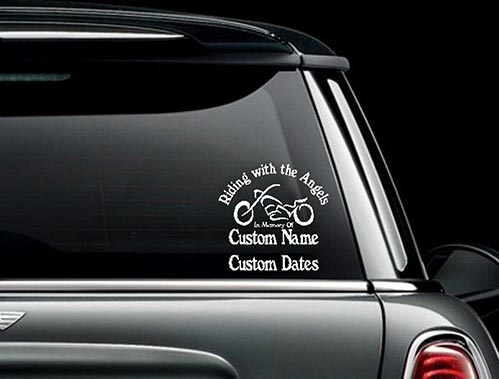 This Riding with the Angels Custom Motorcycle Memorial Car Sticker is a nice way to pay homage to your loved one. You can add your loved one's name and dates to the vinyl decal.
Place the decal on your window or bumper to show your love and respect!
Final Ride Memorial Bottle Opener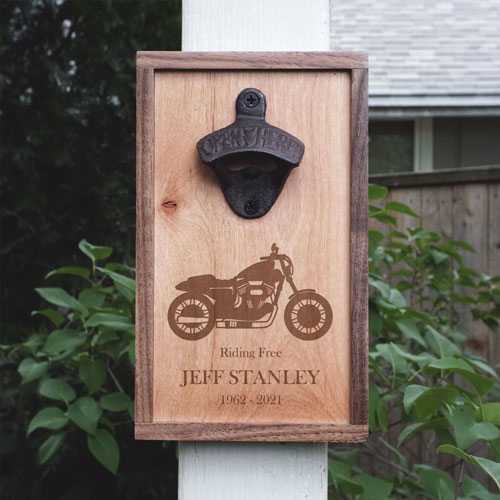 Our Personalized Motorcycle Bottle Opener is just the thing to honor the motorcycle lover in your life. The plaque is made from natural wood with a cast iron opener. In addition, there is room for laser engraving of your loved one's name and dates.
Every time you pop the top off of a cold brew, you'll think of your loved one.
Glass Memorial Biker Frame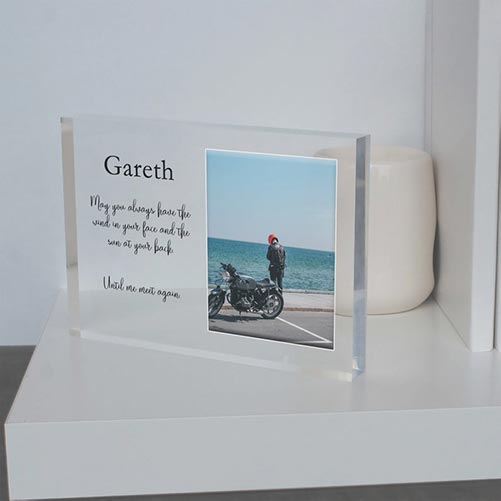 This memorial is hand-made from acrylic glass, and it is 3/4″ thick with diamond polished edges. The finish gives a clean, 3D effect to your photo.
The unique free-standing memorial frame is a contemporary way to honor your loved one.
In Loving Memory Motorcycle Sign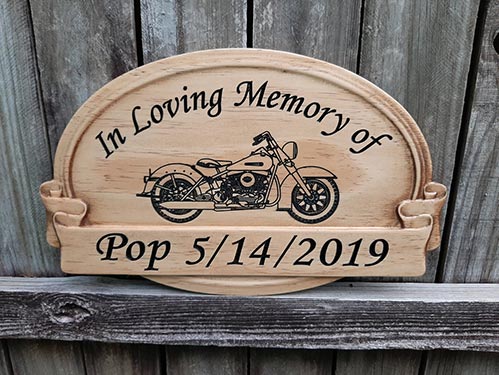 This hand-made Harley Davidson name sign is a classy way to pay tribute to a loved one. The sign is carved from American select pine and comes stained in your choice of Early American or Black Cherry.
You can personalize this sign with your loved one's name and dates. This would be a great addition to a game room, office, or den.
More memorials, gifts, and tributes: 29 Sympathy Gifts for Someone Who Is Grieving
Pin It