When choosing the cremation urn that will serve as your loved one's final resting place, it is worth the time and effort to find the best quality at a respectable price.
While there are many types of urns out there, perhaps there is no greater disparity in quality among wooden cremation urns. While the photos you see online may look similar, don't be deceived. There is an unbelievable difference between genuine solid wood cremation urns and the cheap knockoffs that use veneers and particle board.
You want the real deal. You want solid wood cremation urns, made in the USA.
Our website is supported by our users. We sometimes earn a commission when you click through the affiliate links on our website. See our privacy policy & disclosures for more information.
Buying Wood Cremation Urns Online
I've had too many customers come to us after making the mistake of buying a knock-off on some cremation urn website or online marketplace. There is a reason you find an absolute rock-bottom price on some of those sites. The reason the price is so low is because the quality is so low.
In fact, many times I've seen not just the design of a quality solid wood cremation urn ripped off, but they will steal the product photo too! Let's take a closer look at some of the cheap urns before we get into the real, genuine made-in-the-USA solid wood urns.
Avoiding Cheap Wood Urns
Let's start with one of the most popular cremation urns online, the Hand-Carved Rosewood Urn Box.
This is a decent looking urn, and it typically gets pretty good reviews. For less than the price of a fancy lunch, it doesn't look bad at all. This is a popular choice because there are multiple sizes, some of which are quite small. The small urns are intended for pets or a portion of the remains. From what we can tell, it sounds like most people are purchasing this cheap urn as a nice memorial box for pets, and as such it works pretty well.
The description doesn't say if it is real wood, and the bottom panel just slides out. Everything about this says that it is a cheap-but-decent box, so if that is what you are looking for, you won't be able to beat it.
(Just don't hold it up next to a quality handcrafted wood urn.)
So some imports can turn out to be a good deal, if budget is your primary concern. Most, however, have a noticeably inferior quality. If you look around further on major online marketplaces, you will see very few wood urns that are both inexpensive and highly reviewed. Even the ones that are offered are intended primarily for the cremated remains of pets, whose owners want something that seems nice-ish but without a huge price tag. Almost everything you find quickly at Amazon (or other similar sites) are inexpensive, low-quality imports.
But that's not the worst of it. Some sellers even go as far as using the photos of the real, high-quality urns and claiming them as their own!
Let's look at some examples of this.
Watch Out for False Advertising
We will start with a photo of the real deal. This is one of our most popular wood urns, which we've offered for nearly twenty years.
MAHOGANY WOOD CROSS URN – MADE IN USA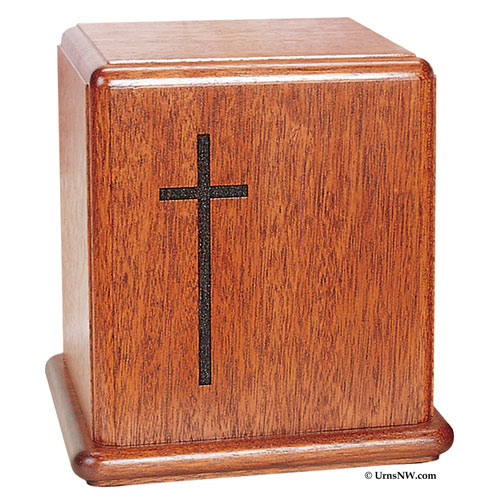 Again, just to be clear, this is the genuine product. Each one is individually crafted from genuine mahogany wood right here in the USA. Solid, durable, and long-lasting, with heirloom quality and a premium finish. The urn is designed to fit a personalized inscription to the side of the cross, which we laser engrave into the surface of the wood for a permanent epitaph.
This is a good product. With engraving, it runs about $300 and is worth every penny.
But not every urn is like this. Now let's take a look at the knockoff.
MAHOGANY WOOD CROSS URN – MADE IN INDIA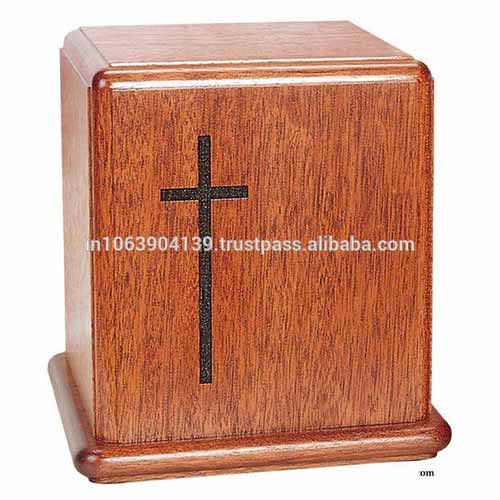 It's the exact same photo! You can even see the last part of the "UrnsNW.com" watermark which they neglected to fully remove. Offered by Deva International,* based in India, they simply stole the photo from our site and passed it off as their own.
*The link now goes to a "product no longer available" page – hmm, I wonder why.
At least they had the decency to include a photo of (what might be) the actual product they make. Take a look at the second product photo from their page: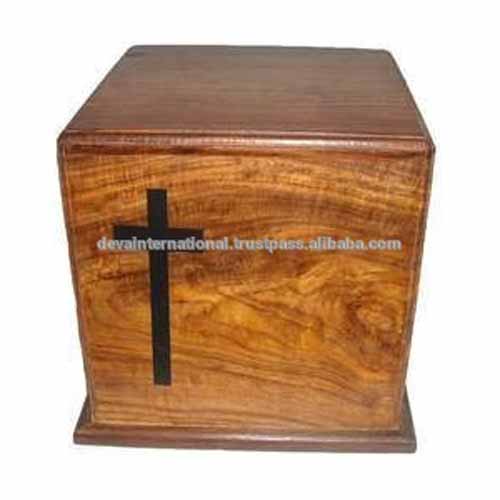 Well now. That one doesn't look too great. But since they stole the photo from our product, there's no way to know if they stole this image as well. Which means… the real urn they actually make could be worse!
Now, granted, this is from a wholesale supply company. Who knows where these urns actually end up, if they even sell. But that's the point. There are plenty of knockoffs out there. Some online vendors or funeral homes may even buy these cheap urns, take better photographs, and pass them off as low-to-mid-range urns in their collections.
Are these imports good quality? Probably middling, at best. Are they real wood? At a cost of $10-15 each, doubtful.
Solid Wood Cremation Urns
It is important to find a genuine solid wood cremation urn to honor your loved one. The advantages of a real wood urn crafted in the USA are many, and include:
Superior quality of materials
Superior quality of craftsmanship
Durability and permanence
Option to laser engrave rather than add a name plate
Peace of mind
Supporting American businesses and artisans
I'm sure you can think of other benefits as well. If you are looking to get a permanent resting place for your loved one's remains, you will almost certainly prefer a solid wood cremation urn with made-in-the-USA quality to ensure that at some point in the future the box doesn't fade, warp, split apart at the seams, or worse.
So let's look at some of these premium quality memorials. These are solid wood cremation urns, all made in the USA and available at Urns Northwest.
First, we'll show you some budget-friendly (yet still superior quality) options, then we'll move on to the premium wood art pieces.
Beautiful Budget-Friendly Options
These urns are crafted individually to order in America using genuine solid woods with elegant and natural finishes. These aren't going to be at the rock-bottom prices you might find on imports at major distributor sites, but they are the real deal.
Modestly priced at $149-249, each of these solid wood cremation urns are well worth the cost to honor your loved one.
HAMILTON SOLID WOOD CREMATION URN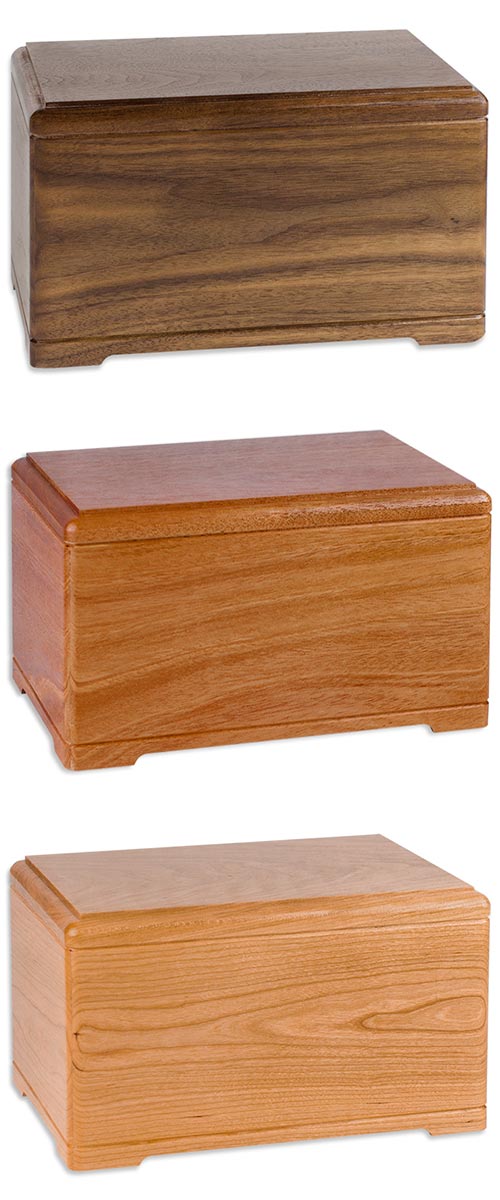 The "Hamilton" is our top budget-friendly urn. Very reasonably priced, this one is available in your choice of (as shown in the photo, top to bottom) Walnut, Mahogany, or Natural Cherry. We can also do Stained Cherry and Oak. All of these are the real, genuine woods, no laminates or particle board.
This is a beautifully simple and classic urn that is ideal for laser engraving of name, dates, and other inscription. As mentioned above, we laser engrave directly into the surface of the wood rather than attaching a plate.
FREEDOM MILITARY WOOD CREMATION URN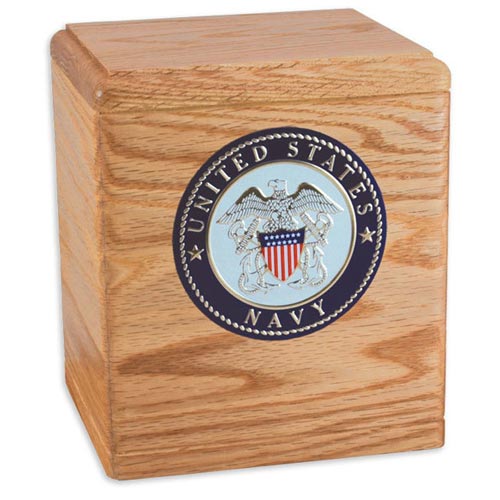 The "Freedom" is our budget-friendly solid wood cremation urn designed for veterans. Crafted in the USA from your choice of real solid wood, this classic military memorial includes a service branch medallion and has plenty of room for laser engraving of name, rank, dates, and more on the front.
BOSTON II SOLID WOOD CREMATION URN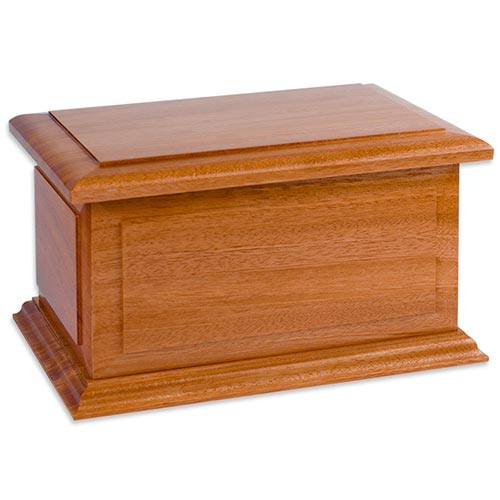 The "Boston II" features a classic design that balances perfectly between stately and rustic. This elegant urn can be made in your choice of genuine Oak, Mahogany, Cherry with a medium Cherry stain, or Walnut wood.
Also available in companion urn size to hold the remains of two people.
CEDAR WOOD CREMATION URN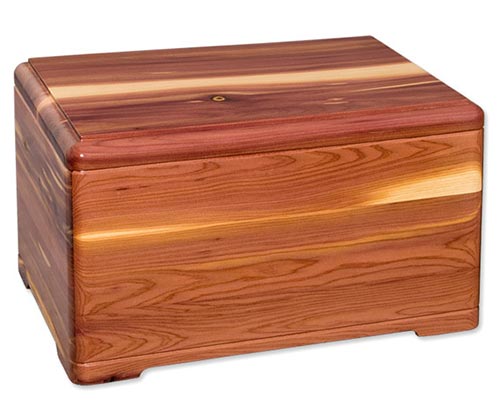 Our lovely Cedar Wood Cremation Urn is made in Oregon using select aromatic Tennessee cedar wood. As with all wooden urns but doubly so with cedar, each urn is one-of-a-kind due to the unique grain patterns of the wood, which ranges from light amber to rich oranges with hints of red.
Also available in companion urn size to hold the remains of two people.
SOLID WOOD URN DESIGNED FOR NICHE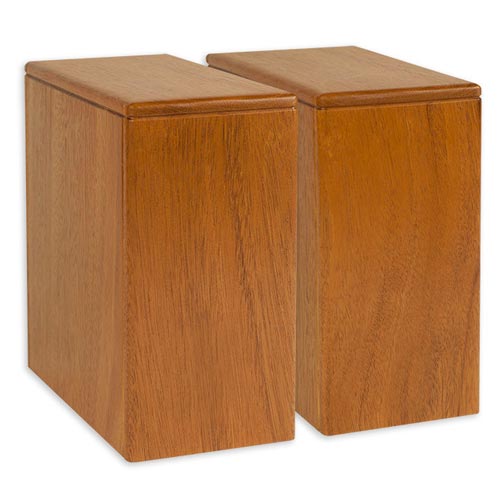 These solid wood cremation urns are designed to fit into nearly any funeral home niche. The dimensions were set specifically to accommodate the niche spaces at Arlington National Cemetery, and can fit as a single urn, two separate urns, or a single combined "companion urn" for two people.
A single standard sized urn measures 8.5″ x 8.5″ x 4.25″. Combined, two of these urns side by side measure 8.5″ cubed, and the companion urn has the same 8.5″ cubed dimensions.
Add-ons and customization include choice of wood type, laser engraved inscription, and military service emblem medallions for veterans of the armed forces.
SOLID WOOD URN DESIGNED FOR SCATTERING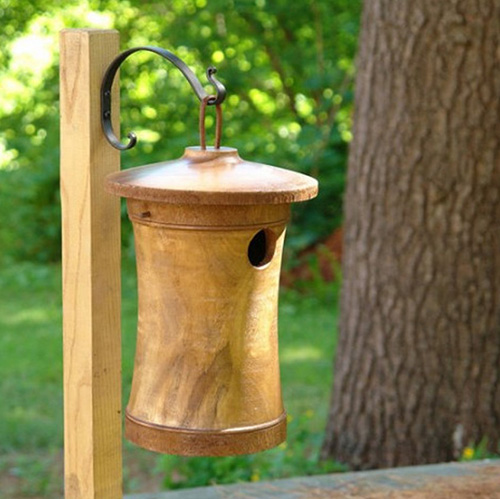 For the nature or bird lover whom you've lost, this Birdsong scattering urn would make such a fitting choice. Hand turned by artisan craftsmen of sustainably sourced mango wood, each urn is meant to be a lasting tribute to their life. Once the ashes have been scattered, this unique urn can be used to provide life and shelter for the avian companions they loved so much.
Premium Wood Cremation Urns
These premium solid wood cremation urns – all made individually here in the USA – take craftsmanship to the next level. We proudly offer a selection of over 50 incredibly detailed 3-dimensional inlay art scenes. These are made using layers of solid woods in their natural colors, etched in fine detail and inset within the urn to create a lifelike art scene. Themes include nature, wildlife, sports and hobbies, and much more.
In addition, we also have many wood urns that highlight the unique characteristics of natural wood. From hand-turned urns to creative shapes to classical ornate boxes, we boast the very best solid wood cremation urns available on the market.
3-DIMENSIONAL INLAY ART WOOD URN WITH BICYCLE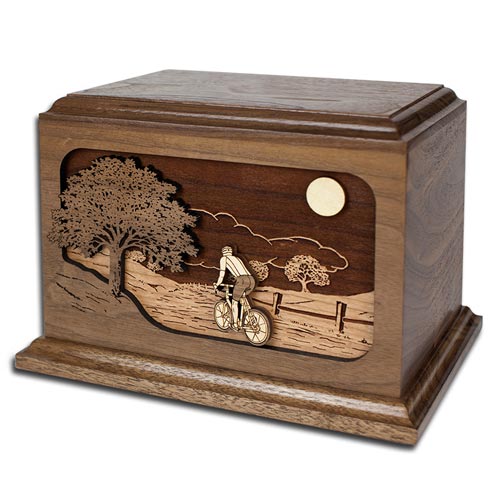 The Bicycle Road Home cremation urn is made in your choice of Walnut (as shown) or solid Oak wood. The scene features wood inlays in three dimensions, layered over a laser etched background with your beloved cyclist in the foreground. Woods used include cherry, walnut, and maple along with the choice of wood for the outer box.
Options include laser engraved personalization (as with all of our 3-dimensional inlay art urns) and choice of cyclist – road or off-road bicycle.
3-DIMENSIONAL INLAY ART WOOD URN WITH DEER IN FOREST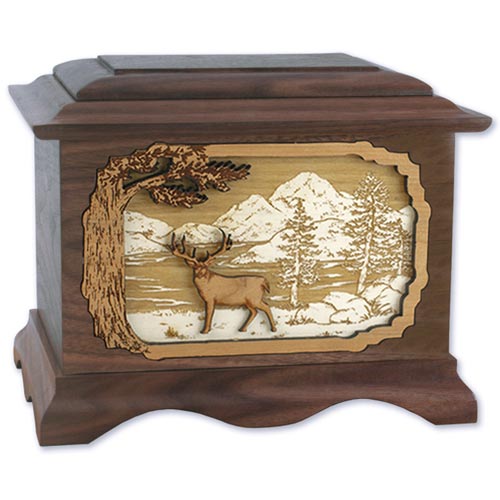 A popular memorial for hunters, hikers, and lovers of the outdoors, this gorgeous mountain scene features a tall tree and a deer in the foreground, with a mountain lake in the background.
Shown here in Walnut, the box can also be made in your choice of solid Oak, Mahogany, or Maple wood.
3-DIMENSIONAL INLAY ART WOOD URN WITH BEACH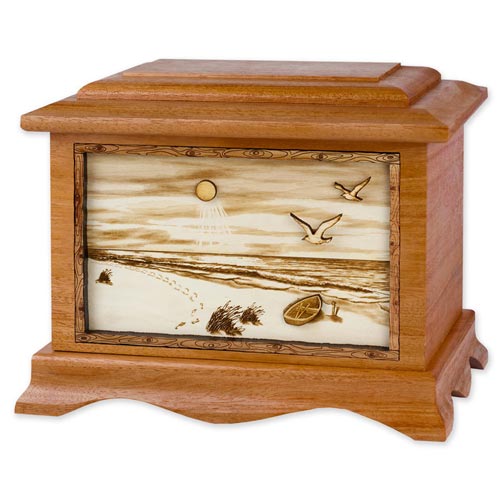 The "Walk on the Beach" solid wood cremation urn is shown above in lush red Mahogany wood. Solid wood all the way through, including the laser-etched scene elements, this is a lovely memorial for anyone who loved the beach or the ocean.
HAND-TURNED WALNUT WOOD CREMATION URN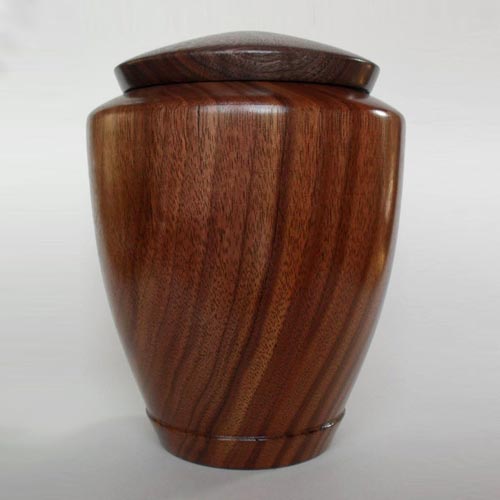 The "Tranquility" is a solid walnut cremation urn hand-turned on a lathe from a solid piece of stunning walnut wood. Hand turned urns are true works of art, and if you would like to see more we have several styles available here.
BOOK WITH DOVES WOOD INLAY ART CREMATION URN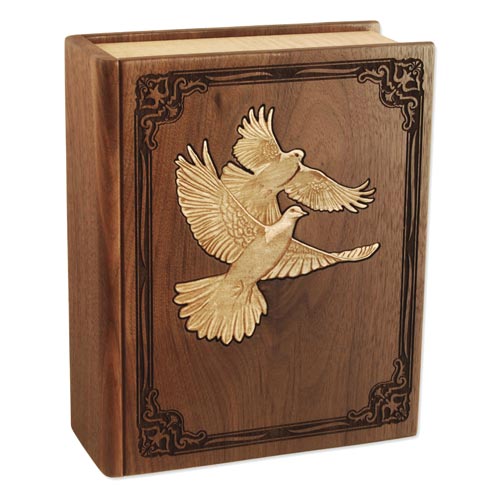 Here is a work of art crafted in the shape of a book or Bible. The urn uses Walnut wood for the cover and maple inset along the sides for the "pages," which are laser etched for detail. The centerpiece is the inlay of doves in gorgeous Maple wood.
Doves aren't the only design available in this stunning "book" series. We also have a cross, a Celtic cross, Star of David, and a personalized book option. See all choices here.
CHERRY WOOD URN WITH SCULPTURE ART CARVING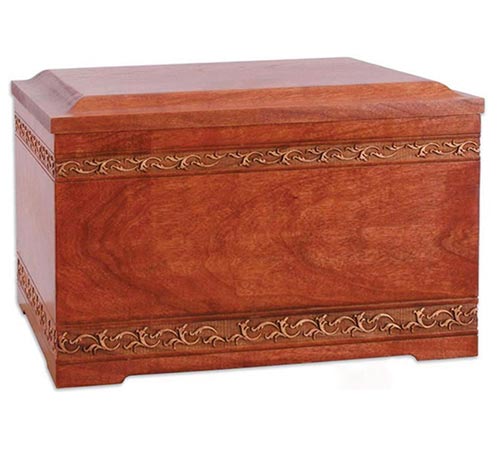 Solid cherry wood with a rich cherry stain, this cremation urn is highlighted with the stunning laser etched art carvings surrounding the entire piece. A beautiful wooden cremation urn tribute to your loved one.
CELTIC CROSS INLAY URN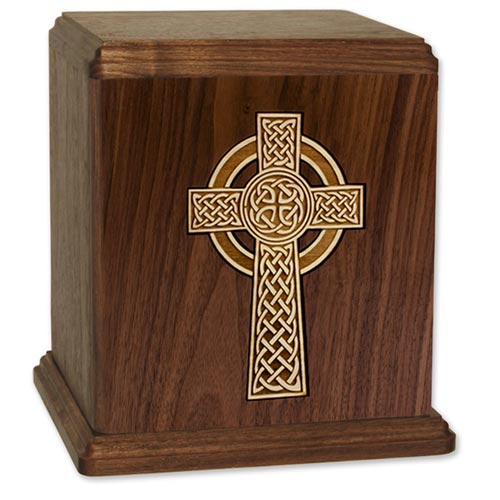 This simple, classic urn is made from real Walnut with a Maple laser etched Celtic cross. Beautiful in its simplicity, this is a lovely tribute to a Christian.
LASER CARVED SERIES WOODEN URNS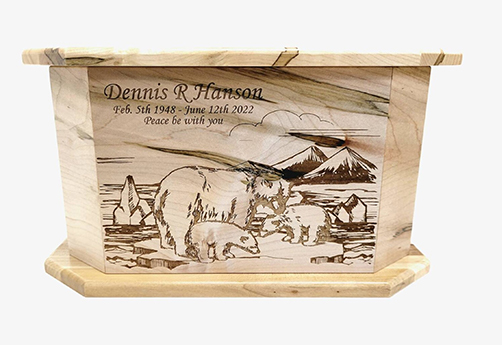 These beautiful laser engraved urns are such incredible quality and are handmade here in USA. So many options are available from wood type to finish to the engraving style.
Bryan's creations are admired for their superior craftsmanship and are an excellent choice for your loved one's final resting place.
---
Can't decide? Browse all of our best-selling wood cremation urns here. We have a broad selection of designs, styles, and wood types.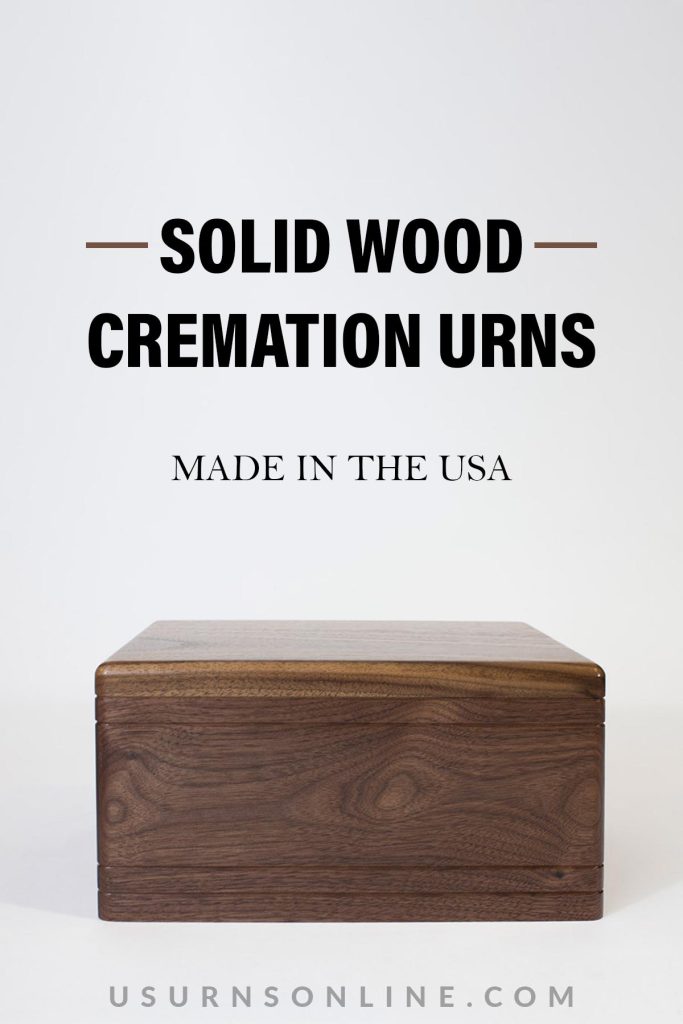 Daniel has been working in the funeral industry since 2010, speaking directly to grieving families as they made funeral arrangements.
He began researching and publishing funeral articles on this website as part of his role as product and marketing manager at Urns Northwest.
Having written hundreds of articles and growing the site to multiple millions of views per year, Daniel continues to write while providing editorial oversight for US Urns Online's content team.