You have your loved one's cremated remains inside something called a "temporary urn." What should you do?
Most likely you've never had the responsibility before of disposing a loved one's cremated remains.
After all, this isn't something you do every day.
You probably have questions. Specifically: What do you do with that temporary urn received from the funeral home?
There are many options, from a simple burial, scattering, permanent storage in a columbarium niche, and, of course, selecting a fitting and attractive cremation urn for display in your home.
What Is a Temporary Urn?
Temporary urns are small containers, typically made of plastic or durable cardboard, that hold your loved one's remains inside, securely enclosed in a plastic bag.
The funeral home or crematorium uses these to give you the remains when you have not purchased an urn from them. Most standard temporary urns measure approximately 8.5″ x 6.5″ x 4.5″, though there are other some other sizes on the market.
The "temporary urn" is called that to subtly convince you that you need to buy an expensive "permanent" urn.
But guess what – you can keep the remains in that temporary urn as long as you like!
How to Use a Temporary Urn
Here's what you can do with the temporary urn:
Keep it. The remains will be just fine in the "temporary" urn.
Bury it. Most cemeteries will require a burial vault to protect the grounds, but you can bury the temporary urn as-is.
Put it inside another urn. Some people don't want to open the temporary urn, so they'll place the whole thing inside another urn. You'll need an extra-large urn for that (and it really, really isn't necessary) but we have options for this below.
Use it for scattering. It's not the ideal choice for scattering (there are urns specifically designed for that) but it can be done and costs you nothing. Learn more here.
Take the remains out and toss it. Pull out the plastic bag of remains, place the remains into a new urn, and toss the temporary urn. We'll talk more about this next.
How to Transfer Cremated Remains into a Permanent Urn
If you are planning on keeping a loved one's cremated remains (also called "cremains" or "ashes") in a funeral urn in your home, here are several options for transferring the remains from the temporary plastic or cardboard urn you received from the crematorium into a beautiful permanent display urn purchased from an online retailer such as Urns Northwest.
1. Transfer the Ashes Yourself
To place the remains in the cremation urn you ordered online, simply open the cardboard or plastic temporary urn and remove the plastic bag containing the cremains.
Next, place the sealed plastic bag into the permanent urn, then reattach the urn's lid (for most ceramic, glass, and metal vase-shaped urns) or bottom opening panel (for most rectangular metal, stone, or wood urns).
You may use wood glue or caulking as a sealant, but this is not required as long as the ashes remain in the plastic bag.
More: How to Open an Urn
2. Have the Funeral Home Transfer the Ashes
If you are uncomfortable with handling the remains, the funeral home or crematorium will transfer the remains into your cremation urn for you.
Funeral homes are required by law to use the container of your choice, even if it is purchased from an outside source. Most funeral homes are very nice about doing this for you.
If you purchase the urn in a timely manner, you can have it delivered to the funeral home or bring it in when it's time to pick up the remains after the cremation process is complete.
If the urn takes longer, or you take your time deciding, you can usually pick up the remains in the temporary urn and take them home. Then, when you get the permanent urn, bring the empty urn and the plastic temporary urn back to the funeral home, and they will transfer the remains for you. (Just talk to your funeral director about this.)
3. Place the Temporary Urn Inside a Permanent Urn
Additionally, at Urns Northwest we offer several urns which will hold some of the standard sizes of temporary urns, so that you can simply insert the entire cardboard or plastic urn into the permanent urn.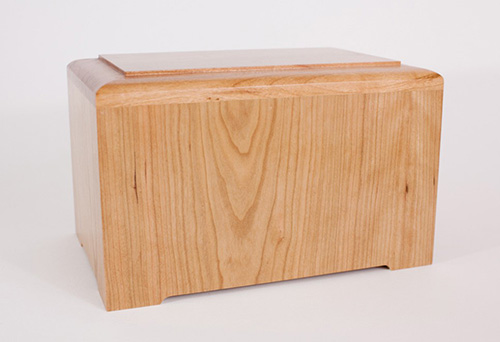 Marquis Cremation Urn
Can hold a 4-1/2″ x 6-1/2″ x 8-1/2″ temporary urn
Military Memory Chest
Can hold a 8.5″L x 6.5″W x 4.5″H temporary urn

Keepsake Memory Chest
Same as the Military one, above, with no emblem. Can hold a 8.5″L x 6.5″W x 4.5″H temporary urn
Cedar Memory Chest
Can hold a 8.5″L x 6.5″W x 4.5″H temporary urn
Custom Sized Urns
Additionally, we can build some of these urns and chests to custom specifications, in order to fit the dimensions of your temporary urn.
Additional charges may apply (depending on your needs), but generally the shop crew tries to figure out the simplest modifications to keep costs down for you. Contact us for custom sizing inquiries.
Read Next: Keeping Cremated Remains at Home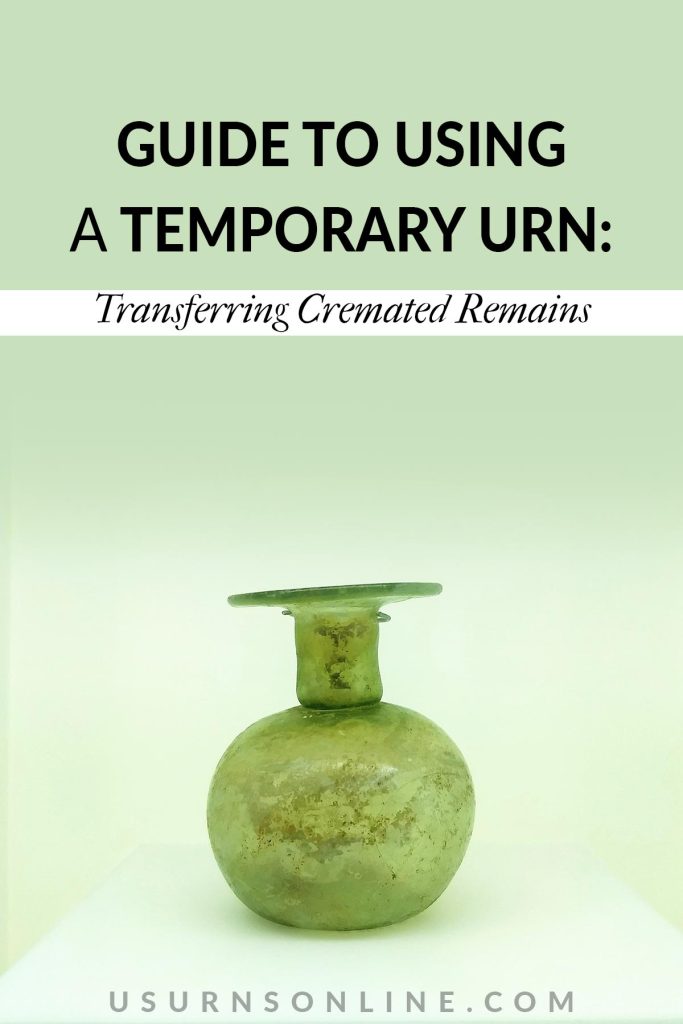 Daniel has been working in the funeral industry since 2010, speaking directly to grieving families as they made funeral arrangements.
He began researching and publishing funeral articles on this website as part of his role as product and marketing manager at Urns Northwest.
Having written hundreds of articles and growing the site to multiple millions of views per year, Daniel continues to write while providing editorial oversight for US Urns Online's content team.