Many people are at a loss when thinking about how to display their loved one's cremation urn.
How do you set up a memorial display? Where do you put the urn? Is it even ok to keep your loved one's ashes at home? What if you want the urn close, but don't want visitors and friends to be weirded out?
We have the perfect solution: The Pacific Crest Floating Urn Shelf from Urns Northwest.
Our website is supported by our users. We sometimes earn a commission when you click through the affiliate links on our website. Learn more here.
The Floating Urn Shelf: A Beautiful, Functional Tribute
This original design was created by Shawn Oliveria, owner of Urns Northwest and primary craftsman behind many of the products we make.
The idea was simple: What if there was a way that you could honor your loved one with a memorial shelf, but didn't have to cause discomfort or distraction to anyone who is unnerved by cremated remains?
Thus the Pacific Crest Floating Urn Shelf was born.
Proudly handcrafted in the USA from premium solid wood, this urn shelf will display your memorial tributes and securely store your loved one's remains.
1. Decorative: A memorial shelf for home
First and foremost, the Floating Shelf Urn is a memorial tribute to your beloved. As a shelf, you can display anything you can think of to honor their life and legacy.
You might want to celebrate their memory by placing a photo frame, a candle, and a decorative plant on the shelf. If they were an avid reader, showcase a selection of their favorite books. It could be bowling trophies, printed prayers and candles, or a keepsake from each family member.
The options are endless, and with four different finish types, you'll be able to find something to complement the décor in your home.
2. Functional: A shelf, and also an urn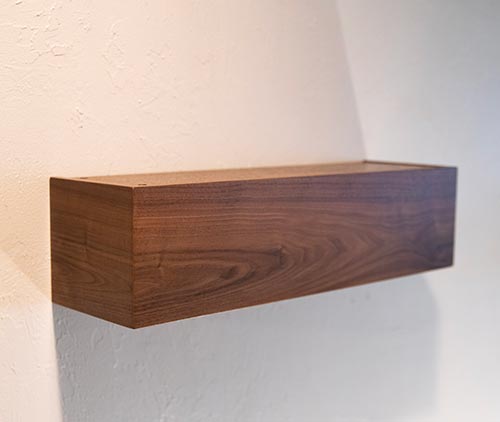 This urn is different from every other cremation urn because it is truly and genuinely functional. It looks great, doesn't take up table or shelf space, and in fact creates additional shelf space that you can use in any way you see fit.
Some people want to emphasize their loved one and create a memorial shelf. The urn portion remains discreet, and the focus stays on photos, candles, and keepsakes to honor your beloved.
Others may want to highlight the urn. We can custom laser etch an inscription onto the front of the urn, if you so desire.
3. Creative: A truly unique urn display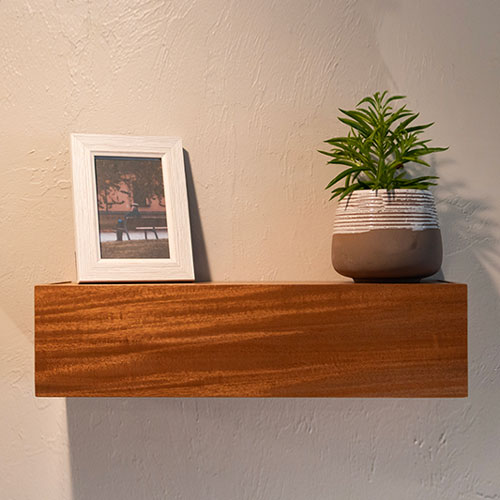 Most of the urns out on the market are fairly typical. A vase-shaped jar of metal, ceramic, or glass. A rectangular-shaped box of wood or stone. A design or inscription on the front. If it looks like an urn, feels like and urn, seems like an urn…. you get the idea.
Our memorial shelf urn is different. You mount it on the wall rather than bury or display it on a mantle. You can place plants and picture frames and candles on it.
Perhaps you would create a memorial banner or flag to hang below, with your loved one's photo or a memorial quote. The ways to use this in your home are endless!
4. Quality: An American-made memorial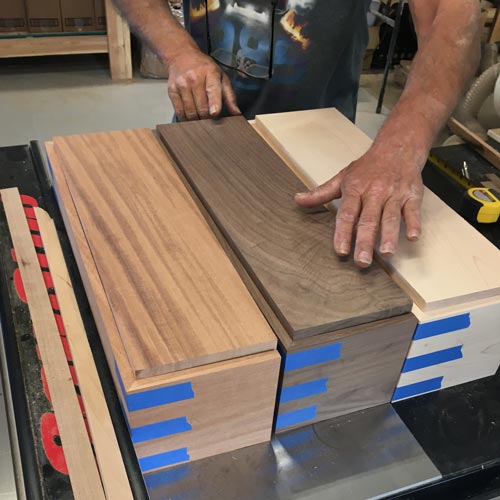 We use the highest quality materials and take the time to produce an item with superior craftsmanship.
If we wouldn't be proud to use it for our own families, we don't want it to go out the doors of our Oregon woodshop.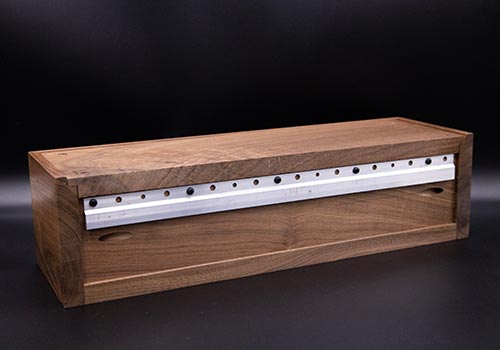 This shelf is finely crafted from your choice of real wood, finished with a lovely clear coat to protect and preserve the piece, and includes everything you need to securely mount the urn to the walls of your home. Just look at how sturdy that bracket is!
5. Multipurpose: A shelf to put an urn on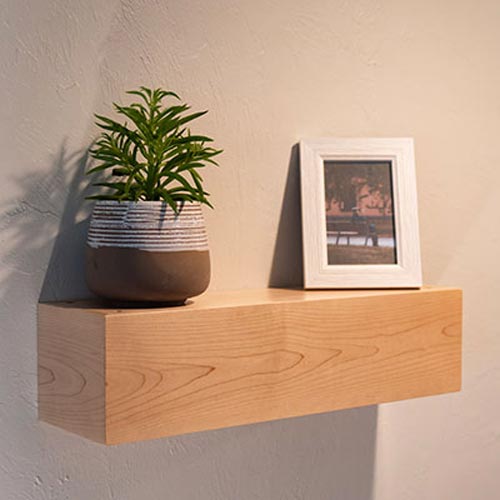 People often search for a shelf to put a cremation on, or look for creative ways to display the urn. Well, this shelf can certainly do that!
Perhaps you have a small keepsake urn with just a portion of the remains that you want to display. You can keep the larger portion of ashes inside the shelf urn, and display the smaller keepsake urn on top of the shelf as needed.
Or what about a couple? Say you have the remains for both Mom & Dad. Mom's remains are already in a beautiful urn, and you want a new urn for Dad and also a way to keep them "together" in a sense.
You could always get a companion urn, which is a single urn with space for the remains of two people, but again, you already have Mom's urn. This floating shelf urn is the perfect way to honor both and keep them together!
Where to Place Your Urn Shelf & Memorial Display
This is the big question that always comes up. Where should the memorial shelf go?
Living Room. Probably the most popular location for an urn shelf, this is the go-to option because it is so central and visible. Choose the living room when you want your loved one's memory front and center.
Bedroom. This is another meaningful place to keep the urn, so it makes sense to create a memorial display or shelf in the room you shared (for a spouse) or "their" room (for a child or other relative).
Den or Office. Did he have a home office? Did she have a sewing room? Keep their memory alive by converting the space they so often used into a memorial area in your home.
Spare Room. If you have a spare room or bonus room, this could easily become a memorial area. Perhaps you'll transform it into a contemplative retreat complete with candles, soothing music, a comfortable chair, and more. Or maybe you want a lovely memorial shelf or wall, but you're ok with it being in your storage room. Just don't put the urn in a guest room! Only use a truly "spare" room.
We hope you've been inspired by our Floating Shelf Urn to celebrate your loved one's memory in a creative way!
Read Next: Urn Display Ideas at Home & At the Service
Pin It