When it comes to finding beautiful, high-quality urns for mom, you have many memorials from which to choose.
But sometimes having so many choices isn't a good thing! When you're grieving over the loss of your mother, all the options can be downright overwhelming.
Here, our goal is to take the stress out of finding your mother the perfect cremation urn. So we put together a list of the 21 loveliest urns for mom that we could find.
Let's take a look together.
21 Best Cremation Urns for Mom
Our website is supported by our users. We sometimes earn a commission when you click through the affiliate links on our website. Learn more here.
Many of these memorials are from our own collection, which you can browse at Urns Northwest. But there are others mentioned as well that we simply had to share with you.
We have lots of different themes and styles represented in our list, too, so whether your mom was a traditionalist, modern mama, nature lover, or a bit of a bohemian, one of our urns is sure to be just right for her.
1. Psalm 23 Solid Wood Cremation Urn
A comforting verse for the bereaved heart, Psalm 23 is one of the most popular and well-known psalms of David.
Every time you pass by your mother's cremation urn, the familiar words will provide you and your family with a sense of peace and comfort that can only come from above.
This attractive and timeless Psalm 23 Wood Urn is available in your choice of Oak, Walnut, Maple, or Cherry wood. You can also choose between three different font styles you'd like the verse to be in.
Optional custom engraving on top/back of the urn is available. Measures 7-3/4″ x 7-3/4″ x 9-7/7″ and holds up to 230 cubic inches of cremated remains.
2. Engraved Photo Urn in Granite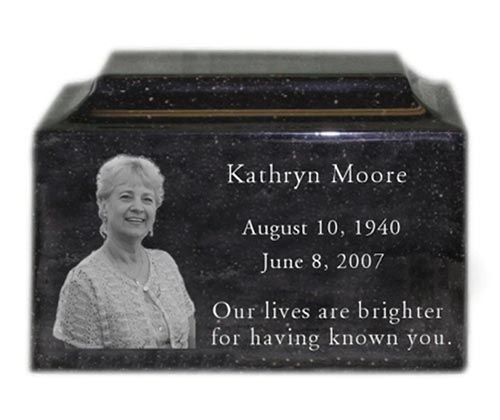 Engraved photo urns for Mom (or anyone, for that matter) are gaining in popularity. And no wonder, because as you can see, they are simply beautiful.
Especially this one, which sees a photo of your mother engraved on the surface of a high-quality, black polished granite urn. Your order will include personalization of her name and dates, as well as an inscription of your choice.
The urn measures 9.75″ x 6.75″ x 6.5″ and holds up to 210 cubic inches of remains. Also see our Granite Engraved Photo Companion Urn, which holds the ashes of two people (i.e., a husband and wife, ideal for mom and dad).
3. Cardinal Cremation Urn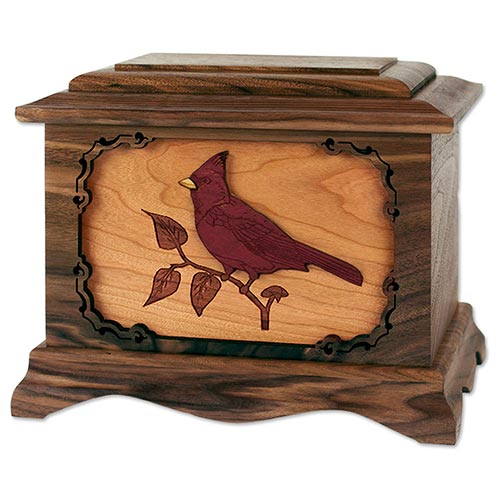 "Cardinals appear when angels are near."
You've most likely heard this quote before, or something similar to it.
Maybe it's even become one of your favorites since your mom has passed. Maybe she loved cardinals or birds in general, or perhaps you've recently seen a cardinal in your own yard and were sweetly reminded of this saying.
In any case, the saying is meant to provide comfort for those who are grieving, and our Cardinal Cremation Urn reflects that.
The cardinal itself is carved into stained rosewood and set over a background of cherry. The urn is available in your choice of Walnut wood (as shown above), as well as Mahogany, Maple, or Oak.
With bevels and accents applied on the urn's top and base (the distinctive style of our Ambassador collection), the craftsmanship adds a touch of reserved elegance this gorgeous urn for mom, making it one of a kind.
Personalized surface engraving of name and dates is optional on the top or back. Measures 11″ x 7.5″ x 9″ with a 230 cubic inch capacity.
Related: 21 Best Cremation Urns for Dad
4. Himalayan Rock Salt Urn for Water Burial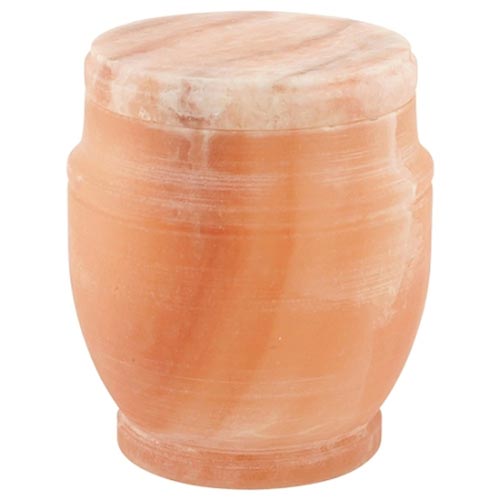 If you are planning a water burial for your mother, you're going to need a cremation urn specifically designed for the sea.
Look no further than our handmade Himalayan Rock Salt Urn. Made of biodegradable rock salt, it's designed to disintegrate into the water within approximately four hours of release.
Alternately, if you are planning a ground burial, this eco-friendly urn remains an excellent choice. When buried in the earth, the urn will biodegrade in about three months.
Please note that this urn will arrive with small holes in the bottom. These holes cause the urn to fill with water, allowing for it to sink properly. A biodegradable bag is included for the ashes. Available in two sizes: standard (capacity of 220 cubic inches) and mini (capacity of 60 cubic inches).
5. Butterflies and Tulips Wood Cremation Urn Plaque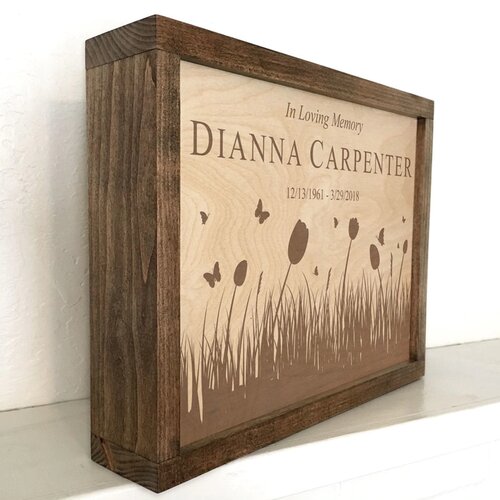 Was your mother a one-of-a-kind lady with a unique style all her own? Then when it comes to honoring her memory, the more unique the better.
And if we may say so, it doesn't get any more unique than this.
This wood cremation urn plaque, featuring butterflies and tulips and coming personalized with your mom's name and dates, is made for hanging on the wall.
Yes, you read that right. You can lovingly display your mother's urn for all to see (yet discreetly so) right there on the wall.
We include two D-ring hangers, so your urn will be ready to hang upon receipt. A plastic bag is also included for securing the remains. Measures 12″ x 16″ x 3″ with 237 cubic inch capacity.
Like this particular urn style and want to see more designs? Click here to see our whole line.
6. Handcrafted Wooden Cremation Urn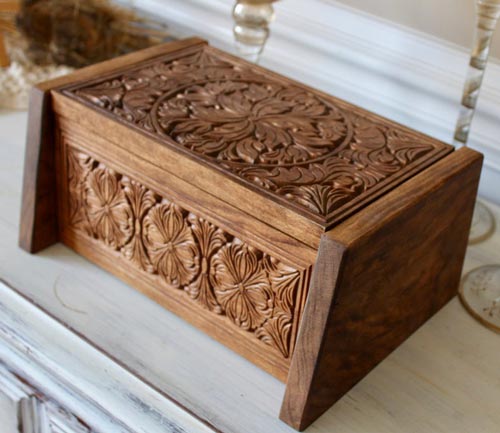 For Mom's memorial, you want craftsmanship at its finest. So there is just no passing up this super-ornate, hand-carved urn that we found on Etsy.
The stunning design on this urn box has been carefully carved from solid cherry wood, and subsequently finished with Danish oil for a smooth, natural look. It's perfect for display or burial.
Measures 12″ x 7″ x 6″ and holds up to 220 cubic inches. For the same urn but in a lighter finish, see here.
Related: 100 of the World's Most Beautiful Wood Cremation Urns
7. Hand Blown Glass Cremation Urn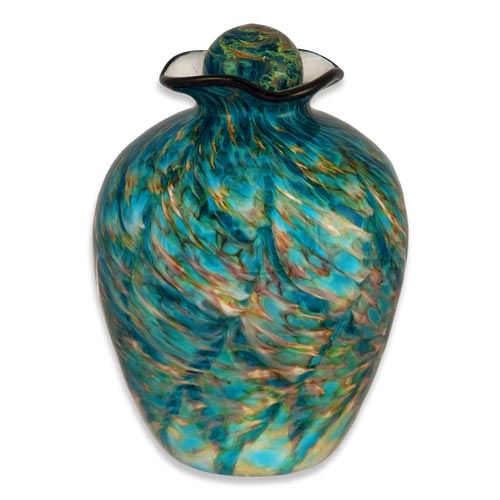 Glass urns are also a popular alternative to the more traditional wood or metal options. And when they are as dazzling as this one, from our own glass urn collection, they serve as a reflection of your mom's eternally dazzling spirit.
This particular finish, the Hand Blown Glass Urn in Bella Aegean, boasts facets of greens, blues, and other earthy colors. Each one is individually hand blown in Oregon, so while it will look similar to the one shown above, it will essentially be the only one of its kind.
Just like mom – one of a kind.
While dimensions will vary slightly, 8″ x 11″ will be the approximate measurement for this handmade piece. The interior capacity holds roughly 220 cubic inches. Excellent choice for either home display or funeral home niche.
8. A Walk on the Beach Wood Cremation Urn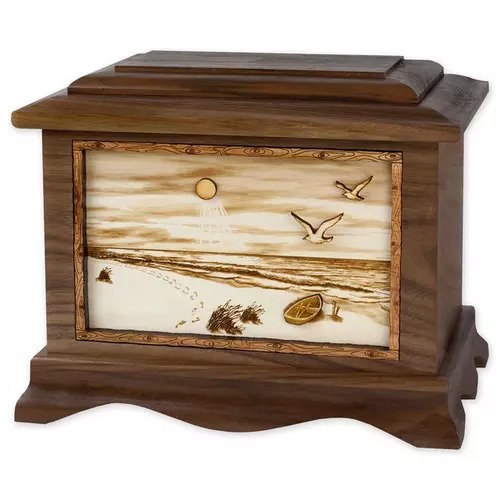 For the Mama who was also a beach lover at heart, our A Walk on the Beach Wood Cremation Urn is an excellent pick.
What makes this design so interesting is the inlay art, which offers a 3D effect. With the laser-cut and engraved sand, row boat, sea gulls and moon or cross shining down against the water, it's almost feels as if you could step into the scene and go for a walk along the shore with your mom, one more time.
This wood urn for mom is available in Mahogany, Walnut, Oak, or Maple. Choose between a moon or cross design for the sky scene as well. Personalized engraving is available. Measures 11″ x 7.5″ x 9″ and holds up to 230 cubic inches.
Want to browse even more beach themed urns? Check out these collections for more inspiration:
9. Forest Blue Metal Cremation Urn
Was blue your mother's favorite color? Are you leaning more towards metal urns than wood? Then take a look at the Forest Blue Metal Cremation Urn.
An affordable option with a 200 cubic inch capacity, this very blue (and very beautiful) sand-cast cremation urn makes a great choice for honoring Mom and the life she led. Measures 11″ x 8″.
More premium metal cremation urns available here.
10. Flowering Cherry Biodegradable Memorial Tree Urn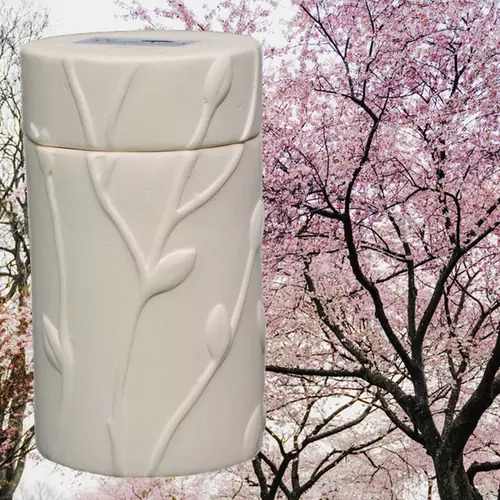 Maybe you've heard that you can be put in a pod and turned into a tree after you die.
Well, this isn't exactly the same, but it's a similar concept. With our unique Memorial Tree Urns, you can place some of your mother's cremated remains into the urn and it will use the ashes as it grows a memorial tree.
The urn includes tree seeds and a special mixture that promotes the release of plant nutrients found within ashes. Please note that, without this special mixture, human cremated remains would normally hinder plant growth.
After planting your Flowering Cherry Biodegradable Memorial Tree Urn, watch in awe as your tree sprouts, blooms, and eventually springs into a colorful array of pink blossoms. It's like Winter turning into Spring.
You'll also be able enjoy the keepsake tin, which is included in your order and can be used to treasure photos and other memorial items.
Note: These tree urns are small, able to hold about 35 cubic inches of cremated remains (about 1/3 to 1/5 of the typical amount). So you will need to purchase several if you want to accommodate all of the cremated remains. People often buy multiples OR get just one, and then scatter the rest of the remains around where the tree is planted.
11. Pink Sky Ceramic Cremation Urn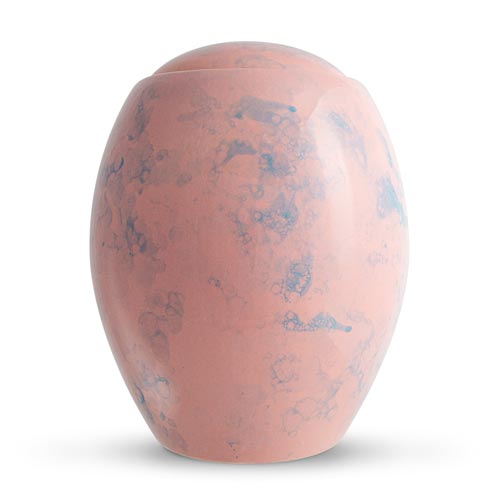 With the Internet at our fingertips, urns for Mom are seemingly everywhere. But while you can't always be sure of the quality you are getting, you can be sure with Urns Northwest.
A wonderful example of the high quality we provide is our Pink Sky Neoteric Cremation Urn. With a standard capacity of 200 cubic inches and handcrafted from stunning ceramics, this pink vessel is an excellent choice for Mom (especially if pink happened to be her favorite color).
Proudly display it in your home for others to admire, and for you and your family to memorialize forever.
12. Hummingbird Wood Cremation Urn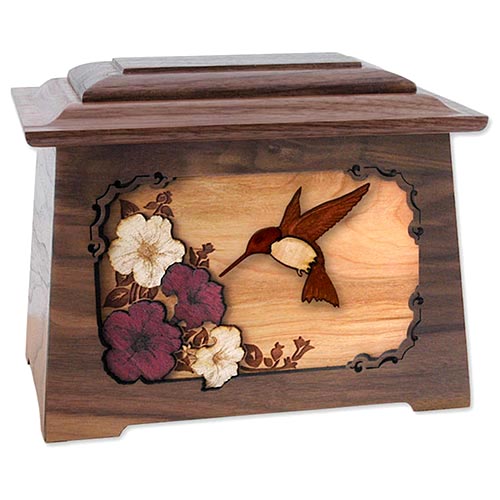 Hummingbirds are among God's more fanciful creations. Seemingly hovering still in the air but actually fluttering their little wings faster than we can see, they provide moments of sweet calm just when we need it the most.
When your choose this Hummingbird Wood Cremation Urn for your mother, you will see this sense of calm whenever you lay eyes on it throughout your day.
Similar to the A Walk on the Beach urn (#8 above), this one incorporates fine laser-etched details in layered woods to provide a neat 3D art effect. Choose between Walnut wood, Oak, Mahogany, or Maple, and also add an optional inscription. Measures 10″ x 6.5″ x 8.5″ and holds up to 230 cubic inches of remains.
If your mom loved hummingbirds, you'll want to browse all of our hummingbird-themed urns here.
13. Passage Sculpture Art Memorial Candle Cremation Urn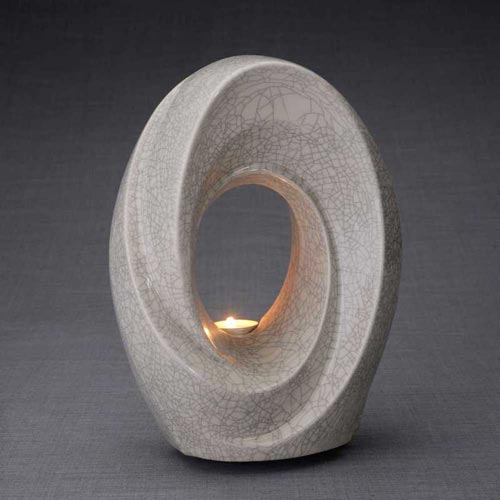 For an inconspicuous urn choice that goes above and beyond as a memorial to your beloved mom, you find a true tribute in the Passage Sculpture Art Memorial Candle Ceramic Cremation Urn.
Ultra-modern at its core, yet incorporating a flame representative of perpetual remembrance, this refined urn can also double as a sophisticated work of art.
Complete with a "crackle" finish, this ceramic Bulgarian-made urn measures 11.6″ x 8.6″ x 5.7″ and will hold up to 195 cubic inches of ashes within the hollow interior.
Related: 19 Tealight Urns to Light a Candle in Memory of Your Mother
14. Brass Cremation Urn with Swarovski Crystal Flowers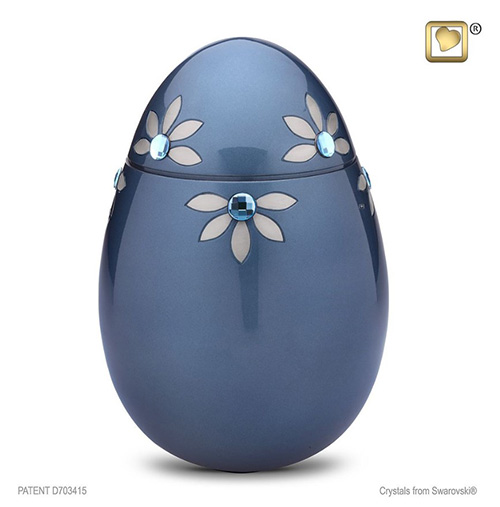 When I first saw this urn, I said out loud, "Wow, how beautiful." How about you – what is your reaction?
Really, what is not to love about this one? It's like modern style meets royality meets whimsical meets elegant.
15. Cherry Wood Sculpture Urn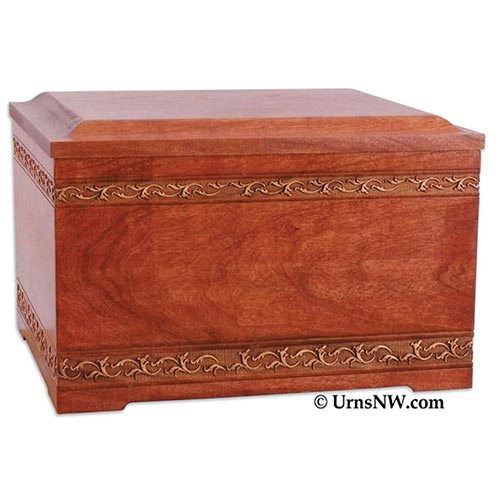 If your mother wasn't one for elaborate designs and would have preferred a simpler resting place, but you still want honor her with a beautiful cremation urn, our Cherry Wood Sculpture Urn may be the best compromise.
A sturdy cherry wood piece with just the right amount of border design to make it a lovely piece for display, this urn will stand out (but not too much) as an everlasting memorial to your mom.
Custom engraving is available on the front side or top of the urn. Measures 11.25″ x 9.25″ x 7″ with a capacity of 210 cubic inches.
16. Mango Wood Urn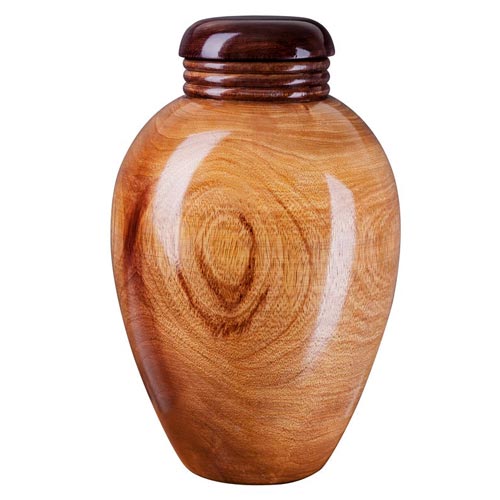 Solid wood urns are timeless, and this one from Artist Cremation Urns on Etsy proves that point quite well. Being constructed of mango wood (how cool is that?), this urn displays detailed ring patterns unique to this particular tree. A beautiful and enduring memorial to your mom.
Please note that this urn is slightly smaller than standard urns. Measures 11.8″ x 6.6″ and holds up to 103 cubic inches of remains. Available in four different styles.
For more urns in this style but with made-in-the-USA craftsmanship, see our collection of Wood Turned Urns.
17. Biodegradable Photo Urn for Ground Burial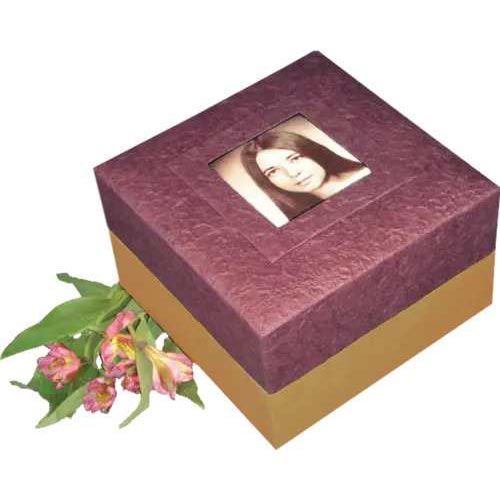 Really? An urn that is both earth-friendly and can hold a favorite photo of Mom? With Northwest Urns' eco-friendly urns, almost anything is possible.
The Embrace Earthurn Biodegradable Urn (also available in green) is for ground burial but can also be for scattering and/or as a temporary receptacle. Crafted sustainably using sun-dried mulberry bark, this urn also comes with a water-soluble bag in which to place the ashes.
The photo frame will hold a 3.5″ x 3.5″ picture, with the entire urn measuring 8.25″ x 8.25″ x 5″. Interior capacity is 220 cubic inches.
18. Cherry Wood Cremation Urn with Rose Inlay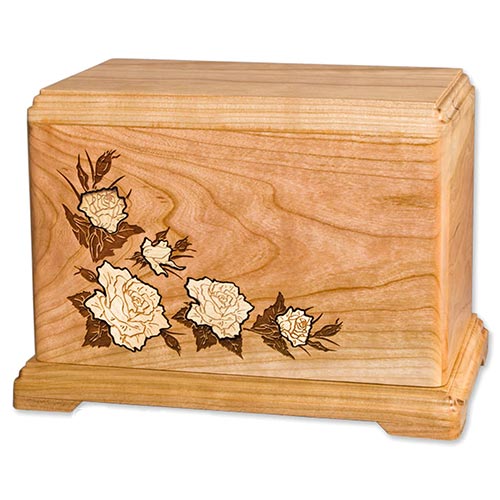 If you're seriously considering the other Cherry Wood Cremation Urn (#15 above), but aren't quite sure it's *the* urn for Mom, check out this one.
This Cherry Wood Cremation Urn with Rose Inlay is another simple urn with just the right amount of adornment- only this time, in the form of roses.
If you pick this one as the memorial for mom, you also get to choose between white and red roses (rosewood for the red roses, maple for the white). And of course there is an optional engraved inscription. The urn measures 10.75″ x 8″ x 7.5″ and has an inner capacity of 200 cubic inches.
19. Biodegradable Scattering Urn in Gray Blossoms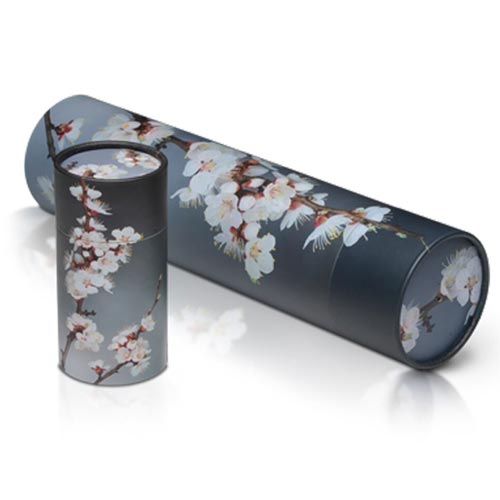 An option intended especially for a future scattering ceremony, our biodegradable scattering urn (pictured here in the "Gray Blossoms" design) will keep your mother's cremated remains safe and secure until ready for scattering.
Our sweetly designed standard tube measures 12.5″ x 5″ and is considered standard size, holding up to 200 cubic inches of remains. Also available in a smaller "mini" size, which holds up to 33 cubic inches.
See the rest of our scattering urns collection here, and learn more about scattering ashes here.
20. Seashell Keepsake Cremation Urn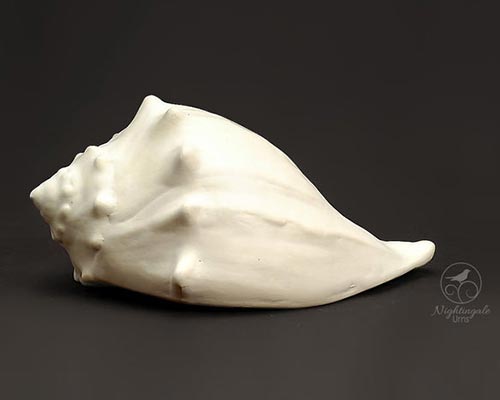 Another captivating Etsy find for the mother who was a beach lover. This one was designed to resemble the recognizable whelk shell, perfect for the habitual seashell collector.
The Seashell Keepsake Cremation Urn will add a touch of Mom to your home while honoring her legacy in a way that she would have wanted. It is handcrafted from earthenware clay, ivory-hued and finished with charming blush highlights.
Note: This urn measures 6.5″ x 4″ x 3″ and has a capacity of 13 cubic inches. This means that it's a comparably smaller option than others mentioned in this list, making it a keepsake urn. For instance, in the case that you and your siblings are sharing a portion of your mom's remains, this urn could make a suitable size depending upon how much you have received.
21. Biodegradable Simplicity Earthurn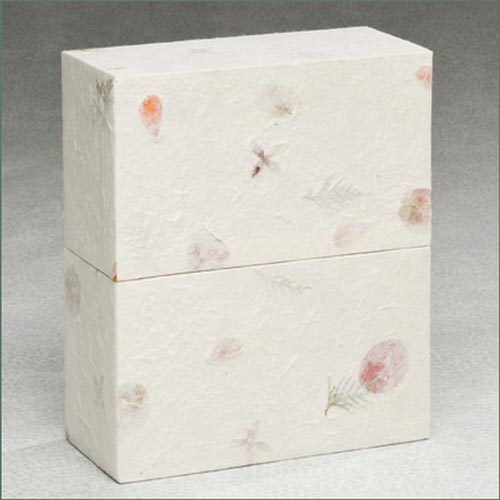 The final eco-friendly urn mentioned in this list is our Simplicity Earthurn. This urn is sweet and simple; it gets the job done while respecting both the environment and the memory of your precious mother.
Whether you have a scattering ceremony planned, or are wanting ground burial, this biodegradable urn (crafted in Thailand from mulberry trees) makes an all-around perfect choice.
Measures 8.25″ x 3.75″ x 10″, with a slightly larger capacity of 260 cubic inches.
Bonus: Because Someone We Love Is In Heaven Memorial Plaque Cremation Urn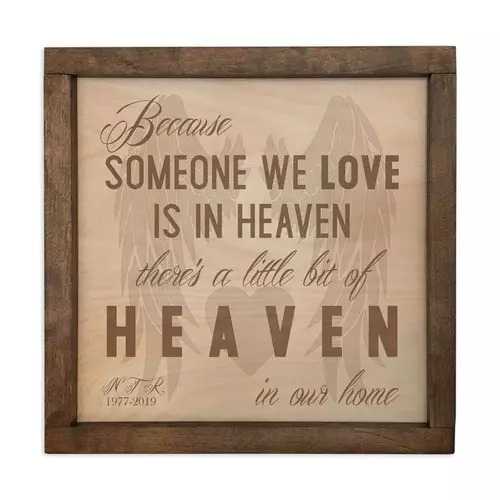 We just couldn't not share this one with you. Another memorial plaque urn from Urns Northwest, this stunning wood art piece says it all while not making it obvious that it's a cremation urn for ashes.
It gets the message across in a beautiful way that Mom will always be with you, even though her soul may now be in Heaven. The front reads,
Because someone we love is in heaven,
There's a little bit of heaven in our home.
Personalization of name/initials and dates is included, as are two D-ring hangers for easy wall mounting and a plastic bag for securing the remains. Measures 12″ x 12″ x 3″. We can also engrave any memorial quote you like onto our plaque urns – just let us know what you want, and we'll make it happen.
Please note: This urn holds up to 170 cubic inches of cremated remains, which is equal to a pre-cremation body weight of 170 pounds. Please see below for more information on urn sizing.
Mom Urn Necklace Ideas
Here's one last "urn" idea for mom's ashes.
Memorial necklaces and other jewelry pieces have always been a popular way to honor a departed mother. If you like the idea of keeping her "close to your heart," consider getting a cremation urn necklace that will hold a small keepsake portion of mom's remains.
Here are a few beautiful urn necklaces for mom.
Related: 12 Inspiring Ideas for Loved One's Ashes
Always on My Mind Colorful Heart Urn Necklace for Mom
This lovely memorial is very affordable and comes in many different colors.
Flying Dove Urn Necklace for Mom with Essential Oil Diffuser Bead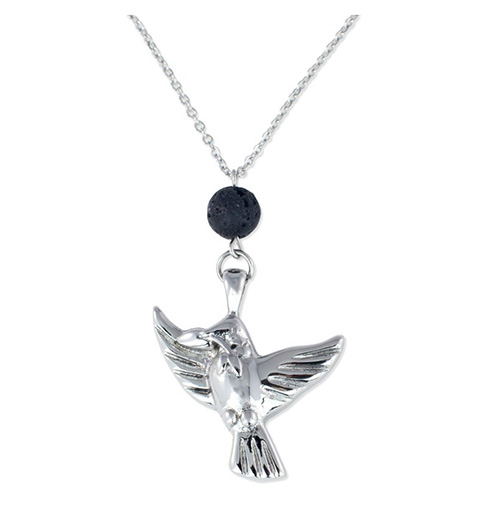 The flying dove pendant holds a small amount of ashes, and the lava rock bead will take a drop of your favorite essential oil and diffuse it, soothingly, throughout the day.
All That I Am I Owe To My Angel Mother Urn Necklace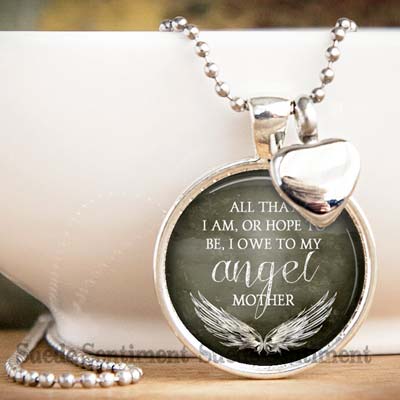 A heartwarming sentiment that honors your angel mother. This angelic pendant comes in several choices, including the heart pendant with space for a small pinch of ashes.
Eternity Rings & Heart Mom Urn Necklace
The rings say, "No longer by by my side," and "Forever in my heart." In the center, the heart pendant reads "Mom" and holds a tiny amount of cremated remains inside. (Other options available, too – Dad, Grandma, Aunt, etc.)
Browse more cremation jewelry, including urn necklaces for mom, here.
Related: How to Write a Tribute to Your Mother
Choosing the Right Size Urn for Mom's Ashes
So you've found the perfect urn for your Mom, but how can you be sure it's the right size?
The Cremation Association of North America (CANA) states that a standard, adult-sized urn for ashes is 200 cubic inches. Most urns in the industry do indeed have a 200 cubic inch capacity. That's the most common size you'll find, along with a few others ranging from 180 up to 230 or so cubic inches.
With that in mind, here is a good rule of thumb to follow: for every pound of body weight, there will be approximately one cubic inch of cremated remains.
So generally speaking, a standard, 200-cubic inch urn is an appropriate choice for most adults. For easy and fast calculation of this formula (and more helpful info about urn sizing), check out our convenient Urn Size Calculator.
If you have any other questions or concerns about any of the products listed above, please do not hesitate to reach out to us. We are standing by to answer any questions you may have about your urn choice for Mom.
Read Next: 100 Inspirational Celebration of Life Ideas for an Amazing Mom