Choosing an urn can be a difficult decision. You have to take the "final resting place" into consideration when purchasing an urn. Are you placing the urn in the ground? A niche? Keeping it at home? If you're keeping it at home, do you want it to look like an urn?
Plus, how large should the urn be? Are you dividing the cremated remains between family members? What material should the urn be made from?
Most importantly – what will best honor your loved one's memory?
You may have never realized how many things you need to consider. In this list, you will see some very unique and non-traditional urns. These urns don't look like urns – and to honor your beloved, that may be the way to go!
25 Gorgeous Cremation Urns That Don't Look Like Urns
Our website is supported by our users. We sometimes earn a commission when you click through the affiliate links on our website. Learn more here.
1. Pacific Crest Floating Shelf Urn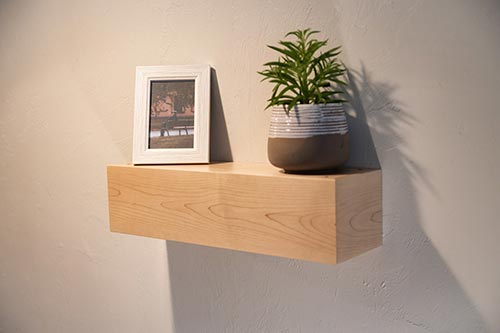 The Pacific Crest Floating Shelf Urn allows you to create a memorial in your home without being an obvious urn. You can display a favorite photograph and other memorabilia. The shelf will go with any décor and in any room of your home.
You can choose from maple, walnut, mahogany, or alder with a rich walnut stain. With this creative urn, you can draw attention to your memorial shelf and people won't even be aware that there are ashes inside. (Unless you tell them, of course!)
2. Pacific Crest Wall-Mounted Plaque Urn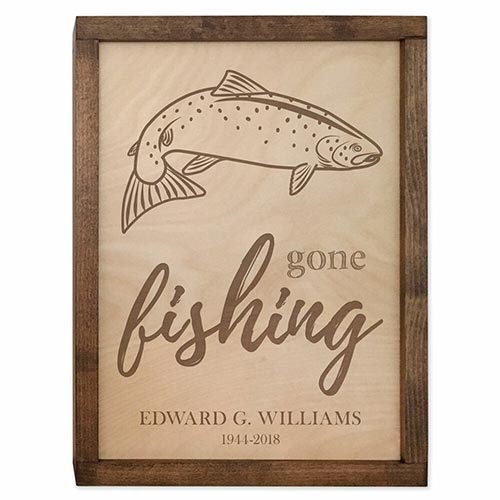 This memorial plaque reads "Gone Fishing." The hand-rafted memorial plaque doubles as a cremation urn to hold cremated remains securely and discreetly. Our plaque is a perfect tribute to the fisherman or outdoorsman in your life.
Amazingly, this plaque has a standard adult urn capacity and will hold the cremated remains of an adult.
Find more wall-mounted urn plaques here.
3. Ceramic Art Sunflower & Butterfly Urn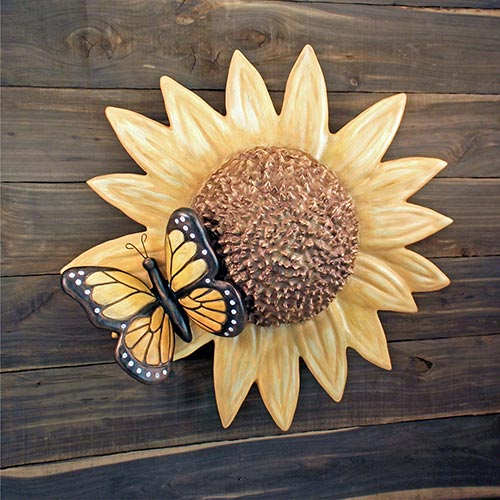 This handmade Ceramic Sunflower & Butterfly Cremation Urn definitely doesn't look like an urn! It is a work of art, designed to be hung on the walls of your home.
You will be sure to have comforting thoughts and memories every time you look at this unique urn.
4. Biodegradable Paper Turtle Water Scattering Urn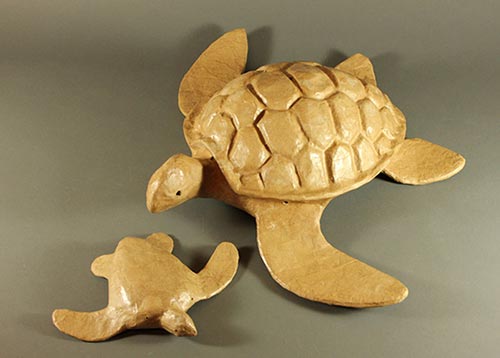 Our Biodegradable Paper Turtle Water Scattering Urn is handcrafted in Mexico. Designed for water burial, this urn is a sweet and environmentally friendly way to say goodbye to your loved one.
The artisans use recycled paper and non-toxic glues in this lovely water scattering urn. The urn is an ideal memorial tribute for anyone who loved the water, turtles, or the ocean.
Related: Everything You Need to Know About Scattering Ashes
5. Cowboy Boots Cremation Urn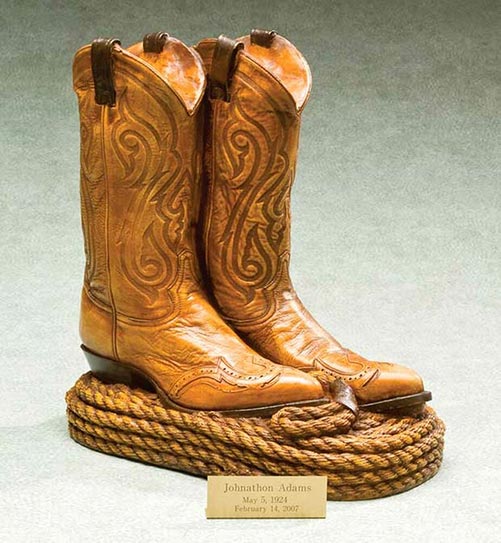 Our Cowboy Boots Urn is crafted to resemble leather then hand-painted and airbrushed to look like a real rope.
Here is a work of art, and the perfect memorial to the cowboy or rancher who has hung up his spurs. You can display this urn in any room of your home or at the office.
6. Passage Sculpture Art Urn with Memorial Candle Holder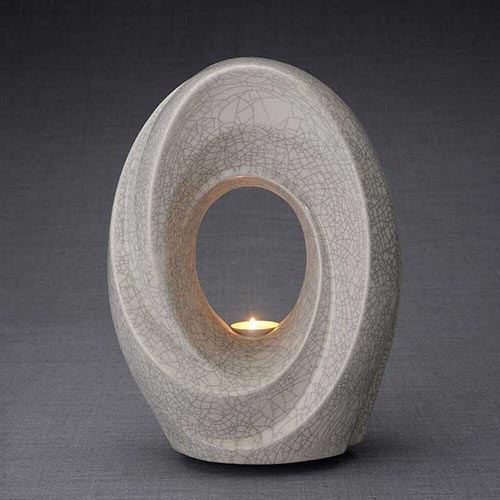 Our Passage Sculpture Art Memorial Candle Ceramic Cremation Urn in Craquelure is a combination of cremation urn, ceramic sculpture, and memorial candle.
This urn is such a beautiful piece of art, you can display it in the most elegant of settings. Honor your loved one by lighting the candle that is incorporated into the sculpture.
You can also purchase a keepsake urn in this design.
Related: 21 Meaningful Ideas to Light a Candle in Memory
7. Wall Mounted Guitar Urn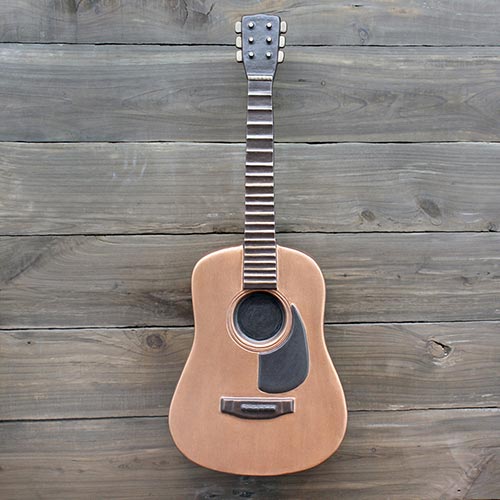 It's the ultimate tribute to your musician or music lover! This Handmade Ceramic Guitar is made to mount on the wall and discreetly hold your loved one's cremated remains.
Our wall-mounted urn is handcrafted, hand-painted, and finished with a classic bronze finish. It's an urn that doesn't look like an urn at all!
8. Loving Heart Memorial Plaque Cremation Urn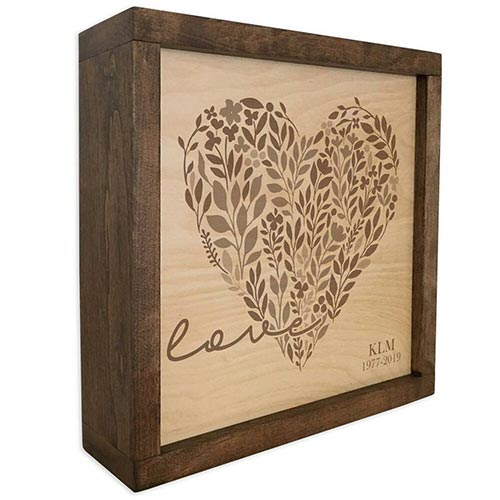 Our Loving Heart Floral Memorial Plaque Cremation Urn is designed to be engraved with your loved one's initials and dates.
The art and inscription are on display to celebrate the memory of your beloved. The plaque keeps the cremated remains of your loved one safe.
9. Infused Glass Ocean Urn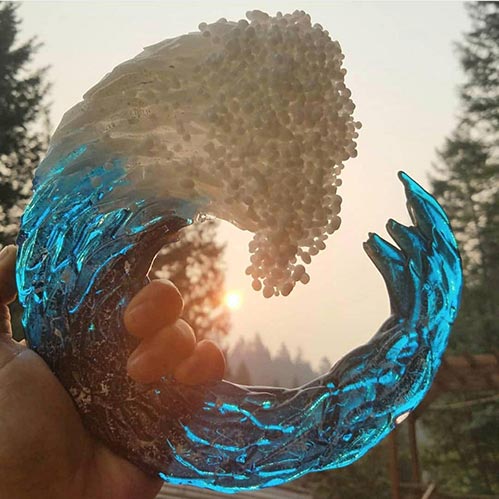 This exquisite 3D Ocean Wave Memorial is infused with cremated remains and consists of more than 300 hand-cut slivers of glass. You send a portion of remains to the artist, and they will infuse the glass with the ashes to that it become a timeless and priceless treasure.
What a fantastic way to honor your loved one that had an affinity with the ocean. This piece of art will be perfect in any decor.
10. Book-Shaped Wood Cremation Urn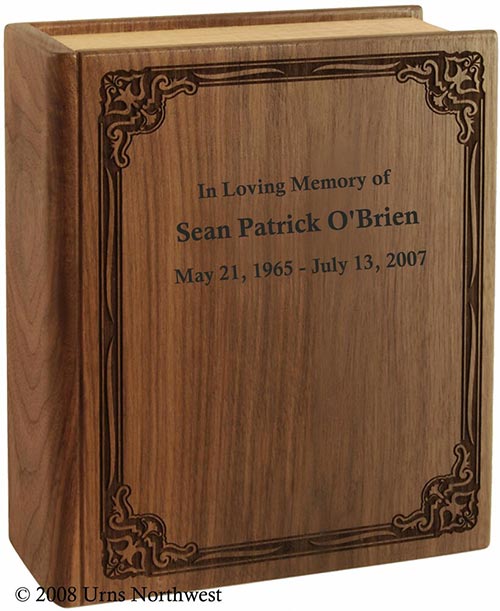 Our Personalized Book Cremation Urn is a wonderful way to commemorate your book lover. Made in the USA from solid walnut or natural cherry and maple hardwoods, the design mimics the look of a large family heirloom book and will look wonderful on the bookshelf.
Have your beloved's name and dates laser engraved on the front of this wooden urn. Perfect for display on a shelf or table.
11. Wrapped Candle Light Urn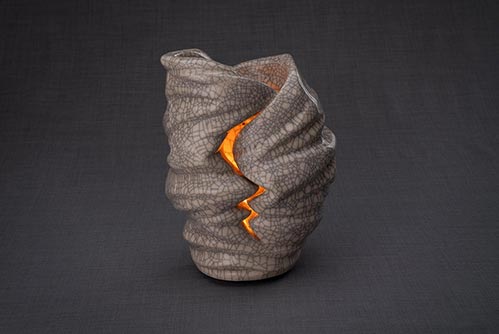 This Wrapped Candle Light Urn is a hand-made ceramic masterpiece. The candlelight reflects on the inner side of this modern sculpture that is also an urn.
With a standard adult-size urn capacity, this memorial is suitable for home, garden, or columbarium. This is a wonderful tribute for the loved one who has touched your life so deeply.
12. Contemporary Geometric Wood Urn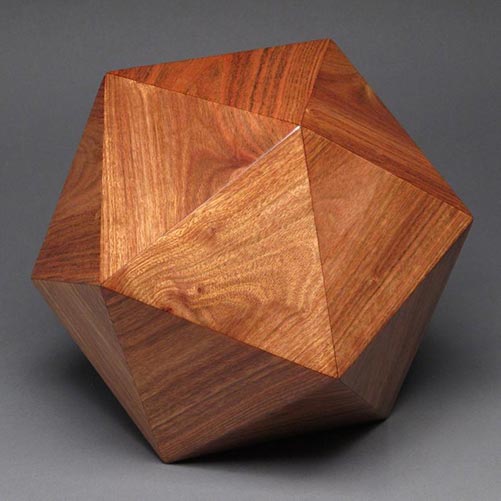 This hand-made Contemporary Geometric Wood Urn is a unique design that holds up to 225 cubic inches.
It is made from the finest woods selected for strength, beauty, and stability. The art piece can be proudly displayed in your home to honor the memory of your loved one, drawing attention to its craftsmanship while not looking at all like a traditional cremation urn.
13. Soul Bird Urn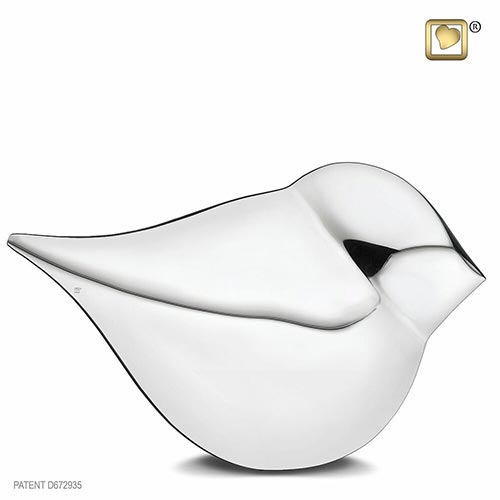 The Soul Bird Urn for Ashes is a delightful brass urn sculpted in silver hues. It was designed to be a sweet tribute to your beloved.
This silver-toned urn comes in two sizes and styles (so you can have a matching pair of lovebirds for a couple) and can be displayed in your home, office, or placed in a niche.
14. Lovebirds Companion Urn Memorial Plaque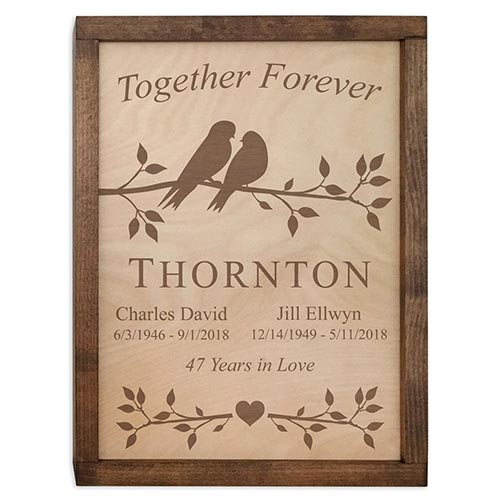 Our cute Birds on a Branch Wall Mounted Wood Cremation Urn Plaque is a "companion" or "double" urn. This means you can put the cremated remains of two individuals into it.
Since it doesn't look like a typical urn, this memorial plaque will discreetly hold the cremated remains of your loved ones. This special urn is made in the USA, custom engraved, and is indented to be wall-mounted.
You can celebrate the lives of a beloved couple and their relationship – together for eternity.
15. Ceramic Urn with Flower Vase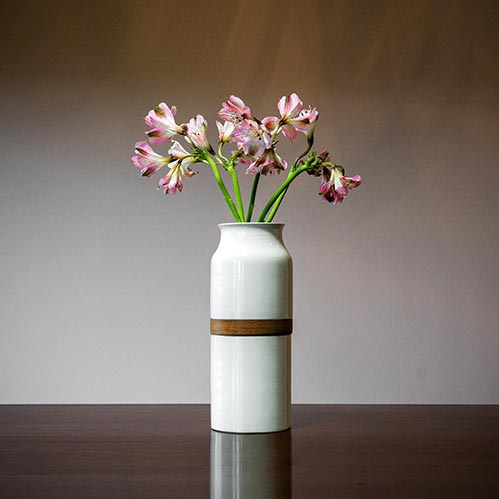 The classy-looking Ceramic Urn with Flower Vase comes in two sizes and two different colors and will look great anywhere.
This modern urn has a functional top vase portion that holds flowers. The bottom portion of the vase is the urn. The urn will hold your cremated remains safely and securely.
As a contemporary ceramic vase, it will easy blend with your home or office décor.
16. Bible Cremation Urn with Cross Inlay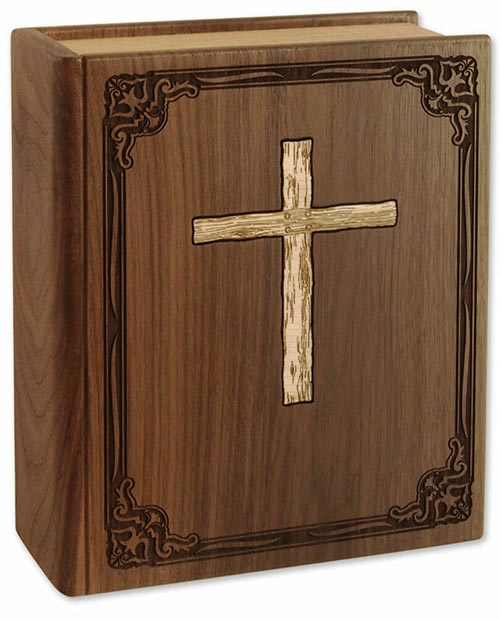 The Bible with Cross Inlay Urn is made in the USA from solid walnut wood, with maple for the pages. These "pages" are engraved into the wood to look like real paper pages!
This urn can be personalized below the cross on the front, the binding, or the back. You can set it on a bookshelf or display it on a table.
17. Baseball Urn Keepsake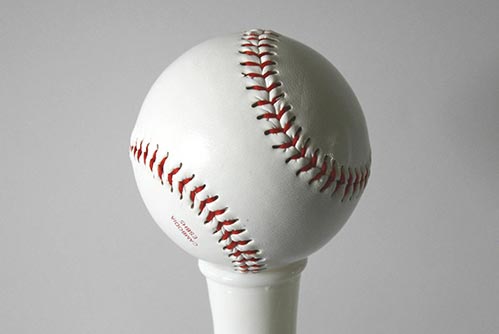 This is a real Baseball Keepsake Cremation Urn and it is perfect for your ballplayer or sports fan!
Made from an authentic, hollowed-out baseball, this urn will hold a small portion of cremated remains – the perfect size for dividing remains among family members.
There's also a Tennis Ball Urn available, as well as other creative pieces with different themes.
18. Wall Mounted Bass Fish Ceramic Art Urn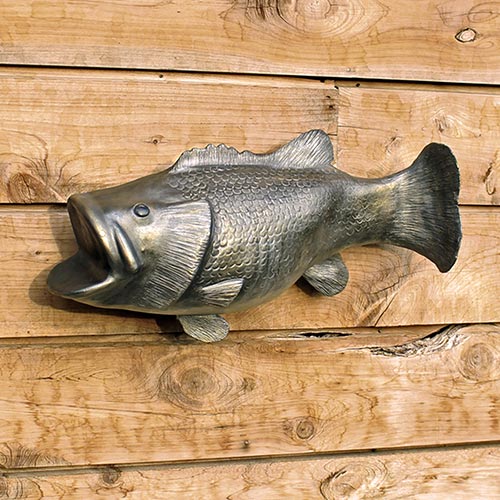 Our hand-crafted Wall Mounted Bass Fish Ceramic Art Urn is a perfect tribute to your fisherman or lady. This exceptional urn is the shape of a trophy bass fish and is finished with a brilliant glaze. The glaze gives it a glossy life-like shimmer.
This urn is designed to be displayed on the wall of any room in your home or office.
Related: 21 Best "Gone Fishing" Urns for Ashes
19. Oak Barrel Urn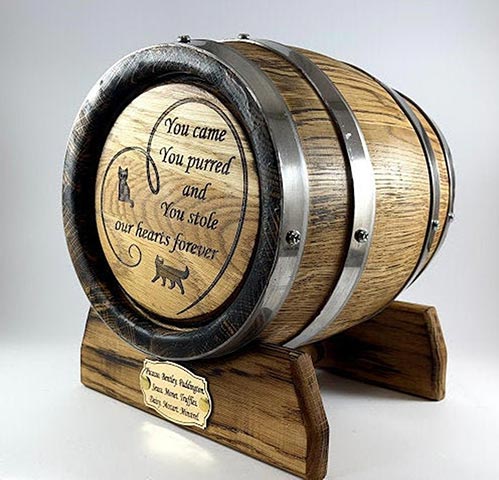 This hand-made Personalized Oak Barrel Urn is just right for your beloved pet (or even a loved one who enjoyed a good whiskey or barrel-aged wine). The authentic oak barrel is surrounded by stainless steel hoops and comes with a stand.
Designed to sit on a shelf, bar, or table, the inside is accessed from the back by lock and key. It is perfect to display in your home or office alongside your whiskey aging barrels.
20. Peony Flower Petal Urns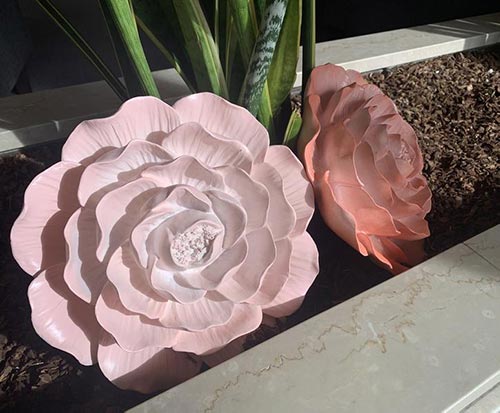 This Peony Flower Petal Keepsake Urn is hand-made from resin. The flower petal urn is a wonderful way to honor the flower lover or gardener in your life.
With numerous colors to choose from, you will be able to find your favorite color to represent your loved one. This urn is designed to hang on the wall or sit on a shelf, desk, or end table.
21. World Globe Urn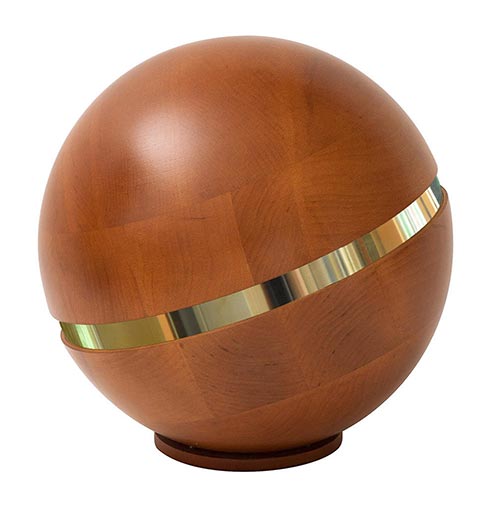 This World Globe Urn is hand-made from Alder wood. This is a full-sized urn to hold an adult's cremains.
The elegant orb is a great way to honor your beloved who meant the world to you. You can display an urn like this on the fireplace mantel and no one will even know it is an urn… unless you tell them.
22. Rustic Log Urn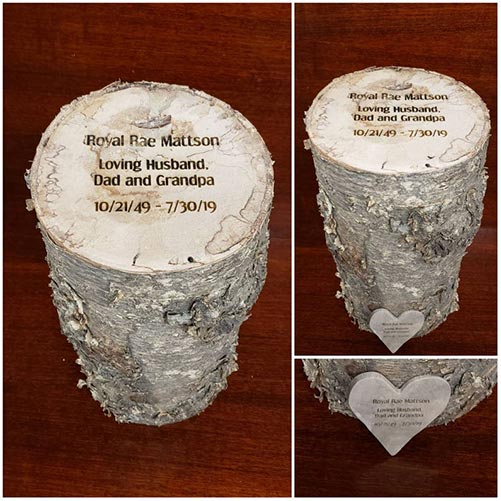 This is a hand-made Rustic Log Urn. It can be personalized with your loved one's name, dates, and a short message. Each natural-looking log is unique, made to order, and comes with a heart ornament.
These logs are salvaged in the Memphis area. No trees are cut down to make the urns.
23. Mountain Stairway Urn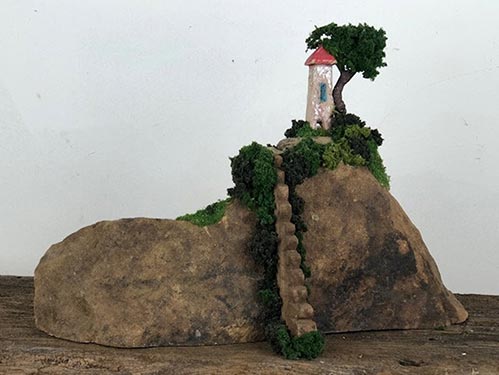 The Mountain Stairway Urn is a keepsake urn, designed for a small amount of remains. This contemporary art piece is hand-crafted using carved mountain stone and decorative moss. It includes a handmade tree and steps, and a painted hut.
All of these urns are designed and created by award-winning artist Steve Rhule and include a Certificate of Authenticity.
24. Deer Cremation Urn
This stunning Deer Cremation Urn is the perfect final resting place for a hunter or nature lover. This deer keepsake urn is made of cold-cast resin that has been rendered to a bronze finish.
Your loved one's engraved name and dates can be attached to the front or back.
This is an exceptionally detailed urn that is sure to last a lifetime.
Related: 20 Best Hunting Urns: Deer, Elk, Camouflage, & More
25. "Because Someone We Love Is In Heaven" Memorial Plaque Urn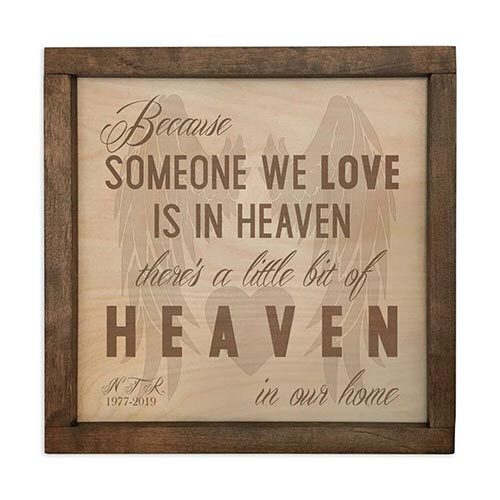 "Because someone we love is in heaven, there's a little bit of heaven in our home."
This Personalized Memorial Plaque Cremation Urn is a tender way to honor your loved one.
You can have your loved one's name or initials and dates etched into the lower-left corner of the design. This beautiful wall-mounted urn is proudly made in the USA.
Now that you have seen all the offerings for urns that don't look like urns, the hard part will be choosing just one.