Living memorials are part of a growing (!!) trend towards honoring the life of a departed loved one by emphasizing life, rather than death.
The idea is to shift the focus away from death and towards a celebration of their life as it lives on in the memories of their friends and family.
This is why many families now prefer to conduct "life celebration" events which feel more like a party than a memorial service. It's why eco-friendly and biodegradable caskets or urns have become so popular.
And it's why families will even use the ashes after cremation to plant a living memorial tree.
No matter what type of memorial you're planning, whether it be for yourself in the future or for a loved one now, you can incorporate as much or as little as you like of the "life celebration" idea into the service.
Living memorials provide a great way to sprinkle this idea of celebrating life into the funeral or memorial service. They also work wonderfully as memorial gifts to send when you can't make it to the funeral.
Here are are 11 of our favorite "Living Memorial" ideas to honor a loved one.
Living Memorial Ideas for the Service
Our website is supported by our users. We sometimes earn a commission when you click through the affiliate links on our website. See our privacy policy & disclosures for more information.
1. Plant a Memorial Tree
Planting a tree to honor your loved one's memory is a beautiful way to "give back" to the environment while establishing a living memorial that you can visit.
If your loved one is buried far away from where you live, or if you scattered their remains at sea, you can planting a memorial tree establishes a physical location to which you can go to grieve, remember, pray, meditate, leave or plant flowers, and so on.
There are many ways to incorporate a memorial tree into the memorial or life celebration service. If you are scattering the remains in just about any outdoor location (lake, stream, forest, part, and so on), you can almost always find a nearby place to plant a tree.
If the burial has already taken place, or if it is in a different location where many friends and family cannot attend, or if you are keeping the cremated remains at home or in a niche, then the planting of a tree can become the centerpiece of the memorial service, and does great in helping focus everyone's thoughts on celebrating life.
Just be sure to check with whoever manages the land, not only for permission but also to ensure that the type of tree you are planting will work for that particular area.
You can find many beautiful memorial trees here which you can purchase and plant yourself. Also, there are many organizations which will plant the tree for you – for example, Trees for a Change will plant one or more trees in memory of your loved one, and send you (or a friend) a lovely certificate indicating where and when they were planted.
A tree planting is a truly eco-friendly gift because the trees are planted in areas of the United States National Forests that have been ravaged by wildfires, so you know that the tree will be doing good for the environment.
2. Plant a Memorial Tree from Ashes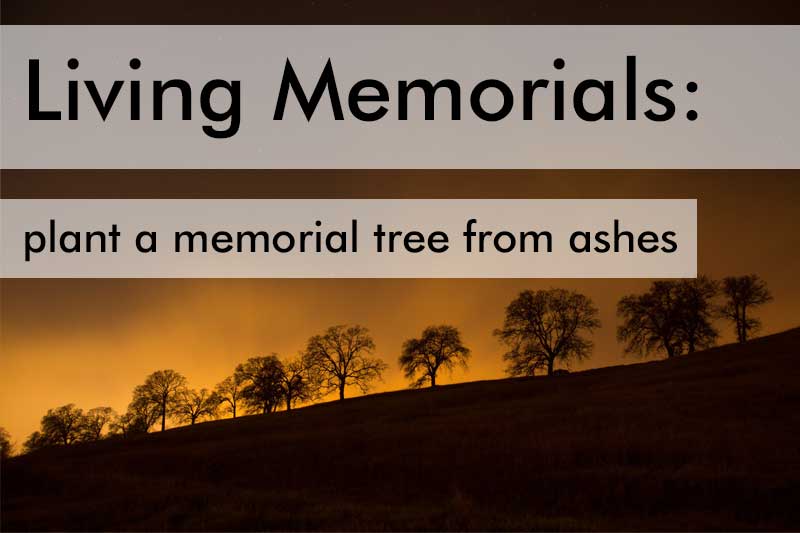 Planting a tree from ashes is an incredibly popular tribute to a loved one, which creates a living memorial that incorporates the remains in the growing process. Many tree types are available, and there is even a choose-your-own-seeds option. Read more about memorial trees here.
This can be a poignant and meaningful part of any outdoor memorial service. Mourners can participate by helping cover the urn with a small spade of earth, or perhaps scatter flower petals after the planting is complete.
3. Keepsake Saplings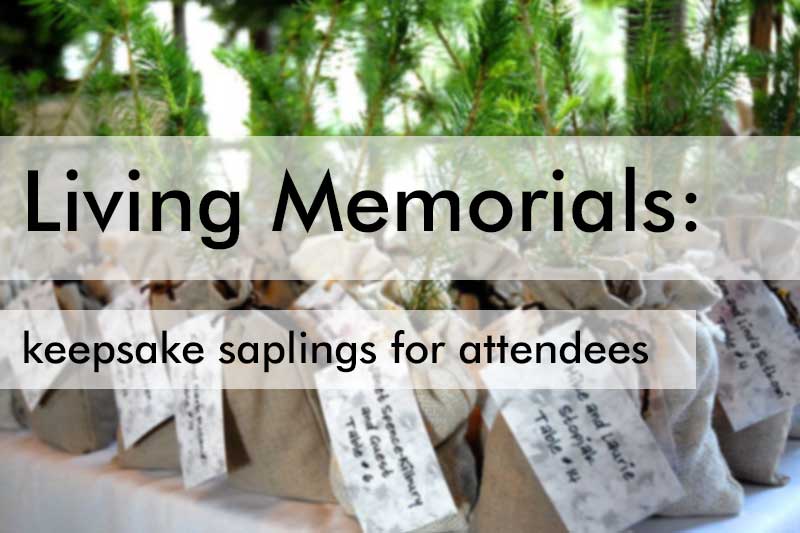 As both a keepsake and a thank-you gift for memorial service attendees, give all comers a sapling in an earthy and attractive burlap bag. These living memorials will then be spread far and wide to honor your loved one.
Beautiful eco-tree seedlings favors are available here.
4. Keepsake Seed Packets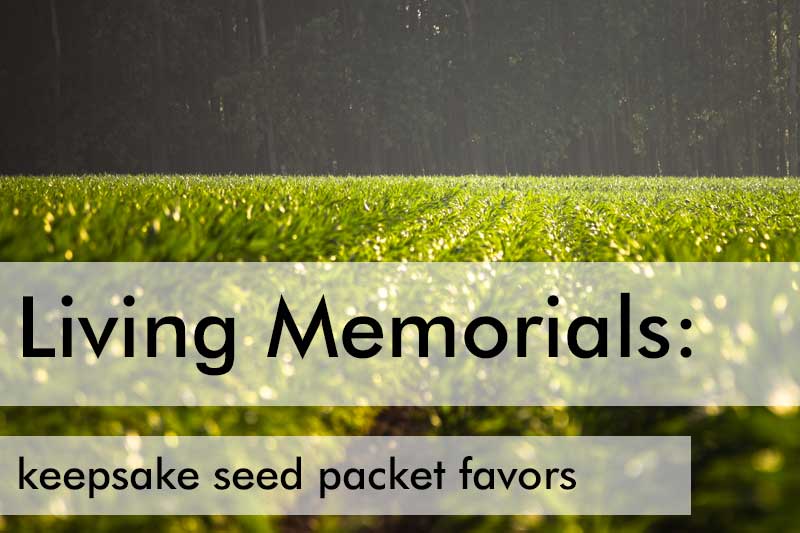 It has become something of a funeral tradition to give small keepsake tokens to attendees at the memorial service. These can be heart-shaped pewter charms, photo buttons or pins, car window decals, bookmarks, and much more.
There are also several options for Living Memorial funeral favors, of which Keepsake "Forget Me Not" Seed Packets are one of the most popular.
You can simply give out packets of the decedent's favorite flowers, or go with the fitting idea of "Forget Me Not," or have something a little more personalized like these customizable seed packets, which can include photos and more.
5. Blooming Remembrances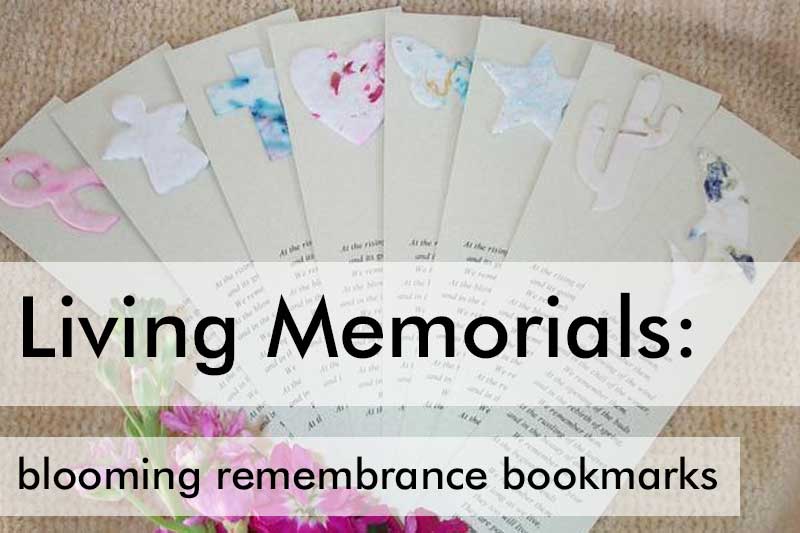 These Blooming Remembrance Bookmarks are a double keepsake. Attendees will receive a bookmark with a poem, quote, or other custom text. Each bookmark has a plantable blooming favor attached in your choice of shape.
This provides your friends and family with the ability to plant wildflowers as a living memorial, then keep the bookmark as a token reminder of the departed loved one each time they open a book.
6. Eco Confetti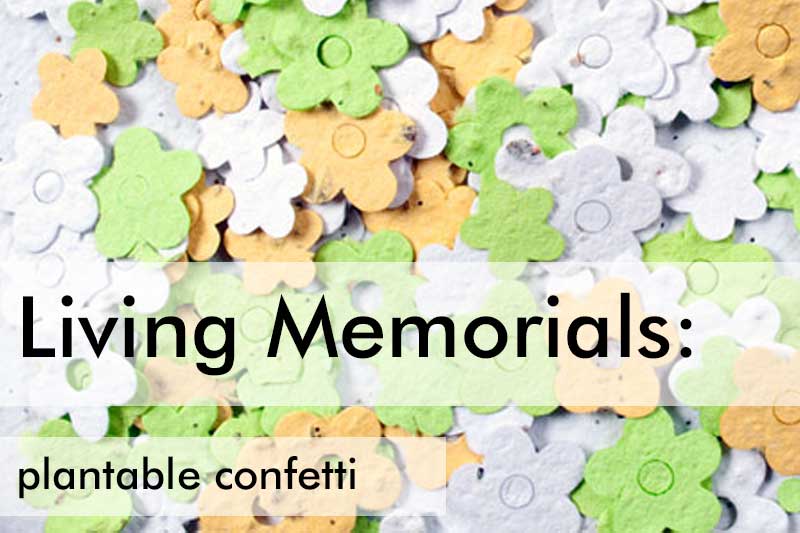 If the memorial event is taking place outdoors, consider plantable confetti as the "living memorial" element in the service. This is confetti made from seed paper, which is designed to be strewn about in a celebratory style so that it can grow into wildflowers to celebrate the life of your loved one.
Available in a variety of colors and styles from Botanical Paperworks, Etsy, or on Amazon.com.
Living Memorial Ideas to Send as Gifts
7. Bird Feeder Memorial Gift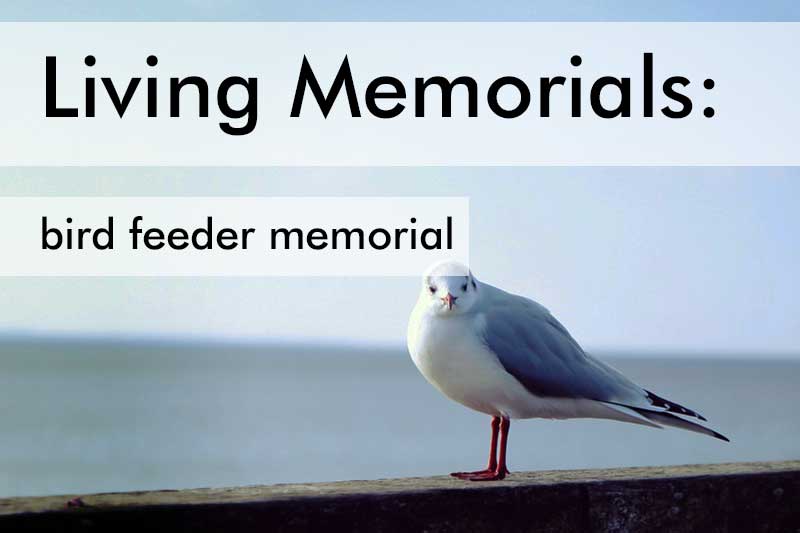 This is the one item on this list that doesn't actually grow. Still, a gorgeous cedar wood bird feeder is a life-celebrating gift which provides sustenance to wildlife in honor of your loved one.
Feed and nourish local birds by providing a food source, which will help allow wildlife to flourish around your home and give a sense of comfort and joy.
The Memorial Bird Feeder features a front acrylic panel personalized with your loved one's name and dates. Choose the art as well, which includes themes like sailing, horses, butterflies, hunting, Celtic Cross, military, etc. and much more.
View the complete collection here.
8. Gift Boxed Memorial Tree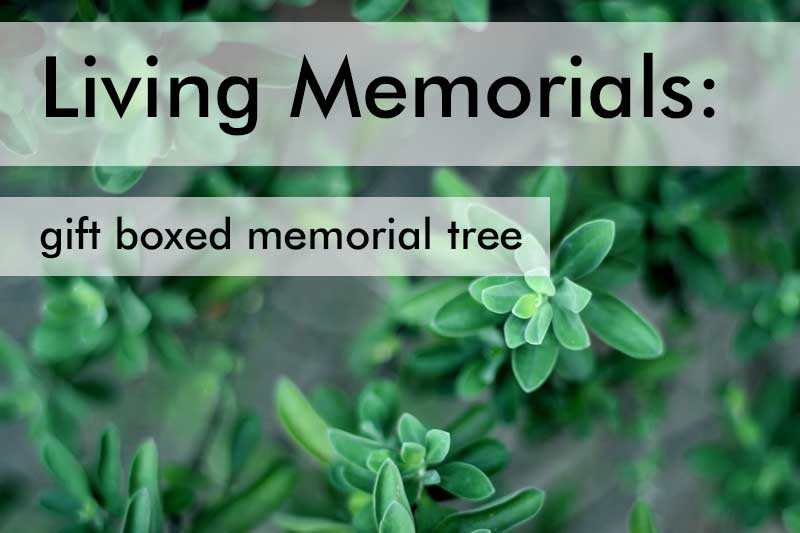 As noted above, planting a memorial tree to celebrate the life of a departed friend or family member is a beautiful, natural tribute which will endure for many years.
If you're looking for a living memorial gift idea to send to a bereaved friend or family member, this is one of the best. You can get lovely memorial tree gift packages many places, but here are some of our favorites:
9. Echeveria Living Wreath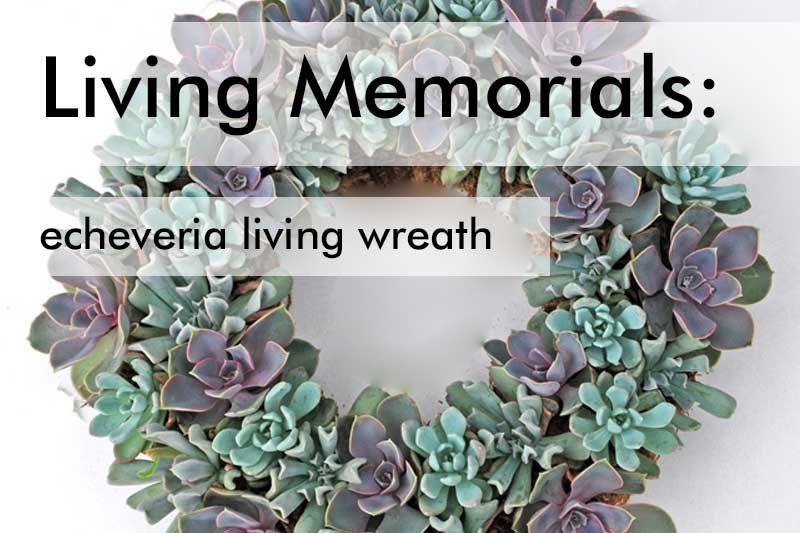 A living wreath is a wonderful way to send both a sympathy wreath and a living memorial gift. There are many gorgeous succulent wreaths which is grown, harvested, arranged, and shipped right here in the USA.
Wreaths like these can be displayed by hanging or in a saucer or plate on a table or counter for a long-lasting living memorial wreath.
10. Apple Tree-to-Be Kit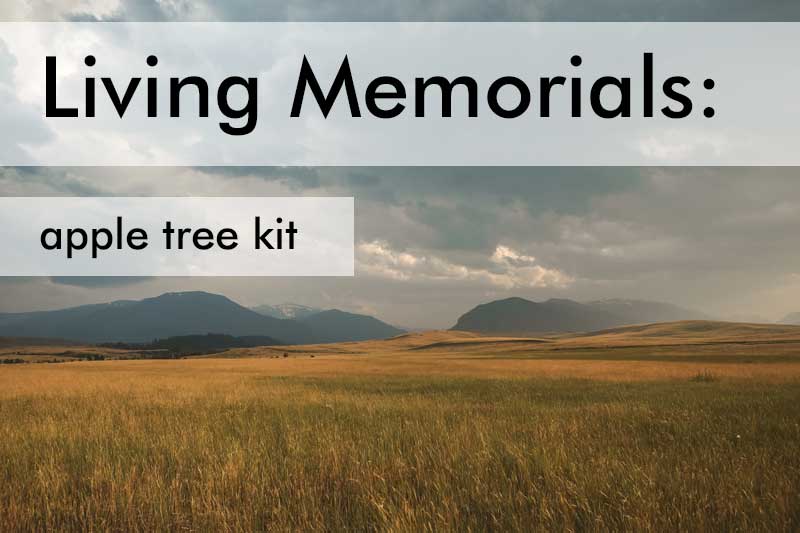 The Apple Tree-to-Be Kit is a fun and creative gift that will keep on giving as it grows and becomes a source of delicious apples. An unique living memorial tribute for a loved one's family, especially for someone who loved apples.
11. Plantable Card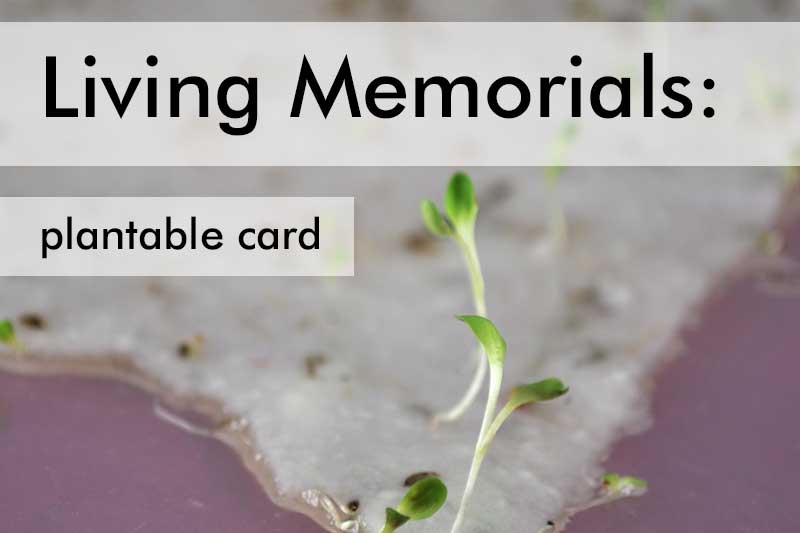 Seed paper is fun, unique, and sustainably made from recycled materials, and is therefore a great medium for sending as a sympathy card.
Plantable cards are easy to use, and they are not alive, so the recipient won't feel bad if they don't plant it. Plus, sending a seed paper card shows a little more care and thought than many more traditional sympathy cards.
You can make your own seed paper cards pretty easily if you're the crafty type, and if you're not, here are some great sources for plantable paper or cards:
Read next: How to Celebrate Life with a Green Funeral