Last Updated on August 29, 2019
Book review summary: The Green Reaper is the charming story of a modern funeral director as she wrestles with life, love, loss, and the contemporary funeral industry.
Gently weaving the childhood trauma of her mother's death together with a growing interest in helping others who have experienced the loss of a loved one, the author provides an insightful look into both corporate funeral home chains and the small-town alternatives. Among these alternatives is the increasingly popular "green burial" movement: eco-friendly and home-based funerals that are simple, natural, and personal.
Despite a few choppy chapters in the first half of the book, this "eco-mortician" has a fascinating story to tell that will resonate with anyone who has, or will someday, lose a loved one. In other words, everyone.
Our rating: 4.5/5 stars
Our website is supported by our users. We sometimes earn a commission when you click through the affiliate links on our website. Learn more here.
The Green Reaper: Memoirs of an Eco-Mortician
by Elizabeth Fournier
280 pages, published August 2017
Elizabeth Fournier lost her mother at the age of eight. This event shaped her life in many unexpected ways, one of the largest being an early fascination with funerals. For example, the young Elizabeth would line up dolls in toy cars for pretend funeral processions, dig tiny graves in the sandbox, and decide whether enough Barbies showed up to regard the decedent as "popular."
"This would turn out to be good practice for when I was called upon to officiate at real funerals," she writes, "although at the time it didn't seem like preparation for the future. It was merely my attempt to cope with the dreadful reality of the present."
In a friendly, affable tone, the author relates her early years and threads through it all the strands of funerals, cemeteries, and musings on death and loss. Acknowledging that such things are considered morbid, Elizabeth communicates a healthy and realistic perspective on death throughout. The book never stoops into a sense of macabre, nor does it revel in the grotesque. As one boss told her in a conversation about her future in the profession, she has "a calling for this."
You're excellent with the clients, and you know how to add nice little touches that make the service more personal. You'll find a place for yourself. If you don't want to be an embalmer, don't do it.
This conversation took place fairly early in Ms. Fournier's career, as she contemplated whether or not to pursue a degree in mortuary science. That is the educational track most aspiring funeral directors take in order to get an embalming license. The trouble, however, was that Elizabeth did not want to be an embalmer.
The Path to Eco-Friendly, Natural Alternatives
Embalming is the contemporary practice of preparing a body for viewing after death. It involves removing the body's natural fluids and replacing them with preservatives. The typical chemical used is formaldehyde. This chemical has many downsides and can even cause cancer in the embalming mortician. Thankfully, there are more natural alternatives, and this was the path on which Elizabeth wanted to travel.
That path is the substance of The Green Reaper. It involves friendship, romance, love, loss, and a spur-of-the-moment cash purchase of a hearse named Lucrezia outside of a Plaid Pantry. It involves the desires and longings we all experience, but modified to suit a mortuary career: the desire to serve clients better, to own our own business, to find fulfillment in work, to care for the environment, to raise a family. All these and more are the elements that make up the story of our own lives. In many ways, Elizabeth's story is no different. It just happens to be set in the funeral industry.
Because of that unique setting, The Green Reaper works well as a memoir. We get to catch a glimpse of the real people behind the formal business attire typical of funeral homes. We get to see inside the author's mind and heart, and also into the back rooms of a crematorium. This keeps it interesting throughout, as the story weaves between the personal, the practical, and the philosophical issues found where real life meets with death.
Writing Style
The book moves along at a good clip. It is easy to breeze through in a few sittings, but long enough to feel like you really get to know the author. Elizabeth's writing style is warm and open, and she offers a truly unique perspective into the deathcare profession.
A few sections in The Green Reaper's first half are hit and miss. Some meandering thoughts, a few rambling details about early life decisions and boyfriends, and the occasional joke that doesn't quite stick. These parts read as is they were written before the author truly hit her stride.
But even in those sections you will find the development of an interesting figure who has a passion for helping people in the midst of grief. As you get to know Elizabeth – and by proximity, the funeral industry – a little more, the payoff is definitely worth it.
Content and Age-Appropriateness
As mentioned above, The Green Reaper does not wallow in morbidity. There are, of course, plenty of insights into the funeral industry, the process of preparing bodies for burial, modern burial alternatives, death, and grieving family members. Mild graveyard humor and playful teasing from friends and co-workers gets peppered throughout. Jokes like these, which keep the book from being too serious and flows naturally with the narrative.
One story tells of a woman who had died and was not found for several days. This necessitated a careful removal process. The removal is described in temperate detail and is probably the most "morbid" section of the book. Aside from a few instances like this, a few "real life" moments including a breakup with an alcoholic boyfriend and a few scattered swear words, the content is very mild and appropriate for general readership.
Hopefully you can use these comments to determine age-appropriateness for younger readers. Consider it equivalent to a mild PG-13. Recommended for teens and up, mostly due to subject matter.
On the other end of the spectrum, if you're looking for creepy real-life mortician tales filled with gory detail, this is not the book for you. Ms. Fournier certainly talks about her work with and around the dead, but she does so with taste and moderation.
Summary
The Green Reaper is a charming book. It tells the story of a modern funeral director as she wrestles with life, love, loss, and the contemporary funeral industry, and does so with tact, humor, and thoughtfulness. Easy to read, interesting, and relatable to all walks of life. Recommended.
About Elizabeth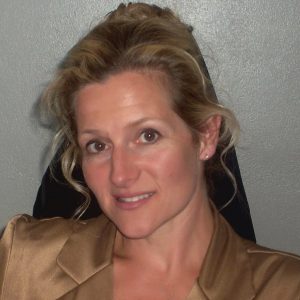 From the author's website:
I live in a lovely, rural county in Oregon where we are allowed to bury our loved ones in our own backyards. Yes, I said backyards. And as the undertaker overseeing five small towns, I have personally buried people in their own backyards.

I am known as The Green Reaper, a name I have affectionately been given as the green burial funeral director, educator and advocate who is always ready to lend a hand, or a shovel. My funeral parlor is in a town named Boring and is anything but. My mortuary is a remodeled goat barn that sits on 30 acres of country land, filled with old farming equipment and horses. I live on the land with my husband and baby, and have only a general store/gas station as a neighbor. And the scenic Clackamas River.

I have had the pleasure of assisting people with sustainable burial options. I love helping in this aspect of death. It truly makes people's eyes sparkle to feel as though their last act on earth contributes to a positive purpose. Those who have laid loved ones to rest in this setting have found comfort in knowing the body will return to the earth as the circle of life continues.
Elizabeth's next book, The Green Burial Guidebook: Everything You Need to Plan an Affordable, Environmentally Friendly Burial, is due out in April 2018.