Let's look at how to plan a celebration of life service.
Your loved one has just passed away, and your family is wanting to put together a celebration of life in their memory. Everything seems to be moving quite quickly now, and you have only so much time to get everything planned.
So how exactly do you go about planning for a life celebration? What are the important elements, what does a "service" look like, and how should it differ from a traditional funeral or memorial service?
We'll cover all these and more to help you honor – and celebrate – your loved one.
Read on!
Our website is supported by our users. We sometimes earn a commission when you click through the affiliate links on our website. See our privacy policy & disclosures for more information.
What is a Life Celebration?
A life celebration or celebration of life is a memorial event that focuses on the life and legacy of a loved one, rather than the sadness and grief of their passing.
This is often a memorial that is done instead of or in addition to a more traditional funeral (with the body) or memorial service (without the body).
Sometimes the family goes for a party-like atmosphere. Because of this, a celebration of life tends to emphasize the celebration. The focus is on happy memories of the deceased and remembering them for the things they loved.
This leads to actually doing or featuring those things – for example, you might include their favorite food or drink in the reception buffet, decorate with prints of their nature photography or art paintings, or use flowers from their garden as centerpieces and send everyone home with some "forget me not" plantable seed packets.
Celebration of Life vs Funeral
When planning a celebration of life, the emphasis is placed on just that – celebrating. The life your loved one lived and the legacy they now leave behind should be the center focus of the service.
This is in contrast to a funeral, at which the focus would primarily be on their death and how greatly they are missed.
Of course, people mourn at a celebration of life, and honor their loved one's life and legacy at a funeral or memorial service. The difference lies in how much these aspects are emphasized.
For more information on these differences, see here.
How to Plan a Celebration of Life
Personalize the Service
Life celebrations are all about personalization. Gone are the days of cookie cutter funerals at which you could always expect the same service: dark clothing and morose faces, flowers and organ music, hymns and a sermon, with a visitation the evening before and final disposition immediately following.
Your loved one wasn't cookie cutter, after all – they were their own person, a unique individual who had an impact on the lives of so many. Shouldn't their service reflect that?
Nowadays it's entirely possible, if you wish, to customize your loved one's life celebration in a way that would make them proud. For the most part, funeral homes are up-to-date when it comes to personalizing services, and are generally more than happy to assist you in doing so.
To personalize your loved one's service, you may consider:
Decorate the funeral home. Yep, you read that right. Just run it past your funeral director; there's a good chance they'll be totally on board and willing to help you make this an event (or even a party) to remember.
Decorate with items that had special meaning to your loved one. Were they really into Texas Rangers baseball? Decorate with red and blue balloons and streamers (or flowers). Make a mitt holding a baseball the centerpiece of every table, or the end decor of every pew. Was their Harley-Davidson their whole life? Ask the director if you can display their prized bike in the front of the chapel right next to the casket or urn.
Create a playlist featuring your loved one's favorite songs, and have it going in the background.
Spray their favorite perfume or cologne here and there for everyone to enjoy (it was your their signature scent, after all). Be sure that all guests will be okay with this one first!
Read a passage from their favorite book, or share some of their favorite quotes. See here for some of the most inspiring celebration of life quotes.
Set out photos of your loved one during happier times around the funeral home or chapel. You can also use a framed photo as a centerpiece for tables or a memorial table.
Have their favorite foods and drinks set out as refreshments for guests.
Offer an open mic so that those who want to share happy memories can.
Consider hiring a professional photographer or even videographer to capture or record the celebration.
Have a donation box into which guests can give to your loved one's favorite charity or organization.
Hold their celebration of life somewhere that was important to them. It doesn't have to take place in a funeral home. You can hold the service at their home, at your home, or at the park. It could also be on the beach, at their favorite restaurant, at a hotel or reception hall… pretty much anywhere.
Here are 100 more inspirational celebration of life ideas.
Celebration of Life Planning & Logistics
Of course, besides the personalization stuff, you also need to see to the logistical stuff. Every service is different, every life celebration is different AND every funeral home is different.
But the checklist is basically the same. Here are the general steps that you'll need to consider before you begin planning your loved one's service:
Pick the place to hold the service. Be sure that it's available to rent or reserve for the date that you want.
Pick the date you want to have the service held.
Select a celebrant, pastor, or other figure to lead the service. Make sure their schedule is open for the date you've picked.
Write your eulogy or have someone help you write it.
Decide if you want the event to be public (published in an obituary). Or private, for family and close friends only.
Get the word out. Be sure everyone you want to be there receives a notice or invite. This used to be done via newspaper; now it's done via email or social media post.
Decide on customization. Consider the bullet points we've mentioned above when picking out decor, music, food, and order of service.
Print service programs and/or offer a memorial keepsake for guests to take home with them.
Celebration of Life Service Outline
Here's an outline for what happens in the service itself. You can add, subtract, or alter elements to suit your needs or to make it feel more or less formal.
Musical Prelude – Hire a band or ensemble, or create a playlist of their favorite songs. Here are some of the best choices, including happy, uplifting, and even funny songs.
Introduction or words of welcome – This is done by the officiant/pastor, and is a good time to explain the emphasis on life celebration.
Eulogy or Tribute – The eulogy is typically given by someone close to the decedent. See here for how to write a eulogy. Feel free to include several funny stories to help lift and lighten the mood.
Reading of Obituary – Sometimes this is done in place of a eulogy (here's the difference between the two).
Announce Open Mic – The open mic will be included in your program, but we suggest that you mention it here before the slideshow so that people have time to prepare their thoughts and also may be inspired or reminded of great stories from the photos and videos in the slideshow.
Slideshow or Video Tribute – Focus on the happy times, the classic stories, the things they loved. You can make this yourself or get a professional to make a video or slideshow.
Open Mic – Story time! This is where a life celebration can really get going.
Paying Respects – At a traditional funeral, this is where people walk up to the front for a viewing (open casket) or pay their final respects (closed casket). For the celebration of life, you might have a cremation urn or no body/remains at all. But people still like to pay their respects, so you might consider having a candle lighting or create your own act of tribute – have everyone pick a flower from ones you've collected from their garden, or have everyone write "Roll Tide" on a photo canvas with the Alabama fan's portrait.
Closing – End with a prayer, poem, or quote. Offer the family's thanks to those who helped or have been extra supportive, and invite celebrants to the reception, after-party, ash scattering, or whatever you want to come next.
Other elements:
Religious prayers, hymns, and readings
Sermon
Moment of silence
A favorite (often funny) movie/video clip that sums up the person
Reading of something the decedent wrote – a poem or inspiring speech
We've covered much of this in our Funeral Planning Guide. A celebration of life service is essentially the same, so we'll refer you to that if you need additional information.
Again, the main differences are that 1) the Life Celebration will focus more on the person's life and legacy, with an upbeat, joyous feel, and 2) you are more free to add party-like elements, humor, and extensive personalization.
Celebrating the Life of a Deceased Loved One While Mourning Their Death
Maybe a life celebration is what your loved one would have wanted. Maybe it's what the rest of your family is hoping to plan, rather than a funeral.
But if you're being honest, you may be thinking it just doesn't seem right to be celebrating at a time when you have barely begun to grieve.
While it may seem oxymoronic, the two (celebrating and mourning) are not mutually exclusive. Just because you'll be holding a life celebration does not mean that everything has to be all smiles, laughter and cracking jokes. It's perfectly okay to cry over your loss or to not want to take part in joyful festivities or remembrances just yet.
The point of the "celebration" is to commemorate who your loved one was, the full life that they enjoyed, and the huge place they'll always hold in your heart.
Related: 10 Creative Memorial Tributes to Your Loved One
And if that brings tears to your eyes, it's only proof of how very much they are still loved by you.
---
We hope that after reading this guide, you feel a bit more ready to plan your loved one's celebration of life. For even more ideas on how you can go about making it an event to remember, see here.
Pin It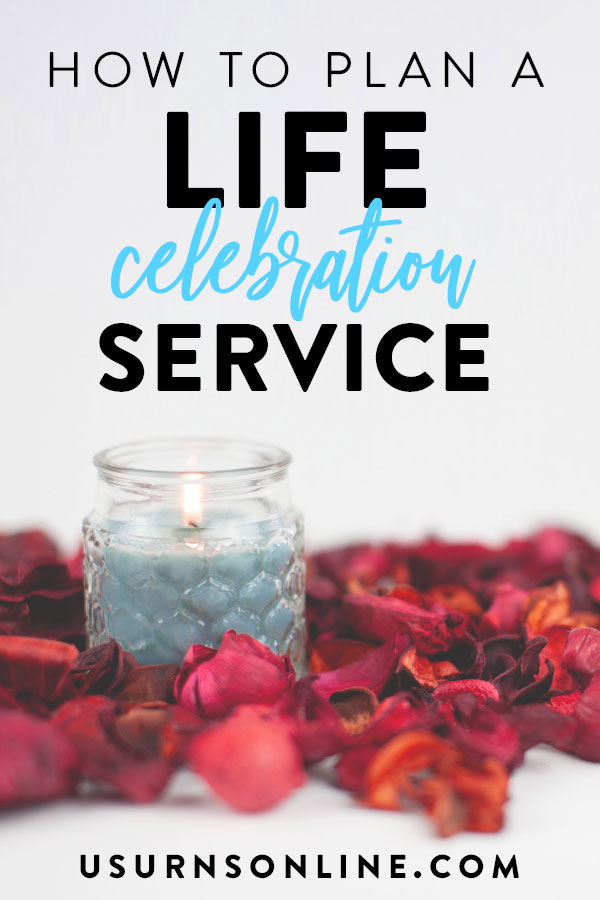 Aubrey is a lifelong writer who has served in the funeral industry since 2016. After graduating from Dallas Institute of Funeral Service, she knew she wanted to continue to serve families through her writing, but didn't know how.
Soon after, Aubrey experienced a "lightbulb" moment and started her eulogy writing business, Eulogies by Aubrey, in 2019.
Aubrey has written professionally since 2012, covering not only funeral-related topics and gift trends, but also for TV guide listings, as well as legal topics. She began writing for US Urns Online in 2019.
Aubrey's work has been featured in Huffpost, Coming of Age Magazine, and 1800Flowers.com. Increasingly interested in prenatal and postpartum mental health, as of 2023 Aubrey is a trained and certified birth and bereavement doula (SBD), and is currently studying toward her degree in Health Science. She also holds additional certifications in Cremation Arrangement (ICCFA) and Burial at Sea (NEBAS).