If you are unable to attend a funeral, it's appropriate to let the family know by sending a letter.
This "unable to attend funeral" letter should include condolences and a simple apology for not being able to make it to the service.
Here's what to write in your letter (or sympathy card), plus some free examples you can use.
Our website is supported by our users. We sometimes earn a commission when you click through the affiliate links on our website. Learn more here.
What to Say When You Can't Attend the Funeral
When you can't make it to the funeral or memorial service, it's best to contact the family and let them know by sending a card or letter.
You don't want to call; often, those who grieve are already overwhelmed with a swirl of emotions, funeral arrangements, plus all the phone calls and texts and social media messages. Don't add to that.
Instead, do the graceful and tradition thing: Write a proper "unable to attend the funeral" letter.
Here's what to include:
Write the date
Salutation ("Dear [Name]" or "Dear friend," etc)
Acknowledge the loss ("I was so sorry to hear of [name's/your mother's/etc] passing…")
Offer your condolences (here are over 100 examples you can borrow)
Thank them for the invitation (to the funeral, memorial service, wake, or any other funeral event)
Say that you can't attend the funeral ("Thank you for inviting me to the service on Saturday. I'm sad to say that I won't be able to attend the funeral, but my thoughts will be with you and the family.")
Try to avoid saying why (to someone who has their whole world turned upside down, no excuse will make sense to them; so simply say that you are unable to attend)
Mention your gift or offer to help, if applicable ("So I'm sending these flowers…" or "This lovely bird feeder reminded me of [Name], so I thought I'd send it as my way of saying sorry for not being there" or "When I get back into town I'll come over and help with dishes and laundry, or just sit with you a while. I want to be there for you in whatever way you need.")
Sign off ("With much love and sympathy," or "Your devoted friend," etc; be sure to sign your name)
Read more: Etiquette for Missing a Funeral
Tips for Writing a Condolence Letter or Card
Write your message by hand
Send it in the mail; feel free to text, too, but nothing feels as authentic as real, physical mail
Type out your message first. That way you can edit and rephrase it as needed
Choose quality stationery or a nice sympathy card with space to write in your own message
Use the decedent's name (this is actually a way of affirming the person who is grieving; it's the opposite of "ghosting")
Be yourself, be natural, be genuine
Optionally, include a gift, gift card, flowers, or offer of help (if you offer to help, be specific and follow through on it)
Send the letter as soon as possible; preferably have it arrive before the funeral
Read more: How to Write a Condolence Letter
Unable to Attend Funeral Letter Examples
While these examples are editable and printable, we recommend that you hand-write your apology for not going to the funeral.
A printed letter can seem a little formal and impersonal. Sort of like you…. uh… copied it from the internet. You don't want to give off that vibe, and we don't want that for you either.
So instead, please consider writing our your apology. Adjust the wording in these sample messages to fit your situation. Get some nice stationery or good card stock, use a quality pen, and address the envelope by hand as well.
Consider also including a small token of your sympathy. This can be in the form of a sympathy card you buy from a store, including a gift card, sending flowers, or sending a sympathy gift instead of flowers.
Example #1: To a Friend or Family Member
[Download editable/printable document here]
Dearest friend,
My heart was so saddened to hear of Jimi's passing! I can't imagine what you must be going through. I've been thinking about you every day since then, and praying for comfort.
Thanks for sending the invitation to the funeral, it sounds like it will be a lovely day to remember him. I won't be able to attend the service, so I'm sending the enclosed gift card; I'm sure there will be days where you don't want to cook, and they deliver, so I thought that might help in some small way.
I'll text you when I'm back in town on the 18th, and I'd love to come see you. I can drop off a coffee from Stumptown and give you a hug and be gone! Or I'd also love to come and help with the laundry or watch the kids while you take a nap, whatever you need that would be helpful. Think about it and let me know what (and when) works best, and I won't be offended if you're not up to anything. I just want you to know how much I love you.
With deepest sympathy, your friend,
[Signature & Name]
Example #2: To a Coworker, Colleague, or Other Professional Relationship
[Download editable/printable document here]
Dear Ms./Mr./Mrs. [Surname],
Thank you for the kind invitation to your father's funeral service. Having met him several times, and hearing your always gracious comments and (very funny) stories about him, I feel like I know something of the man who surely left you an enduring legacy.
I'm writing to extend my apologies that I am unable to attend the funeral. I saw on the invitation that the family recommends a donation to Richard's charity in lieu of flowers, and I am more than happy to make a contribution which you will find in the enclosed check.
Please accept my sincere condolences in this time of loss. My thoughts and prayers are with you and your family.
With warm sympathy,
[Signature & Name]
More Brief Examples
Oh dear friend! I wish I could be there with you even now. I won't be able to make the funeral but I will come see you as soon as I am able. Until then, please accept my love and sympathies!
I am honored to have known [name]. He/She was truly an inspiration, and I was so saddened to hear of his/her passing. Please accept my condolences, and my apologies as I was unable to attend the funeral. I'm sending these flowers in his/her memory, and to let you know I'm thinking of you.
My heart goes out to you and your family in this time of loss. Thank you for sending the invitation to [Name's] funeral; although I won't be able to attend I do want you to know that I am thinking of you and grieving along with you.
Dear [Name], I so wanted to attend the funeral but things didn't go as planned. Please accept my apologies for not being there, and I'm sending this sympathy gift as a small token of my love towards you and the family.
I will always cherish the memories we shared together with [Name]. I'm sorry I couldn't make it to the funeral, but I did watch the live stream that was posted online, and I can say it was a truly beautiful service. My condolences to you and the entire family.
Although I cannot make it to your dad's funeral in person, please know that my heart is with you and the family during this difficult time.
Everyone who met your mother knew what a special person she was. I'm so sorry I can't make it to the funeral; please accept my apologies and condolences, and know that I will treasure [Name's] memory always.
Tip: Take these examples and rework them ever so slightly to make it your own. The recipient will be able to tell the difference!
What to Send When You Can't Attend the Funeral
Sympathy Cards
Any of those brief examples from above will work for a sympathy card. A card (with a handwritten note inside) often feels more personal than a printed letter, and it shows that you've put thought into what you're sending.
Etsy is one of the best resources for sympathy cards; there are many brilliant artists there who have created thoughtful and beautiful sympathy cards that will stand out from whatever you might find at Walmart or the card store in the mall. Browse popular sympathy cards here.
Here are a few of our current favorites.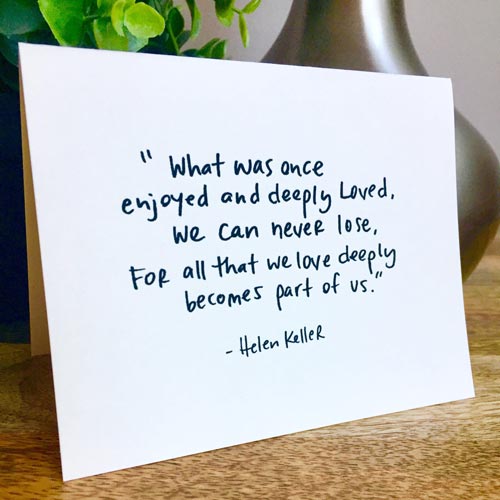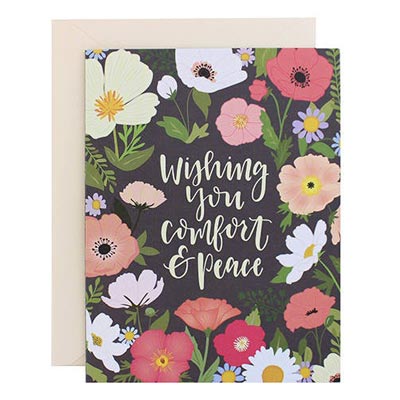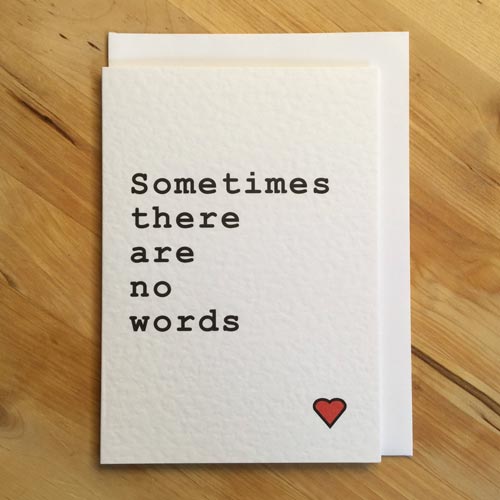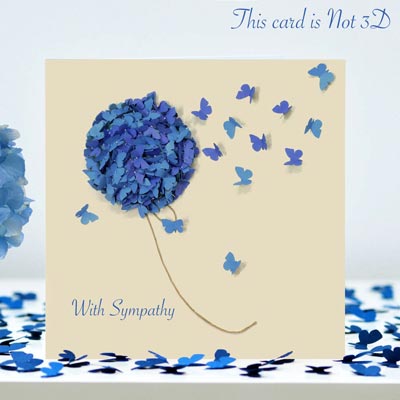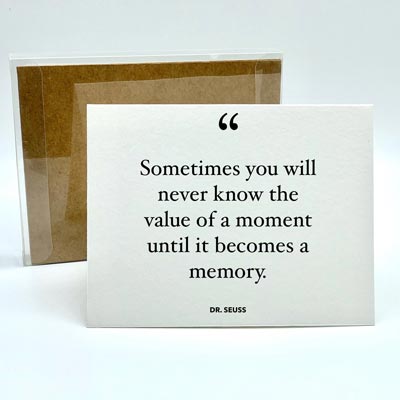 Read more: Sympathy Card Messages & Sympathy Quotes for Loss
Sympathy Gifts
Flowers are the traditional, go-to token of sympathy, and are perfect to send along with your apology letter for when you can't attend the service. But here are a few more ideas.
Make a donation to the funeral fund or to a charity/cause that was important to them
Have a tree planted in their loved one's memory
Include a gift card for food (especially local restaurants that deliver)
Send a care package like these ones
Give sympathy jewelry, or one of these unique gift ideas:
Personalized Memorial Bird Feeder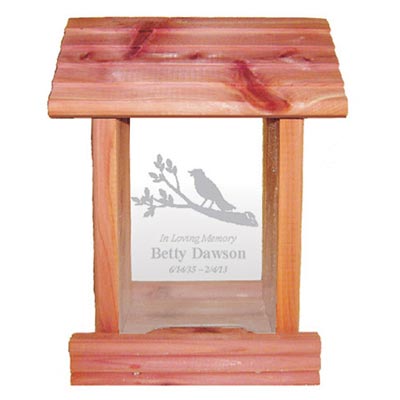 This cedar wood bird feeder is designed to be hung up outside. Includes personalization of name and dates, and there are many beautiful themes from which you can choose. You can include a sympathy message with your order as well.
Succulent & Memory Candle Gift Box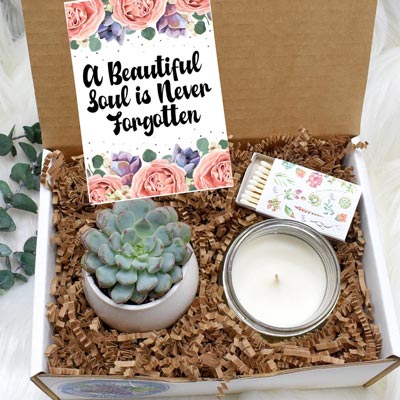 This lovely little gift box includes a gorgeous succulent, a candle with matches, and a sympathy card. With this, too, you can include your apology/sympathy message along with the gift.
Raise a Glass in Memory Bottle Opener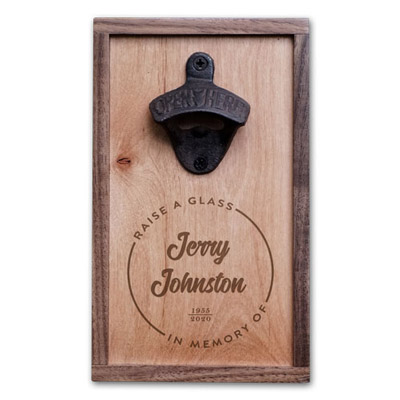 This wooden memorial bottle opener is handcrafted in the USA and personalized to order. It's the perfect way to "raise a glass" to a loved one's memory when you're far apart. And of course you can send a sympathy/apology note along with the gift.
For more thoughtful gifts, see 10 Heartwarming Gifts for a Grieving Friend, or our classic article featuring the 29 Best Sympathy Gifts for Someone Who Is Grieving.
Read next: Etiquette for Missing a Funeral
Pin It