What should you send when someone dies, instead of flowers?
Funeral flowers are beautiful, but many people find them depressing. After all, once the hubbub of the funeral or memorial service subsides, the flowers sit on a table and… die. A sad collection of wilting flowers isn't exactly the image you want to leave with the recipient of your memorial gift.
So many people look for funeral flower alternatives to give that somehow celebrate life.
Whether it's a "living wreath" instead of a traditional flower wreath, or perhaps a bird feeder that draws local wildlife close and actually helps sustain them, we've collected the best sympathy gifts to send instead of flowers.
If you're looking to get away from the overdone memorial gift tradition of funeral flowers, here's what to send instead of flowers when someone dies.
What To Send Instead of Flowers When Someone Dies
Our website is supported by our users. We sometimes earn a commission when you click through the affiliate links on our website. See our privacy policy & disclosures for more information.
Send a Personalized Bird Feeder
What to send as a sympathy gift instead of flowers: How about a personalized cedar wood bird feeder?
The "Bird on a Branch" design shown above is just one of many we can engrave onto the front panel of the feeder. Includes laser engraved customization name & dates. Made in the USA from real aromatic cedar wood, this makes a great "life-affirming" gift.
Send a "Living" Memorial Wreath
A "living wreath" such as this gorgeous Succulent Living Wreath is a great option to send instead of flowers, as sympathy floral wreaths are a well-established condolence gift.
This one is different, however, because it does not simply wither and die after a week or two. It actually lives on. Keep it lightly watered now and again, and this beautifully unique wreath will be a very long-lasting memorial gift.
Related: 11 "Living Memorial" Ideas to Honor a Loved One
Send a Plantable Condolence Card
Cute cards such as the ones pictured above feature plantable seed paper cutout images affixed to a sympathy card. The recipient can plant the seed paper to grow flowers that will bloom in memory of the departed.
If those designs don't strike the right tone, you can get plain seed paper cards and write your own condolences. These are also handy for use as thank-you cards, invitations, and more.
At Urns Northwest, we also offer sets of plantable memorial bookmarks that are ideal for giving out to attendees at the memorial service.
Send a Jewelry Memorial Gift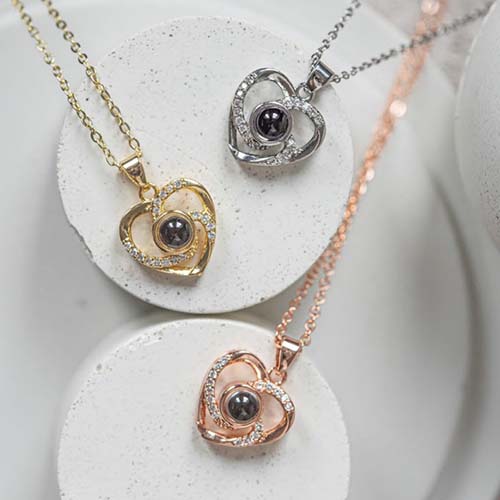 Cremation and memorial jewelry are very popular ways to remember and honor a loved one. A beautiful necklace will help keep their memories of their loved one "close to their heart."
Consider a personalized memorial like this elegant photo necklace, which features a tiny photograph hidden in the "lens" centerpiece of the pendant. Or, if their loved one was cremated, there are many affordable and beautiful cremation jewelry pieces that hold a tiny keepsake amount of cremated remains.
Either option can be a very appreciated and treasured sympathy gift.
Send Something Useful for the Funeral
Call a family member and ask to provide something that will help with the funeral. Be specific; a generic offer of, "How can I help?" is almost always turned down.
Instead, say that you would like to help by taking care of one of the following items, and ask which would be best:
Send a Sympathy Meal
We wrote the definitive Guide to Sympathy Meals After the Funeral, which you can read for tips and recipes. If you're away and are looking for something to send, consider organizing a "meal train" for locals to bring hot meals in the weeks following the funeral.
There are also a variety of options for boxed meals delivered to their door. These include Hello Fresh delivered with ready-to-cook ingredients, SendAMeal.com, calling in a local delivery for their favorite pizza, Uber Eats, or gift cards to local restaurants.
Send a Mass Card (for Catholics)
If the decedent is Roman Catholic, one memorial gift choice is to arrange a mass and send a mass card.
For the uninitiated, a mass card is sent to the family of the deceased to let them know that the sender has arranged a mass to be performed in memory of the departed loved one.
Send a Self-Care Kit
Self-care sympathy gifts are a good idea for a sister, bestie, or co-worker. It tells the recipient that you are thinking of them, and that their welfare is important to you in this difficult time.
Here are a few self-care memorial gift ideas:
A luxurious bath gift set
Manicure or spa gift certificate
Order delivery from their favorite to-go place
Food baskets – but only stuff that won't spoil easily, as they will likely have lots of food brought over
Something you know they love – sports tickets, a new book from a favorite author, etc
Send a Quirky Gift
Sometimes what a person needs is something to take their mind off of everything.
If you're a close friend and you know their tastes, a good idea might be something special like agate rock wind chimes or a personalized pocket knife, a t-rex shaped coffee mug or a silly card game.
Send Something for the Kids
Don't forget about the little ones. During a time of sadness and confusing emotions, a little extra care shown towards kids in the family can go a long ways.
Pictured above we have the Money Maze Puzzle Box, an inexpensive little puzzle they will have to solve in order to open the puzzle box and retrieve the money. This will provide something to occupy their time while also giving them a nice little surprise.
If you know what the kids are into, go with that. Pokemon, slime-making kits, Legos, journals, and marbles are big with my kids right now.
Maybe the children in your family love crafts, Minecraft, Fortnite, sports, or those little "blind bag" collectible figurines. You can also choose a single gift the whole family can use, such as a magnetic toy building set or a deluxe art set with markers, pencils, and painting supplies.
Send a Gift Certificate
If you know what they like and appreciate, send a relevant gift certificate.
If they love to shop, a card for their favorite store. For movie buffs, a theater gift card. Books, coffee, and restaurants are also popular choices, always well-received.
Include a note that lets them know you're thinking of them and why you chose the particular vendor.
3. Healing Care Package from Here For You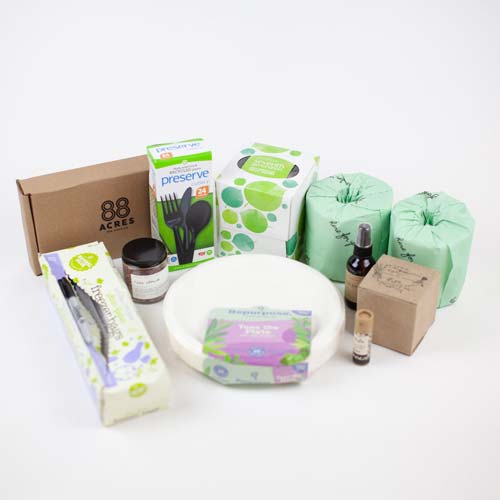 Compassion Packages are a fantastic way to care for a friend or family member! Choose from household essentials to self-care packages and everything in between.
These boxes are created and curated by Here for You, a company devoted to providing helpful care-packages for a bereaved family or individual. A charming way to say you are keeping them in your thoughts!
If you want to learn more before ordering, see our review & unboxing here.
Send a "Raise a Glass" Memorial Bottle Opener from Urns Northwest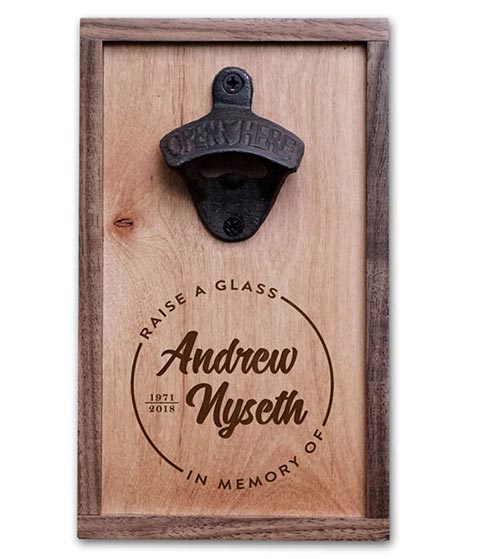 Proudly made in the US, this personalized bottle opener is made from solid contrasting woods. The loved one's name and dates will be laser etched on this memorial.
Every time the recipient opens a bottle, they will be raising a toast to their loved one! This is a meaningful gift that you can send directly to your grieving friend or family member.
Send a Very Big Hug (Blanket)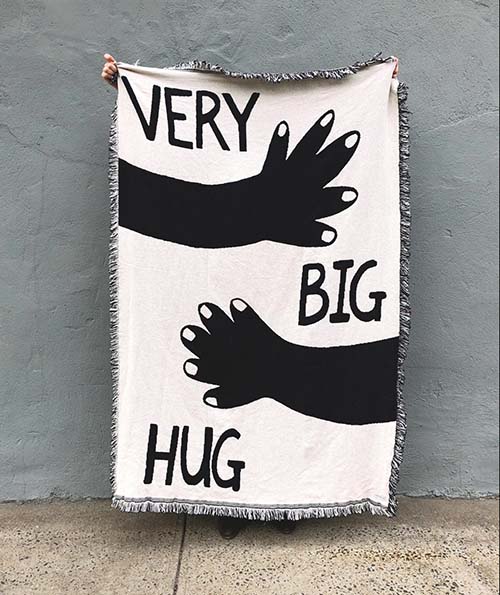 This 100% cotton Hug in a Blanket is the perfect way to show your love! Handmade by Calhoun and Co. on Etsy, this will be a package anyone would appreciate opening.
Send a warm and heartfelt hug to that special person! Is there a nicer way to let someone know you are thinking of them?
Send a Check
Sending money can be a very important service and welcome memorial gift to the family. Funerals are expensive, time is taken off from work, and financial stress is inevitable.
In accord with your means and their needs, you might consider sending a check to cover groceries or to cover a month or more of their living expenses. No matter how large or small, it will be appreciated.
Send a Gift of Service
Helping out is great way to show a personal level of care.
Here are a few memorial gift options for when you're local:
Do some yard work. This is a great one because you won't even need to go inside. Come and weed the garden, mow the lawn, rake the leaves, etc
Clean the house. Make sure it's ok first, but don't give them too much time to pre-clean. Be ready to get your hands dirty and take care of business!
Clean out the post-funeral junk. Toss out old flowers, clean out the fridge from all the casseroles, break down cardboard boxes from mailed gifts and memorial service supplies, organize the keepsakes from the funeral
Babysit the kids. Come to the house so they can get out for a long walk or go to a movie, or take the kids so they can have some peace and quiet at home
Run some errands. Pick up the dry cleaning, return items borrowed from family or friends, walk the dog
Get the groceries. After the meal deliveries end, run to the grocery store and pick up fresh fruits and veggies and some healthy prepared meal items along with some TP and other weekly necessities
If you're in a different town or state, you might want to consider hiring some local people to help out in the ways listed above.
Make sure that whoever you hire is either well regarded or already personally known to you or the recipient (preferably both).
Spring for a restaurant gift card and hire their regular babysitter, or send them groceries and household goods via online delivery so that they don't have to go grocery shopping for a week.
There are plenty of ways to get creative with the gift of service! Here are more ideas: How to Help a Grieving Friend.
Etiquette for Sending a Sympathy Gift
Have you ever had to send anyone a sympathy gift? Many people have questions about the appropriate etiquette of sending gifts, like what to say in a gift note, and what to do if you knew the family but not the decedent, or you knew the decedent but not the family.
Below you will find some great etiquette tips to follow.
When should you send a sympathy gift to the family of the decedent?
The best time to send this gift would be as soon as possible after the funeral. But truly, anytime is appropriate.
I like to send something a few weeks out. That lets the family know that you are thinking of them even after things are settling down. That will mean a lot to the family.
Usually, within two weeks of the funeral, all gifts and cards have been sent out. If you've missed that time frame, you should still send your gift! It will be all the more meaningful because by that time most other people have "moved on," while the mourner is only beginning to adjust to life without their loved one.
Be aware of religious customs.
For example, you wouldn't send flowers to a Jewish family; it is not their custom. But charitable donations are acceptable. You may come by their home and pay your respects.
For the funerals of some Asian cultures, white or yellow mums are appreciated. White mums are a symbol of grief. Christians appreciate a card with a comforting Scripture verse, while those of other faiths or "none" would probably prefer a Celebration of Life quote.
Do a little research and use your judgment. Apply common sense to common courtesy and you'll be fine.
Be careful sending food.
You should be aware of dietary restrictions, allergies, and religious customs.
At a Buddhist funeral, it would not be appropriate to send food. This would be considered poor funeral etiquette. Some Buddhist families may consider a gift of vegetarian food appropriate, though. It is always best to check first.
I can't be there, now what?
This is the best time to send flowers, a fruit basket, or a nice plant! You will still be showing your love and support by providing a thoughtful gift.
You can also donate to a favorite charity in the deceased's name. Be sure to be there for the family after the funeral.
Related: Unable to Attend the Funeral Letter Examples
Can I send more than one sympathy gift?
I personally love this idea: Send a card or gift on the anniversary of the first month, the third month, the sixth month, and one year. (Tip: Put reminders in your phone's calendar.)
This is a fantastic way to let the family know that you are still thinking of their loved one.
Remember, the grieving process takes time. A lot of gifts are sent in the first two weeks. It will mean so much to the family to receive mementos during the first year following the death.
Is it appropriate to send a gift if I don't know the family?
Yes, it is. It will mean so very much to the family to know how their loved one affected your life. Write a little note to let the family know "how you knew" their loved one. "It was so wonderful working with Jonathon for the last few years. He brightened my day and will be greatly missed."
The family will often collect and save all the stories, photos, and condolence notes to put into a scrapbook or memory jar. On that note, a scrapbook or memory jar plus a couple of hand-written memories of their loved one would be a meaningful gift.
Is it acceptable to send a gift if I don't know the deceased?
Yes, it is. Helping a grieving friend through this hard time will let them know they are supported. It will feel good for the family to know that you are thinking of them at this time.
I don't want to send a gift, what can I do?
This is a common question. Give of your time! Offer to help clean house, do laundry, make meals, mow the lawn or even babysit. During this stressful time, sometimes this is the best gift—just a little extra time for themselves. Help is always welcome!
What To Write In a Gift Note
For the gift note, it's usually best to keep it simple.
Acknowledge the loss
Offer your sympathies/condolences
Let them know you are thinking of/praying for them, you love them, are wishing them comfort and peace, etc (as appropriate to your relationship)
Sign off – be sure to say who the gift is from!
Learn more: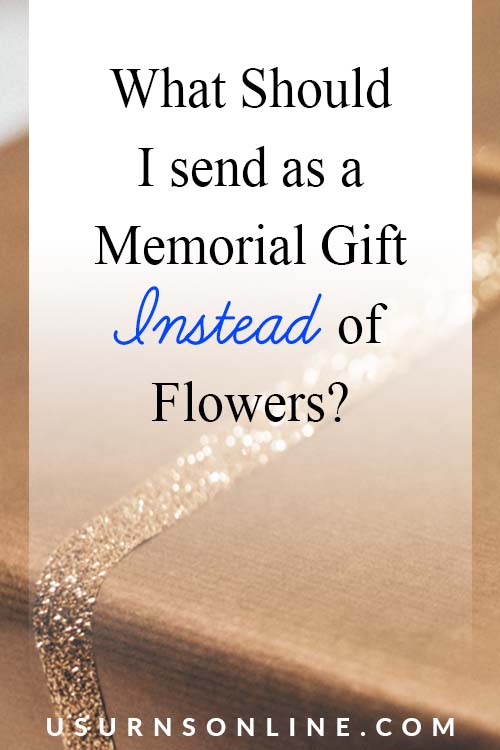 Daniel has been working in the funeral industry since 2010, speaking directly to grieving families as they made funeral arrangements.
He began researching and publishing funeral articles on this website as part of his role as product and marketing manager at Urns Northwest.
Having written hundreds of articles and growing the site to multiple millions of views per year, Daniel continues to write while providing editorial oversight for US Urns Online's content team.