Last Updated on October 13, 2021
Cremation jewelry for ashes offers you a beautiful, meaningful, and lasting way to keep your loved one close to your heart. By placing a small amount of cremated remains – "ashes" – into a heart-shaped cremation urn pendant, you will be showcasing your eternal love everytime you put on your heirloom memorial necklace.We have a complete collection of finely crafted cremation jewelry for ashes, which you can browse here. Below, we'll feature one of our most popular designs, the affordable heart pendant necklace we call the Eternity Heart.
We introduced this memorial necklace back in September of 2016, and it's proven to be a beloved and easy-to-use cremation jewelry piece for many families. Today, we'll showcase the double-heart pendant further with new videos that give you a 360-degree view of the item and also demonstrate how to fill the necklace with the fill kit that is included with each order.
Heart Pendant Cremation Jewelry 360 Degree View
Genuine Rhodium finish, available here:
18 Karat Gold finish, available here:
Each lovely necklace is made from durable brass-plated gold or rhodium, with a flawless finish polished to perfection. Each cremation pendant includes matching 18-inch necklace chain, complete fill kit with instructions, and simple patented sealing technology that uses no glue.
Heart Pendant Cremation Jewelry Filling Instructions
And lastly, here are some additional photographs. Our affordable heart pendant cremation jewelry for ashes is a marvelous choice to honor your loved one, which you can see for yourself: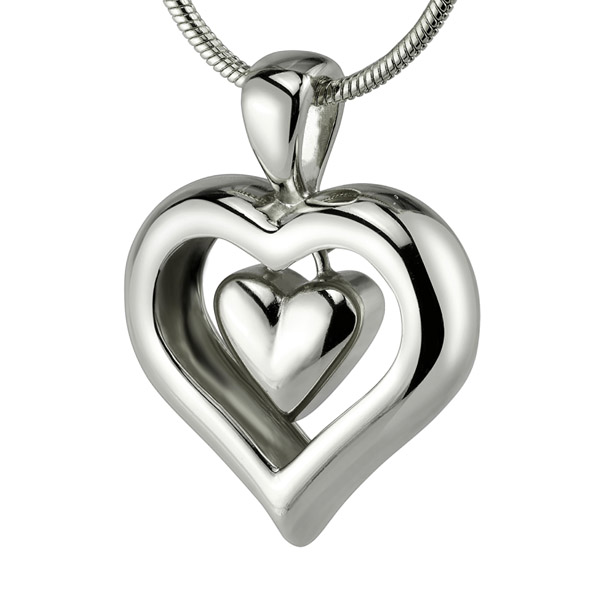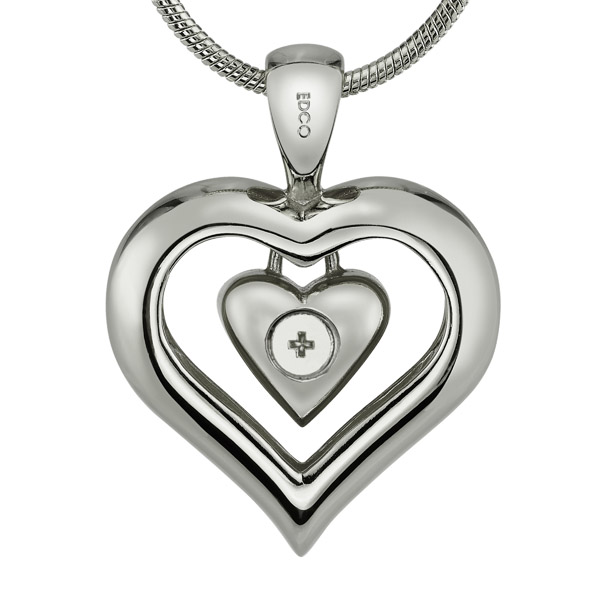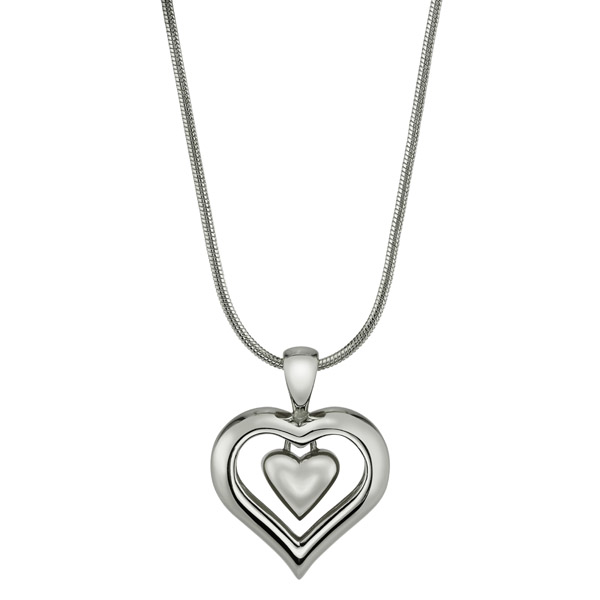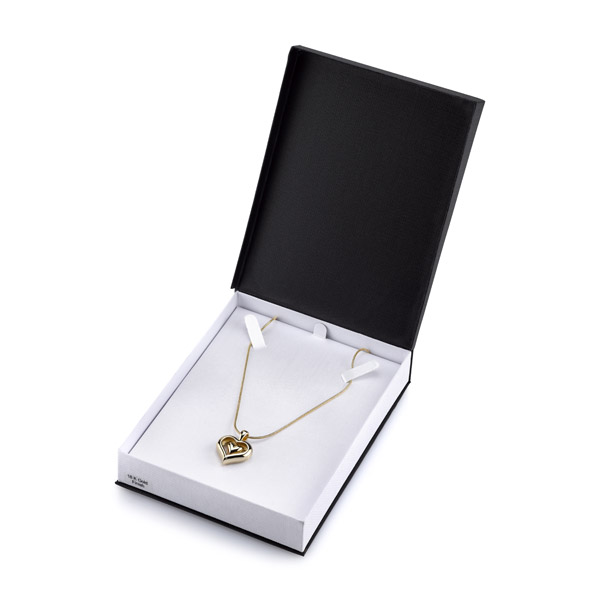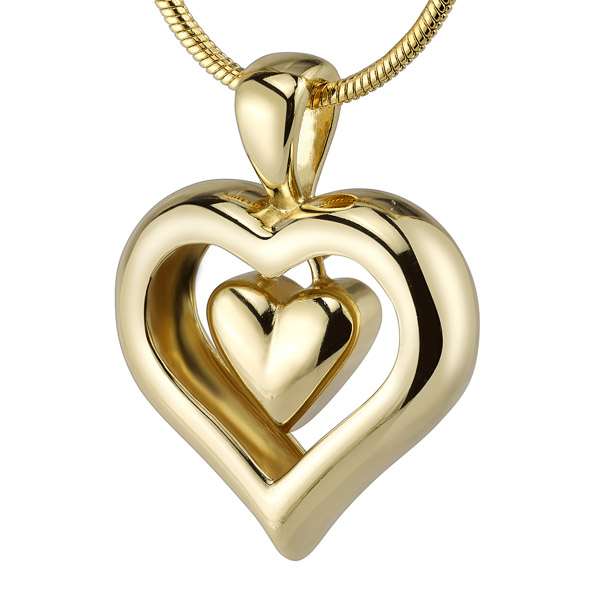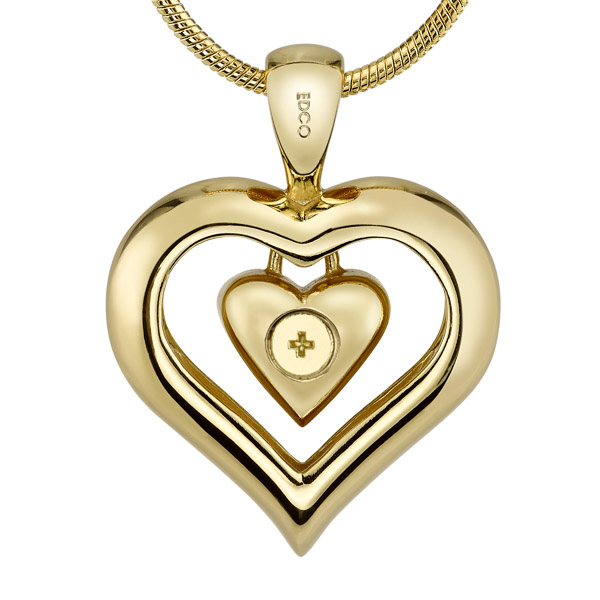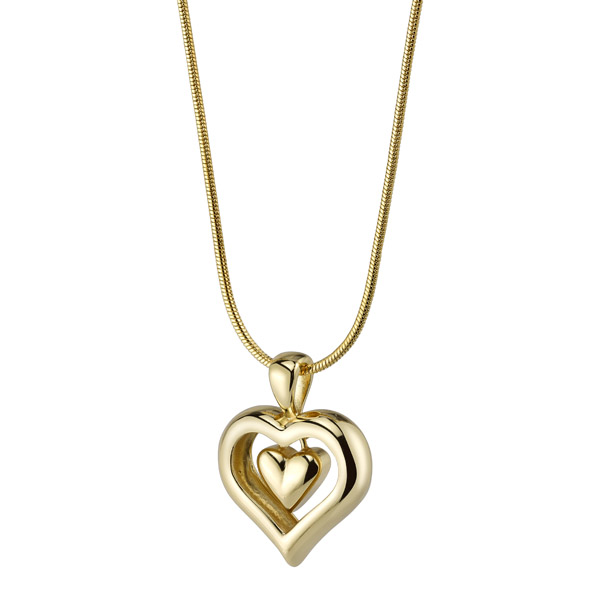 Specifications and other details for these Eternity Heart jewelry pieces:
18k gold finish or genuine rhodium finish
18″ matching snake chain
Heart pendant measures 22 X 30 mm
Holds 10 mg of finely cremated ashes
Patented self-sealing threaded enclosure
Includes complete "no hassle, no mess" fill kit
Imported product, ships from within the USA in 1-3 business days
You can browse additional cremation jewelry for ashes here.