It hurts so badly to lose someone we love. But you can help work through the pain and the grief by memorializing your beloved.
Pick one major project or a few smaller ones. You can do a major, more intentional tribute each year on their "death anniversary" date, or a few small projects at various times throughout the year.
There are many ways to pay tribute to your loved one. Today, we'll look at 50 creative memorial ideas.
Our website is supported by our users. We sometimes earn a commission when you click through the affiliate links on our website. Learn more here.
How to Memorialize a Loved One
Memorializing a loved one is to celebrate them. It's a way to highlight their life – to show the world that your loved one's life was essential and made a difference.
1. Don't be afraid to remember them, and talk about them.
Talking about and remembering your loved ones is a way to keep them close to you. It's keeping their memory alive.
While all these memorial projects and tributes (which we'll get into further down) are important, nothing is as important as continuing to acknowledge their existence by saying their name, talking about them, and sharing what they meant to you.
Memorializing your loved one is about expressing your heart. Just because they are gone, you haven't stopped loving them.
2. Ask family and friends to share stories.
Family and friends are bound to know stories about your loved one. These might even be stories that you have never heard before.
Stories are meant to be heard and treasured. It's your family history, the story of your life and the life of your beloved.
Write down each memory and save them all as a collection to be passed down to your children and grandchildren (as our next point suggests).
3. Collect those stories in one place.
Gather all of your stories in an app or website and store them on the cloud. Or consider printing a physical keepsake book filled with stories, or a memorial scrapbook with photos and notes and more.
Here are some online resources for creating a memorial space in the cloud:
4. Organize chronologically or by theme.
There are two ways to organize your stories, chronologically or by theme. The wonderful thing about your family history project is that the possibilities are almost endless.
A family tree lists your history chronologically—just the bare facts of names and dates. Biographies (or even obituaries) are similar, in that they tell the story in the order it happened.
Organizing by theme is a little different. You can focus on each area of interest or aspect of their life. Did your family love to cook? Garden? Woodwork? Travel? Restore furniture or cars?
These are themes you can incorporate into your family history.
5. Think deeply about what they loved.
Before you take on any memorial project, think long and hard about what your loved one enjoyed doing. What did they do on their vacation or their days off? Did they have a spouse and children or pets that they loved to spend time with?
These are the things you can consider when planning to memorialize your beloved.
6. Choose one main, central, meaningful tribute.
This could be something big and expensive but doesn't have to be.
The point is that it's the go-to memorial. Often, the grave and headstone serve this purpose. If the grave site is important to you, here are some ideas on how to decorate the grave, and here are some timeless headstone inscriptions.
Most people like to have a "gathering place" to visit their loved ones. This is a location where they can go to pay their respects. But when people are cremated (and especially scattered), the cemetery isn't the primary option.
That's when you may want to create a memorial wall in your home, or display the cremation urn in a unique way. The memorial tribute could also be a bench in a park, a commissioned painting, or something simple and more affordable like one of these memorial bird feeders or a tree planting.
7. Do many small, simple, yet still meaningful tributes.
In other words, pay tribute to them throughout your day by thinking about them, tending their garden, journaling, setting out a chair at Christmas, and so on.
This sort of tribute can become a comforting tradition, a part of your daily routine. Blow a kiss to their photo when walking out the door, or say a prayer of thanks each day that God allowed them to be a part of your life, however brief.
50+ Inspiring Ways to Remember a Loved One
Read on and find out some great ways to immortalize your loved one.
Tell Their Story
This could be as an obituary, a social media post or video, in your private journal, on your personal blog, or by writing a full-length biographical book for publication.
It could also be something creative and artistic, like a scrapbook, a documentary, a series of paintings, a comic book, or a song.
The important thing is that your loved one had a beautiful life story. Tell that story, and in so doing, you will honor their memory.
Learn: What's the Difference Between a Eulogy and an Obituary?
Create a Memorial Website
Make a free memorial website where you can share memories, photos, and information about your beloved.
You can post any information you want to share, and let anyone contribute to the memorial by posting their own stories or expressing their condolences. You can share the page with friends and family, or they can find it on their own by searching online.
Related: 10 Best Free Memorial Websites
Personalize a Memorial Bench
Most public benches will have to be approved by the local authorities. You may want to place a bench in your loved one's favorite park, garden, or even by a waterfront.
Provide a plaque that honors their memory with their name, dates, and a small quote.
Please remember, it is important to check with your local government to find out the rules and regulations before placing a bench anywhere.
Feed the Birds
This cedar wood memorial bird feeder is a great way to honor the bird lover who has passed. The cardinal signifies a visit from your departed loved one. It includes their name and dates etched in the plexiglass panels to personalize your feeder.
Enjoy a cup of coffee and watch the birds come to your yard to eat. Built to withstand the elements, your bird feeder will last season upon season.
Build a Funeral Pyre
Crestone, Colorado is the only place where open-air cremations are allowed in the United States. The process requires a pyre, a wooden stretcher, a shroud, and a half-cord of wood.
Visit their website and learn the rules and regulations to have your body cremated on a funeral pyre.
Read more about funeral pyres here.
Do Acts of Kindness
Do something kind for someone in the name of your loved one.
Bake cookies for a nursing home.
Serve food at a homeless shelter.
Run a 5K for a good cause.
Make a donation in their name to a favorite charity or church.
Drop off a "thinking of you" gift at a friend's porch.
Light a Candle in Memory
Lighting a candle in someone's memory has long been a custom. It signifies the memory of your loved one burns brightly.
Place photos of your beloved around the lit candle. Use special mementos as well. You may also want to recite a prayer, Scripture, or poem.
Create a Homemade Candle Memorial
Creating a homemade candle memorial is a fun and meaningful project. Candles add warmth and comfort to any setting.
Keep their memory burning brightly!
Make Tissue Paper Flowers
Tissue flowers are an easy and inexpensive keepsake to make. You can even hand them out to people as favors for attending the funeral.
You can have the funeral guests keep the tissue paper flowers or place them inside the casket with your loved one.
Personalize a Grave Sign
Have a custom grave sign made for your dearly departed loved one. You can have it made in plastic, brass, or aluminum. Engrave the sign with their favorite Bible verse, their name, dates, and so on.
Place the sign in your garden, at the grave, or any special place you are allowed to place it.
Create a Memorial Wall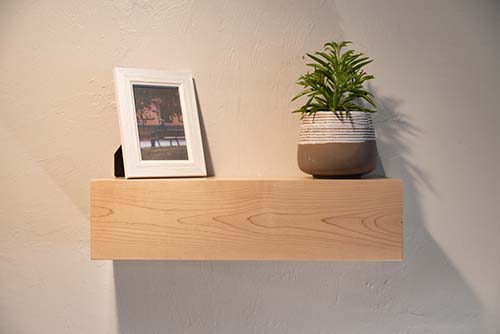 You can use our beautiful floating shelf urn as a centerpiece on a memorial wall.
Place small memorabilia on the shelf. Hang pictures nearby or set on the shelf using frames of different sizes and colors. Use one of the pictures as a the center, and build around it.
Be creative! Use some Mod Podge, pictures, Scriptures, poems, or other quotes, and attach them to painted wood planks.
Add succulents or plants for a splash of vibrant green color. Include a candle and any special knickknacks that remind you of your loved one.
Create a Tribute Video
Gather all of your favorite photos together and start creating a slideshow video at Animoto. Simply follow the directions and you'll have a visual tribute in no time.
Ask your friends and family to share their photos with you. Nowadays most people have digital files. But if they are physical copies, after scanning you can give the photos back to them.
This is a fun and creative project!
Write a Letter to Your Loved One
Writing a letter to your deceased loved one can be very beneficial and cathartic.
Tell your loved one of the regrets you have.
Let them know how much you miss and love them.
Share secrets.
Write about your emotions: Are you angry? Sad? Healing? Let your emotions out on paper.
Get a Tattoo
Tattoos are a form of self expression and art. Some ideas might be:
Portrait
Name
Dates
Bible Verse
Music Notes
Song Lyrics
Birthstone
Animals, Birds, or Butterflies
Make a Memory Book or Photo Album
A good memory book or photo album would include the most important people in your loved one's life. You can include photos, hand drawn art, newspaper articles, and any embellishments you might choose.
More: 40 Best Photo Memorials & Remembrance Ideas
Hold a Memorial Service
A memorial service can be held any time after the death of your loved one. Though it might be similar to a funeral, the difference is that a memorial service doesn't need to include the body of your loved one.
This can be a time of celebration and fun. Honor your loved one with a party, a dinner, or an actual service. You can hold a memorial service at a church, funeral home, restaurant, park, or even at your own house.
Preserve Your Loved One's Culture
Traditions and rituals from your loved one's culture is an extra special way to memorialize their memory.
In the US and Canada, some individuals honor their loved ones with a viewing, funeral service and burial.
Native American death rituals center on helping the spirit leave the body.
Hispanic culture, Mexican, Puerto Rican, and Cuban tend to have Catholic overtones.
Police, firefighters, and military personnel have their own rituals.
Celebrate Your Loved One's Faith
Different faiths have different ceremonies and celebrations when someone dies. These will likely play a large role in the funeral arrangements.
You can incorporate their beliefs into your memorial tribute as well. What was their favorite religious quote? Was there a symbol, prayer, artwork, charitable organization, or activity that meant a lot to them?
Use these things to inspire your creativity.
Honor Their Memory at Christmas and Other Holidays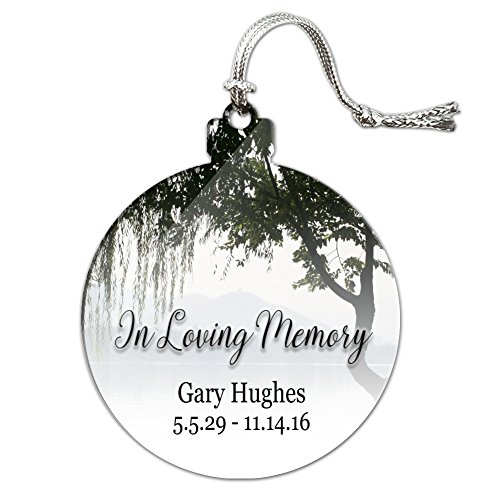 Mark a Christmas with handmade ornaments to honor your loved one. It's a fun craft you can do on a yearly basis. This is a good opportunity to get your kids involved too.
Choose some special memorial ornaments to put on the tree each year; here are our favorites.
Other traditions might include setting out a chair by the tree as you open gifts, set a place at the table during Christmas dinner, lighting a candle as you read the Nativity story from the Bible.
Wish Them Happy Birthday
Make a point to remember them in a unique way on their birthday each year.
Here are some ways to wish them a happy birthday in heaven.
Create a Memory Jar
Making a memory jar is a beautiful way to save and cherish all those special memories of your loved one. A memory jar is just that… a jar filled with your memories. (Here's how to make one.)
Set your memory jar up at the funeral. Make sure to include paper and pen. Have your friends and family fill out their favorite memories on a slip of paper. Fold it up and drop it in the jar.
You can read through these memories whenever you feel the need to be close to your loved one.
Make a Memorial Plaque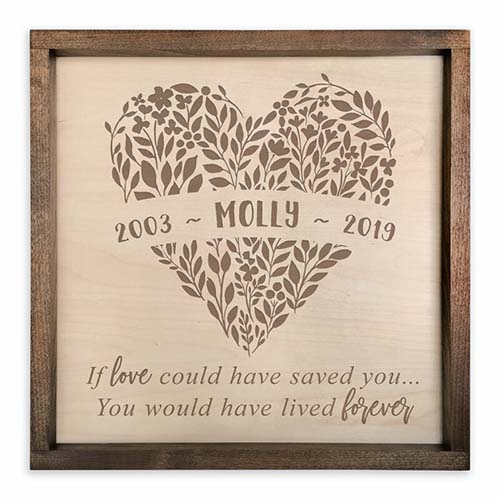 "If love could have saved you… You would have lived forever" is laser etched into this lovely memorial plaque. Add your loved one's name and dates to honor them for years to come.
The memorial plaque will suit any wall, whether in your home or office.
Honor Your Loved One With a Song
Are you a song writer? If so, write a song to honor your beloved. You can hire someone to write a son or if you are like me, the best thing to do is just dedicate a song.
Call your local station and dedicate the perfect song to your loved one.
Tears in Heaven by Eric Clapton
See You Again by Carrie Underwood
Supermarket Flowers by Ed Sheeran
Hurt by Christina Aguilera
Dancing in the Sky by Dani and Lizzyl
Fire and Rain by James Taylor
One More Day by Diamond Rio
The Dancy by Garth Brooks
I Can Only Imagine by Mercy Me
Dance With My Father by Luther Vandross
These are just a few of the most meaningful and beloved funeral songs.
Do Something Creatively "Different" with Their Ashes
Here are over 50 creative and unusual things to do with cremated ashes, including:
Get a tattoo with their cremated remains mixed in with the ink.
Have your loved one's ashes placed into a manmade coral reef.
For the music lover, memorialize them by having their ashes pressed into playable vinyl records.
Share Meaningful Quotes
Find some meaningful quotes and share them on your memory wall, scrapbook, or even in a eulogy.
Use Sentimental Items
You can use their sentimental items to create a memorial (like a teddy bear from their favorite shirt ) or actually use their favorite items in their honor.
Use Grandma's china, display beloved mementos around their urn, or keep them safe in a hutch.
Wear a Memorial Necklace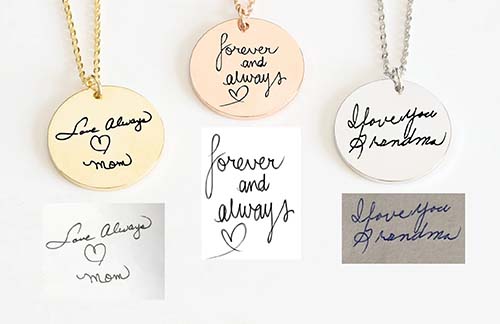 Handwritten necklaces are made from your loved one's own handwriting. Your necklace will come in your choice of gold, silver, or rose gold plate.
This is a gift to be cherished for years and years.
Make a Photo Calendar
A photo calendar is a wonderful way to memorialize your loved one's photos. They make a thoughtful gift for friends and family, too.
You can even add your own personal dates each month. Birthdays, anniversaries, or any other special dates.
Volunteer as a Grief Mentor or Peer Support
Volunteering to help others can be very comforting for all involved. Most cities or counties have a volunteer organization where you can sign up.
Become a grief mentor and find healing as you help other people through their own grief journey.
Knit a Memorial Scarf
Knit some scarves in your loved one's name and send them to our troops. No matter if you are a beginner or a seasoned scarf maker, there are soldiers that could use some warmth.
You can also pass out scarves to the homeless or anyone in need. This is a wonderful and helpful way to honor your loved one.
Make a Quilt from Your Loved One's Clothes
Memory quilts will allow you to hang on to your loved one's clothing. By having their clothing made into a quilt, you will still be able to feel surrounded by their love.
They will still be giving you comfort and warmth in a quilt that you will cherish forever.
Start (or Continue) a Garden in Their Memory
Cultivate a garden in memory of your loved one. Plant their favorite flowers, place some chairs or benches in the garden, then sit back and enjoy.
There are no rules to follow when planting a memorial garden. You can plant a single blossom or as many different plants and flowers as you want. Big or small, it doesn't matter.
What does matter is how you feel when you relax in your garden. The quiet beauty should soothe your soul.
Display Their Remains in a Beautiful Cremation Urn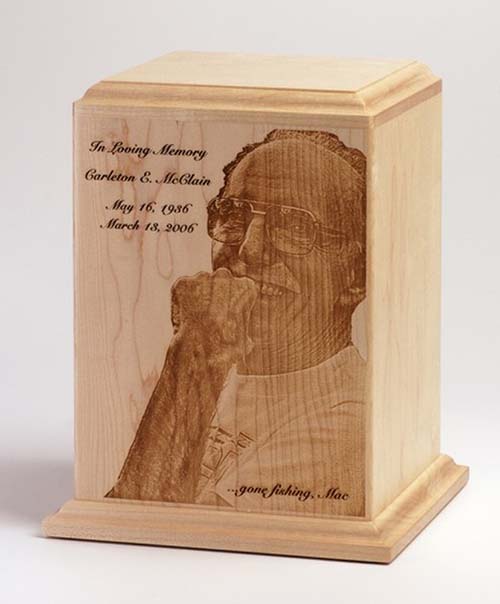 Choose a beautiful urn in which to display your loved one's cremains.
Remember, you do not have to buy an urn from the funeral home. You can buy an urn online if you choose to.
You can also use just about any container you would like to store cremated remains in.
Subtly Display Their Remains in an Urn That Doesn't Look Like an Urn
If a traditional urn doesn't suit your loved one, buy a cremation urn that doesn't look like an urn.
This includes our exclusive, original Wall-Mounted Plaque Urns, plus urns designed to look like clocks, gun cases, coffee cans, modern art pieces, cowboy boots, and more.
There are dozens of everyday items you can use, too. You can even divide the cremated remains between a few containers.
Adopt a Pet
Adopt a pet in your loved one's name. Sometimes it helps to keep busy after a loved one passes. What better way than to shower your love on a new pet?
Visit your local animal shelter and adopt a new family member. You will be saving a life – perhaps yours, too!
Make a Diamond from Ashes
Have the cremains turned into a spectacular diamond. You only need half a cup of cremains for a small diamond.
A diamond is a treasure that will last an eternity. So celebrate the love you shared by turning them into a diamond.
Plant a Tree
Plant a tree in your loved one's honor. It is a memorial that will last for years and years, perhaps even centuries, to come!
When you plant a tree you are helping to regrow areas that have been devastated by fire. Your gift supports wildlife in the area and helps to preserve our national forests.
Information about your tree (such as the type, location, and even photos) gets posted online. You can use GPS to find the exact location your memorial tree was planted. Learn more here.
Volunteer at a Hospice
Contact a local hospice, most of them have a volunteer training course to complete.
Create a Memorial Bobblehead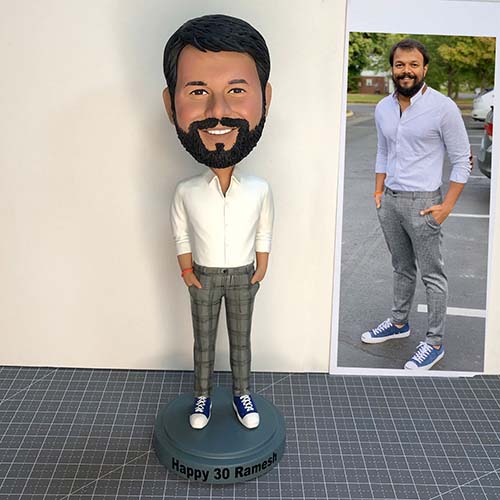 Create a custom memorial bobblehead. It's a cute and fun way to memorialize someone when you're looking for a tribute that isn't overly somber.
Raise Money for a Cause They Cared About
Create a memorial fund for a great cause. Start a website, collect donations in lieu of flowers, and support something that was special to your loved one, in their memory.
St. Jude Children's Hospital
American Cancer Society
Humane Society
Local charities, churches, and other organizations
Paint or Commission a Painting
Have a portrait painted of your loved one. A portrait is a timeless keepsake. It can be passed down from generation to generation.
A true work of art is something that you and your family will cherish for the rest of your lives. Plus, when you have it done by a talented artist, it is something that is beautiful to look at.
Create a Memorial Collage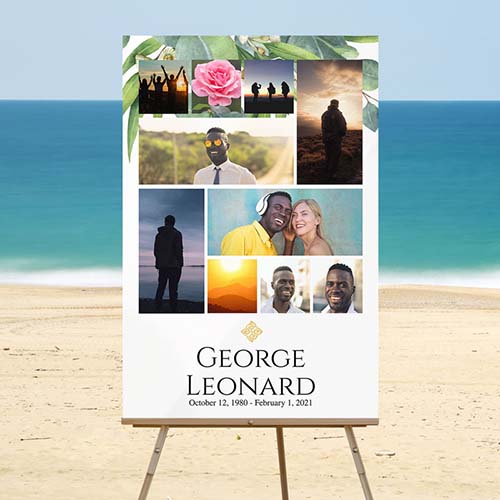 Gather up all your pictures you can find.
Plan out how you want to place the photos.
Pick your theme.
Collages have become an important piece of art at most funerals. People love to gather around the collage and reminisce.
More: Our Favorite Funeral Posters & Welcome Signs
Finish That One Project They Started But Never Completed
We all have started something and let it sit umcompleted for a time. If your loved one has a project that was never completed, maybe you'd like to pick lup the mantle and finish it.
If it is something that you don't have the skill to complete, perhaps you can hire someone to help you out.
Turn Your Loved One's Ashes Into Jewelry
Yes, jewelry is a beautiful option for your cremated remains!
Cremation jewelry is a great idea and will keep a tiny portion of your loved one close to you for all time. Necklaces, rings, and charms are all available to keep cremains in.
Print Memorial T-Shirts
Memorial T-Shirts are a special way to honor your loved one. Find a favorite picture along with their name and dates to be printed on your shirt.
Adding a Scripture, poem, or saying is a nice touch to this idea. Also, pick your loved one's favorite color for the T-shirt. Give them to family and friends, and they will wear it with pride for some time to come.
Raise a Glass in Their Memory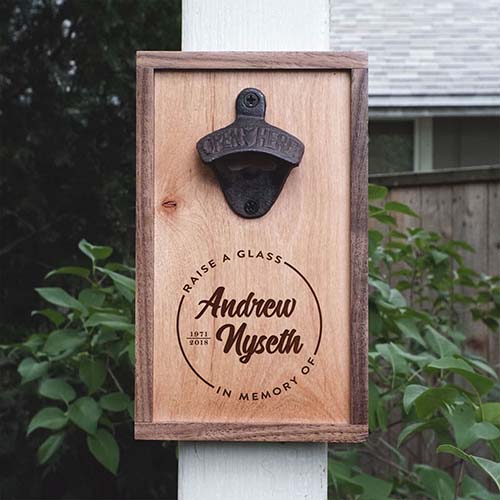 Our personalized bottle opener is a great way to say "Cheers" to your loved one. Perfect for your home bar, kitchen, or even on your patio.
Add your beloved's name to this wooden bottle opener to make it extra special, and every time you pop a lid off of a cold drink, your loved one will come to mind.
Create a Special Playlist
Collect all of those favorite songs to listen to again and again. Share your playlist with friends and family – maybe they will even add a few tunes that you could have missed!
Have a Movie Night
Go solo with a close friend, or invite everyone over for a celebratory movie night. Pop the popcorn and watch your loved one's favorite flick.
Etch a Favorite Recipe on a Cutting Board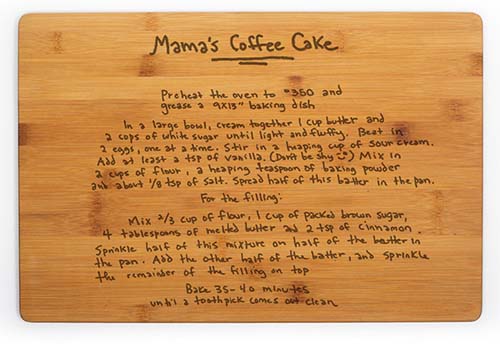 A useful and thoughtful gift – a cutting board with a favorite family recipe engraved into it. The cutting board is personalized with your loved one's recipe in their own original handwriting.
A wonderful tribute that can be used or displayed.
Honor Their Memory Each Year
Have a small gathering every year on the anniversary of their death. Host it in your home or their favorite restaurant. Switch the location each year.
There are so many creative ways to honor a loved one that has passed away.
Read more: How to Remember & Celebrate Your Loved One on Their Death Anniversary
Pin It