What is Victorian mourning jewelry? How did this trend start, and do people still wear it today?
The broad appeal mourning jewelry holds might be surprising: It can be the hard-core skeleton and casket jewelry favored by Goth types or the soft cherub-winged and heartfelt pendants that your Willow Tree loving auntie might adore.
Read on to discover examples of both modern and traditional pieces of mourning jewelry, a truly meaningful history, and how you can honor your loved one with this beautiful style of memorial jewelry.
Our website is supported by our users. We sometimes earn a commission when you click through the affiliate links on our website. Learn more here.
What Is Mourning Jewelry?
Mourning Jewelry includes ornamental pendants, necklaces, bracelets and more designed to honor your loved ones and feature a tribute to them. The jewelry may hold a lock of hair, have their initials engraved on it, or feature a likeness such as a cameo or a silhouette.
Victorian Mourning Jewelry History
Named for Queen Victoria, mourning jewelry was at its height from 1837 to 1901. The Queen lost her husband, Prince Albert, in 1861 at the age of forty-two. When he died, the Queen went into a deep depression.
Queen Victoria began wearing black jet jewelry to honor her husband's memory. With the Queen leading the way, mourning jewelry became an instant trend that lasted throughout the Victorian period.
For most people, jet was costly and hard to work with. Black glass became an affordable alternative. Other materials for mourning jewelry used were onyx, vulcanite, gutta-percha, and bog oak.
Queen Victoria had numerous pieces of jewelry made to represent her love of Prince Albert. The Queen's mourning period lasted for 40 years. She wore her widow's weeds until the day she died.
The late Victorian era has been described as "The Cult of Mourning." During that time, English culture required a rigorous protocol for mourning. The first 12 months was full mourning: only black clothing and jewelry were permissible.
Victorian Mourning Jewelry Symbolism
Victorian mourning jewelry is full of symbolism. This jewelry presented reminders of the person who had died. Each jewelry piece featured locks of their hair, or perhaps their picture. Symbols of love, death, and grief would be intricately woven into rings, pendants, and even broaches.
The most telling characteristic of Victorian mourning jewelry was the use of black settings and stones. Black symbolizes death. Settings usually used black enamel with gold or silver.
The Victorians took mourning a step further. Black, gold, and silver came to equate the "privation of life." Privation meant to forego the usual comforts and indulgences of life. Instead of bright and fine clothing, rough and dark mourning clothes were expected. Instead of feasting, fasting.
Death and Mourning Symbals
Here are a few other items that the Victorian period used on their mourning jewelry.
Clasped hands to symbolize an everlasting bond
Crossed swords
Bones
Skulls
Arrows
Chrysalis
Lamb to represent innocence; used primarily for children
Curtains to picture the end of their 'final act'
Understanding all of the symbols may require you to learn about Victorian symbology.
Types of Mourning Jewelry
There are several specific types of jewelry associated with Victorian Mourning Jewelry.
Hair Jewelry
Hair jewelry became famous as a piece of mourning jewelry with the public in the later 19th century.
Queen Victoria is said to have carried a lock of Prince Albert's hair after his death. Many pieces of Victorian hair jewelry – that is, jewelry made from the deceased's hair – featured detailed symbolism of death and mourning.
Hairwork (e.g., jewelry made from human hair) was popular from the middle ages to the early twentieth century. Now it is more popular to save a lock of your loved one's hair.
Human hair doesn't decay with time, so it is ideal for memorials. You can place it in a locket and keep it forever.
Memento Mori Rings & Necklaces
The Hermits of St. Paul of France (1620-1633), also known as the Brothers of Death, used the salutation memento mori. It is Latin for "Remember you must die." Memento mori is an artistic creation to remind people of their mortality.
A mori ring is also called a mourning ring. These rings have been around since the 1500s and especially surged in popularity during the Victorian mourning trend.
Wearing a mori ring is a sign of love and respect for a deceased loved one. It will often have the dates of birth and death, name, and perhaps a motto inscribed. There might even be an image of the deceased engraved into the ring if there is enough room.
The mori ring started to be mass-produced in the later 1800s. The public stopped using mourning rings at the end of the 1800s. The ring began to resurface in the 1930s and is still in use today.
A mori necklace is also called a mourning necklace. Much like the mori ring, the pendant will have birth and death dates, a picture, or a motto. You might also find flowers, a snuffed candle, or an hourglass engraved on the necklace.
Modern Mourning Jewelry
Cremation jewelry is the modern form of mourning jewelry. It comes in many types (rings, charms, pendants, and broaches), materials (gold, silver, stainless steel, glass), and designs (from angels to zebra stripes).
Ask your funeral director to help you pick something out or check out our curated collection below.
Why Mourning Jewelry Is Back In Style
Though mourning jewelry was the rage during Victorian times, some modern-day jewelry designers are resurrecting the trend.
Vintage designs and old-fashioned Victorian emblems have a timeless charm. Antiques (whether genuine or replicas) tie us to something greater, bigger, and older than us. When thinking about life, death, and funerals, this can be a powerful attraction.
And, in contrast to the sanitization and professionalization of the death industry over the past 50 or so years, many families want to participate more fully in the funeral, death and burial and cremation arrangements, and recognize the value in the mourning process.
Victorian mourning jewelry is one interesting and beautiful way to face the death of a loved one head-on, with grace and dignity.
That's why it's back in style.
Ultimately, mourning jewelry helps you to remember your loved one in a personal and unique way. By wearing something to remind you, that person is never far from your heart.
10 Mourning Rings & Necklaces
Cremation is very prevalent today, and with that, so is cremation jewelry. Whereas hair used to be the go-to choice, modern families often choose to keep a small amount of ashes in a lovely wearable memorial.
With modern mourning jewelry, the options are endless. You can wear a fingerprint, cremated remains, hair, your loved one's signature, and the list can go on!
1. Memento Mori Ring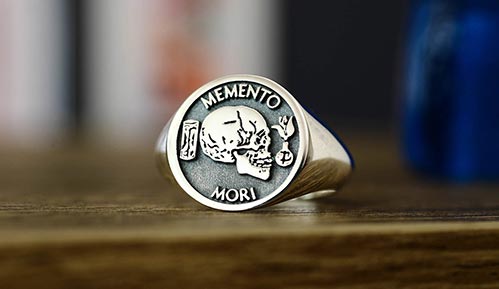 This unique hand-made ring comes in silver, gold plated, rose gold or oxidized silver. You can wear this ring out of love and respect; in memory of a loved one.
Add personalization to your mori ring with your loved one's name and dates. This ring can be engraved on the inside or on the sides.
2. Fingerprint Memorial Ring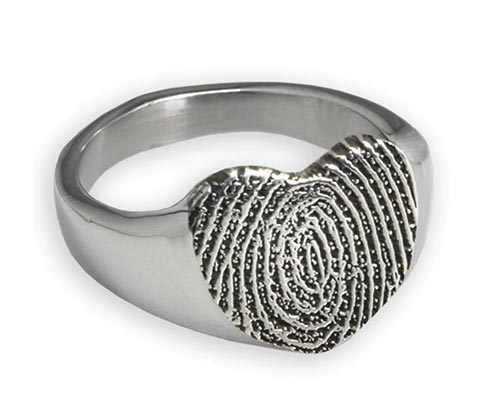 From our retail store at Urns Northwest, our bold heart fingerprint ring features your loved one's actual fingerprint. You can choose to have your ring made from stainless steel or sterling silver.
This laser engraved ring also acts as an urn; lovingly holding a small portion of cremated remains.
3. 1821 Mourning Ring with Blonde Hair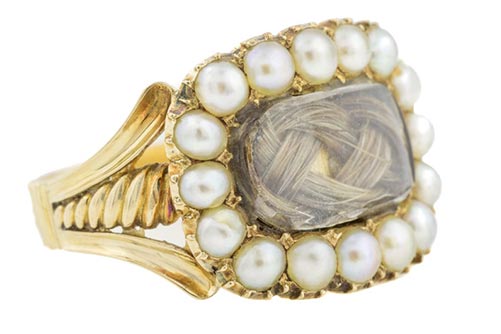 This vintage 19th century mourning ring is a rare find. Made from 15 ct. gold, it is a perfect piece to add to your collection.
The deceased's blonde hair is encased and surrounded by champagne toned pearls. The inside of this ring is beautifully engraved. This collector's item is 200 years old. What a story it could tell!
And if that's not available (after all, there's only one and it's a collectible) try searching Etsy for 19th century mourning jewelry for similar items.
4. DIY Victorian Inspired Memorial Jewelry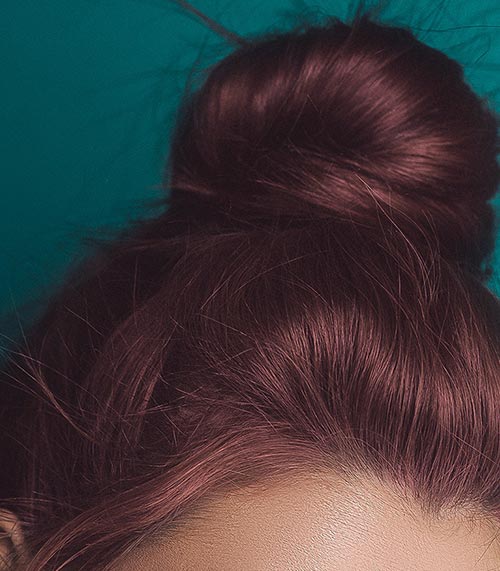 Would you like to learn the art of making your own memorial-inspired jewelry? Follow this 9 step tutorial, and you will be wearing your inspirational creation in no time!
5. Personalized Modern Teardrop Necklace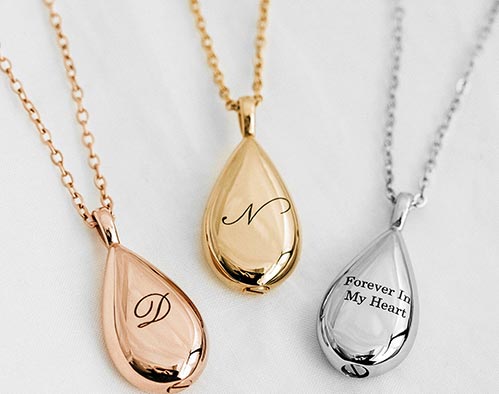 This beautifully crafted, hand-made mourning pendant is designed to hold your loved one's cremated remains.
You can personalize this tear-drop with your loved one's name, dates, or initials.
The dimensions of this piece are 15x24mm and the pendant comes on a 20″-22″ chain. Choose from rose-gold, stainless steel, gold, or silver.
As with most of the items featured here, this pendant is also perfect to hold your beloved pet's cremains.
6. Pendant Tray Victorian Jewelry Making Kit
With this 60 piece pendant kit, you can design your own jewelry. You can make a cameo, photo, or hair pendant. Design your friends and family a memorial gift honoring your loved one.
The bezels come in 5 colors: antique bronze, gold, dark copper plating, antique silver and gold plating. The domes are made of glass.
The measurements are: 25 mm in length and 18 mm in width, and the dome tile is 25 mm long and 18 mm wide.
7. Cremation Necklace: Modern Mourning Jewelry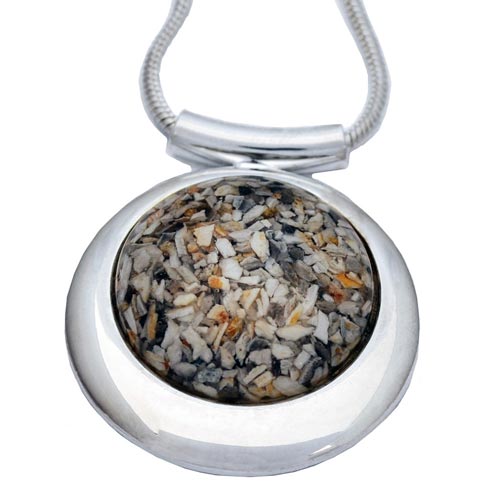 Our jewelers incorporate your loved one's cremated remains or a lock of hair into a modern memorial pendant. Hand-crafted with love and respect for you and your loved one.
8. 1870s Victorian Mourning Hair Brooch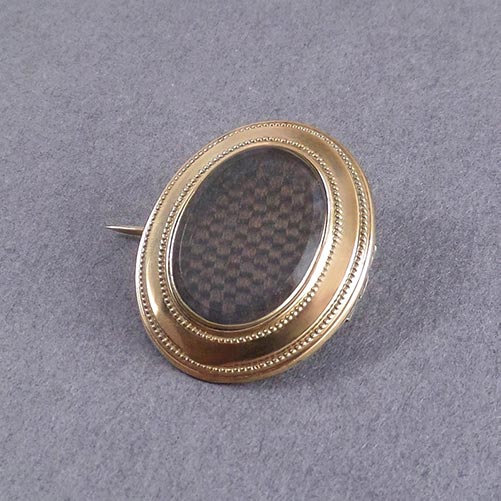 This is a beautiful, one-of-a-kind hair brooch made of gold. A Victorian Era work of art is a must-have for any collection and is circa 1870. The initials NCC are clearly scripted on the back. Measurements are 1-1/16″ height by 7/8 across.
Like before, this may be out since there is only one! Try searching Etsy for 19th century mourning jewelry for more.
9. "To the Living…" Memento Mori Ring
Crafted from 12 grams of stainless steel, this is a contemporary yet unique Memento Mori ring. Inscribed with "TO THE LIVING WE OWE RESPECT BUT TO THE DEAD WE OWE ONLY THE TRUTH."
A great way to memorialize a loved one.
10. Replica Vintage Pendant Necklace
This impressive cameo locket measures 2″ and hangs on a 28″ chain. Keep a lock of your loved one's hair or a picture close to your heart!
Choose from brown, gray, purple, rust, or topaz.
Related: The Complete Guide to Cremation Jewelry (+50 Beautiful Examples)
Pin It