A memory jar is a popular and meaningful memorial idea that celebrates the memories you shared with your departed loved one.
This project is not only a tribute to a loved one's life and legacy. It also serves as a source of comfort to the grieving family as they get to read and treasure up all the important memories.
Let's talk about how you can create this simple memorial for yourself or to give to a grieving family member.
Memory Jar Ideas
Our website is supported by our users. We sometimes earn a commission when you click through the affiliate links on our website. See our privacy policy & disclosures for more information.
What Is a Memory Jar?
A memory jar is just what it sounds like: a jar filled with memories. These memories are in the form of written notes.
Often filled out at a funeral service, family and friends are encouraged to write out their favorite memory of the departed individual.
These cards are then placed into a memory jar, which is given to the spouse, parents, or children of the deceased.
My memory is certainly in my hands. I can remember things only if I have a pencil and can write with it and play with it. I think your hand concentrates for you.

Rebecca West
The family can then read through these written memories, adding as many of their own as they like. They'll be reminded of many legendary stories, and maybe learn some new ones.
Read: 5 Ways You Can Plant a Tree In Memory of a Loved One
How Do You Make a Memory Jar?
Making a memory jar is easy! In fact, I think it's one of the simplest – yet most meaningful – DIY memorial ideas you can do at home.
Here's how.
How to Make a Memory Jar
Can I Buy a Memory Jar?
Of course! Sometimes, it's best just to buy one instead of going through the trouble of making it yourself.
Here are a few of our favorite memory jars for purchase.
Top Shelf Memory Jar
This memory jar closes securely with a threaded mason-jar-style lid. It includes a hanging rewritable plaque plus 180 tickets which you can fill out with special memories.
Ceramic "Moments to Remember" Memory Jar
This ceramic memory jar has a more contemporary vibe, complete with a cork lid and attractive oval memory cards.
Memorial Lantern (Memory Jar Alternative)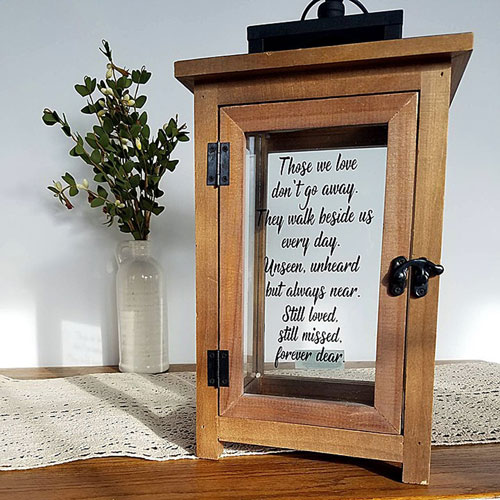 Consider an alternative to the memory jar by using something else that can hold some notes.
This memorial lantern is one such idea. It's attractive, special-looking, and is etched with a lovely memorial inscription.
Urn & Memory Chest Combo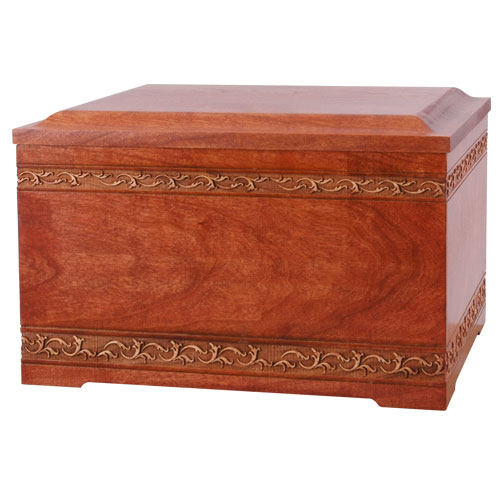 Here's another alternative idea: The Cherry Wood Cremation Urn & Memory Chest Combo.
The lower section is a cremation urn and it securely holds the remains in a separate enclosed section that is only accessed via screws. Above that, the top is a traditional keepsake box with a hinged top-opening lid.
So fill the top portion with memory cards and stories of your loved one. This is a great idea because combines the idea of the memory jar with the urn in one unique memorial.
Classic Kitchen Jar
Last, here's a simple and classic kitchen jar. It's affordable and has a chalk label on the front, so you can just write in the memorial line or quote of your choice.
Speaking of quotes for memory jars, let's look at what you might want to write or inscribe on your memory jar.
Related: Creative Memorial Gift Ideas
Memory Jar Quotes
Some people like to mix in meaningful memorial quotes and comforting sympathy sayings along with the memories. Or perhaps you're looking for the perfect quote to use to decorate the outside of your remembrance jar.
Either way, here are some of the best memory jar quotes.
Memory Jar Titles
[Name's] Memory Jar
Memories of [Name]
[Name's] Jar of Memories
Sweet Remembrances of You
Thinking of You
In Loving Memory of [Name]
A Life Well Lived
[Name's] Story
A Treasure Trove of Memories
Our Memories of You
Quotes About Memories
Enjoy the little things in life… for one day, you'll look back and realize that they were the big things.
Though gone from sight to memory dear.
Don't cry because it's over. Smile because it happened. – Dr. Seuss
When someone you love becomes a memory, that memory becomes a treasure.
It's hard to forget someone who gave us so much to remember.
Memories of you fill my mind, like thousands of bright stars in the sky.
You will never know the value of a moment until it becomes a memory.
Your life was a blessing,
Your memory a treasure.
You are loved beyond words
And missed beyond measure.
Your presence we miss,
Your memory we treasure,
Loving you always,
Forgetting you never.
You are not forgotten, loved one;
Nor will you ever be.
As long as life and memory last,
We will remember thee.
Inspirational Memory Jar Quotes
A life that touches others goes on forever.
Wherever a beautiful soul has been, there is a trail of beautiful memories.
To live in hearts we leave behind is not to die.
Sharing tales of those we've lost is how we keep from really losing them. – Mitch Albom
Love is hard to find, hard to keep, and hard to forget. – Alysha Speer
We do not remember days; we remember moments. – Cesare Pavese
In the end, it's not the years in the life. It's the life in the years. – Abraham Lincoln
I will hold you in my heart until I can hold you again in heaven.
A beautiful soul is never forgotten.
Your memory will always live on in our hearts.
Pin It