It is hard to say goodbye to our fur babies. They are part of our family and have given us unconditional love their whole lives.
Whether you have lost a much-beloved pet, or you know someone that has, we have put a fantastic list together featuring the 40 best dog memorials we've ever seen.
Our goal, as always, is to help you celebrate the love we all feel for our fur babies.
Best Dog Memorial Ideas
Our website is supported by our users. We sometimes earn a commission when you click through the affiliate links on our website. See our privacy policy & disclosures for more information.
1. Pet Memorial Bird Feeder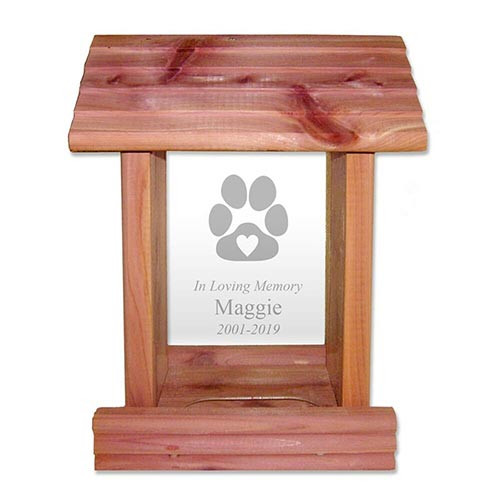 Our Personalized Paw Print Memorial Bird Feeder is a great way to honor your special pet. Made from cedar wood, you can have your beloved dog's name laser engraved along with their dates; also a choice of a pawprint or pawprint with a heart.
Celebrate the life and honor your pet's memory. A gift that is sure to bring a smile to anyone's face.
2. Forever in My Heart Personalized Pet Frame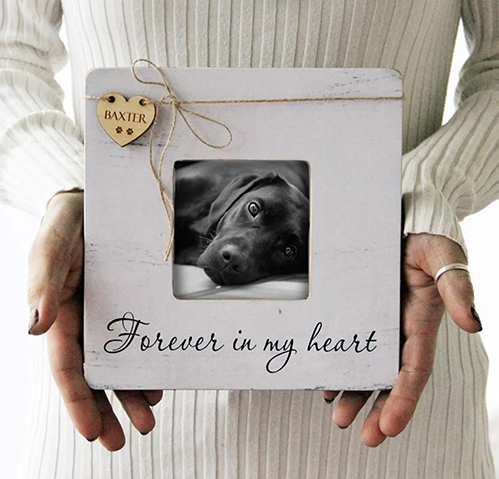 With so many options to choose from, you can personalize your photo frame to fit your pet's personality to a "T".
You can hang their photo in a place of honor, so everyone can enjoy it. Your photo frame will be hand-crafted per your order. A one of a kind frame to honor that once-in-a-lifetime pup.
3. Memorial Headstone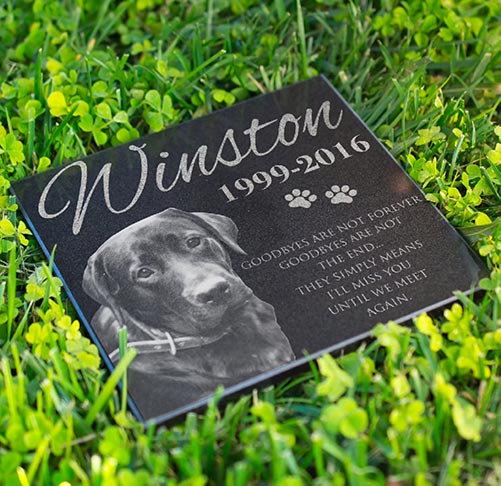 Keep their memory alive with a beautiful hand-made granite marker.
The granite memorial will last forever – just like the love you share with your pupper. Perfect for an outdoor memorial or keep the marker inside with you. Set it up in a place of honor, never to be forgotten.
4. Photo Pet Cremation Urn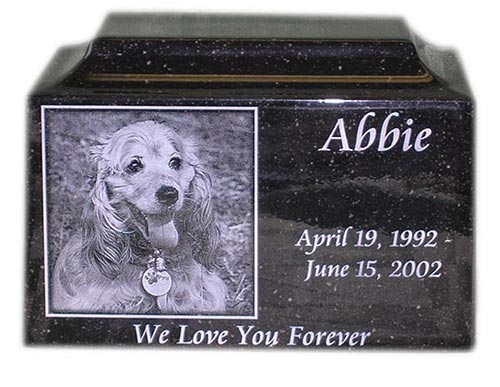 Our personalized laser engraved photo urn is designed using high-quality black cultured granite. If you've had your fur baby cremated and want to keep the remains close, this is the way to do it.
Have their photo, name, dates, and a sweet saying engraved on the front. This urn is perfectly suited for burial or to keep on the mantel. It will last for a lifetime and longer.
5. Pet Keepsake Garden Stone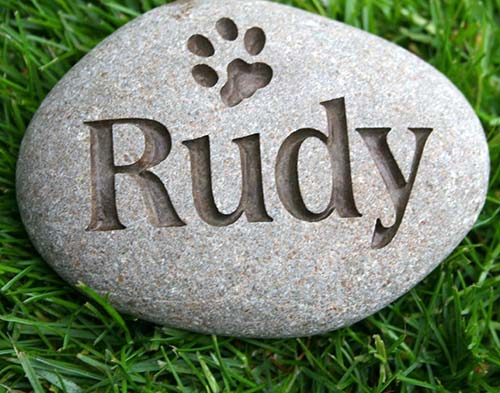 Like his name is etched in your heart and mind, you can etch it onto a memorial rock. Place your rock outside in the garden, or make a memorial in your home.
Add pictures and flowers to this rock and you'll have a gorgeous dog memorial never to be forgotten.
6. Raise a Glass in Their Memory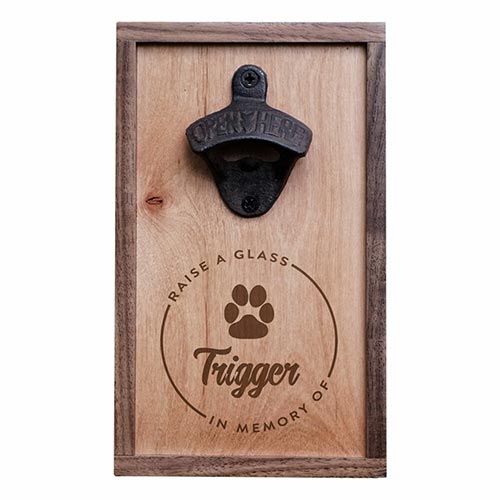 Raise a glass in memory of your precious fur baby. Our personalized bottle opener looks great in your game room, home bar, or even on the patio.
You'll think of them every time you pop the top of a cold drink. Cheers to your memories!
7. Angel Wings Puppy Sculpture Cremation Urn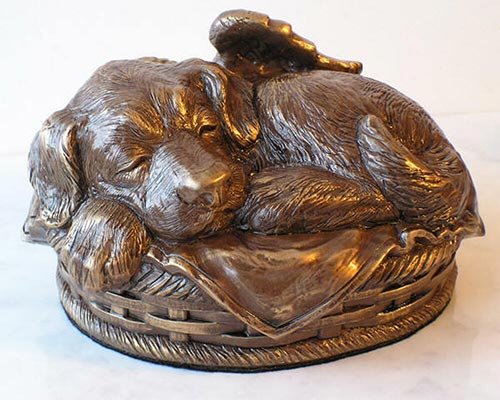 A precious way to keep your doggie with you. Have their cremated remains placed in this beautiful urn – and you can keep him beside you always.
A sweet puppy sleeping in his basket will be a beautiful memorial for your beloved dog.
8. Personalized Photo Garden Flag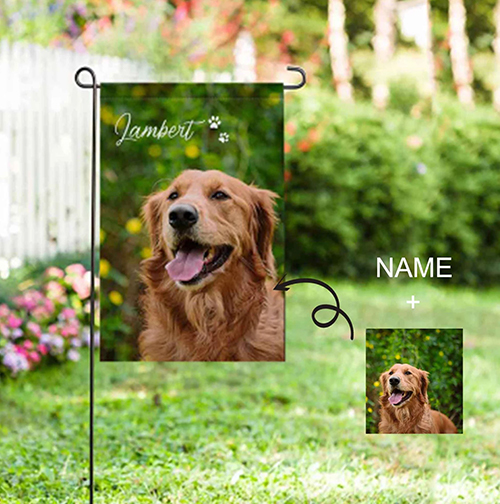 Let your furbaby be the first to welcome your friends when they come to your home by displaying a hand-made, weatherproof yard flag.
A custom-made flag with her picture and name is a wonderful way to honor her memory.
9. Create a Scrapbook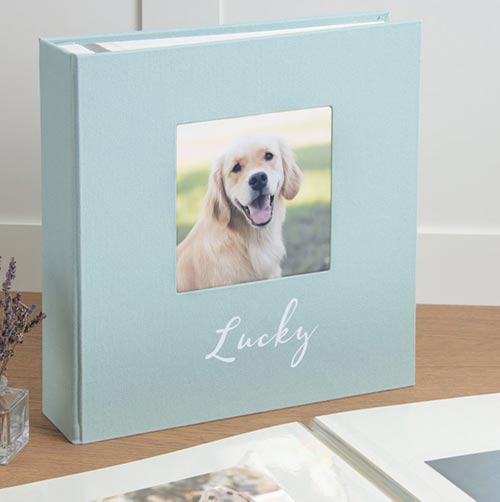 Display your most treasured pictures in this custom-made photo album. Made with acid-free paper, your pictures will be kept in pristine condition. The perfect place to keep your cherished memories.
If you would like to make your own memorial scrapbook, following this guide is a great way to get started!
10. Pet Memorial Candle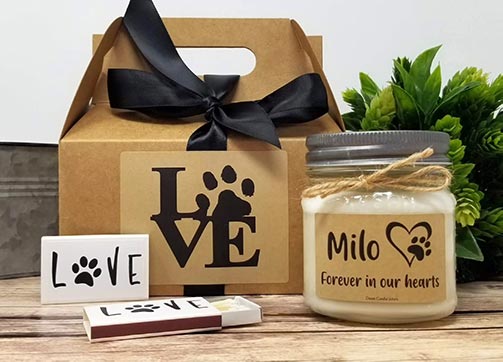 Gift your grieving friend with a pet memorial candle. Personalize your heartfelt offering with their darling pet's name.
Losing a beloved pet is hard, let them know that you care. They will appreciate your caring and sympathy.
11. Plant a Tree in Your Dog's Memory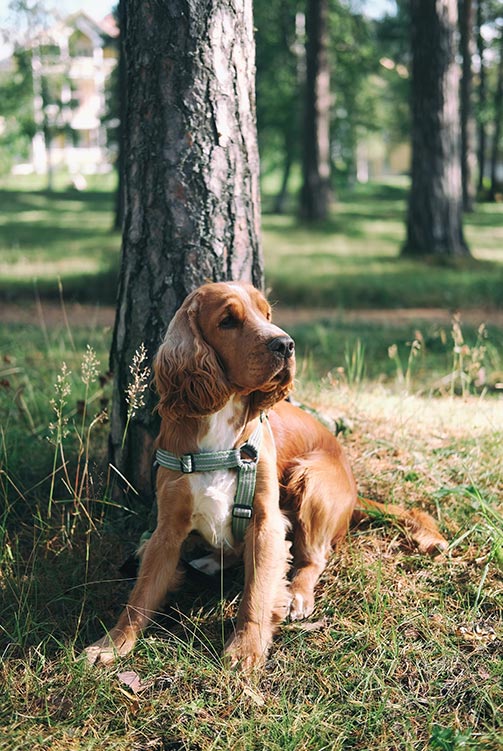 What a fantastic memorial to a beloved dog! For all the times he enjoyed being outside, honor him with a tree planted in his memory.
A tree will be planted in an area of a national forest that has been devastated by fire. Your tree will grow and shelter animals for years and years to come.
12. Glass Art Cremation Urn for Ashes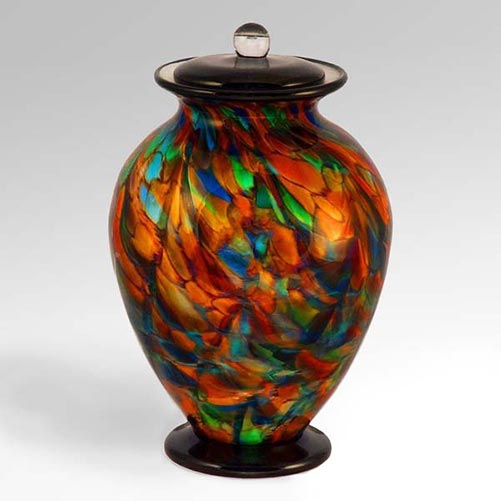 Our glass pet urns make a gorgeous remembrance of your sweet companion. The unique look of our urns will fit into any decor of your home or office.
Designate a special area and honor your pet with pictures, candles, and this fantastic urn.
13. Personalized Pet Memorial Blanket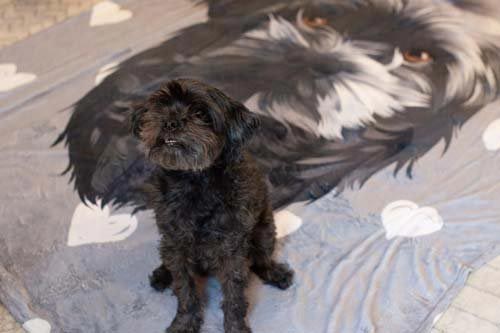 You can continue to snuggle with your pet in this personalized blanket. Wrap yourself in warmth and love each time you use your blanket.
Put your favorite picture on your chosen background, wait for delivery, and enjoy your cuddle time!
14. Always In Your Heart Wind Chime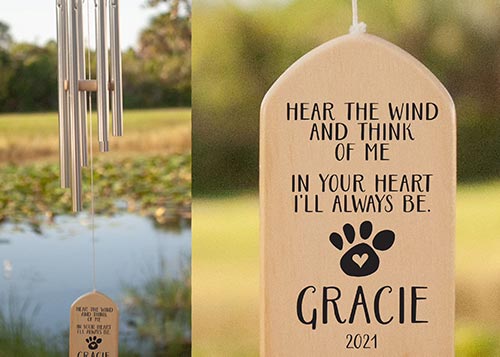 The Always In Your Heart windchime is a thoughtful gift for someone that has lost a pet.
Have their pet's name, dates, and a sweet thought or poem engraved on the windchime. Every time the wind blows, they will remember the happy times they shared with their sweet fur baby.
15. Loving Memories Pet Bracelet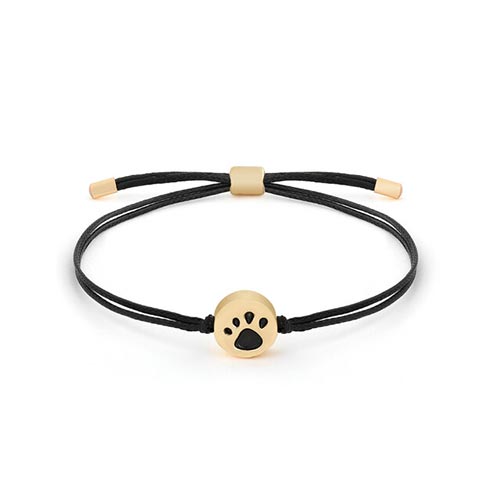 Let your friend know you are thinking of them at this time of loss. Gift her with this simple yet meaningful bracelet. The design of the bracelet will suit any fashion she may choose to wear.
A thoughtful way to acknowledge the grief they are going through. This is a bracelet she will hold dear for years to come.
16. Pet Loss Collar Sign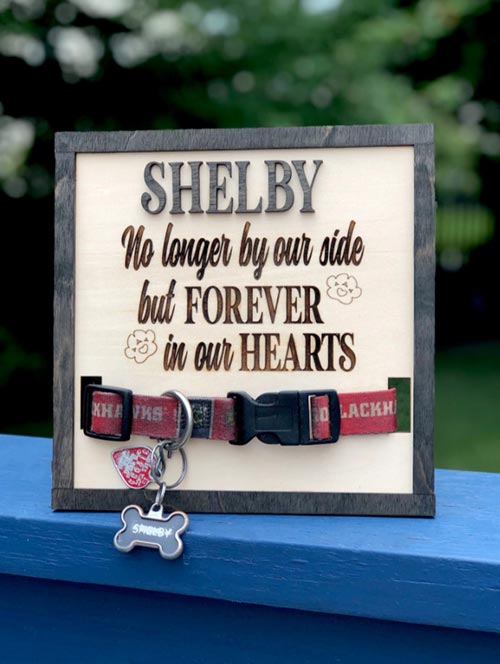 Remember your dear pet with this hand-crafted wooden plaque. Although they may have crossed that rainbow bridge, they are still in our hearts, and this is a beautiful reminder of that.
Keep their memory with you always and exhibit your love for all to see. This special sign can be displayed in any room and is bound to give you years of smiles.
17. Pet Memorial Plaque and Cremation Urn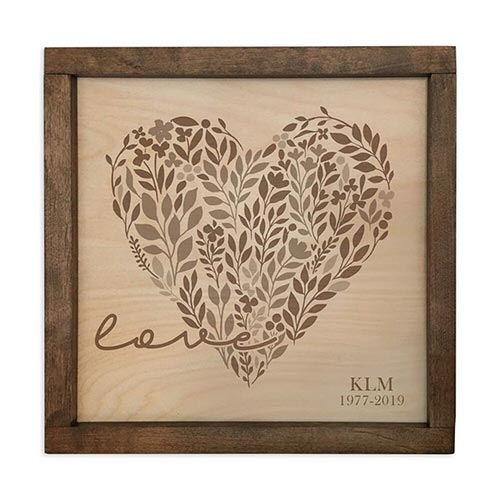 Our Loving Heart Floral Memorial Plaque Cremation Urn is a unique way to honor that beloved pet. The plaque discreetly holds their cremated remains safely and securely.
Display this urn in your living room, den, or bedroom. You can have their name and dates added to this memorial.
18. Rainbow Bridge Pawprint Suncatcher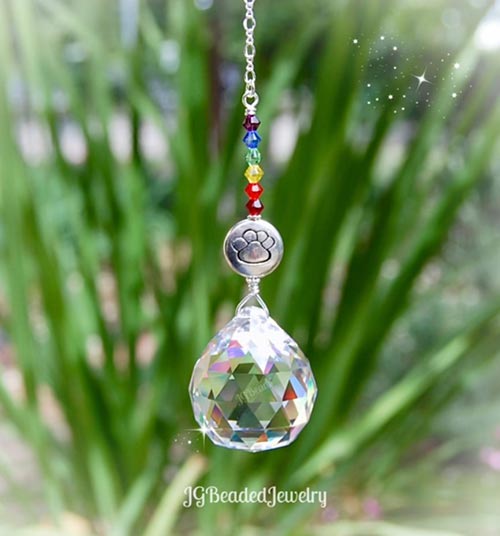 A very appropriate memorial to your fur baby that has crossed the rainbow bridge. Think of them every time this beautiful crystal catches the sun's rays. Remember the wonderful times you've shared together.
Hang anywhere the sun shines and enjoy your treasured memories.
19. Personalized Glass Memorial Canvas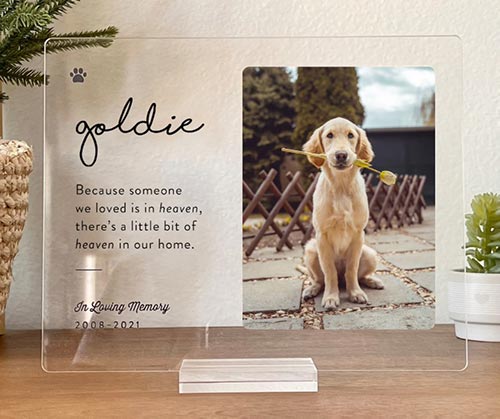 A touching tribute to a pet that has been well-loved, your heart will be warmed with this hand-crafted acrylic plaque. This plaque is so elegant, it will suit any room or office space.
Place their name, dates, and poem or saying to make it extra special. This plaque is a great addition to set beside a pet's urn.
20. Custom Paw Print Bracelet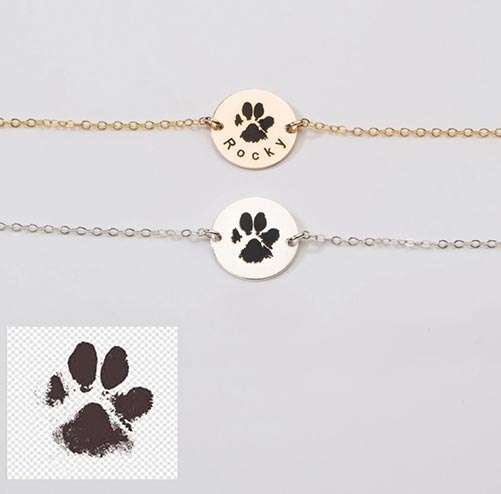 You can place an actual copy of your dog's paw or nose print on this high-quality bracelet.
Personalize with your sweet fur baby's name. Keep your pet close to you always with this minimalist style bracelet. It will be cherished for years to come.
21. Wooden Pet Cremation Urn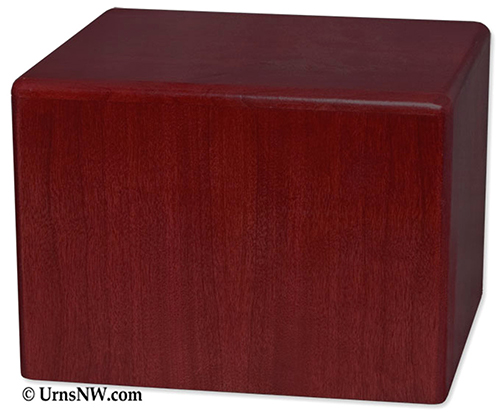 Our stunning pet urn is made from high-quality wood. This classic urn is perfect to keep your pet's cremated remains safe and sound.
We can laser engrave his name, dates, and a brief inscription into the surface. It is a wonderful way to personalize this wooden pet urn.
22. Fur Keepsake Box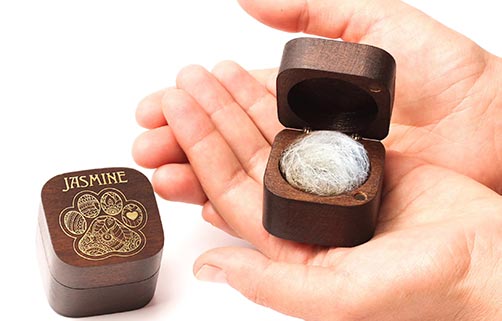 Made from wood, this mini keepsake is perfect to save a puff of fur. Engrave your keepsake with a name and an image.
A special place to keep memories of your exceptional pet. Make a memorial shelf, and place this little keepsake next to your treasured photos, candles, and urn.
23. Custom Memorial Pet Portrait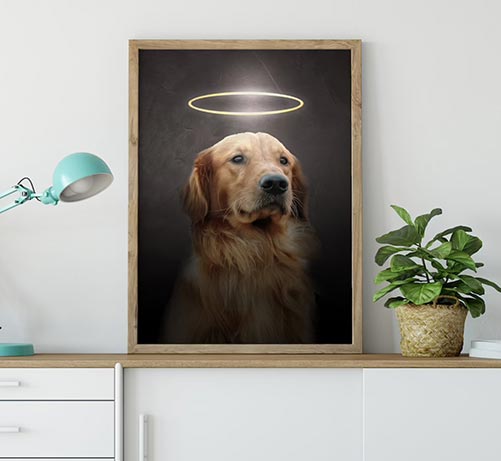 Losing your dear pet is hard. Keep him close with this angel portrait.
A print that can be placed on canvas, a poster, or even a coffee mug. This is a cute way to honor those sweet memories that you cherish.
24. Rainbow Bridge Bead Bracelet
A simple yet meaningful gift – a rainbow bridge bracelet. Keep your best friend close to you by wearing this cute beaded bracelet.
The 8mm bead bracelet is stylish and pretty. It has seven different color beads and can be worn every day with any outfit.
25. Tealight Remembrance Angel
A fantastic tribute to your sweet four-legged friend. An angel holds your pup until you are together again!
Who better to take care of your baby until you are reunited? Take comfort in this sweet memorial. Your four-legged besty is in good hands until you see him once again.
Perfect to set beside your pet's urn.
26. Personalized Pet Urn Keychain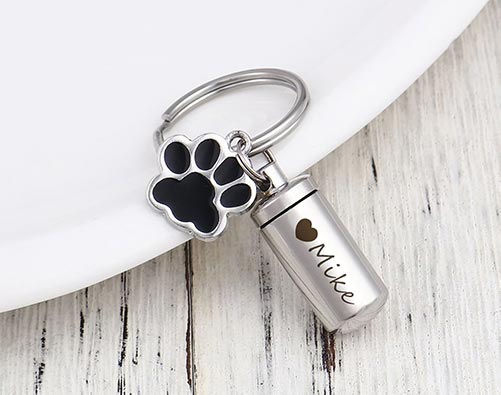 Carry your sweet pet with you always. A hand-made stainless steel keepsake urn is perfect to keep with you. This keychain ensures you never leave the house without your beloved pet.
This is the perfect size to keep in your pocket or purse.
27. Rock Slate Photo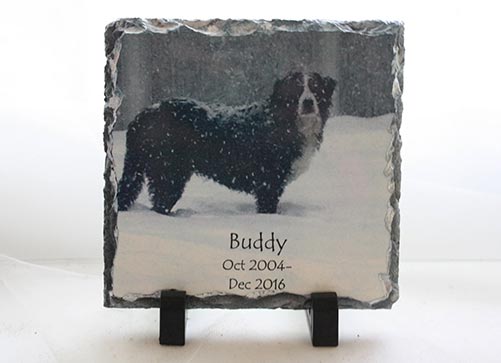 A hand-crafted slate plaque is a wonderful way to preserve the memory of your best friend. Add his/her name along with dates and it is a memory to be cherished forever.
Place it on your desk, dresser, or bedside table to keep them near to you always.
28. Remember Me Shadow Box
For that "hardest goodbye," keep the memories alive with a shadow box. Fill your shadow box with pictures and memorabilia – treasures and memories to be kept forever.
There's lots of space to display numerous keepsakes, photos, and memories.
Related: Pet Loss Quotes, Poems, & More to Honor Your Furry Friend
29. Portrait Memorial Mug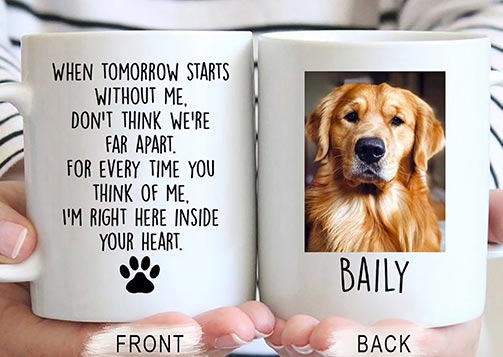 An adorable coffee mug is sure to bring a smile to your face. You can still enjoy your morning coffee with your best friend.
This ceramic mug is hand-made with a picture of your equally adorable pet. It includes your dog's name on one side and a poem on the other side of your mug.
30. Diamonds from Ashes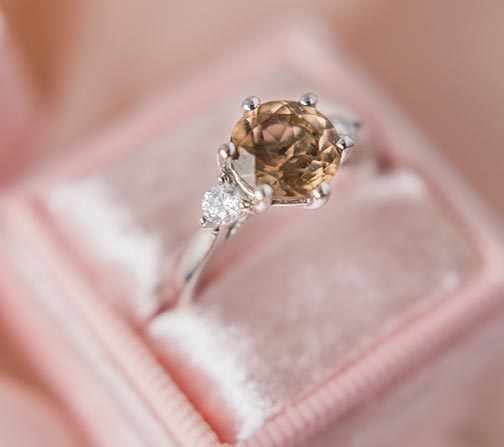 A beautiful way to honor the love you felt for your pet: create a diamond from their cremated remains. Diamonds are made from carbon, and there is carbon in cremated remains.
All you need is a half cup of cremains to make your diamond. You can set your newly formed diamond any way you want, and determine the size from 1/5 carat up to 3 carats.
A diamond lasts forever, just like the love you shared with your adorable fur baby.
31. Sleeping Dog Memorial Stone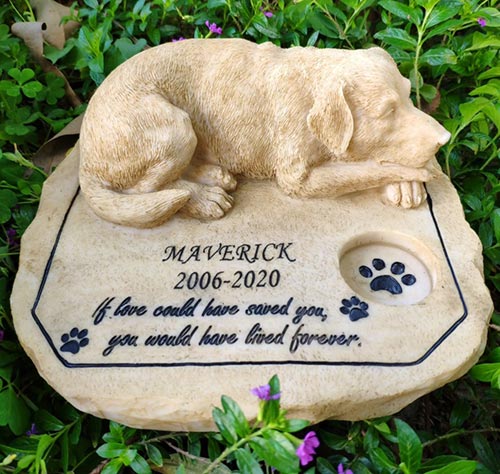 The personalized dog memorial stones are a dignified way to memorialize your beloved puppers.
Suitable for display indoors and outdoors – treated with a unique finish for protection against the weather. Put your pet stone by a sidewalk, under a tree, in a flower bed, or on your patio or porch. A memorial to last a lifetime.
32. 3D Crystal Photo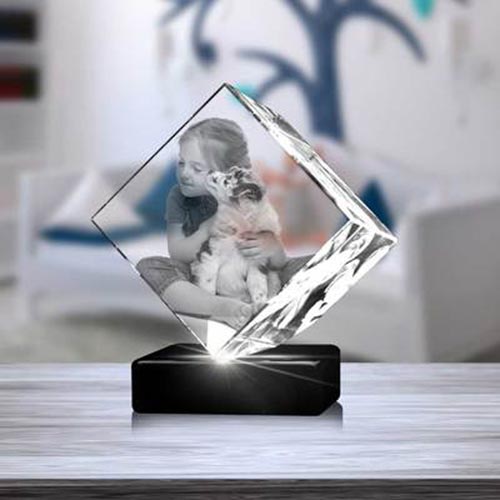 3D crystals are three-dimensional portraits made from your two-dimensional photograph. Your special photo will be laser etched into the crystal – just send in your photo, and the designers will do the rest.
You can choose from various shapes and sizes to be placed on a desk, table, bookcase, or anywhere you want to display it. A crystal is a gift to be treasured.
33. Garden Memorial Pot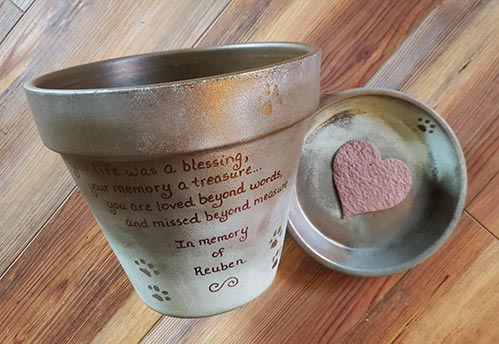 Here's a charming reminder of your sweet baby: a planter to honor their memory.
Your own words will be engraved on the pot along with a paw print to memorialize your pet. This dog memorial tribute will come with a heart-shaped seed card. Watch your seeds grow into beautiful plants and think of your pet every time you look at them.
34. Personalized Pet Memorial Cement Vase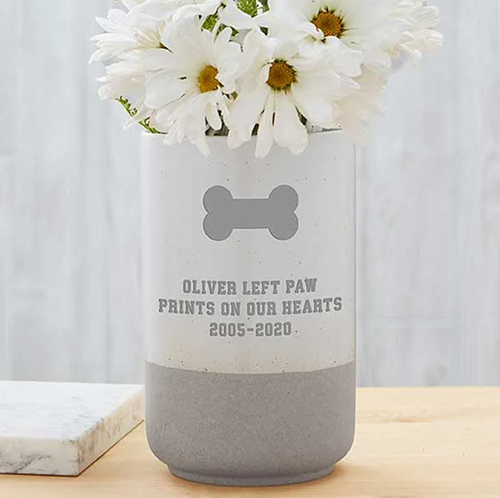 Keep your beloved fur-baby's memory alive with this cement memorial vase. Easy to customize and the phrase "…left paw prints on our hearts" will always leave a warm feeling in your heart.
You can send comfort to a friend that has lost a loved pet or gift yourself with this remembrance. It is sure to bring a smile to your heart.
35. Custom Pillow Portrait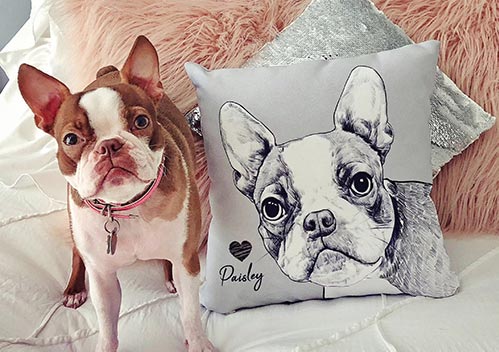 A personalized pillow cover of your pet is simply adorable. Just the right size to toss on your couch or throw on your bed.
Add a heart and your furry baby's name to make it extra special. This hand-made pillow cover is printed on both sides. Bring yourself some comfort by hugging your puppy pillow.
36. Pet Memorial Jar for Ashes or Fur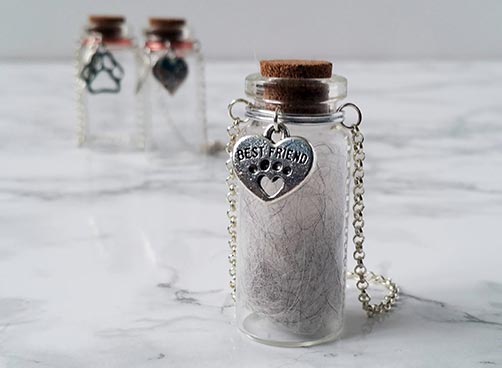 A cute keepsake jar to hold cremated remains or fur. Keep a remembrance of your best friend close to you at all times.
You can hang your vial by its silver chain – hang it in a window or on a mirror. A sweet reminder of the beautiful friendship you shared with your cherished pet.
37. Paw Print Cremation Jewelry
Made from high-quality stainless steel, this cremation necklace will keep your pet close to your heart. In the shape of a paw print with a heart, it will always hold dear memories.
Related: 50+ Most Beautiful Cremation Jewelry Memorials
38. Custom Garden Plaque & Hook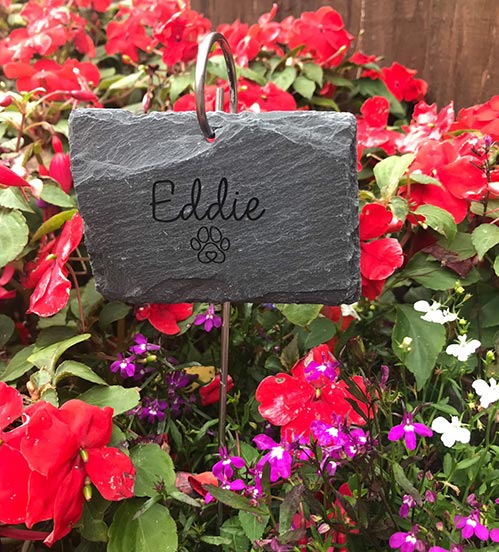 A caring gift to give to someone that has lost their pet.
Each hand-made piece of slate is unique, and no two will be the same. Add the name and dates for their lost pet.
They'll be happy to place their plaque in the garden or a flower bed. It is also perfectly suited to keep in the house; they can place it in an indoor planter. Every time they look at it, you will be remembered for your thoughtfulness during their time of grief.
39. Angel of Friendship Ornament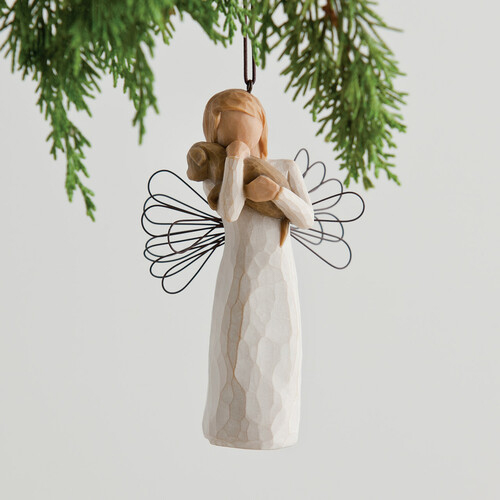 A beautiful angel holding your dog – such a comfort knowing he is being held in the arms of an angel!
Whether you display your angel ornament from a Christmas tree, a window, a mirror, or set it on a shelf – it is sure to bring a smile to your face and comfort to your heart.
40. Hidden Photo Pet Memorial Necklace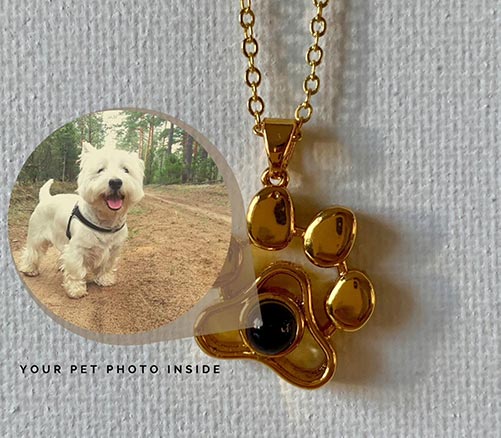 Now you can carry your dog's photo with you wherever you go. A high-quality necklace, made from solid sterling silver and titanium.
This hand-crafted pendant is perfect for everyday wear – keeping your best friend and companion close to your heart.
The loss of a pet is so hard. The pain you feel when you lose a pet may surprise people that aren't animal lovers. It's normal to grieve the loss of a dearly loved pet. They are living creatures entrusted to us to care for. Our faithful and loyal companions.
As Roger Caras has said, "Dogs are not our whole life, but they make our lives whole."