Welcome to the ultimate collection of pet loss quotes.
Have you or someone you love recently lost a beloved animal? When you're missing those special furry friends that are more like family than anything, some comforting words would be far from amiss.
We have more than 80 touching and heartwarming memorial quotes, inscription and epitaph ideas, poems, Bible verses, sayings, and other pet loss quotes to help you honor and remember your special friend.
We've also included a selection of ten beautiful pet cremation urns for you to consider as well.
Our website is supported by our users. We sometimes earn a commission when you click through the affiliate links on our website. See our privacy policy & disclosures for more information.
Pet Loss Quotes & Poems
Whether you are looking for some comfort after the loss of your furry friend, choosing what to inscribe on a pet urn or headstone, posting of your affection for your pet on social media, or creating a memorial tattoo or keepsake, you'll find the perfect loss of dog quotes and cat memorial quotes below.
We've broken down each type of quote into helpful categories.
Read on for the perfect memorial quote, poem, or short sayings for loss of pet to honor your beloved friend.
Table of Contents
Pet Epitaphs & Inscriptions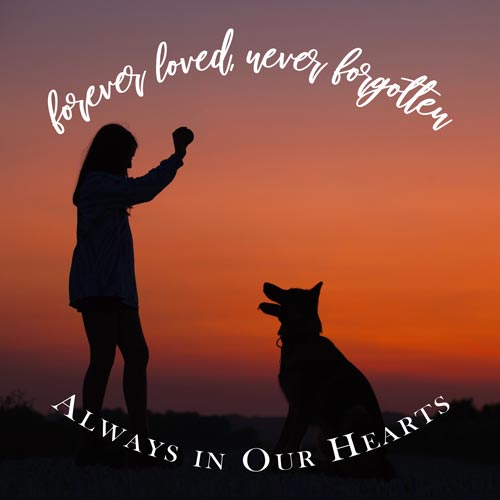 Pet epitaphs are brief phrases or quotes that are typically used on a pet urn, gravestone, plaque, sympathy jewelry, or pet memorial tattoo.
They usually precede the name and dates of your pet while implying that they are no longer with us.
Here are some examples of pet epitaphs and inscriptions, from popular standards to unique and creative ideas.
In Loving Memory
In Memoriam
Forever Missed
Faithful Companion
Always In Our Hearts
In Remembrance
Forever Loved, Never Forgotten
My Best Friend
Faithful, Loyal, and Loving Companion
In Cherished Memories of
Though Gone From Sight To Memory Dear
I'll Miss You Always
A Faithful Friend
Always By My Side
Friends Forever
Always On My Mind, Forever In My Heart
Missing You
Until We Meet Again
Short Pet Loss Quotes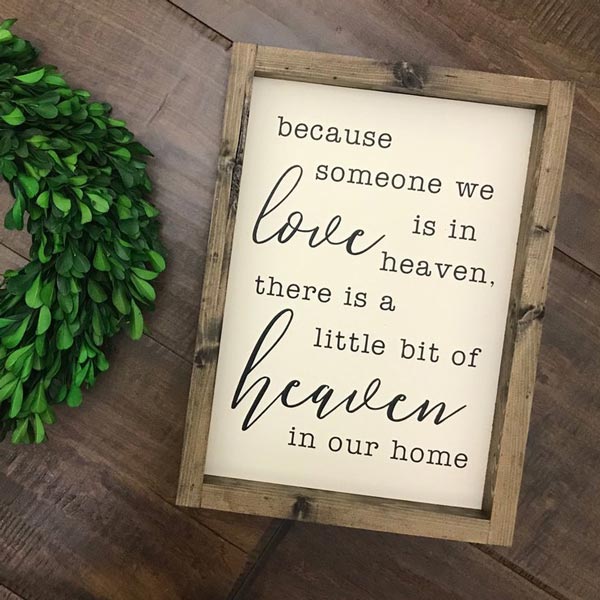 Here are some short pet loss quotes that you can read or use for a memorial tribute.
Many pet owners love this pet memorial stone, which is engraved with the pet's name, dates, photograph, and short pet quotes like one of the ones featured below.
You can also get plaques, mugs, coasters and more custom engraved at Northwest Gifts.
---
Because someone we loved is in heaven,
there's a little bit of heaven in our home
---
Sometimes the smallest things
take up the most room in your heart
---
Your wings were ready but my heart was not
---
You were my favorite hello and my hardest goodbye
(check out this gorgeous photo quote plaque here)
---
My heart will always wear the paw prints left by you
---
No matter how bad my day was
you always made me smile
---
No longer by my side
but forever in my heart
---
You left your paw prints on my heart
---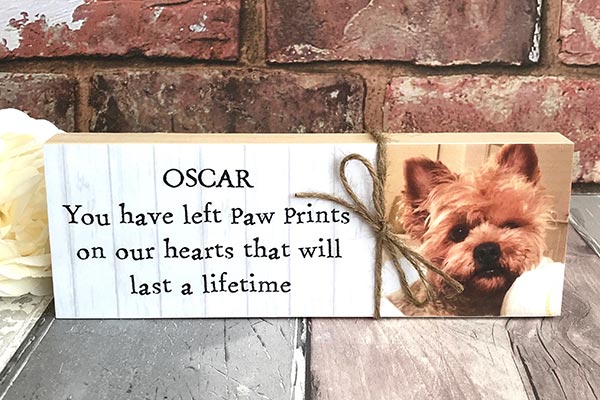 You have left paw prints on our hearts
that will last a lifetime
---
The song is ended,
but the melody lingers on
Irving Berlin
---
Grief is the price we pay for love
Queen Elizabeth II
---
Don't cry because it's over;
smile because it happened
Dr. Seuss
When words are most empty,
tears are most apt
Max Lucado
---
Death ends a life,
not a relationship
Jack Lemmon
---
A silent thought, a secret tear
Keeps your memory ever dear
---
Though absent you are very near
Still loved, still missed, and very dear
---
There is a link death cannot sever
Love and remembrance last forever
---
You still live on in the hearts and minds
Of the loving family you left behind
---
We know you'd be with us today
If heaven wasn't so far away
---
The greatest thing you'll ever learn
Is just to love and be loved in return
Dog Loss Quotes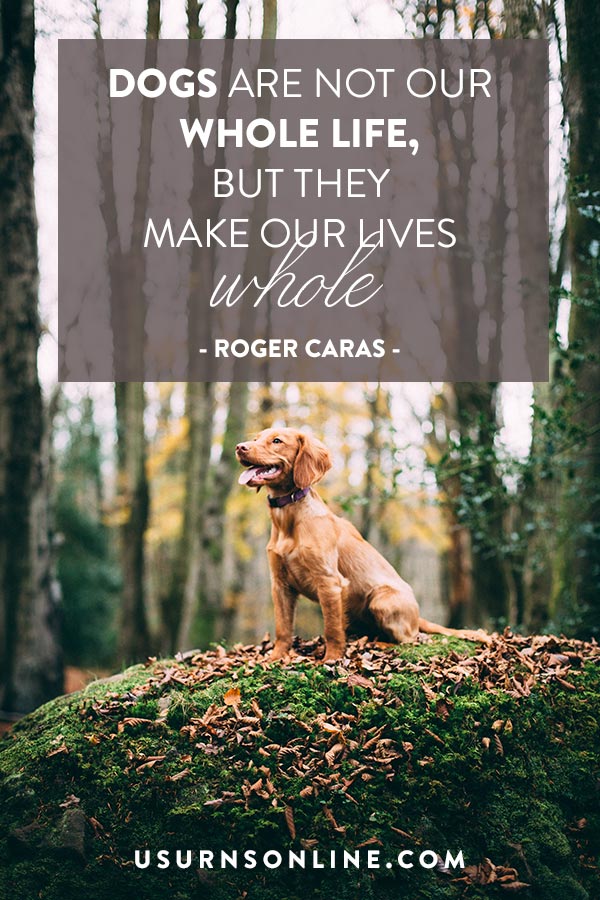 Dogs are rightly called "man's best friend" because they are the most amazing creatures.
The love and companionship of a faithful, devoted dog is unlike any other relationship in the world, and one of life's greatest gifts.
Understandably, the loss of a beloved dog can bring a profound sadness.
It's a special privilege to have known and loved a pet that was more like a family member, and the grieving process can be difficult for a lot of humans.
Here are some of the best dog memorial quotes to help you find the right words to convey how you feel for your beloved pup, and how they felt towards you.
---
"Nobody can fully understand the meaning of love unless he's owned a dog. A dog can show you more honest affection with a flick of his tail than a man can gather through a lifetime of handshakes."
– Gene Hill
---
"Dogs are not our whole life, but they make our lives whole."
– Roger Caras
---
"If there are no dogs in Heaven, then when I die I want to go where they went."
– Will Rogers
---
"The dog is the most faithful of animals and would be much esteemed were it not so common. Our Lord God has made His greatest gifts the commonest."
– Martin Luther
---
"The world would be a nicer place if everyone had the ability to love as unconditionally as a dog."
– M.K. Clinton
---
"Dogs' lives are short, too short, but you know that going in.
You know the pain is coming, you're going to lose a dog, and there's going to be great anguish, so you live fully in the moment with her, never fail to share her joy or delight in her innocence, because you can't support the illusion that a dog can be your lifelong companion.
There's such beauty in the hard honesty of that, in accepting and giving love while always aware that it comes with an unbearable price."
– Dean Koontz
---
"Once you've had a wonderful dog, a life without one is a life diminished."
– Dean Koonz
---
"Dogs' lives are too short. Their only fault, really."
– Agnes Sligh Turnbull
---
"Dogs have given us their absolute all. We are the center of their universe. We are the focus of their love and faith and trust. They serve us in return for scraps. It is without a doubt the best deal man has ever made."
– Roger A. Caras
---
"I guess you don't really own a dog, you rent them, and you have to be thankful that you had a long lease."
– Joe Garagiola
---
"To call him a dog hardly seems to do him justice, though inasmuch as he had four legs, a tail, and barked, I admit he was, to all outward appearances. But to those who knew him well, he was a perfect gentleman."
– Hermione Gingold
---
"Dogs are always good and full of selfless love. They are undiluted vessels of joy who never, ever deserve anything bad that happens to them."
– Steven Rowley
---
"A dog wags his tail with his heart."
– Martin Buxbaum
Cat Loss Quotes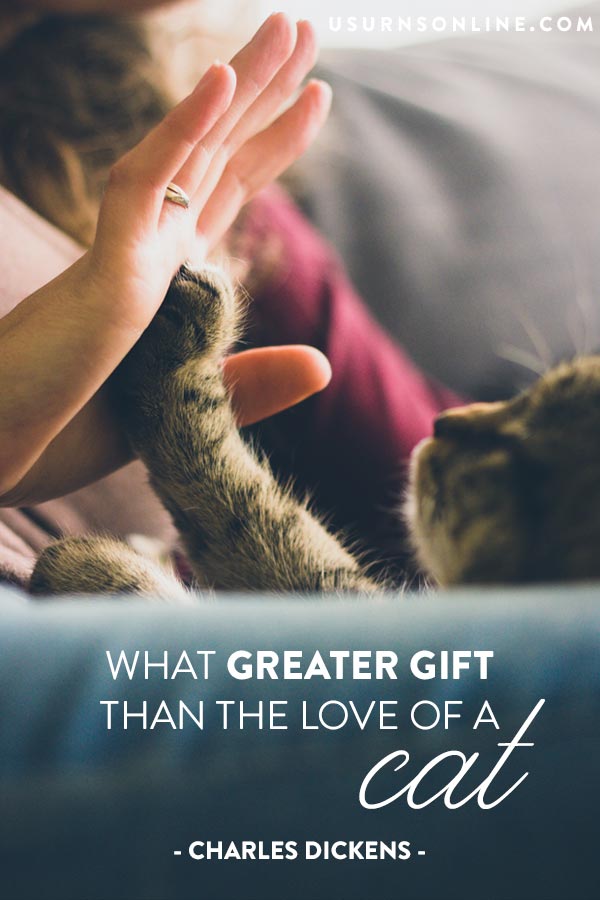 Cats are very special friends and companions, and the memory of a good cat is the greatest gift.
Though many tend to maintain their independence, we know they love and need us just as much as we love and need them. And we also know that independence is just a big act, right?
Cats can give us so much love and profound joy, and there's nothing so cozy as snuggling up on the sofa with a soft pillow, a warm blanket, and a purring kitty.
Here are some of the best pet loss quotes to help you through this time of grieving for your sweet cat.
---
"Time spent with cats is never wasted."
– Sigmund Freud
---
"What greater gift than the love of a cat?"
– Charles Dickens
---
"There are no ordinary cats."
– Colette
---
"A meow is a massage to the heart."
– Stuart McMillan
---
"Kittens are angels with whiskers."
– Alexis Flora Hope
---
"No one can truly understand the bond we form with the cats we love until they experience the loss of one."
– Unknown
---
"Sometimes we aren't meant to get over someone, and we go on living a little bit emptier."
– Leo Christopher
---
"I love cats because I enjoy my home; and little by little, they become its visible soul."
– Jean Cocteau
---
"Cats leave paw prints in your heart, forever and always."
– Unknown
Pet Loss Poems
Poetry can move the soul where mere words do not.
These simple poems may not be highbrow art, but they address the loss of a pet directly and with gentle pathos.
If your favorite furry friend has recently crossed the rainbow bridge, then these poems and short sayings for loss of pet may be just what your grieving heart needs.
Not Forgotten
You are not forgotten, loved one
Nor will you ever be
As long as life and memory last
We will remember thee
Memories
Memory is a lovely lane,
Where hearts are ever true,
A lane I so often travel down,
Because it leads to you.
A Silent Thought
A silent thought, a secret tear,
Keeps his memory ever dear.
Time eases the edge of grief,
Memory turns back every leaf.
Missing Your Playful Paws
Missing your unconditional love and playful paws,
We are now apart.
You're gone from our lives,
But never from our heart.
The Empty Chair
Your favorite chair is empty now,
Where you would lie and sleep.
But the memory of our happy times
Is mine to always keep.
My Forever Pet
There's something missing in my home,
I feel it day and night,
I know it will take time and strength
before things feel quite right.

But just for now, I need to mourn,
My heart… it needs to mend.
Though some may say, "It's just a pet,"
I know I've lost a friend.

You've brought such laughter to my home,
and richness to my days.
A constant friend through joy or loss
with gentle, loving ways.

Companion, friend, and confidante,
A friend I won't forget.
You'll live forever in my heart,
My sweet, forever pet.
– Susanne Taylor
I Loved You Best
So this is where we part, My Friend,
and you'll run on, around the bend,
gone from sight, but not from mind,
new pleasures there you'll surely find.

I will go on, I'll find the strength,
life measures quality, not its length.
One long embrace before you leave,
share one last look, before I grieve.

There are others, that much is true,
but they be they, and they aren't you.
And I, fair, impartial, or so I thought,
will remember well all you've taught.

Your place I'll hold, you will be missed,
the fur I stroked, the nose I kissed.
And as you journey to your final rest,
take with you this… I loved you best.
– Jim Willis
Related: 50 Heartwarming Sympathy Messages for Pet Loss
Bible Verses for Pet Loss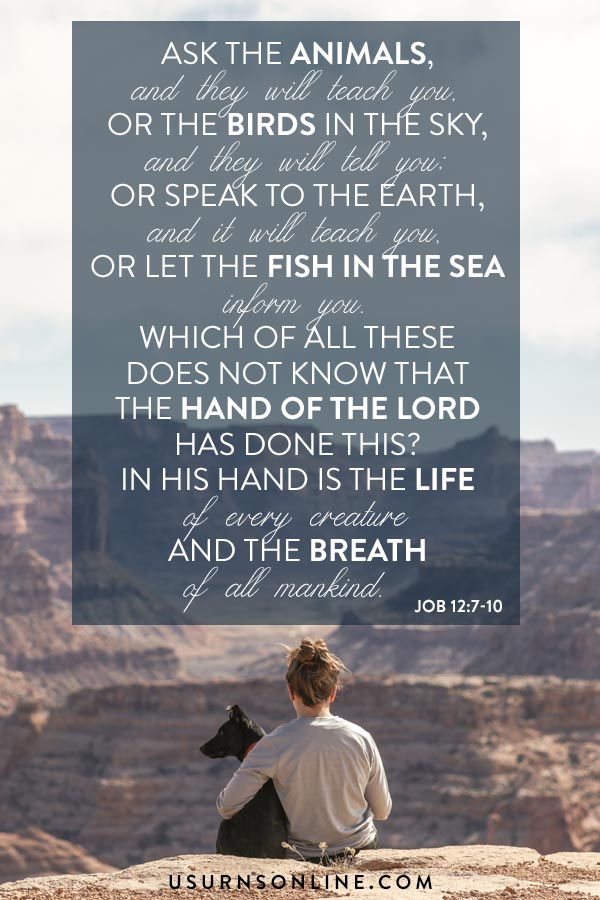 For Christians, God is our source of comfort in times of trial, grief, and loss. His word encourages us and supports us even in the midst of grieving for a beloved pet.
Here are some Bible verses to reflect on as you mourn the loss of your pet. Below you'll find some interesting an encouraging Scriptures about animals in general and about grief and loss in particular.
Scriptures About Animals
God has always shown care for his creatures, from entrusting their care to mankind in the opening verses of the Bible, to laws regarding the proper treatment of animals, and all the way through to Revelation where "every creature" joins together to praise and honor the Lamb of God.
May these Scriptures about animals provide insight and encouragement to you during this difficult time.
Job 12:7-10
7 "But ask the animals, and they will teach you,
or the birds in the sky, and they will tell you;
8 or speak to the earth, and it will teach you,
or let the fish in the sea inform you.
9 Which of all these does not know
that the hand of the Lord has done this?
10 In his hand is the life of every creature
and the breath of all mankind.
Psalm 36:6
6 Your righteousness is like the highest mountains,
your justice like the great deep.
You, Lord, preserve both people and animals.
Psalm 50:10-11
10 For every animal of the forest is mine,
and the cattle on a thousand hills.
11 I know every bird in the mountains,
and the insects in the fields are mine.
Isaiah 11:6-9
6 The wolf will live with the lamb,
the leopard will lie down with the goat,
the calf and the lion and the yearling[a together;
and a little child will lead them.
7 The cow will feed with the bear,
their young will lie down together,
and the lion will eat straw like the ox.
8 The infant will play near the cobra's den,
and the young child will put its hand into the viper's nest.
9 They will neither harm nor destroy
on all my holy mountain,
for the earth will be filled with the knowledge of the Lord
as the waters cover the sea.
Matthew 10:29
29 Are not two sparrows sold for a penny? Yet not one of them will fall to the ground outside your Father's care.
Revelation 5:13
13 Then I heard every creature in heaven and on earth and under the earth and on the sea, and all that is in them, saying:
"To him who sits on the throne and to the Lamb
be praise and honor and glory and power,
for ever and ever!"
Scriptures About Loss
While the Bible doesn't specifically address the death of a pet, God's Word does provide encouragement and hope during times of trial.
May these passages be a balm for your soul as you grieve the loss of your dear pet.
Psalm 23:4
4 Even though I walk
through the darkest valley,
I will fear no evil,
for you are with me;
your rod and your staff,
they comfort me.
Psalm 46:1-2
1 God is our refuge and strength,
an ever-present help in trouble.
2 Therefore we will not fear, though the earth give way
and the mountains fall into the heart of the sea.
Matthew 5:4
4 Blessed are those who mourn,
for they will be comforted.
2 Corinthians 1:3-4
3 Praise be to the God and Father of our Lord Jesus Christ, the Father of compassion and the God of all comfort, 4 who comforts us in all our troubles, so that we can comfort those in any trouble with the comfort we ourselves receive from God.
1 Peter 5:6-7
6 Humble yourselves, therefore, under God's mighty hand, that he may lift you up in due time. 7 Cast all your anxiety on him because he cares for you.
Revelation 21:4-5
4 'He will wipe every tear from their eyes. There will be no more death'[a]or mourning or crying or pain, for the old order of things has passed away."
5 He who was seated on the throne said, "I am making everything new!"Then he said, "Write this down, for these words are trustworthy and true."
Scriptures taken from the Holy Bible, New International Version®, NIV®. Copyright © 1973, 1978, 1984, 2011 by Biblica, Inc.™ Used by permission of Zondervan. All rights reserved worldwide. www.zondervan.com The "NIV" and "New International Version" are trademarks registered in the United States Patent and Trademark Office by Biblica, Inc.™
Heartwarming Pet Memorial Quotes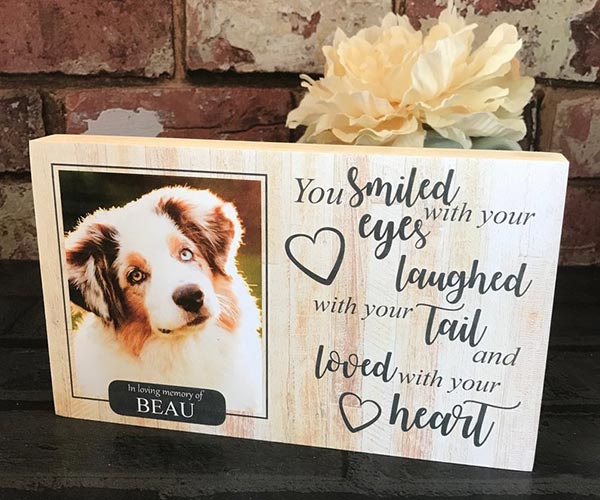 Sometimes you just need a phrase to warm your heart and draw your mind back to all the happy memories you shared with your pet.
Here are some of our favorite heartwarming pet memorial quotes for your goodest good dog, your sweet kitty cat, or whatever other beloved creature you called friend.
---
You smiled with your eyes,
laughed with your tail,
and loved with your heart
---
If love could have saved you,
you would have lived forever
---
You have no idea the amount of happiness you brought into my life
---
I keep myself busy with the things I do,
but every time I pause, I still think of you
---
And tonight I'll fall asleep
with you in my heart
---
How lucky I am
to have something
that makes saying goodbye
so hard
A.A. Milne, Winnie the Pooh
Not the least hard thing to bear
when they go from us,
these quiet friends,
is that they carry away with them
so many years of our own lives.
John Galsworthy
Pet Cremation Urns
When you've lost a beloved pet, it's natural to want to memorialize them in some way. These beautiful urns honor both your beloved pet and the relationship you shared.
Black Cultured Granite Pet Urn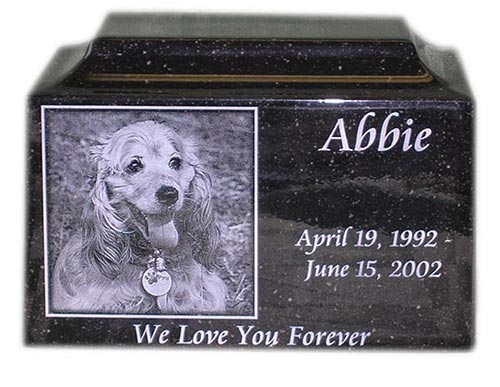 Many of the pet loss quotes above can be used if you are unsure of what to write on pet memorial plaque, photo album, or necklace.
The quotes can also be engraved on many beautiful cremation urns.
At Urns Northwest we have many gorgeous and high-quality pet cremation urns. If you're looking for a special cremation urn that you won't find anywhere else, check out our collection of pet urns.
Small Ceramic Pet Urn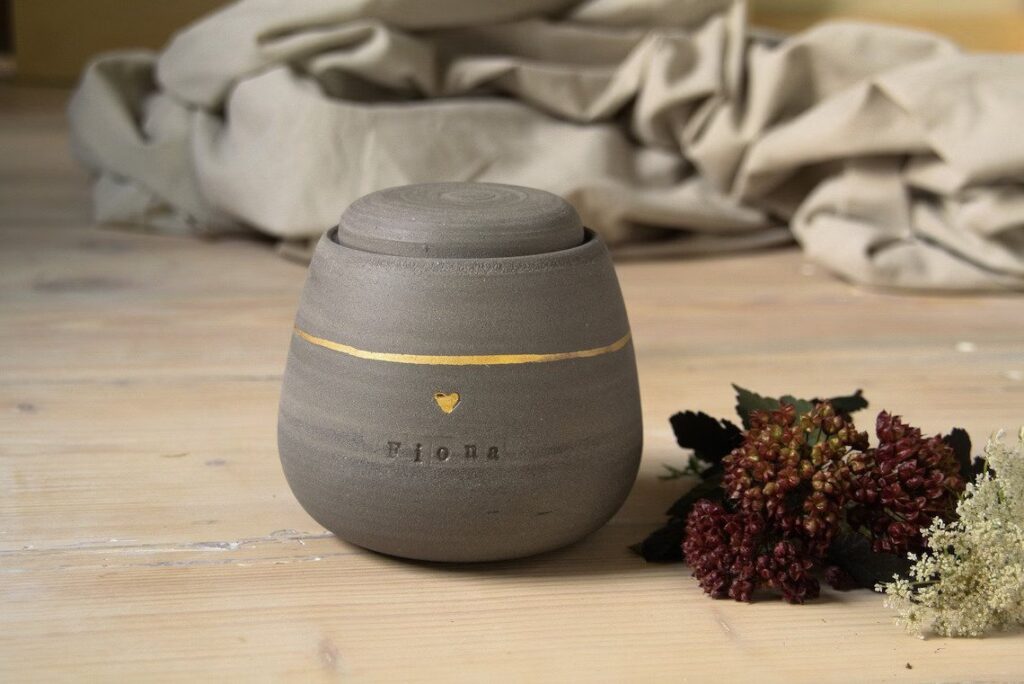 This sweet ceramic urn is perfect small animals up to 50 lbs. They are crafted by hand on the potter's wheel, and can be personalized with your pet's name and either a paw print or heart.
Green Natural Marble Pet Urn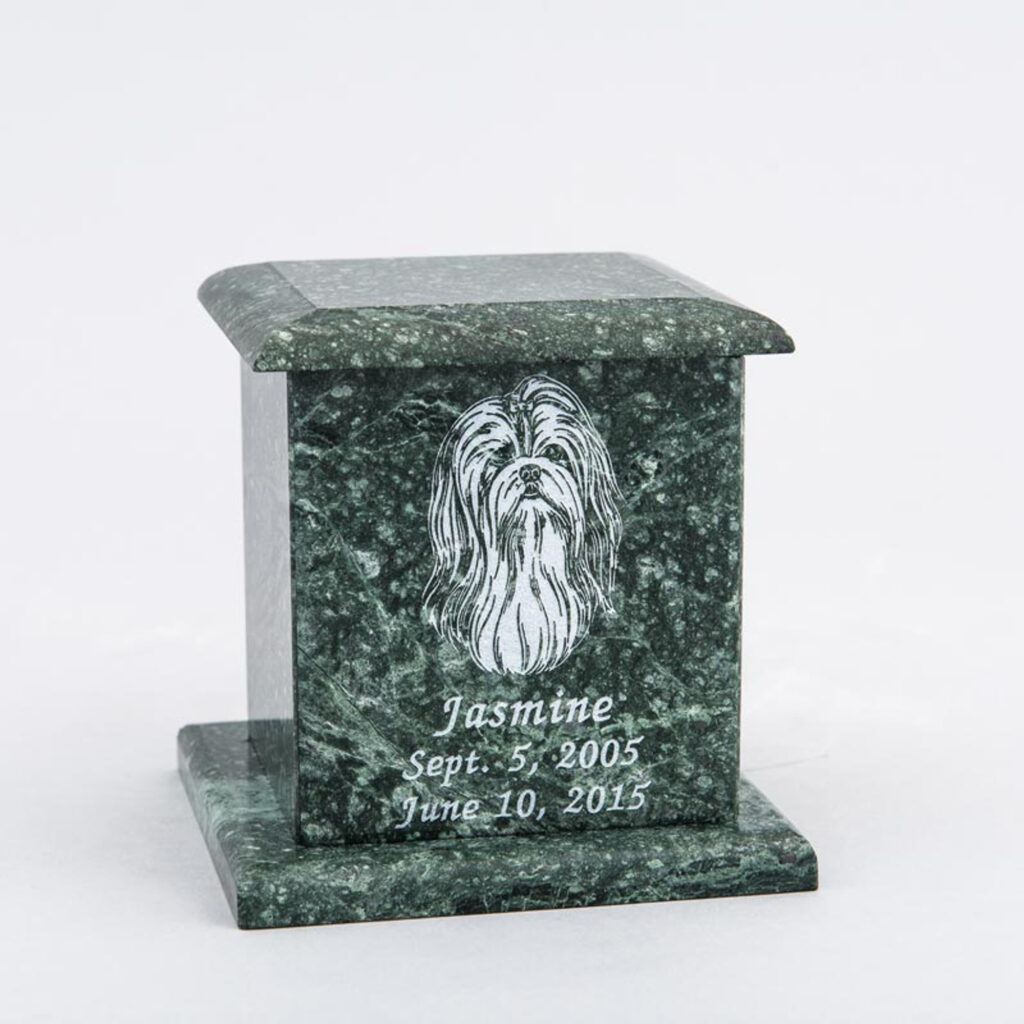 This beautiful, natural marble pet urn can be engraved with their portrait, name, dates, and an epitaph or quote.
Handcrafted Bunny Urn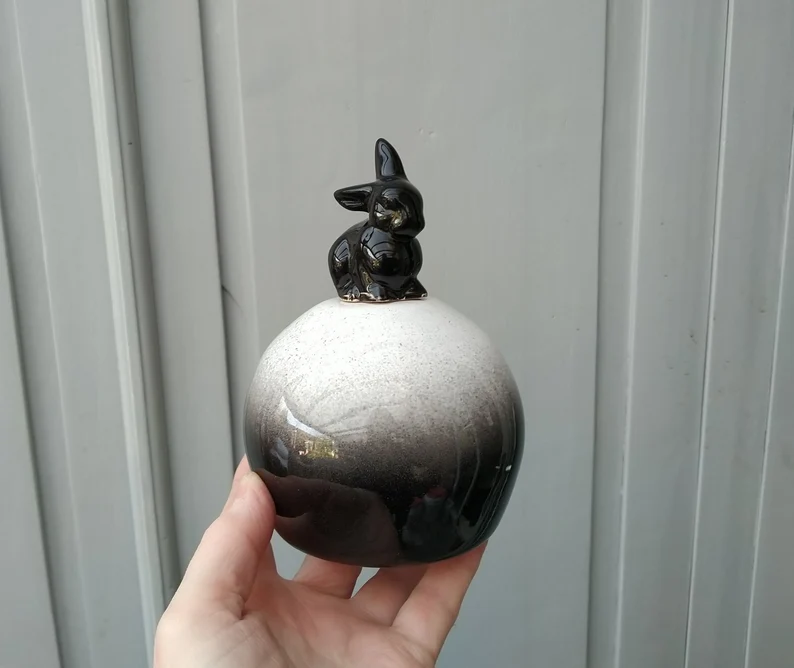 This precious, lovingly handcrafted urn would be perfect for your little bun. Minimalist and elegant, it would look so lovely in your home.
Custom Doghouse Urn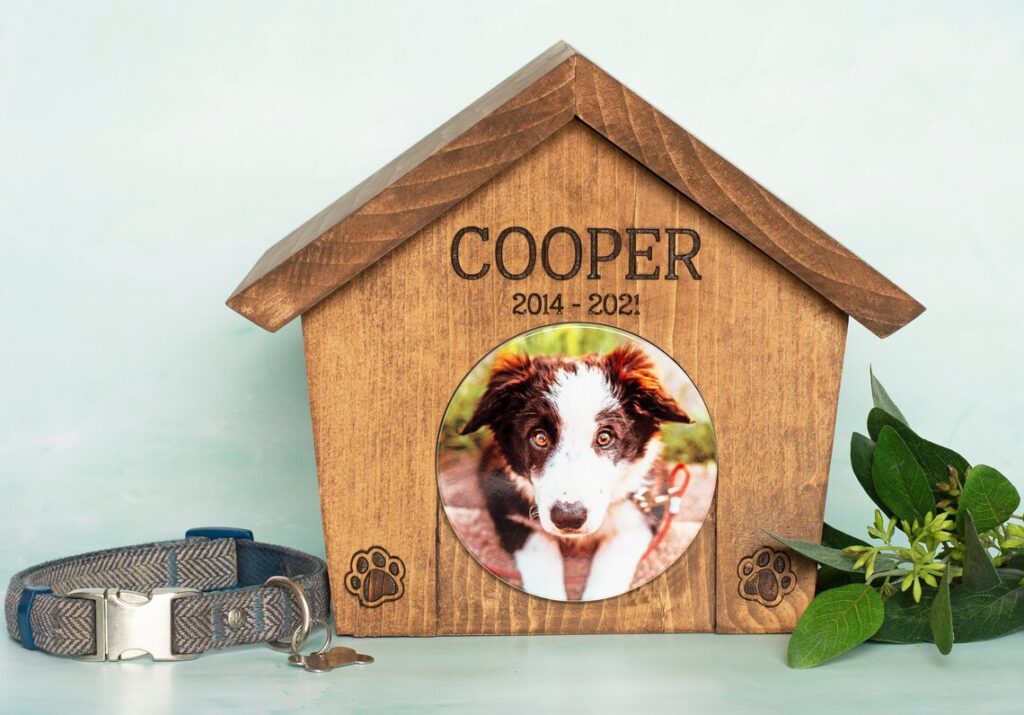 How unique and sweet is this little doghouse urn? Have it customized with your pooch's portrait and name for a special memorial.
White Porcelain Cat Angel Urn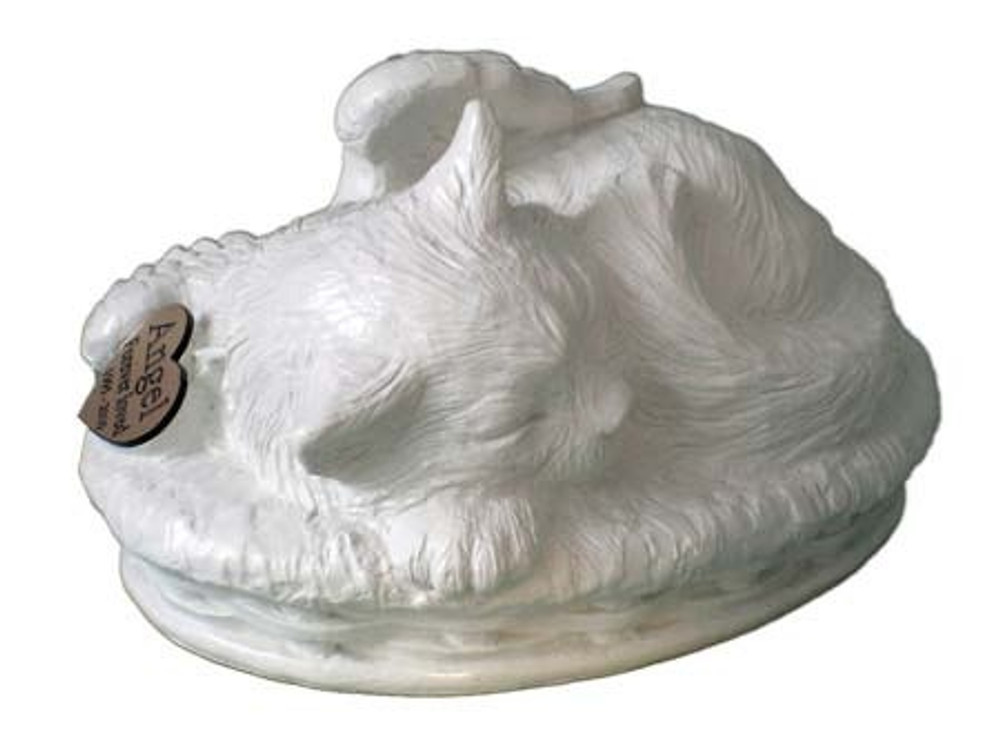 A precious sleeping kitten angel urn like this would be a perfect final resting place for your beloved feline family member.
Hand Blown Glass Pet Urn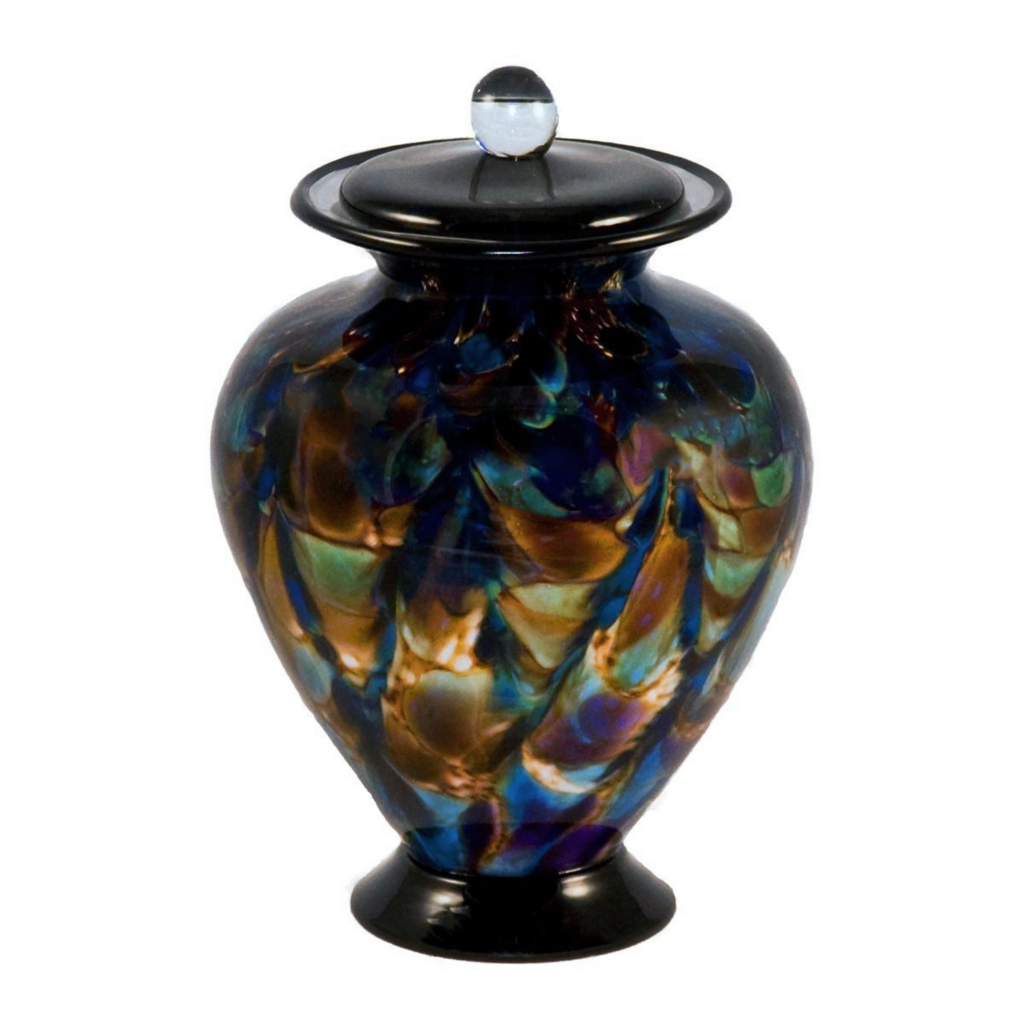 Was your furry friend an elegant lad or lassie? Then this stunning, handblown glass pet urn would be a fitting choice.
Elegant Tealight Urn for Pets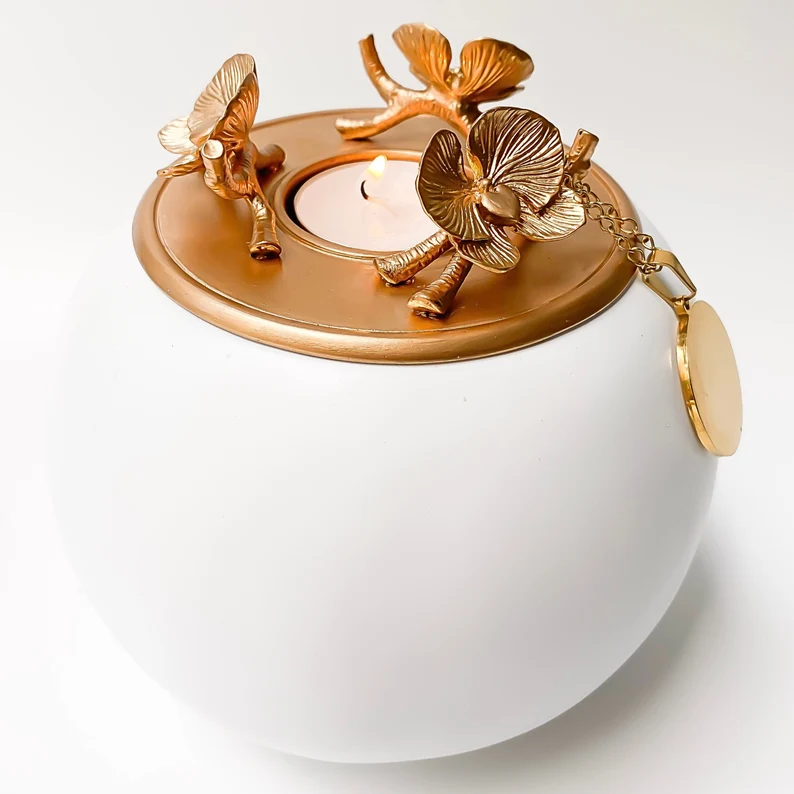 Tealight urns are so elegant and this one would make such a beautiful memorial for your beloved pet.
Handcrafted Longquan Celadon Urn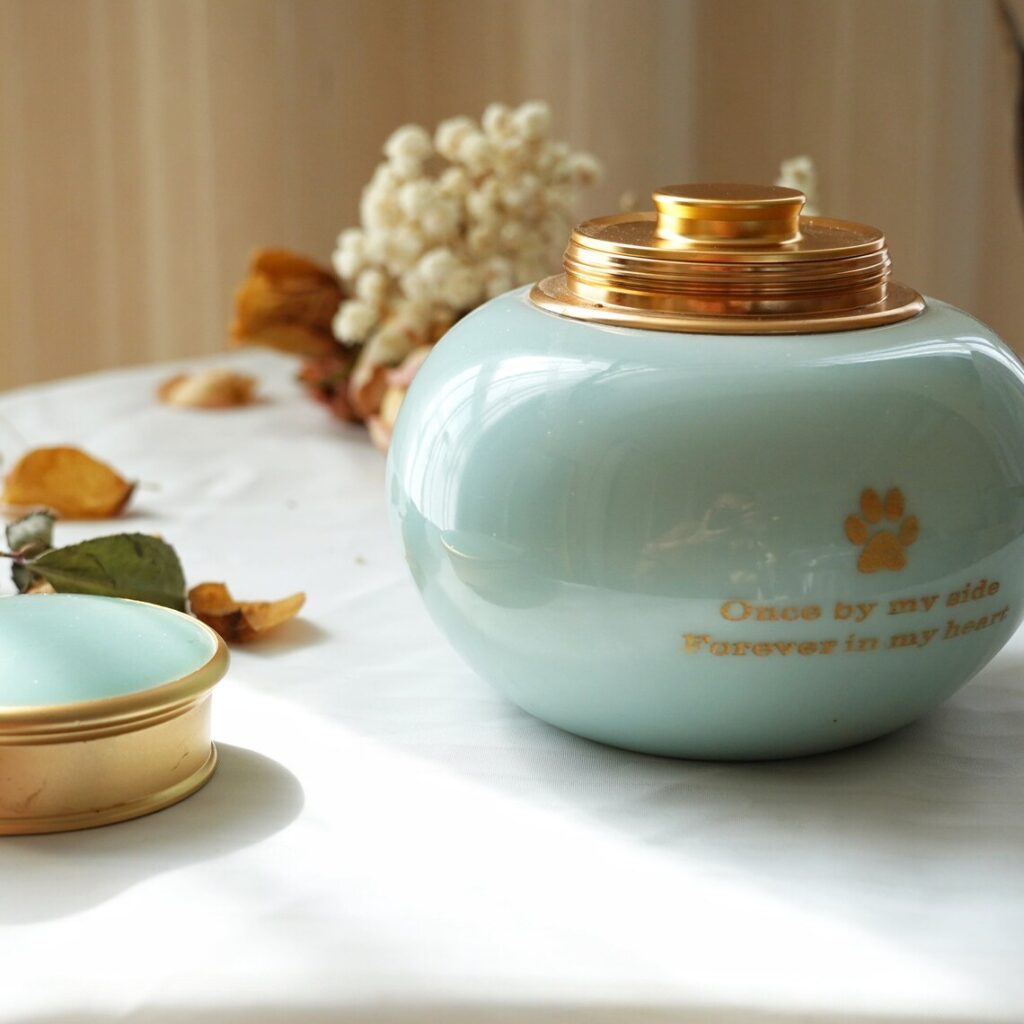 A gorgeous Celadon urn like this one would make such a beautiful resting place for your furever friend. Customize it with their name and an inscription of your choice.
German Shepherd Urn Tower
This beautiful piece is so much more than just an urn, but is a monument to the incredible creature they were. This would make a beautiful memorial for a service, military, or police dog.
Read Next: 100 Best Pet Memorials