Here for You is a small, woman-owned business that curates practical and thoughtful care packages. Their unique angle is that they provide really, really practical things to send to a grieving friend or family – like, toilet paper.
It's actually a great idea, and receiving one of these boxes (filled with paper plates and, yes, TP) is actually more exciting than it might sound. The products they include are recycled, natural, and truly top-notch, plus they have plenty of personal care items you can add-on to any care package to spruce it up even more.
Below is my review of a Here for You grief care package, along with unboxing photos. (Spoiler alert: I'm going to recommend this company wholeheartedly; they have great stuff and it's really thoughtfully packaged.)
Hopefully this will help you decide on the perfect sympathy gift to send to someone you care about who is far away!
Please note: I received this care package for free to review. If you order one through my link, I may receive a commission at no cost to you. See our full disclosure here for more details. As always, the goal is to provide an unbiased opinion and I'll do my best.
Here for You Grief Care Package Unboxing
Order/Emails
First impressions matter. Kellyn and the team at Here for You nail it, both for the recipient AND for the sender.
Before we even get to the packaging, here's what happens when you place an order for a grief care package. Of course you'll get the typical order confirmation email; that's par for the course. But within a day or two (depending on how long they take to process and package your order) you'll get another email.
Since they were sending me a sample package for review, I was treated as both the "sender" and recipient. So my email said:
Daniel,

First, I hope this email finds you and your family secure — I know our world has changed dramatically in such a short amount of time.

The [name's] gift is packed and I will drop it off at UPS today. You should have already received an automated email with shipping information, but just in case, I'll include a link to the tracking details here for you too.

Please keep in mind that with all that is going on with COVID-19, all shipping carriers are experiencing delays that may impact the arrival of this gift. Unfortunately, the delays are fairly unpredictable. Some packages arrive at their destinations on time, and others arrive after significant delays.

All my best,

Kellyn
Here's the photo she attached: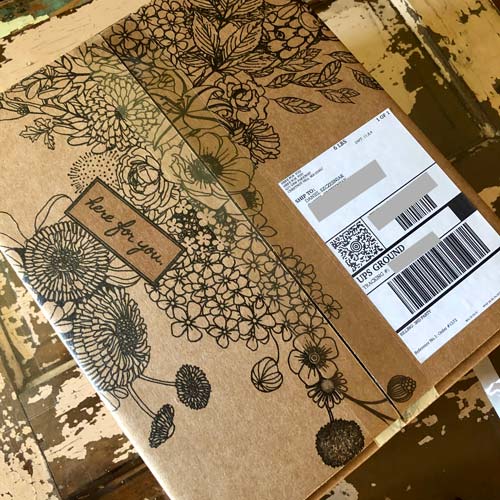 That was my name and address on the label! (Or, in your case, your friend or family member's info.)
What a great touch, right?
I mean, you're sending a package that you'll never see, from a company you've probably never heard of before, and it's a time when you're not super likely to hear back from the recipient because they're already overwhelmed.
If you have any concerns about whether a company is legit, this should remove all doubt. Plus the email was timely, with comments about the potential for delays due to the pandemic.
Packaging
You've already seen a preview of the packaging, but here's another look. These were taken by me when I received it a few days after the aforementioned email.
(There weren't really any shipping delays, but as with anything, that varies.)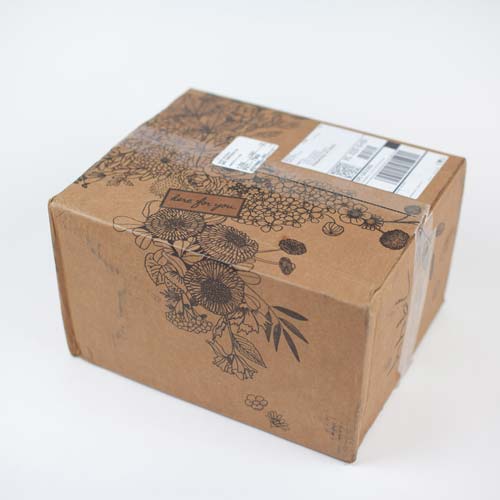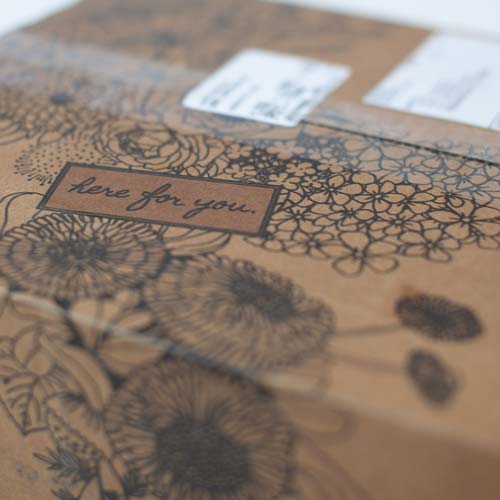 Opening
So far it's just a box, but I'm already impressed. The personal touch of the email and photo of the package combined with the actual look of the gift has already won me over.
But let's open it and take a look inside.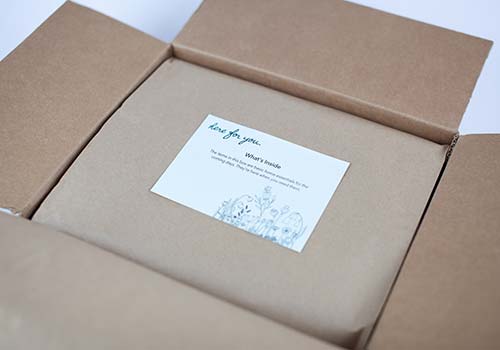 The first thing we see is a cute little note that describes a bit about what's inside. Then, below that top protective layer of packaging is another card: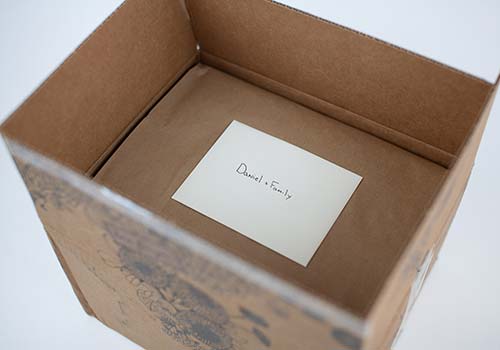 This one is a greeting card in an envelope, addressed by hand to me and the family.
You can tell the box is full of stuff.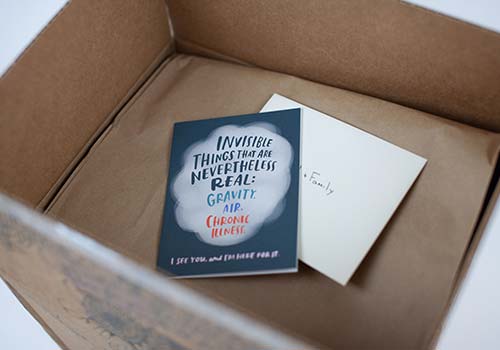 Kellyn had asked about our family, and I mentioned that my wife has several autoimmune disorders so she sent us a card relating to chronic illness.
It reads,
Invisible things that are nevertheless real:

Gravity. Air. Chronic illness.

I see you, and I'm here for it.
Inside, Kellyn wrote us a brief note. For your care package, you would put your gift note info into the order and they would hand write it for you into the recipient's card.
Cards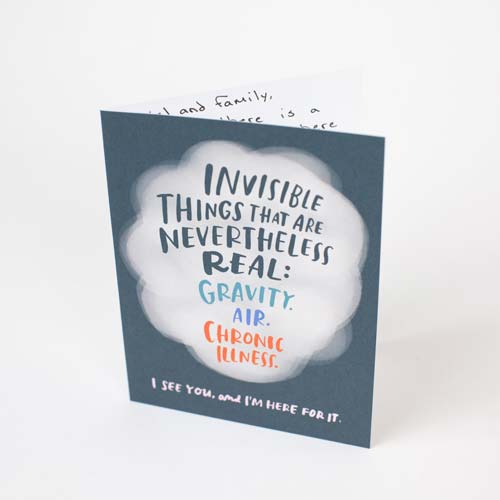 When you order, you can choose the theme for the card. They're all a bit contemporary, cutesy, and "authentic." Some veer into irreverent territory.
There are several that say things like "I'm always here for you," while one example of the more sarcastic style says, "Please let me be the first to punch the next person who tells you everything happens for a reason."
There's only one I really don't like, which suggests that "If this is God's plan, God is a terrible planner." I guess it's fine for people who don't believe in God to ridicule the beliefs of those who do?
The point is to poke fun at the stupid things people say to someone who is grieving; things like "It's all part of God's plan." As far as that goes, the point is a valid one – while it may be true that a loved one's death is part of God's big plan, that's a rather unhelpful thing to say when someone is in the thick of it. Here for You's other cards do it much better; that one is simply a poor choice and I hope they remove it.
Here's an example. My favorite (which makes fun of another brainless yet common condolence mistake) was the card that says:
When life gives you lemons…

I won't tell you a story about my cousin's friend who died of lemons.
There are some other good ones for grief, illness, thinking of you, encouragement, pet loss, plus cards with no words and just art. Plenty of options.
Finally: The Stuff!
Ok. Now we're ready to get into the actual package.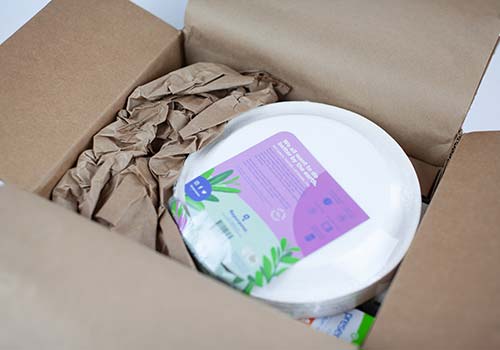 It's all packed in, nice and tight. Below, most of the items are somewhat visible once the packing material is removed: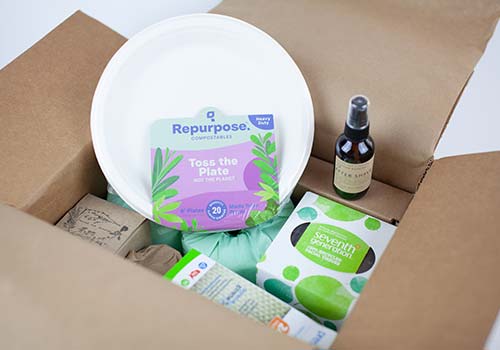 At this point, I just started pulling everything out. Each item is nicely packaged and has an eco-friendly angle (which we'll get into below).
My point is, the experience is different from unloading a WalMart bag filled with utensils and stuff. These are nice practical household items.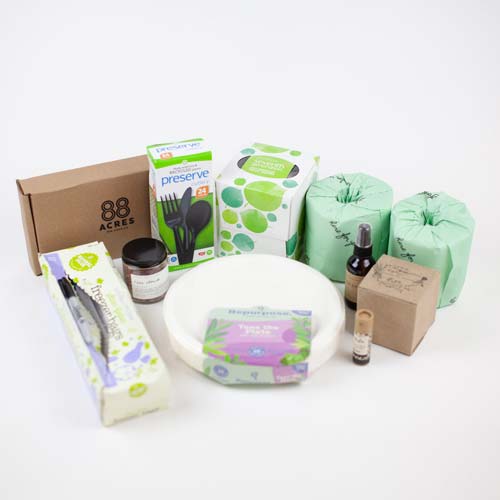 That's everything. The base package includes:
Cutlery (made from recycled plastic)
Paper plates (compostable)
Tissues (100% recycled)
Toilet paper (sustainably made)
Gallon freezer bags (with Sharpie marker)
Sympathy card (mentioned above)
You can level up your care package by choosing all sorts of add-on items.
In my package, they included some all-natural add-on items:
Energy bars (pack of 5)
Bath soak
Bath bomb
Lip balm
Essential oil-based aftershave
It was all really nice-looking things. The unboxing experience was lovely, and oozed with quality and care.
Again, you might initially think, "TP, freezer bags, and plastic forks, what the heck??" But they go the extra mile with quality and presentation to take the gift – and the initial unboxing of it – to the next level.
Next, a review of the individual products and my overall recommendation.
Here for You Grief Care Package Review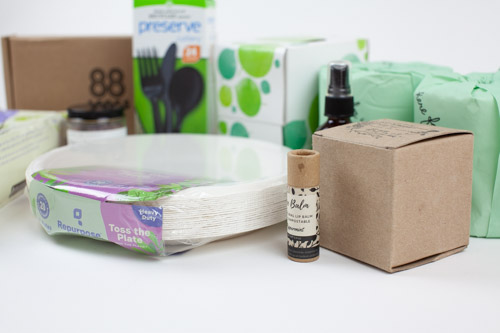 Here's a brief rundown of each item that came in the care package.
Paper Plates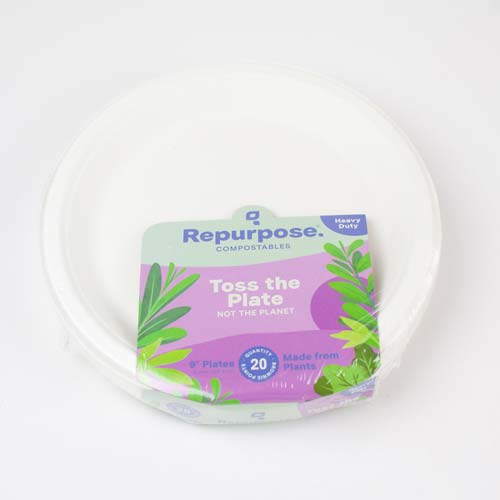 Thick, sturdy paper plates, 20 count, made from plants. We almost immediately had one of "those" days that people with chronic conditions understand, and we used the paper plates. Very handy, and they worked like any old (nice-quality) paper plates.
Freezer Bags (& Marker)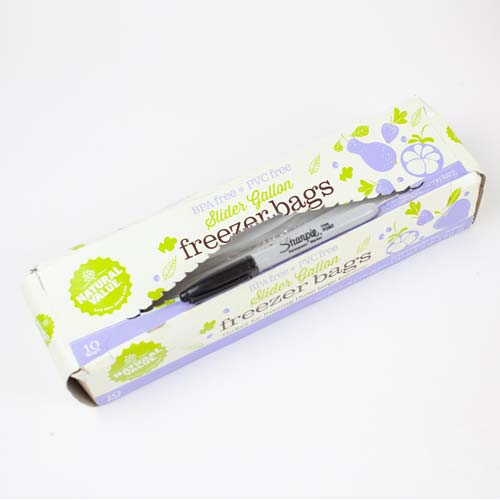 See how the box is dented and opened? That was the only slight faux pas in the entire packaging. And, if you've ever held one of those flimsy cardboard boxes of baggies, you would immediately understand how it happened. (Obviously from being jostled around during shipping.)
The PBA and PVC free element is a nice touch.
We've used a couple, and, what do you know, they work like freezer bags. And we have a Sharpie now.
Cutlery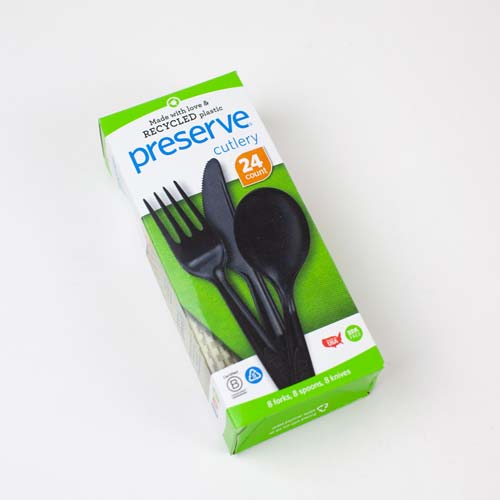 Plastic forks, spoons, and knives, made from recycled plastic. It comes in a 24 pack (8 of each).
Soon after receiving the package, we had friends in town and we used these along with the remaining paper plates. It was great timing to have these on hand, and we didn't have any issues with them. (Which is about all you want from plastic cutlery – just please don't break!)
Tissue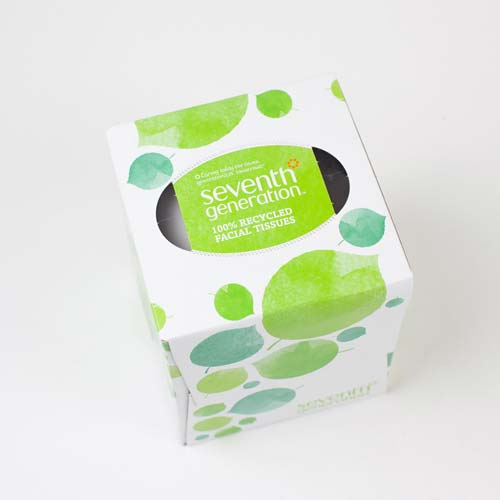 100% recycled tissues from Seventh Generation. They're not the softest ever, but they also don't have weirdly unnatural byproducts either. Regular, non-scratchy, nice tissues.
Toilet Paper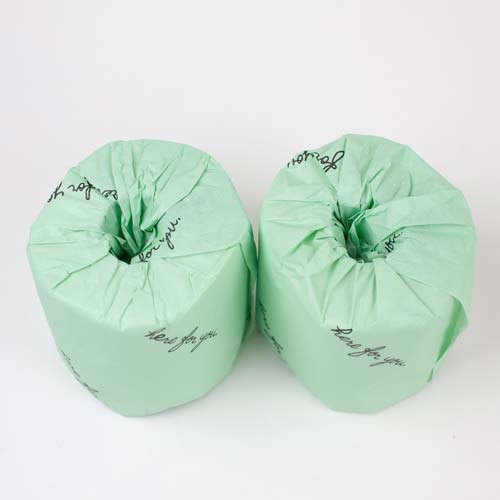 Admit it, this is the one you've been waiting for. And how is the TP? Not too bad.
Add-On Items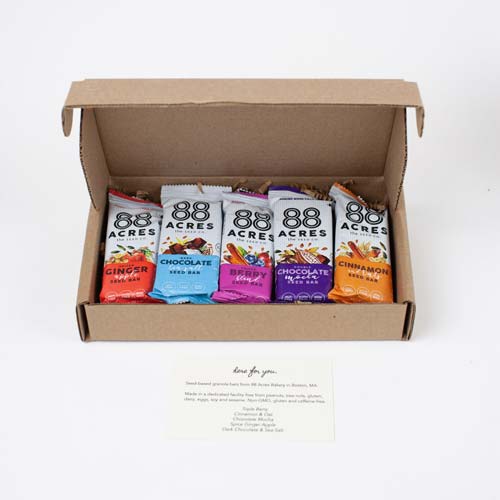 This five-pack of energy bars from 88 Acres are nut-free, gluten-free, and non-GMO. They taste pretty good too – not like a candy bar or anything, but a good, flavorful, healthy granola bar. The kids thought they were just ok, but us adults really enjoyed them.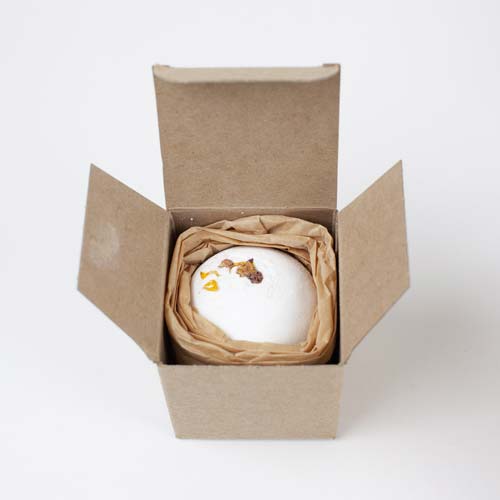 My wife hasn't used the bath bomb yet, but it smells great. We'll have to get back to you on this one. Like the rest of the add-ons, it's natural and artisan crafted.
Update: It's been used. She really appreciated using it on an extra-rough day of muscle soreness.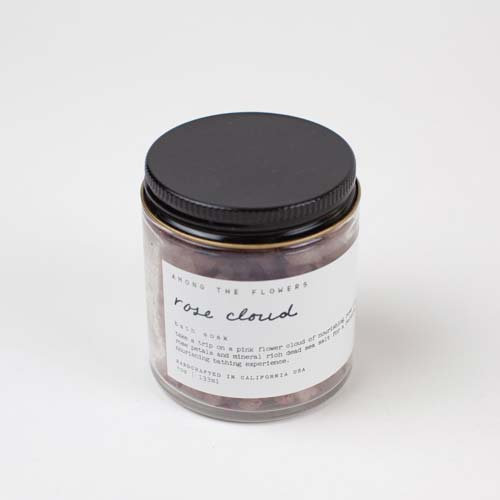 "Rose cloud" soothing bath soak from Among the Flowers. Rose petals and salts from the Dead Sea. My wife loved it.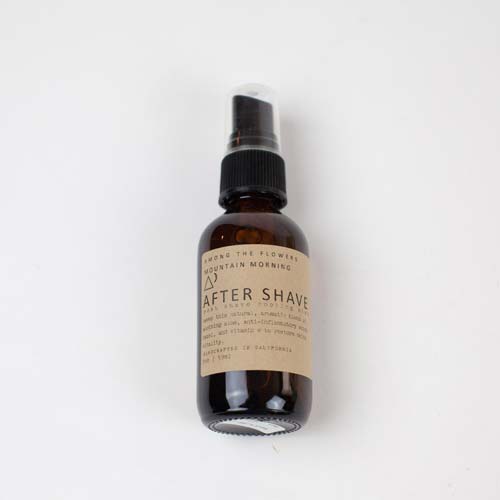 This aftershave comes in a spritzing bottle and is made from a bunch of natural ingredients like aloe, witch hazel, and vitamin E.
I've never used aftershave much because so many people in our family have sensitivities, but this one is all natural and I like using it now and then. It has a pleasant, earthy, guy-friendly aroma and it really does reduce inflammation or skin irritations.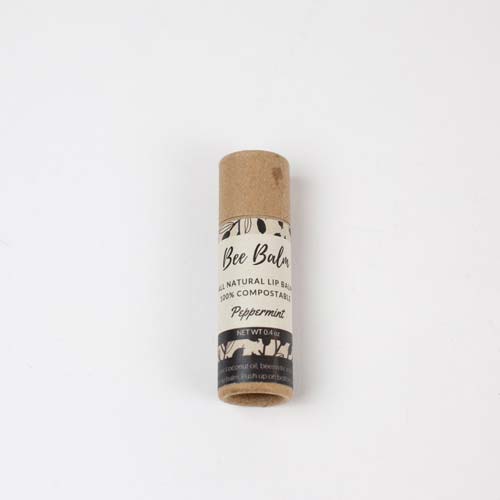 All natural lip balm from Bee Balm made with coconut oil, beeswax, and essential oils. The peppermint flavor smells delicious, and the container is compostable, which is pretty cool. My wife has been using it regularly since we got it.
More Add-Ons for Your Sympathy Gifts
They have plenty more add-on items you can choose (at an additional cost) to include in your gift. These items help you tailor it even more to the person and the situation:
Aloe hand lotion
Bath tea
Bod butter
Body oil
Exfoliating face mask
Face & body mist
Lip whip
Natural cologne
Pillow mist
Seed-based granola
Seed butter pouches
Soap sampler
Tea sampler
Salt scrub
Journal
Final Verdict
By now, it shouldn't come as a surprise that I recommend this grief care package. Here for You does an excellent job with the personal touch, customer service, packaging, and premium products.
If you know someone who is grieving, or in a season of difficulty, a care package like this one from Here for You would be a useful and much-appreciated gift. It stands out from the crowd because it's uniquely thoughtful and truly different.*
*Once again: TP. Enough said. If you can pull that off, you win.
It's a gift that the grieving person will remember because it expresses, in a tangible way, what your words might never be able to say.
More Ideas for Grief Care Packages
To wrap it up, here are some more ideas for grief care packages.
If you're sending it to a faraway friend…
You really can't beat the Here for You packages for quality and practicality of products, plus lovely presentation.
Etsy tends to have creative care package ideas, but the quality and contents will vary greatly by seller.
There are many, many sympathy gift baskets available online from but they tend to be the same: chocolate, tea, nuts, and perhaps a stuffed animal, candle, or some sort of sympathy trinket. Honestly these are nice, but a little boring.
You can DIY (do-it-yourself), but believe me the shipping will be expensive. Once you add up the time, effort, and costs, you might think now why didn't I just order one online… However, the DIY route gives you the opportunity to create something more personal and add your own hand-written notes, so it's still a great option.
If you're dropping it off with a local friend or family member…
Creating your own gift basket will be the less expensive and quicker option. You can select, arrange, and give the products yourself today after a run to the store.
Borrow ideas from Here for You about what to include. Be sure to choose top-notch, high-quality products.
If you have a few days, you can order a care package online and pick up a basket from your local craft store to make your gift presentation perfect. This is the best of both worlds because you can add a few of your own personal touches.
Call ahead (or text) to make sure they're home when you drop it off. Let the recipient know you won't intrude, but you can also ask if they'd like company – just be sure to let them know it's ok to say no! Also ask if you can pick up anything from the store – laundry detergent, coffee creamer, eggs, you get the idea.
Sympathy Gift Ideas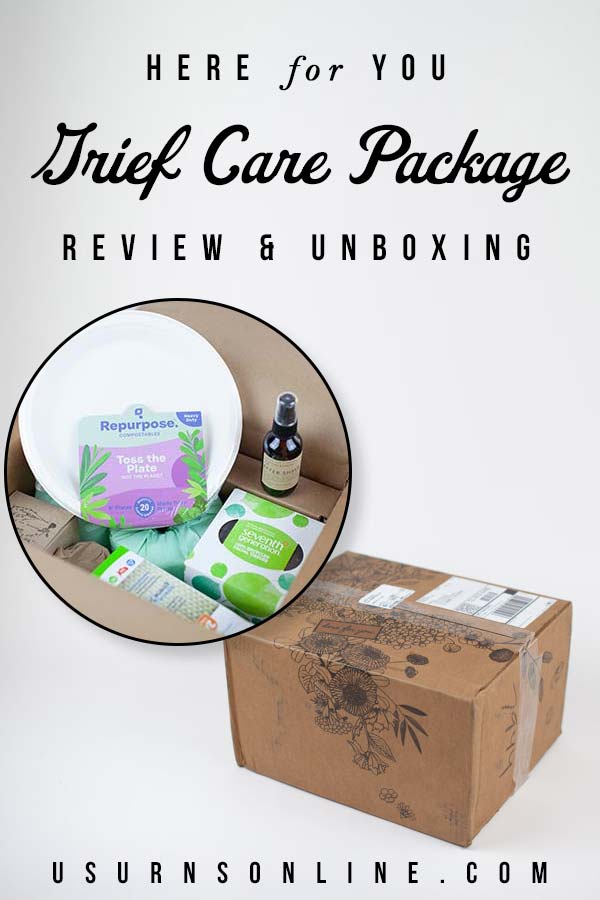 Daniel has been working in the funeral industry since 2010, speaking directly to grieving families as they made funeral arrangements.
He began researching and publishing funeral articles on this website as part of his role as product and marketing manager at Urns Northwest.
Having written hundreds of articles and growing the site to multiple millions of views per year, Daniel continues to write while providing editorial oversight for US Urns Online's content team.