There are many, many decisions that surround planning a funeral. Today we're going to be talking about your options for grave markers.
Customs, materials, locations and many other helpful resources are outlined below to make your decision making a bit easier. Let's dive into it.
History
Throughout time, mankind has used grave markers.
Those who could afford them placed their loved ones in tombs carved from the rock. Others buried the dead and would pile field stones onto the loose earth to deter scavengers.
Those simple field stones evolved into granite slabs and upright grave markers inscribed with text and symbols identifying the deceased, their beliefs and relationships.
Today we have an almost infinite number of options when it comes to choosing a grave marker. Let's outline some of the basics.
Types
Here are the basic grave marker types.
Flat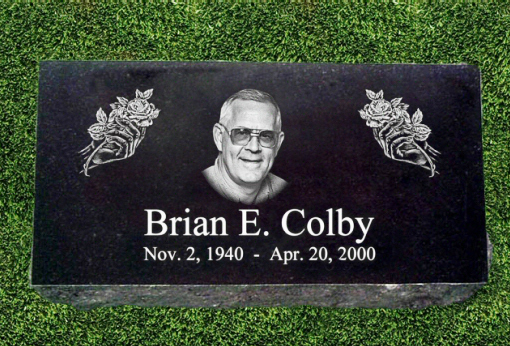 The flat grave marker is a simple, tasteful grave marker that sits more or less level to the ground. They come in a number of sizes and colors, and may be available directly from a local cemetery.
Flat markers vary greatly in price as well as size and options, so it's a good idea to shop around a little. At Urns Northwest, we offer a great line of simple, flat grave markers available with a number of custom engravings.
Bevel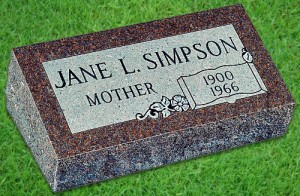 The beveled grave maker is similar to a flat marker, except for the fact that the face is beveled at an angle instead of flat.
These are a little more visible than a flat marker. Because it's beveled, that extra material is what you will pay for.
Slant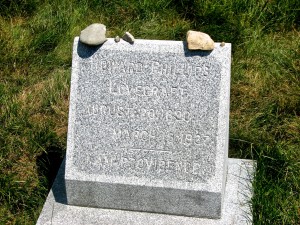 A slanted grave marker sits upright on a concrete foundation or granite slab and is much more visible than the flat or beveled grave marker.
For the extra expense of the foundation, you can expect to be paying a little more for the installation.
Upright
The upright grave marker is the traditional tomb stone we all tend to think of, like the veteran's marker below.
A vertical slab of some kind with a name, dates and possibly a short inscription. As with the slant mentioned above, you will be looking at a little extra on the installation.
Veterans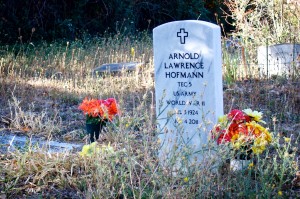 The picture above is a US Service Member grave marker and is available to all service members via the VA office free of charge. If you have had the remains cremated, Urns Northwest offers an urn in keeping with a traditional VA grave marker.
Obelisk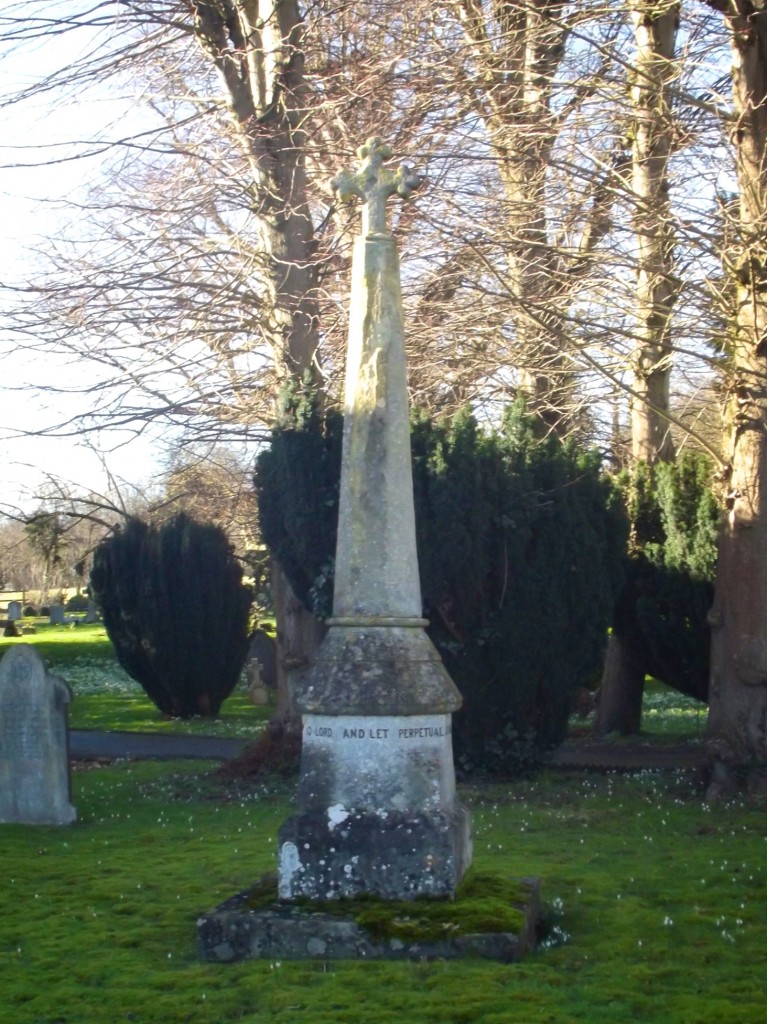 The obelisk was typified by the ancient Egyptians, and monuments around the world have followed its example – think, the Washington Monument.
These vary in price, shapes and profiles and are very much a custom product.
Custom
When you're in the market for a custom grave marker it pays to shop around. While there are a number of online sellers that you can browse to get a feel for pricing and design fees, don't hesitate to shop locally as you may save a little cash on shipping.
Walking around a local cemetery today, I was struck by the variety I saw in grave markers. There were large sarcophagi, obelisks and statues — there were also small wooden ones, simple flat grave markers, and even a few homemade concrete slabs.
Homemade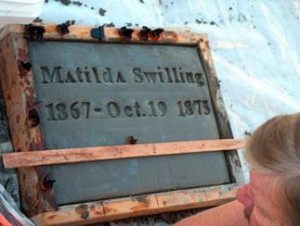 You can check with the cemetery for specifications, but there isn't really any reason why you can make your own headstone. Whether made out of wood or concrete, it could make a great project for anybody. Here is a short DIY article for making a concrete grave marker.
Materials
What materials are grave markers made out of? Let's talk about it.
Granite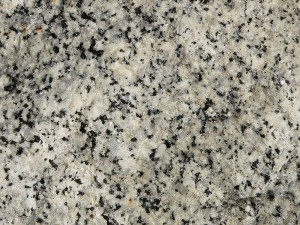 Granite is by far the most common material when it comes to grave markers. It's one of the hardest stones known to man and the etching will last for decades or longer, depending on conditions.
Marble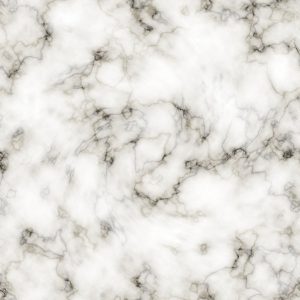 Marble was, until the 1920's, the most common material used in headstones. It was originally cheaper and easier to cut than granite was.
Now, with the advances in the equipment used to cut and engrave, granite has surpassed marble. Marble, though beautiful, tends to calcify and break down when exposed to the elements. In hot, dry climates this outcome may be averted.
Metal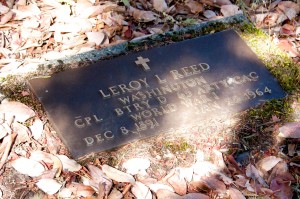 Bronze and stainless steel are often applied to a granite base as a plaque. They are both very durable, and the stainless steel has can be polished to a mirror-like finish. It is also not uncommon to see bronze or stainless vases attached to a grave marker.
Wood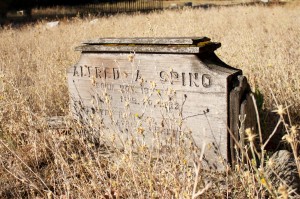 Wood was popular during the Victorian era, though it has become rare to see these days as it tends to deteriorate rather quickly compared to stone or bronze grave markers.
Natural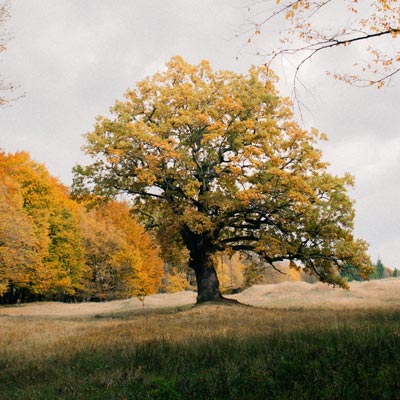 The idea of laying the body of a loved one to rest under the "old oak tree" is becoming a more popular trend.
Whether you plant a sapling from a local nursery, choose a plot under a mature tree, or plant a tree urn with the cremated remains, it serves as a reminder that life goes on.
To learn more about memorial tree urns, which allow you to grow a tree from cremated ashes.
Location
Where can you place a grave marker? Well, anywhere someone is buried, of course. But you can place a personalized marker in memory of someone in other locations, too.
Private property
When preparing a grave site on private property, be sure to first check with the local city and county for regulations regarding private property burials.
There are often laws concerning the depth of the grave, whether it needs to be marked into property records, etc. Burying cremated remains may be far less regulated, though you still might want to check with the local officials.
When placing a marker, if you are not going to hire professionals, there are several videos on YouTube (like this one) that can advise you on techniques for placing the footing, headstone, or grave marker.
Cemetery
Many cemeteries offer a full service funeral. They cover everything from the casket or urn to the plot, niche and headstone. You will want to be diligent about asking for the full cost.
Some cemeteries will charge installation fees, body transfer fees, opening and closing fees, and so on. Some of these costs may be offset by doing some of the work yourself.
Memorial Marker
If you are having the body cremated and plan to spread the ashes, you might want to have a memorial marker placed in your yard or on the mantle to memorialize the occasion.
It can be a larger monument, bench, water feature, or a simple plaque or garden stone.
Read next: 7 Best Ways to Memorialize a Loved One
Daniel has been working in the funeral industry since 2010, speaking directly to grieving families as they made funeral arrangements.
He began researching and publishing funeral articles on this website as part of his role as product and marketing manager at Urns Northwest.
Having written hundreds of articles and growing the site to multiple millions of views per year, Daniel continues to write while providing editorial oversight for US Urns Online's content team.