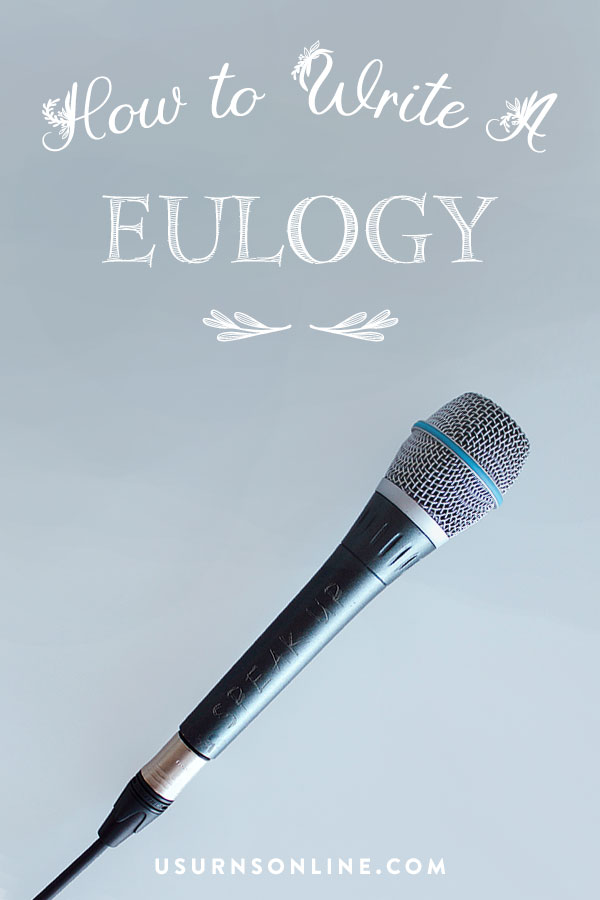 Last Updated on
In this article, we're going to talk about how to write a eulogy.
The eulogy is an important feature in the funeral service. It is a high honor to be chosen to give the eulogy, and you are wise to seek advice on how to do it well.
I am a professional writer who composes eulogies for a living. As a mortuary school graduate who also has experience in the funeral industry, I am confident that the information you find below will provide you with the know-how you need to create your perfect eulogy.
Here is our guide on how to write a eulogy that is beautiful, brief, appropriate, and winsome.
Table of Contents
Tips for writing a beautiful eulogy
Writing a eulogy in 7 steps (simple & easy)
Eulogy outline
Poems for a eulogy
Quotes for a eulogy
Eulogy examples
Eulogy FAQs
How to write a eulogy (detailed version)
How to Write a Eulogy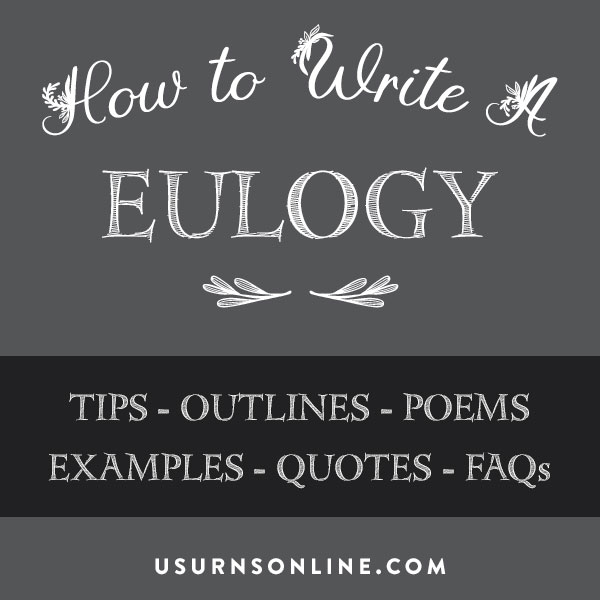 Tips for Writing a Beautiful Eulogy
Eulogies should be brief, poignant, and summarize the individual's life without going into every detail. A good eulogy should admit the person's faults but typically focus on their strengths. Be sure to mention their major accomplishments (personal and vocational), spouse and children (if any), hobbies, passions, religion, and volunteer work.
Write it out beforehand, and practice reading it aloud to make sure the sentences flow. Practice in front of a mirror or a family member, and time yourself.
Start with a favorite story or memory, and connect that to one of the person's defining characteristics. Or, alternatively, do the reverse: think of their most important attributes and then think of memories or quotes which illustrate the attributes you want to highlight. This simple process will give you at least half of your material; from there, just find a good eulogy outline (see below) and begin filling it in.
The day before the service, practice giving your entire speech from start to finish. Practice speaking in a slow and clear voice, and be sure to enunciate your words properly. Then, right before it's time to stand up and deliver your eulogy, take a few deep breaths. You've got this.
In brief, here are the best tips for writing a beautiful eulogy:
Write it out
Type it and print it in a large and readable font with double spacing
Keep it brief – 6-8 minutes is ideal
Use a central story, phrase, or quote as a motif
Briefly summarize the person's family, accomplishments, and legacy
Don't get bogged down in details
Focus on their personality and how they affected the lives of others
Don't try to cover their entire life
Rather, highlight one characteristic and explore it
Keep it positive
Remember that less is more
To put it simply, a eulogy typically consists of around 1,000 words and should take between 6 and 8 minutes to deliver. This may sound like a long time at first, but there is no set rule that says it has to be that long. Here we have put together 7 easy steps to get you started.
Writing a Eulogy in 7 Steps
How to write a eulogy in seven easy steps.
If you feel easily overwhelmed, use this section and ignore the rest. If you're the type who wants to know as much as possible, skip to the end where I have a full and detailed version of how to write a eulogy.
Step 1: Choose the Tone
Decide on the tone you want to express. Do you want your eulogy to be serious, religious, or even slightly humorous?
To help you decide, consider your audience and also the person who has died. For instance, the eulogy for a young child may be very different than that of an elderly person who have passed away under completely different circumstances.
Step 2: Introduce Yourself
Let's get to the writing. First, introduce yourself. Of course you'll want your audience to know who you are, how you know or are related to the deceased, a little about your relationship with the person. But do keep it brief – it's not about you.
Step 3: Provide a Biographical Sketch
Provide a brief but thorough biographical sketch of your loved one. This can include their date and place of birth, any family members and friends, where they grew up, graduated from, married, etc. It can also include their date of death.
Step 4: Add in Some Favorite Memories
Write about any favorite memories you have of your loved one. This is where you can get into a little more detail than in the biographical sketch. A good story or two can help provide the color and life to your eulogy.
Write about your loved one's personality, how they met their significant other, any pastimes they may have had, their dreams, friendships, and accomplishments in life. You know, what made them who they were. These stories and memories will make up the bulk of your eulogy.
If you don't have any suitable stories of your own, you can also collect any stories about your loved from family and friends. Anyone who created special memories with your loved one would no doubt like their stories represented in the eulogy.
Step 5: Organize Your Material
Now it's time to consider the order of your writing. For many people, this is the hardest part of writing a quality eulogy. To keep it "sweet and simple," simply put the stories and memories you've written down in chronological order. This will make it easier for your audience to follow.
Step 6: Mix in Some Gratitude
Don't forget to say your thank-you's toward the end. Showing gratitude for everyone who came to the funeral is always a nice gesture. Remember, too, to thank everyone who has offered support throughout the past several days, as well as the church, funeral home, hospice center, etc. who has been taking care of your family or loved one (if appropriate).
Step 7: Closing & Goodbye
Finally, say goodbye to your loved one. This will mark the end of your eulogy. It may be the most emotional moment of your eulogy, so it will help to prepare for it by practicing saying it out loud.
---
If you have made it this far and are still feeling overwhelmed over the thought of writing your eulogy, stop right now and just tell yourself, I can do this!
Confidence is key and once you believe you can do it, you are already halfway there.
But when life, being life, intersects with death, things can quickly get overwhelming. If you are sure that you can't tackle your eulogy right now, bear in mind that help is available. You can ask a trusted friend or family member to help you, or you can even hire me. It is what I do for a living, after all.
Eulogy Outline
There is no set or traditional outline for a eulogy. But as with all writing and public speaking, it is good to have an attention-grabbing opening, a solid middle section in three parts, and some concluding remarks. This is the traditional three-point outline you learned in school, and it will serve you well in writing a eulogy.
Introduction

A good introduction can include a funny or engaging story, a meaningful quote, or something that illustrates their personality
Use the introduction to establish a motif (a theme that you can come back to throughout the eulogy)
Mention your relationship to the deceased and thank everyone for coming on behalf of the family
Aim for one to two minutes

Part One: Life Details

Keep this section brief; one minute at most
Include just the highlights; some but not all of: Place of birth, family lineage, education, work, marriage, children, hobbies, religion, community involvement, awards, accomplishments, places lived, travel

Part Two: Memories

Share a memory or two that allows one or more characteristics of the person to shine; something that will resonate with anyone who knew them
Allow a good two minutes or so to properly share some memories

Part Three: Legacy

Connect the stories, memories, and introduction to their legacy
Instead of saying, "She was loving, caring, and kind," show how she was loving, caring and kind
This doesn't need to be long; one minute is perfectly fine

Closing

Same as the introduction, it is good to close with a story, quote, or illustration
Your closing remarks can be between ten seconds to a minute; just a few brief sentences to wrap things up
End by simply saying "Thank you"
Eulogy Poems
Here are five beautiful, meaningful, and classic eulogy poems. You can use these in your eulogy, or find many more in our collection of 101 Funeral Poems.
FAREWELL
Farewell to Thee! But not farewell
To all my fondest thoughts of Thee;
Within my heart they still shall dwell
And they shall cheer and comfort me.
Life seems more sweet that Thou didst live
And men more true Thou wert one;
Nothing is lost that Thou didst give,
Nothing destroyed that Thou hast done.
– Anne Bronte
IF ONLY
If only we could see the splendour of the land
To which our loved ones are called from you and me
We'd understand
If only we could hear the welcome they receive
From old familiar voices all so dear
We would not grieve
If only we could know the reason why they went
We'd smile and wipe away the tears that flow
And wait content.
– Anonymous
IRISH BLESSING
May the roads rise up to meet you,
May the wind be always at your back,
May the sun shine warm upon your face,
May the rains fall soft upon fields
And until we meet again
May God hold you in the palm of his hand.
– Anonymous
REMEMBER ME
Remember me when I am gone away,
Gone far away into the silent land:
When you can no more hold me by the hand,
Nor I half turn to go yet turning stay.
Remember me when no more day by day
You tell me of our future that you planned:
Only remember me; you understand
It will be late to counsel then or pray.
Yet if you should forget me for a while
And afterwards remember, do not grieve:
For if the darkness and corruption leave
A vestige of the thoughts that once I had,
Better by far you should forget and smile
Than that you should remember and be sad.
– Christina Rossetti
TO EVERYTHING THERE IS A SEASON
To everything there is a season,
and a time to every purpose under the heaven:
a time to be born, and a time to die;
a time to plant, and a time to pluck up that which is planted;
a time to kill, and a time to heal;
a time to break down, and a time to build up;
a time to weep, and a time to laugh;
a time to mourn, and a time to dance.
– Ecclesiastes 3:1-4
Find more funeral and eulogy poems here.
Eulogy Quotes
A memorable eulogy will often center around a good quote. Below are five of our favorites. You can find more in our collection of 20 Funeral Quotes for a Loved One's Eulogy.
Don't cry because it's over, smile because it happened. – Dr. Suess
What we once enjoyed and deeply loved we can never lose, for all that we love deeply becomes part of us. – Helen Keller
If winter comes, can spring be far behind? – Percy Bysshe Shelley
There are only two ways to live your life. One is as though nothing is a miracle. The other is as though everything is a miracle. – Albert Einstein
We make a living by what we get; we make a life by what we give. – Winston Churchill
More funeral quotes:
Eulogy Examples
There are many eulogy examples available on the web. I think you'll find the best inspiration on writing a eulogy by looking at a few general examples and then also reading a few famous and timeless eulogy examples.
I've included one of my own sample eulogies below. Read it to see how I practice these tips, then see the links for additional eulogy examples.
Eulogy Example: Lydia Jane Reynolds
Good morning all.
My name is Steven Lewis and I am Lydia's son. On behalf of myself and my sister Valerie, I want to thank you all for being here today as we formally say goodbye to our mother. I recognize most of the faces here, but there's a few I don't know. I would love to speak with you and shake your hand after today's service, if you have a few moments before you leave. Each of you was special to Mom in one way or another and I want to recognize that.
My mother was born Lydia Jane Ethridge on February 25th, 1959 to my grandparents, Lucille and Edgar. She spent her childhood in Oklahoma City, where she made many lifelong friends. At the tender age of seventeen, she met my father, Hank Lewis, who was visiting the area from Kentucky. The two eloped on September 1st, 1976 and he took her home to Louisville.
Valerie and I were born just one year apart. My parents were still very young when we came around, and were struggling to get by. When our dad was laid off from his job, Mom took it upon herself to help make ends meet. She was a wonderful painter. She was able to create artwork and sell it at school functions, local fairs, and even neighborhood garage and estate sales. Mind you, the internet was not around back then for her to market her work–Mom's paintings were good enough that word of mouth alone brought her quite a bit of opportunity. Mom would never say this, but her work was actually compared more than once to that of famous artist Claude Monet…and maybe you knew this or not, but Mom once won a contest for best Monet impressionist. Mom was also a big giver and often painted her birthday and Christmas gifts for friends and family. I wouldn't be surprised if many of you here today own one or two of her original pieces!
When my parents separated in 1985, Mom decided to go back to school. She moved us to Lexington to start classes at the University of Kentucky, where she graduated in 1991 with her degree in Art History and Visual Studies. The next year she realized her lifelong dream of becoming an art teacher when she joined Edwards Christian Academy in nearby Southerfield. At Edwards, she met the man who would become the love of her life, Sam Reynolds. The two wed on July 7th, 1993 in this very church.
I see that many of you here today are teachers and students from Edwards, which sadly closed its doors for good in June of last year, about a year after Mom first started to get sick. I just want to take this time to acknowledge each of you, and to say thank you for welcoming my mother to the school like you did. She loved that school and I think her love for the kids there it was evident in the work she did. The art club that she started in 1996 went strong until the school closed its doors, starting out the first year with just 13 attendees and ending its final year with almost 100 members.
Today I also want to acknowledge my stepfather Sam. As many of you know, Sam Reynolds is no longer with us, but the years that he and Mom were able to spend together were the greatest years of her life. It gives me peace in knowing that he and Mom are finally together again.
Besides her love for painting, for Edwards, for her children and for Sam, Mom had a love for Mother Earth. It drove her mad to see litter on the side of the highway and she would often stop herself to pick it up. She stopped using plastic bags and straws long before it became trendy to do so. She had a compost garden bed and regularly participated in not only the city's recycling program, but also her neighborhood's Green Club. This club met once a month to make crafts out of household odds and ends that would otherwise be thrown away. Having lived an eco-friendly lifestyle for as long as we could remember, Mom instilled her passion for caring for the earth in my sister and I, and eventually in Sam, although it took him a little bit longer to adopt her ways!
That passion is actually why Mom's remains are not here with us today. Several months before she passed, and still feeling relatively okay, Mom began to research her own final disposition. She discovered that, after death, her body could be cremated and placed in a biodegradable pod. She could be "planted" rather than buried or inurned, and her remains could provide nurture to a tree for years and years, possibly centuries, to come…. In other words, as I speak, Mom is caring for the planet in her own special way, even in death.
How wonderful is that?
Before I close, on behalf of myself and my sister, I want to share a special memory of our mother that I think does a really great job at highlighting just how wonderfully bright her heart was. From the time we were tots until probably our mid-teens, Mom thought it was fun to randomly stop whatever she was doing– painting, cooking, laundry, whatever– and yell out at the top of her lungs, "dance party!" And whatever my sister and I were doing– playing, studying, even arguing– we were obligated to stop and dance with our mom for about ten minutes, or however long Mom wanted us all to dance together! Both Valerie and I attribute this little ritual we grew up with as one of the reasons we have always been very close, and there is no else to thank for that but our wonderful mother.
So, thank you all once more for being here today as we say goodbye to our beautiful mother. A very special thank you to Angels Among Us Community Hospice, who took such good care of her in her final days. Also a big thank you to Little Bethel House of Faith for opening their doors to all of us today. Mom was not a member here but it means everything to us that we can send her off today, back to Sam, in the very place where they were united.
Thank you.
More Eulogy Examples
Famous Eulogy Examples
Eulogy FAQs
WHO SHOULD DELIVER THE EULOGY?
Anyone can deliver a eulogy. It is ideal to choose someone who was personally close to the decedent. Often eulogies are given by family members or friends. This can be a spouse, parent, child, sibling, close cousin or other relative, a pastor, or a good friend.
For some close relatives (spouses, parents, or children) the pain is very raw and they may have difficulty composing or delivering a eulogy. It is perfectly acceptable for the closest family members to ask someone else to give the eulogy.
If you are asked to deliver a eulogy, you should be honored. It is a sign of your close relationship with the deceased and the high regard in which you are held by the family.
CAN THERE BE MORE THAN ONE EULOGY?
Yes. Often there are two eulogies given, one by a family member and another by a friend. This gives two different perspectives on the deceased's life and can greatly enhance the funeral service.
One eulogy is very common. You can do three or more eulogies, but if so it is imperative that the speakers be brief; three to four minutes minutes maximum.
HOW LONG SHOULD A EULOGY BE?
A good length for a eulogy is about six to eight minutes, but no more than ten.
If there are two or more eulogies, try to keep each one at five minutes or less. Or choose one to be the longer "main" eulogy at 5-7 minutes and the others no more than three minutes. Ultimately, it's up to you, but these are good guidelines to ensure that the audience remains engaged.
HOW MANY WORDS SHOULD A EULOGY BE?
The written eulogy should be about 1000 words. A good range to aim for is 500-1200 words. Do not go over 1200 words; if you go that high, make sure you read it at a good clip otherwise you are in danger of going over 10 minutes.
DO I NEED TO MENTION ALL THEIR PERSONAL DETAILS?
Many eulogies do mention important personal details such as family, vocation, and special accomplishments. But you don't have to, as most people attending the funeral will be aware of these.
IS IT OK TO SHARE A FUNNY STORY?
Humor is entirely appropriate. Stay away from awkward or embarrassing moments, off-color jokes, and foul language. There will be a wide variety of people in attendance and you do not want to needlessly offend.
Aside from that, keep in mind that life is funny. People are funny. Funerals are mostly serious, so a few appropriately humorous stories and anecdotes can help tremendously to lighten the mood.
CAN I SING OR PLAY A SONG?
Certainly, but first clear it with the officiant, the family, and whoever is arranging the funeral.
How to Write a Eulogy (Full Version)
Here is my comprehensive guide on writing a eulogy. I have laid out a detailed 11-step writing process for you, which does include the above-mentioned 7 steps but also gives quite a bit more details.
When completed, your eulogy should take you anywhere from 6 to 8 minutes to deliver, and will contain approximately 1,000 words (but there is no rule that says it has to, of course).
1. Choose the Tone & Ambiance
Consider the tone you wish to portray. I am not referring to tone of voice (although you'll want to keep that in check). I'm talking about the ambiance you wish to reflect in your eulogy.
Ambiance refers to the eulogy's mood, character, or atmosphere. What do you want your listeners to feel? If joyfulness, add in a bit of appropriate humor. If respectfulness, keep your tone serious. If religious…you get the idea.
Deciding on the tone of your eulogy is a vital first step because it will provide the foundation of your writing process.
2. Consider a Theme
Think about choosing a theme. This step is not required to write your eulogy, but it can help you stick with the flow and aid in providing a more robust picture of your loved one.
For example, was Grandma an avid gardener? Why not use your eulogy to illustrate this? You could open with the popular funeral poem "God's Garden," elaborate on Grandma's hobby, and then close with something along the lines of "I know she is in a better place now, helping to curate the everlasting gardens of heaven."
3. Find Inspiration from Other Eulogies
Look up examples of other eulogies. This can help you get an idea of how to write yours. You can search for famous eulogies, examples of religious or secular, eulogies for children, and so on.
See here (coming soon) for a few of my own examples.
Get in touch with family and friends, who could help you come up with some ideas for your writing. Some of them may have given eulogies themselves once or twice, too, and may be able to offer you experienced support.
4. Write the Introduction
It's time to write! First, introduce yourself. Most of your listeners will know who you are, but it's still a good idea to state your name and your relationship to the deceased.
5. (Briefly) Sketch Their Life Story
Provide a brief biography of your loved one. Keep it short, but cover all the bases. State their birthday and place of birth, parents, grandparents and siblings, their hometown, their alma mater, when and where they were married, and their date of death if appropriate.
This brief biographical sketch will serve as an introduction to the main part of the eulogy.
6. Write Down Your Favorite Stories & Memories
Write down any favorite stories and memories you have of your loved one. This portion of your writing will be the "main" part of your speech, the part that provides the much fuller picture of who your loved one was and the legacy they leave behind.
For now, don't worry about how this will all fit together. Just start jotting down some of the best stories. These can be funny, poignant, quirky, meaningful, or all of the above.
Ask friends and family if they have any memories or stories that they would like for you to share, as well. Ask yourself: Who was my loved one? What were their dreams? What did they like to do for fun? Who were they closest to? What did they accomplish in life? What were they most proud of? What made them them?
If you are having trouble getting started on a new paragraph, a trick is to start with a question and then answer it. For example, "Who exactly was my uncle? What made him tick?" This approach allows you more room to go with the flow and also keeps the attention of your audience, who will want to know your answer.
7. Organize Your Material
Organize everything you've written. This step is easier said than done, and many people struggle to do it properly.
But this step doesn't have to be overwhelming! Once you have written down all your thoughts, stories, and memories (completed step 6), simply put them all in chronological order. Not only will doing this help you keep track of where you are as you are speaking, it will also help your audience stay with you.
8. Say Thanks
Remember to say thank you. This step might be the most obvious on this list, but it can be easy to forget when you are in the rough draft stages of your eulogy. There are a lot of people who deserve to be thanked!
Toward the end of your speech, write in a few messages of gratitude to those who came to the funeral and who've shown support to you and your family during this difficult time. Don't forget to include any communities that have cared for your family or loved one too, such as a church, funeral home, or hospice center.
9. Say Goodbye
Tell your loved one goodbye. This is not the final step on our detailed list, but it is the last part of your eulogy you'll need to write. Keep in mind that this will probably be the most emotional portion of your speech, so prepare yourself if needed with extra practice.
To help you say goodbye, consider sharing a favorite quote, Bible verse, or song lyric. Or simply say something like, "Goodbye, Dad, we'll miss you."
10. Get Feedback on Your Written Eulogy
After you've written your eulogy, get feedback on it. Ask your family and friends to read over your speech and let you know their thoughts. It's a good idea to have someone proofread it too, to weed out any irregularities or inconsistencies that you may have not noticed.
If you have a fear of public speaking or are worried that your nerves will be front and center on the day of the funeral, remember that practice makes perfect. Practice in front of a mirror, or stand in front of a few people you trust and say your speech as many times as needed before you start to feel more comfortable.
11. Find Your Voice & Stay in Your Comfort Zone
You do you! You know yourself and your comfort levels. It's best, when writing and in giving a eulogy, to stay within them.
If you are more comfortable looking down and reading from your notes the entire time, do that. This is not speech class and no one is going to grade your level of eye contact. If you'll have no problem making eye contact, you may prefer to speak from memory or brief notes. And if it is more your thing to improvise on the spot without any notes at all, more power to you!
Many people who are tasked with giving a eulogy are afraid of getting emotional during it. I am here to tell you that crying, especially at a funeral, is perfectly okay. No one is going to judge you for crying, on today of all days.
You do you.
---
Thank you for reading this guide on How to Write a Eulogy. I hope that you found the article helpful as you prepare to start writing your eulogy for your loved one.
Bookmark and refer back to it if you need to at any time during your writing process, and also keep in mind that I am available to help you, too, should you require professional assistance. See here for more information.
PIN IT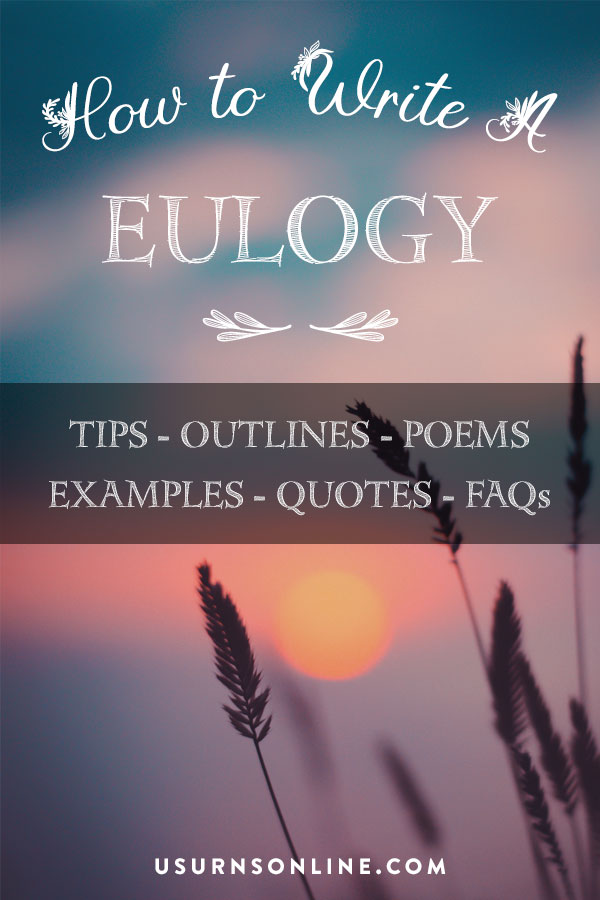 (Visited 8,056 times, 7 visits today)