Flowers have a rich tradition of use at central life events. Whether congratulations for a birth or condolences at a funeral, flowers are always appropriate and convey a deep sense of import and significance.
Here is everything you need to know about the meanings of different types and colors of flowers, including flowers that represent death, peace, everlasting love, and much more.
Once you know the symbolic meaning of each flower, you'll be able to choose the perfect arrangement for a funeral, memorial service, celebration of life, or to send as a sympathy gift.
A Quick Guide to Funeral Flower Meanings
| | |
| --- | --- |
| Flower | Meaning |
| Chrysanthemum | Death, mourning, grief, goodbye, life, truth |
| Lilies | Purity, peacefulness, innocence, new birth, new life |
| Orchids | Enduring love, everlasting affection, beauty |
| Roses | Love, grief, sadness, mourning |
| Forget-Me-Nots | Remembrance, memories, faithful love |
| Lilacs | Youth, innocence |
| Carnations | Remembrance, innocence, admiration, love |
| Tulips | Perfect and unconditional love, forgiveness, worthiness |
| Violets | Delicacy, modesty, resurrection, death too soon |
| Gladioli | Moral integrity, strength of character, remembrance |
| Camellia | Longing, perfection, excellence |
| Hyacinths | Deep sorrow |
| Hibiscus | Delicate beauty, femininity, beloved wife |
Our website is supported by our users. We sometimes earn a commission when you click through the affiliate links on our website. Learn more here.
Funeral Flower Symbolism
1. Chrysanthemums
In the United States, mums symbolize truth. However, in much of Europe and in many Asian cultures, white chrysanthemums are generally used only at funerals and signify death, mourning, and grief.
2. Lilies
The lily flower symbolizes purity and innocence. With its characteristic fragrant aroma, the lily as a funeral flower presents the idea that the departed soul has returned to a peaceful state of innocence.
Also suggestive of the purity found in new birth and new life, lilies are perhaps the most popular flowers used for funerals.
3. Orchids
The symbolic meaning of orchids is universally recognized: Enduring, everlasting love. These gorgeous and unique flowers come in a vast array of colors, each with additional "sub" meanings:
White: Innocence, beauty, elegance.
Pink: Grace, femininity, innocence.
Purple: Dignity, respect, royalty.
Yellow: Friendship, new beginnings, happiness.
Red: Love, passion, courage.
4. Roses
Perhaps the only funeral flower with a commonly recognized meaning than orchids, roses symbolize love. For the various colors and their meanings, see the colors listed for the orchid above.
White roses are the most common at funerals, but one additional color is often also associated with memorializing a loved one: Crimson roses represent grief, sadness, and mouring, with additional symbolic meanings of rebirth and renewed love.
5. Forget-Me-Nots
As their name implies, forget-me-nots signify faithful love, memories, and remembrance. At funerals, the forget-me-not flower conveys a message of abiding love for the deceased, and that they will always remain and live on in your memories.
6. Lilacs
White lilacs are often used at funerals to represent youth and innocence. Thus, the lilac is popular for use at a young person's funeral, or as a memorial tribute to one known and beloved for their good heart or childlike nature.
7. Carnations
Often used in funeral wreaths, carnations come in a variety of colors. Red carnations depict admiration, white connotes innocence and pure love, and pink carnations convey remembrance.
Related: Have You Heard of Funeral Crowning Ceremonies?
8. Tulips
Red tulips are typically used to convey perfect love, while white tulips symbolize forgiveness or worthiness. The meanings symbolized by white and red tulips make them popular for a wide variety of situations when used as funeral flowers in memory of a loved one.
9. Violets
Violet flowers, with their light airy petals in deep-hued purple, often symbolize delicacy and modesty. Not traditionally used in funerals, the violet flower nevertheless has a deeply significant history of meaning which is making a resurgence.
According to Garden Guides,
…the [violet] flower is associated with death–and resurrection. The symbolism likely springs from antiquity, when a number of myths featured violets in the death of heroes and even an Earth God named Attis.

Combining this death symbolism with modesty and maidenhood creates a meaning for violet of death too soon. Shakespeare's tragic Ophelia was linked to violets in "Hamlet.
Related: 35 Beautiful Purple Cremation Urns
10. Gladioli
The gladiolus flower conveys moral integrity, strength of character, faithfulness, and, significantly for funerals, remembrance.
11. Camellia
The delicate petals of the camellia flower represent deep longing, perfection, and excellence. Also used to evoke longing, gratitude, and refinement.
12. Hyacinths
Hyacinth flowers are used at funerals to add a sweet fragrance to the flower arrangement. When used in this way, hyacinths represent deep sorrow.
The origin of this meaning traces back to ancient Greek mythology.
Apollo (the sun god) and Zephyr (the god of the wind) both cared for a young man named Hyakinthos and competed with one another for his attention. When Apollo was teaching young Hyakinthos how to throw a discus, Zephyr became jealous and, enraged, blew the discus back with his strong wind.
Tragically, the discus hit Hyakinthos in the head and killed him. From the place where his blood soaked the ground, a beautiful purple flower grew. Grieving, Apollo named the flower "hyacinth" in honor of his departed young friend Hyakinthos.
13. Hibiscus
The hibiscus is considered a very feminine flower, and is often used to symbolize femininity, a beloved wife, and delicate beauty.
Because of its prominence in several island cultures, the hibiscus can also signify an association with Hawaii or Haiti.
What to Say: 101 Condolence Messages
FAQ
What is the flower that means death?
The chrysanthemum traditionally represents the death of a loved one.
Do sympathy flowers have to be white?
No. Often the family will appreciate the decedent's favorite flower, perhaps yellow daisies or purple tulips or bold red roses.
However, white symbolizes purity, rest, and the resurrection unto life, and is the traditional color for funeral flowers. So if you are in doubt about what color to choose, we recommend white flowers for sympathy or funeral arrangements.
What's the best flower to send for sympathy?
The best sympathy flowers will be the one that best suits the individual. This might be their favorite flower, if known, or a flower that fits their personality.
You won't go wrong with chrysanthemums, lilies, orchids, roses, or any of the flowers on this list.
Funeral & Sympathy Flower Arrangements
Here are some of our favorite flower arrangements that incorporate these symbolic elements.
1. Light of My Life Bouquet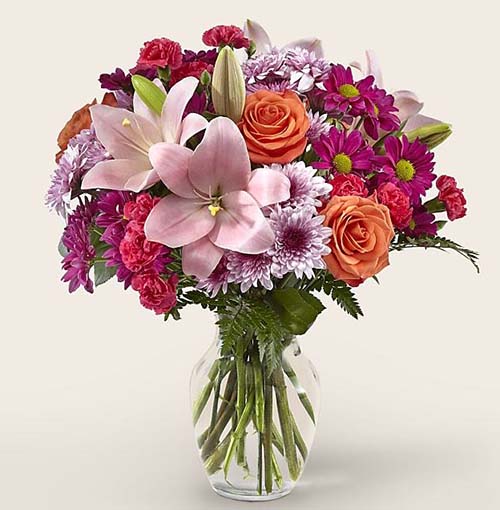 Includes lilies, carnations, and roses.
2. Bliss White Orchid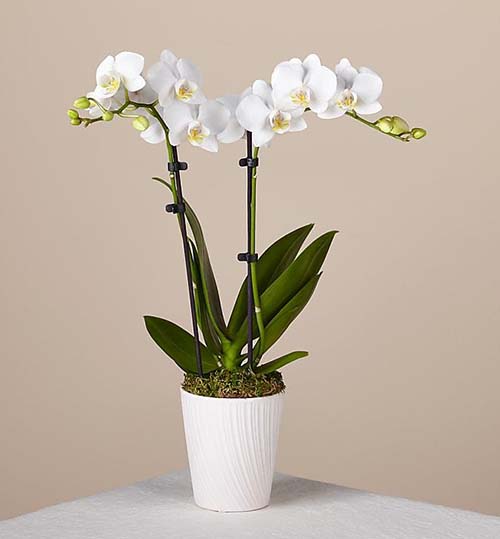 The white orchid represents purity and enduring love, making it ideal for sympathy.
3. Walk in the Park Bouquet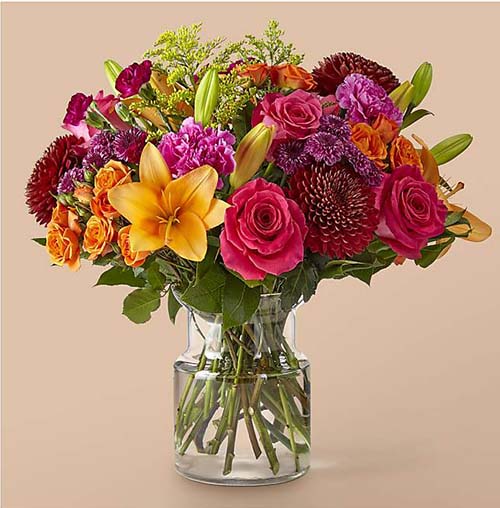 Stems in this arrangement include carnation and lily flowers.
4. Belle of the Ball Bouquet with Vase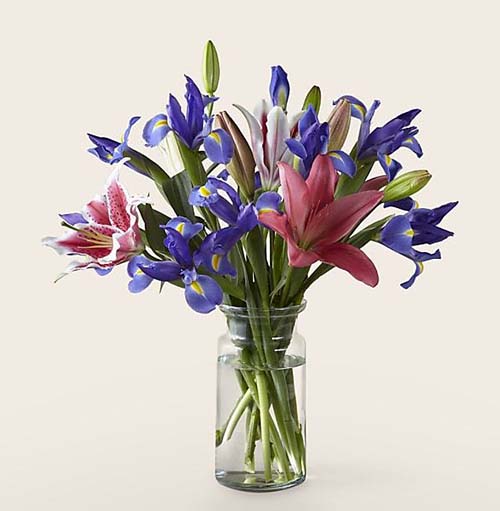 Budded iris and lily flowers will bloom into gorgeous purples and reds.
5. Eternal Affection Arrangement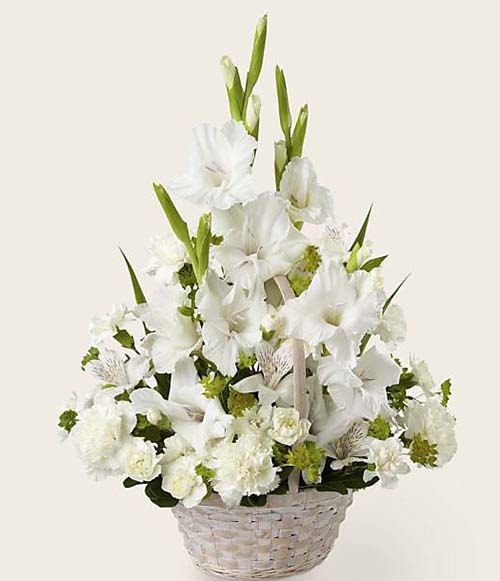 This sympathy flower basket includes white carnations and Peruvian lilies.
6. Harvest Sunflower Basket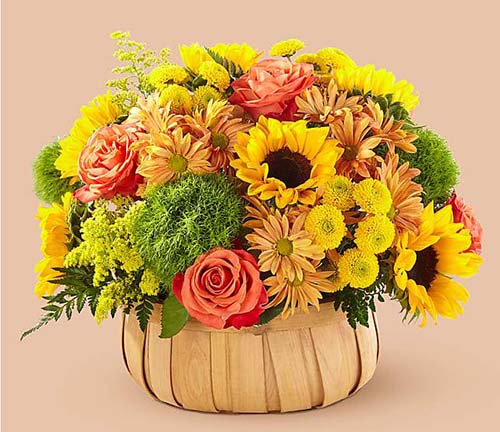 Sunflowers always signify a sunny, cheery disposition. This arrangement also includes daisies and roses.
7. Beautiful Spirit Basket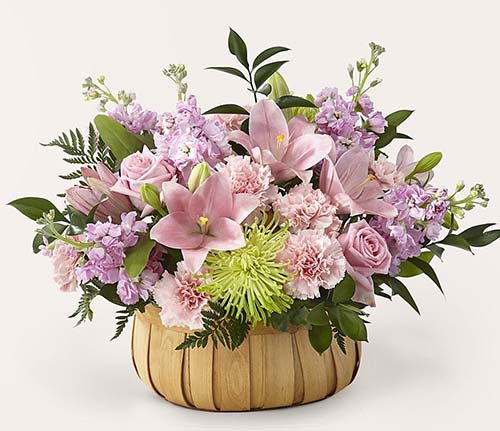 Carnation, lily, and rose stems are accompanied by Fuji mums and other fresh seasonal stock.
8. Sweet Surprises Bouquet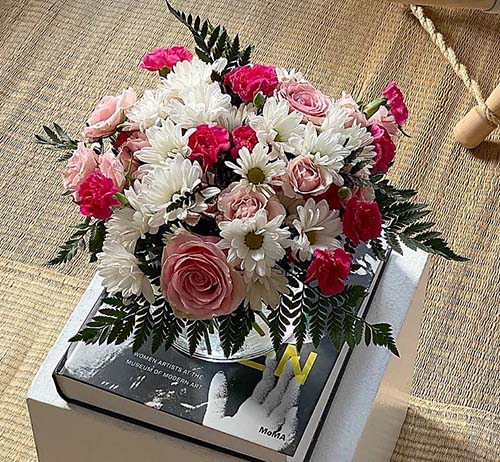 Enjoy carnation, rose, and daisy stems in this elegant bouquet.
9. Radiance in Bloom Basket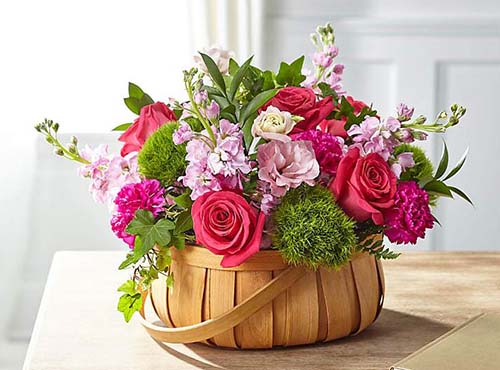 This cheerful yet appropriate basket features stunning red roses accented with carnations and other stock florals.
10. Harvest Moon Bouquet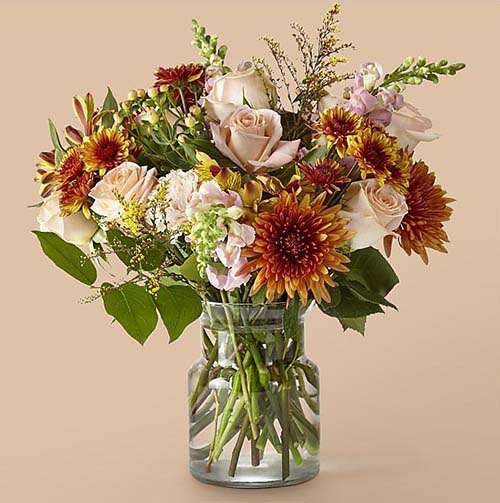 Ideal for fall memorials, this flower bouquet includes carnation, Peruvian lily, and snapdragon stems.
Related: How to Preserve Funeral Flowers
Flower Cremation Urns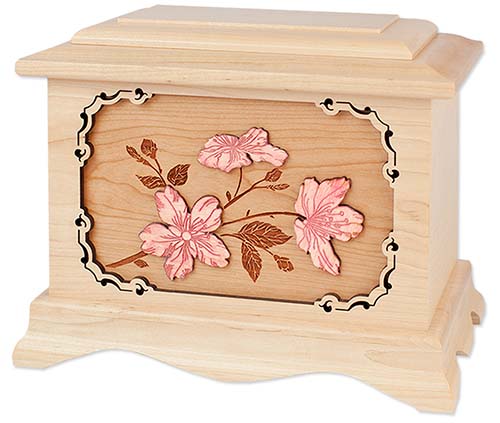 At Urns Northwest, you'll find a variety of gorgeous cremation urns with floral themes, including cherry blossoms, sunflowers, roses, and many more.
If you loved one had a favorite flower, you'll find the perfect urn to honor their memory in our collection.
Read Next: Funeral Flower Etiquette Guide
Pin It