Today we're going to tell you how to preserve funeral flowers, and what to do with those flowers to honor your loved one.
Friends and loved ones have sent you hundreds of dollars worth of flowers. Even though we know flowers are meant to wilt and fade away, you still want to do something with them.
You can take some to the graveside, donate some to local nursing homes, give a few to your family members, and then…. what?
Continue reading and you'll learn how to preserve your favorites. There are many options to keep some of those beautiful flowers for decorations and keepsakes.
Our website is supported by our users. We sometimes earn a commission when you click through the affiliate links on our website. Learn more here.
What to Do with Funeral Flowers
Take them home and enjoy their beauty. Flowers are meant to provide beauty and comfort to the grieving family. So certainly take at least one, if not many, of the bouquets home with you to enjoy. Most floral arrangements will last for 1-3 weeks with water and care.
Give to family & friends. When family and friends start to head home or stick around to give you a hand with things you need to load into your vehicle, tell them to take a bouquet home to enjoy in memory of your beloved.
Donate. Most nursing homes, hospice facilities, and assisted living facilities will gladly take donated flowers. It brightens up the residents' day to see them.
Take to the gravesite. Ask the cemetery how many funeral pieces you can leave at the graveside. Leave the easels and larger pieces if you are allowed to.
Create keepsakes. There are so many beautiful keepsakes you can make – keychains, bookmarks, fridge magnets, and the list can go on and on. Especially if you place the flowers in something, like a keepsake locket or even in resin.
Learn how to preserve flowers. In the next section, we'll show you options for how to preserve your funeral flowers. You can dry flowers, press them, or even make potpourri.
How to Preserve Funeral Flowers
There are quite a few methods for flower preservation. We are going to walk you through some of the simpler, easier ways.
Method 1: How to Dry Funeral Flowers
To retain the prettiest colors, follow these steps:
Cut flowers before they are fully opened.
Tie flowers into bundles.
Hang your flowers upside down in a dry, dark, warm location.
Or, you can try this method:
Leave your flowers in a vase with a few inches of water.
Let the water evaporate – the flowers will slowly dry out.
Method 2: How to Press Funeral Flowers
Pressing flowers is one of the oldest methods to preserve them. Scientists have found pressed flowers from the ancient Egyptians, Romans, and Greeks.
Line your book pages with absorbant paper – newspaper or papertowels to absorb moisture.
Place the flower in a book.
Close the book.
Place more books on top of it.
Wait about 3 to 4 weeks, and your flower should be beautifully pressed.
Or, try this way:
Place your flowers between two pieces of parchment paper. Place a book on top to flatten the flowers.
Turn your iron on "low".
Remove the book from your flower, but leave the parchment paper.
Press your iron on the paper for about 15 seconds.
Other Ways to Preserve Funeral Flowers
Dip in wax
Preserve in resin
Preserve in silica sand
Oven-dry
20 Funeral Flower Keepsake Ideas
Using dried or pressed funeral flowers, you can display them as-is or craft a long-lasting memorial keepsake. Here are some meaningful and creative funeral flower keepsake ideas.
1. Press & frame a funeral bouquet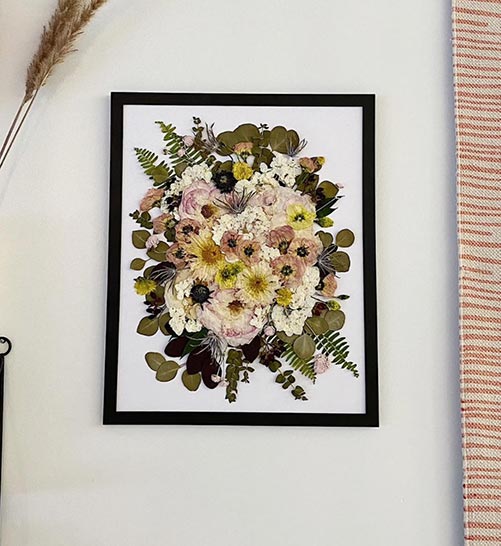 Pressing and framing a bouquet is a stunning way to save your flowers.
Step 1. Create your "homemade" press – Gather lots of books or other heavy objects. Get your parchment paper, newspapers, or paper towels ready too.
Step 2. Place flowers between two sheets of paper towels or newspaper, arranging the flowers in the shape you want them to be in once they are dried. Make sure you layer an additional 3-12 sheets of newspaper or paper towels on either side to help absorb the excess moisture.
Step 3. Apply extra weight to your press. Press out the extra moisture by adding books, bricks, or anything heavy that can be stacked.
Step 4. Your flowers will have to dry for 2-3 weeks. Don't disturb your flowers or remove them before this period is up.
Step 5. Once the drying period is done, gently remove your dried flowers. This may take lots of patience, you don't want to ruin your precious flowers.
Step 6. Place your dried flowers in a shadow box frame and hang in any room.
2. Preserve in resin keepsakes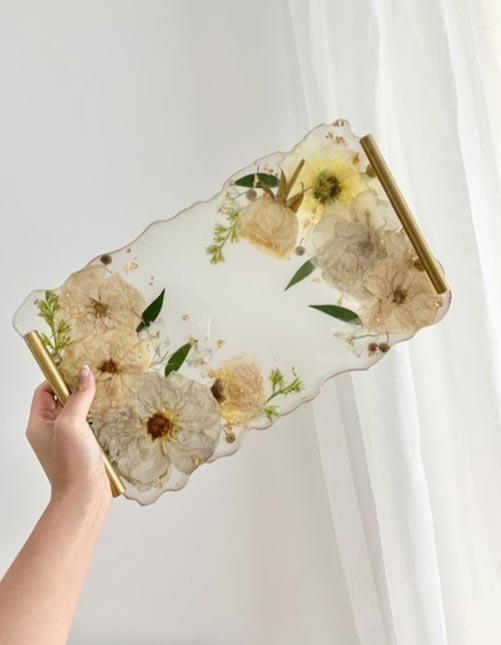 If you're going to preserve your dried flowers in resin, you're going to need a few materials and tools along with flowers.
The fun part will be choosing the mold for your keepsake. Thankfully, silicone molds are inexpensive and come in a variety of styles, for jewelry (pendants and earrings, etc), small trays with a contemporary vibe, coasters, and even light switch covers.
Supplies needed:
Epoxy resin
Silicone mold
Mixing cups
Stirring sticks
Tweezers
Butane torch
Instructions:
Mix the resin according to package directions.
Arrange your flowers in the mold.
Pour your resin. If the dried flowers start to float, gently push them down using a toothpick. Remove bubbles using a butane torch.
Allow to cure per package directions.
3. Preserve in memorial jewelry
There are numerous pieces of jewelry to make from or fill with your dried flowers. Here are some resources for you to shop – have fun!
Tip: Look for wedding flower preservation jewelry, wedding flower keepsakes, that sort of thing. Those products will be individually custom made using customer-supplied flowers rather than something that is premade using generic dried florals.
4. Place petals in a keepsake locket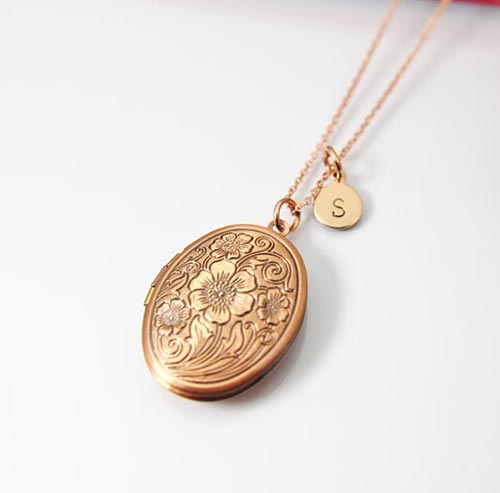 Use any keepsake locket to store your loved one's funeral flowers and keep them "close to your heart."
Directions:
Apply a small amount of glue or nail polish on the inside of your locket.
Place your dried flower petal/petals in your locket.
Wear regularly in remembrance of your beloved.
See our 50 favorite memorial lockets here.
5. Make rose petal tea
If your funeral flowers included roses (or any edible flower), it's easy to make rose petal loose-leaf tea.
Tea ingredients:
2 tablespoons dried rose petals
1 vanilla bean, split and scraped
2 ½ cups boiling water
1 tablespoon honey
Pour boiling water over the dried rose petals and vanilla beans with their seeds. Stir in the honey, cover, and let steep for 30 minutes. Strain and serve warm, or reheat and serve hot.
6. Create a dried memorial wreath
Using your natural crafting skills along with some lovely eucalyptus, you can make a beautiful and long-lasting memorial wreath. Here's how.
Supplies:
One bunch of dried seeded eucalyptus
Your dried funeral flowers; 12 is ideal for this wreath
A 6″ grapevine wreath
Glue gun with extra glue sticks
Scissors
Instructions:
Break your bunch of dried eucalyptus into stems about six to eight inches long.
Take your grapevine wreath, insert a branch of eucalyptus into the wreath. Let the eucalyptus catch in the grapevines.
Work in one direction while you continue inserting branches. Make your way around the whole wreath with the eucalyptus.
Take your scissors and cut the stems of your roses 1/2″ below the head of the flower.
Apply an ample amount of hot glue to the base of the first rose.
Again, work in one direction around your grapevine wreath. Secure your roses one at a time changing the angle of each flower slightly.
Look at your wreath from all sides and add a few more eucalyptus branches to fill out the greenery if needed.
Additional instructions here. Beautiful!
7. Put them into an heirloom pocket knife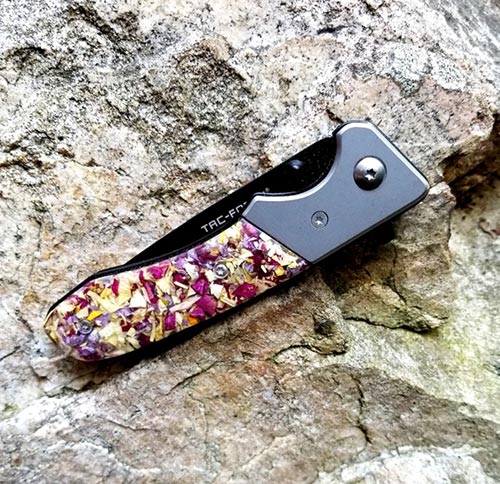 A beautiful pocket knife with a hand-made resin handle with your dried flowers embedded into it – this makes a lasting tribute to your loved one.
The handle takes half a rose to fill, and the end result is gorgeous, useful, and unique.
8. Make your own potpourri
Potpourri makes a great homemade gift – and it's very easy to make. If you're a friend of the family and are helping clean up after the funeral, snag some of the flowers, preserve them, and make potpourri to give back to the family as a memorial keepsake gift.
Here's how:
Pull the petals from the flower stems.
Add 10 to 15 drops of your favorite essential oil to one tablespoon of water in a small spray bottle.
Spray the flowers and other ingredients for your potpourri (spices, orange peels, fresh herbs, other flower petals; anything you want).
Dry in the oven at 200 degrees for at least two hours, or until the flowers are brittle but not burnt.
Put it all together in a mason jar.
9. Craft into a memorial shadowbox
Shadow boxes can hold so many treasures. This includes dried funeral flowers, which you can display by themselves or along with other keepsakes in a DIY memorial collage.
The best way to dry flowers for a shadow box is the hanging method.
The flowers hold their shape better when hung upside down. Tie the bouquet into small bundles, which will make it easier to attach them to the shadow box. Make sure that the petals have a crispy feel before taking them down from the hanging position.
Attach the dried flowers inside your shadow box, and they will be ready to hang on your wall.
10. Create a funeral flower cross keepsake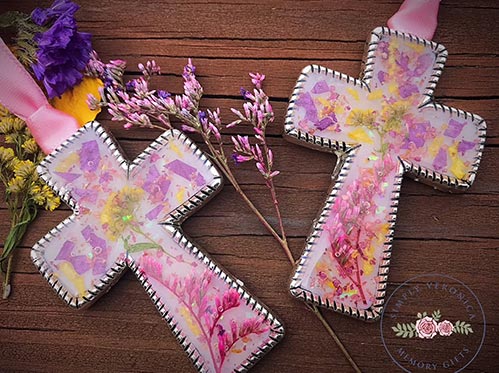 Take your dried funeral flowers and make them into a beautiful, hand-made cross keepsake. Hang your cross in a window, on a mirror, or even on a Christmas tree.
A keepsake like this will be kept in the family for years and years.
11. Make into candles
DIY candles are fun to make and add so much to your home. Put your dried flowers to good use. Follow the instructions provided in the link, mixing the funeral flowers into the wax as your handcraft your own candles.
These are decorations you can keep for yourself and give away to family and loved ones. It's a creative way to "light a candle in memory" of your beloved.
12. Preserve in a beautiful memorial Christmas ornament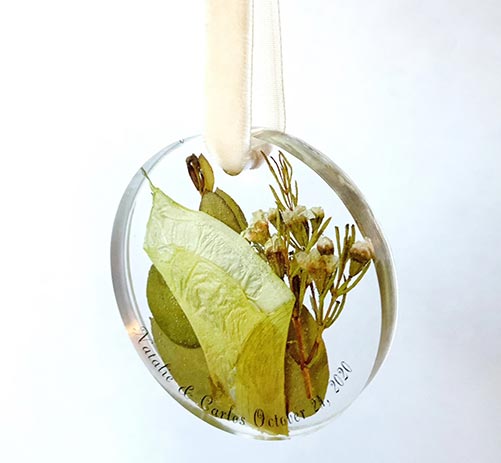 A beautiful hand-made Christmas decoration made from your dried funeral flowers and resin. After all of the money that was spent on funeral flowers, this is a wonderful way to preserve them forever.
These ornaments make a wonderful gift for anyone that attended the service or knew the dearly departed.
Related: 35 Beautiful Christmas Memorial Ornaments
13. Make clear refrigerator magnets (to keep & give to family)
Make your own fridge magnets with your dried funeral flowers. Clear glass or ceramic domes will keep your flowers safe and secure, allowing you to display them on your fridge, file cabinet, or even a metal glove box.
14. Place into a jar
Spread your flower petals over a plate covered with a layer of newspaper. Place them in a warm, dry spot for two to three days. Once the petals have started to dry around the edges, place them in a glass jar.
15. Laminate onto a bookmark
You can create your own pressed flower bookmarks that will last a lifetime. If you have a laminating machine, this is an easy project. You simply take your pressed flowers, arrange them between two plastic sheets, and then laminate.
A laminated bookmark is a great keepsake that anyone would appreciate.
16. Make your own flower paper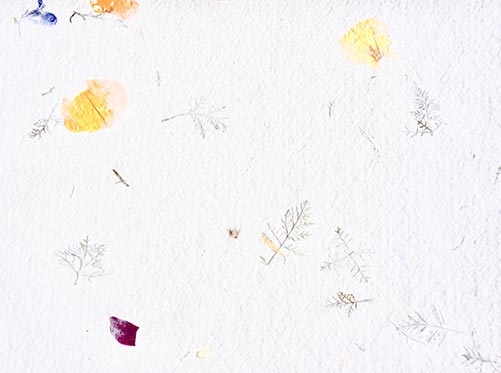 Making your own flower paper is a big task. Follow the link and learn how to make this unique paper yourself.
The making of this exquisite paper is a lost art form – it is classy and looks great. The beauty and strength of handmade paper provides a wonderful opportunity to show your creative side. And beyond all of this, it is eco-friendly.
17. Use in your memorial scrapbook or journal
Put some of your dried funeral flowers in your scrapbook or journal. You can use them to decorate the pages and make a special entry stand out.
Related: Grief Journaling: 10 Healing Benefits & 40 Meaningful Prompts
18. Create a keepsake box
Using an acrylic matte medium, decorate a simple wooden keepsake box and place the funeral flower petals in attractive arrangements on the cover.
The acrylic will form a seal over the petals, preserving them for years to come and helping you create a gorgeous, one-of-a-kind keepsake from the funeral flowers.
19. Decorate your funeral guestbook
Make a book cover for your funeral guestbook. This is a fun and artistic way to save your dried flowers. Let your artistic side out!
Supplies:
Thick, textured paper
Double-sided tape
Pressed flowers
Acid-free glue
Decorative string or twine
Tape measure
Instructions:
Open your guesbook so the cover is flat.
Measure the length and width, adding an extra 3 inches to the width measurement.
Cut the paper to the desired measurements.
Fold your paper around the guestbook, turning the excess lengths under the guestbook's cover.
Fasten paper on guestbook cover with double-sided tape.
Arrange your pressed flowers on the paper.
Glue the flowers in place.
Allow to air dry.
Cut a length of string or twine to wrap around the guestbook – tie a fancy knot to secure.
Sit back and admire your handy work!
Related: 18 Totally Unique Funeral Guestbook Ideas
20. Have an artist paint the flowers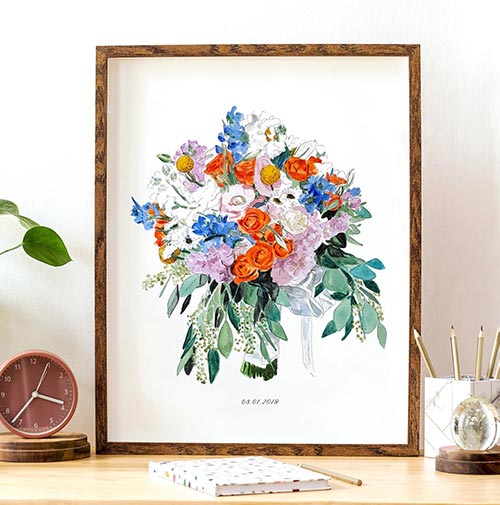 Take a few pictures of your flower arrangements. Commission a local artist to paint a still-life to commemorate the beauty of your flowers.
You can let the artist know how you want the flowers positioned in the portrait.
Once your custom painting is finished, hang it in an honored place – this is a fantastic way to honor your loved one.
Common Questions About Funeral Flowers
Is it bad luck to bring flowers home from a funeral?
Superstitions have been around for thousands of years. Even in our modern, "enlightened" time, these ideas are deeply embedded and not likely to go away anytime soon.
Some people believe that lilies are going to bring bad luck if brought home after a funeral. Lilies are considered "funeral" or "death" flowers by some people; they don't want them in their house.
While some flowers and plants are considered to be bad luck, the majority of them are actually thought to bring fortune to your home. Flowers typically associated with good luck include sunflowers, alstroemeria, and orchids.
How long do funeral flowers last?
Displays in baskets or similar containers are designed to last longer than tied bouquets. Your florist will select flowers for their durability and display them in floral foam.
If you top off water levels in the foam, a flower basket of carnations or lilies can last around 7 to 10 days.
Why types of flowers do people bring to the funeral?
People will send baskets, standing sprays, dish gardens, wreaths, and crosses. Popular types of flowers are lilies, carnations, gladioli, roses, orchids, and chrysanthemums. For information on the meaning behind these flowers, check out our article here.
During sad times, flowers signify hope, compassion, and love. Send flowers to a loved one or friend that has lost someone. It shows you care and brings comfort to a bereaved family. And now, you can help them preserve those special flowers for years to come.
Read next: The Complete Guide to Funeral Flowers
Pin It