Here's everything you need to know about funeral flowers.
Learn when to send, which ones to choose, what to write in the sympathy message, and all about the proper etiquette surrounding flowers and funerals.
Our website is supported by our users. We sometimes earn a commission when you click through the affiliate links on our website. See our privacy policy & disclosures for more information.
What Are Funeral Flowers?
Funeral flowers are just what they sound like: Floral arrangements sent to a funeral or memorial service.
Sending flowers to a funeral is traditional. There are certain colors, types of flowers, and types of arrangements that will convey your message of condolence.
By taking your time and talking to a florist, you can pick out the perfect arrangement or bouquet for the grieving family. Whether you are sending it to the funeral home (funeral flowers) or the family's residence (sympathy flowers), your gesture will be appreciated.
What is the difference between funeral flowers and sympathy flowers?
Funeral flowers are sent to the funeral or memorial service. Sympathy flowers are sent directly to the family, usually at their home.
Offering condolences to the family by sending flowers is always thoughtful; funeral flowers and sympathy flowers are both designed for that reason. They convey your support and love, whether you can make it to the funeral or not.
Sympathy flowers are usually a smaller arrangement. They may consist of a plant, a smaller bouquet, or an arrangement. These arrangements are crafted to offer condolences to the family. You are letting the family know that you are thinking of them. The most beautiful thing about sympathy flowers is that there is no timeline. You can send them immediately, or wait a few weeks. Anytime is thoughtful.
Sympathy flowers can be sent anywhere; to the grieving family's home or office or even to the funeral home.
The family or close friends often choose funeral flowers, which are sent to the church or funeral home for display during the service. Funeral arrangements are designed to be viewed from every angle of the sanctuary. They are often a larger arrangement or easel display.
Funeral flowers are intended to pay respect to the decedent. The flowers should not be addressed to any person in the family.
What are the traditional funeral flower types?
There are several traditional types of flowers that are acceptable for funerals or expressing sympathy. Here are some of the most popular, and the symbolic meanings they convey.
Lilies – symbolizes the soul's return to purity.
Orchids – no matter what color, the orchid's meaning is "I will always love you."
Carnations – the color shows the meaning behind the carnation. Red shows affection, and white stands for purity.
Chrysanthemums – symbolizes sympathy and honor. The colors also play a role in the meaning. Red is for love, and white is for innocence.
Roses – white roses are the ultimate token of spirituality, purity, and innocence. The deep red rose evokes love and grief.
Hyacinth – including a hyacinth in an arrangement means that you are praying for the family. This flower also represents deep anguish.
Here are the most popular arrangements from ProFlowers, which you can order online and have local professional florists craft and deliver to the family or funeral home.
Funeral Flower Etiquette
How do you pick the right flowers? The right size and arrangements? How do you know where and when to send them? By continuing to read, you will know the answers to these questions and more.
Sending flowers is a way to let the surviving family know you are thinking of them. Knowing what flowers to send can depend on several points—the biggest factor is your relationship with the deceased or the family.
1. Where do you send the flowers?
You shouldn't send funeral flowers to the family's home, only to the funeral home.
Do send sympathy flowers to the family's home, workplace, or the funeral home.
You can send an arrangement for the viewing, visitation, or funeral service. It is appropriate to send the flowers for the first service.
If the family is planning a visitation, that is when you would want the flowers present. The funeral home staff or family helpers will move them to the service location as needed.
2. When do you send funeral flowers?
Funeral flowers should arrive as early as possible on the day of the visitation or funeral. By arriving the day "of" the service will ensure that they are fresh and beautiful.
3. I found out about the death after the funeral – should I still send flowers?
Yes, it is appropriate to send flowers. Send the flowers to the family's home. It is never too late to let the family know you are thinking of them. They will welcome your thoughtfulness.
You should make sure it is a sympathy arrangement and not a funeral arrangement that is sent to the home.
4. What is the best color flower for a funeral?
Traditionally, white flowers are the best color. White symbolizes purity and innocence. That doesn't mean you can't send colors. Red roses or red carnations are a good choice as well.
You can ask the florist to add a bit of tasteful color to the arrangement. With the advent of "life celebration" services, other, more cheerful colors are acceptable too. Yellows, pinks, and light blues, for instance, will add a splash of color to a white bouquet.
5. What type of arrangement should I send?
The next of kin will typically send large flower arrangements (casket sprays, hearts, and wreaths).
Friends and co-workers can send standing easels, large bouquets, or potted plants.
6. What size should I send?
Sending a small arrangement or potted plant will allow the family to take it home after the funeral. A medium-sized arrangement is a nice option if a few people are going to chip in. The family can also take home the medium-sized arrangements.
The funeral home will take the larger arrangements out to the cemetery and place them at the gravesite.
7. Can I send a casket spray?
No, you can not furnish the casket spray. The next of kin will buy the casket spray. That is to say, spouses, parents, or children. Only the immediate family has the privilege of buying the flowers that go on or inside of the casket.
8. What types of flowers should I NOT send?
Avoid anything too cheery or silly. Don't send balloons or animals on a stick in the arrangement. Do not send green flowers. Green represents life and rebirth and the family may be very hurt by this.
9. Is it ok to
bring

flowers to a funeral?

It is appropriate to send flowers to the funeral. It is best not to bring flowers or plants to the funeral. The funeral is not a great time to hand flowers to the bereaved. The family will have no place to "put" the flowers you bring.

If the flowers are sent, the funeral home staff will handle the placement. The staff will also assist the family in getting their flowers home.
10. What if the funeral announcement says "in lieu of flowers"?
The family will use "In lieu of flowers" and suggest other ways to honor their loved one. Families may ask for a donation to the Cancer Society or to the nursing home where their family member lived.
According to etiquette expert Emily Post, it is appropriate to still send flowers, but only after following the family's request. In that case, you would want to note on the card that you have made a donation in their name.
11. Can I send flowers if there is no service (or a private service)?
Yes, it is a nice gesture to send flowers. It is a beautiful way to let the family know you are thinking of them and their loved one. You can send flowers directly to the family's home.
12. What if I only knew the decedent, but none of the family?
It is appropriate to send flowers even if you didn't know the family. This is a sign of respect, and the family will appreciate that their loved one touched your life. You can include a heartfelt note about the decedent. Let the family know what their loved one meant to you.
13. What if I only knew the family, but not the decedent?
It is appropriate to send flowers to a friend who has suffered the loss of a loved one. It is nice to let your friends know you are thinking of them, even if you had never met the deceased.
Say something thoughtful on your flower card. "I didn't know your mom, but she must have been fantastic to raise someone as special as you!"
14. Should I ask the family for their address?
If you are a close family member or friend, yes, ask the family for their address. Otherwise, just send flowers to the funeral home, and they will gladly get them to the family.
Another suggestion is to call the funeral home and let them know you would like to send flowers to the family. The funeral home will call the family and ask if it is ok to give out their address to you.
15. How much should I spend on funeral flowers?
This depends on your relationship with the family or decedent and also your budget. Simple arrangements may run from $30 to $80. Try not to overspend and never "outdo" the family.
If you can't seem to make a decision, remember, a nice sympathy card is a beautiful gesture. A message from the heart can be so uplifting and comforting to a bereaved family.
Related: Funeral Etiquette: An Essential Guide for What to Say & Do
Funeral Flower Messages
Written in your own handwriting is best, but not always possible. When ordering your arrangement, let the florist know what you would like on the card.
Have the florist repeat the message back to you. This is how you will ensure the florist gets all names spelled correctly, the decedent's name, and yours as well.
Who do you put as the recipient for the funeral flowers?
You can ask the florist to address it to the decedent or the the family of the decedent.
Begin by greeting the recipient of the message. This lets them know you are truly thinking of them: To the Family of Jeff Smith, or To the Smith's, or Tom and Susie Smith on Jeff's loss.
Here are some inscription examples:
John Smith visitation
Betty Jones funeral
To the Family of John Smith
To the Family of Betty Jones
In Memory of John Smith
In Loving Memory of Betty Jones
What do you write in a funeral flower message?
Writing words of heartfelt sympathy can be a daunting task. After all, how do you convey your feelings in a few short words? Show that you care, but don't be too wordy in your message.
Below you will find a list of messages you may want to use.
Words cannot begin to express our sorrow
With deepest sympathy
In loving memory
Rest in peace
Thinking of you
With love and fond memories
Forgotten never, loved forever
Always in our thoughts and prayers
Dearly loved and missed
With loving memories of (name of decedent)
Always in my heart
I share in your sadness
See more Sympathy Card Messages and also our comprehensive post with 101 Condolence Messages.
How do you sign the sympathy message?
Signing off on a sympathy message should be earnest and genuine. Finding the right words can be tricky, and you don't want to sound distant. Experts say do not use the word "sincerely" in your message.
Try one of these phrases with your signature.
Sending you love
Wishing you peace
With loving thoughts
With sympathy
You are in our thoughts and prayers
Please accept my condolences on your loss
Here for you with loving support
I know your heart is aching; I am thinking of you
We are holding your family in our hearts
I can't imagine what you are going through, and I am sorry for your loss
There are no words to express how sorry I am
Remember that you are not alone
More: How to Sign a Sympathy Card
How to Send Funeral Flowers
It's hard to believe there are so many etiquette rules to follow when it comes to flowers. Here are just a few things to take into consideration when sending flowers for a funeral.
1. Read the obituary or funeral announcement, so you know the family's wishes.
Pay attention to the "in lieu of flowers" statement. Some families may want a donation made. Family members may have allergies to flowers. Banning flowers may be the answer to allergy problems.
I have had family members say, "Mother hated flowers. I don't want people to waste their money on something she hated!"
Families usually have a valid reason for their "in lieu of flowers" wishes.
2. Please be aware of the faith of the deceased. It is important to consider this before placing your order.
Different faiths and cultures will vary.
Catholic and Protestant Funerals: these faiths usually have no restrictions on the types of flowers. Accepting nearly all types and colors of flowers.
Greek Orthodox: nearly all flowers are accepted, but white is often the preferred color.
Jewish: Jewish funerals will not have flowers displayed. It is more common to send flowers to the family's home. However, it is not appropriate to send flowers when the family is sitting Shiva. (Shiva is a week-long mourning period for Judaism.)
Mormon: In the Mormon faith, most flowers are accepted. It is best to avoid crosses or crucifixes in the arrangements.
Muslim: the acceptability of flowers varies across the faith. It would be best to check with the family before sending flowers.
Hindu: The Hindu religion doesn't use bouquets. Instead, garlands are more commonly seen in their funeral services.
Baha'i: most flowers are respectable to their faith; there are no styles to avoid.
Buddhist: most arrangements and flowers are acceptable.
3. Consider your relationship with the deceased.
Are you the next of kin, family member, or friend? The next of kin will buy the flowers that will go on or inside the casket. Family members will buy the easels that stand on either end of the casket. Friends will buy smaller easels or arrangements.
4. Make it personal.
If the deceased loved the color pink, have some pink flowers mixed into the arrangement. If you know the decedent loved the outdoors, send a beautiful assortment of wildflowers.
5. Make your decision, thoughtfully.
Remembering that flowers have meanings behind them will help you make an appropriate choice. Ask the florist for guidance if you are unsure.
Lilies of the Valley – the return of happiness
Red Roses – love
Hybrid Tea Roses – I'll remember you
Apple Blossoms – better things to come
Stargazer Lily – symbolizes sympathy
6. Consider the meanings of colors
White flowers represent purity, peace, and reverence
Dark crimson flowers denote grief and sorrow
Pink signifies love, grace, and appreciation
Friends of the deceased give yellow roses. It signifies their strong bond of friendship.
Including a single rose in a bouquet reflects your enduring love for the deceased.
Beautiful Funeral Flower Arrangements
Now that you know everything you need to know about funeral flowers, here are some of our favorite arrangements.
Seasonal Sympathy Easel Hand-Designed by Local Florist
This stunning spray is a freestanding easel filled to the brim with the season's best florals. Arranged by a local florist and entirely appropriate for any funeral or memorial service, this is an unforgettable gesture of sympathy and love.
Beautiful Spirit Sympathy Flower Basket
The alluring pink colors make this lovely basket pop, yet in a gentle and comforting way. The Beautiful Spirit Basket comes in several size options and is perfect for the funeral, since it can be placed anywhere without fear of tipping. Includes carnations, lilies, roses, and more.
Traditional White Rose Bouquet
White roses are the classic for good reason. They're simply stunning, and you'll never go wrong with this choice.
Faithful Wishes Funeral Flowers Wreath
If you choose to go with a wreath, the Faithful Wishes display is ideal. The design – arranged to perfection by a local florist – boasts a traditional wreath base along with an abundance of beautiful white sympathy flowers. This is a good one for a group to send to the funeral.
Heartfelt Condolences White Funeral Flower Arrangement
Make sure your gift truly expresses your condolences with this resplendent and full display. The Heartfelt Condolences White Flower Arrangement is a genuinely lovely tribute to a special loved one.
Sunny Sentiments Sympathy Bouquet
Remember, it's ok to express your sympathy with a splash of bright and cheery color. The Sunny Sentiments Bouquet is the ideal way to show a close friend your love and support during a difficult time.
While we're at it, here are some specific ways you can show your support to a grieving friend. In that article, we have three general (but really, really helpful) tips, plus ten very practical ways to help someone you care about who has lost a loved one.
Read next: Here's what to send INSTEAD of flowers when someone dies
Pin It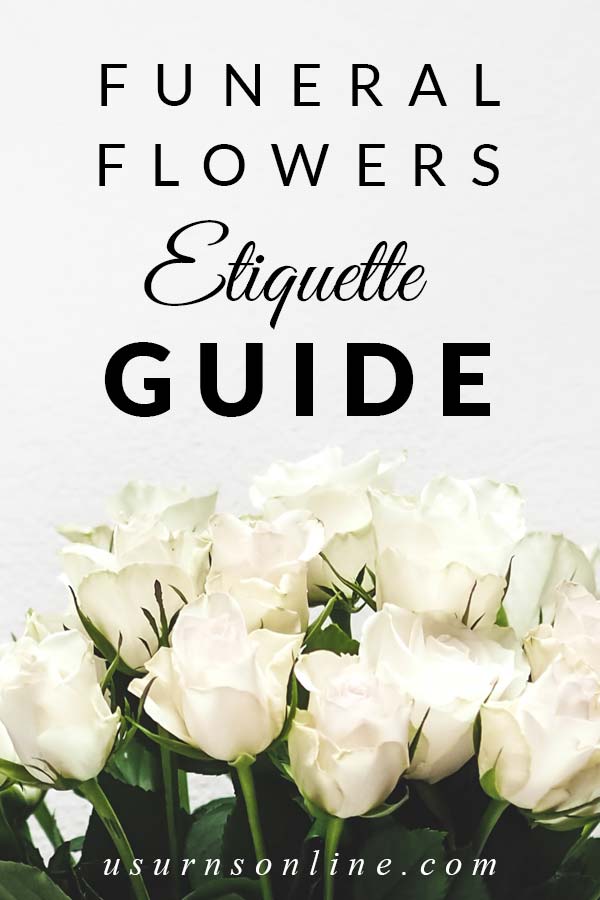 Karen Roldan has been in the funeral industry since 2006, and a licensed funeral director and embalmer since 2008. She is currently licensed in the states of Indiana and Pennsylvania.
She attended Worsham College of Mortuary Science in Wheeling, IL, and graduated with an associate degree in Mortuary Science.
Karen enjoys wring about the funeral industry because her passion is helping families in their deepest time of need. She feels being a funeral director is a calling and she is proud to fulfill this role.
Karen is a wife and the mother of four sons. She, her husband and their youngest son call Pennsylvania home.