Is it appropriate to toast a deceased loved one? The short answer is "Yes!"
But don't stand up at the funeral with a bottle of whiskey in your hand. You will find yourself unceremoniously removed! The best place for the toast is usually after the funeral. Save your toast for the reception, or for a private family gathering.
Still, you will want to be prepared if you are called on to give a memorial toast. What should you say?
How to Toast Someone Who Has Died
It is an honor to offer a toast. Giving out accolades never goes out of style.
1. Keep it short
The very best toasts are short and simple. They can be heartfelt or lighthearted, respectful or irreverent! You can even throw a quote in that your loved one used to say.
2. Plan it out
Plan what you are going to say. Practice beforehand so you can get your delivery right. It will also help to calm your nerves! Try to keep your toast original, not relying on the same old platitudes. Aim for something personal and meaningful. Just remember, anything over a minute is too long.
3. Make sure every glass is full
Perhaps the most important toast etiquette to remember: make sure everyone's glass is full before the toast. It doesn't have to be filled with an alcoholic beverage, but it should be filled with something. You don't want an empty glass to be the reason someone feels excluded.
4. Say your toast, raise your glass, and drink
Once the glasses are filled and the toast is made, simply raise your glass and drink!
You can indicate that it's time to drink by simply raising the glass and drinking; everyone will follow your lead.
You can also say "Cheers!" although that might come across as too upbeat for the situation. The traditional ending for a toast is "To [name]" or to some ideal or quality you mention in your toast, for instance "To a life well lived," or "To absent friends," or "To all the memories we shared," etc.
Funeral Toast Examples
If you have been asked to offer a toast, words might be hard to find. Take a look at our list of examples for some inspiration and guidance.
First, here are some phrases you can use. Keep it short and sweet, or combine several ideas to craft the perfect memorial toast.
Let's raise a glass to our beloved friend who has gone on before us.
To a life well lived.
To [name], may she rest in peace.
As we raise our glasses in memory of [name], let's take a moment of silence to remember the many ways he improved our lives.
[Name], you will be missed.
To absent friends.
No one spread more love in one lifetime.
It may be a long walk, but our paths will cross again.
A beautiful soul is never forgotten.
The sun has set on an amazing life, to tomorrow, where the light dawns in heaven and darkness are no more.
Always loved. Never forgotten. Forever dear.
If I could sit across the porch from God, I would thank Him for lending me you.
I would like to propose a toast to the deceased, [name].
To [name], friends forever!
True friends are always together in spirit.
Because He lives, I can face tomorrow. (From the gospel hymn of the same name by Gloria and Bill Gaither)
Sometimes you will never know the true value of someone, until they become a memory.
Famous Quotes for a Memorial Toast
"I am living proof that a shattered heart can still beat." – Maryellen Dennis.
"It's hard to turn the page when you know someone won't be in the next chapter, but the story must go on." – Unknown Author.
"Love is how you stay alive, even after you are gone." – Mitch Albom.
"He fought the good fight, he finished the race, he kept the faith." – Adapted from 2 Timothy 4:7
"Where there is great love, there are always miracles." – Willa Cather. To a miraculous life.
"To live in hearts we leave behind is not to die." – Thomas Campbell.
Celebration of Life Toasts
"The best is yet to come." – Anonymous.
"In the end, it's not the years in your life that count. It's the life in your years." – Abraham Lincoln.
"There are some who bring a light so great to the world that even after they have gone, the light remains." – Anonymous.
"So you have pain now, but I will see you again, and your hearts will rejoice, and no one will take your joy from you." – John 16:22.
"Like a bird singing in the rain, let grateful memories survive in time of sorrow." – Robert Louis Stevenson.
Find more inspiring life celebration quotes here.
Raise a Glass in Memory Quotes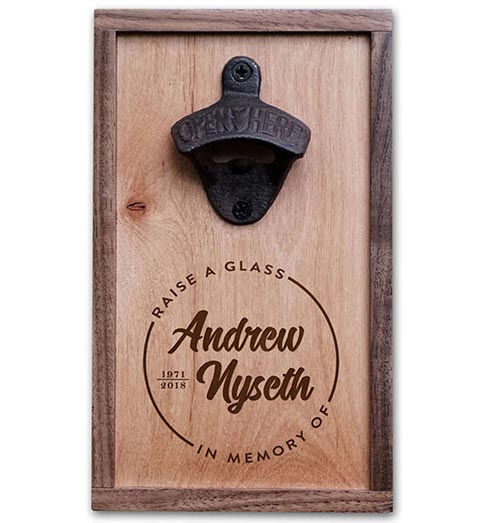 "Life is eternal, and love is immortal, and death is only a horizon. And a horizon is nothing save the limits of our sights."
"The highest tribute to the dead is not grief but gratitude."- Thornton Wilder.
"It's so hard to think you won't be there anymore. I never wanted to accept that it could come true. We were so short of time to enjoy, and today I raise my glass for those who are no longer here." – Jon Ander Pérez Expósito
"We lit the candle from both ends, it wouldn't last the night, but ah my fellows and my friends, the flame it burned so bright." – Edna St. Vincent Millay
For their memory, for their thoughts, and for keeping them alive among us: We raise our glass for those who are no longer with us!
Irish Funeral Toasts
No one can turn a phrase like the Irish! Enjoy!
"May you live to be a hundred, and may I live to sing at your wake!" – Traditional Irish Toast
"May the roads rise up to meet you. May the wind be always at your back, may the sunshine warm your face, And until we meet again, may God hold you in the palm of his hand." -Traditional Irish Blessing
"May God give you: For every storm, a rainbow, for every tear, a smile, and or every care, a promise, and a blessing in each trial. For every problem life sends, a faithful friend to share, for every sigh, a sweet song, and an answer for each prayer." – Traditional Irish Blessing
Funny Funeral Toasts
Laughter and tears are a great combination for your loved one!
Especially when offered at an appropriate and meaningful time, laughter truly can be the best medicine and a wonderful way to honor your loved one's memory.
"As you slide down the banisters of life, may the splinters never point the wrong way." – Anonymous.
"May those who love us, love us; and those who don't love us, may God turn their hearts; and if He doesn't turn their hearts, may he turn their ankles, so we'll know them by their limping." – A Traditional Irish Toast.
"Bury me when I die beneath a wine burial in a tavern. With luck, the cask will leak." – Moriya Sen'an.
"Here's to all the nights we can't remember with a friend we'll never forget." – Anonymous.
Find humor in your loved one's quirks, habits, interests, and sense of humor. For instance, if he or she loved cats, you could easily incorporate Sigmund Freud's quote, "Time spent with cats is never wasted."
Let's raise a glass in memory of our dear friend Geraldine. Did she live life to the fullest? Absolutely. She lived life and loved each one of us almost as much as she loved her three cats. As Freud said, "Time spent with cats is never wasted." By that measure, Geraldine never wasted a single moment of her life. To a life well lived, cheers.
Toasting Absent Friends & Family at Other Occasions
There are many other times where it is appropriate to toast departed loved ones. Weddings, graduations, birthdays, anniversaries, births, adoptions, family reunions, a gathering of friends, business deals, championships, and other special accomplishments.
Here are more toast examples to honor those who have gone before us.
To Absent Friends
To absent friends
To those we have met.
To those we have yet to meet.
To those who have left us for a while
And to those who have left us forever
Let us lift our glasses.
And drink a toast
That they may abide in our hearts
Forever.
– Robert Burns
Death is Nothing
I have just moved to the neighboring room.
I am who I am … you are whom you are,
That which we were to one another,
We will always be.
Call me by my name.
Speak to me like you've always done.
Don't use a different tone …
Don't take that look; solemn or sad.
Continue to laugh at that which made us laugh together.
Pray, smile, think of me, pray for me.
Let my name be pronounced at home,
As it always was,
Without pomposity or gloom.
Life is still the same,
It is what it always was
The string has not been cut.
Why should I be away from your thoughts?
Just because I am away from your sight?
I am not far, just on the other side of the road..
You see, everything is fine …
Wipe your tears and cry no more.
If you love me …
– St. Ausgustine of Hippo
Oh, here's to other meetings,
And merry greetings then;
And here's to those we've drunk with.
But never can again.
-Stephen Decatur
Your life was a blessing,
Your memory a treasure.
You are loved beyond words
And missed beyond measure.
– Anonymous
May the winds of heaven blow softly
And whisper in your ear
How much we love and miss you
And wish that you were here.
– Anonymous
To our absent friends – May they always be with us!
Pin It