There are times when words are hard to find. Announcing a loved one's funeral is one of the most difficult of those times.
You probably have a lot of questions. How do you announce the funeral? What information should be included? Is a funeral announcement the same thing as an obituary? When should you post or publish it?
Death brings out so many questions, and you have found the right place to have these questions answered.
What Is a Funeral Announcement?
A funeral announcement shares the news that someone has died. It provides information about the service time and location. This type of announcement is typically short and to the point.
The funeral announcement also acts as an invitation to attend the service. By sharing the information publicly (or at least in your social circle), you're inviting everyone to attend. Some people also like to send print and send the announcement as a formal invitation to close friends and family members.
This is different from a death announcement in that it is an invitation to the service, while a death announcement is a public notice that someone has died.
How to Write a Funeral Announcement
It is important to get all of the information out there. Keep in mind that a funeral announcement is not the same as an obituary. An obituary will include much more information than the funeral announcement.
Here's what to include:
Name. First and last name of the deceased. Include their nickname if everyone knows what it is. Include a woman's maiden name.
Dates. Birth and death dates of your loved one. This is not strictly necessary, but most people appreciate it.
Service date and time. Make sure to include the date and time of the viewing along with the funeral service.
Service location. Include address, directions, and any special parking instructions.
Streaming option. If there is a livestream, include URL with passcode.
Interment. Location of committal (burial), as this often follows the service.
Reception. If you are having a reception include the address and time, along with any other pertinent details (potluck, desserts only, etc).
Funeral Announcement Wording Examples
Example 1
It is with great sadness we announce the death of our grandmother, Jennifer (Richards) Benedict (January 20, 1929 – June 30, 2021). We will be hosting a memorial service at Berman's Funeral Home (1244 Main St., Lake Station, MD 55555) on Saturday, July 3, 2021 at 2:00 pm.
Example 2
Hallelujia! Our mom, Sue (Jones) Perkins, is in her heavenly home! A celebration of life will be held at the City Center Park on September 8 at 10:00 AM. There will be singing and praising the Lord – followed by a cookout. Everyone is welcome to join us.
Example 3
Benjamin "Big Guy" Schmidt – February 28, 1960 to August 23, 2021 – will be honored at his funeral service on Thursday, August 26, 2021. The service will be held at Bryll Funeral Home – 3200 S. Main, Hobart, IL. Burial will be private.
Example 4
Join us to celebrate the life of Gabe Smith.
Location: 5454 Leaping St., Vesuvia, MT.
Time: 6:00 PM
Bring your favorite dish for a potluck in honor of Gabe.
Example 5
It is with our deepest sorrow that we inform you of the death of our beloved wife and mother, Victoria "Vicky" (Burr) Jameson. A family memorial service will be held on Friday, June 27, 2021 at Jed's Funeral Home on Davis Street. She is survived by her husband Jason, five children, and seven grandchildren.
Example 6
With great sadness, we announce the loss of our beloved father, Jeremy "Buddy" King. August 1, 1950 – August 1, 2021. There will be no memorial service at this time.
Example 7
John Smith
Born: January 30, 1999
Died: August 7, 2020
The friends and acquaintances of the Smith family are respectfully invited to attend the funeral services of John Smith to be held from Baron's Funeral Home at 2:00 PM, Saturday, August 15, 2020. Reception to follow at Hamburger Haven.
Example 8
A life on earth has ended and has begun with joy in heaven. Please join us at the Cherry Hill Restaurant to celebrate Lulu Richter's (3.1.1935 – 7.10.2020) life. Saturday, November 7, 2020.
Example 9
In Loving Memory of
John Tate
March 7, 1935 – August 9, 2020
Beloved husband of Tamara, father of Thomas and June, grandfather of Tommy Jr.
Please join us at 7:00 PM on August 12 at Burns Funeral Home (721 East 17th St., Boise, ID) for John's viewing. Followed by his funeral service the next morning at 10:00 AM. With burial at Calvary Cemetery afterwards.
Example 10
1964 to 2020. In Memoriam, Christopher Chase. We are requesting the honor of your presence at a memorial service, Wednesday, July 9, 2021 at 11:00 AM, graveside service at the Del Torres Cemetery (2339 Local Road, Cavalier, ND).
Where to Post or Publish Your Funeral Announcement
Funeral Home's Website Funeral homes will post your announcement for free on their website.
Facebook. You need to consider all your Facebook friends, and their friends will be able to see your message. Make sure you specify if the funeral is a private gathering, reserved for family members and close friends. Otherwise, you might have too many unexpected guests at the funeral.
Newspapers. Include local newspaper where your loved one died and also their hometown newspaper.
Email. Go through your contacts and email the announcement. You can ask your contacts to forward your message to other people.
Print & Mail. If you have the time, you can print them and send them away in the mail.
Church Bulletin. If there is time, place the announcement in the deceased's church bulletin.
Funeral Announcement Templates to Print & Share
Here are some beautiful funeral announcement templates. Each is a digital download that you can easily edit and personalize online, then save the file to post on social media and/or print and mail as funeral invitations.
The ones shown below are our premium templates; we also have a selection of free funeral announcement templates here.
1. Patriotic Military Veteran Funeral Invitation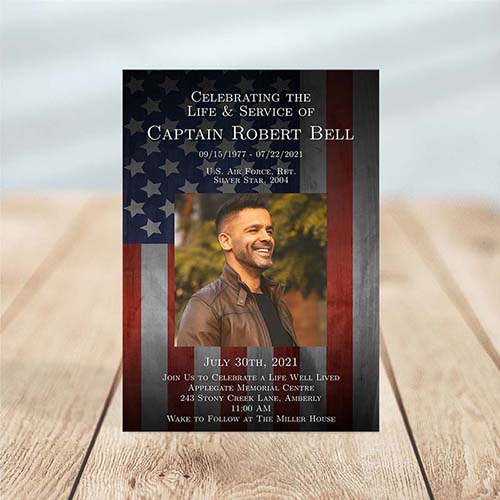 2. Soft Light Funeral Invitation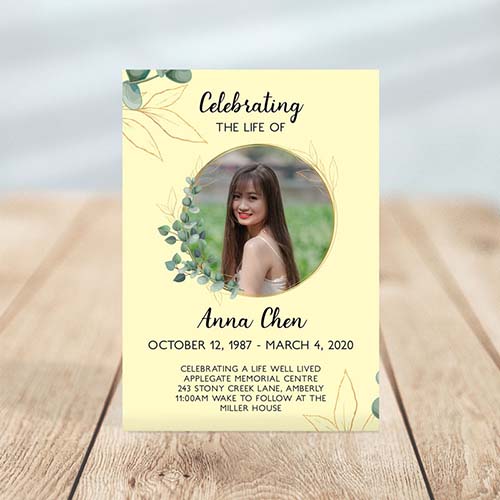 3. Navy + Gold Funeral Invitation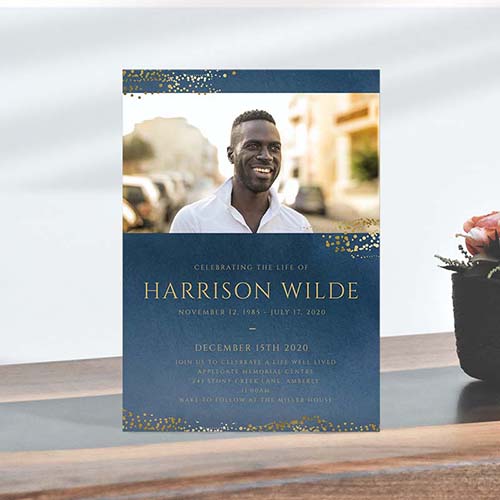 4. Cross & Leaves Funeral Invitation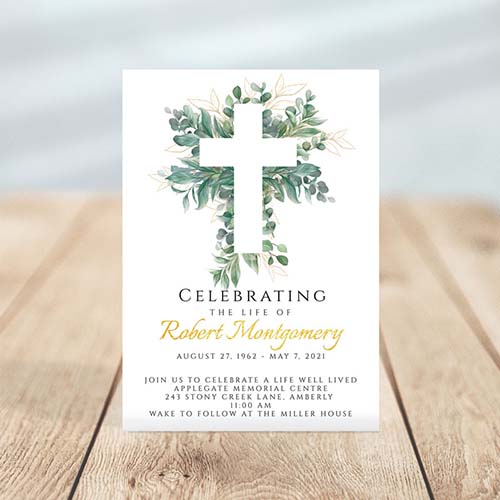 5. Skye Funeral Invitation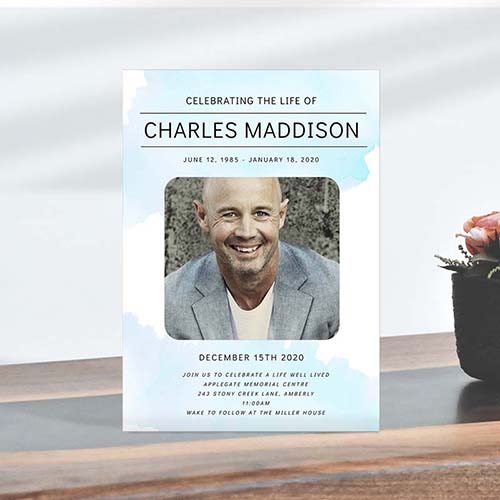 6. Vintage Floral Frame Funeral Invitation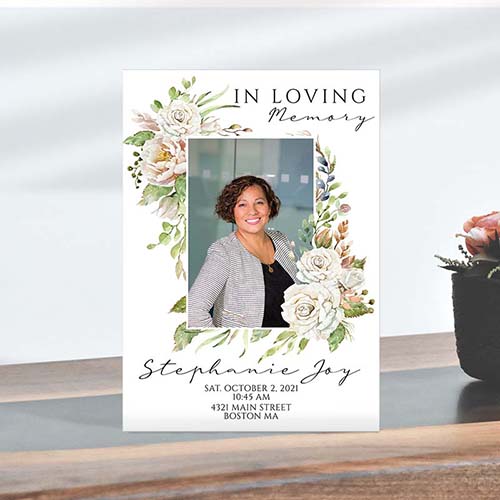 7. Deer Creek Funeral Invitation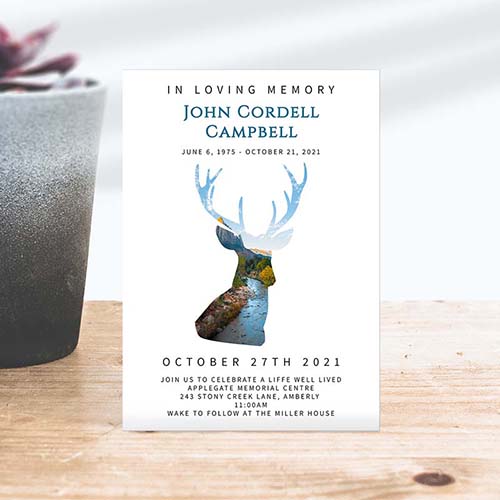 8. Evergreen Trees Funeral Invitation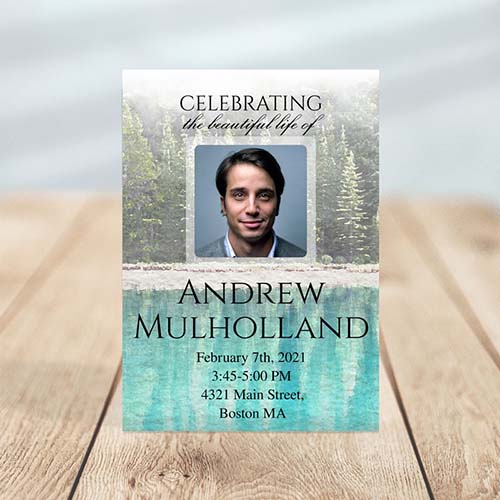 9. Celtic Cross Funeral Invitation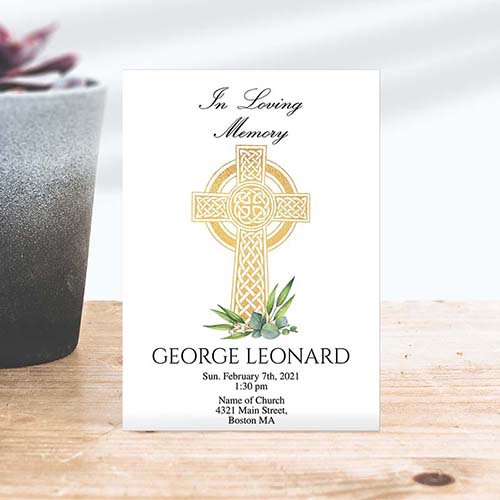 10. Timeless Green Funeral Invitation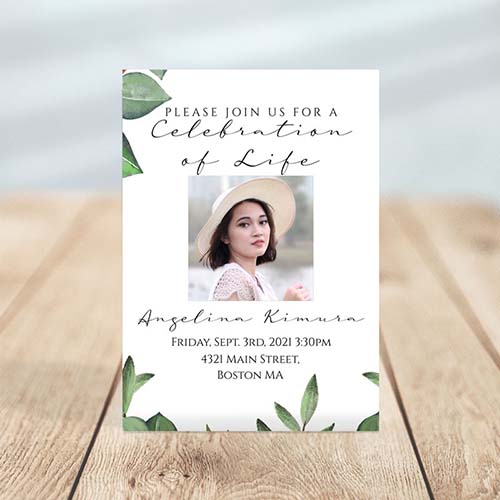 How to Print
Here are start-to-finish instructions on how to use and print our funeral invitation templates.
You can try the premium templates out before purchasing, see each product page
When you're ready, buy the template(s) of your choice
Customize and edit as much as you like
You can even use your phone to edit (though a PC is definitely easier)
When it's perfect, download the file
Print it:

Take it to a local printer
Upload it to our recommended online printer (envelopes are included)
Or upload it to any other online print shop
Print it at home (you'll just need 5″ x 7″ card stock)
Shop all our funeral templates here, which includes invitations, programs, photo signs, memory boards, "my special memory of you" cards for people to fill out with stories, and much more.
Read next: Learn How to Make a Funeral Program