Here is everything you need to know to make a funeral program yourself.
What is a funeral program?
A funeral program is a printed handout that lists the order of service for a funeral or memorial service.
Also known as a funeral brochure, funeral flyer, or funeral folder, the document will also feature the decedent's name, dates, highlights from their life and legacy, and often their photo and a brief obituary.
Do I really need these? Yes and no. Like most funeral elements, programs are entirely optional. Most attendees anticipate receiving one as they walk in, and it is helpful for mourners to know the progression of the service and what to expect.
The program also serves as a tribute to your loved one, with their picture and obituary in an attractive design. Many people take them home and place them on the refrigerator or bulletin board as a reminder to pray for and offer comfort to the grieving family.
What is typically included in a funeral program?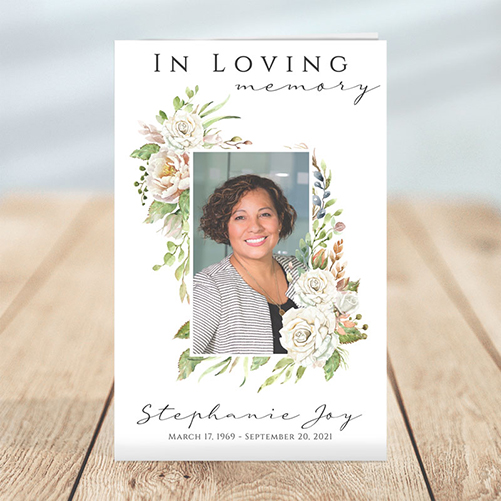 The front of the funeral program brochure will always include the decedent's name and dates of birth and death. It will often have a photograph and an inscription, such as "In Loving Memory of" or "Celebrating the Life of".
Inside you will list the service order, which includes songs and hymns, prayers and readings, the eulogy, and any other elements such as a slide show, open mic, special music, or candle lighting.
Depending on how many pages there are in the design and how detailed you want to be, you might also include additional photographs, a brief obituary, quotes and prayers, and a list of surviving family members and/or people who participated in the service.
The final page provides space for the family to express their thanks to attendees and anyone who helped make the service happen. You will also want to include details of the reception and graveside committal.
What is the standard size for a funeral program?
8.5″ x 11″ is the typical funeral program size.
This is the standard printer paper dimensions, so it works with printers at home or at the print shop. Most often these are printed on both sides and folded in half horizontally to create a four "page" booklet (front, two inside pages, and back).
An 8-page funeral program uses two sheets of paper, and (more rarely) a 12-page funeral would be made with three printed sheets.
How to write a funeral program
The key to writing a funeral program is to keep it brief, and aim for simple yet elegant language. The funeral program is a genre in which, generally speaking, less is more.
You want to balance the space provided with several considerations:
Honoring your loved one
Informing people what to expect in the service
Thanking those who have provided help and support
Having it all look nice
The key to doing all these things well is to be brief.
Get the important details: Who, where, what, when. Name and dates. Your loved one's highlights in life. Each event in the funeral's order of service.
Keep the tone formal, but also don't be afraid with a touch of humor, if that's the type of person they were.
You can add a quote that fits them perfectly. It could be inspirational and faith-based ("Beloved daughter of God," a favorite Scripture) or meaningful and from the heart ("The best man we ever knew," "The song is ended but the melody lingers on") or based on a favorite hobby or passion ("Gone Fishing").
Let's look at each part of the program and get into specific tips.
Front Cover
Inscription ("Celebrating the life of…" or "In Loving Memory")
Name (first, middle, and last name)
Dates (D.O.B. and D.O.D.)
Photo (optional)
Funeral service location (optional; this can also go on the back)
Obituary
You can reprint the newspaper obit here, or write a new version
Details can include birth, upbringing, education, profession, relationships and children
Mention any special achievements or notable accomplishments
Include military service, degrees, and awards
Most importantly, tell their story. What is their legacy? What imprint did they leave on the world? How will did they impact the lives of those they left behind?
Service Order
Most funerals will include about 5-8 of the following elements:
Welcome
Prayer
Hymns
Readings/Scriptures
Funeral sermon
Eulogy
Reflections from friends and family
Open mic
Slide show/video/music
Candle lighting
Special music
Viewing
Recessional
For more information on how to write your funeral order of service, check out our in-depth guide!
Related: The Funeral Process, Explained by a Funeral Director
Acknowledgements & Instructions
Often on the back page, acknowledgements would include a message of thanks to those who helped make the service happen. Sometimes people are thanked by name, other times it is simply "thanks to all who…" It is also appropriate to thank those who came to the service to honor your loved one.
Some funeral programs will list the officiant, eulogy speaker, pallbearers, and singers/musicians. This is optional; but it is nice for those who volunteer their time and effort to be acknowledged.
Include any instructions on the final page as well. This might be an invitation to the graveside service or a reception (or both) following the service. Be sure to note the address for the reception.
Quotes & Prayers
Many people like to include a meaningful, comforting, or inspirational quote. You can write your own sentiment, or use one of these popular funeral quotes:
A life well-lived.
The best is yet to come.
We will treasure you forever in our hearts.
You may be gone from our sight but you are never gone from our hearts.
In the end, it's not the years in your life that matter. It's the life in your years.
The song is ended, but the melody lingers on. – Irving Berlin, composer
No one spread more love in one lifetime.
Those who touch our lives stay in our hearts forever.
He has achieved success who has lived well, laughed often, and loved much. – Bessie Anderson Stanley
May the winds of heaven blow softly and whisper in your ear
How much we love and miss you and wish that you were here
Find more 'In Loving Memory' funeral quotes
For people of faith, a prayer or Scripture verse is appropriate to include, such as:
Precious in the sight of the Lord is the death of his saints. – Psalm 116:15
Father, today we reflect on your works and praise you for your wonderful deeds. Thank you for the life of [name], and may he live on in our hearts even as he now lives so fully in your presence.
He will wipe away every tear from their eyes, and death shall be no more, neither shall there be mourning, nor crying, nor pain anymore, for the former things have passed away. – Revelation 21:4
O Lord, God of all comfort, be honored as we remember the life of our loved one, mourn their passing, and celebrate the hope we have in Jesus.
Well done, good and faithful servant. You have been faithful over a little; I will set you over much. Enter into the joy of your master. – Matthew 25:21
Our Father in heaven, thank you for the time we had here on earth with [name]. Today we celebrate her legacy, and see your hand so richly in her life and faith. Encourage and comfort our hearts as we grieve, remember, and pay tribute to one of your beloved followers.
Whoever believes in me has eternal life. – John 6:47
Find more Scripture verses and prayers for funerals
Funeral Program Examples
Let's take a look at some examples. We have two below: a simple outline, followed by a detailed sample program. Later in the article we will show you a number of attractive templates.
Simple Funeral Program Outline
Front page: "In Loving Memory", name, dates, photo
Inside pages: Obituary, order of service, reception/graveside service info
Back page: Everything else you want to include – participants, thanks, location, etc
Sample Funeral Program Outline
Front:
Celebration of Life
In Loving Memory of
[Photo]
Jane Elizabeth Winters
6/12/1945 – 12/3/2020
Bay Park Church
118 Bay Park Drive
Grover Beach, CA 93433
Inside, Left:
Jane's Story
Jane Elizabeth Monroe was born in Newport, Pennsylvania, on June 12, 1945. Her youth was spent in creativity and outdoor activities, which she would always say inspired her most beloved artwork. After graduating from Newport High in 1962, she worked in an art gallery for several years. It was there that she met and fell in love with Jeffrey Winters, and they were married on May 7, 1966. Several years and three wonderful children (Paul, William, and Mary) later, she began to exhibit the art which would make her renowned. In 1974 the family moved to California for the sunshine and beaches, and have been here ever since, enjoying art, sailing, and fine wine with their many friends.
Inside, Right:
Order of Service
Welcome
Pastor Adrian Fernandez
Prayer
Scripture
Psalm 23
Reflections on Psalm 23
Eulogy
Paul Winters
Jane's Life in Photos
Music: Bach, Cello Suite No. 1 in G Major
Viewing
Closing Prayer
Reception
The Winters family would be honored by your presence at a dessert reception in the Fellowship Hall immediately following the service.
Back:
Thanks
The family would like to thank all those involved in putting this service together, helping with the arrangements, and especially to all who have known and loved Jane while she was with us.
Pallbearers
Paul Winters
William Winters
David Monroe
Andrew Levinson
Walt Engels
Jorge Gomez
Officiant
Pastor Adrian Fernandez
Musicians
Ariel Cortez (Cello)
Meghan Lutz (Piano)
Funeral Director
Alexandar Deskar
Tripp Family Funeral Home
Where can we make funeral programs?
You can create, design, and print funeral programs several different ways.
Online: DIY or Full Service
There are many ways to create or order a funeral program online.
You can order templates that you fill out yourself (we have some free ones for MS Word), or pay a design service to set it up for you.
The trouble with some of these is that the design programs are difficult to use, and when you pay a design service it can be expensive and you still have to put all the work in to explain what you want. However, we have a great solution.
We offer a broad selection of beautiful, modern funeral program templates that you can edit to create a print-ready file in minutes. There's no editing software to download, it's all online. You simply choose your favorite design, fill out each "layer" with name, dates, obituary info, service order, etc.
Once you think it looks good, download the file and you can have it printed locally or do it yourself at home with a nice printer and good quality paper (we use standard printer paper sizes in all our templates).
Local Print Shops
Local print shops may be able help you set up a funeral program. The old-fashioned family-run local printer is getting rare these days, as the chains are taking over. These big-name chains are often busy and not quite as service-oriented. Also their funeral program designs tend to lag behind the times.
However, for people who like to get things done in person, this can be a good option.
At the Funeral Home
Many funeral homes offer funeral program setup, design, and printing services. These often come at a premium, and their designs are all too often out of date.
This is by far the simplest method, since the funeral director is already working with you on planning the service.
Funeral Program Templates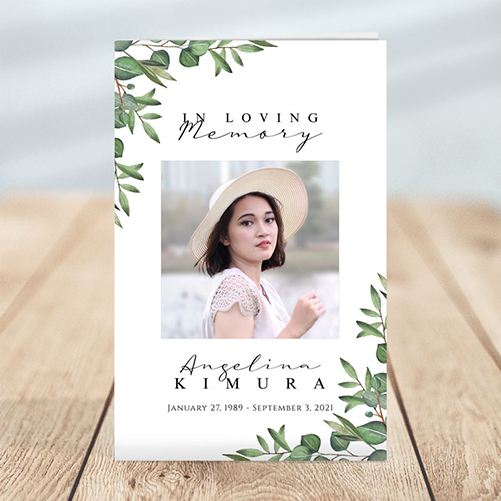 Templates offer a simple, quick, and beautiful way to create the funeral program. Instead of creating everything from scratch yourself or relying on the judgment of the funeral director or some printer, you can choose each and every element you like.
Our funeral program templates use Corjl, an easy-to-use and fully customizable tool that allows you to completely personalize the program. You'll replace the sample text and photo with your own, tweak it until you're happy, then instantly download the print-ready file. So no more waiting – you can have it done in minutes!
Plus, you can try before you buy. Edit the template then purchase once you're happy with it. You can even edit the program from your mobile device!
(Though I personally think editing it from a pc/laptop is a little easier; you have more space to work with than with just your thumbs on a small phone screen. But it's definitely doable if you need to work on it on the go.)
Here are some of our most popular templates.
1. Blue Floral Funeral Program
2. Portrait Photo Funeral Program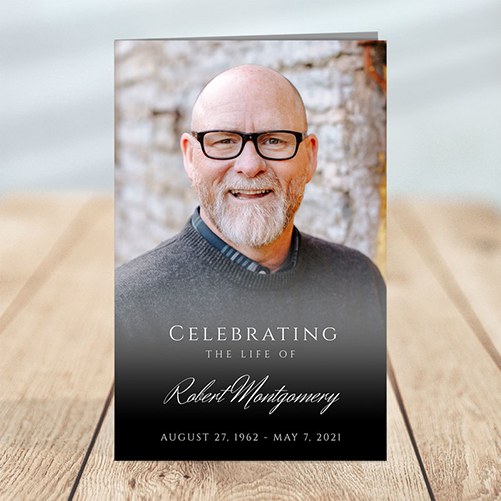 3. Pink Floral Funeral Program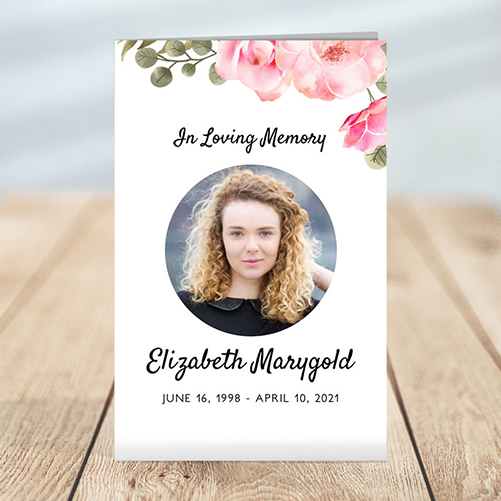 4. Cross & Leaves Funeral Program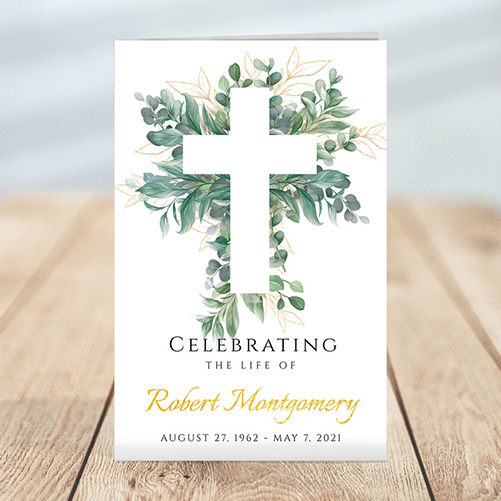 5. Soft Light Funeral Program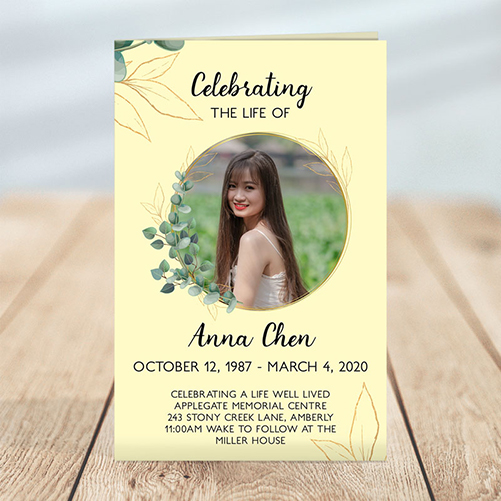 6. Skye Funeral Program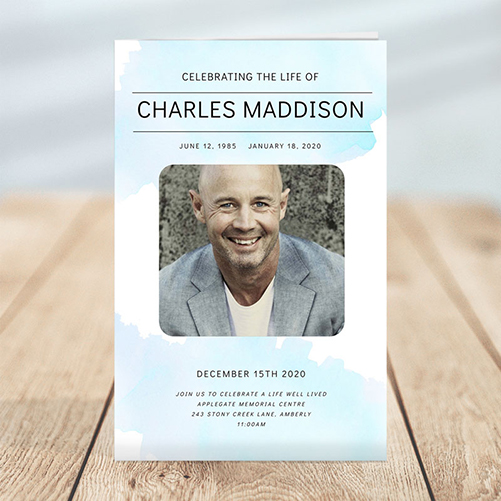 7. Leaves Funeral Program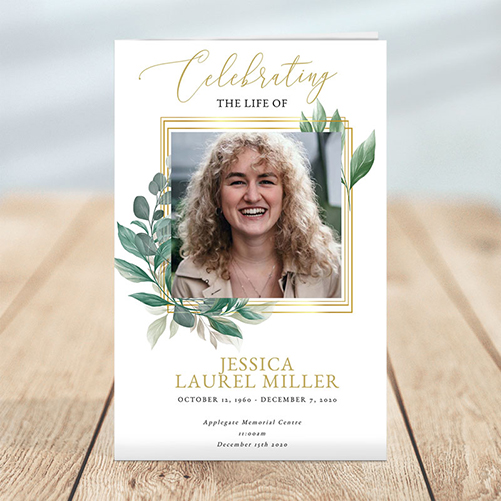 8. Golden Frame Simple One Page Funeral Program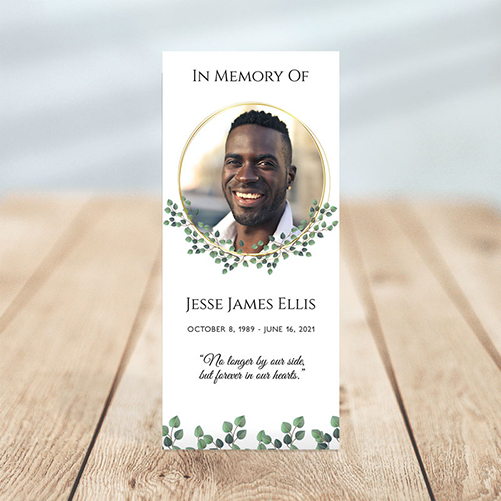 9. Lavender Frame Simple One Page Funeral Program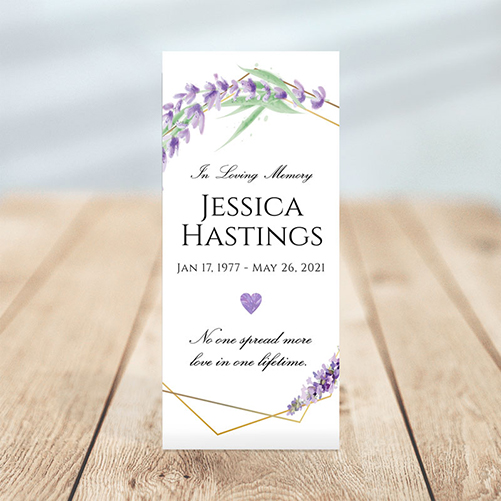 10. Soft Purple Floral Simple One Page Funeral Program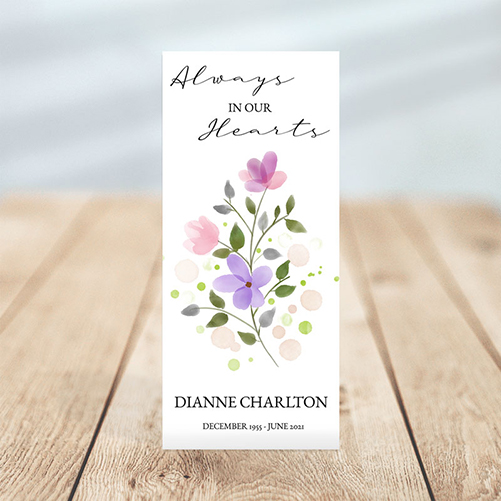 Browse all of our funeral templates here. These include funeral programs, memorial bookmarks, prayer cards, invitation and thank-you cards, photo memory boards, and more. All are gorgeous and easy to edit online, even on a mobile device.
We also have a lovely selection of 100% free templates that you can download and edit using MS Word or other similar word processing programs.
Read next: Best Funeral Program Samples (3 Outlines, 4 Free Templates & More)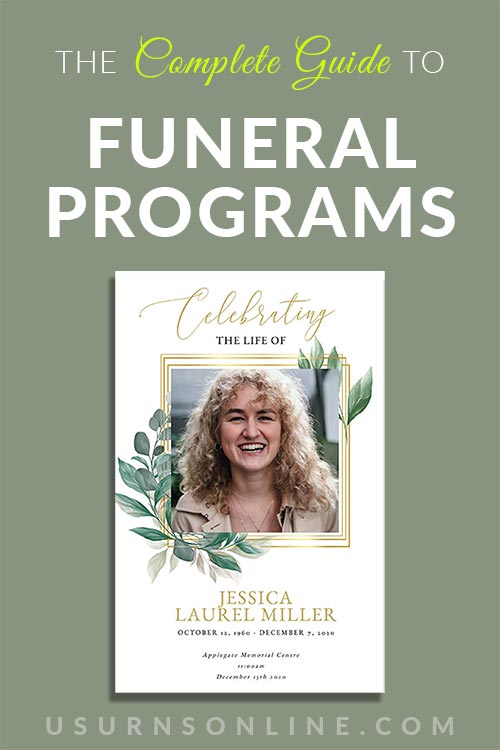 Daniel has been working in the funeral industry since 2010, speaking directly to grieving families as they made funeral arrangements.
He began researching and publishing funeral articles on this website as part of his role as product and marketing manager at Urns Northwest.
Having written hundreds of articles and growing the site to multiple millions of views per year, Daniel continues to write while providing editorial oversight for US Urns Online's content team.