Welcome to our funeral reception planning guide, where we will walk with you step-by-step as you plan (and totally pull off!) a beautiful reception.
If you have been tasked with hosting or planning the funeral reception, you probably have a lot of questions.
How exactly do I plan a funeral reception? What's the first step?
What are some great funeral reception ideas? How can I implement them?
Do I need to serve food at the reception? What are some appropriate menu options?
Where can I plan to have the reception? What are my options?
Today we're going to be answering these questions and more. Our goal is to help you create an event that is both memorable and fitting to the memory of your loved one and who they were in life.
To begin, let's take a look at some reception planning basics.
Funeral Reception Planning Guide
Our website is supported by our users. We sometimes earn a commission when you click through the affiliate links on our website. See our privacy policy & disclosures for more information.
What is a Funeral Reception?
A funeral reception is a special time set aside for family members and friends of the deceased to come together in honor of the decedent, typically with food, and without the formal structure of the funeral service. The aim of the reception is to provide time and space to visit, talk, and remember their loved one and the life they lived.
The decedent's family will often hold the funeral reception immediately following the service. Similar to that of a wedding, a funeral reception is a fairly casual event, especially as compared to the solemnity that usually encompasses the service itself.
Planning a Funeral Reception Step-By-Step
When it comes to planning a funeral reception, it can help to have a "to-do" list on which you can easily check off each task that you've completed.
To make things a little simpler for you, we've gone ahead and made it for you. We've tried to keep a balance between general guidance and exhaustive detail, so feel free to adjust each point as needed.
See below for a free printable funeral reception checklist!
If you need help planning the actually funeral, this funeral planning guide will help you out.
Step 1: Choose the date and time of the reception
More often than not, the reception is held immediately following the funeral or memorial service. But this is by no means a rule. There are plenty of situations that may call for a later or even delayed reception (for example, not everyone would be able to attend who wants to).
More: How Long Are Funeral Services & Receptions?
Step 2: Consider your budget
Are you willing/able to host and feed a large group of people? Can you afford to rent an event hall or private room in a restaurant? Will you have a fully catered meal, hors d'oeuvres, dessert, or a simple potluck?
These choices will affect your budget, and conversely, your budget will limit your options.
More: Ideas for a Memorial Service on a Budget
Step 3: Choose your location
These days, many funeral homes offer to host a reception after a funeral as part of a package, and even have special rooms for such large gatherings.
But if you are planning the reception, you can choose to have it anywhere; there are no set rules as to the location.
You can host it at an event hall, at a church, a park, or even at your house. Or make it special and choose a location that was important to the deceased or their family, such as a favorite restaurant.
Be sure to arrange for tables and chairs. Another important element is the décor; for instance, tablecloths, centerpieces, and perhaps a memorial table.
For more on venues, see the "Venues" section below.
Step 4: Decide what food to serve at the reception
Following the funeral, it's a good idea to provide some refreshments to reception attendees. After all, they (and you) will have just had an emotional experience at the funeral, and that can be draining. Plus, sharing a meal or even just appetizers together is a traditional and very human way to connect with one another.
Depending on the time of day, you may choose to serve a full lunch course, sandwiches, coffee and cookies, or hors d'oeuvres.
See below for more funeral reception food ideas.
Step 5: Send out invitations
…or simply make an announcement for the reception following the funeral. Basically, you want to decide how you will let people know about the reception.
Some people who are hosting a funeral reception choose to mail out invites, send a group text, email blast, or social media post before the funeral takes place. Any of these options can work well if you're wanting to host only a certain group of people, such as immediate family.
On the other hand, if everyone is welcome to the reception, it's easy to include the details with the funeral service invitations. It's also perfectly fine to simply take the mic and let everyone know where to meet once the service is over.
If you'd rather not have to speak in front of everyone, ask the funeral director or officiant to make the announcement for you. They will be more than happy to do so!
Step 6: Plan a thank-you speech
During the reception, be sure to welcome everyone and thank them for coming. You can thank everyone at once (think a short speech), or go around the room and greet everyone. This is really the only formal duty you'll need to fulfill.
It's also a nice gesture to thank the various people involved in putting on the funeral and reception. Sometimes this is done during the funeral service, but if not, the reception is a good place to do it. Be sure to thank the funeral director and staff, the pastor or clergy member who officiated, and any family and friends who volunteered their assistance.
Step 7: Assemble a take-down crew
Get a group of people who are willing to stay afterwards and help clean up. Some venues are truly full-service, but even then you'll have things to wrap up, like flowers, photos and memorabilia from a memorial table, decorations, and so on. Other venues will expect you to leave the room or hall exactly as you found it.
Here are a few things to plan for:
Clear off tables and food trays
Clean up kitchen or food prep area
Wash and return tablecloths
Centerpieces and other decor
Put back or return tables and chairs
Containers for leftover food
Dispose of trash
Vacuum/sweep
Step 8: Plan to rest
Once it's all over, take a breather. You did it! But make sure you plan for your own needs ahead of time, or you could find yourself pushed right back into more "final arrangement" details, support for the grieving family, or a busy work week.
In the midst of your own grief over the loss of your loved one, you have put so much work into planning such a lovely funeral reception to honor their memory. You've taken care of everyone else, now it's time to relax and take care of yourself.
Funeral Reception Checklist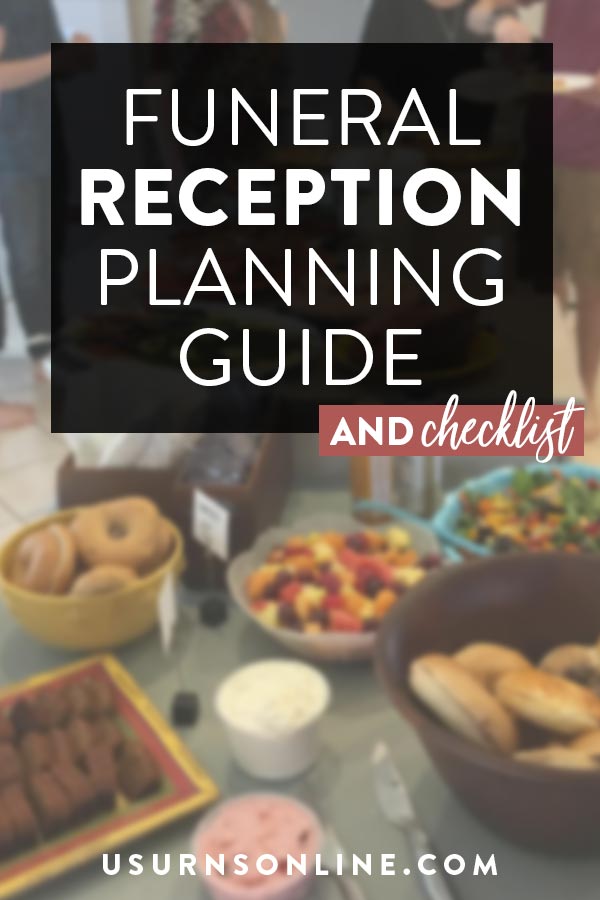 We've distilled the 8-step guide above into a fill-in-the-blank funeral reception checklist. You can easily download and print either version below:
Funeral Reception Ideas
These days, personalization is king when it comes to planning funeral services. It's no different with funeral receptions, either. If you are looking for some unique and memorable ideas for your loved one's reception, all you have to do is look to them for guidance.
What we mean is this: Who were they as a person? What was their personality like? Did they have a serious disposition, or did they crack a joke everywhere and to everyone? Were they witty, sarcastic, sincere, sweet, the kindest person you ever met?
Once you have the answer to these questions, you'll have set the tone for the reception (i.e. serious, humorous) and for any other ideas that you may think of.
Here are some great ideas to help you in planning the personalization aspect of your loved one's reception.
Photos
Set out framed photographs of your loved one in happy, healthy times. Place them on tables as a centerpiece, perhaps along with their favorite flower. Click here for some more photo memorial ideas.
Music
Have some of your loved one's favorite songs playing in the background. Because there is nothing like music to soothe the soul and raise spirits, especially if it's upbeat.
Decor
Decorate the reception venue with tokens of your loved one's life. Did they play baseball? Display their glove, ball, cap, jersey, and any trophies that they may have accumulated. Did they love to quilt? Display some of their completed pieces for all to see and admire.
Funeral Favors
Offer a "goodie bag" for attendees to take home. Fill it with items that represent your loved one's life and personality. For example, if they loved to garden, put some soil pellets and packets of forget-me-nots into the bags. Here are 25 Funeral Favors, Keepsakes, & Giveaways.
Food & Drinks
Serve your loved one's favorite foods and drinks. Were they a hearty soul that loved to have a good time? Be sure to include their favorite spirits on a drink menu. Did they have a "secret" cookie recipe that everyone loved? Serve those cookies! (Or share the recipe in a "goodie bag" as mentioned above.)
Share Memories
Have anyone who wants to share memories they have with the deceased. Pass around a microphone or simply ask if anyone wants to stand and share anything. Since the reception is typically more casual than the actual service, this is often the preferred venue if you're going to do an open mic sharing session.
Send Off
Organize a special "send-off" in your loved one's memory. Ideas include dove, butterfly, or eco-friendly balloon release; fireworks, sparklers, or paper lanterns.
Cremation Urn Display
If your loved one will be cremated, you can choose to display their urn at the reception, just as it was at the funeral…especially if the urn represents their personality.
This is our true area of expertise. If you're looking for a quality permanent funeral urn to keep and protect your loved one's ashes in, check out our collection at Urns Northwest. We have many beautiful, handcrafted urns to choose from, many of which can be personalized.
Related: Creative Memorial Service Ideas
Funeral Reception Food
At a reception following a funeral, it is customary for food to be served, whether that be an entire meal or some simple refreshments. As mentioned above, when it comes to deciding what food to serve at a funeral reception, it helps to think of three main points.
What is your budget,
What time of day will the reception be held (i.e. lunch? late afternoon?) and
What were some of your loved one's favorite foods and drinks, and do you feel that it is appropriate to include them?
If you really want to provide a nice meal for your guests but aren't able to on your own for one reason or another, go with a potluck. Potlucks are traditionally a very popular funeral food option everywhere, and especially so in the south.
For a potluck, everyone brings a main or side dish for all to enjoy. Viola, you now have enough food for everybody without going over budget. As an alternative, everyone can pitch in to pay for catering, perhaps from a deli or restaurant that was one of your loved one's favorites.
Some people also wonder whether or not it's appropriate to serve alcohol following a funeral. The answer is, it depends entirely on the family and their wishes. It can also depend on the circumstances surrounding the deceased's life or death. For instance, were they a recovered alcoholic who'd been celebrating sobriety for several years? Then it may not be prudent to serve any alcohol at the reception.
On the other hand, were they a wine connoisseur who loved nothing more than to enjoy a glass or two of their favorite drink each and every evening? Then by all means, honor them in this way, because they would have loved that.
All-in-all, when deciding on foods and drinks to serve, it really boils down to one simple question: would they have been pleased with your choices? Therein lies your answer.
Funeral Reception Venues
Once more, it's important to consider your budget when deciding on where to host the funeral reception. But other than that, your options are virtually limitless.
It may help to consider some places that were of significance to your loved one and their life. In a similar vein, it can help to think outside the box, as well.
For instance, were they a beloved elementary school teacher, who will always be remembered by students past and present? Ask the school where they taught at if they'd be willing to open up the cafeteria for an afternoon.
Were they the owner of a business, such as a bowling alley? There's a prime venue right there.
Wherever you choose to host your loved one's reception, as long as you are staying true to what they would have wanted, you are on the right path.
Funeral Reception Planning, Your Loved One, and You
As you continue the funeral reception planning for your loved one, you can expect to be very busy. (Oh, and be sure to bookmark this page if you need to for future reference!)
Even so, – or rather, especially so, – remember to be kind to yourself during this time.
You are in mourning just like everyone else is, yet at the same time you're doing something amazing. You're planning their funeral reception, and you know it is all a part of your effort to honor the memory of your loved one. So it will help to remember a few quick points:
Ask for help. Don't be hesitate involve others. Planning any event is stressful, much more so when you're bereaved. So don't think twice about seeking some assistance from a friend or relative if you feel yourself becoming overwhelmed with it all. Plus, everyone wants to help; it's a way to do something in honor of the decedent. So let others help out!
Don't go overboard with anything if it makes you feel stressed. It's perfectly fine to keep things simple.
Give yourself plenty of time to get everything done that you want to accomplish. Just as with the funeral itself, there is most likely less than a week to plan and organize the reception.
Avoid perfectionism. Remember to breathe. Keep in mind that what you're doing is not about you; during the reception, all attention will still be on your loved one and the life they lived. No one is going to notice that tiny detail that you missed (or more likely, that you're just worried that you'll miss).
Thank you for reading! We hope that through this guide we were able to provide you with some valuable information that you can use to your advantage as you plan for your loved one's funeral reception.
Get Your Free Reception Planning Checklist
Don't forget to download or print your funeral reception planning checklist! Available in two formats:
We hope this is a great help to you! Did we miss anything, or do you have any more great planning tips? Let us know in a comment below.
Read Next: What Age Should You Plan Your Funeral?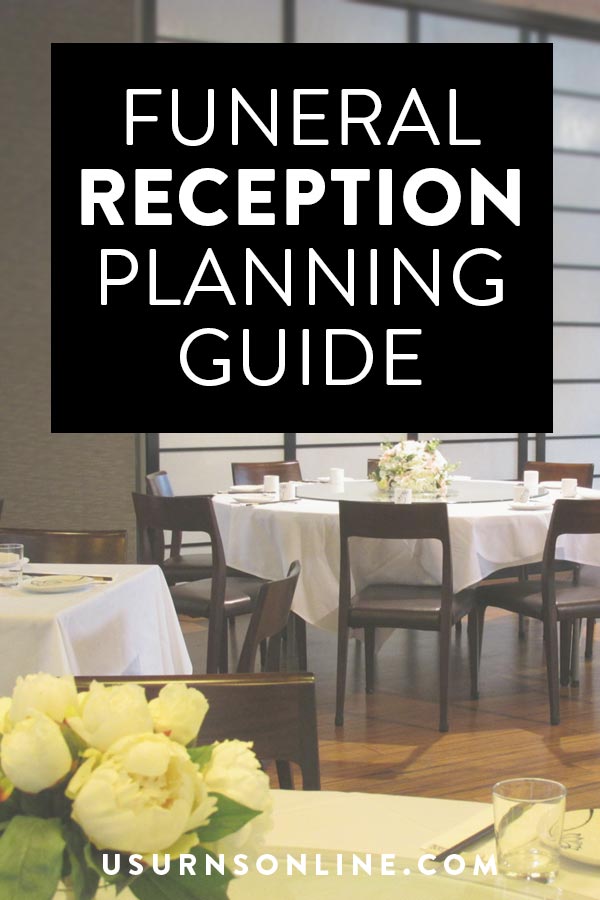 Aubrey is a lifelong writer who has served in the funeral industry since 2016. After graduating from Dallas Institute of Funeral Service, she knew she wanted to continue to serve families through her writing, but didn't know how.
Soon after, Aubrey experienced a "lightbulb" moment and started her eulogy writing business, Eulogies by Aubrey, in 2019.
Aubrey has written professionally since 2012, covering not only funeral-related topics and gift trends, but also for TV guide listings, as well as legal topics. She began writing for US Urns Online in 2019.
Aubrey's work has been featured in Huffpost, Coming of Age Magazine, and 1800Flowers.com. Increasingly interested in prenatal and postpartum mental health, as of 2023 Aubrey is a trained and certified birth and bereavement doula (SBD), and is currently studying toward her degree in Health Science. She also holds additional certifications in Cremation Arrangement (ICCFA) and Burial at Sea (NEBAS).