What is a funeral invitation? Should you send them out in the mail or make phone calls? What about Facebook or an email?
Planning a funeral is stressful and full of questions. If you need help making decisions about funeral invitations, read on to learn what you need to know.
Find out who you can get to help you with this daunting task, and discover the appropriate way to invite people to your loved one's funeral.
What You Need to Know About Funeral Invitations
Now that you have planned the funeral service for your loved one, how will you let everyone know about it?
Some sort of an invitation is appropriate. But how do you do it? Do you have the time to send out individual invitations? Do you invite everyone individually or ask people to pass the information along?
Are you supposed to send funeral invitations?
Printing and mailing funeral cards is one way to invite people to the funeral, but not the only way. Most families use a combination of printed invitations, phone calls, social media, a public death announcement, and the obituary.
Any of these means can be used to get the word out about the funeral. However, as with weddings, a public announcement in the paper, online, or at church is one thing, and an invitation personally sent to you is another.
There is no funeral etiquette rule that requires a printed invitation, and if time or budget constraints prevent you from sending invitations, that's perfectly fine.
But in our view the best practice would include a lovely printed invitation sent to close friends and family members. This is not only a personal invite, but also a memento they can put on the refrigerator to remind them of your loved one.
What is the best way to invite people to the funeral?
Honestly, there is no best way to invite family, friends, and communities to a funeral.
We suggest that it is proper to extend an individual invitation to those closest to the decedent. This could be by mail, phone, or in person. For the younger generation, text might be acceptable but in our view still lacks the "extra effort" and personal touch of a mailed invitation, face-to-face conversation, or real voice/video call.
Often, an invitation to the funeral is done by a phone call. Friends and family will often assist with making these calls. Letting someone else help you will take a load off your already overburdened shoulders.
Again, most families use a combination of methods. Call the very closest loved ones, send invitations to extended family and friends, and have a public announcement for those you might have missed.
Related: How to Write a Death Announcement
Who do you send funeral invitations to?
When you are sending out invitations, it's hard work to decide who should be invited.
You should send funeral invitations to the people your loved one cared about the most. Think about who the deceased would have wanted to be there.
This is not the time to think about your feelings. If you don't like his/her best friend, put your emotions aside. The best friend deserves an invitation. It is the correct thing to do, and you will be glad you did it.
You usually plan funerals in haste, with only a few days to get things done. You may not be able to think about "who" should get invited. Section your loved one's friends into categories.
Work friends
Childhood friends
Church friends
Highschool friends and college friends
Close family
Extended family
Creating lists will help you stay organized at a time when you may not be functioning at your best. Enlist the help of someone that may know more of the people on this list than you know.
Remember to ask for help. Friends and family offer to help you because they care about you. Take them up on it.
How do you invite people to a funeral?
Inviting people to a loved one's funeral is something none of us wants to do. It's a somber occasion, and no one looks forward to hearing from you at a time like this.
There are numerous ways to announce a death and invite friends and family to a funeral or memorial service.
An obituary in a local newspaper – Traditionally, this has been the most popular way to announce and invite people. Obituaries have become extremely expensive, though, so people are looking for other alternatives.
Facebook – Using Facebook is a way to let the masses know about the funeral you are planning. You can also ask people to share it with their friends. This will be the best way to get your invitation out to the most people. You can post the obituary and all of your plans in one place.
Church bulletin – You can have your church print the obituary and funeral information in the bulletin.
Email – Use your email to send out a mass announcement, including the obituary and all service plans. You can even ask people to RSVP if you need a headcount.
Print and mail – If you have the luxury of time, you can print out invitations and mail them through the USPS.
What do you write on a funeral invitation?
We'll have some specific examples below, but a funeral invitation should typically include:
The full name of your loved one. Include nicknames and maiden names.
Date of birth and death.
Place of residence if it differs from the site of death.
Picture of your loved one. Ideally a recent one.
Funeral arrangements. Time and place, along with reception, viewing, wake, and/or committal service information as needed.
How do you keep unwanted guests from showing up at the funeral?
Make it a private service. Unless specified, the implication is that anyone is welcome to attend.
Do not include date or location of the service in the obituary or other death announcement.
Have the guests show their invitation.
Don't announce anything until after the funeral service has taken place.
Funeral Invitation Wording
The invitation serves two purposes. First, it can be the way to break the news that someone has died. Second, you are letting others know about the funeral arrangements so that they can plan to attend.
Below you will find some variations on wording a funeral invitation. These can be adapted for print, email, letter, or social media post.
Sample One – Printed Funeral Invitation
Celebrating the Life of
Sarah Williams
September 12, 1975 – February 24, 2021

Please join us to celebrate a life well lived
11:00am @ Applegate Memorial Gardens
March 6, 2021

Reception to follow
Printed funeral invitations are typically kept brief, and include a photograph of your loved one. Additional information (such as obituary or a personal note) can be printed or hand-written on the back side, or enclosed in a separate sheet of paper.
Sample Two – Funeral with Private Burial
I wanted to share the sad news of Jason's (Obersham) passing. He died peacefully at our home, surrounded by myself and the children. I wish to thank all of your that visited him in the final days of his illness.

Jason's funeral service will be held at Petersen Family Funeral Home, Friday the 17th of February. The viewing will begin at 10:00 am, with the funeral service to follow immediately. The burial will be private.

Petersen Family Funeral Home: 1111 Central St., Fairbanks, AL 32323
Sample Three – Private Funeral with Reception
In loving memory of Jackson Flately who passed away suddenly on February 12, 2021.

Jacson was a much loved husband, father, brother and son.

The funeral will be private. The family requests your presence at their home on February 16, 2021. There will be a celebration in Jackson's honor. Bring your best stories and memories to share! The family will provide food and drinks.

The Flately Family's address: 2222 Saint Ann's Drive, Highland, IN 46565
Sample Four – Funeral with Burial to follow
We are saddened by the passing of Janis Karr, wife of James, mother of Mary, Jon, and Jennifer, and friend to many.

On Saturday, May 27, 2021, the funeral will be held at Longview Funeral home in Belleview. Burial will follow at Belleview Cemetery.
Sample Five – Virtual Memorial Service
It is with a sorrowful heart that we announce the death of James Hobart.

Beloved husband of Loretta, who went to be with the Lord two years ago. I know they are celebrating their reunion. James is the father of Mark (Janice) Hobart and the grandfather of Allison.

Please join us in an online memorial service honoring James's life on February 21, 2021, at 1:00 am CST. The link to the virtual memorial service is: www.virtualserviceforjameshobart.com
Related: Virtual Funerals: 10 Online Memorial Service Ideas
You can include a special message in the invitations. A memorable quote the deceased liked to say, a Scripture, or a meaningful phrase. This helps to make it more personal.
Funeral Invitation Templates
You can find numerous free templates online. Simply download it and place your loved one's information in the appropriate spaces. It is an easy process. You can print these yourself or take them to a professional printer.
Funeral homes offer invitations and programs, but you will have a much larger selection visiting an online store. Here are a few of our favorites.
1. Gold Framed Funeral Invitation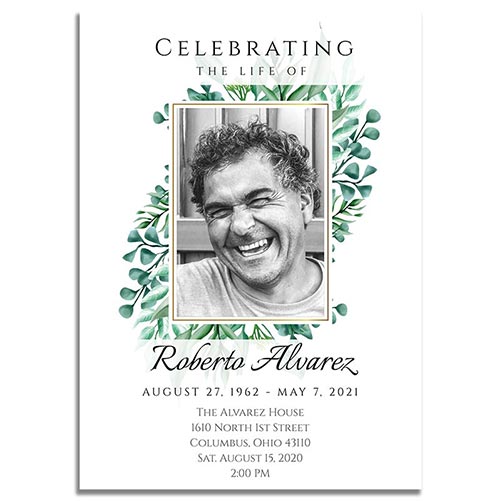 Combine modern style with a timeless sense of class as you send funeral invitations to all your friends and family. This lovely invitation template features a golden photo frame surrounded by eucalyptus leaves.
2. Gentle Florals Celebration of Life Invitation Template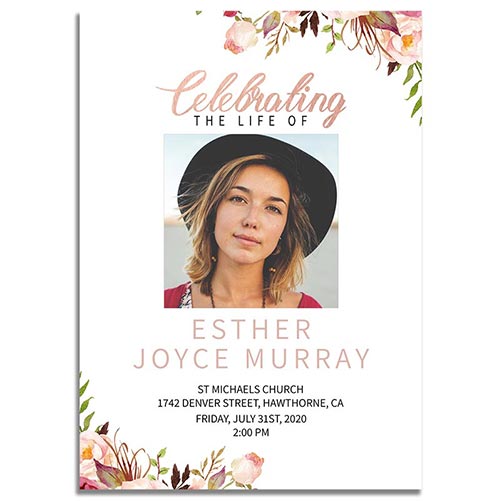 Our funeral invitation template features delicate flowers in soft colors—a perfect invitation to celebrate the life of your loved one.
This invite is fully customizable, so you can easily add her picture and all pertinent information.
3. Deer Creek Service Invitation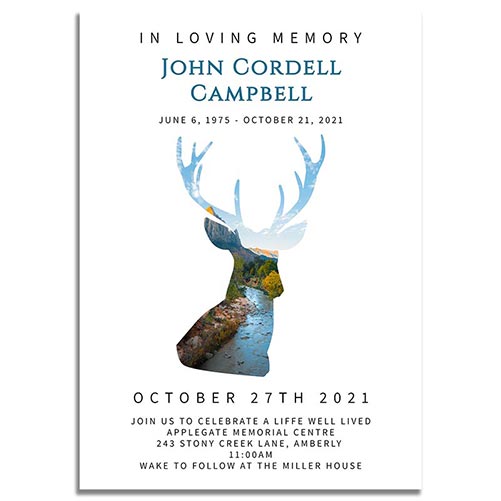 This unique invitation template features a stunning photo of a sun-bathed mountain creek enclosed within the silhouette of a deer. Perfect as a tribute to the outdoor enthusiast or hunter, this design has a minimalist elegance that is sure to appeal to everyone who knew your loved one.
Add a picture and all essential information to complete the invitation.
4. Dusty Fleur Funeral Invitation Template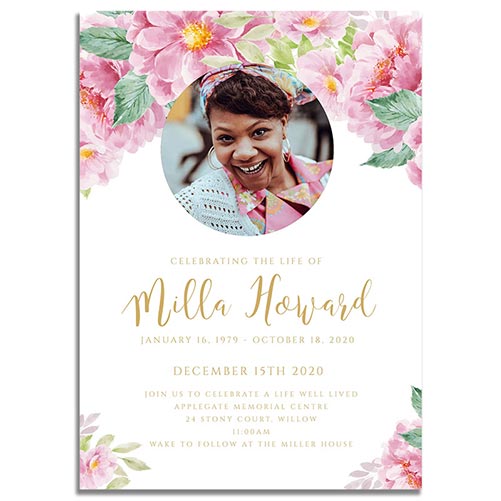 This funeral invitation template commemorates your loved one's life. Decorated with an elegant dusty fleur overlay, it exudes class. It includes space for a photo of your loved one, dates, and more.
5. Gold & Black Geometric Elegance Invitation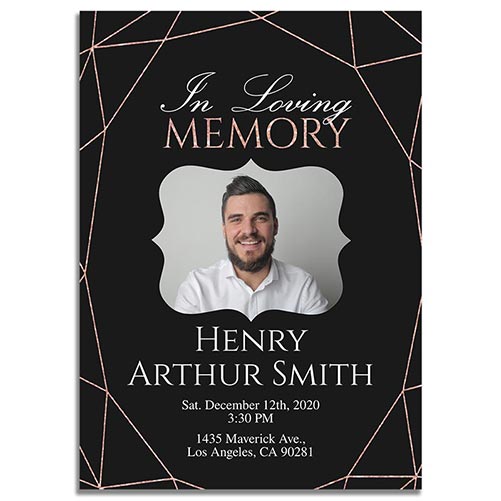 The gold geometric patterns on a black background emit class and confidence – just like the life he lived!
This bold funeral invitation template is a perfect complement to your loved one's life. Add a photo of your loved one, dates, and more.
6. Pink Watercolors Funeral Invitation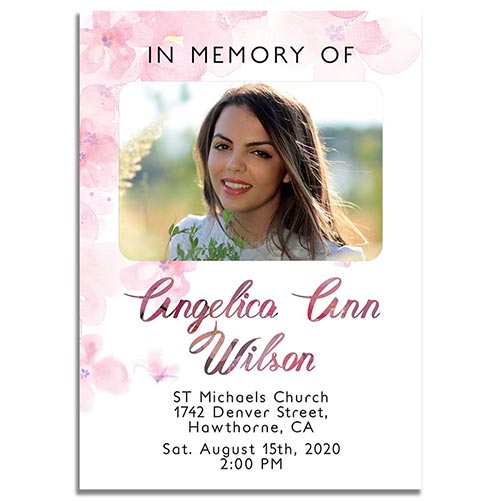 Our pink watercolor template is sweet and delicate just like "she" was. The soft pink petal overlay gives a subtle color to this invitation.
There is ample space to add her name, dates, information, and more.
7. Timeless Green Funeral Invitation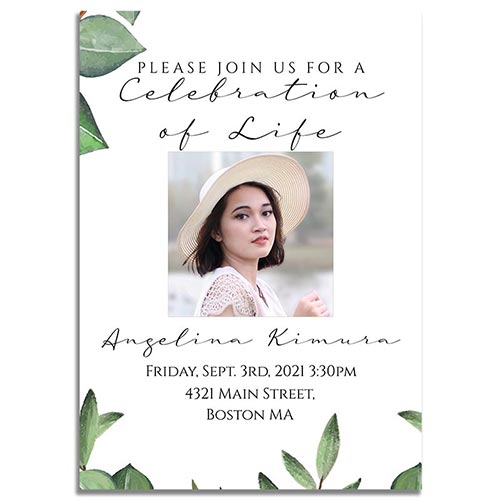 Celebrate your loved one's life with a clean, minimalist look. The green leaf overlays add a small splash of color.
Our funeral invitation template is customizable just for your loved one – add dates, times, address, and a favorite photo.
8. Vintage Floral Framed Invitation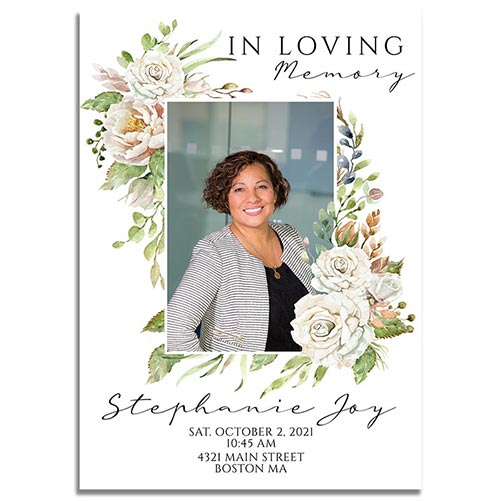 The display of vintage flowers surrounds your loved one's picture, giving an elegant look to this invitation.
Celebrate her life by adding her name, dates, location, and a photo. This template is fully customizable.
9. Serenity Invitation Template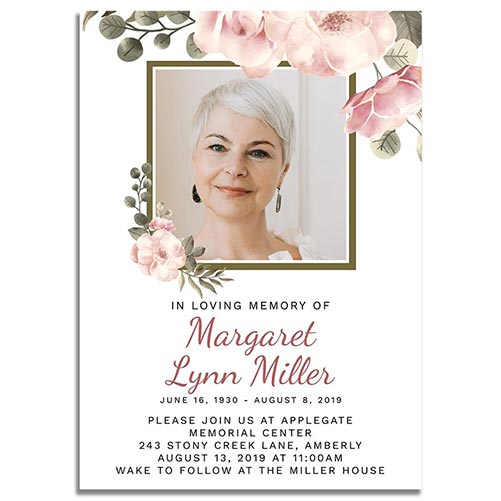 Serenity is the perfect word to describe this pink-hued floral invitation. With a watercolor flower theme that enhances your loved one's photograph, this memorial service invitation template will be seen on every recipient's fridge, desk, or bulletin board as they treasure the memories of your loved one.
10. Vintage Rose Funeral Invitation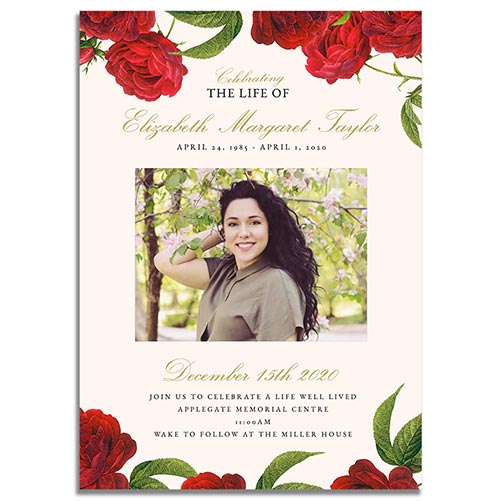 Honor your loved one with this unique, vintage rose funeral invitation. Red roses signify the love you feel for her.
This beautiful invitation has plenty of space for a photo of your loved one, dates, and all other essential information
All invitations are a digital product download. You will be able to edit the template and customize it before finalizing it. You can even try it before you buy it; see here for the Vintage Rose preview, and see each template's product page for a link to try-before-you-buy.
Virtual Memorial Service Invitations
As we are all going through the COVID-19 pandemic, funeral services have had to adapt. Most funeral homes have set their chapels up with cameras. These cameras allow for funeral services to be livestreamed.
Even if there isn't a pandemic, being able to have friends and family from great distances attend virtually is fantastic.
Your funeral director will set up the virtual funeral/memorial service. The director will email you the link for the service. You can email it, put it on Facebook, or send it out on funeral service invitations. It is up to you to get this link to your family.
Now that you have read about funeral invitations, you have learned some ways of announcing your loved one's death and inviting your friends, family, loved ones and acquaintances.
Read more: Virtual Funerals: 10 Safe Memorial Ideas for COVID-19
How to Respond to a Funeral Invitation
If you've received an invitation to a funeral, memorial service, or celebration of life, it will have RSVP instructions if a response is required. However, if the invite does not say RSVP, then you are welcome to come without any further reply.
If you cannot attend the funeral, you may want to send your condolences along with an "unable to attend" message. The best way is to write a brief letter or card; see the previous link for ideas and examples along with additional etiquette tips.
Read Next: 101 Condolence Messages
Pin It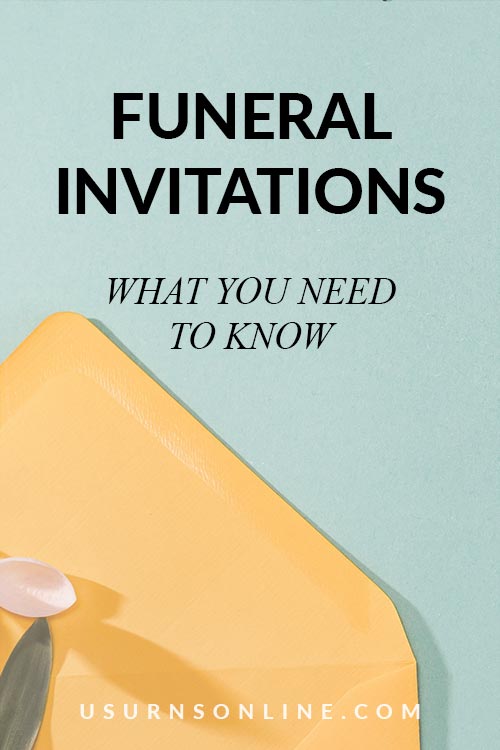 Karen Roldan has been in the funeral industry since 2006, and a licensed funeral director and embalmer since 2008. She is currently licensed in the states of Indiana and Pennsylvania.
She attended Worsham College of Mortuary Science in Wheeling, IL, and graduated with an associate degree in Mortuary Science.
Karen enjoys wring about the funeral industry because her passion is helping families in their deepest time of need. She feels being a funeral director is a calling and she is proud to fulfill this role.
Karen is a wife and the mother of four sons. She, her husband and their youngest son call Pennsylvania home.