Are you wondering about the use of essential oils for grief? Here is some information on how aromatherapy can help you grieve.
Essentials Oils & Aromatherapy
Essential oils are a beautiful aid to the body's physical and emotional healing during grief. The grieving process is physically tough, and you are wise to help yourself find small measures of comfort and relief through aromatherapy.
Aromatherapy is the process of diffusing essential oils into the air. This has proven physical and emotional benefits which can help relieve stress, fight depression, increase energy, strengthen the immune system, reduce bodily pain, and more.
In this article we address essential oils for grief using aromatherapy, plus other methods of applying essential oils. We talk about which oils and blends to use, how to use them, and which brands are best and most reliable.
If you are a friend looking for ways to help, consider using this guide to create an aromatherapy and essential oil care package and dropping it off with a kind note.
Our website is supported by our users. We sometimes earn a commission when you click through the affiliate links on our website. See our privacy policy & disclosures for more information.
Essential Oils for Grief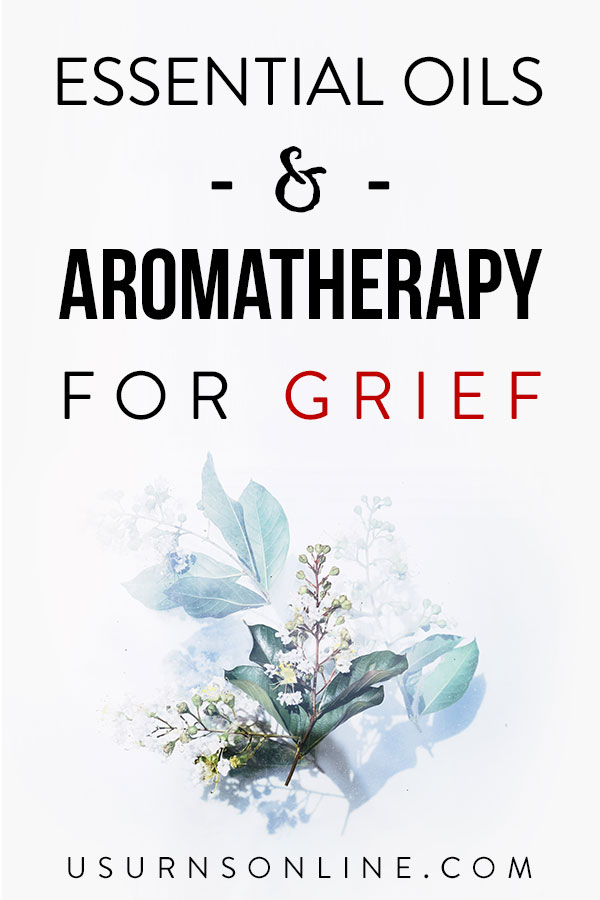 Essential oils are not a cure-all and are certainly not a substitute for appropriate grief and grief counseling. However, these natural oils can help provide relief and succor to the mind and body in distress.
Because the cost and setup effort and low and the benefits, though mild, are widely recognized, aromatherapy can be used safely and effectively to help you throughout the grieving process.
Keep in mind that none of the claims about essential oil benefits have been evaluated by the FDA. Below, all the statements about the benefits of essential oils are not proven or affirmed by some sort of governing body. That's why we try to say "can" rather than "will" and "helps/aids with" rather than "cures."
With this in mind, many individuals say from their own personal experience that essential oils can be very helpful with grief, stress relief, calming irritations, easing anxiety, improving overall mind and body health, and so on. So use your judgment, do the research, and try it out to see if it works for you.
Overview
What aromatherapy does & does not do for grief

Best essential oil brands

Jade Bloom (best quality + value)

doTERRA (best premium brand)

Healing Solutions (best low-cost brand)

Soothing essential oils for grief aromatherapy

Chamomile

Frankincense

Lavender

Melissa

Neroli

Rose

Other essential oils for grief

Essential oil blends for grief

Ways to use essential oils

Inhale

Steam

Self-massage

Massage

Bath

Air diffuser

Types of diffusers

Lava rock beads

Misting diffusers

Reed diffusers

Car diffusers
What Aromatherapy Does & Does Not Do For Grief
Using essential oils for grief can help in several ways, depending on the specific oils (which we detail below) and how you use them. Here are some things that essential oil aromatherapy can do to help with grief:
Eases tension
Helps with anxiety
Relieves stress
Provides a sense of calm
Soothes
Aids with sleep
Helps with depression
Helps reduce the shock of trauma
Boosts immune system
Removes toxins
Reduces inflammation and irritations
In all these things, the essential oils help aid the natural recovery and healing systems within your body and mind. But, despite how much some advocates may enthusiastically proclaim their benefits, essential oil aromatherapy does not:
Cure or fix everything
Bypass the need for a healthy grieving process
Alter the need for counseling and/or companionship
Change wrong or harmful thought patterns
Override unhealthy food and exercise choices
Take the place of medication when neccessary
With this overview in mind, we can take a look at the best essential oil brands, some specific oils, and how to use them.
Before we do so, please note that we recommend several products throughout this article that are either our own or our affiliates. This means that, should you purchase something on our recommendation, we will probably be compensated (at no cost to you) for it. We hope this is helpful.
Best Essential Oil Brands
It is not too difficult to find a well-reviewed essential oil; however, there are quite a few brands and some can vary in quality and therefore effectiveness.
Most of the oils you find at a low-to-mid-range price point will be fine, the main thing to keep in mind is how they are sourcing the plants from which the essential oils are derived. Look for a brand that is involved in the growing process, committed to proper extraction techniques, and subject to high testing standards.
We have combed through the reviews and tested many essential oil brands ourselves to bring you the top choices in price and quality. Due to a variety of health and other reasons, my wife makes her own skincare and makeup products. She has even sold them on occasion. After years of trying out many brands and oils, most of the recommendations below come from her experience, research, and expertise.
OVERALL BEST ESSENTIAL OIL BRAND: Jade Bloom
Taking top marks for premium quality that compares to the "big two" of doTERRA and Young Living, the oils from Jade Bloom come in at about half the price.
Their oils are 100% pure therapeutic grade. Each batch is individually tested with "GC/MS" (chromatography-mass spectrometry) testing. They document much of the sourcing, distilling, and bottling process for their oils on their website, which inspires confidence in their overall quality.
With free shipping and no weird multi-level marketing scheme or subscription signup needed, Jade Bloom brings top notch customer service and occasional little bonuses with your purchases. (We've received discounts and free products/samples with an order at various times, depending on what promotions they are running.)
Lastly, their customer reviews are positive, and this is our go-to brand which combines top quality with a very reasonable price point.
As a full disclosure, we are members of Jade Bloom's affiliate program so we may get a commission if you order on our recommendation. We also get commissions from the other brands we feature, but we recommend Jade Bloom as the top overall and want to be clear about it up front. Like I mentioned above, my wife has made her own skincare products and has put the time and effort into finding the best oils for all skin and body types. Jade Bloom gets top marks regardless.
Highlights: Top-level quality, sourced and produced the right way, with a solid lower-mid-range price point and consistently favorable reviews.
PREMIUM ESSENTIAL OIL BRAND: doTERRA
doTERRA is perhaps the most well-known "name brand" for essential oils. Similar in quality and potency as Jade Bloom (enthusiasts would say more so, but in our experience the brands with the best products seem to be fairly comparable), doTERRA has grown leaps and bounds with an effective multi-level marketing (MLM) structure.
The MLM thing means that you sign up, pay the membership fee ($35 at the time of this post), and can then get your products at a discounted rate (25% off). You can subscribe to automatically reorder and earn points for free stuff, and you can also sell to or refer your friends for more rewards.
If you do not sign up for the doTERRA membership program, you can still purchase their oils but it will be at full retail pricing, which is pretty spendy. However, the quality, trust, and name recognition are enough that many people happily pay full retail price or sign up for a membership, making doTERRA one of the leading essential oil brands on the market today.
Highlights: Top-level quality, sourced and produced the right way, with brand name power and a premium price tag.
BEST LOW-COST ESSENTIAL OIL BRAND: Healing Solutions
There are several fairly good quality competitors in the low-cost essential oil market. The ones you want to avoid for sure are those with prices that are too-good-to-be-true…. because they are. Typically the low-cost brands keep their prices down by skipping one or more of the quality control standards done by the premium brands. So it is a trade-off; if you want a lower price point, you get a little less certainty in the quality of the product.
But that does not mean that all low cost brands are low quality. Enter Healing Solutions, a small company that does not do any sort of MLM scheme or membership, offers their products at a competitively low price, and yet still produces good quality in their essential oils.
Their essential oils come with a money-back quality guarantee, and their kosher distillation facilities are certified by the GMP and FDA. They publish the results of GCMS testing on their website, however the testing is done in-house and not by a third party. This isn't necessarily a bad thing, it is just one of the ways that they keep their expenses down.
The other ways that Healing Solutions keeps their costs down are by relying on third-parties for the ingredients and extraction. This means that they cannot boast of a "seed to seal" process that the premium brands advertise. By not having full control over all aspects of the plants and production process, their essential oils may be prone to ups and downs in overall quality. I guess this is the price you pay for the price you pay.
Also, they will dilute some of the more expensive oils with Jojoba in order to bring the cost down. This is clearly labeled; typically it is 30% pure essential oil mixed with 70% pure Jojoba. While Jojoba has its own benefits, mixing or diluting causes you to get less benefit directly from the chosen oil.
Overall, the verdict is very solid. Healing Solutions is a reliable and affordable source for your essential oils.
Highlights: Very good quality, low price point and very positive reviews. They keep their costs down by outsourcing some of the production, which means they have no "seed to seal" control over the whole process, and while their test results are good and publicly available they only do the tests in-house rather than through a third party. Some of the more expensive oils are only available mixed with Jojoba oil, which keeps the price in the $10-20 range.
Soothing Essential Oils for Grief Aromatherapy
Here are six calming, soothing, and healing essential oils to use during a time of grief and mourning.
Chamomile
Frankincense
Lavender
Melissa
Neroli
Rose
Let's take a closer look at the healing properties and effects of each. We will also list where you can purchase each variety from our top three brands – Best Overall (Jade Bloom), Best Premium (doTERRA), and Best Low-Cost (Healing Solutions).
CHAMOMILE
You will find both Roman and German Chamomile essential oils on the market. Roman chamomile comes from Chamaemelum nobile, while German chamomile is taken from Chamomilla recutita. Both provide similar benefits, there is simply a mild difference in the plants from which they are derived.
These benefits include stress relief, calming of the central nervous system, sedative effects, help with anxiety and depression, and aids in soothing irritation and anger. All of these are beneficial for use during a time of grief and loss.
In addition, to improve your overall health chamomile contains antioxidants, helps reduce inflammation, relieves indigestion, and promotes healthy skin.
Get Chamomile Essential Oil:
FRANKINCENSE
Frankincense is often used in centering rituals to help promote a feeling of calmness. It helps reduce stress by soothing the overwhelming thoughts and negative emotions that try to take over.
At the same time, it helps promote productive introspection and has many additional benefits like boosting your immune system and aiding a right balance of hormones.
Get Frankincense Essential Oil:
LAVENDER
Lavender essential oil is primarily calming, and can even help induce sleep. It helps relieve pain, stress, and anxiety while aiding with digestion and boosting the immune system.
Other health benefits include improved brain function and blood circulation, help with acne and eczema, and even can be used as an insect repellent.
Get Lavender Essential Oil:
MELISSA
Also sometimes known as lemon-balm oil, melissa has a fragrant lemony smell. Benefits include mood lifting, antidepressant properties, lowering the blood pressure, soothing inflammation, and help with nervous system disorders.
For grief, melissa essential oil is used to help provide a calming sedative effect, especially when dealing with shock or trauma.
Get Melissa Essential Oil:
Healing Solutions does not offer Melissa at this time, however, check out their "Love & Peace" blend below
NEROLI
Derived from the juice of the Seville orange, neroli has a bright citrus scent and is favored as an essential oil for relieving chronic depression.
The same sedative properties that help with depression also can provide relief from anxiety, anger, stress, inflammation, and other physical irritations.
Get Neroli Essential Oil:
ROSE
Rose essential oil has antidepressant properties, and helps to relieve anxiety and stress. Also known as Rose Absolute, the oil has many physical benefits that help with inflammation, toxicity, excessive bleeding from menstruation, and overall liver health.
While Rose oil can be very soothing, it is also very potent so you may want to be careful with it especially during the initial stages of grief.
Get Rose Essential Oil:
Other Essential Oils for Grief
The six options listed above are certainly not the only essential oils used for grief. Here is a brief list of more oils to consider trying out for help when working through grief and loss:
Bergamot
Cedarwood
Cinnamon bark
Cypress
Geranium
Helichrysum italicum
Kunzea
Laurel leaf
Lemon
Marjoram
Palmarosa
Patchouli
Rosemary
Sandalwood
Vetiver
Essential Oil Blends for Grief
Instead of purchasing each essential oil individually, you can often find helpful and effective blends that combine several different oils. These essential oil blends are recommended for use during a time of mourning.
Going with a blend can be a good way to introduce yourself to essential oils. These are especially cost-effective, since you do not need to purchase multiple singles and they often include smaller amounts of the more expensive oils.
Another advantage of a blend is that you can rest assured knowing the oils work well together. Some oils mix better or work more effectively with others, and some types do not mix well at all. There is a lot of research and experience that goes in to mixing essential oils, so if you are new to essential oil aromatherapy it might be best to go with a blend chosen by the experts. Here are five.
1. JADE BLOOM LOVE & PEACE BLEND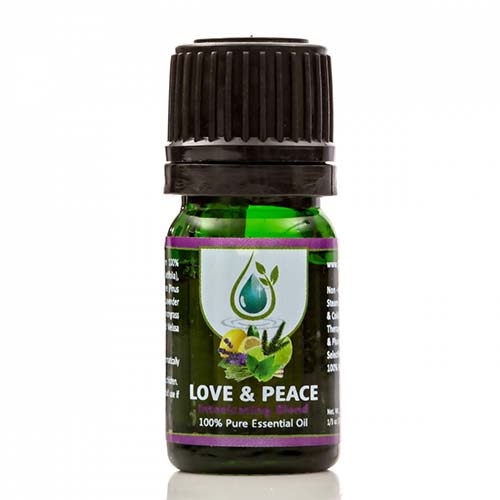 The Love & Peace blend is designed to help relax the body while relieving the mind. With the bright citrus tones combined with a hint of earthy pine and lavender, this is a potent and cheery aroma. The aim is to soothe your stress and anxiety, replacing it with a calming yet quietly invigorating sense of sunshine.
Ingredients are Lime, Lemon, Pine, Kashmir Lavender, Lemongrass, and Melissa. Each of these are 100% pure therapeutic-grade essential oils made in-house by Jade Bloom. Lavender and Melissa are particularly recommended for grief (see our comments on specific oils above), as are Lime and Lemon for their brightly cheerful citrus scents.
2. JADE BLOOM WELL BEING BLEND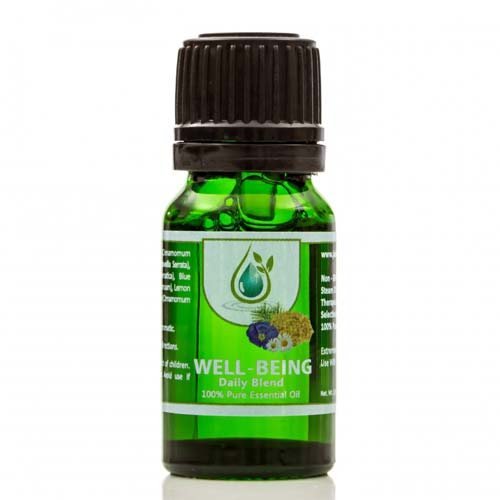 The Well Being essential oil blend features frankincense and lemon along with a subtle variety of more obscure oils (Ho wood, ravensara, blue tansy flower, and camphor) to stir up emotional courage, bodily strength, and mental self-esteem. This is a good blend to aid you in fighting against the I-just-can't-do-it-anymore feeling of weariness.
We have talked about frankincense and grief above and briefly mentioned lemon. Ho wood and blue tansy flower both work to promote a calm and positive mood. Ravensara reduces pain, inflammation, and depression. Camphor also helps reduce inflammation while relaxing the nerves and brain.
All together, the essential oils in this blend have a positive and therapeutic effect that helps calm the nerves while invigorating the body. These are beneficial to your, ahem, "well-being" in your experience of grief over the loss of a loved one.
3. doTERRA CONSOLE COMFORTING BLEND
A premium entry in the calming essential oil blends for grief, doTERRA's Comforting Blend has an earthy scent highlighted by the patchouli oil. Ingredients include frankincense, patchouli, ylang ylang, labdanum, amyris, sandalwood, rose, and osmanthus.
We again see frankincense as a primary oil in providing a sense of soothing comfort. Rose and sandalwood are also ideal for addressing the effects of grief.
In addition to those standards, ylang ylang serves as a mood lifter that also increases blood flow and helps regulate your heartbeat. Labdanum has a calming function that aids in stress relief. Amyris helps you relax while relieving tension, and osmanthus addresses fatigue, stress, and depression. Patchouli oil helps relieve depression and inflammation.
Together the oils in this blend offer a powerfully soothing sense of comfort, with patchouli as the dominant aroma. If you do not enjoy that dynamic and earthy scent, you may want to avoid it. But if you do like patchouli, this is a great blend for you.
4. HEALING SOLUTIONS CALM BODY, CALM MIND BLEND
The Calm Body, Calm Mind blend from Healing Solutions features sweet marjoram, Roman chamomile, ylang ylang, sandalwood, vanilla, and French lavender. A very flowery scent with a touch of sweetness, the oil is very strong and it is recommended to use just a few drops at a time. This means that, not only is this a very affordable yet powerful blend by itself, it will also last a very long time.
Since we described the benefits of chamomile, ylang ylang, sandalwood, and lavender essential oils for grief in the sections above, we won't go into detail again here. All are ideal oils for addressing a range of issues like stress, anxiety, depression, and tension.
Marjoram is also a stress-reducer which is known to help with headaches and is often used to address shock and trauma. Vanilla has antioxidant and sedative properties, and helps improve moods and fight depression.
Taken together, the essential oils in this blend produce a strong aroma with a very calming effect.
Two more helpful products from Healing Solutions are the Relaxation and Stress Relief blends. Relaxation has many similar ingredients to the Calm Body one, while the Stress Relief blend has very different oils. If you want to try out a few blends to see what works best, Healing Solutions are so inexpensive that you can easily try out a variety at a very reasonable cost.
5. BAREFUT ANXIETY ETERNITY BLEND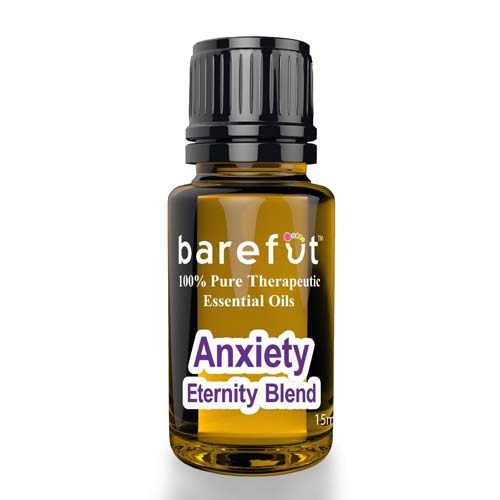 The handful of essential oil brands that we have mentioned are not the only good ones out there. Barefut is another small brand that produces high-quality oils and blends are very competitive prices.
Their Anxiety Eternity blend is a mix of bergamot, frankincense, lavender and ylang ylang. Bergamot is derived from a citrus fruit, and its benefits include pain relief, improved blood circulation, and relaxation properties. Each of the other three oils are well-covered in our comments above.
Overall, this blend is ideal to help address anxiety, worry, and stress by aromatic means, promoting relaxation with strong notes of lavender and a hint of bright citrus.
Ways to Use Essential Oils for Grief
Inhale: Rub 1-2 drops into the palm of your hands, cup them together over your mouth and nose, and inhale deeply 2-3 times.
Steam: Boil 2-3 cups of water, remove from stove and pour into a bowl. Add 2-5 drops, get close (about 12″ is good) and cover your head and the bowl with a towel to keep the steam inside. Inhale slowly. Stop right away if you feel dizzy or discomfort in any way.
Self-Massage: Work 1-2 drops into your temples, wrists, back of neck, undersides of feet, or other areas of stress.
Massage: Have a professional masseuse, a close friend, or a family member give you a massage and apply 1-2 drops every few minutes or so.
Bath: Add 2-4 drops into your bath and soak. Can be combined with bath salts.
Air Diffuser: There are several types of diffusers, this one is exceptionally popular, well-reviewed, and affordable. My family uses that diffuser often and I recommend it for effectiveness, ease of use, and affordability. Fill the diffuser with water, add a few drops of essential oil, and turn it on.
Aromatherapy Diffusers
Here are some more options for diffusing essential oils. The lava rock jewelry option gives direct contact with your skin and applies the oil directly to your body throughout the day, making it a subtle yet effective option. We also explore popular misting diffusers for the home and for your vehicle.
NECKLACES WITH LAVA ROCK DIFFUSER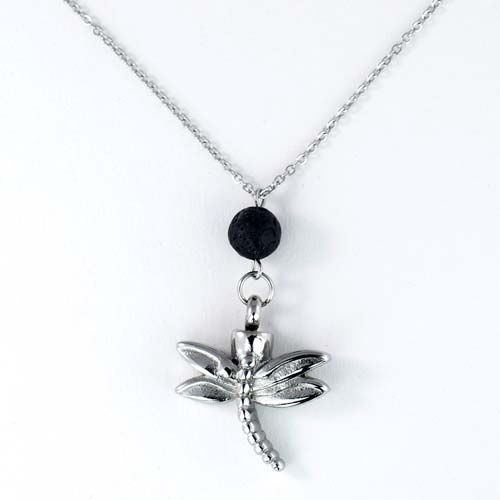 These Urns Northwest originals are not only lovely memorial jewelry pieces but also an effective way to use aromatherapy throughout the day.
Each necklace includes a lava rock bead and a beautiful pendant. The pendant can hold a special keepsake like a lock of hair, cremation remains, dirt from your land, sand from a special beach trip, etc. (Learn more about cremation jewelry and how to use it here.)
Pictured above we show the Dragonfly pendant. The pendant helps keep your loved one "close to your heart," as they say. In addition to the dragonfly we also have a Dove pendant and a Cross pendant.
At the same time, the lava bead is used to apply essential oils directly to your skin, diffusing lightly as the day progresses.
To use this or any other diffusing beads, simply place a drop or two of your chosen essential oil onto the bead. The porous composition of the lava rock retains the oils, which then slowly rub off onto your body as you go about your daily life. This is a mild yet effective way to diffuse essential oils to help with grief. At the same time, with a beautiful memorial necklace you honor your loved one in a very unique and special way.
MISTING DIFFUSERS
URPOWER BASIC AROMATHERAPY DIFFUSER
This popular essential oil diffuser is ideal for grief aromatherapy. Simple, effective, and affordable. This is the one our family uses for help with autoimmune disorders and sensory processing disorders, and we highly recommend it. Simply fill the base with the essential oil blend of your choice and turn it on for a pleasing mist.
URPOWER WOOD GRAIN AROMATHERAPY DIFFUSER
The same brand and mist-diffusing technology as the first one, but with a lovely dark wood grain finish. Modern, convenient, and easy to use. All you need is a standard household plug, water, and the chosen essential oil.
REED DIFFUSERS
DIY REED DIFFUSER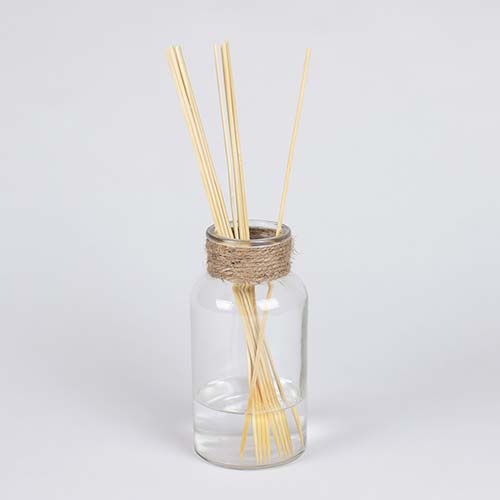 You can easily make your own reed diffusing method with a glass jar, bamboo skewers, rubbing alcohol, and distilled water. Here is a tutorial that will run you less than four dollars.
Create a mixture of distilled water, alcohol, and essential oils. The oils then travel up the reeds or sticks and evaporate – diffuse – into the air. Very simple, yet effective.
You can also purchase these online or at many department stores, usually with a branded essential oil scent. It is typically cheaper and more direct to make your own reed diffuser and choose your own essential oils.
CAR DIFFUSER
Use these cute little automobile diffusers to get a little aromatherapy action while you drive. They clip on to the air vents, which push a breeze through the diffuser frame, dispensing the oils you drip into felt pads. Includes 12 pads. As a bonus these double as air fresheners, a great way to keep your car smelling nice and fresh.
MORE NECKLACES
We really think that our aromatherapy necklaces are a wonderful way to use essential oils to help with grief and promote the overall health of your mind and body. Especially because these work with direct contact to your skin, which is one of the most effective ways to use essential oils.
In addition to the direct contact, you also get the benefits of slow diffusion throughout the day. And lastly, you have a lovely memorial that honors the memory of your loved one.
Here are a few more necklace designs. Click the link to see more information or to purchase.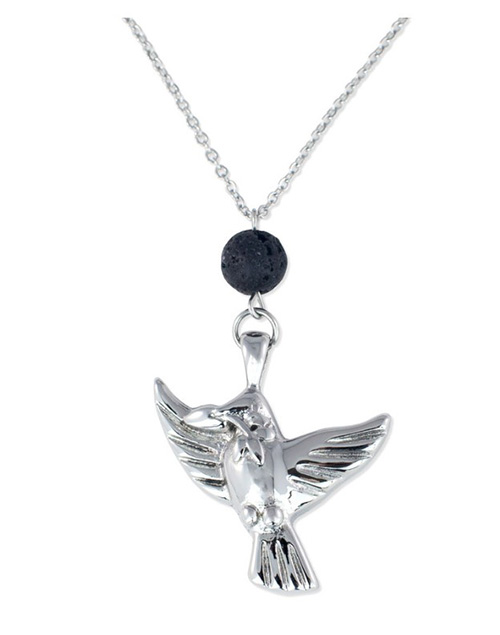 Daniel has been working in the funeral industry since 2010, speaking directly to grieving families as they made funeral arrangements.
He began researching and publishing funeral articles on this website as part of his role as product and marketing manager at Urns Northwest.
Having written hundreds of articles and growing the site to multiple millions of views per year, Daniel continues to write while providing editorial oversight for US Urns Online's content team.