Willow Tree figurines are incredibly popular carved wooden figures designed by artist Susan Lordi. Each original design is hand-carved by the artist in a simple yet captivating style that has become a modern classic. The Willow Tree figures are highly collectible and are often given to newlyweds, new parents, as Christmas gifts, and as bereavement or sympathy gifts.
Here are the 10 best Willow Tree figurines for giving as a memorial or sympathy gift. Selected according to both popularity and the intent of the design, these will serve a thoughtful, affordable, and heartwarming memorials that honor a departed loved one.
10 Best Willow Tree Bereavement Gifts
Our website is supported by our users. We sometimes earn a commission when you click through the affiliate links on our website. See our privacy policy & disclosures for more information.
1. Remembrance: Overall Top Pick
The Remembrance figurine is incredibly popular, and for very good reason. The simple sweetness captured in the carving can be viewed in different ways at different times. This means that the recipient of this memorial gift can see, in turns, tender grief, fond memories, heartfelt loss, and perhaps a gentle hope for the future, all in this simple figurine.
2. Forget-Me-Not: To Send to a Faraway Friend
Forget-Me-Not flowers are known to signify faithful love, memories, and remembrance. This makes the Forget Me Not Willow Tree a lovely and meaningful bereavement gift to send to a far-off friend or family member. A beautiful way to let them know that they are in your hearts, thoughts, and prayers.
3. Chrysalis: For Your Bestie/Sister
The Chrysalis figurine perfectly captures what it means to care for one another in true friendship. Ideal as a memorial gift for your bestie or a close sister who has lost a loved one. For happier times, there is also the My Sister My Friend figurine.
4. Promise: For Your Spouse
This is the one to give to your spouse when they are grieving the loss of a loved one or suffering in a season of trials, as a special token of your love.
Gents, take note: your wife will truly appreciate the gesture and it will remain a meaningful keepsake for a long time to come. It's a great way to tactfully honor the life of a departed friend or family member while at the same time showing that you are there for your spouse.
Alternatively, this is also ideal to give to a grieving friend who has lost their spouse. A beautiful reminder of the love they shared.
5. Angel of Prayer: For a Believer
The Angel of Prayer represents the faithful believer on her knees, heart lifted up in prayer on behalf of a departed loved one. A treasured memorial gift for a religious friend or family member, and a peaceful reminder to continually pray for our loved ones.
6. Angel of Friendship: For Loss of a Pet (Dog)
The Angel of Friendship is perfect for giving to a girlfriend or young one after the loss of the special family friend. There is also a similar version available for young boys called the "Angel of Comfort."
7. Kindness: For Loss of a Pet (Cat)
The Kindness Willow Tree figurine shows a young girl gently cradling a pet cat. This is the pet bereavement gift of choice for friends or family who have lost a cat. Also available in similar style with a cat and young boy.
8. Close to Me: For Loss of a Child
A mother holds her little one "Close to Me" in a beautifully carved representation of a mother's love for her child.
Related: 15 Compassionate Gifts for Grieving Moms
9. Anniversary: For the Loss of a Parent
Anniversary is a comforting carved figurine to give as a memorial or bereavement gift after the loss of a beloved parent. A heartfelt reminder of the life and love they shared.
Related: Learn about how people observe and commemorate the death anniversary of their loved ones.
10. With My Grandmother: For the Loss of a Grandparent
A young girl rests her head on her grandmother's shoulder in a simple display of childlike affection. Available here, and also available for a grandfather.
---
Those are some of the very best Willow Tree bereavement gifts for a variety of relationships and situations. There are many more available in the collection. If those aren't quite what you're looking for, read on… there are many additional options for uniquely personalized bereavement gifts for your loved ones.
More Popular Bereavement Gifts
11. Personalized Memorial Bird Feeder
This Personalized Memorial Bird Feeder is a very popular bereavement gift, especially ideal as a something personal and useful that won't just clutter up the house. This one is often sent to friends, family members, or colleagues who are out of state. See all of our bird feeder bereavement gift designs here.
12. Personalized Fingerprint Ring
This elegant memorial ring is available in a lovely and affordable stainless steel or premium 925 sterling silver. It includes custom laser engraving of a loved one's fingerprint, and can optionally have a small chamber that holds a very tiny amount of cremated remains as a keepsake token. Available here.
13. Custom Memorial Keepsake Box
Our Custom Memorial Keepsake Box combines many features into one affordably-priced memorial gift. Features include: Made in the USA, real Walnut wood, quality hinged lid with real glass top, picture frame usage or see-through lid, felt lined bottom and interior, and personalized engraving on the front nameplate. Available here.
14. Personalized Pocket Knife
An antique style and custom laser engraving make the Personalized Pocket Knife a popular bereavement gift for guys.
15. Personalized Fingerprint Memorial Pocket Knife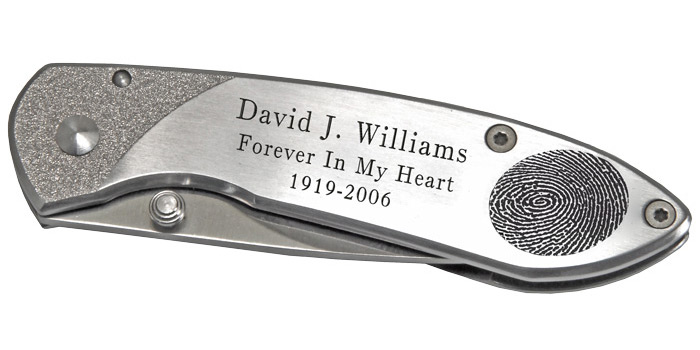 This is a premium heirloom Buck knife featuring genuine stainless steel with belt clip. Includes custom engraving of fingerprint plus name, dates, and more. Available here.
Read next: 101 Condolence Messages to Show Your Love & Support
Daniel has been working in the funeral industry since 2010, speaking directly to grieving families as they made funeral arrangements.
He began researching and publishing funeral articles on this website as part of his role as product and marketing manager at Urns Northwest.
Having written hundreds of articles and growing the site to multiple millions of views per year, Daniel continues to write while providing editorial oversight for US Urns Online's content team.