Pet memorial tattoos offer a creative and meaningful way to show how much you loved your little friend. A tattoo is a permanent reminder of the impact they had on your life. At the same time, it is also a way to honor their memory and celebrate their life.
When a pet dies, the grief you experience is real, and it is natural to want to do something that recognizes the important role your pet filled in your life.
So let's take a look at 10 of the most beautiful pet memorial tattoos. We hope you can use these tattoo art ideas to come up with something truly special for your pet's memorial tribute. Most of the examples below are of dogs and cats, but you can use your own creativity to apply the idea to your specific pet.
10 Beautiful Pet Memorial Tattoos
You can, of course, take any of these ideas and make them your own for a permanent tattoo in memory of your beloved pet. That's probably what you are planning on doing, and the reason why you are researching pet memorial tattoo ideas.
But I'd like to point out that you can also get tattoos like these made as temporary tattoos. If you have kids in the family, or if your little one was just so special that friends, family, and neighbors will greatly miss them as well, you can create a delightful tribute by getting a pack of temporary tattoos. This will help everyone be able to share in honoring your pet's beautiful memory.
1. Dog Paw Print & Heart Pet Memorial Tattoo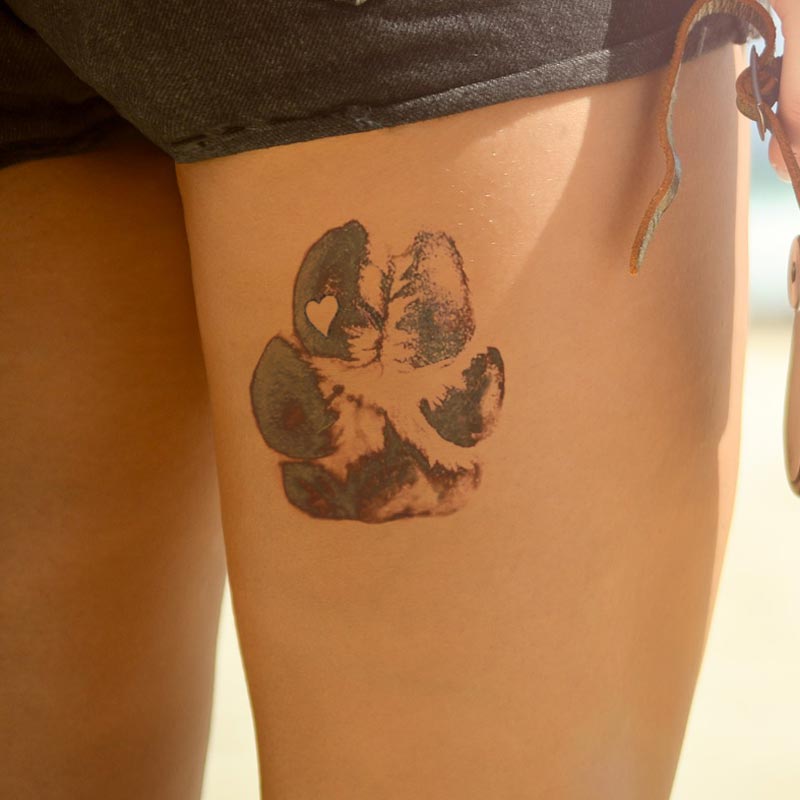 This pet memorial tattoo is a detailed, realistic drawing of a dog's paw print. The heart is the one non-realistic part is small, but because of the contrast this little detail packs quite the emotional punch. This is one of my favorite pet tattoo ideas.
2. Infinity Paw Print Memorial Tattoo
This minimalist pet memorial tattoo combines the symbol for infinity with two paw prints and a heart. Your heart, their paws, joined forever in the memories you shared. A subtle tattoo ideal for wrist, ankle, or back of shoulder.
3. At Rest: Dog & Flowers Pet Memorial Tattoo
The pet is laid to rest in a beautiful bed of flowers. A truly poignant pet memorial tattoo. You'll need to find a good artist to pull this one off well, but it will be worth it.
4. Colorful Cats Pet Memorial Tattoos
This is another idea that will take a great artist to really capture it well. But in addition to the great artistry, there is another reason why this pet memorial tattoo is so effective. Note how the cats are facing away from you; this creates a powerful symbol of their journey away from this life. Yet at the same time, you can still see them. Not face to face, but rather the idea of your pet is still present with you in the memories you shared.
A traditional pet portrait is a great idea, but it can be difficult to truly capture the pet's face the way you remember it. Plus it is even harder to transfer that image onto your body via tattoo. I think that having the pet face away (or doing a silhouette) helps overcome these common obstacles in a way that is truly artistic.
5. Hand to Paw Pet Memorial Tattoo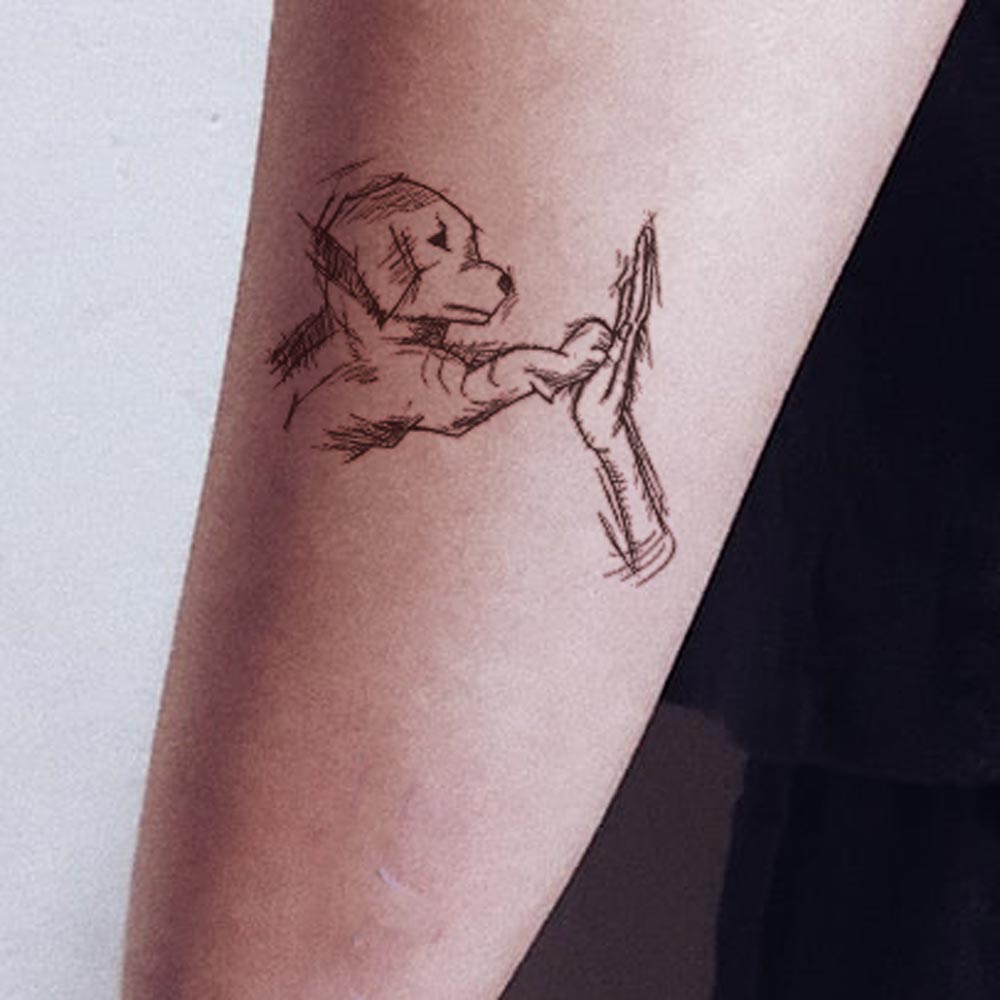 I love the style of this sketch. The puppy paw-fives their owner's hand in an undeniably affectionate way. This is adorable memorial tattoo art at its finest.
There are many similar designs out there that have just the paw and the hand. Those are great as well, if you're going for the minimalist look. This one is just so gorgeous I had to include it.
Here's the art you can use for your own pet memorial tattoo: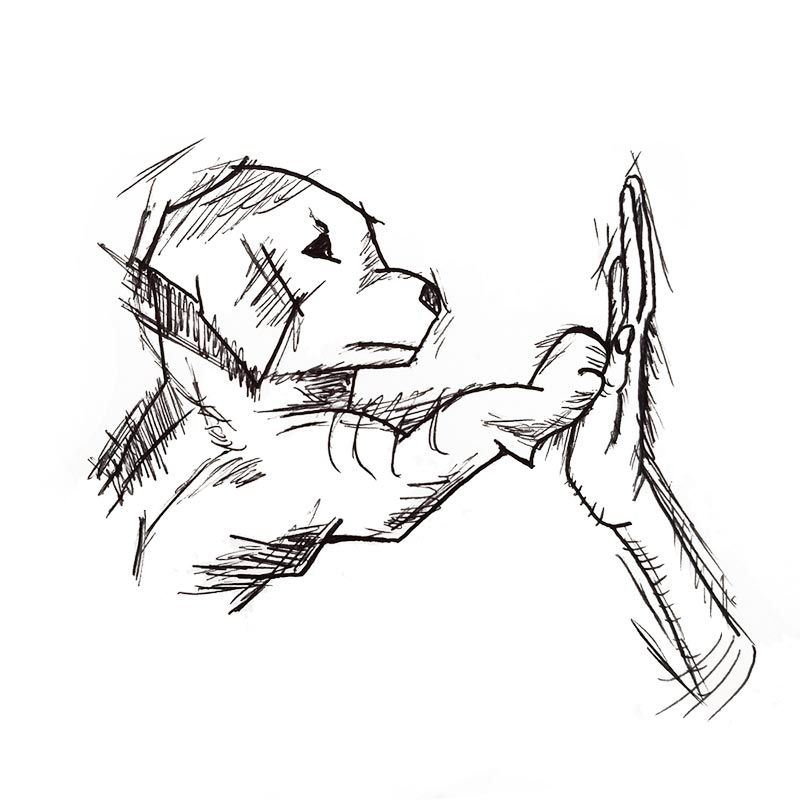 6. Floral Pet Portrait Memorial Tattoo
This pet memorial tattoo is a lavish display of affection for a favorite animal. The profile portrait looks great, and the swirls of flowers and foliage add elegance and grace to the noble dog's portrait.
7. Cat & Dog Friends Forever Pet Memorial Tattoo
If your dog and cat were best friends, you'll want to honor them both. The lovely minimalist lines make this a great pet memorial tattoo.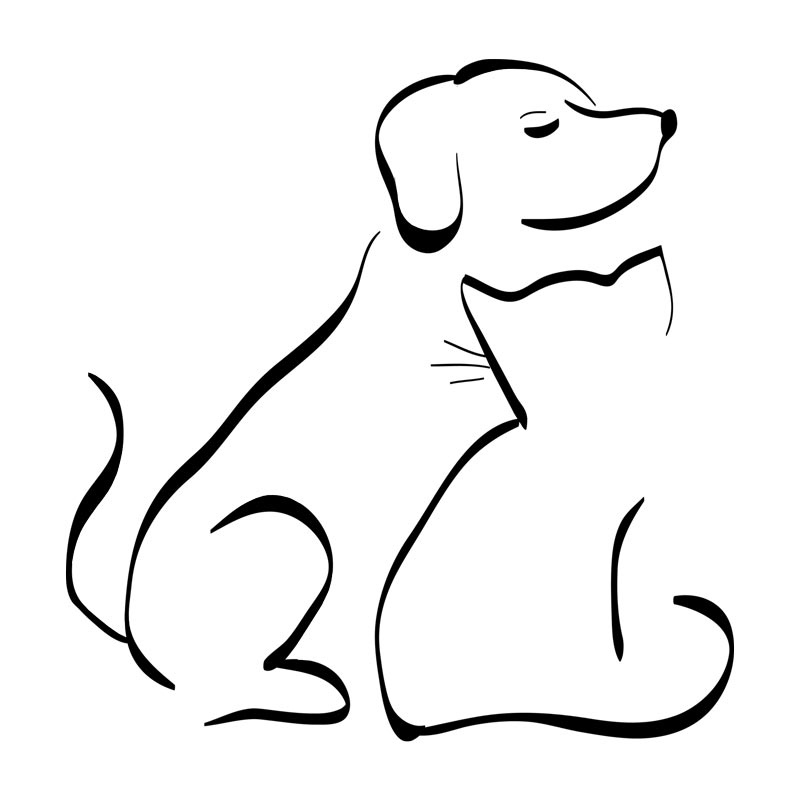 8. Hidden Paw Print Toe Tattoo
Let's get back to some simple pet memorial tattoo designs. Simple, yet beautiful.
The secret paw print toe tattoo is the ultimate in discretion. You'll know it's there, and that is enough. But if anyone does happen to see it, well, not only does it look cute but it will definitely be a conversation starter. A brilliant excuse to wax eloquent about your beloved pet and the memories you shared.
9. Paw Print Heart Trail Pet Memorial Tattoo
This gorgeous yet simple pet memorial tattoo follows the trail of paw prints making the shape of a heart. A subtle and cute way to say that they will always be in your heart.
10. Dog & Heart Outline Pet Memorial Tattoo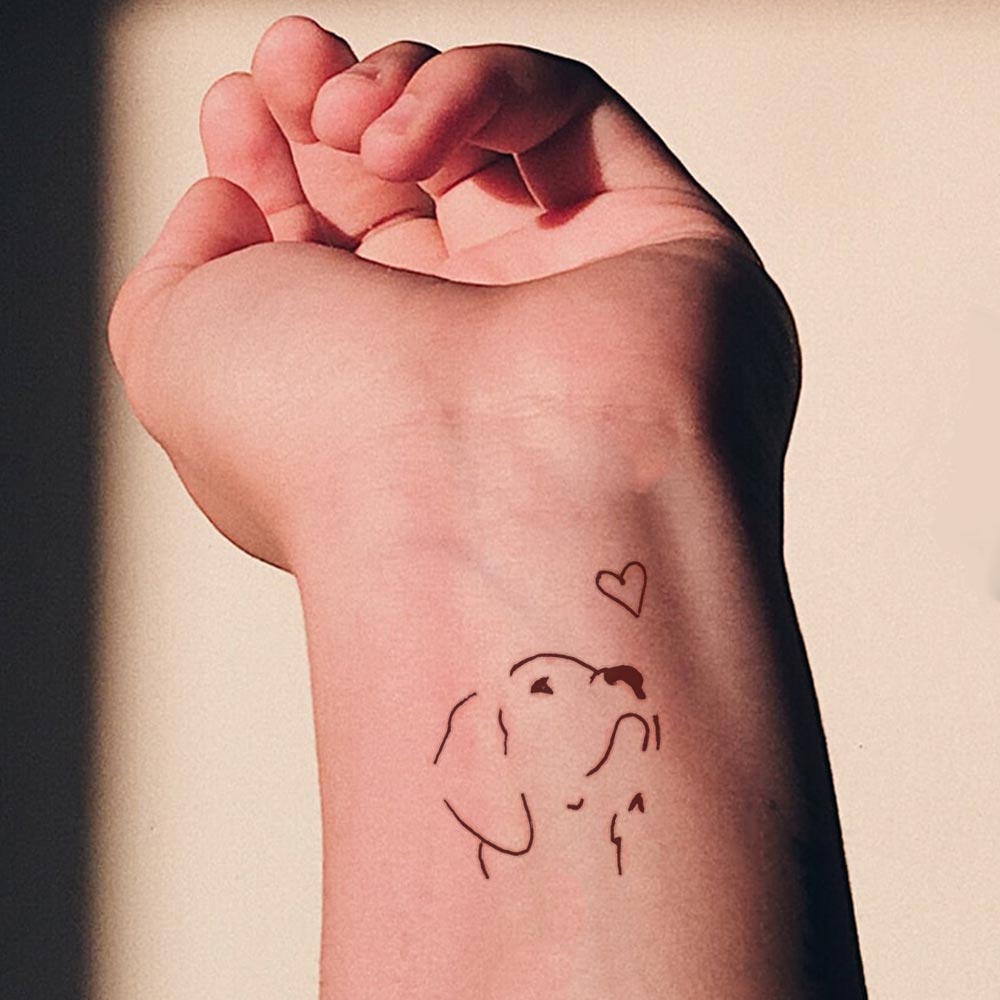 Last but decidedly not least, this tattoo is minimalist art at its finest. The pet is reduced to the simplest lines, looking up at its master and friend with pure love and utter unyielding devotion. The simplicity of this style of line art will make it easy to have your pet's portrait drawn.
Here's the art for you to use: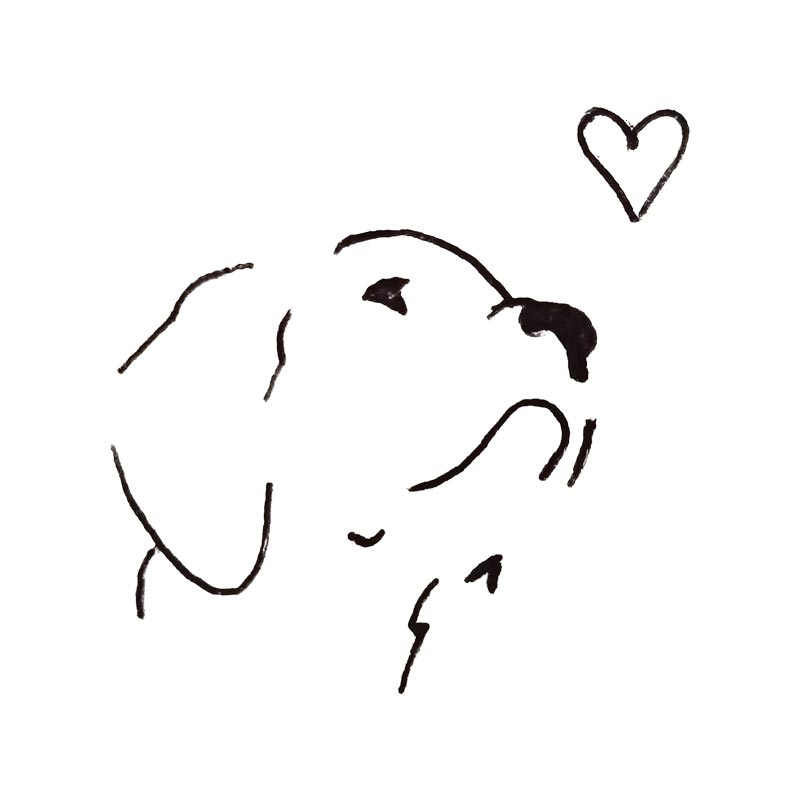 Inscriptions for Pet Memorial Tattoos
The inscription on a pet memorial tattoo is simply the words you include to honor your pet's memory. It can be simply the name, or name and dates. You can add a quote (see next section), or skip the name and dates and just do a quote. Go with whatever makes sense, is meaningful to you, and goes well with the design.
Here are some simple inscription ideas for your memorial tattoo, mix and match as you see fit:
Name
Dates

2001-2019
5/19/11-3/11/19
5/19/2011 – 3/11/2019
May 19, 2011 – March 11, 2019

Name & years
Name & dates

Beau Dacious
5/19/2011 – 3/11/2019

Epitaph

In Loving Memory
Forever Missed
Faithful Companion
Always in My Heart
(Etc, see more below)

Meaningful words

Always
Forever
Loved
Love
Missed
Best Friend
Companion
Quotes for Pet Memorial Tattoos
Short Epitaphs
Always Remembered
Forever In My Heart
Forever Loved, Never Forgotten
My Best Friend
Faithful, Loyal, and Loving Companion
I'll Miss You Always
A Faithful Friend
Always By My Side
Friends Forever
Always On My Mind, Forever In My Heart
Pet Sympathy Quotes
You left your paw prints on my heart
A piece of me went with you
Your wings were ready but my heart was not
The greatest thing you'll ever learn / Is just to love and be loved in return
We all need someone who can be true to you
No matter how bad my day was you always made me smile
"What we have once enjoyed we can never lose. All that we love deeply becomes a part of us." – Helen Keller
"Until one has loved an animal, a part of one's soul remains unawakened." – Anatole France
"Death ends a life, not a relationship." – Jack Lemmon
"Don't cry because it's over, smile because it happened." – Dr. Seuss
Lots more here: Pet Loss Quotes, Poems & More to Honor Your Furry Friend
More Ideas for Pet Memorial Tattoos
Find some more inspiration for the perfect pet memorial quote in the following resources:
Read Next: 100 Thoughtful Pet Memorial Gifts
Daniel has been working in the funeral industry since 2010, speaking directly to grieving families as they made funeral arrangements.
He began researching and publishing funeral articles on this website as part of his role as product and marketing manager at Urns Northwest.
Having written hundreds of articles and growing the site to multiple millions of views per year, Daniel continues to write while providing editorial oversight for US Urns Online's content team.