Today we're going to highlight ten of the best and most meaningful sympathy gifts for loss of husband.
Maybe you know someone who's just been widowed, and you want more than anything to try and lift their spirits, if only just a little bit. You're hoping to find this person something special.
So you need a sympathy gift that serves not only as a memorial to their late husband, but also as a reminder to your friend that you're thinking of them during this difficult time.
We want to help you do just that! So below we've featured 10 thoughtful sympathy gifts for the loss of a husband. Each of these gift ideas is equal in both quality and meaning.
Our goal is to provide your loved one with a beautiful, touching reminder of the love they still have for their husband… a love that goes beyond the tangible and into forever.
10 Sympathy Gifts for Loss of Husband
Our website is supported by our users. We sometimes earn a commission when you click through the affiliate links on our website. See our privacy policy & disclosures for more information.
1. Personalized Memorial Bird Feeder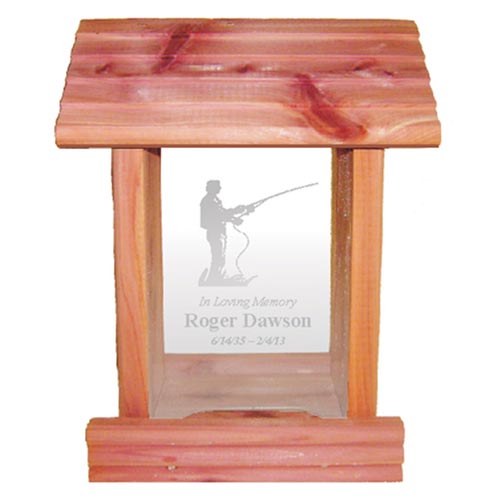 When we experience a huge loss in life (like the loss of a spouse), life seems to get dark for a bit, and our spirits become dampened with sorrow. In times like these, as much as we may not want to, it can be help to get outside among nature. It's like a refresher for our souls.
Your loved one is going through a difficult time right now. Understandably so! She is missing her husband greatly, trying to get the funeral in order, etc.
So perhaps you think it would do her wonders to step outside every now and then to get some fresh air. Well, why not get her a bird feeder to encourage her to do so?
This memorial bird feeder is available in 25 themed designs, including fishing, hunting, golfing, Celtic cross, military, and much more. It's made in the USA from sturdy cedar wood and custom-engraved with her husband's name and dates.
Best of all, it's a sympathy gift that will provide her some much-needed time for peaceful reflection out in the sunshine… a welcome respite from the grief she's going through.
2. Hand Painted Memory Angel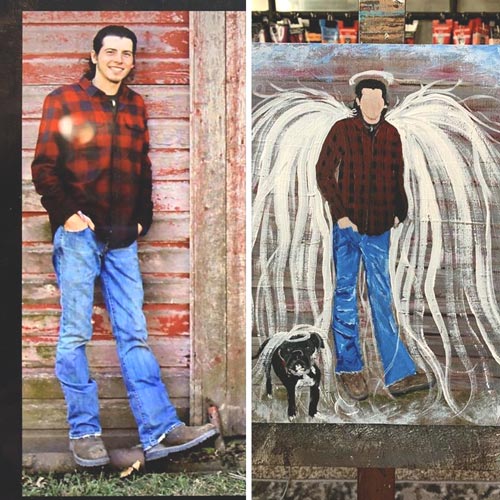 Sometimes when shopping for sympathy gifts (or any gifts), you get a sense that originality has fallen by the wayside. That is not the case with these hand-painted memory angels!
The artist who creates these brilliant works of art simply uses a photo of the person to be memorialized – in this case, your loved one's late husband – to paint a one-of-a-kind portrait that will be treasured by them forever.
3. "Raise a Glass" Wall Mounted Bottle Opener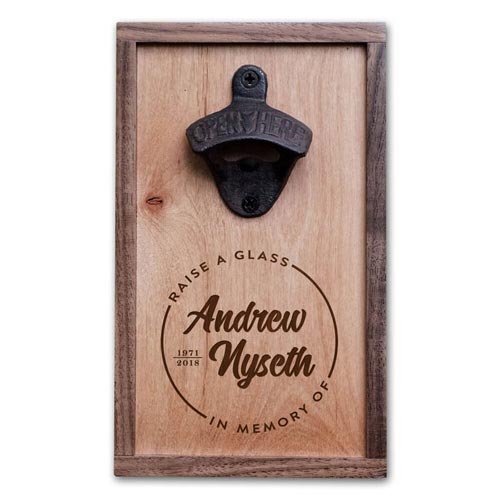 Was your friend's husband always the life of the party? Would he have gotten a tickle out of knowing that his wife and all their mutual friends would be "raising a glass" in his honor for years to come after his passing?
Then consider gifting her this "Raise a Glass" Wall Mounted Bottle Opener from Urns Northwest.
Whether it'll be used as a portable opener or mounted to a wall (an extra screw is included just in case), this bottle opener is sure to keep his memory and legacy alive. Best yet, it comes personalized with his name, and also features a real cast iron opener.
4. Remembrance Photo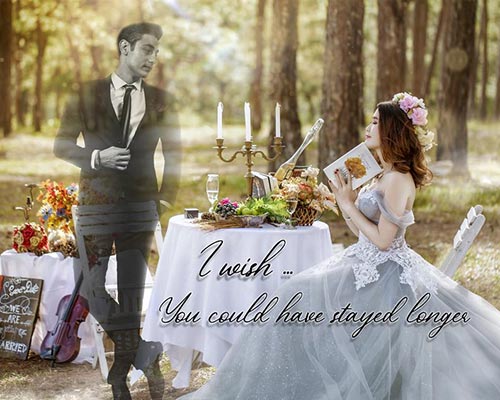 You've probably seen these types of photos in stories online and thought to yourself, "How touching."
Now, you can easily have one of these beautiful remembrance photos created for your beloved grieving one, as an everlasting reminder of the love she and her husband shared.
Simply upload the photos you want featured together in the remembrance photo. The artist will use a special editing technique to combine them into a "new" memory.
5. Infinity Cross Angel Necklace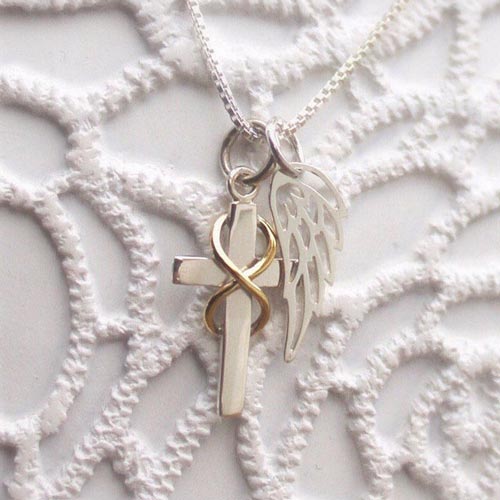 Jewelry makes a very thoughtful sympathy gift, especially for loss of a husband. This infinity cross angel necklace is a perfect example.
Surprise your loved one with this beautiful bronze and sterling silver pendant, which features a cross wrapped in an infinity sign along with an angel wing charm. It will serve as a daily reminder that, even though her husband is no longer with her, he's with the Lord.
Related: Keep Your Loved One Close with Cremation Jewelry
6. Memorial Ornament for Husband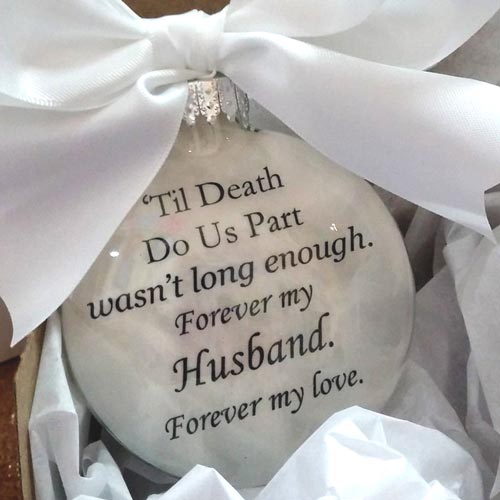 This memorial ornament for loss of husband makes a thoughtful sympathy gift, especially around the holidays.
Your loved one can hang it on her Christmas tree or display it on a shelf or China cabinet. Or even next to her husband's urn right there on the mantle.
The glass bauble contains beautiful white feathers and the seller also prints the memorial text from the inside, ensuring it's quality for years to come. A white satin bow adorns the top of the ornament.
See more beautiful ornament ideas here.
7. Willow Tree "Promise" Musical Figure
Music always soothes the soul where words often seem to fail.
Can't find the right words to express your sympathy to your loved one over the loss of her husband? Show her how much you care instead with this Willow Tree musical figure.
This figure is a cast of artist Susan Lordi's original "Promise" sculpture. It stands 8″ tall and plays Pachelbel's "Canon in D Major". When the music is on, the figure turns slowly, reminiscent of a dance in time.
For a more traditional wooden memory music box that you can even personalize, check out these ones.
8. Personalized Memorial Plaque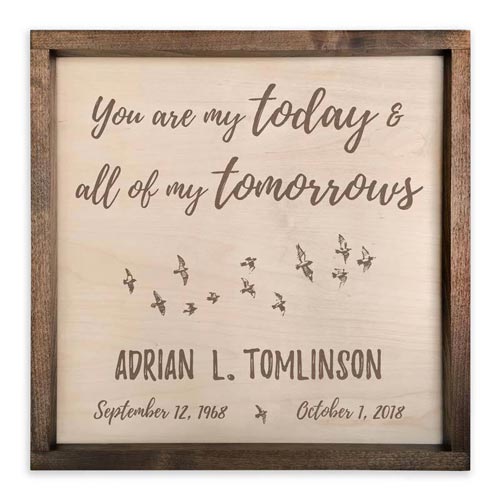 Here is a personalized memorial plaque that features a sweet sentiment which rings true in life and in death.
It will serve to remind your loved one of their husband in the gentlest way, while also emphasizing the fact that the love they shared did not die with him.
This sympathy gift plaque, a Northwest Gifts original, is constructed of stained alder wood and birch ply, and is available in two different sizes. It comes engraved with his name and dates as well as a beautiful bird flock design going across the middle.
9. Photo Lantern for Loss of Husband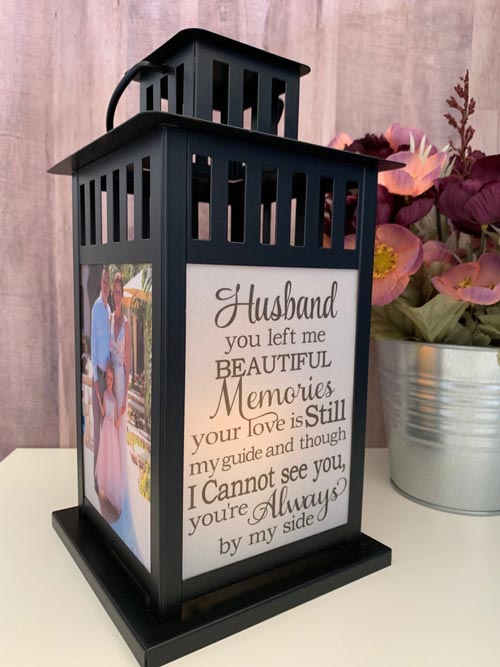 Another unique sympathy gift for loss of husband is this photo lantern from Blessed Birdy Boutique.
The lantern comes in two different sizes, and features a beautiful memorial quote as well as personalization- an eye-catching memorial to your loved one's late husband.
If a photo lantern is selected from the drop-down options (the other option being a frosted-only lantern), the pictures you select (up to 2) will come printed on semiopaque paper, and can easily be replaced if ever wanted or needed.
10. "The Widow's Journal"
When one spouse dies and the other is left behind, plans are changed for good.
Whether your loved one had been married for a month or for fifty years, now that her better half is gone she's having to navigate life (all the plans she was supposed to carry out with her husband) on her own. This is going to be a daunting task, especially since she's in the midst of grieving, too.
The Widow's Journal is a guided self-help diary to help her get through those first initial weeks, months, and years without the love of her life by her side.
It will guide her through the stages of grief, and help her realize exactly what she's feeling by utilizing a simple question-and-answer platform. Ultimately, it will show her how to build her new life while yet keeping the memory of her husband alive in her heart.
If you don't want to get that specific, you might instead consider simply giving her a nice journal.
Learn more about the healing benefits of grief journaling.
More Sympathy Gifts for Loss of Husband
Did you like the ideas you saw above, but would like to keep exploring sympathy gifts for loss of husband? We've got a few more alternative gift ideas for you to consider here. These gifts are just a little off the beaten path, if you will… so chances are you may find what you're looking for here if you haven't already.
Let's take a look.
Name a Star
Order a framed Memorial Star from Name a Star registry. While it is noted here on their FAQs page that they are not the official star naming agency (aka the International Astronomical Union), Name a Star still uses real star numbers and lists their new names in their own Record Book, which is listed with the U.S. Copyright Office. Offering this little "piece of heaven" is a lovely gesture for anyone who is grieving.
Love, Serve, Clean
Offer to serve as your loved one's "maid" for a few days (or even weeks) following the funeral. It's uncanny how fast the dishes, garbage, and every other daily task falls by the wayside when one is in the midst of grief.
Your grieving friend or family may not even realize how bad things get… until the moment they do and are utterly overwhelmed by everything that needs to be done. Help them avoid this stress by offering to help clean/cook from the get-go. Offer to stay in the guest room or on the couch if that helps.
DIY Coupon Book
Alternatively, you can create a coupon book like this one for them to use whenever they may need it.
Maybe immediately following the loss of their husband, they're the type of person who wants to go-go-go. Maybe they over-clean or whatever, just to keep their mind off what's going on.
But there's going to come a day when they're going to pause and really start their grieving process. That's when they're going to need your help.
With a coupon book like this, you can offer small services like Clean the Dishes, Bathrooms, Living Room, or Empty the Litter Box. Your loved one can simply call or text you whenever they need to redeem.
Music Playlist
Make them a playlist featuring soothing, uplifting songs that they can listen to whenever they're feeling down.
If they don't already have one, gift them a subscription to a streaming music service such as Spotify, Tidal, Apple, or whatever your favorite might be. Then share the playlist along with a handwritten sympathy message.
Commission a Portrait
If you can paint or draw, create for your loved one a one-of-a-kind art piece. Feature their husband or the two of them together during happier times.
Or commission a custom portrait from a professional artist like this one. It will be a work of art that they will treasure forever.
Plant a Memorial Tree
Have a tree planted in a U.S. National Forest in memory of your loved one's late husband. Learn more here.
Practical Care Packages
Get them a practical care package from Here for You. It's not just another gift basket; rather, it includes all the household essentials they might forget (or just not want to leave the house) to buy.
Other Sympathy Gift Basket Ideas
Speaking of gift baskets, they are 100% customizable if you DIY (do-it-yourself).
Fill a basket full of nutritious snacks, tissues, water bottles, mints, and anything else that can provide a comforting pick-me-up whenever your loved one may need it.
Or buy a pretty pitcher and fill it with lemons, some sugar, a sprig of rosemary and a stirring ladle. Or get a pair of slippers and fill them with some chocolate, little bottles of lotion or hand sanitizer, a peppermint roller or other feel-good scents.
You get the idea…the possibilities here are endless.
---
We appreciate you browsing our list of sympathy gifts for loss of husband. We hope that you were able to find a gift that will bring comfort to your loved one as they begin to process their loss.
In case your search continues, however, we recommend you taking a look over at Northwest Gifts, where even more memorial gift ideas await.
Read Next: Sympathy Messages for Loss of Husband
Pin It