You're looking for sympathy gifts for loss of wife, which means that you know someone who's just lost their better half.
It's a sad situation, and while you don't want to spend too much time pondering over a gift, you still want to offer your loved one something special to let them know you're here for them during this difficult time.
So we've done the work for you. Below, we've put together a list of the most heartfelt gift ideas we could find for someone who is grieving over the loss of their wife.
Each gift is of the highest quality, crafted to provide him a sense of comfort even when there is seemingly none to be found.
Let's take a look.
10 Sympathy Gifts for Loss of Wife
Our website is supported by our users. We sometimes earn a commission when you click through the affiliate links on our website. Learn more here.
1. Personalized Memorial Bird Feeder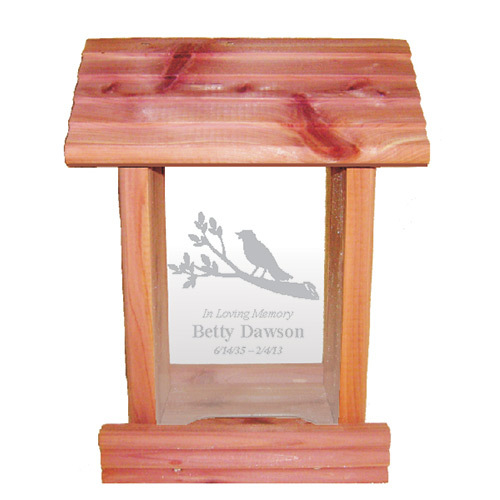 A bird feeder makes a great gift for any occasion, but perhaps especially so for someone who's grieving. This is because it's going to take him out of the house and away from his thoughts, even if just for a little while.
What makes this memorial bird feeder so special is how it can be personalized with his late wife's name and dates.
While the above snapshot features a bird design, you can also choose between many other themed engravings, including a butterfly, a lighthouse, praying hands, and much more. This beautiful bird feeder is constructed of sturdy cedar wood and measures over 10″ high. Back panel engraving is an additional option if you'd like even more space to personalize.
It's also available here with cardinal bird art, which includes the classic quote, "Cardinals appear when loved ones are near."
Related: 50 Sympathy Messages for Loss of Wife
2. Custom Handwriting Keychain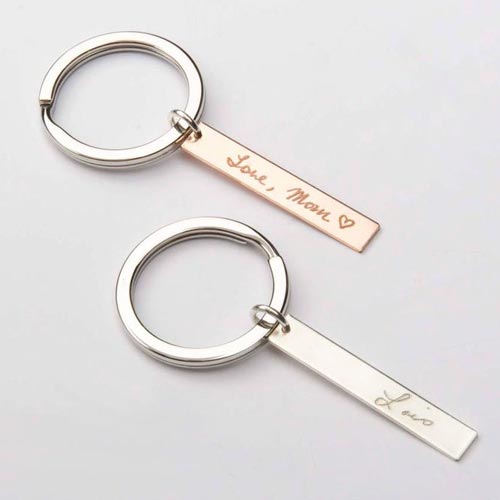 There's something so personal and sentimental about handwriting that of course it's going to make a good sympathy gift. Especially when done right. And this keychain, a creation of Etsy shop Chic In Gold, is done right.
The custom handwriting keychain can be engraved with his late wife's handwriting (even if it's just her signature) on either side of the sterling silver bar. Choose between silver, gold-filled, or rose-gold coloring.
3. Willow Tree Hand Painted Figure
A Willow Tree figure is another one of those gift ideas that is sublime for practically any occasion or event-including as a sympathy gift.
This sculpture, called "Anniversary", stands half a foot high, and is a really beautiful illustration of everlasting love. It's a cast of the original sculpture from artist Susan Lordi, and is painted by hand.
The enclosed card reads, "Love ever endures."
4. With the Savior Watercolor Print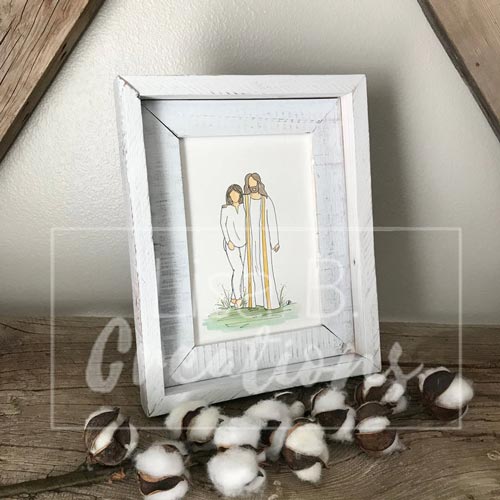 When a child of God dies, they're not gone forever. It really is "See you later," rather than goodbye.
For a believer there is no greater comfort than this knowledge, especially when a loved one, who was also a believer, has passed away. Remind your loved one of this heavenly promise by gifting him this stunning watercolor print.
Choose the print with the likeness of this wife, and every time he sees it, it will help to ease his sorrow by reminding him that he'll see his beloved wife again. Available in several different styles and sizes.
5. Floral Heart Memorial Plaque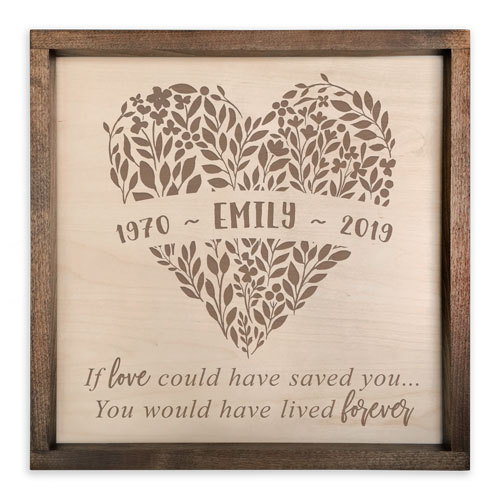 You really want to let your loved one know how much you're thinking of him during this difficult time. But you also know the situation is sensitive, and quite frankly you're really having a hard time finding the words to say. Let this plaque do the speaking for you.
With a floral heart shape with his wife's name and dates in the middle, and a lovely reminder etched right below that, the sentiment cannot be missed.
This birch ply and stained alder wood plaque is available in two different sizes. It would make a gorgeous addition to a mantle, shelf, or as a wall hanging.
6. Custom 3D Memorial Crystal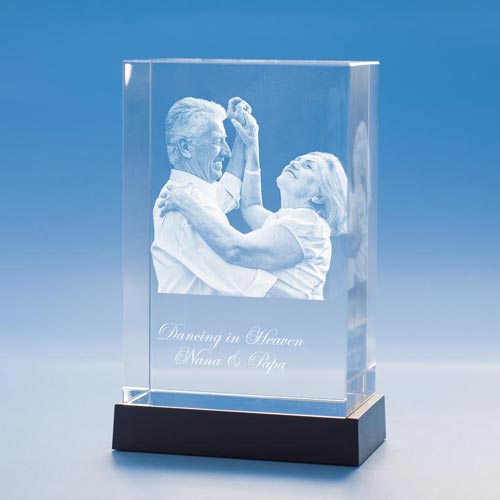 Imagine the look on his face when you give him this custom 3D memorial crystal, and he sees her familiar face staring back up at him once more. That bittersweet moment will be made possible by CCM Shop on Etsy.
All they need is a photo of the loved one to turn it into a 3D work of art within a gorgeous crystal tower. You can choose between several different crystal sizes, and also from a wide range of bases (including an LED base). Custom engraving is also available.
7. An invite to dinner with your family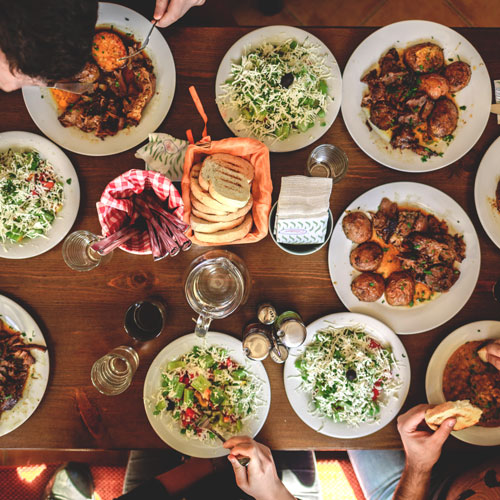 The best sympathy gifts, especially sympathy gifts for loss of wife, are not always those you have to buy. Sometimes the best, most memorable gift can be as simple as an invite to dinner.
If you know a recent widower who now spends his days dining alone, give him a call or send him a text inviting him over for dinner with your family.
Chances are he'll accept the invite quickly, grateful for some time away from his thoughts and happy to share a meal with good friends.
8. "It's Okay That You're Not Okay"
It's Okay That You're Not Okay is not another self-help book by a psychologist or armchair therapist. Its author, Megan Devine, is a counselor who has also experienced the tragic loss of a loved one.
She comes from a place of having worked through such grief herself; that is something anyone who is going through the same kind of thing can appreciate.
In the book, Devine does away with commonly-accepted notions and beliefs surrounding bereavement. She argues that grief is not a disease that needs to be cured, nor a puzzle to be solved. Rather, it's something to experience, even to honor, on a day-by-day basis.
9. Herb Garden Starter Kit
Maybe your loved one was his wife's caretaker for many years. Now that she's gone, he has this huge void in his life that he is struggling to fill.
Next to getting him a puppy or a kitten (although we say go for it if you know he would love it) this indoor herb garden starter kit is something special that he can focus on taking care of in his spare time.
This kit comes with everything he'll need to start his own little garden: soil and peat pots, plant markers, instructions for growing, and five seed tubes of basil, parsley, cilantro, thyme, and sage.
10. Aromatherapy Diffuser
Less than a weeks time can pass between the moment a loved one dies to the day of their funeral. So much happens in such a short time frame, that there is little time to pay real attention to how you are feeling until after all final goodbyes are said.
When the mourning widower finally does have a moment to himself, relaxing may be the last thing he remembers to do.
This may be exactly where your loved one finds himself right now. Perhaps the funeral is long over, but he's not yet familiar with his new reality. He may still be on edge, subconsciously expecting another call from the funeral home (or maybe even the hospital, if his wife was having health problems before she passed).
Help him settle back a little bit with this calming essential oil diffuser. All it needs is some water and some choice essential oils, and it will give off a continual cool mist, filling the air around him with a quiet calm that he could really benefit from right about now.
Related: Aromatherapy & Grief: Using Essential Oils to Help You Grieve
Even More Sympathy Gifts for Loss of Wife
Just in case you want to look through a few more sympathy gifts for loss of wife, here are just a few more we've found. Some of these are also DIY, if that's more your thing:
Special flowers. Give him a bouquet of her favorite flowers, along with a homemade sympathy card.
For coffee lovers. If he likes coffee, get him a personalized memorial tumbler with some mini packs of his favorite blend, a mini candle or lip balm, and maybe even some chocolate spoons. Put it all together and it's kind of like a gift basket, only, it's a mug! If he's more of a tea drinker, swap the coffee with tea, and the chocolate spoons with a honey dipper. (Tip: It goes without saying, but it's a good idea stay away from alcohol gifts.)
Practical gift baskets. If you're thinking about gift baskets now, check out this one from Here For You. "The Camellia" compassion package keeps practicality in mind, and includes such household necessities like paper towels, tissues, cutlery, and hand soap.
For writers and note takers. Get him a journal and some pens. It doesn't even have to be for writing down his thoughts and feelings (though that is perfectly fine); he can also use it to take notes when meeting with the funeral director, for grocery lists, bills, other to-do lists, etc.
A hot meal. Offer to make him dinner a few nights a week. Better yet, start a meal train for him.
Go Fund Me. Many times, the loss of a spouse unfortunately also means the loss of an income. If the loss of his wife will leave him struggling to get by, start a Go Fund Me on his behalf.
Give the gift of your time. Offer to help him with the housework (especially if his wife was the primary caretaker of their home, he's going to need some help in this area, at least for a while). Pick up his groceries or dry cleaning, or even go to the funeral home with him if he needs the support making arrangements. Your presence is sometimes the best present you can give.
Need even more great gift ideas for your grieving loved one? Here are 10 Heartwarming Sympathy Gifts for a Grieving Friend.
Pin It