The cemetery isn't the only place you can create a memorial for your loved one. Sure, a headstone is the classic memorial: weighty, substantial, carved with their name and dates.
But what if you want something more than that? Something different, something creative, something that people can see without having to visit a cemetery?
There are many ways to create a memorial away from the burial site. In this article we will examine many of the most common options along with some creatively unique tributes.
These will range from stately and traditional to… well, a little crazy. Somewhere in between you will find inspiration for how to create your own memorial away from the cemetery to honor your loved one.
Some of the links below are affiliate links, where we may get a small commission if you choose to purchase something. Read our full disclosure here.
Ways to Create a Memorial Away from the Burial Site
There are two "spheres" in which you can create a memorial tribute that is not in a cemetery. The first sphere is in public, and the second is in private. Let's take a look at the options for each.
PUBLIC MEMORIALS
Memorial Bench
A bench can be commissioned and installed in many public places. This is something that will be put to good use for both tourists and locals, rich and poor, young and old. Inspiration for where you can build a memorial bench, inside and out:
Downtown areas with foot traffic
Bike and walking paths
Parks and malls
City, county, or state buildings
Fairgrounds
Sports stadiums
For wide selection of premium and customizable memorial benches made in the USA and shipped directly to you, check out the collection at Clear Stream Monuments.
Memorial Dedication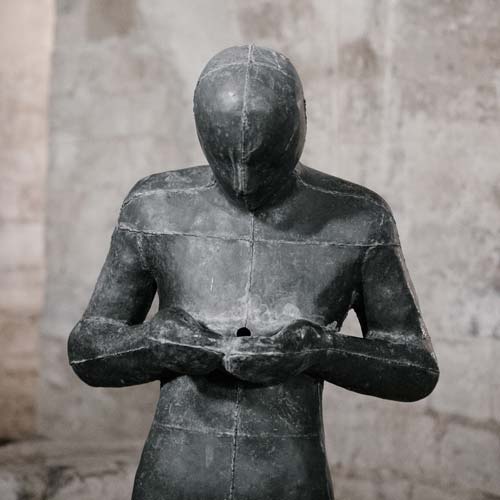 Bridges, statues, buildings, museums, library wings, church bells, roads, and more can be dedicated in memory of someone you love. Some more ideas include all or part of:
Parks, playgrounds, pavilions
Theaters and concert halls
Land preservation
Art installations
Community centers
Sports stadiums
Memorial Foundation
Establish a trust, charity, scholarship program, or other foundation in memory of your loved one. If they were an entrepreneur, start a small business innovation grant program. If they worked in education, start a scholarship program.
Memorial Events
Start or sponsor an event in the community in memory of your loved one. From a jogathon fundraiser for a favorite charity to an annual neighborhood block party, ideas for memorial events are legion.
Parade floats (Independence Day, Christmas, Mardi Gras parades)
Sports tournaments (softball, basketball, bowling, golf)
Niche competitions (darts, ferret legging, Settlers of Catan)
Movie in the park (show a favorite classic film)
Art exhibits
Theater and dance productions
Concerts and performances
Cook-offs and barbeques
Readings and recitals
Memorial Garden
Many local parks and community centers will appreciate a memorial garden, as will homeless shelters, schools, and other foundations that give back to the local community. You can go out and create it with your own two hands, pay for all or part of it, or a combination of the two.
Memorial Website
You can create a memorial website in several ways. If you know someone who does this sort of thing, you can set up your own website. Platforms such as WordPress, Wix, and Squarespace offer free sites with easy d0-it-yourself click-and-drag setup. Or, simplest of all, use a memorial website platform to create a tribute page for free. Most have free basic plans with premium upgrades.
Memorial Tree
Memorial trees create a lasting yet living memorial that is good for the environment. Read more about memorial trees here, and for creative inspiration for "living memorials" that goes beyond just trees, see this article.
PRIVATE MEMORIALS
Cremation Urns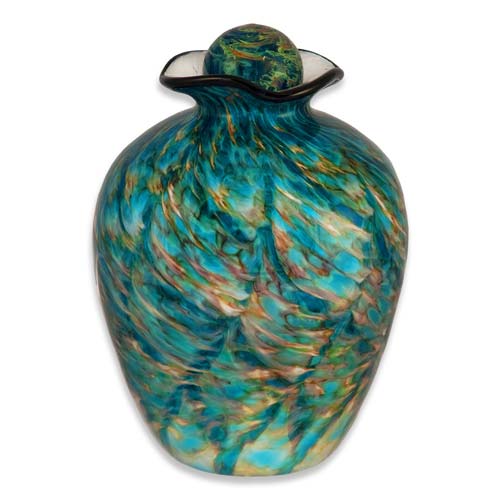 Choosing the right cremation urn is perhaps the best memorial tribute apart from a burial site. You can use a cremation urn for all of the ashes, or for a portion when the remains are going to be buried or placed in a columbarium niche.
There is a good reason why cremation urns work so well as a private memorial. Simply put, an urn can be just as personal and interesting as the person whose life you are memorializing.[clickToTweet tweet="An urn can be just as personal and interesting as the person whose life you are memorializing. #inlovingmemory" quote="An urn can be just as personal and interesting as the person whose life you are memorializing."]
There are ceramic urns that are handcrafted and uniquely fired in glorious colors; wood urns with intricate art scenes representing something that the person loved, like fishing; you can find stately urns, colorful urns, religious urns, custom engraved urns, and so much more. Just about any design, theme, or material you can imagine has or can be used to create a one of a kind memorial. This celebrates the person you loved so much in a very meaningful way.
Commissioned Art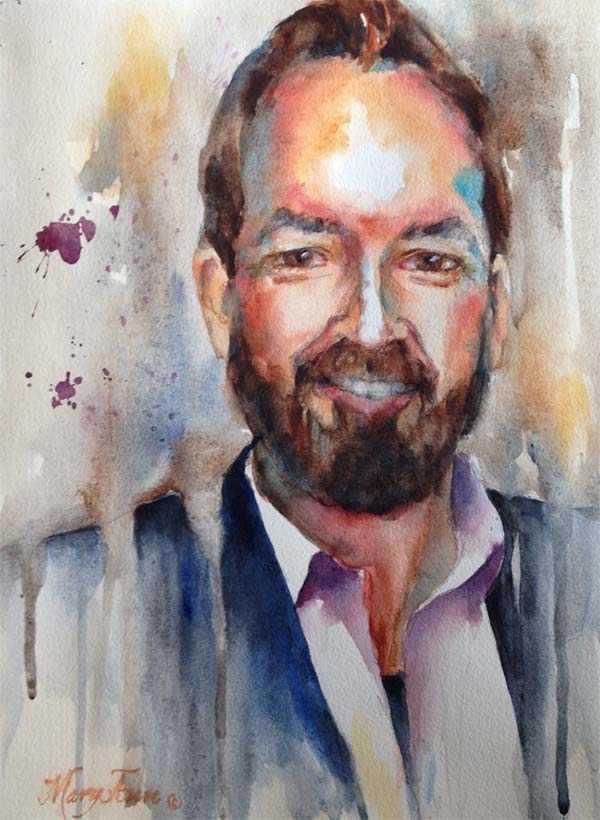 Commissioned art and cremation urns overlap a bit. You can commission an artist to create an urn that will hold your loved one's remains. But the beauty of art does not need to stop there.
You can create or commission any other type of art as a tribute. A painting or sculpture for your home will enhance your home in many ways, chiefly by adding more beauty and yet another symbol of the deep impact the person had on your life.
Here are some ideas for commissioning memorial art.
Painting of their favorite place to visit or vacation
Painting symbolic of their hobbies or passions
A bust or statue of their likeness
An abstract painting or sculpture
Sculpture art using special keepsakes, clothing, tools, or other possessions
A sculpture for the garden
Garden stones that incorporate their cremated remains
A portrait that uses their cremated remains in the paint
Memorial Wall
Create a memorial wall in your home by dedicating one specific wall or section of a wall to memorial tributes. Here are a few creative ideas you can mix and match to create a special memorial space:
Bird Feeders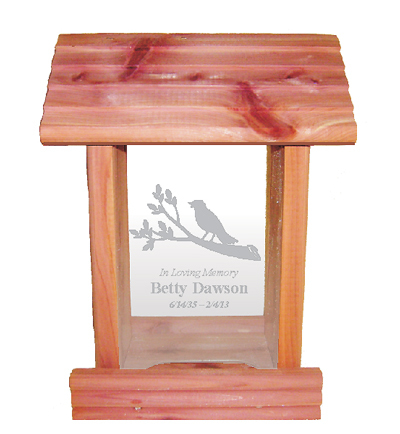 There are many positives to a memorial bird feeder. First, it's affordable, at less than the cost of most sympathy flower bouquets.
Second, it is durable and long-lasting, made in the USA from aromatic cedar wood and designed for outdoor display.
Third, it is personalized. Custom laser engraving is included, with your loved one's name, dates, and more.
Fourth, it can be placed just about anywhere. On a porch beneath the overhang, off of the eaves outside of your kitchen window, from a tree branch, on a stand, from your garage or garden shed.
And finally, it is a "living memorial," something that provides sustenance to the local bird population, drawing them near and giving a sense of life and vitality to the natural surroundings.
Flower or Vegetable Garden
Dedicate a section or the entire garden to your loved one's memory. You can simply do so mentally, or you can mark it with special things like a custom engraved memorial garden stone or one for the flower garden that reads,
You left us beautiful memories,
your love is still our guide,
although we cannot see you,
you're always at our side.
You can also make your own garden stones, even incorporate their remains into it as a truly personal memorial.
Other ways to personalize a memorial flower or vegetable garden:
Grow their favorite vegetables/flowers
Decorate with things that remind you of them
Place a personalized memorial bench nearby where you can relax
Add garden statues and sculptures of things they liked
Plant perennials in the shape of their name or initials
Scatter some of their cremated remains in or around the garden
Wall Decor Plaques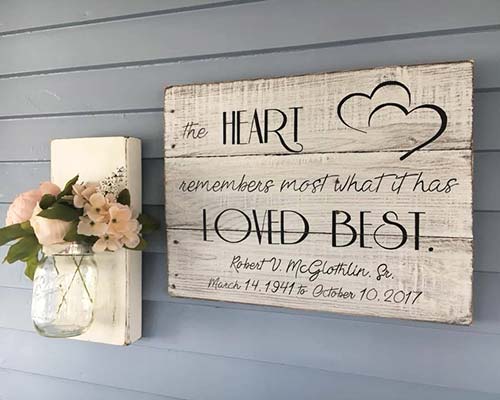 Inside your home there are many ways you can create a memorial tribute to your loved one. Wall decor is one way that can be both meaningful and personalized.
Consider a plaque that is personalized with their name and an "in memorial" quote. These can be laser engraved, hand-painted, a canvas photo print, and much more.
Coasters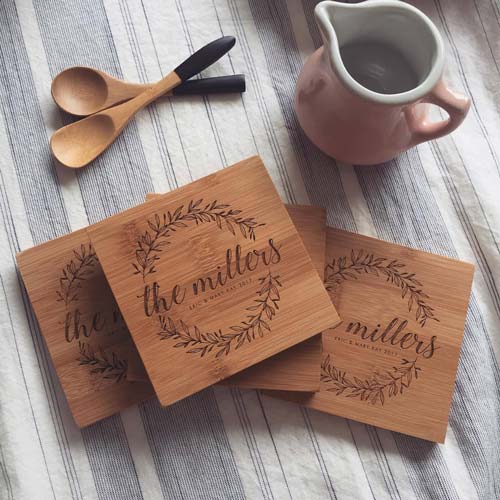 Here are some beautiful wooden coasters that you can personalized in honor of your loved one's memory. Lasting and durable, these coasters are a beautiful heirloom tribute that you will put to use every day.
Cremation Jewelry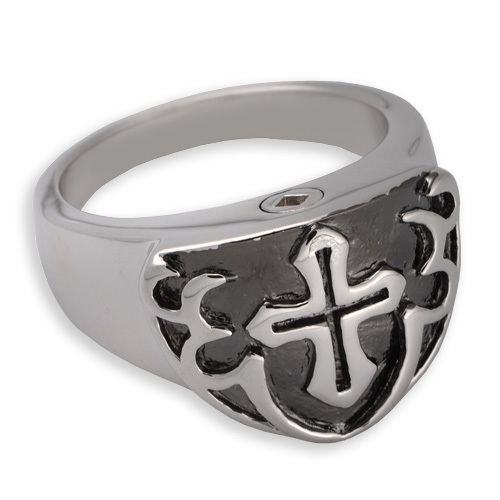 This is a memorial for both at home and in public. One of the most popular memorials available, cremation jewelry is a subtle yet very visible tribute to your loved one. These necklaces, rings, and bracelets usually have a small compartment in the pendant that is used as a vessel to hold cremated remains.
As with most jewelry, the options are virtually limitless. From inexpensive stainless steel necklaces up through premium-quality sterling silver and all the way up to stunning diamonds actually made out of cremated ashes, you will be able to find the perfect heirloom jewelry piece to honor your loved one by keeping them close to your heart.
Photo Frames
Photo displays, frames, and canvas prints keep the memory of your loved one alive in a special way. Frames can be further personalized with engraving, and can be used on a bedside table, dresser, fireplace mantle, desk, and other locations. Wall-mounted frames and canvases are ideal for hallways and walls.
Memorial Walking Path Labyrinth
Walking a labyrinth is a calming, meditative activity that many people enjoy at all times and seasons in life. It can also be helpful as one way to help you work through grief, or to take time specifically to remember your loved one. Here are instructions for how to make your own backyard memorial walking labyrinth.
Cairn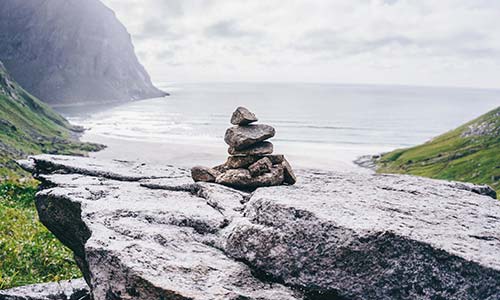 Building a cairn as a memorial is an ancient practice, with records of cairns going back to the biblical book of Genesis. A cairn is simply a mound of stones set up as a memorial, landmark, or other marker. They can be small or large. You can build one in your yard our out at a favorite hiking spot. This is an excellent way to physically "work" through your grief, and also build a temporary or lasting monument to a loved one.
PIN IT