Losing a furry (or scaley, feathered, or swimmy) member of our family can be heartbreaking.
Whether they lived a long, happy life or were taken too soon, knowing what to say when your friend or family member loses that special companion can go a long way towards their healing.
To help you find that perfect condolence, here are  50 of our most heartwarming sympathy messages for loss of pet. These are best served up with a warm hug and an understanding smile.
10 Best Sympathy Messages for Loss of Pet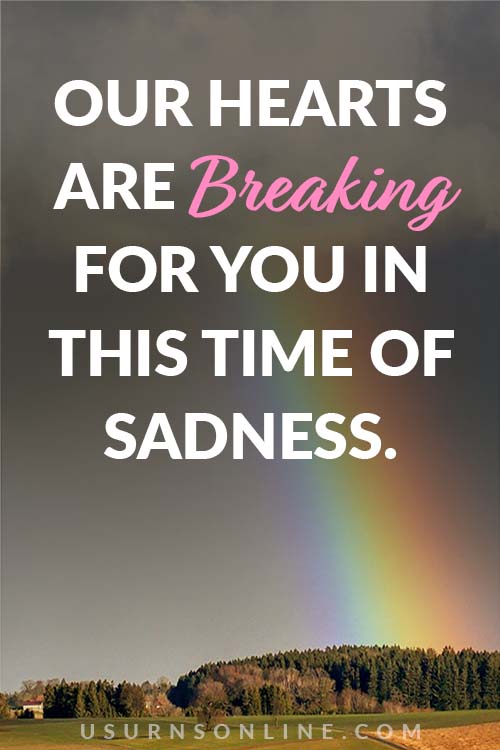 1. Our hearts are breaking for you in this time of sadness. We know how hard it is to lose a pet, and we are here for you always. Please let us know if we can help!
2. Love to you and all of our support during this time! Please let us know if there's any way we can help you through this transition.
3. We are missing your little guy so much as well! Our hope today is that you find comfort in the many wonderful memories you made together.
4. Take care of yourself in this time of loss. They call it a grieving process because that's what it is: a process! And there's no hurry.
5. Thinking of you and remembering your pet fondly. Such wonderful memories are coming to mind. What a character they were!
6. Losing a family member is so hard — I'm here for you! Whatever it takes: talking and reminiscing, looking through photos, going on a walk, volunteering together at a shelter. Just say the word, and I'll be there.
7. Fond memories can help heal you when you're hurting. Here are some of my favorites with your sweet fur baby… [write out some stories of their pet]
8. Watching them cross that rainbow bridge is never easy! I'm happy to be here when you're ready for some company. Until then, take care of yourself, please.
9. Hugs and prayers for you at this time. Not to mention, anything else you need! Company, hugs, a walk… you name it.
10. So saddened to hear of your loss. This world is a dimmer place without your sweet companion in it.
Related: How to Help When Someone's Pet Dies
Pet Sympathy Messages for Dogs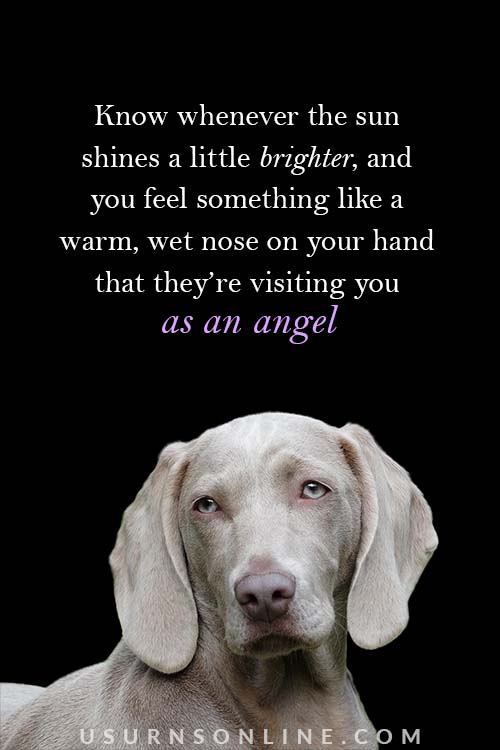 11. They call them Man's Best Friend for a reason, and they leave a huge hole when they're gone. Praying for comfort for you!
12. It's never easy losing our canine friends. I know from experience! But that won't stop us from loving on all the rest of the world's dogs. I'm here for you.
13. We're saddened to hear of the loss of your pup — know that they're chasing their tail and napping contentedly in Heaven's backyard!
14. Losing a pet is so difficult. I'm here for you when you want to talk about it.
15. Furry and floppy, wet kisses and lots of drool. We know he/she left a hole in your life. 
16. It's hard to move on when you've lost your best friend. Take some time for yourself to go through the process, and know that when you're ready to talk and reminisce, I am ready too!
17. I know you're missing the snuggles and pets. How can you not be? Love to you in this sad time. It won't be easy, but it will get easier.
18. You two were such a pair! So sad you lost your partner in crime (not to mention partner in snuggles and cuddles, too).
19. Condolences on the loss of such a wonderful doggo. He/she was one of a kind and will never be forgotten! I still remember so many funny times. And sweet times too!
20. Partners in crime you were! Such a loss for all of us. Know that he/she will live on in our memories with lots of smiles and laughter.
21. Know whenever the sun shines a little brighter, and you feel something like a warm, wet nose on your hand that they're visiting you as an angel. I hope those times come often!
22. So much love to you during this hard, hard time. As soon as I heard the news, my day certainly got dimmer. I hope you can feel the love from everyone.
23. Dogs are our constant companions and best sidekicks. So sorry for the loss of yours. I'm here for you when you need a friend!
24. Please reach out if you ever need a friend! I may not have ears worth scratching, but I'll do my best!
25. Love to you during this emotional time of loss. It's never easy to lose a pet and it seems we're never ready! I hope you feel his/her presence often and with love.
26. It just won't be the same seeing you without [pet's name]! What a wonderful friend he/she was! Hold tight and keep your head up. Better days without the tears are ahead.
27. Friend to all (except cats), your dog will be sorely missed! I am praying for you and you are very much on my heart.
28. Dog's only have one fault. They don't live long enough.
29. Dogs are gentlemen. I hope to go to their heaven: not man's. — Mark Twain.
30. You can tell if a man is good if he had a dog who loved him. — W. Bruce Cameron.
More: Pet Loss Quotes, Poems, and More
Pet Sympathy Messages for Cats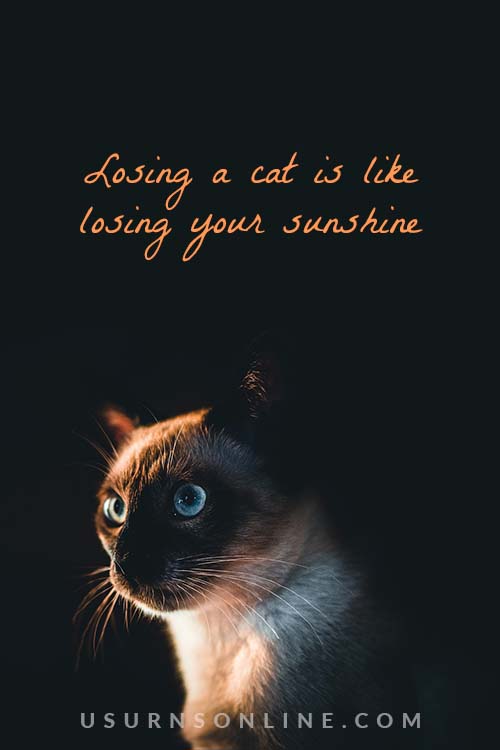 31. Cats are angels with whiskers! — Alexis Flora Hope
32. So sorry for the loss of your kitty. You'll be in my thoughts and prayers. Grief is a universal language we all sadly understand.
33. Losing a cat is like losing your sunshine. Condolences to you. Know that those memories will keep your head high even on the saddest day.
34. Thoughts and prayers are with you during the loss of [pet's name]. There was no one else like her/him — I smile just remembering their sweet spirit.
35. Heaven won't really be paradise unless our cats are waiting for us there! What a day that will be. Until then, know I am here for you. Coffee soon?
36. May your memories become true treasures during this time. All those cuddles and belly scratches, snacks and zoomies. Love to you!
37. They left a paw print on our hearts! What a sweet little guy/girl, and a charmer, too! If you need a shoulder to cry on, I have a sturdy set!
38. Time spent with cats is never wasted. — Sigmund Freud
39. Snuggles and cuddles, meows and shenanigans… we know you miss them. How can you not? But cherish your memories — no one can ever steal those!
40. Cats leave such a hole to be filled! I am available anytime you need a friend. Let's eat together, cry together, and remember your sweet kitty together.
41. May you be comforted with many whiskered memories! What a treasured life they led with you at their side. My condolences and prayers are with you.
42. We will miss your little furry friend. It's so hard to say goodbye! It never gets easier, but it does help to talk it out and remember the good times.
43. It's never easy to say goodbye to such a wonderful companion. Whenever you want to talk, I am here for you. I promise to be here for you whenever you need me!
44. They're only with us for a few short years, but we remember them forever! What a joy they bring to our lives. Words cannot express my sorrow.
45. Purrs and cuddles. They will be so missed! I hope you can relish the memories and remember all the good times with your sweet little one.
46. So sorry for the loss of your feline companion. They make such great friends and roommates, don't they? Such a loss, and we know you feel it deeply. Our condolences.
47. We are grieving with you during the loss of such a wonderful cat. I know words seem empty right now, but please know how loved they were and how much I'd love to help when you're ready for company.
48. Gone too soon but always remembered! I found some photos of your sweet kitty and am including them for your collection.
49. Cats are the purrfect friend. So sorry for your loss! Whenever you need a friend, I am here for whatever you need to help the healing process.
50. May you feel their angel presence whenever you miss them most! That could be a ray of sunshine, a glimmer of hope, a warm memory… anything sweet that brings to mind your little ball of fluff. Love to you!
If you are looking to send a sweet gift of remembrance for one of those special companions, you may find 10 Heartwarming Pet Sympathy Gifts helpful.