Today we are going to talk about what to do when someone loses a pet.
When we lose a pet, it can feel like losing a member of the family. Pets really are part of the family, after all!
Most of us have experienced the death of a beloved animal friend in one way or another, but what do you do when it's a friend or loved one who has just lost a pet? What can you say to bring them comfort? Should you send them a card? Is it ok to get them a gift?
Let's talk about how best to show love and support at this difficult time. Here are the nicest things to do when someone loses a pet.
Our website is supported by our users. We sometimes earn a commission when you click through the affiliate links on our website. See our privacy policy & disclosures for more information.
What to Do When Someone Loses a Pet
Here are some things you can do when someone you care about loses a pet.
Talk to them
Say the pet's name
Provide small gestures of comfort, support, and care
Send them a sympathy card
Give them a pet sympathy gift
We'll cover each of these things in turn. Let's take a look at how you can help, what you can say, and gestures of support and love.
What to Say When Someone's Pet Dies
Finding the right words to say to a person who has lost someone they loved, whether it was a human family member or a pet, is no easy task and should not be taken lightly. It's always appropriate to say, "I'm sorry for your loss," but what else can you add to that?
Of course you want to provide your friend or loved one with comfort at this time. But it helps to remember who you are talking to.
If your friend is someone who isn't really the sentimental type, it may be best to keep your condolences on the lighter side. You could let them lead the conversation, or just let them know that you're there if they ever need to talk about it.
On the other hand, if they are more sensitive, tread more sensitively yourself. Be sincere. Give them a hug. Ask them how they are doing and if they need anything.
More: 10 Best & Worst Things to Say to Someone Who is Grieving
How to Comfort A Friend Who's Lost a Pet
No matter whether your friend is the sensitive type or not, remember that those who are grieving sometimes only need someone to listen to them, and not necessarily "a shoulder to cry on." Be that person!
Other ways to provide comfort to someone grieving the loss of a pet…
Share your own memories of the pet with your friend
Let your friend cry if they need to, and don't be afraid to cry with them (it shows just how much you care!)
Send flowers or a sympathy card (see below for ideas on what to say in your card)
Donate to a charity in their pet's name
Plant a tree in memory of the pet
Offer to bring them dinner or to help clean up around the house, if needed
Bring a movie and a grab bag of favorite snacks (and maybe wine)
All of these kind gestures let your friend know, in more than just words, that you are there for them for as long as they need.
It's also good practice to always refer to your friend's pet by name. That is how they think of their pet, after all; not as my cat or my dog or my horse, but as "Felix," "Bruno," or "Sadie."
Related: Pet Loss Quotes, Poems, and Verses
What to Say in a Card When a Pet Dies
You have decided to get your friend or loved one a sympathy card. What a great idea! Cards are still the way to go to show someone you care about that you are thinking of them. A condolence card is especially appropriate to give a grieving friend, especially when their beloved pet has passed away.
So now you have the card but you are struggling to find the right words to write in it. Here are a few tips on what to say in the card.
1. Keep it simple yet direct. "I'm so sorry for your loss. I know [insert pet's name here] was very special to you. May happy memories of him/her bring you comfort in the days ahead. Please let me know if there's anything I can do for you." Click Here for more quotes and messages.
2. Write it by hand. Those pre-made condolence cards can be ok, but it's best to write your own sentiment. Write it in your own handwriting. Don't try to be original, creative, or cute. Just tell them how much you care.
3. Offer help in specific ways. Don't say "call me if you need anything." They probably won't. Instead, offer specific help:
"Can I come and bring you a meal tomorrow?"
"I would be happy to come with you to the vet to pick up the remains if you need some support, let me know when that is."
You get the idea.
4. Include your contact info. Write down your phone number or email address if you want this person to be able to contact you if they need to.
5. Be authentic. Ask yourself, what would I say to this person if I was speaking to them face-to-face, on the phone or in a text message? What is my relationship to this person? The answers to these questions can help you further customize your message in the card.
6. Say the pet's name. As noted above, it's actually a good practice to use the pet's name. For some reason, people can be hesitant to bring up the pet's name or mention them too specifically. The idea is to avoid causing the mourner further pain.
That thinking is a fallacy. The grieving person actually feels validated in their grief when you say the name of the one they lost. So don't be afraid to say the pet's name, aloud or in your sympathy card.
7. Share a story, memory, or photo. If you want to go longer that just the "short and sweet" style we advocate above, you won't go wrong by sharing a story or memory. Or by including a photo, for that matter.
A new story or photo is like getting an extra moment of the pet's life, a snapshot that they never had before, and they will treasure it.
Here are 50 ideas on what to say (and what NOT to say) in a sympathy card.
What to Get Someone Who Has Lost a Pet
Maybe you want to go beyond the sympathy card, and get your loved one a gift to honor and help them remember their beloved pet. But you need some ideas!
Below is a brief list of popular sympathy gifts to get for the friend processing the loss of their beloved furry friend.
6 Great Pet Loss Sympathy Gift Ideas
1. Pet loss gift basket. Gift baskets are making a comeback! So one of the most popular ways to show your support to a friend who has lost a pet is to give them this popular gift. You can purchase one or create it yourself. Include items such as pocket tissues, cookies, candy, a gift card, a sympathy card, candles, a personalized memorial stone for their yard or garden, and a framed photo of their pet.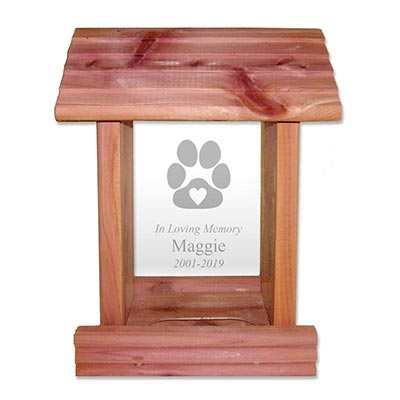 2. Pet loss memorial bird feeder. This is also a very popular gift. Pet loss memorial bird feeders can be personalized, and provide hours of peaceful interaction with nature in memory of one's pet. Get your loved one a personalized memorial bird feeder here.
3. Sympathy wind chimes. Every time the wind blows, the beautiful tones of a wind chime can offer your loved one a pleasant, peaceful reminder of their pet. Here is one that is set to the tune of "Amazing Grace." And here is one that can also be personalized.
4. An outdoor memory stone. Personalize with the pet's name, along with date of birth or adoption and date of death. Your loved one can place the stone in their garden, yard, or even indoors on a shelf or mantle. Can be added to a gift basket. Available here.
5. A framed photograph of the pet. Photos of the pet that has passed away is an appropriate gift idea for your grieving friend, but keep in mind that everyone grieves differently. This is one of those gifts that may make your friend even more sad…you know your friend best, but it's something to think about before gifting a photo. That said, frames can also be personalized and added to gift baskets.
6. A small stone figure or statue of an angel holding their "pet." This is a wonderful gift idea, especially in the case that your friend or loved one is religious. They can place the statue outside, on the porch or in the garden, or somewhere indoors where they can see it often. The image of the angel gently cradling their beloved pet will be sure to bring them comfort every time they pass by it. Here's an angel holding a cat, and here is an angel holding a dog.
Click here for 100 more pet memorial gifts.
Pet Loss Sympathy Gifts On a Budget
If you're on a budget, you definitely don't have to purchase anything in order to show your support for a friend. Cook a meal for them, or offer to take them to the park or somewhere else to help them "get out of the house."
You can even go the DIY route and create them something one-of-a-kind, such as a memory necklace, handwritten poem, picture book, anything that could be added to a gift basket, or even a handmade card.
More Pet Sympathy Gift Ideas
Want to explore more gift ideas? Check out this article from All Gifts Considered that features 10 Heartwarming Pet Sympathy Gift Ideas.
4 Things to Do (& 4 Things Not to Do) When a Pet Dies
Whenever a death occurs, including the death of a pet, some things are appropriate to say and some things just aren't. It can be hard to remember what is or isn't, so look over this list of "Do's and Don'ts" to help keep you on the right track.
What to Do When Someone Loses a Pet
Do…
Say how lucky the pet was to have had your friend to share life with. This is especially true if the pet was adopted or rescued
Remind them what a wonderful life their pet had with them
Say the pet's name; this validates their grief and is much better than avoiding the pet's name (which feels like an invalidation)
Keep in contact with them. Offer to bring them a meal or help around the house if they need it
Keep an eye on your friend and how they are doing. Remember that everyone grieves differently and some people will need more support than others
Don't…
Ask when they will be getting another pet. They might at some point, but each individual pet is irreplaceable and it is important to recognize that truth
Tell them it's time to move on, to stop grieving, that "it's just an animal"
Mention the Rainbow Bridge (or "pet heaven"), unless you are sure that they would want you to
Tell them you know exactly how they feel, because you've been there, etc. Everyone experiences loss differently, and every loss is different because it is a different pet or person
---
We hope this article has given you some good ideas for what to do when someone loses a pet. When in doubt, just remember that it's your job to simply be there for your friend or loved one as they process their grief and remember the life of their furry friend. More than anything, your presence and attention alone is the nicest gift you can give.
Read Next: Best Dog Memorials & Sympathy Gifts
Pin It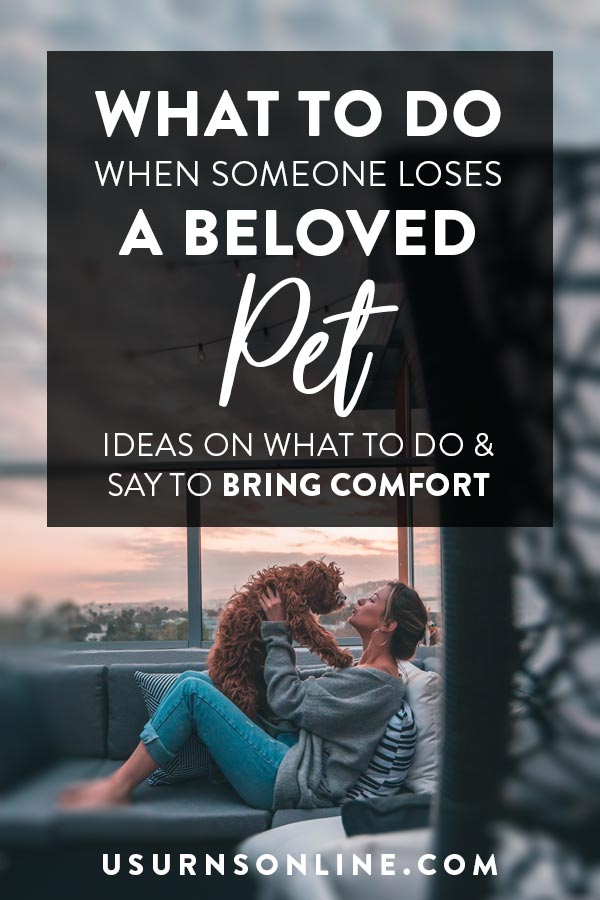 Aubrey is a lifelong writer who has served in the funeral industry since 2016. After graduating from Dallas Institute of Funeral Service, she knew she wanted to continue to serve families through her writing, but didn't know how.
Soon after, Aubrey experienced a "lightbulb" moment and started her eulogy writing business, Eulogies by Aubrey, in 2019.
Aubrey has written professionally since 2012, covering not only funeral-related topics and gift trends, but also for TV guide listings, as well as legal topics. She began writing for US Urns Online in 2019.
Aubrey's work has been featured in Huffpost, Coming of Age Magazine, and 1800Flowers.com. Increasingly interested in prenatal and postpartum mental health, as of 2023 Aubrey is a trained and certified birth and bereavement doula (SBD), and is currently studying toward her degree in Health Science. She also holds additional certifications in Cremation Arrangement (ICCFA) and Burial at Sea (NEBAS).