Once the service is over, the family can have a funeral repast as they share a meal, reminisce, grieve, and enjoy one another's company.
This is frequently done as a reception, but it can also be a private meal at someone's home or at a restaurant. No matter where or how the it is done, nothing brings people together quite like food.
Food has a special meaning to every culture. You just feel closer to someone when you sit around a table together with a plate of delicious, soul-satisfying food before you, and conversation naturally begins to flourish.
But you're probably wondering, What is a funeral repast? Should you cater it? Have your repast at a restaurant? Could it be a potluck? What is the proper etiquette?
These questions and more will be answered below. Keep reading and find out how to host a repast that would make your loved one proud.
What Is a Funeral Repast?
A funeral repast is a meal after the funeral, shared by the family and friends of the deceased. It provides a place for everyone to gather and grieve together. Sharing food and special memories will help people begin to heal and work through their grief.
A repast is sometimes referred to as a reception. No matter what you may call it, it is a special time for sharing. It is perfectly acceptable to serve finger foods, a full meal, or simply dessert. The food can be made by family members, catered, or by all in the form of a potluck.
You can make it a party or a more subdued occasion. You can have a repast at any time of the day, breakfast, lunch, or dinner. Choose the way that best suits you and your family.
The repast is not as formal as the funeral. People will tend to be a bit more relaxed, loosening their ties and taking off suit coats.
Is there always a repast after the funeral?
No, there isn't always a repast after a funeral. Some people choose to go home and spend time with their immediate family. Or they might even just want some quiet time to grieve by themselves.
Who is invited to the funeral repast?
Typically, anyone who attended the funeral is invited to the repast. But, you can also have a repast by "invitation only."
Where is the funeral repast held?
The repast is often held at the family home. But depending on the arrangements, the family may have it at their church, a reception center, or even a restaurant.
Who provides the food for a funeral repast?
Food may be catered in, prepared by the family, or everyone can contribute. There are no hard and fast rules when it comes to a funeral repast. The most important part is to show support to the bereaved family.
How to Celebrate Your Loved One with Food
Eating good food brings us together. Be it ethnic foods (Mexican, Italian, Chinese, or any others you can imagine) or a variety of favorites (pizza, tacos, or burgers); food is a way to gather and enjoy each other's company.
Food, like love, conquers all. There are no barriers once you sit down and break bread.
1. Serve food from their favorite restaurant
Have your loved one's favorite restaurant cater the funeral repast. Or have everyone meet at the restaurant. They might even have a banquet room that you can rent for the occasion.
2. Make their favorite meal
Did your loved one enjoy spaghetti and garlic toast? Roast beef and mashed potatoes? A hearty casserole? All of the mentioned? Then make a favorite meal, and everyone can enjoy great food and beautiful memories!
Here is 55+ comforting funeral food recipes that are easy to make.
3. Share their famous recipe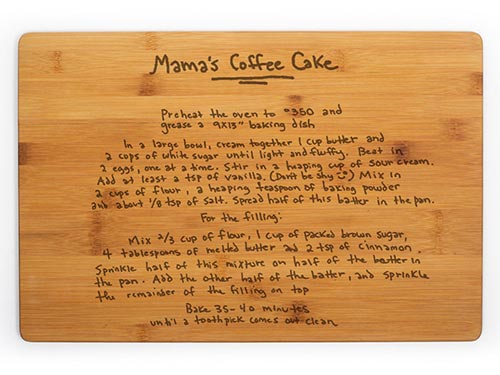 What was Grandma's best recipe? Her famous fudge? Her secret brownies? What about her delicious country gravy? This is the perfect time to make her renowned dish and share the recipe that made it so unique to her.
4. Create a slideshow to play during the repast
Gather those beautiful memories together and have a slideshow made. If you don't know how to do a slideshow, ask your funeral director. Most funeral homes can make a phenomenal slideshow for you for a minimal charge.
Ask friends and family to go through their photos. They will have pictures of your loved one that you've never seen. These slideshows are so much fun and will bring back long-forgotten times.
You'll relive old memories and make new ones too.
5. Decorate with their favorite themes
What were your loved one's favorite foods? Did he enjoy the food truck by his worksite? Did she love that little Mexican cantina down the street? Or maybe he loved that little corner bar.
Decorate with their favorite food or beverage venue in mind. Make it personal – you won't regret the extra time you put into planning their celebration.
6. Have guests write down memories and stories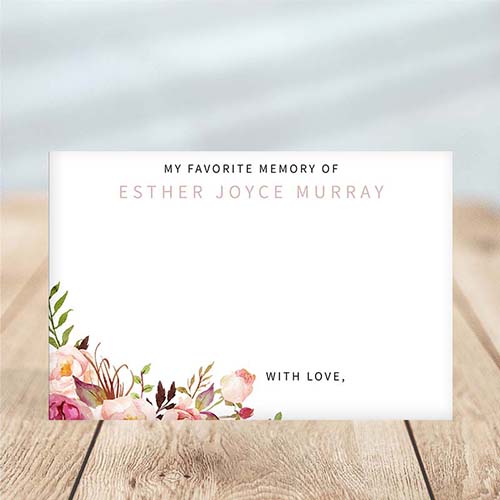 Supply your guests with notecards and pens. Let them write down their dearest memories and funniest stories. You can read some aloud at the repast – and save them all to read and read again!
Make a scrapbook or place the notecards in a photo album. These memories and stories are something you will cherish forever.
7. Celebrate their life in a creative way
There are so many imaginative ways to celebrate your loved one's life!
Bring a recipe to contribute to a "memorial" cookbook.
Set up a memory board for people to add a favorite photo.
Have a memorial quilt made from their clothing.
Start a scholarship in their memory.
Plant a tree in their memeory.
For more great ideas, see our list of 100 Inspirational Celebration of Life Ideas.
8. Include their favorite candies or snacks in the table centerpiece
Make some tasty centerpieces with cookies, breads, or candies. You might even want to put out individually wrapped candy bars. Whatever your loved one enjoyed snacking on is a great way to celebrate their memory.
Use pictures, candles, or flowers and place the favorite candies and snacks to help brighten the table.
9. Host a potluck & have everyone bring a special dish
Potlucks are an incredible way to bring people together. Everyone bringing a favorite dish from a family recipe, a favorite cultural dish, or even a new recipe is excellent.
Don't hesitate to ask people to bring a dish. It's an honor to help celebrate someone's life. My mother always took a homemade German Chocolate Cake to funeral repasts held at our church. For years, I thought a funeral was where people went and ate cake at church.
Food is a perfect way to gather your friends and family around you. Nothing brings comfort to you like a favorite dish. Be it a nice warm soup, gooey brownies, or pizza from your favorite place – food is the great equalizer.
Read next: Funeral Reception Planning Guide