What are funeral potatoes, and why do they have such a ghoulish name?
Whether you're scrambling to find a dish to bring to a funeral potluck, need a new potato recipe to add to your rotation, or are just weirded out by the macabre term and want to know more, we have the complete guide to funeral potatoes right here.
Learn how to make this comfort-food staple, how it got the odd name, how it differs from other potato casseroles, plus how to store, substitute, and deliver it as part of a meal train.
What are funeral potatoes?
Funeral potatoes refers to a popular casserole made of shredded potatoes baked in a creamy, cheesy sauce, topped with corn flakes.
Rich, hearty, and decadent, this is a beloved side dish taken to potlucks and other social gatherings.
It's also a staple of "meal trains," where hot or frozen meals are delivered to a family with a newborn, experiencing a surgery or illness, or grieving a death in the family.
Why are they called funeral potatoes?
In the South, the Midwest, and other regions such as Utah, it is common to have a potluck reception after a funeral service at church. It's natural and even expected that attendees and church members bring "comfort food" on such occasions.
Since this really is the ultimate comfort dish, it became a standard at funeral receptions, and thus became tagged with the name "Funeral Potatoes."
10 Best Funeral Potatoes Recipes
You'll have to try all ten recipes to decide for yourself which one is best.
1. Funeral Potatoes with Real Potatoes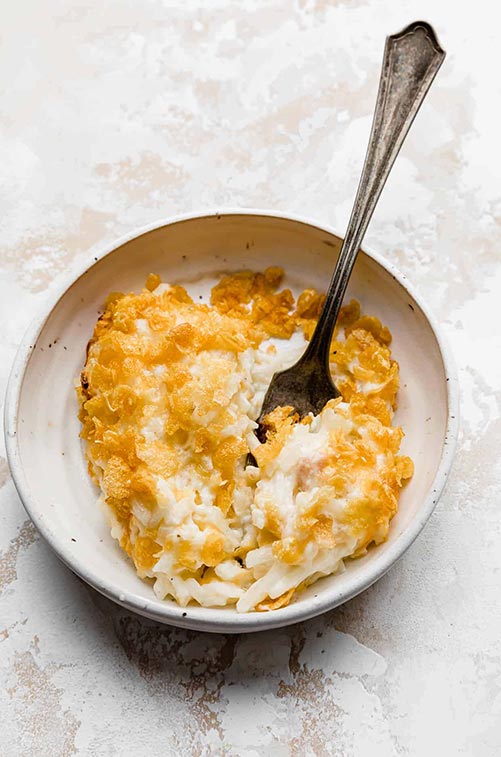 Ingredients:
Potatoes
Onion
Cream of chicken soup
Salt and pepper
Sour cream
Cheddar cheese
Cornflakes
Butter
I love this recipe for Funeral Potatoes because it calls for real potatoes. Yep. Real taters.
Boil 'em, mash 'em, stick 'em in a casserole.
Whitney at Salt and Baker developed this recipe for the funeral potluck standard using cooked, cooled, and shredded potatoes, which makes it taste so much better and feel all the more authentic.
Plus, she includes one important tip you don't always see: Coat your corn flakes in melted butter to attain extra-crispy perfection in the oven.
Yes, please.
2. Easy Funeral Potatoes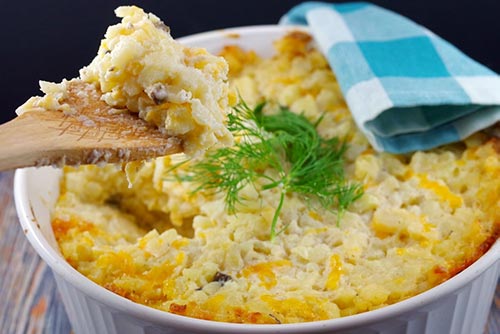 Ingredients:
Frozen hash browns
Sour cream
Mushroom soup
Sharp cheddar cheese (grated)
Onions
Butter
The recipe author, Terri from Food Meanderings, calls it Potatoes Romanoff (see below for the differences). But really this is just a super-easy version of Funeral Potatoes. All you'd need to do to make it 'official' is add some corn flakes or crushed potato chips to the top.
Made with frozen hash browns, low-fat sour cream, cheddar cheese, and mushroom soup, it's a little lighter than the usual fare, but fully delivers on taste! As a bonus, she includes details on how to make it in a slow cooker.
3. Funeral Potatoes Recipe Without Corn Flakes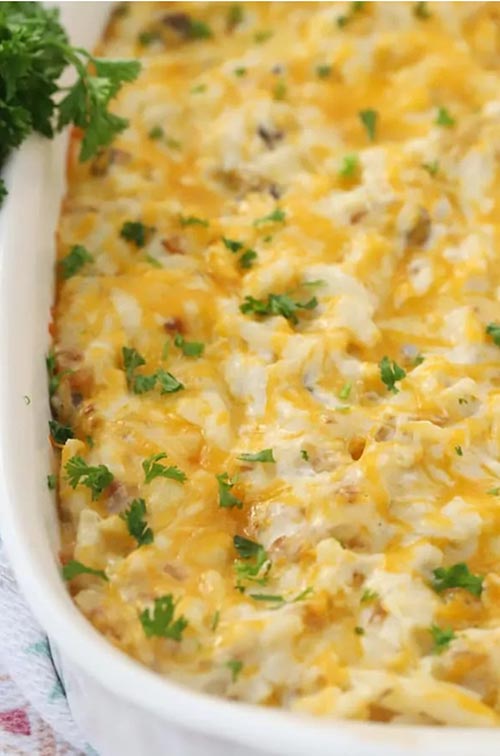 Ingredients:
Butter
Onion (yellow)
Shredded frozen potatoes
Cream of mushroom soup
Chicken broth
Sour cream
Shredded cheese
Garlic salt
Perfectly cheesy and full of bold flavor, the garlic salt combined with cream of mushroom soup AND chicken broth AND caramelized onions tips this Cheesy Funeral Potatoes recipe over the top and into tasty heaven.
(Too soon with the heaven reference? We think not – a taste of heaven is what the grieving family needs right now!)
From Jill at The Carefree Kitchen, this recipe includes plenty of tips on how to make ahead of time and how to freeze it.
4. Mormon Funeral Potatoes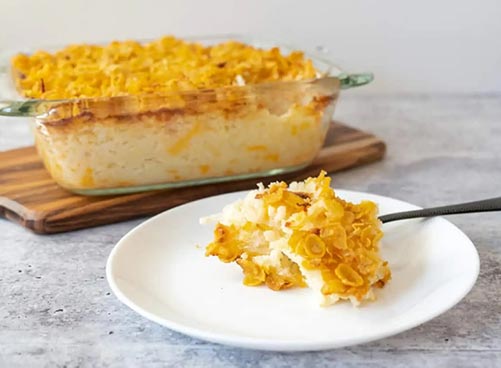 Ingredients:
Frozen hash browns
Cheese
Sour cream
Cream of chicken soup (or stock)
Butter
Corn flakes
Fried onions
A popular side dish at funeral dinners and receptions, these "Mormon Potatoes" are cheesy and topped with crunchy corn flakes. It's a truly comforting dish.
You can make this ultimate comfort food for your family at home and – bonus! – your kids will love it too!
5. Amish Funeral Potatoes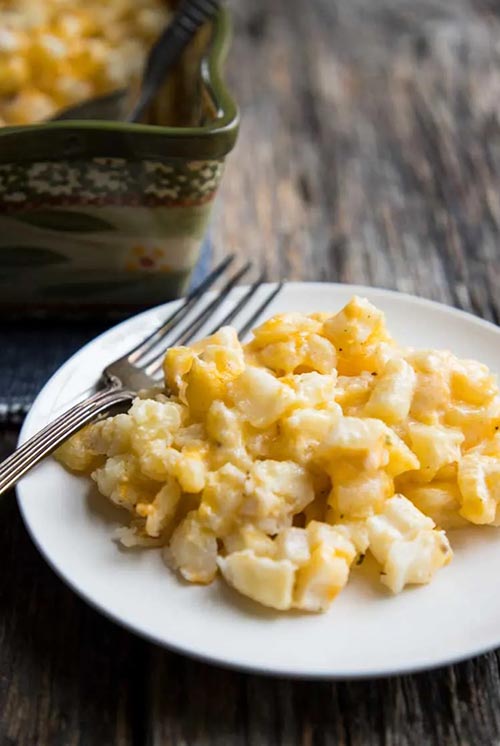 Ingredients:
Frozen Southern style cubed hash brown potatoes
Sour cream
Onion powder
Salt and pepper
Sharp cheddar cheese
Butter
Cream of chicken soup; to make your own, you'll also need:

Chicken stock
Garlic powder
Poultry seasoning
Dried parsley
Paprika
Milk
Corn starch
Amish Funeral Potatoes takes the recipe for a fresh turn with details to skip the canned condensed soup and make your own from scratch. (Don't worry, it doesn't take that long and it's not very difficult.)
Ultimately, of course, the extra effort means that this version of the mind-numbingly delicious casserole tastes even better than you could possibly imagine. From Rachel at Feast and Farm, who includes variations for gluten-free to boot!
6. Healthy(-ish?) Cheesy Funeral Potatoes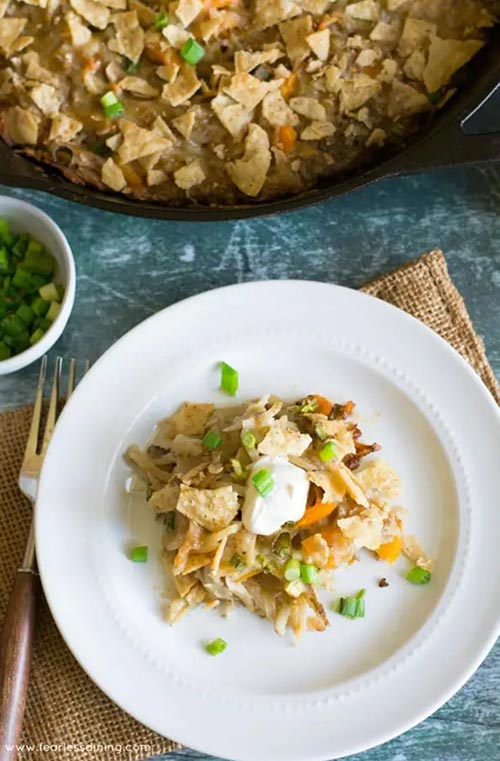 Ingredients:
Potatoes large Idaho russet
Bell pepper
Onion
Minced garlic
Scallions
Plain Greek yogurt
Cheddar cheese
Hatch chiles
Cumin
Salt
Onion salt
Tortilla chips (crushed)
This somewhat-healthier funeral potatoes recipe is easy to make and has some great twists like yogurt in place of sour cream.
They have a kick of spice from roasted hatch chiles, and use tortilla chips instead of corn flakes for a topping. The combination (plus cumin, another unique twist) gives it something of a Mexican flair while still retaining the incredible level of comfort food we all expect from funeral potatoes.
7. Amazing Funeral Potatoes Recipe (No MSG!)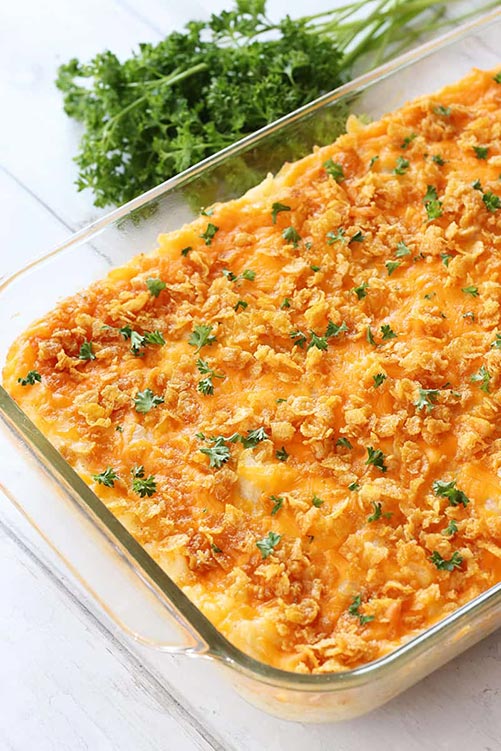 Ingredients:
Frozen hash browns
Cheddar cheese
Sour cream
Butter
Garlic powder
Salt and pepper
Corn flakes
Fresh parsley (garnish)
Cream of chicken soup, homemade:
Tiffany at Made from Scratch created this cheesy funeral potatoes recipe, and it is AMAZING.
Everything is done from scratch so it's completely MSG-free and can be made ahead or kept frozen until you need it. Then pop in the oven and add a crunchy topping for a delicious bite!
8. Instant Pot Funeral Potatoes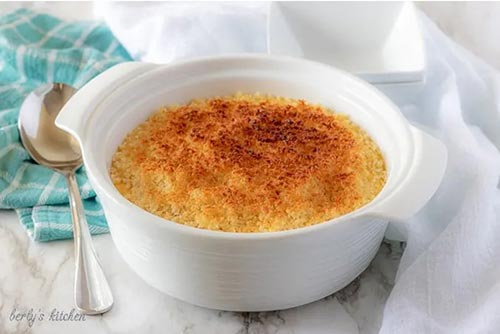 Ingredients:
Butter
White onion (chopped)
Garlic cloves (minced)
Chicken broth
Salt, pepper
Crushed red pepper
Frozen shredded hash browns
Cheddar cheese (shredded)
Sour cream
Panko bread crumbs
Combining everyone's two favorite ingredients (potatoes and cheese) with everyone's favorite kitchen appliance (the instant pot) makes potluck prep a breeze – and ridiculously delicious!
There's a reason why this filling, creamy, and decadent recipe is perhaps the go-to dish for "Southern comfort food." It's the same reason cheesy potato casseroles show up at funerals and as a sympathy meal – there's something soothing about eating food that warms the heart.
From Berly's Kitchen, get the Instant Pot Funeral Potatoes recipe here.
9. Gluten-Free Funeral Potatoes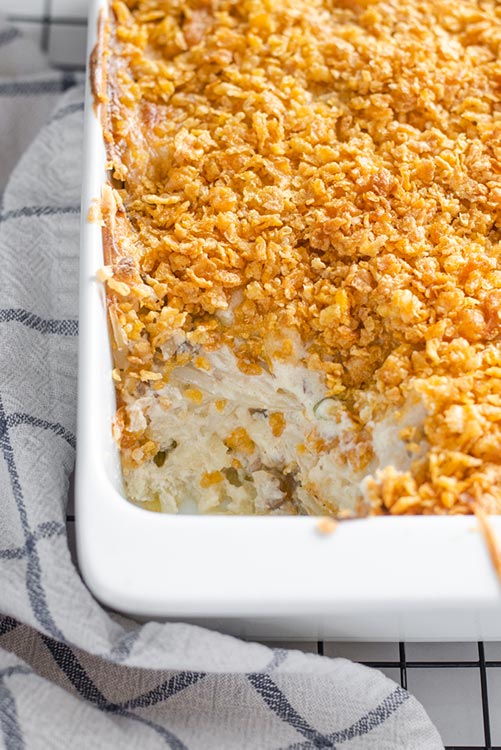 Ingredients:
Butter
Portobello mushrooms (button mushrooms would work as well)
Yellow onion
Sea salt
Ground black pepper
Chicken broth
Whipping cream
Cornstarch (a wonderful gluten-free ingredient for thickening)
French onion dip (uh-huh…that's the secret ingredient!)
Frozen hash browns
Shredded cheddar cheese
Gluten-free cornflakes
Just because you're going gluten-free doesn't mean you can't still enjoy funeral potatoes! This classic casserole features the perfect ingredients to make going gluten-free easy anyways, so you don't lose much in the process.
Erica at Buttered Side Up adds a secret ingredient to this Gluten-Free Funeral Potatoes recipe to make it extra delicious.
10. Funeral Potatoes Without Sour Cream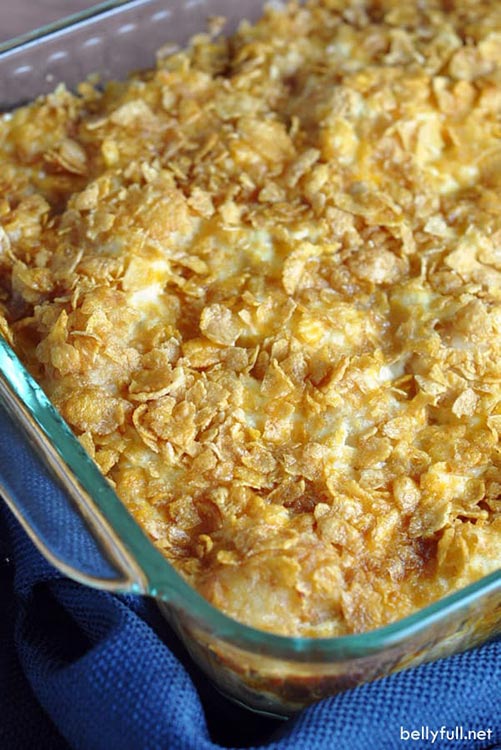 Ingredients:
Sharp cheddar cheese
Monterey Jack cheese
Cream of chicken soup
Plain Greek yogurt
Unsalted butter
Sweet onion
Tater Tots
Corn flakes
Amy at Belly Full provides a classic cheesy potato casserole recipe that doesn't use sour cream. The name comes from its popularity being served at a lot of funerals, especially around the Midwest, because they are pure, crowd-pleasing comfort food.
Not just for funerals or even just potlucks, they're a great side dish to accompany any dinner – this dish goes with just about anything. Everyone loves them!
Substitution, Baking, Storing, & Delivery Tips
Convert These Recipes to Crockpot Funeral Potatoes
We have one instant pot recipe above, and several chefs have included instructions on how to make their version of funeral potatoes in the crockpot.
But perhaps it's a warm day and you don't want to turn on the oven, or you want your dish to stay hot all the way through the service. So you choose to make your casserole in the crockpot.
Here's how:
One hour baking at 350º = 4-6 hours in crockpot on high, or 8-10 hours on low.
Consider reducing liquid by about one eighth. Slow cookers tend to trap the steam whereas oven baking will let it out.
Common Ingredient Substitutions for Funeral Potatoes
Potatoes – You can use real, fresh potatoes (shredded by hand or in a food processor), frozen hash browns, or even frozen tater tots.
Cream of chicken soup – Having a thick, creamy base is key, so many recipes call for cream of chicken. You can substitute chicken stock or broth, you'll just want to increase or add some denser components (sour cream, cheese, or cream cheese, even cottage cheese or ricotta) to compensate. You might also use cream of mushroom or other similar condensed soups.
Chicken broth – The reverse is also true, you can substitute cream of chicken soup in place of broth or stock. Just dial down some of the thicker or more dense ingredients.
Milk/cream – If the recipe calls for milk, you can use cream (and vice versa, though I'd add butter if subbing milk for cream). Another option is to substitute your favorite non-dairy milk. You know it won't taste quite the same, but it will do in a pinch. Coconut milk is perhaps the best to complement the cheesy potatoes flavor; others say almond milk.
Sour cream – Use plain Greek yoghurt instead.
Cheese – Some recipes call for a specific type of cheese. You can make do with just about any of the common ones found in the shredded cheese section. Cheddar of all varieties, Monterey jack, and pepper jack are among the best. Gruyère, gouda, and provolone will add incredible flavor, but should be used in moderation along with other cheeses (like cheddar).
Corn flakes – This is the signature ingredient that sets apart funeral potatoes from all other casseroles. However, in a pinch, you can substitute plain/classic potato chips, crispy fried onions, Ritz crackers, tortilla chips, bread crumbs, of just skip it entirely and top your dish with more cheese.
How to Prepare Ahead of Time
Prep all the ingredients and put it all together, except for the topping. Don't turn on the oven. Instead, store your tray in the freezer for up to a month.
To bake, add about 50 degrees to the bake temp, and about 15 minutes to the cooking time. Each recipe is different, so you'll have to monitor it (especially depending on how deep you've made the dish), but this is a good starting point.
Add your topping (corn flakes, potato chips, bread crumbs) for the last 10-15 minutes.
How to Freeze and Store Funeral Potatoes
If you bake ahead of time, you can still freeze your casserole. Make sure to let it completely cool before placing it in the freezer. This is easiest using disposable cooking pans with lids.
Store in the freezer for up to a month. To reheat, let it thaw overnight in the fridge. Bake it at the original temperature until the dish reaches 160º; this typically takes an extra 10-20 minutes from the original cook time.
Keep leftovers in the refrigerator for up to 4 days. Reheat in the microwave one serving at a time – you'll be amazed at how delicious even microwaved funeral potatoes can be.
How to Deliver Funeral Potatoes as a Sympathy Meal
Make it in a disposable aluminum cooking pan. That way, the recipient won't have to worry about returning a dish. Deliver it in a cardboard box to protect your hands (and theirs!) from residual heat.
Potatoes take a long time to cook and stay hot for a while, so start early and give yourself plenty of time.
Plan on not staying; the family is grieving, and may not feel up to having visitors, even briefly. If you're not sure about what to say, just borrow one of our condolence messages. We know you want to help (that's why you're delivering a meal!) but now is probably not the time to talk. Rather, consider some of these ways to help your grieving friend.
For more tips and recipes, read our Sympathy Meal Guide.
Funeral Potatoes History & Traditions
Where did funeral potatoes originate?
Funeral potatoes may have originated in the Southern states, in the Midwest, or in Utah. Wherever it began, the dish is now most closely associated with Utah and Mormon culture, with the South as a close second.
Potato casseroles have been around for ages, from the French au gratin to the Russian romanoff to all sorts of other varieties, which may or may not include cheese, sour cream, broth, vegetables, and various seasonings and toppings. So it should come as no surprise that there's no definitive location for where the dish was invented.
However, if I had to take a guess, I'd say that mixing potatoes, cream, and cheese most likely originated in heaven.
Wherever it came from, it's now the ultimate all-American comfort food.
When were funeral potatoes invented?
Since the recipe's origin is unclear, we can't pin down a date of creation. We do know that funeral potatoes became a common side dish in the early 1900s.
Are funeral potatoes a Utah thing?
Funeral potatoes are often associated with the Utah region and the Church of Latter-Day Saints, aka Mormons. This is due to the recipe appearing in Mormon Relief Society Cookbooks (like this one) from the 1930s.
And, you know, because people in Utah love it.
In fact, the comfort-food dish is so popular in Utah that when the 2002 Olympic Games were held in Salt Lake City, this funeral potatoes commemorative pin was released as part of a set of pins celebrating Utah's culture and heritage.
What are some other names for funeral potatoes?
You might also know this delicious dish as great potatoes, cheesy potatoes, Amish potatoes, Utah potatoes, "those" potatoes, Mormon potatoes, potato hot dish, hash brown casserole, Christmas potatoes, party potatoes, or simply, potato casserole.
What's the difference between funeral potatoes and…
Potatoes Romanoff – This is essentially the same dish, but with mashed potatoes instead of shredded potatoes, and often no corn flake topping.
Scalloped Potatoes – Cooked in cream but with no cheese. Also, the round potato slices are typically cut a little thicker than with au gratin, which are intentionally razor-thin.
Au Gratin – Like scalloped potatoes, but with cheese. The cheese is layered between the potatoes and on top.
Each of these dishes transforms the humble potato a buttery, creamy baked casserole. Although there are similarities and many variations even among these recipe types, the two things that set funeral potatoes apart are these:
Shredded potatoes (vs. sliced, diced, or mashed)
Corn flake topping (or potato chips)
Now that we've talked to death (sorry!) about funeral potatoes, I'm getting hungry. Time to pick a recipe and start cooking!
Pin It