There are few other things in life worse than the loss of your mom. Your mother can be your very best friend or your worst enemy. Either way, the loss can be devastating.
That connection makes it all the more difficult to find the right words to say when a family member or friend has experienced the loss of a mother.
We have put together a list of sympathy messages, quotes, and thoughts for you or anyone that has lost a mom, mother, or very best friend.
Short Condolence Messages for Loss of Mother
Here are 10 brief things to say or write to someone who has lost their mother.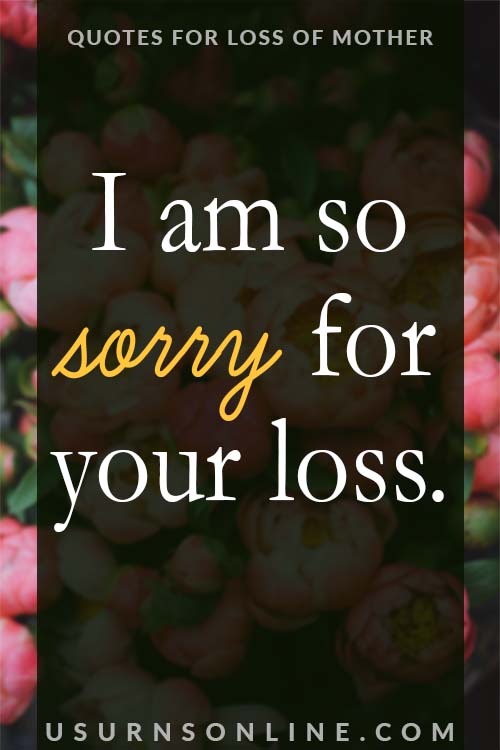 1. I am so sorry for your loss.
2. My prayers are holding you close to my heart.
3. Be comforted by your memories.
4. There is no one in the world like your mother.
5. I am sorry for your sorrow.
6. Your mother will be greatly missed. She was a gem.
7. There is nobody in the world quite like your mom.
8. May your mother's soul rest in peace.
9. My deepest condolences to you and your family during this time of loss.
10. Gone from this earth, yet she will never be forgotten.
More: 101 Best Condolence Messages
Meaningful Sympathy Messages for Loss of Mother
These are examples of words of sympathy written from the heart, ideal for a card, note, or text message.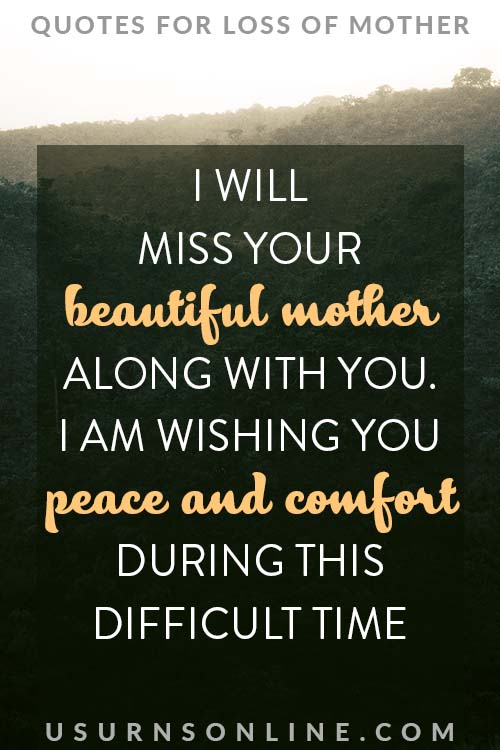 11. I will miss your beautiful mother along with you. I am wishing you peace and comfort during this difficult time.
12. Your mother's endearing legacy is carried on through you.
13. I loved your mom like my own. I will miss her always.
14. Words cannot express my heartfelt sympathy for your loss.
15. Your mother's passing is truly a devastating loss. I hope you know that I am here for you during this hard time.
16. It doesn't matter how old we are, we always need our mothers. My prayers are with you.
17. You took such wonderful care of your Mom these last months. She was so lucky to have you. The only thing I can say is, hold on to the memories. It's those fond memories that can be a great source of comfort during such a challenging time.
18. You will always remember what it felt like to be loved by your mom. That's a memory worth treasuring!
19. Your mom's love will always be treasured. She is the first to love you, and will will always hold her close in your heart.
20. Your mother was truly one of a kind. She will never be forgotten by any of us who knew her.
21. My heart is broken for you and your family. Whatever I can do for you, just let me know.
22. I cannot imagine what you are feeling right now. Just remember that I am only a text or a phone call away.
23. In your time of sorrow, we would like to extend our heartfelt condolences to you and your family.
24. I was so blessed and honored to know your mom. She was truly a beautiful lady and I will miss her.
25. Our sincere condolences to you and your family. The angels rejoice at her homecoming.
26. Grief can be difficult. But all of us who care about you share your grief.
27. Heartfelt thoughts go out to you in this sorrowful time.
28. With love and friendship, we share in your time of sadness.
29. She was loved deeply, so we will grieve deeply too. My heartfelt condolences are with you and your family.
30. Our community has suffered a great loss with your mother's death. We are all gathered around you to offer our comfort, support, and love.
Related: How to Write a Tribute to Mom
Loss of Mother Quotes
Traditional and famous sympathy quotes to honor your mom with comforting words.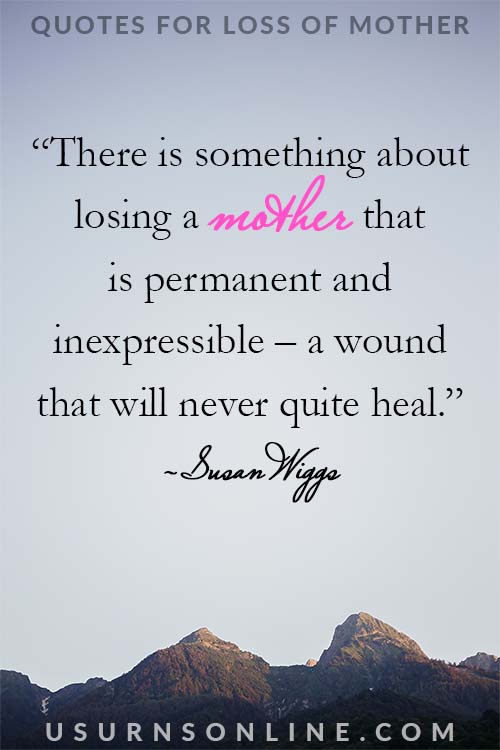 31. "There is something about losing a mother that is permanent and inexpressible – a wound that will never quite heal." – Susan Wiggs
32. "A mom's hug lasts long after she lets go." – Author Unknown
33. "Motherhood: All love begins and ends there." – By Robert Browning
34. "Wherever a beautiful soul has been there is a trail of beautiful memories." – Author Unknown
35. "Had I known that destiny always takes away people you love the most, I would have pretended to hate you endlessly. I miss you mommy." – Anonymous
36. "Love as powerful as your mother's for you leaves its own mark. To have been loved so deeply, even though the person who loved us is gone, will give us some protection forever." – J. K. Rowling
37. "Now I know why you always asked me to be strong… because you know that one day I would need the strength to bear your loss. I miss you, mom." – Anonymous
38. "The death of a mother is the first sorrow wept without her." – Anonymous
39. "A mother is a cheerful giver, a mother is a guardian, a mother is a wonderful gift every child can have in life." – Anonymous
40. "Losing a mother is a pain that cannot be described in words. It is virtually impossible to move on from the memory of losing the woman who sacrificed happiness in her own life so that you could have a better one. A mother's love is truly irreplaceable." – Author unknown
More: 50 "In Loving Memory" Quotes for Your Loved One
What to Say to Someone Who Lost Their Mother
The most important thing to do is to acknowledge the loss, their emotions, and feelings. Don't minimize what they are feeling. Don't say things like, "'She is in a better place' or 'Look on the bright side.' These phrases are not going to help them in any way. Instead, here are some things that may help.
41. Your mom was truly an angel on earth, and now one in heaven.
42. Thinking of you and sending prayers and love your way.
43. Your mom was and will always be special to me.
44. Your mother was an amazing woman. You were so fortunate to have her in your life. She'll always have a special place in our hearts.
45. Your mom was a special person, a true friend, and always a joy to be around.
It is said that nothing compares to the loss of a parent, especially a mother. Depending on how well you know the decedent or the decedent's family will give you guidance on how to offer your condolences. After all, the only thing that needs to be said is, "I am so sorry for your loss. Please accept my condolences."
Faith is an important part of so many people's lives and will help them get through this sad time. Here are some Scripture verses that can be comforting and encouraging to share.
46. He heals the brokenhearted and binds up their wounds. – Psalm 147:3
47. We are confident, I say, and would prefer to be away from the body and at home with the Lord. – 2 Corinthians 5:8
48. Blessed are those who mourn, for they will be comforted. – Matthew 5:4
49. Have I not commanded you? Be strong and courageous. Do not be frightened, and do not be dismayed, for the Lord your God is with you wherever you go. – Joshua 1:9
50. But we do not want you to be uninformed, brothers, about those who are asleep, that you may not grieve as others do who have no hope. – 1 Thessalonians 4:13
Offering your condolences at the visitation or funeral is always acceptable. If you can't attend either of these events, write your condolences in a sympathy card.
If you don't know what to say, a hug can say it all.
Read more: What to Say When Someone Dies
What to Do for Someone Who Lost Their Mother
Helping out a friend who has lost their mother is a kind and thoughtful thing to do. We have put together a list of some ideas to help brighten the family's day after such a sad occasion.
Make their favorite meal. Delivering a sympathy meal might seem like a small gesture, but I guarantee that it is greatly appreciated.
Offer to do some housecleaning. They will probably have relatives and friends coming in from out of town. Offer to do some laundry, make some beds, vacuuming, or just all around cleaning.
Make a memory book/scrap book. Use photos from social media or make copies of borrowed pictures. Add some poetry, special memories, or tributes and make a book the grieving family will treasure for generations.
Pick up kids from school. Take some weight off of their shoulders by grabbing the kids from school or the bus stop.
Take the kids to the movies. Offer to entertain the kids by taking them to the movies and grabbing a bite to eat afterwards.
Pray for them. It is good and encouraging to pray with any grieving Christian, in person or over the phone, as well as in your own quiet time. Here are 50 comforting sympathy prayers when you're not sure how to pray.
Send a gift. A thoughtful present, whether food or self-care items or a memorial tribute, conveys that you are thinking of them. Here are our top sympathy gifts for loss of mother.
Send flowers. Flowers are always welcome. Sending them a week or two after the funeral service is thoughtful. Within a couple weeks everyone else's lives have gone back to normal. The gesture of sending flowers or a plant will touch their hearts.
Offer to babysit. Offer to take care of the children for an evening, a day, or the weekend. Offering people a break is always a thoughtful action.
Learn. Read up about the grieving process. Learn more about what the grieving person might be going through. This will give you more patience and greater compassion as you try to do the right thing.
Listen. At times, all they may need is your ear. Listen to their sorrow, grief, and fears. Offer a helping hand where possible.
It can be a tough time, helping a friend through the loss of their mother. But now that you have read these sympathy message ideas and suggestions, you have a better understanding of how you can help. Sometimes the best thing is just to be available.
Read Next: Sympathy Gifts for Loss of Parent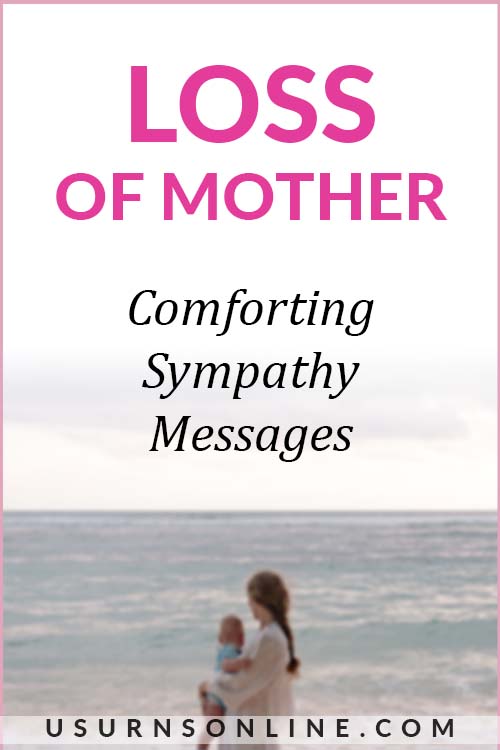 Karen Roldan has been in the funeral industry since 2006, and a licensed funeral director and embalmer since 2008. She is currently licensed in the states of Indiana and Pennsylvania.
She attended Worsham College of Mortuary Science in Wheeling, IL, and graduated with an associate degree in Mortuary Science.
Karen enjoys wring about the funeral industry because her passion is helping families in their deepest time of need. She feels being a funeral director is a calling and she is proud to fulfill this role.
Karen is a wife and the mother of four sons. She, her husband and their youngest son call Pennsylvania home.