Writing a tribute to a mother who passed away is a bittersweet task. The loss itself creates a heaviness in your heart that seems unbearable, yet the act of remembering her results in a joy that is profound.
Mothers are the most special people in the world. They embody the grace and wisdom needed to succeed at humanity's most important role. No one shows the kind of unconditional love that our mothers display for us.
That's why, when we pay them tribute, we must do it in a memorable, respectful, and beautiful way. To offer the very best tribute to a mother proves that we are honoring the most highly regarded person in our lives.
Still, it's not an easy thing to do. Writing is hard enough, and few of us have much experience writing a tribute. It's even more difficult when you're experiencing the emotions that come after the passing of a loved one.
So here is our guide on how to write a tribute to a beloved mother. We hope this resource serves you well.
Tribute vs Eulogy: What's the Difference?
A tribute is a respectful speech that honors an individual. It can be given after their death, but it can also be spoken in honor of someone who is still living, possibly even in the room.
A eulogy is a very specific type of tribute that is given at a funeral. It tells the decedent's life story and tries to give a sense of what they meant to those closest to them, and to the world.
Typically only one eulogy is given at a funeral. But what if there are more people who want to say something in their memory? This is where a tribute speech comes in.
In this sense, a tribute is often shorter than a eulogy, sometimes just a quote, a brief heartfelt paragraph, or a single story that the person wants to tell. These tributes still contribute to the overall tapestry of her life story and legacy.
How to Write a Tribute to Mom
You probably knew your mother better than anyone. Be confident that your personal memories are accurate and worthy of being told. You can always consult with family members to help you recall the stories of your mother that you all shared.
When telling your mother's life story, it's important that you present information in chronological order. Begin with the place and date of birth and move forward from there. This makes the narrative easy to follow.
Keep in mind that it's not necessary to include every detail of her life. Ask yourself which moments were the most meaningful.
And don't forget to use transition words or phrases when moving from one event to another. This will provide further clarity overall.
Below, we've provided 10 things you could feature when writing a tribute to your mother. If you include everything below, it will be very similar to a traditional eulogy.
As you write your tribute speech, you can utilize any number of these features until you've composed exactly what you want to say.
1. Introduction
To start, introduce yourself to the congregation, especially if there are some guests who don't know you. For example, "Thank you for being here today. For those of you who don't know me, my name is ____________ and I am _______________'s eldest daughter/son."
If you feel that the standard introduction is not necessary, you could start the eulogy with an anecdote instead. This is a great way to grab the attention of the audience and create interest. Recall a touching or funny incident you shared with your mother. This should be a moment that was brief but memorable, conveying the personality of your mom.
2. Life Details
After the introduction, identify some basic information about your mother. This includes when and where she was born, where she went to school, and details about her professional and family life.
3. Include Both Ups and Downs
Identify struggles and triumphs along her personal journey. All of these things are important parts of her life story.
4. Help the Audience Relate
Because no one is immune to struggles, this is an opportunity to connect with the audience and make your mother relatable. Equally so, it's an opportunity to let her successes shine!
5. Let Mom's Unique Personality Shine
Identify special qualities or characteristics your mother possessed. Include specific examples if you can.
6. Mention Personal Interests
Describe your mother's goals, talents, hobbies, and passions.
7. Communicate Her Faith
If religious, describe and give examples of her faith. Quote her favorite Bible verse or Psalm if you'd like, or one of these beloved funeral Scripture passages.
8. Tell a Story
Describe a favorite story that you or someone shared with your mother. These could be moments that were touching or funny. Whichever the case, they should be instances that revealed something about her character.
9. Share a Life Lesson
Consider what you and others have learned from your mom. Reflect upon how she has helped or impacted your life or the lives of others.
10. Celebrate Her Legacy
As you conclude the tribute, think about the overall legacy your mother is leaving behind. For what would you like her to be remembered? This is your final moment to leave something for your audience to remember.
Short Memorial Quotes for Mom
Here are some brief quotes to help inspire you as you craft the perfect tribute.
1. Motherhood exists in one's ability to show strength in the face of hardship, tenderness in the presence of sorrow, and joy in the midst of celebration.
2. "Hold dear to your parents, for it is a scary and confusing world without them." — Emily Dickinson
3. "I remember my mother's prayers and they have always followed me. They have clung to me all my life." — Abraham Lincoln
4. "My mother had a slender, small body, but a large heart – a heart so large that everybody's joys found welcome in it, and hospitable accommodation." — Mark Twain
5. "Hear, my son, your father's instruction and do not forsake your mother's teaching;" — Proverbs 1:8
6. "Whatever else is unsure in this stinking dunghill of a world, a mother's love is not." — James Joyce
7. "God could not be everywhere, and therefore he made mothers." — Rudyard Kipling
8. "Motherhood: All love begins and ends there." — Robert Browning
9. "A mother's arms are more comforting than anyone else's." — Princess Diana
10. "A mother's arms are made of tenderness, and children sleep soundly in them." — Victor Hugo
More inspiration: 21 Best Funeral Songs In Memory of Mom
Examples of Tributes to Mom
May these example tributes inspire you to honor your mother in a very special way. Feel free to borrow and adapt the sentiments below as you craft your own tribute to mom.
Short Tribute to a Mother Who Passed Away
As I reflect upon my mother's life, I know she will be remembered as a caring and generous person to her family and friends. I also realize the weight of the legacy she leaves behind. It is a legacy of strength, perseverance, and optimism amid a difficult journey.
She taught her children that through education and hard work, a life can be transformed. She encouraged us to be strong in our convictions and keep reaching for the stars. She is an inspiration to us all and an example of the very simple notion that the stars – our hopes and dreams – can be reached.
Emotional Tribute to a Mother Who Passed Away
Aside from all the treasured memories that my mother left behind, which allow us to hold her forever near, she also leaves behind a legacy of teaching her children what is most important in life.
She taught us to never be afraid of the world, to reach out to people, and to try new things. She was a wonderful example of empathy, especially when showing compassion for others who were struggling.
My mother's love for life propelled her forward, which undoubtedly contributed to her long and fulfilling life. I know that she will continue to guide me as I continue my own life's journey.
Though my mother may be gone, she will never be forgotten. Her memory and legacy will live on as we do, in our hearts, in our minds, and in our souls. I love you, Mom.
Christian Tribute to a Mother Who Passed Away
Though my mother's highest accomplishment was her family, her greatest relationship was with God. She looked everything through eyes of faith, yet in all simplicity. She lived her life according to His word and found comfort in prayer, focusing special attention on seeking intercession and guidance along the way.
She did not bother to sully this relationship by allowing the influence of society to complicate it. She did not need proof that what she practiced was the truth because she was content in pondering the beautiful mysteries that were her faith. If we breathe new life into this lesson of faith, if we incorporate it into our own lives, then we carry on her legacy and give her reason to smile.
Memorializing Mothers: 21 Best Cremation Urns for Mom
In Memory of My Mother Who Passed Away
My mother's tenderness will be seen in the memories of her grandkids, and her compassion for others will be embraced by those she helped and the friends who witnessed.
Her sense of humor will be heard as we recall the echo of her laughter or visualize the outline of her smile.
Maybe, in the whisper of a faint autumn breeze, we'll hear her voice and remember the lessons she upheld that warrant an honor well deserved.
Rest in peace, my sweet mother. You will be missed.
Related: Eulogy Examples for Mom
Words for Someone Who Lost Their Mother
1. Words cannot capture all that your mother meant to me.
2. Your mother's accomplishments will live on in the stories told by generations to come.
3. I'll always remember her for her strength, her beauty, and her ever-comforting encouragement.
4. Though my heart aches at this loss alongside you, at the same time I rejoice for the privilege of having known her.
5. We will live out your mother's example as a testimony and tribute to her.
More: 50 Best Sympathy Messages & Quotes for Loss of Mother
When Writing a Tribute Is Just Too Much
If you're struggling to put into words all that your mother meant to you, a professional eulogy writer can help ease the burden and produce something you'll be proud to read.
As the writer behind In Tribute Eulogy Services, I help provide a fast and easy way to personalize the perfect eulogy to honor your mother. Visit the website to learn more about how I can help with your tribute.
Read Next: How to Write a Tribute to a Sister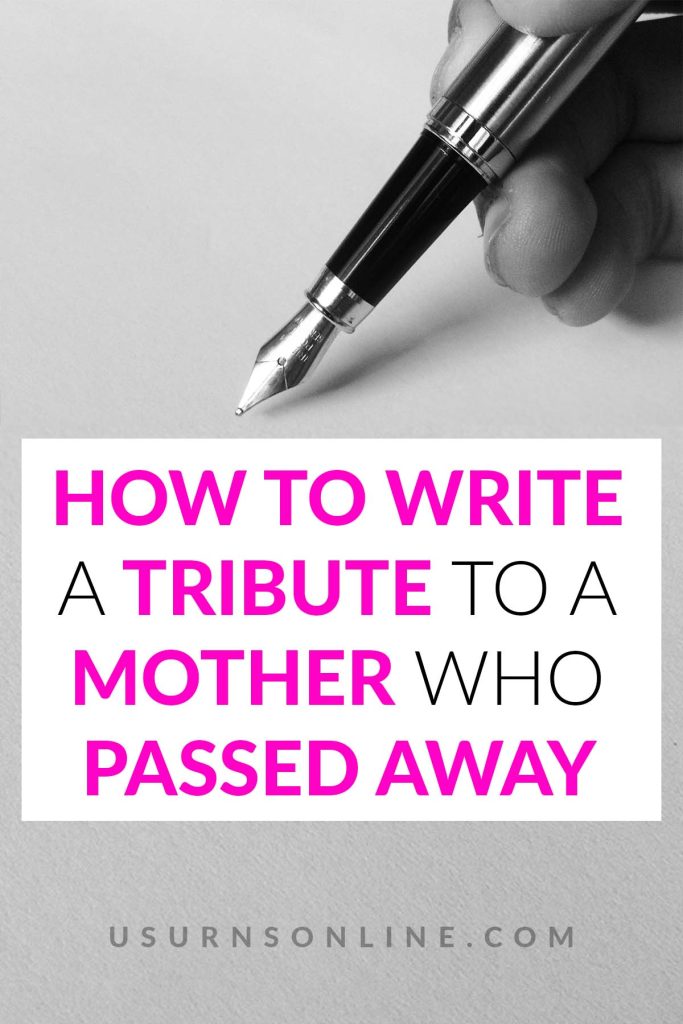 Margaret spent seventeen years as an English and Writing teacher before venturing into the funeral industry as a writer. She has been writing articles for US Urns Online since the summer of 2022. Margaret loves tackling subjects that help others navigate through the difficulties of grief.
After losing three close family members in less than four years and having to endure the difficult task of writing a eulogy for each, she considered assisting others through grief by helping them pay tribute with a beautiful memorial speech. As a result, she started her own eulogy writing business.
Her niche is unique because it offers others something that they might not have considered otherwise. For people enduring loss, it's usually hard to set aside emotions to focus upon capturing life in a celebratory way. Margaret uses her personal experience with grief to practice empathy, making the process of creating a beautiful eulogy easy for her clients.