Today we're talking about sympathy gifts for loss of mother.
When someone loses their mother, they have quite literally lost their first love. The one who gave them life. The first voice they ever heard. Maybe even the one who gave them a second chance at life. To lose a parent is one of the greatest losses a person will ever face, and all of us have to face this realization at some point in our life.
If you know someone who has recently had to say good-bye to their mom, you're probably looking for a sympathy gift that is beautiful and will also bring this person a sense of peace and comfort.
Below, we've gathered a list featuring 10 sympathy gifts, each possessing both of those qualities.
Let's take an up-close look at each gift together.
10 Sympathy Gifts for Loss of a Mother
Our website is supported by our users. We sometimes earn a commission when you click through the affiliate links on our website. Learn more here.
1. Custom Engraved Memorial Tumbler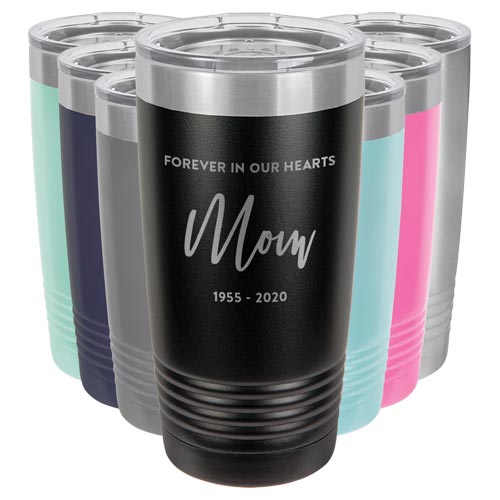 First up we have this personalized memorial tumbler from Northwest Gifts. It can be therapeutic to receive a sympathy gift that can be seen and used every single day. A gift like this tumbler fits the bill perfectly for coffee/tea/smoothie enthusiasts.
The mug comes engraved with the name and dates of your loved one's mother, and is available in seven different colors.
It also features double-walled and vacuum-sealed to ensure that whatever drink is inside stays piping hot (or ice cold) for hours upon end. The Polar Camel tumblers are comparable to the much more expensive YETI brand, so you know you're getting a high-quality deal at a fraction of the cost.
2. Floral Heart Personalized Memorial Plaque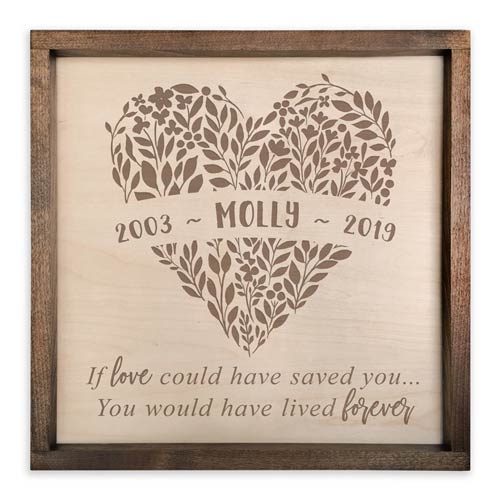 This elegant floral heart memorial plaque would make the perfect gift for a friend who just recently lost their mother, or who is coming up to an anniversary of her death. It features a comforting saying and also comes personalized with their mom's name and years of birth and death.
The plaque is handcrafted in Oregon, constructed of long-lasting alder wood and birch ply, and comes in your choice of two different sizes.
Related: Sympathy Gifts for Someone That Lost a Parent
3. Personalized Memorial Bird Feeder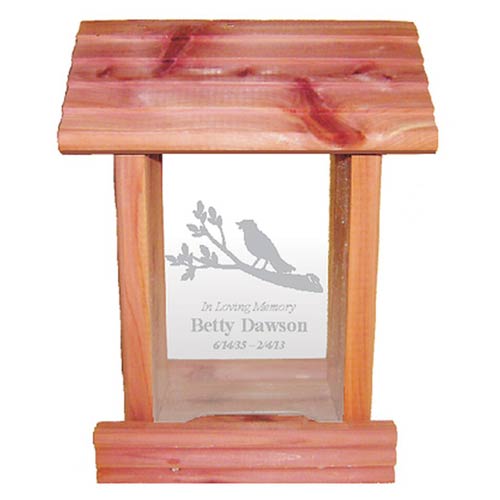 Bird feeders make excellent sympathy gifts for loss of mother. Especially when they come personalized!
This gorgeous memorial bird feeder features the silhouette of a bird on a branch, and the front panel comes custom laser etched with the name and dates of your loved one's mom.
Constructed of sturdy cedar wood and measuring 10.5″ high, you can also easily include a gift note to the recipient.
4. Bracelet with Handwritten Engraving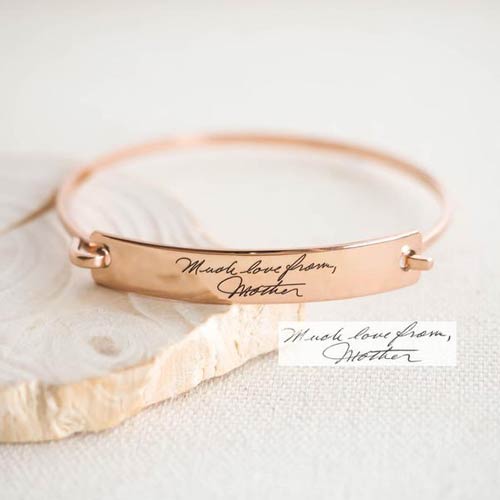 Imagine the joy you'll see on your loved one's face when they recognize their mother's familiar handwriting once again, only this time on a piece of wearable jewelry.
All you have to do is upload the signature, and Caitlin Minimalist will engrave it a bracelet with the color finish of your choice (silver, gold, or rose gold). Each bracelet is a 925 sterling silver and can be made to a custom length.
Related: Keep Your Loved One Close to Your Heart with Cremation Jewelry
5. Willow Tree Figure
This charming Willow Tree figure will serve as a sweet reminder for your friend of the undying love between them and their mom. It's a cast of the original "Chrysalis" sculpture by artist Susan Lordi. It measures 9″ high and is hand-painted to perfection.
Related: The 10 Best Willow Tree Sympathy Gifts
6. Personalized Yankee Candle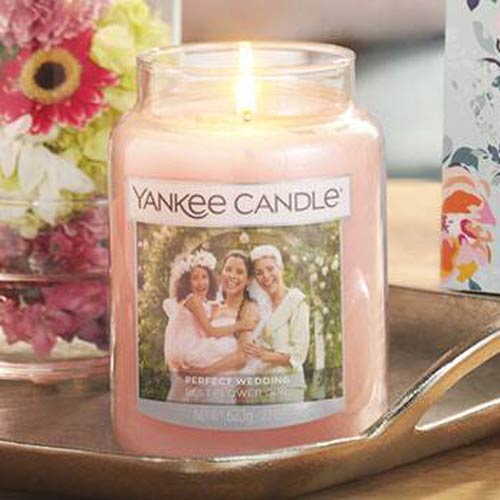 Yankee Candle Company offers a unique way to celebrate (or memorialize) someone special: personalized photo candles.
Simply upload a photo of your friend's mom, or of the two of them during happier times, and the company will print a photo label just for that candle. You also get to choose the style of jar you want, the type of label, and the candle's fragrance.
7. Memory Journal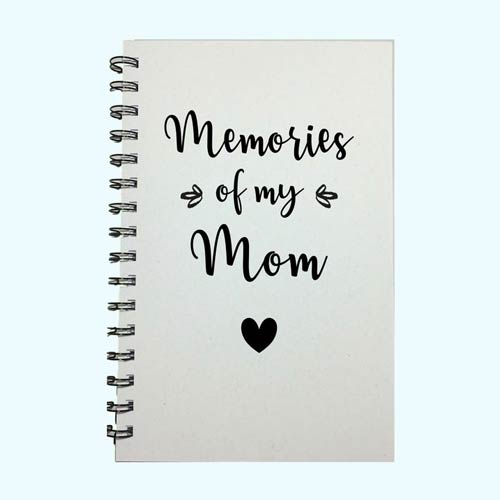 Here is another unique sympathy gift for loss of mother.
Right now, your loved one is probably focused on his or her mom's end of life journey as opposed to the all the good memories they have with them. Help them to turn their focus away from the sadness of loss and toward the gladness of happy memories with this beautiful Memories of My Mom Memory Journal.
You choose the cover's color. Also choose between either cream-colored or white inner paper, and either lined or unlined. Each journal comes with 100 pages.
8. Cardinal Wind Chime
"Cardinals appear when loved ones are near." Have you ever heard this quote? If you're out one day and see one of these pretty red birds, and this quote comes to mind, it can be a source of great comfort.
Similarly, someone who has just lost their mother may find comfort in seeing this cardinal wind chime every day, and hearing its gentle music ringing in the breeze.
To learn more about the background of the "cardinal quote" mentioned above see here.
9. "In Loving Memory" Photo Blanket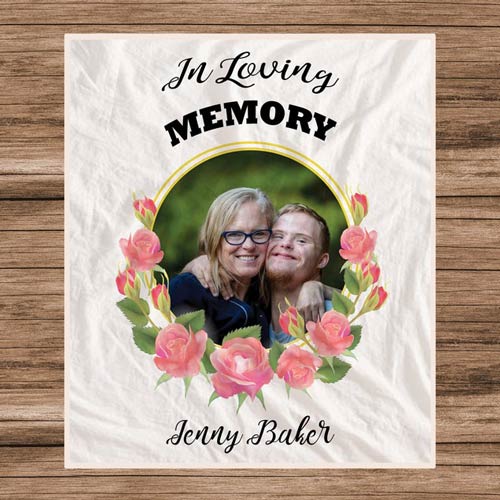 The comfort of their mother's love will continue on when you give your loved one this personalized memorial blanket.
Your loved one's new blanket can be custom-made to feature a photo of your friend with their mom. Choose between six different frame styles as well as four different fabrics: fleece, contrast stitch fleece, Sherpa, or velveteen.
10. Memorial Garden Stone
This beautiful memorial garden stone will serve as both a charming addition to your loved one's garden, and also a sweet reminder of their late mother.
It's made of long-lasting polystone resin and has also been finished to protect it against the outdoor elements for years to come. The memorial measures 11.5″ x 11.5″.
Bonus: Memorial Pie Pan w/ Handwritten Recipe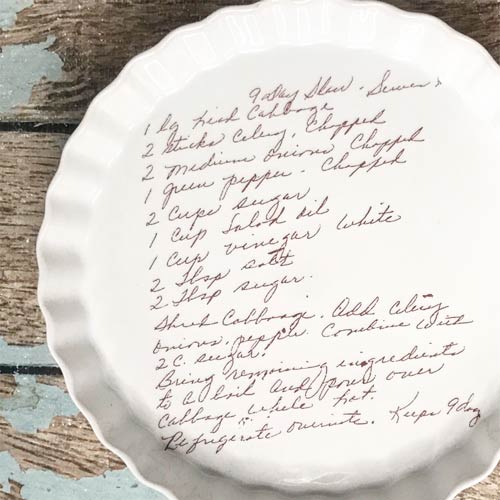 We couldn't pass this one up. It's a ceramic pie pan personalized with mom's handwritten recipe. Choose a favorite recipe card, scan it in, and the artist will replicate the details on the inside of the tin.
Every time you bake that famous dish, you'll remember the sweet memories and aromas of mom's cooking. It's the perfect gift.
More Sympathy Gifts for Loss of Mother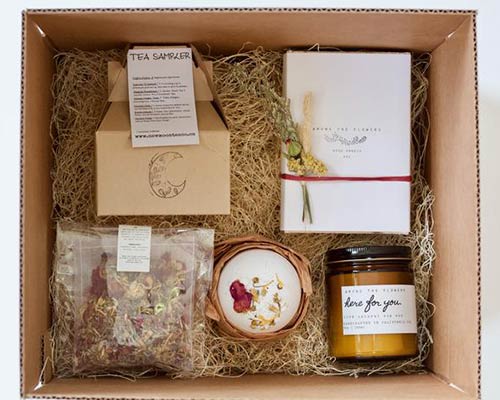 For a sympathy gift that's extra sweet, consider a "Compassion Package" made by Here For You. Each of their unique gift boxes contains items especially tailored to the type of loss your loved one is experiencing.
For example, because they're dealing with the loss of their mom, you would consider gifting them the Death of Immediate Family Member Compassion Package. This particular gift box is available in two sizes. It contains household essentials that are very much needed but can be easily forgotten in the midst of bereavement.
Besides the gift ideas mentioned above, there are other gift options available that don't necessarily require you to make a purchase. Here are a few more ideas for you to consider:
Make your own sympathy gift basket. You know your loved one well; add items that you know they're sure to appreciate. Things like a candle in their favorite scent, some favorite snacks, relaxing lotions and soaps, a journal or memory book, a framed photo of their loved one.
Offer to help them around the house. When someone is bereaved, everyday tasks like doing the dishes, making the bed and taking out the trash can easily be overlooked.
Make them a meal. Eating can also be easily forgotten about. Here's a guide to bringing sympathy meals.
Pick them up some fresh cut flowers. These can serve as a gentle reminder that life goes on.
Send flowers. It's the classic, traditional gesture for a reason. It means a lot. Here are some of the best.
Get them a tree sapling to plant in memory of their mom. Help them pick a special spot in their yard, and then help them plant it.
Make them something special. Are you good at knitting or sewing? Knit them a warm sweater or even a pair of super-soft socks. Is scrapbooking more your thing? Make them a special memory book filled with photos of them and their mom during happier times.
Put together a playlist of uplifting songs, sure to give your loved one a little pick-me-up as they begin this new chapter of their life. You may want to consider including some touching funeral songs for mom, but of course you don't want to overdo it. Use your judgment to create the perfect mix.
---
Thank you for reading this article featuring 10 beautiful sympathy gifts for loss of mother. We hope that you were able to find just the right gift for your loved one as they grieve the loss of their mom. If you'd like to browse even more great gift options, many of which are customizable, head on over to Northwest Gifts to see all of the great products we have to offer.
Read Next: 50 Best Sympathy Messages for Loss of Mother