A lighthouse is a symbol of hope, a literal beacon of light that beckons the storm-tossed wanderer safely onwards as they journey home.
Representing solid dependability, noble dedication, and the call of the sea, lighthouses are also simply a favorite destination for those who love the coastal beauty of those points where the ocean meets the shore.
For all these reasons and more, the lighthouse a popular and fitting theme for a memorial urn. Especially so among those who treasure the memories of lighthouse touring and beach trips enjoyed together.
Below we have gathered the 13 most beautiful lighthouse cremation urns we've found across the web. These include wood inlay art, laser etchings, hand-painted ceramics, and more. We have included only the most beautiful lighthouse-themed urns so you can choose your favorite.
13 Most Beautiful Lighthouse Cremation Urns
Our website is supported by our users. We sometimes earn a commission when you click through the affiliate links on our website. Learn more here.
1. Portland Head Lighthouse Cremation Urn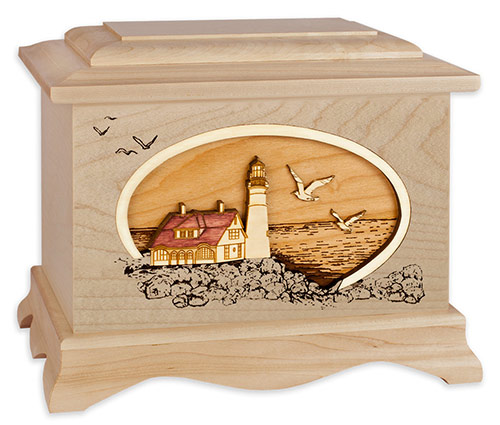 A new addition to our line of 3-dimensional wood inlay art urns, the Portland Head Lighthouse Cremation Urn depicts the famous lighthouse overlooking Cape Elizabeth.
This stirring scene is taken from the Maine coastal landscape, with Portland Head Light and the accompanying house on the shores of Fort Williams Park. The iconic lighthouse is a popular tourist destination, with several other lighthouses visible from the park. The light itself was constructed 1898 and was in service until 1962.
The Oregon shop crafts this urn in multiple wood types in standard adult size (pictured above in Maple, also can come in Walnut, Oak, or Mahogany). Companion size for the remains of two people is also available here.
2. Lighthouse Cremation Urn with Wood Inlay Art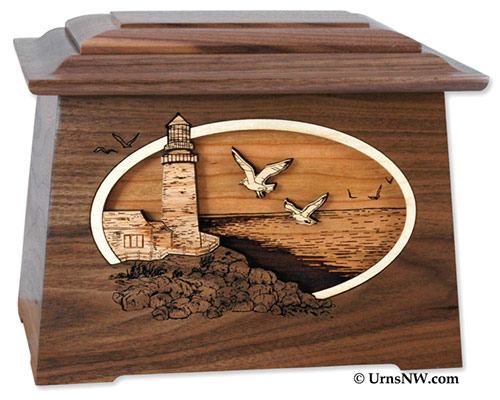 A longtime favorite, this design has been one of our most popular lighthouse cremation urns since the early 2000s. The elegant shape is perfectly articulated and nicely complements the overflowing coastal oval design. Available here in standard adult size, and here in companion size.
3. Lighthouse Wooden Cremation Urn with Wood Inlay Art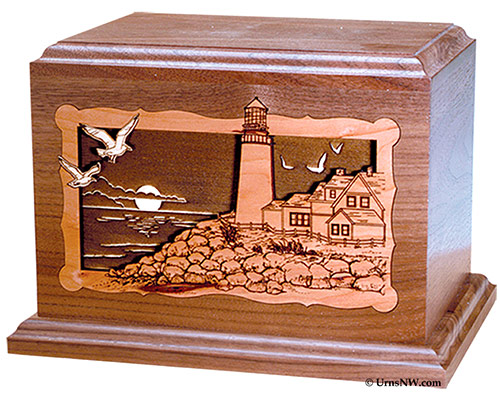 Another elegant design in the stunning 3-dimensional inlay art style. Available here in your choice of Walnut wood as shown or a gorgeous Oak. Companion size for two people can be found here.
Related: Best "Gone Fishing" Urns
4. Cape Hatteras Lighthouse Cremation Urn with Wood Art Inlay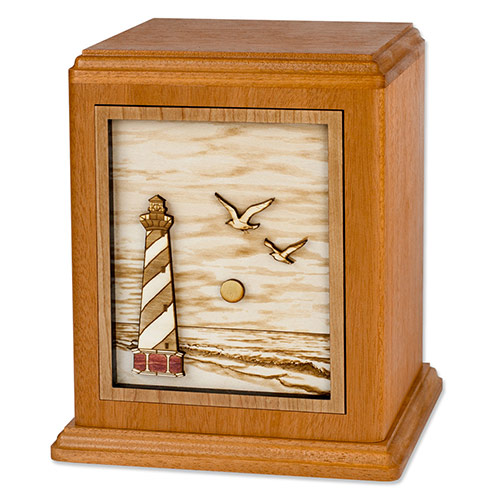 The Cape Hatteras memorial urn presents a lovely beachside view of the most famous lighthouse on the eastern seaboard. Comes in four wood types and your choice of standard/companion size.
This is another fabled seacoast locale, this one set on the shores of Hatteras Island off the coast of North Carolina. Famed for its black and white spiral stripes, the lighthouse watches over the Diamond Shoals which have been called the "Graveyard of the Atlantic."
A popular tourist destination, the lighthouse is more recently famous for its relocation, which won the contractor the prestigious 40th Annual Outstanding Civil Engineering Achievement Award from the American Society of Civil Engineers in 1999.
Pictured above in Mahogany and also available in Oak, Maple, and Walnut (below), you can view the different wood types here, and the companion-sized version of the urn here.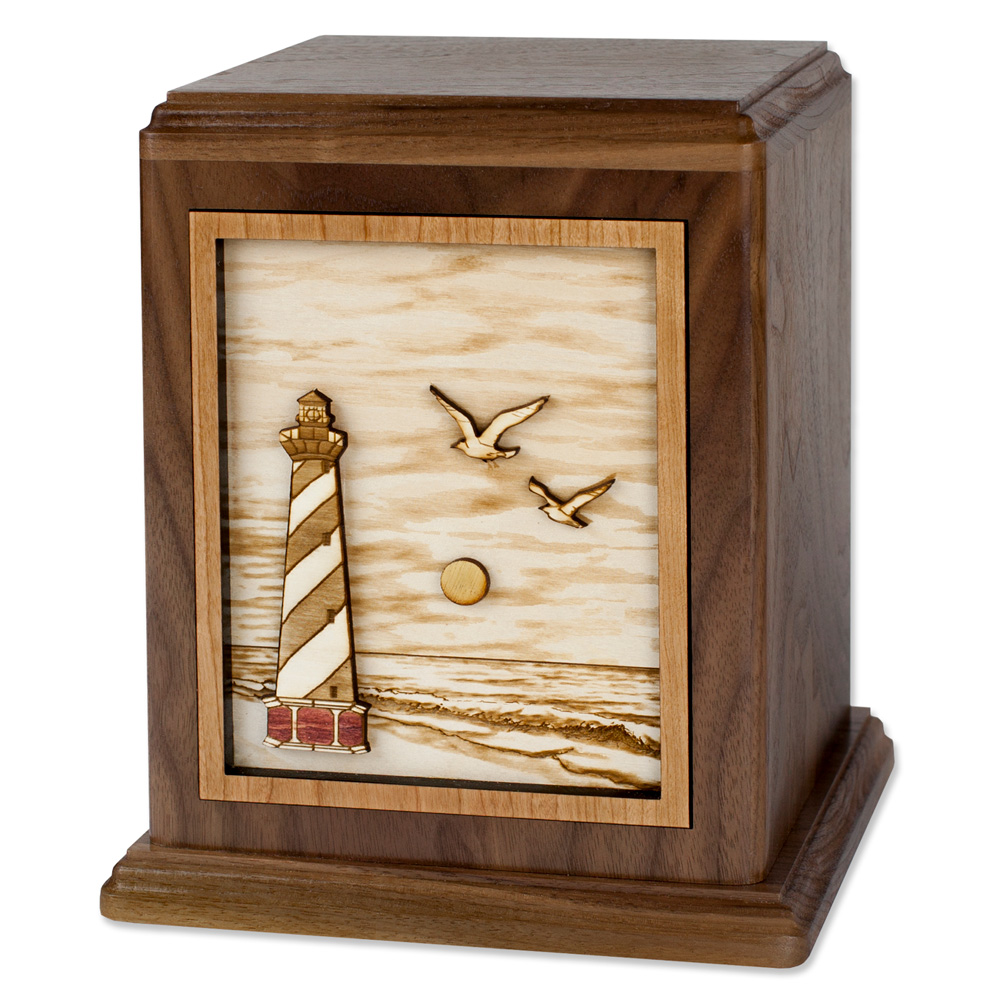 This lighthouse design is featured in a "vertical" cremation urn that compliments the structure of the lighthouse itself.
Love the 3-dimensional inlay art style? We have nearly one hundred themes and styles available here. These include sailing, beach, dolphin, and other ocean themes.
5. Lighthouse Tealight Cremation Urn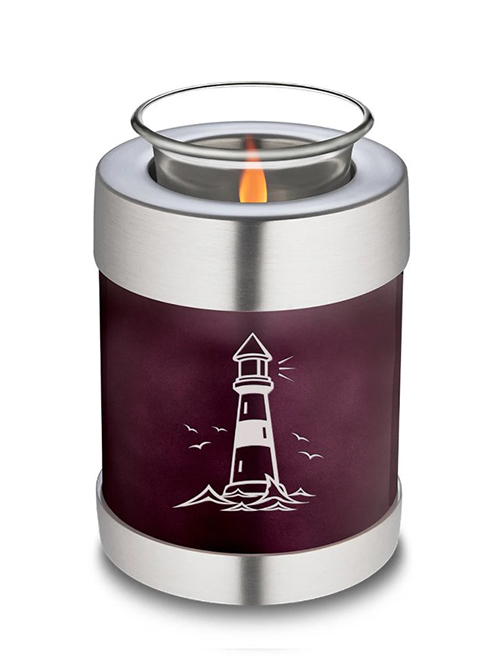 A lovely choice for anyone who embodied the strength, endurance and fortitude of a beautiful lighthouse. These pretty urns feature a tealight memorial on top that you can light anytime you wish to feel the nearness of your loved one.
Available in a variety of colors, simply choose their favorite and you have an extra special tribute as unique as they were.
6. Lighthouse Photo Laser Engraved Wood Funeral Urn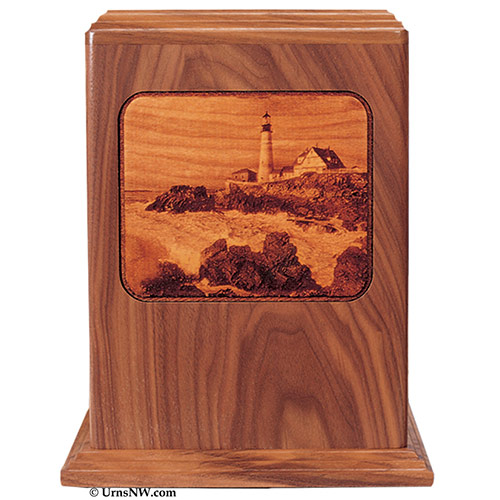 This unique urn features an inlay panel with a laser etched photograph of a lighthouse overlooking the rocky coastal shoals. The layout provides an ideal space for custom laser engraving of name and dates.
7. Personalized Lighthouse Sunset Urn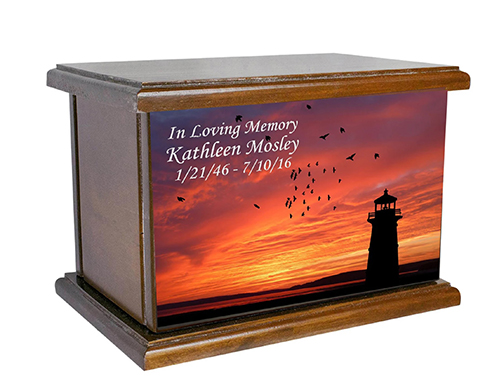 These beautiful urns are crafted by hand by skilled artisans from the highest quality rose wood. The gorgeous sunset lighthouse scene is so vivid, a perfect tribute to the vibrant life of the one you've lost.
Have these urns engraved with their name and dates, or a sweet sentiment of your choosing.
8. Mahogany Relief Carved Lighthouse Urn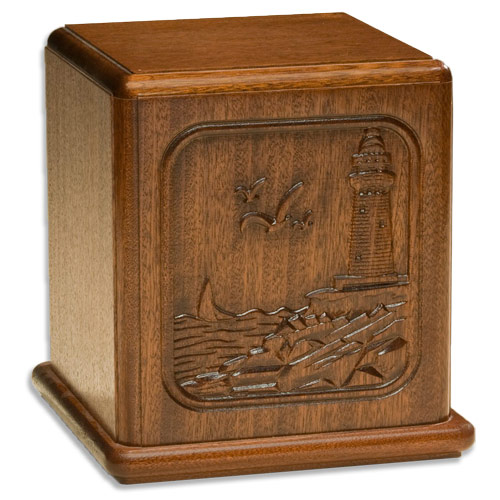 A gorgeous relief carving of a lighthouse with soaring seagulls sets this memorial apart. Made in the USA from solid mahogany wood and etched in fine detail.
9. Laser Carved Lighthouse Cremation Urn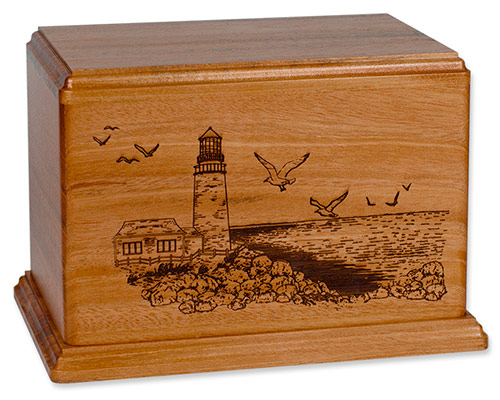 Made in the USA from your choice of cherry, maple, or mahogany (pictured), this rustic and affordable urn is a lovely tribute to anyone who loved lighthouses.
Related: Beautiful Wooden Urns
10. Hand Painted Lighthouse Urn with Relaxing Sunrise
Gorgeous blues, yellows, and greens evoke the rich palette of an ocean sunrise. This metal cremation urn is artfully painted by hand and features a brilliant finish. Both affordable and elegant.
11. Elegant Pearl Lighthouse Urn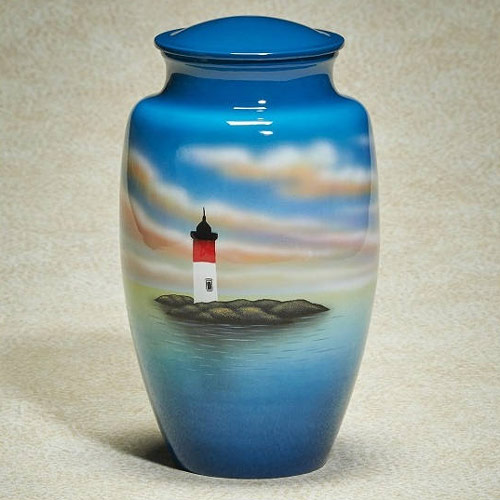 This elegant urn is so stunning. Mother of pearl inlaid against a royal blue background creates a beautiful lighthouse scene worthy of your loved one's memory.
This adult urn is made of high-quality aluminum and is finished with a polished lacquer to give lasting brilliance and protection. These urns can also be engraved if you wish to do so.
12. Metal Sculpture Lighthouse Urn
A gorgeous cast sculpture of a lighthouse set into the rocky coastal landscape. Several sizes are available here.
13. Lighthouse Urn Necklace
Such a sweet way to keep your loved one close to you. These pretty little lighthouse necklaces are actually tiny urns, capable of holding a small amount of ashes inside.
If you don't wish to place ashes inside, you could choose dried flowers, perfume, sand, a handwritten note, and more. Their memory will never be far from you.
More Beautiful Cremation Urns
At Urns Northwest, we have a wide range of beautiful memorial urns to honor your loved one. Collections include:
To see a variety of urns in wood, metal, ceramic, cultured marble, etc. urns, simply go to Urns Northwest and begin looking around, and feel free to contact us with any questions.
Lighthouse Memorial Bird Feeder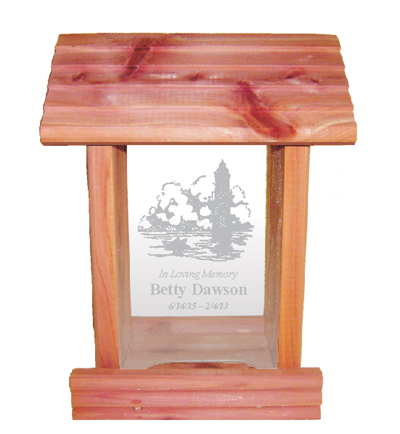 Last but certainly not least popular of our list of lighthouse memorial designs: our Lighthouse Memorial Cedar Wood Bird Feeder. This is not a cremation urn, but rather a heartwarming sympathy gift that honors a loved one's memory as well as their love for lighthouses.
Made in the USA from real cedar, the front includes a lovely lighthouse etching along with "In Loving Memory" and customized name and dates.
Related: 29 Heartwarming Sympathy Gifts for Someone Who Is Grieving