A lighthouse is a symbol of hope, a literal beacon of light that beckons the storm-tossed wanderer safely onwards as they journey home.
Representing solid dependability, noble dedication, and the call of the sea, lighthouses are also simply a favorite destination for those who love the coastal beauty of those points where the ocean meets the shore.
For all these reasons and more, the lighthouse a popular and fitting theme for a memorial urn. Especially so among those who treasure the memories of lighthouse touring and beach trips enjoyed together.
Below we have gathered the 13 most beautiful lighthouse cremation urns we've found across the web. These include wood inlay art, laser etchings, hand-painted ceramics, and more.
We've profiled our 3D inlay lighthouse cremation urns before, so you can check that out for a closer look at those ones, but this list below includes all the most beautiful lighthouse-themed urns so you can choose your favorite.
13 Most Beautiful Lighthouse Cremation Urns
Our website is supported by our users. We sometimes earn a commission when you click through the affiliate links on our website. Learn more here.
1. Portland Head Lighthouse Cremation Urn
A new addition to our line of 3-dimensional wood inlay art urns, the Portland Head Lighthouse Cremation Urn depicts the famous lighthouse overlooking Cape Elizabeth.
This stirring scene is taken from the Maine coastal landscape, with Portland Head Light and the accompanying house on the shores of Fort Williams Park. The iconic lighthouse is a popular tourist destination, with several other lighthouses visible from the park. The light itself was constructed 1898 and was in service until 1962.
The Oregon shop crafts this urn in multiple wood types in standard adult size (pictured above in Maple, also can come in Walnut, Oak, or Mahogany). Companion size for the remains of two people is also available here.
2. Lighthouse Cremation Urn with Wood Inlay Art
A longtime favorite, this design has been one of our most popular lighthouse cremation urns since the early 2000s. The elegant shape is perfectly articulated and nicely complements the overflowing coastal oval design. Available here in standard adult size, and here in companion size.
3. Lighthouse Wooden Cremation Urn with Wood Inlay Art
Another elegant design in the stunning 3-dimensional inlay art style. Available here in your choice of Walnut wood as shown or a gorgeous Oak. Companion size for two people can be found here.
4. Cape Hatteras Lighthouse Cremation Urn with Wood Art Inlay
The Cape Hatteras memorial urn presents a lovely beachside view of the most famous lighthouse on the eastern seaboard. Comes in four wood types and your choice of standard/companion size.
This is another fabled seacoast locale, this one set on the shores of Hatteras Island off the coast of North Carolina. Famed for its black and white spiral stripes, the lighthouse watches over the Diamond Shoals which have been called the "Graveyard of the Atlantic."
A popular tourist destination, the lighthouse is more recently famous for its relocation, which won the contractor the prestigious 40th Annual Outstanding Civil Engineering Achievement Award from the American Society of Civil Engineers in 1999.
Pictured above in Mahogany and also available in Oak, Maple, and Walnut (below), you can view the different wood types here, and the companion-sized version of the urn here.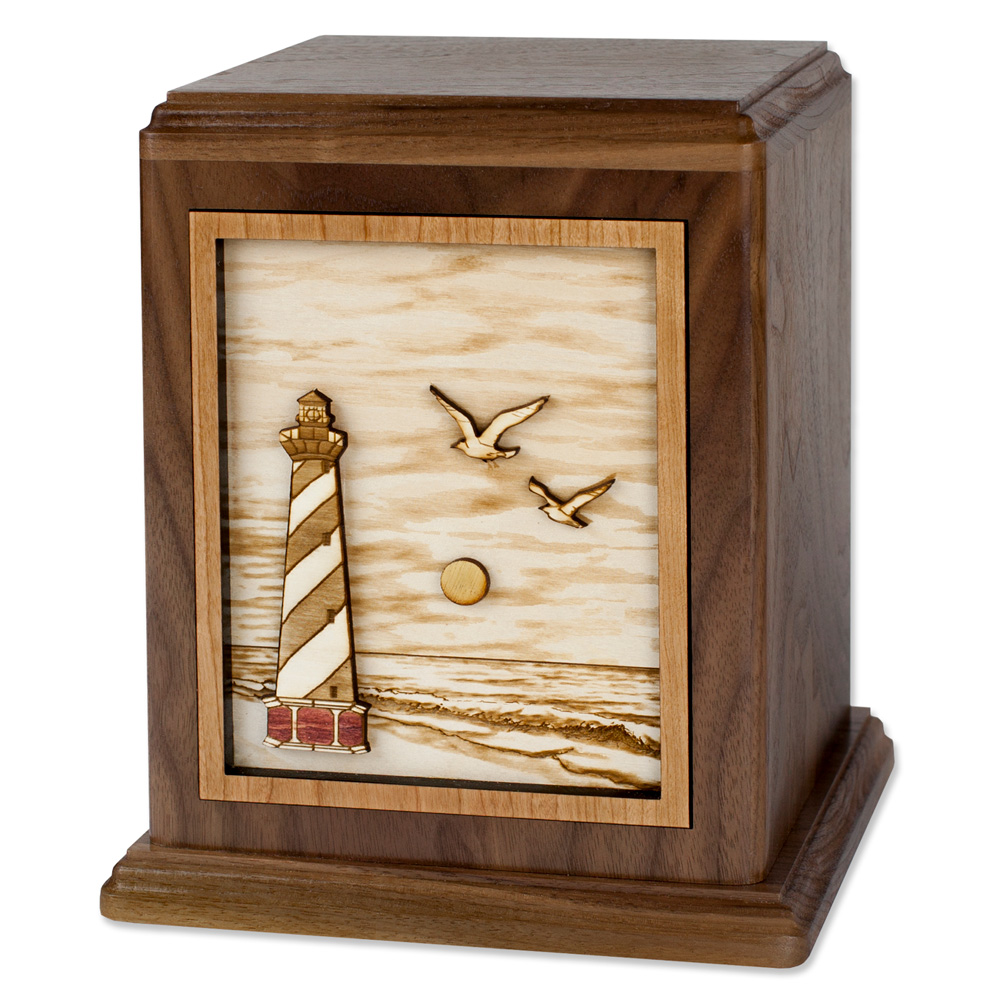 This lighthouse design is featured in a "vertical" cremation urn that compliments the structure of the lighthouse itself.
5. Granite Hand-Etched Portland Lighthouse Urn
Moving away from wood urns for a moment, here we have a lovely and durable black granite urn with a colorful hand-etched scene of the iconic Portland Head Light. Available here.
More designs and themes in this creative hand-etched granite urn series can be viewed here.
6. Lighthouse Photo Laser Engraved Wood Funeral Urn
This unique urn features an inlay panel with a laser etched photograph of a lighthouse overlooking the rocky coastal shoals. The layout provides an ideal space for custom laser engraving of name and dates. Available here.
7. Hand Painted Lighthouse Mahogany Wood Urn
Handcrafted in the USA from sapele mahogany, this gorgeous wooden lighthouse urn features a peaceful ocean view scene painted by hand by a local artist. Available here.
If you like the art painting on wood style, you can view a few more of these designs here.
8. Mahogany Relief Carved Lighthouse Urn
A gorgeous relief carving of a lighthouse with soaring seagulls sets this memorial apart. Made in the USA from solid mahogany wood and etched in fine detail. Available here.
9. Laser Carved Lighthouse Cremation Urn
Made in the USA from your choice of cherry, maple, or mahogany (pictured), this rustic and affordable urn is a lovely tribute to anyone who loved lighthouses. Available here.
If you like the elegant and rustic simplicity of this item, check out all of our Laser Carved Cremation Urn Series.
10. Hand Painted Lighthouse Urn with Fiery Sunset
Rich reds, oranges, and yellows evoke the rich palette of an ocean sunset. This metal cremation urn is artfully painted by hand and features a brilliant finish. Both affordable and elegant. Available here.
11. Hand Painted Lighthouse Urn with Bright Blue Island Lighthouse Scene
This hand-painted Island Lighthouse Cremation Urn boasts rich blues in the sky and sea. Artisans carefully hand-paint each memorial, so no two of these lighthouse cremation urns will be exactly the same. Also, once the art scene has been painted, several layers of lacquer are applied to provide a protective coating for a lasting, lovely ocean memorial. Available here.
If you like these hand-painted metal urns, more designs and themes can be found here.
12. Metal Sculpture Lighthouse Urn
A gorgeous cast sculpture of a lighthouse set into the rocky coastal landscape. Several sizes are available here.
13. Ceramic Lighthouse Urn
Finally, this handmade ceramic lighthouse urn is the perfect combination of attractive art piece with unobtrusive cremation urn. It's such a beautiful sculpture no one will realize it's actually a funeral urn. Best of all, it's individually handmade to order by the artist right here in the USA, and available here.
More Beautiful Cremation Urns
At Urns Northwest, we have a wide range of beautiful memorial urns to honor your loved one. Collections include:
To see a variety of urns in wood, metal, ceramic, cultured marble, etc. urns, simply go to Urns Northwest and begin looking around, and feel free to contact us with any questions.
Lighthouse Memorial Bird Feeder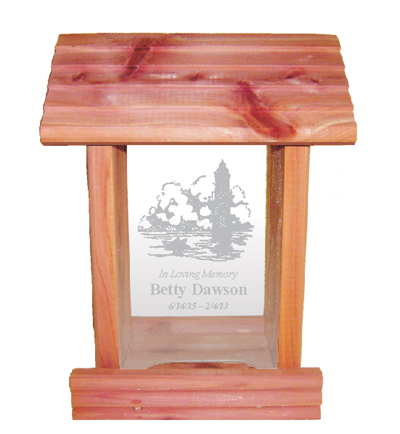 Last but certainly not least popular of our list of lighthouse memorial designs: our Lighthouse Memorial Cedar Wood Bird Feeder. This is not a cremation urn, but rather a heartwarming sympathy gift that honors a loved one's memory as well as their love for lighthouses.
Made in the USA from real cedar, the front includes a lovely lighthouse etching along with "In Loving Memory" and customized name and dates.
Related: 29 Heartwarming Sympathy Gifts for Someone Who Is Grieving