Looking for unique urns to celebrate a truly one-of-a-kind person? Your loved one was unique. You've been shopping around for a cremation urn but none of them feel right.
You need something different. Something unique.
Let's take a look at the 30 most interesting and unique cremation urns on the market today. Below you'll find an array of urns that are unlike anything else. We've tried to find the very best. These aren't just bizarre things that exist for the sake of being bizarre. Rather, these are beautiful memorial urns that are, at the same time, totally unique.
30 Incredibly Unique Urns
Our website is supported by our users. We sometimes earn a commission when you click through the affiliate links on our website. Learn more here.
1. The Plaque Urn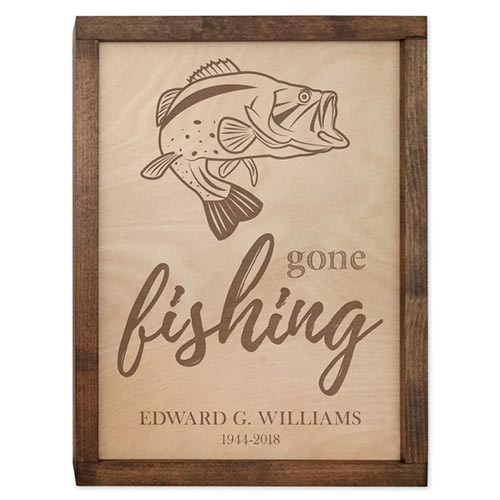 First up on our list of unique urns is the "Gone Fishing" memorial urn plaque. Meant to be mounted on a wall, this urn is as original as it gets. It's made by hand in Oregon of Baltic birch ply with an alder wood frame, and comes laser-engraved with your choice of text as well as type of fish (choose from 9).
Measures 16″ x 12″ x 3″ and includes D-ring hangers. Holds up to 237 cubic inches of cremated remains.
Besides the "Gone Fishing" design you see above, Urns Northwest has many more themes for you to choose from. Browse through our entire line of Pacific Crest urn plaques right here.
2. The Ghost Urn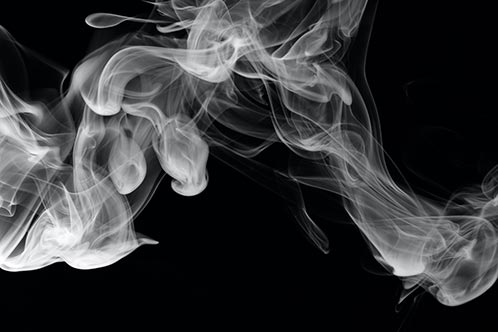 Behance's Ghost Urn concept was a little too interesting to not earn a spot in our list of unique urns.
The artist who came up with the design, Anna Marinenko, conceptualized the Ghost Urn to pop off at the top (just below the ghost's eyes) to reveal an inner tube, where the ashes would be placed. In our humble opinion, it's about half cute, half spooky, and a 100% unique idea for a cremation urn. Click here to view it.
Unfortunately, Behance's Ghost Urn is only a concept, at least for now.
3. The Glass Urn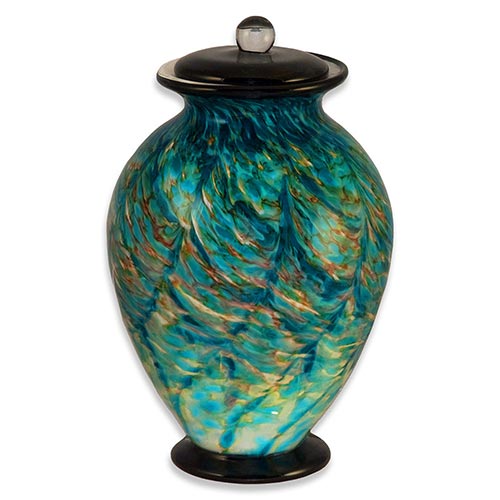 When it comes to unique urns, glass cremation urns are about as unique as it gets. Especially when they're made to order exclusively for your loved one.
Urns Northwest's line of glass urns are works of art in their own right, and fully functioning at the same time. The Amato Aegean Glass Urn (pictured above) is just one example of these extraordinary receptacles. Hand-blown to perfection, this richly-hued urn is reminiscent of a flowing stream or river.
Choose between several different sizes/styles: standard, small, keepsake, and companion.
Related: These Hand Blown Glass Art Cremation Urns Will *Blow* Your Mind
4. The Floating Shelf Urn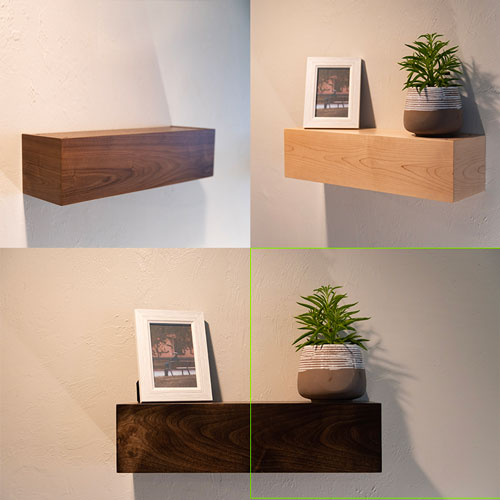 The Floating Shelf Urn is beautiful, simple and practical all in one.
Display your loved one's tribute with a memorial shelf that also discreetly houses their cremated remains. No one will have to know (unless you tell them) and you can fill the shelf with photos, keepsakes, candles, and any other special tribute you like.
It is very easy to mount, sturdy, durable, and made in the USA with all-American quality and craftsmanship. Available in several options of solid wood, including Walnut, Mahogany, and Maple.
5. The High Heel Urn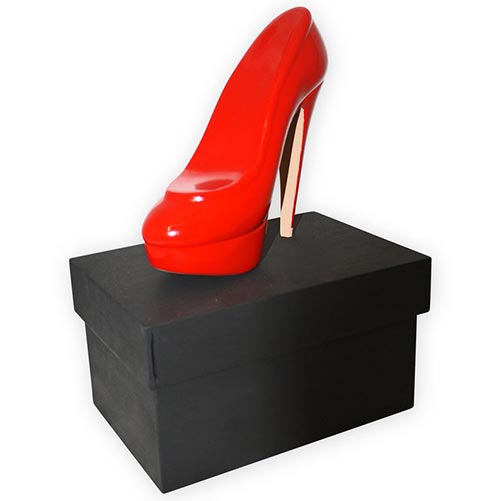 This unique urn is perfect for the loved one who may have been a bit of a diva.
The high heel cremation urn is exactly what it sounds like. It's handmade and available in 3 different colors: red, purple, and pink; and sits on a black matte base. A metal plate engraved with your loved one's name and any other text you'd like is optional.
Measures 10.25″ x 6.75″ x 13.5″ and holds approximately 225 cubic inches of remains.
6. The Guitar Urn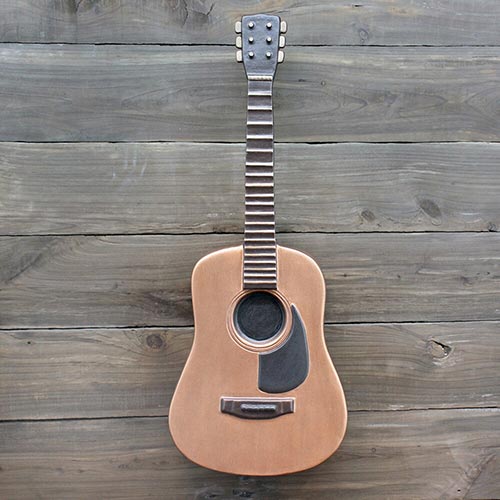 One of the most unique urns on this entire list is the Guitar Urn. Made by hand in the U.S.A. from high-quality ceramic, this cremation urn is hand-painted and finally completed with bronze finish.
If your loved one was a guitar player, country music lover or just enjoyed music in general, this one-of-a-kind urn makes it easy to remember and honor them in a special place in your home. Whether that be the living room, music studio, or above the mantle.
Measures an impressive 12″ x 8″ x 3″ with a max capacity of 130 cubic inches. Includes a rear-opening panel for insertion of remains.
7. Unique Urns: The Drum Set Urn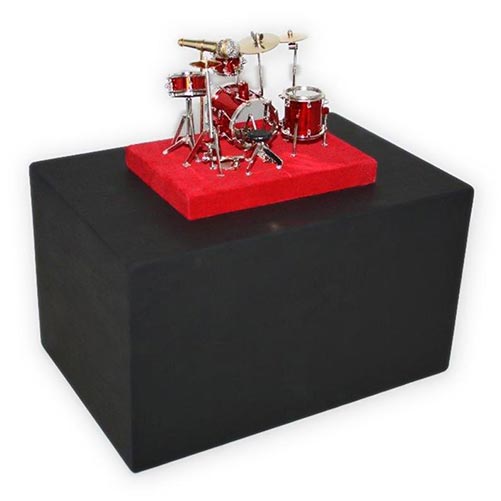 A little more inspiration for the loved one who was a music lover at heart. Or perhaps a rocker in their own right.
The drum set cremation urn depicts a full snare drum set sitting on it's very own "red carpet" stage. Important details have not been overlooked in this urn; features include a "microphone" and even the drummer's throne. Personalized name plate is also available.
Two sizes are available: standard adult size or smaller keepsake.
8. The Geometric Wood Urn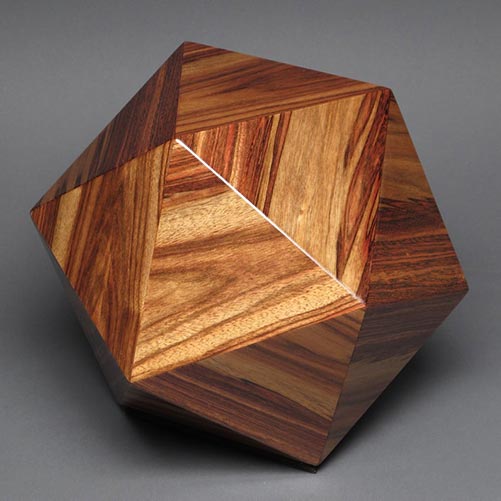 For really unique urns you can thank mathematics! I'm no math person by any stretch of the imagination, but even I can appreciate the beauty of this geometric wood urn.
If this is the urn that you choose to honor your loved one with, you also choose the type of wood it is made from. Options include mahogany, maple, lacewood and rosewood. The inside of this urn is coated with shellac and the outside is finished with lacquer polish.
Measures 9″ x 9.5″ x 8.5″ with inner dimensions measuring 225 cubic inches.
9. The Teddy Bear Urn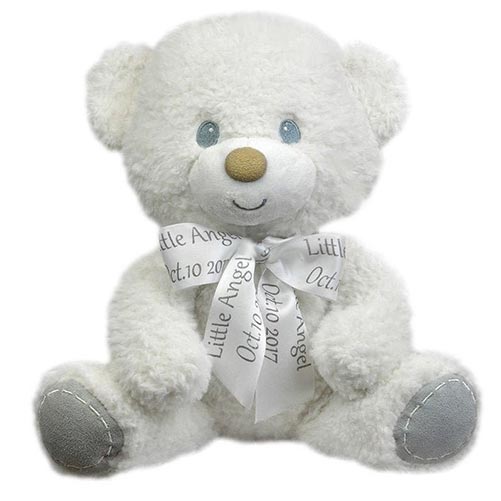 Teddy bear urns are generally reserved for the most difficult of all losses we face in life: that of a beloved child.
Most of these urns are plush and therefore soft to the touch, just as a teddy bear should be. They can be cuddled or set on a shelf or shelf or dresser for display. For a sweet touch, most of them are also personalized!
On this particular bear, the ribbon comes personalized with the child's name (or other text you'd like) and date. There is an inner pouch for holding cremated remains or other tokens of remembrance. Measures 9″ tall in sitting position.
10. The Biodegradable Shell Urn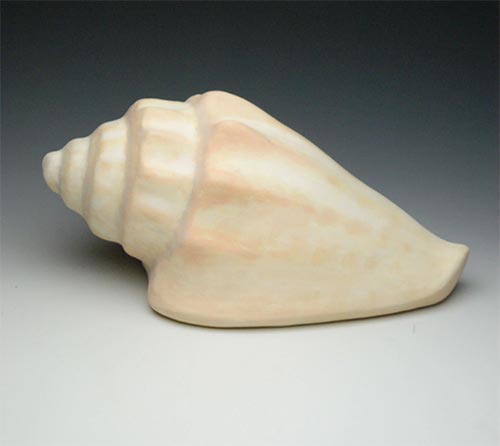 The perfect cremation urn for the beach lover who will be buried at sea.
This shell cremation urn is hand-made from all-natural paper clay (meaning it's biodegradable) and specifically designed for water disposition (although it is perfectly ideal for ground burial, as well). Water soluble paint makes for a stunning outer finish. A beautiful urn for a saltwater service.
Measures 15″ x 7″ x 8″ and holds up to 220 cubic inches of remains.
11. The 3-Dimensional Wood Inlay Urn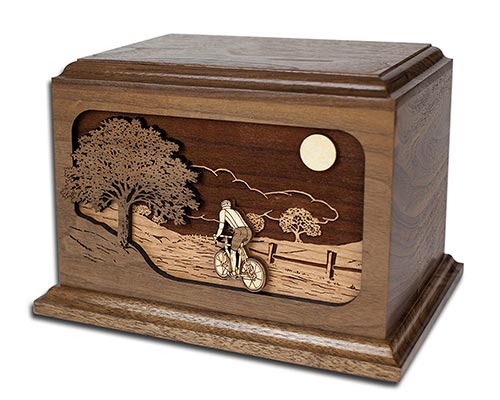 When it comes to unique urns, 3D wood inlay urns are where it's at. They give a slight 3-dimensional effect that makes them much more than just a receptacle to house cremated remains.
The "Bicycle Road Home" wood cremation urn is crafted in the U.S.A. of only the finest of hardwoods: your choice of walnut or oak. This urn is also highly customizable, allowing you to choose up to four lines of personalization, as well as font, to be engraved to either the front or back of the urn.
This urn measures 10″ x 7.5″ and will hold approximately 200 cubic inches of remains.
12. Unique Urns: The Tuxedo Urn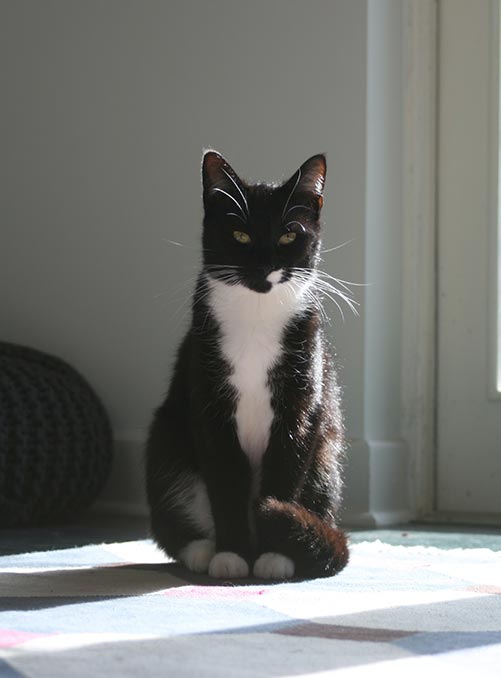 Our pets are our family, too. When one of them passes away, we feel the same sadness and loss that we would with a human family member. So it only makes sense that we should memorialize our beloved pets much the same, including if that means finding them a quality final resting place.
Vintage Coffins has created a super unique pet urn, designed specifically for feline companions. And further specifically, for tuxedo cats (black and white cats). Click here to check it out…it's giving off some interesting Great Gatsby vibes.
13. The Handbag Urn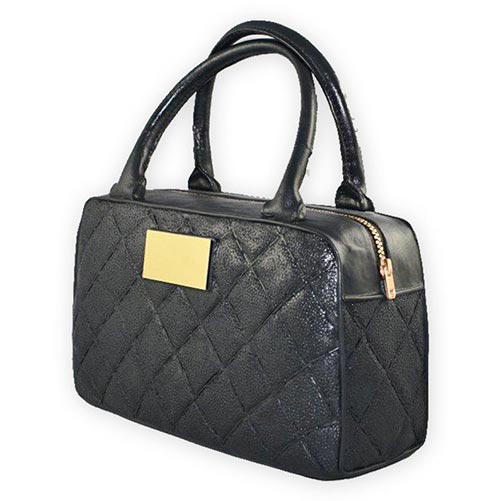 This cremation urn idea is right up there with the high heel urn we mentioned above (gift #4) . And a unique urn it is, especially for the person who was stylish to their core.
This handbag urn is described as a "diva handbag urn purse" and we'd say that's pretty accurate. It's hand crafted from resin and metal, and meticulously detailed, just like your loved one was. You can easily spot the "zipper" as well as the "stitch lines". It's available in any color and an optional (personalized) name plate is available.
Measures 12.5″x 5″ x 13.25″ with an inner capacity of approximately 230 cubic inches.
14. The Day of the Dead Skull Urn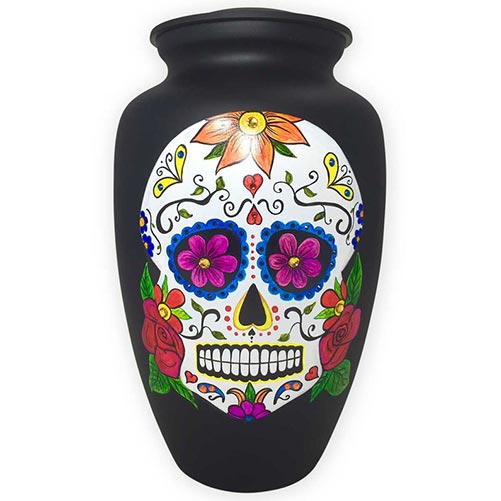 Dia de los Muertos is a holiday with significantly deep roots in Mexican culture. From October 1st through All Saint's Day, family members remember their loved ones who have passed on. They visit their graves, bring them food and drink, and/or decorate an alter in their home or church for their loved ones.
Sugar skulls are a colorful element pretty much synonymous with Dia de los Muertos. They are unique in that they soften the natural spookiness of skulls that otherwise make us want to look away. So a cremation urn with a sugar skull on it would be a beautiful and appropriate way to honor your loved one and their heritage.
This best thing about this metal sugar skull cremation urn is that it's not mass-produced; it's handmade and hand painted as well. Any personalization you require is also painted on by hand. It stands 10 inches tall and holds up to 220 cubic inches. A truly unique urn!
Dia de los Muertos, or "Day of the Dead," is a tradition richly endued in color, festivity, music and family memories. You can read more about it here. (I also recommend watching the adorable animated film Coco, if you haven't seen it already! It does a great job at illustrating the holiday in a way that everyone can understand.)
15. The Golf Bag Urn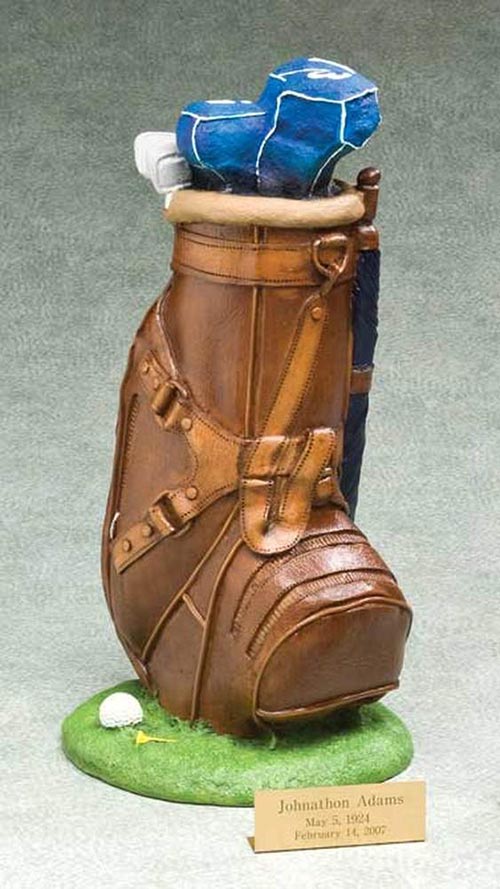 The next idea on our list of unique urns is the heirloom golf bag cremation urn. Obviously intended for the person who's passion in life was the game. If you hardly ever saw your loved one without a golf bag at their side, then this handsome cremation urn is the perfect pick to memorialize them.
This urn stands 17.5″ high and contains an above-average inner capacity of 228 cubic inches.
16. The Cowboy Boots Urn
Cowboy boots can represent many things to many people. If you choose the cowboy boots urn, the important thing is that they represent your loved one and the life the lived.
So if there's no doubt that cowboy boots are the perfect representation of them, weather they wore them all the time or were actually a cowboy or cowgirl, we recommend seriously considering this gorgeous urn.
The Perfect Memorials Custom Engraved Cowboy Boots large cremation urn is fashioned from cold cast resin and depicts a pair of boots, a cowboy (or cowgirl) hat, and a lasso. The personalized metal plate that you see on the front of the urn is included.
This urn measures 11.75″ x 13″ x 9.25″ with an above-standard capacity of 285 cubic inches. Also available in a smaller size.
17. The Horse Sculpture Urn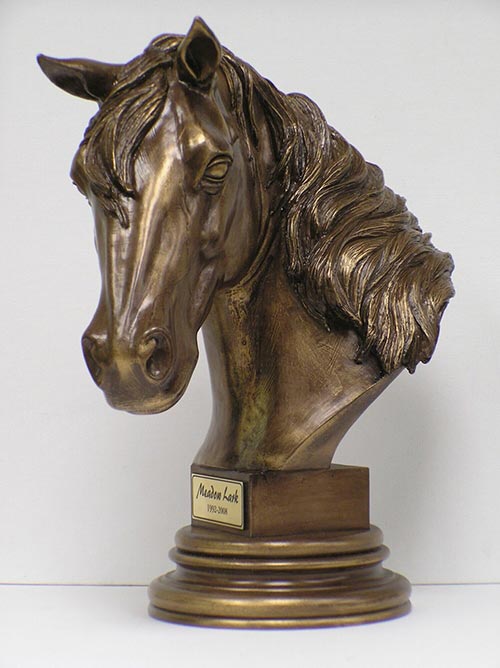 If you liked the cowboy boots urn we just showed you, chances are you may fancy this one, as well.
Cowboys and horse lovers alike will be instantly familiar with the soft and knowing face of the equine depicted on Urns Northwest's horse keepsake cremation urn. If your loved one was a horse rider or enthusiast, it will serve to honor their memory well as well as sweetly remind you of your loved one every time you lay eyes on it.
This urn is cast in bronzed resin and finished with a lovely bronze patina. It's a smaller keepsake urn, perfect for instances in which the ashes will be shared among family. It sits 11.5″ tall and can hold up to 80 cubic inches of remains. The custom name plate is optional.
For the larger version of this urn (for the full amount of ashes), please click here.
18. The Motorcycle Engine Urn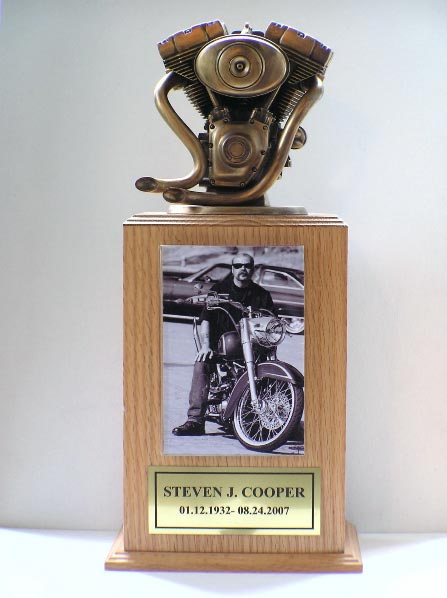 We hope that you've been inspired by the unique urns you've seen so far on our list! Let's keep it up.
For bikers, riding a motorcycle isn't just a hobby or activity they enjoy in their down time. It's a way of life. Your loved one had a passion for all things bike-related in life, and there's simply no reason not to celebrate that about them now that they've passed on.
Now you can do that with Urns Northwest's motorcycle engine urn tower. This impressive cremation urn features a bike engine bust atop the base (where the ashes are harbored). The base itself is available in cherry, oak, or walnut; all fine and long-lasting hardwoods.
The really neat thing about this urn is the fact that you can add a photo of your loved one to the base, if you'd like. A personalized metal name plate is also optional.
This urn base measures 7″ x 7″ x 10″ and the bust 6″ x 5.5″ x 4.25″. Holds approximately 240 cubic inches.
19. Unique Urns: The Funny Urn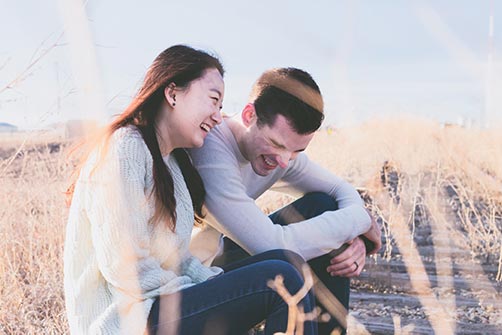 Maybe your loved one was always the life of the party. Maybe they were always telling the best jokes and loved nothing more than to put a smile on people's faces, or better yet, make them double over from laughing.
Now that they're gone, you know that the last thing they'd want is to be remembered in a mournful sort of way. For them, if you could somehow find a way (any way) to make their passing just a little more bearable, they'd want you to do it.
The "joke" on this urn right here is so simple, yet it begs to be at least giggled at. If it's something you know your loved one would have appreciated, I think we can all agree that it's not in the least bit inappropriate.
This humorous urn has an inner capacity of 200 cubic inches and is available in several colors.
20. The Engraved Photo Urn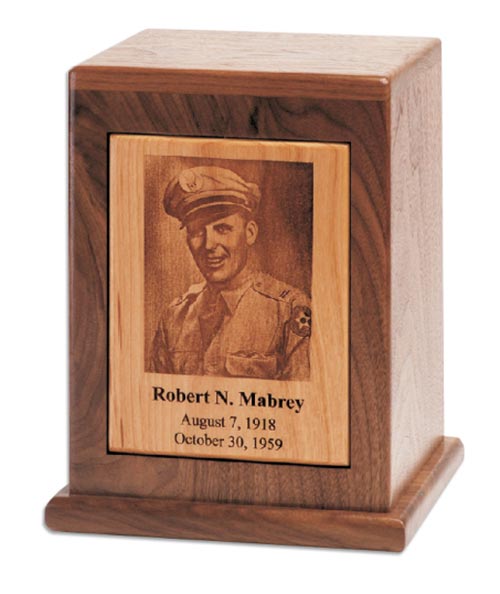 When remembering someone after they've gone, there's nothing quite like photos to help jog your memory of all the good times the two of you shared.
If you could have a photo of your loved one engraved onto their urn, would you do it? When it's done the right way, it can be a beautiful thing. Urns Northwest offers this service with their Vision Engraved Photo Cremation Urn. You provide them with a photograph of your loved one, and they will laser-engrave it onto your choice of wood base (oak with maple panel or walnut with alder panel).
Choose between vertical (max 255 cubic inches) or horizontal (max 245 cubic inches). Made in the U.S.A.
21. The River Stone Urn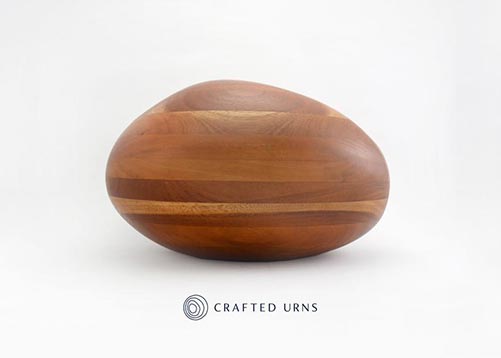 This next idea on our list of unique urns doesn't quite look like an urn at all…and that's precisely what makes it so original.
Crafted Urns has indeed crafted an exceptionally beautiful cremation urn inspired by the water-smoothed stones found in rushing rivers. The wood used to create this piece is responsibly-sourced African mahogany, and it is finished with a layer of beeswax and linseed oil.
Measures just under 11″ long with an inner capacity of 160 cubic inches. Custom laser engraving is included on the lid.
22. The Book Urn
Perhaps your loved one was a teacher, college instructor, or librarian. Or maybe they were simply a bookworm who could be found on any old day curled up with a book in their hand. If so, what better way to honor them than for their final resting place to be in the shape of a book?
This unique cremation urn looks like it came straight out of a fairy tale. But the story inside will tell of someone so much special to you than any king, princess, or fairy of old. It will forever be the story of your loved one and all the memories they gave you.
This stunning urn is made of cold cast resin and finished by hand. Measures 10.75″ x 8″ and holds up to 200 cubic inches of remains.
23. Unique Urns: The Airplane Urn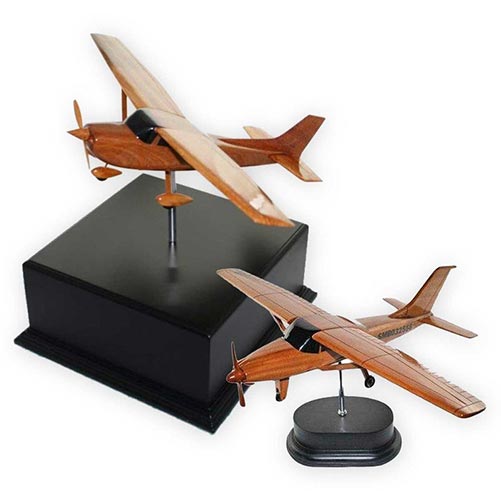 There's just something about airplane models that's unmistakeably nostalgic.
Maybe your loved one enjoyed building model planes or even paper ones. Or maybe they served in the Air Force, or were a pilot in their hayday. Or perhaps they were still young and planes were something that always peaked their interest. In any case, this pretty and unique urn can serve to honor them and the one-of-a-kind life they lead.
This airplane urn is made by hand and features a wooden base in which the ashes are safe-kept. An engraved name plate is optional.
Measures 18″ x 21.5″ x 15.5″; inner capacity is above-standard at 300 cubic inches.
24. The Soaring Eagle Urn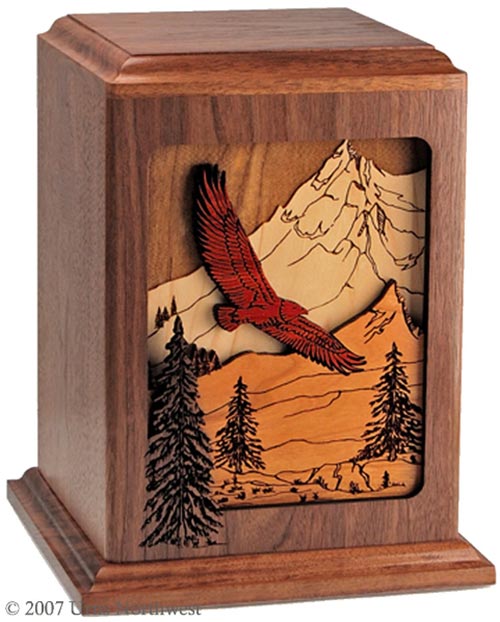 The uniquely beautiful soaring eagle cremation urn is one of Urns Northwest's most popular designs. A mighty eagle soars over the mountain range as a symbol of freedom; the scenic wood inlay art (of maple, cherry and padauk wood) serves to comfort during times of sorrow.
This exquisitely detailed urn is handmade in the U.S.A. of your choice of either walnut or oak wood. You can also opt to add an inscription engraving of up to 4 lines. Measures just under 10″ tall and has an inner capacity of 230 cubic inches.
25. The RV Camper Urn
A special urn for the special someone in your life who loved nothing more than to travel far and wide in their pride and joy – their "home away from home" – their beloved RV or camper.
This metal urn is meticulously handmade using 16-gauge cold-rolled carbon steel. Each of these RV urns is made to order, as the artist must be diligent in using a certain welding and grinding process to secure the pieces together. In other words, this urn is truly a labor of love.
Special features include rubber tires, front hitch, rear bumper, rims and steps leading up to the door. There are two "vent" details on the camper's roof, which can be removed for placing ashes.
Measures 17.5″ x 8.5″ x 10″ and can hold up to 500 cubic inches of remains (yes, you read that right)!
26. The Zen Forest Urn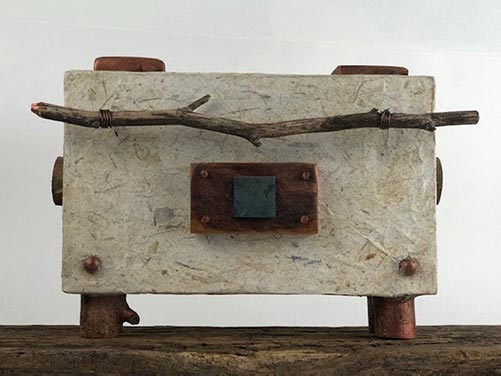 For ideas for unique urns, sometimes you need look no further than the earth God created.
Buffalo Mountain Studios creates "Art 2 Die For," like the all-natural cremation urn you see in the image above. Urns such as these are made of wood and other reneweable elements…meaning they're not going to harm the earth if placed in the ground.
If that is something that's important to you or was important to your loved one, be sure to check out Buffalo Mountain Studios entire line of unique urns right here.
27. The Mermaid Urn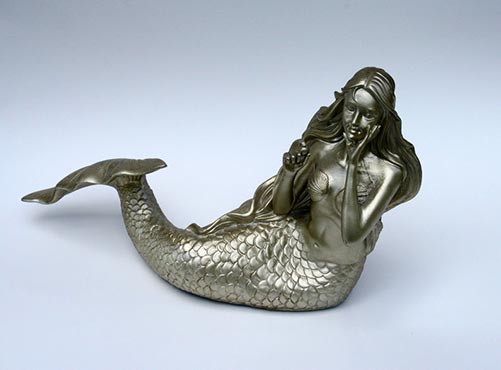 The cool thing about cremation urns is that almost anything and everything can serve as one. And as you can hopefully see from our list today, they are available in almost any style, theme or design you can think of.
Take this fantastical mermaid urn, for instance. It would serve as the perfect final resting for the person whose fave place of all was at the beach; or for someone who cared very much about sea life, coral reefs or the ocean as a whole.
Out of the Box Urns created this original pewter mermaid urn – check out their entire shop here.
28. The Tennis Ball Urn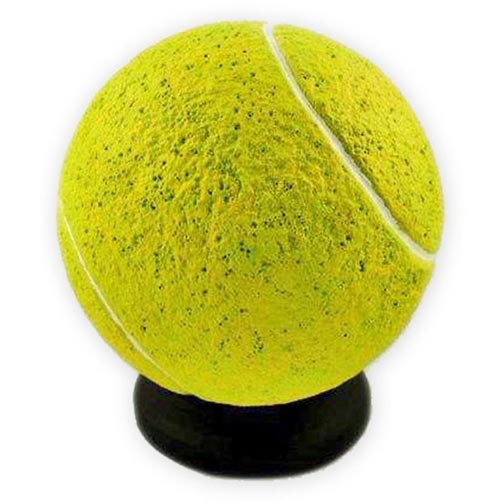 Here's another sweet idea for the pet lover…particularly if you were loved by a canine with a playful disposition.
If your precious doggo loved nothing more than to fetch his or her faveorite tennis ball with you, rain or shine, this cremation urn is for them. The tennis ball pet memorial urn is hand cast from fine resin and then hand painted. If you opt for personalization, your pet's name and dates will also be applied by hand. Includes a base with threaded opening.
This urn has a circumference of 5.5″ and will hold approximately 75 cubic inches of remains.
29. The Football Urn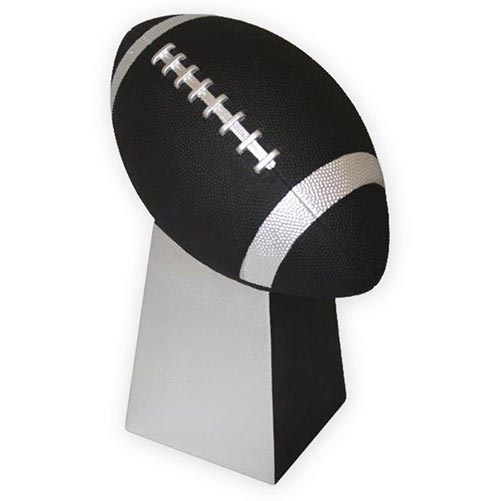 As we've mentioned before, the amazing thing about cremation urns is that they come in any shape and size. That includes sports-themed urns.
This one is especially for the football player or for the football watching fanatic who never missed a game. The Touchdown football urn would display beautifully in a place of honor in your home – whether that be in a game room, living room, den, or man cave.
It's available in black and gray just as seen above, OR you can customize the coloring to match your loved one's fave team. Think high school colors; blue and gray for the Cowboys; white and orange for the Longhorns. Yes, I'm from Texas). A name plate engraved with your loved one's details is optional.
Measures 11″ x 7″ x 13.25″ with a capacity of 220 cubic inches.
30. The Memorial Tree Urn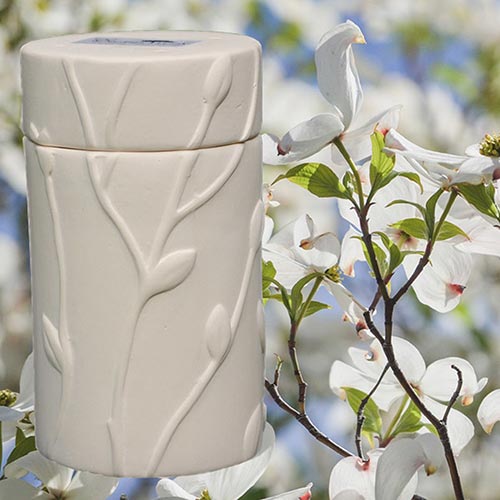 The final idea on our list of unique urns is the simple yet elegant Memorial Tree Urn.
When placed in the ground, this small, biodegradable urn (containing dogwood seeds) will eventually sprout and grow into a beautiful, blossoming tree…all will help from your loved one's cremated remains. The unique nutrient blend contained within this urn encourages ashes to release certain nutrients vital to the growth of plants.
In other words, it's a way for your loved one to live on by supporting the life force of another living thing.
It's important to note that by themselves, human ashes are harmful to plants. The special blend used in these urns, when mingled with ashes, is designed to nourish plants
Also keep in mind that this urn is the smallest on this whole list, with a max capacity of 35 cubic inches. Please see here for urn sizing information.
---
More Unique Urns
Pin It