Cremation has many benefits. That's why it is rapidly becoming the standard option for final disposition.
Many people who, like yourself, are considering cremation over burial find themselves asking the question, Why should I choose cremation?
So let's take a look at some of the benefits of cremation versus burial.
What is Cremation?
Cremation is accelerated decomposition of the human body by incineration. Typically done by machine, cremation is becoming more common in the USA and all over the world.
The body is placed into the cremation chamber, which is then heated to extreme temperatures for several hours. All that "remains" is bone material, which is gathered, processed, and crushed to result in the cremated remains you receive back from the crematorium.
Learn about the cremation process here.
Benefits of Cremation Over Burial
Depending on what you and your loved ones value, cremation has many benefits over traditional ground burial. Here are some.
1. Cremation is cheaper than burial
When all the costs are added up, a full-service funeral with cremation can be about half the cost of the same service with traditional burial. If you are actively looking for a low-cost option, a method such as direct cremation can cost under $1000.
With a service at home or at your church or community center and these 15 ideas for a memorial service on a budget, expenses can truly be kept to a minimum.
2. Cremation allows you to arrange the perfect time for the service
With traditional burial, your funeral arrangements will be necessarily under a timeframe that feels like a ticking clock. This can add lots of additional stress to an already stressful time.
When you add in the difficulty of scheduling a venue to coincide with family and friends arriving from out of town, the perfect time for a memorial service can be pretty tough to find.
With cremation, you have plenty of time to juggle schedules, reserve a location, order the ideal cremation urn, and look into ways you can scatter the ashes or prepare a eco-friendly "living memorial" tribute.
3. Cremation offers more options for final resting place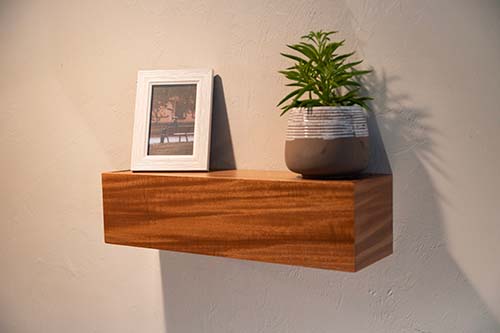 When you choose cremation, you are freed from the shackles of a cemetery.
You can keep the remains at home in a gorgeous wood art urn. Your loved one might have wanted you to scatter their remains in a favorite camping or hiking spot, or go out to sea for an eco-friendly ocean burial.
Perhaps you could store the remains in a niche so you can always see your loved one's urn without keeping it at home. Or, if you prefer to keep it at home, display it discreetly and creatively with this memorial shelf urn (pictured above).
Related: Here Are 68 Interesting Things to Do with Ashes From Cremation
4. Cremation means portability
Jumping off the last thought, another of the benefits of cremation over burial is that when a body is cremated, the remains are completely portable.
You can take them to the top of a mountain or just move them into a different room in your home. A month at a vacation home, a move across town, or a new job out of the country are no longer obstacles to having a sense of nearness with your loved one.
5. Cremation jewelry keeps loved ones closer than ever
If you would like to keep your loved one "close to your heart," you are no longer limited to a lock of hair.
If you choose cremation, one popular option is to get a work of elegant memorial cremation jewelry. These jewelry pieces have a tiny inner chamber that holds a very small amount of remains. Available in sterling silver or gold, in a variety of sizes and style, including rings, bracelets, and necklaces.
More info: Everything You Need to Know About Cremation Jewelry
6. Cremation allows each family member to participate
The "standard" sized cremation urn is not the only option for holding the remains. There are a variety of sharing keepsake urns that allow you to divide up the ashes so that multiple family members can keep, store, or scatter the remains.
This has many benefits:
Each family member that wants to participate in the scattering can do so
Each family member that wants to keep some remains can do so
You can keep a small amount of the remains and bury/scatter the rest
You can have a small urn that matches the larger urn
7. Cremation saves land
The cemeteries of the future are phasing out land-consuming burial plots. Cremation is a vital part of the land conservation movement within the funeral industry.
With cremation, little to no land is permanently set aside, as the remains are kept in the home, scattered, or stored in a small columbarium that can hold many, many urns in a small area.
8. Cremation skips embalming
Modern traditional embalming techniques use formaldehyde, a chemical that is very bad for the environment.
You can choose to skip embalming with a traditional burial, and you can also choose to have the body embalmed for viewing prior to cremation, but generally it is much easier to skip the embalming entirely with cremation.
9. Cremation lets you be creative
Just check out this list of all the things you can do with cremated remains, and this list of 20 reasons people are choosing cremation.
10. Cremation still allows for burial
If you change your mind about keeping the urn at home or interring it in a columbarium, you can still bury the urn. With the portability of cremated remains, many options remain open to you.
More benefits of cremation
Want to read more? Here are 20 reasons, from real people, on why they chose cremation.