Can Catholics be cremated?
The short answer is yes, the Catholic Church permits cremation. However, the Vatican has issued guidelines on cremation and what can be done with the ashes.
Let's learn about what the Catholic Church teaches about cremation.
Cremation & The Catholic Church
While the Catholic Church permits cremation, it's important to note that it still favors burial over cremation. This is for the belief in the Resurrection of the body at Christ's return; traditionally, Catholicism questions the possibility of bodily resurrection if cremation has taken place instead of burial.
That said, since 1963, the Church permits cremation so long as it occurs with respect to Catholic teaching. Even so, from 1963 on, the Church must carry out the funeral before the body undergoes cremation (in other words, no ashes are to be present at the service).
That changed in 1997, when the church finally allowed ashes at the service.
As per the Vatican's Code of Canon Law, 1176.3:
"The Church earnestly recommends that the pious custom of burying the bodies of the deceased be observed; nevertheless, the Church does not prohibit cremation unless it was chosen for reasons contrary to Christian doctrine."
To understand where this view really comes from (and why the question "Can Catholics be cremated?" is rather loaded), we need to take a closer look at the Church's historical views on final disposition.
History of the Catholic Church's Views on Cremation
Prior to 1963, the Vatican strictly forbade cremation. The Catholic Church intended to separate itself from the practice, seeing it as a Pagan ritual and therefore an act against God.
Those who are dead in Christ are of His image; burial must therefore take place and not cremation, so that at the Resurrection their souls can unite once more with their bodies. The Church's belief that cremation makes that expectation impossible (and that it shows an unholy irreverence to the body) is what drives the prohibition.
As society entered the Middle Ages, however, plagues and wars saw the dead amassed in droves. In these cases, some leeway was provided as cremation is often more practical than burial.
Still, in some places, many considered cremation so heathenistic that it was a crime punishable by death.
In 1963, all of that changed when Pope Paul VI lifted the ban on cremation in light of its steady rise in popularity. While the Church still strongly preferred burial for the reasons we mention above, this meant that cremation officially became an acceptable form of final disposition within the Catholic Church.
Taking things a step further in 1966, the Vatican conceded that priests may officiate Catholic cremation. Even so, funerals themselves were to still take place before cremation.
Related: What Is the Pope's Funeral Like?
This was Code until 1997, when the Church concluded that the body present, even if cremated, is more emotionally healthful for mourners than if it was not present at all. This meant that funeral Mass could now take place with the ashes present.
Catholic Cremation Rules
While we've seen that it does allow for the cremation of the faithful, Catholicism sets forth certain cremation rules:
First, and perhaps most importantly, is the rule that we treat ashes with the same respect as a whole body. Just as we treat a body in a casket with reverence at all stages leading up to final disposition, the Catechism of the Catholic Church states that the same respect must be shown to ashes.
In 2016, the Vatican released Ad resurgendum cum Christo, which prohibits the scattering of ashes. This is in order to avoid "every appearance of pantheism, naturalism or nihilism." The directive makes it clear that scattering must not occur in any form, whether by land, sea, or air. (As per the directive, if a person requests scattering of their ashes prior to death, and loved one fulfill that wish, a Catholic funeral will subsequently be denied.)
Per Ad resurgendum cum Christo, no one should make ashes into jewelry, keep them in the home, use them for art or otherwise display them.
Relatives should not divide the ashes of any one person.
Because those within the Catholic Church who are cremated must be laid to rest with the same respect as an uncremated body, the Church insists that "the bodies of the deceased be buried in cemeteries or other sacred places."
You can read Ad resurgendum cum Christo in its entirety here.
What To Do With The Ashes
As we state above, because the Church stipulates that ashes receive the same respect as a body, there are few options when it comes to final disposition.
Essentially, what the Church does allow is a respectful inurnment. This can include burial in a cemetery or interment in a columbarium.
Concerning funeral rites, a full Catholic funeral is in order with cremated remains present (as per the 1997 amendment to The Order of Christian Funerals), just as would be for casketed remains.
Catholic Cremation Urns
Since the Vatican restricts scattering and other means of final disposition, you'll need an urn or other respectable container in which to keep the cremated remains of your loved one.
Whether you plan to bury your loved one's cremated remains or have them placed in a columbarium niche, you're going to need a high-quality urn appropriate for either of these final resting places.
Urns Northwest is a trusted, respected leader in the cremation urn industry. We have many urns available which are suitable for Catholic funerals and interments. Here are some of our more popular urns for Catholic cremation:
Mahogany Wood Cremation Urn with Cross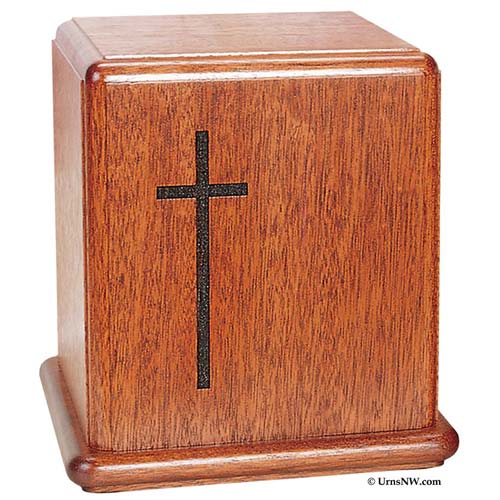 Our Mahogany Wood Cremation Urn with Cross is simple, yet a reverent memorial to a follower of Christ. The position of the cross allows room for personalization if you so choose.
This urn measures just over 8″ high and holds up to 210 cubic inches of cremated remains.
Walnut Wood Cremation Urn with Celtic Cross Inlay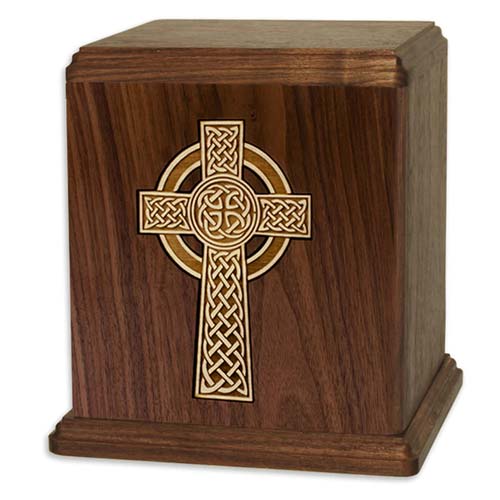 Our Walnut Wood Cremation Urn with Celtic Cross Inlay is simply stunning. The inlay itself is maple wood, and pays homage to the Christ follower who is perhaps also of Irish heritage.
This urn stands 9.5″ high and has a capacity of 210 cubic inches. Engraving is available.
Wondering what size urn to get? Use our simple Urn Size Calculator.
Our Lady of Guadalupe Wood Art Cremation Urn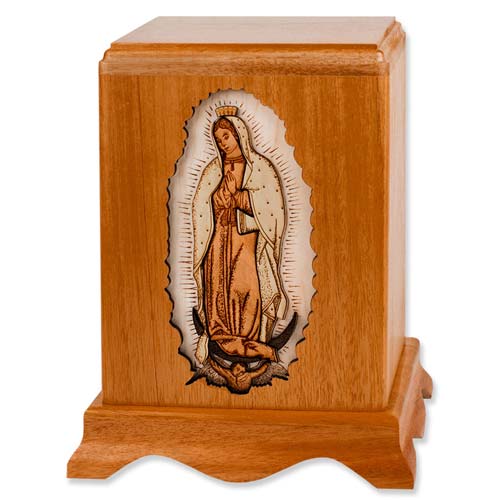 Our Lady of Guadalupe Wood Art Cremation Urn pays homage to the Catholic faith while providing a beautiful memorial for your loved one and their heritage.
This wood cremation urn, standing 10.5″ tall and withholding 230 cubic inches, is available in Walnut, Oak, Mahogany or Maple. Engraving is available.
Hand Blown Glass Cremation Urn for Adults in Greco Aegean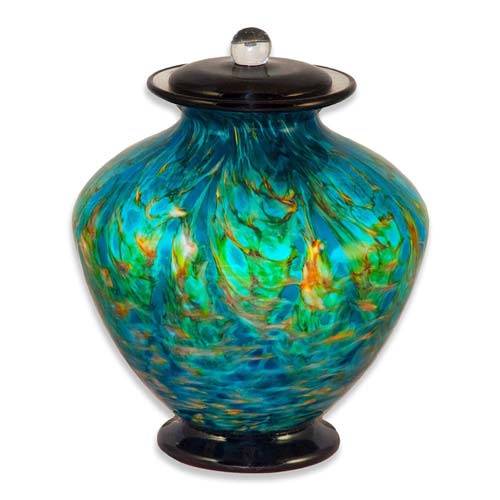 Our Hand Blown Glass Cremation Urn for Adults in Greco Aegean is an unexpected alternative to the traditional religious urn. To honor someone of a faith that appreciates beautiful art, this is the perfect choice.
Your order of this gorgeous piece will be the only one of its kind, complete with unique, patterned coloring. Stands approximately 10.5″ tall with a capacity of approximately 220 cubic inches.
For more colors and styles, browse our full Glass Urns Collection.
Inspiration Praying Hands Cremation Urn in Cherry with Cross Inlay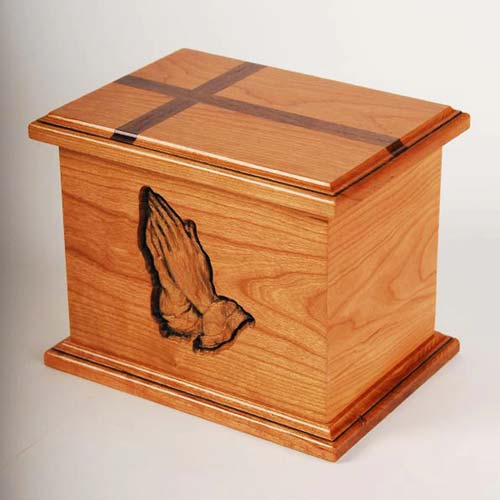 For a sophisticated cremation urn that recognizes your loved one's enduring faith, you can't go wrong with our Inspiration Praying Hands Cremation Urn.
This urn is a sturdy cherry wood (with a walnut wood inlay), measures 8″ high and holds up to 225 cubic inches of cremated remains. Surface engraving/name plate engraving is available.
Mother of Pearl Brass Cremation Urn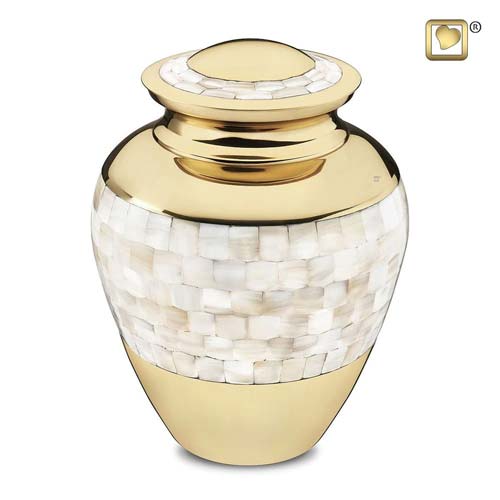 Craftsmanship at its finest. To create our elegant Mother of Pearl Brass Cremation Urn, real pieces of Mother of Pearl are placed onto this otherwise solid brass urn.
The urn comes complete with gloss-coat, has a standard capacity of 220 cubic inches, and stands 9.5″ high.
Engraved Photo Urn in Granite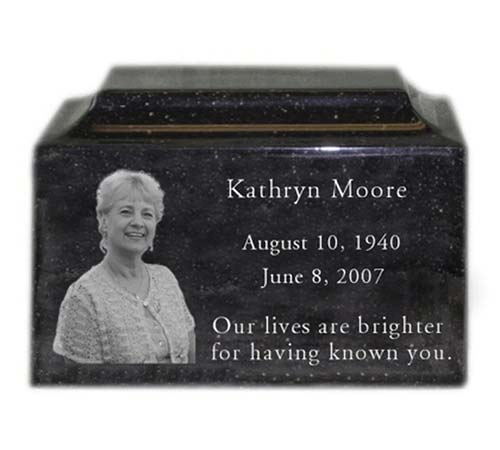 Looking for a more personal cremation urn? Look no further than our Engraved Photo Urn in Granite. Memorialize your loved one forever by allowing us to engrave their photo into the urn.
We include additional personalization of names, dates, and an inscription. While not "Catholic" in design per se, the urn is a popular choice for everyone and we can also include art adornments like praying hands or crosses.
This memorial urn measures 9.75″ x 6.75″ x 6.5″ and holds up to 210 cubic inches.
---
Now you know the answer to the question, "Can Catholics be cremated?" For more information on cremation, check out a few of our other related articles: