Pet cremation is becoming the go-to choice when a beloved pet passes. After all, most pets are part of the family, and we want to treat them that way even in death.
As this service becomes more popular, it also becomes more affordable to the "average" person. Many funeral homes offer pet cremation, though they may not list it in their regular brochure. But you can rest assured your human loved one is never cremated in the same receptacle that your beloved pet is. Funeral homes actually outsource pet cremations to a third party.
Read on to learn more about cremating your pet and the ins and outs of making this decision.
Is it better to bury or cremate your pet?
Pet cremation is about making an informed decision. Weighing the pros and cons, just like you would decide for any other family member. You should factor in your lifestyle situation, cost, and practicality.
In the United States, only 10% of pets are buried, which means the cremation rate is significantly higher at 90%. There's really no right or wrong reason to cremate; it is a personal choice that you need to make.
How Pet Cremation Works
Your cherished companion will be placed in the cremation chamber. The crematory will be heated from 1400 to 2000 degrees Fahrenheit.
Depending on the size of your pet, this can take from 30 minutes to a couple of hours. The heat vaporizes most of the organic material and actually incinerates the bones. Once the cremation is complete, all that is left are bone fragments.
After a cooling down period, the crematory operator will run these fragments through a machine called a "processor or cremulator." This grinds the fragments up into a powder-like consistency.
The cremated remains are then placed into a heavy-duty plastic bag, sealed, and set into the urn of your choice.
Related: Here's Everything You Need to Know About the Cremation Process
Pet Cremation Costs
The average pet cremation cost is about $180.
This can vary depending on the options you select and the size of your pet. We'll explore that more below, but here is a brief chart to give you an idea of what to expect.
| | | | |
| --- | --- | --- | --- |
| Pet Size | Communal | Partitioned | Private |
| 10lbs or less | $40-100 | $75-150 | $100-200 |
| 25lbs | $50-150 | $100-200 | $150-250 |
| 75lbs | $100-150 | $125-250 | $200-350 |
| 150lbs | $150-200 | $200-300 | $300-500 |
Like anything else, it doesn't hurt to shop around and compare services and prices. It will vary from place to place. These costs can increase in major cities, and may decrease in certain rural areas.
Make a few phone calls and pick the right place for you. Cost should not always be the deciding factor.
Factors That Affect Pet Cremation Costs
Certain things can affect the cost of cremating your pet. Curious to see what they could be? Below is a list that the crematory will consider.
Pet Type
Pet crematories will take all sizes of pets — from hamsters and mice to rottweilers and llamas. Some can even cremate farm animals, including horses.
Pet Size
You are likely to pay more if your pet is a larger size. The larger pets take more time to cremate and process.
Most pet crematories will be categorized into weight classes. Usually in 10 to 20-pound increments.
There may be other "add-ons," such as your pet being picked up from your home or the vet's office, a cremation witness, or having the cremated remains delivered to you or placed in the USPS for delivery.
Pet Cremation Methods
There are different methods for the cremation of your pet.
Communal is the most affordable method. This is where your pet is cremated with several other pets. If you choose this option, you will not be able to keep your pet's cremated remains.
Individual is also known as the "partitioned" method. Your pet will be cremated at the same time as other pets but in a partitioned area just for him/her. This method lets each pet's remains be cremated but kept separate. A nice alternative to a private cremation. You can keep your pet's cremated remains, and it won't cost as much as a private cremation.
Private cremation is the costliest method. But with private cremation, your pet's cremated remains are not co-mingled with others. When you get to take your fur baby back home, you can rest assured that he/she is the only one in the urn.
Regional Factors
When you are planning to have your pet cremated, think about where you might want to go. If it's not too inconvenient for you, you may want to go to a rural area.
Smaller places usually will not be as expensive. Let's say Chicago vs. the suburbs of Chicago. The suburbs should be less expensive. By the same token, you'll find the overall prices will be lower in Idaho vs. New York.
How to Save on Pet Cremation
Call around your area and even beyond. You may be surprised to find that the further you go out from familiar surroundings, the less expensive cremation will be.
If you are trying to save money, the communal or individual methods would be best for you to inquire about.
Pet Cremation Urns
Our website is supported by our users. We sometimes earn a commission when you click through the affiliate links on our website. See our privacy policy & disclosures for more information.
1. Sleeping Angel Cremation Urn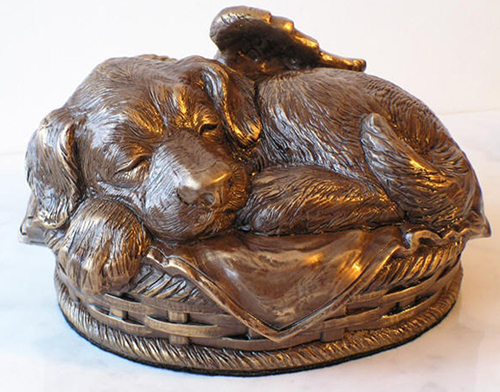 Choose from either of these precious urns – a puppy or a cat — depending upon which pet you are honoring. This urn will be a beautiful memorial for your beloved pet.
The cute puppy urn is made of cold-cast bronze, black polymer, or white porcelain. It is perfect for display in any room of your home. The dog urn will hold up to the equivalent of 55 pounds worth of body weight.
The sweet cat angel urn is made of cast metal alloy with a silver finish. It will hold up to 60 pounds worth of body weight.
2. Pet Urn Vase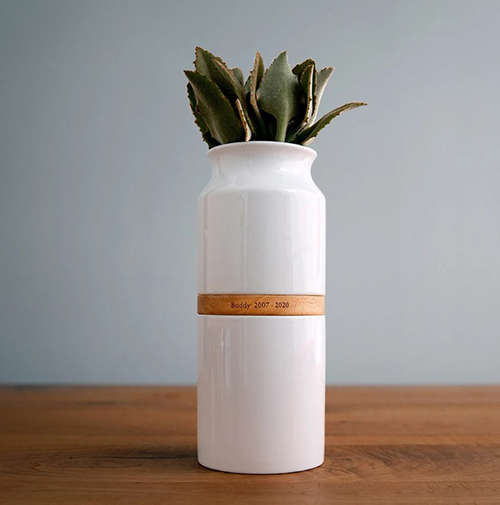 This truly unique urn looks and functions like a regular vase — but doubles as a pet urn. Made from high-quality, hand-crafted porcelain, and wood.
Your fur baby's cremated remains will be stored safely and securely in the sealed chamber of your new urn.
3. Minimalistic Wooden Cube Urn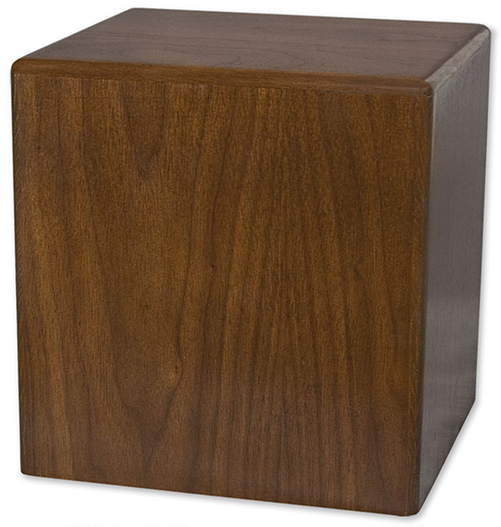 This beautiful wooden urn comes in four distinguished finishes: cherry, oak, walnut, or rosewood.
Designed and made to keep the cost reasonable, yet give you a quality urn. This urn is perfectly suited to display or burial. This affordable urn can be engraved with a name and dates too.
4. Engraved Modern Urn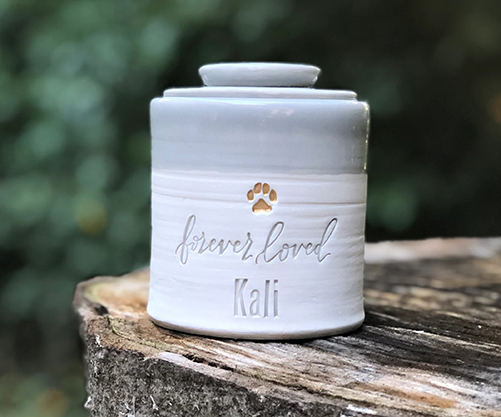 A handmade custom urn is a perfect choice for our fur baby. There are so many colors and styles to choose from, you are sure to find the perfect fit.
Have the name of your pet displayed along with a meaningful sentiment of your choice.
5. Wooden House Pet Urn
How adorable is this little wooden house? You can customize and print out a photo of your pet and easily attach it to the front of the urn. Simply put it between the acrylic plate and the magnetic wooden board. It's easy to replace photos whenever you want to.
This is a good size urn for a small dog, cat, or other small pet.
6. Hand-Blown Glass Pet Urn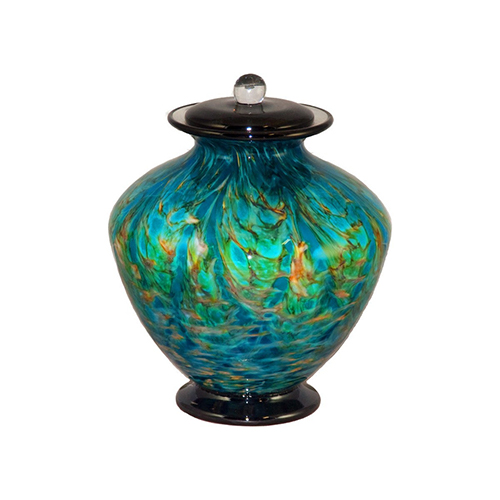 Our Greco Aegean glass pet urn will remind you of the classical, Greek style of pottery. Because these urns are hand blown glass, each one is totally unique. The beautiful blues and greens may bring the ocean to mind.
This hand-crafted urn is just the right size for your medium-sized pet.
7. Keepsake Pet Urn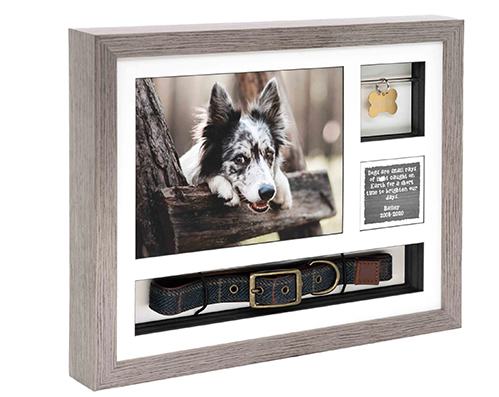 Simply and beautifully made is the perfect description of this urn.
From the front, it appears to be a handmade frame. When you turn the frame over, you will find a discrete compartment to place the cremated remains of your beloved pet. Your urn can be placed on a tabletop or hung on the wall.
8. Natural Marble Pet Urn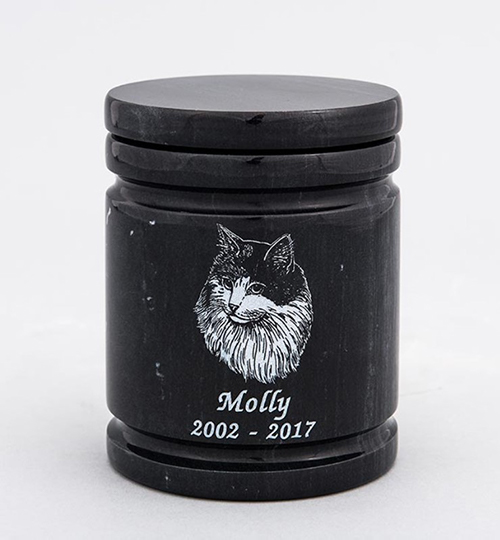 An urn that is made from solid marble has a classic look to stand the test of time. The beautiful marble is naturally quarried, so no two urns are alike.
You can personalize your pet's urn with a name, dates, or even a picture. This size is good for a small dog, cat, or other small beloved pet.
9. Paw Print & Photo Keepsake Urn
Display a photo and a paw print on the front of this adorable urn. The urn's design makes it suitable for all types of pets up to 190 pounds. The size means you can co-mingle your pets' cremated remains together if you want to.
A beautiful urn to present and remember your best friend every time you see it.
10. Engraved Photo Pet Urn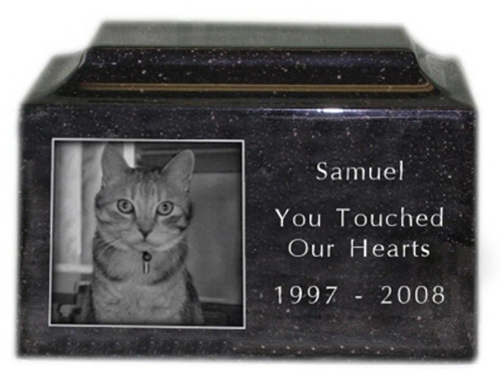 Our engraved granite urn is one of our most popular choices. It will last through time and keep your pet's cremated remains safe for years and years to come.
This highly personalized urn lets you have a picture, name, text, and dates laser engraved into the solid black granite. The classic look will suit any room in your home or office.
Cremation is a very popular choice for Americans regarding their adored and pampered pets. It's a wonderful way to always keep your little best friend with you.
Losing a pet is akin to losing any loved one. We grieve for our loss, whether it's a dog, cat, reptile, or any other beloved creature. Help yourself recover by learning how to grieve well.
Read Next: Everything You Need to Know About Pet Cremation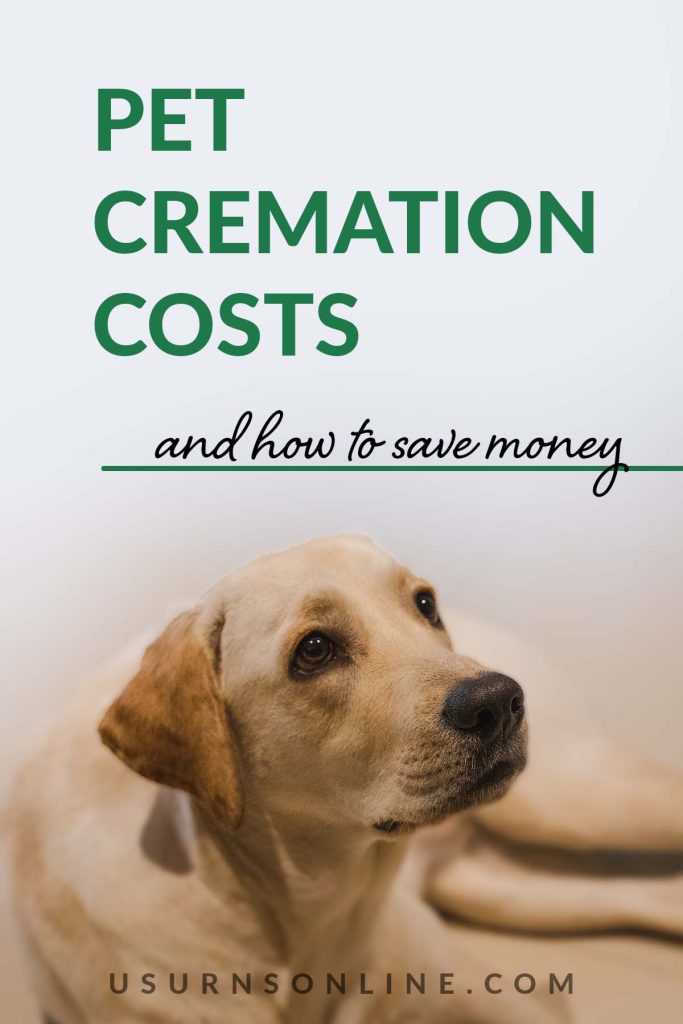 Karen Roldan has been in the funeral industry since 2006, and a licensed funeral director and embalmer since 2008. She is currently licensed in the states of Indiana and Pennsylvania.
She attended Worsham College of Mortuary Science in Wheeling, IL, and graduated with an associate degree in Mortuary Science.
Karen enjoys wring about the funeral industry because her passion is helping families in their deepest time of need. She feels being a funeral director is a calling and she is proud to fulfill this role.
Karen is a wife and the mother of four sons. She, her husband and their youngest son call Pennsylvania home.