The 21 Best Funeral Songs for Grandpa is part of our series covering the best and most popular songs for funerals. Read the main article here. You will find a list of the top 100 funeral songs, music by genre, and much more. Below, we expand on the best songs for your grandpa.
Grandfathers hold a special place in our hearts. From the time you were little until now, he has always been there, cheering you on wherever you are in life's journey. Because the bond you have with your grandpa is strong, it goes without saying that when the time comes for you to say goodbye to him, the pain is very real, and it is very deep.
Your grandpa raised your father or your mother along with your aunts and uncles. He may have even raised you. He was such a strong, yet loving figure in your life, and now it is up to you to pick a playlist for his funeral.
Where do you even begin to look? What songs could possibly come close to honoring his life and the legacy he leaves behind?
Well, you have come to the right place.
We have compiled this list for you, featuring 21 great funeral songs for grandpa. These songs will help you find the perfect tracks for his service. No matter what his personality was, and whether he enjoyed country music, hymns, golden oldies, classic gospel tunes or classic rock, this list has a little bit of everything.
Our website is supported by our users. We sometimes earn a commission when you click through the affiliate links on our website. See our privacy policy & disclosures for more information.
TOP 21 FUNERAL SONGS FOR GRANDPA
Songs appear in alphabetical order by title.
Ain't No Mountain High Enough by Marvin Gaye
Believe by Brooks and Dunn
Bridge Over Troubled Water by Simon and Garfunkel
Danny Boy by Celtic Woman
Free Bird by Lynyrd Skynyrd
Grandpa by Justin Moore
Hello Again by Neil Diamond
How to Say Goodbye by Michael W. Smith
In Color by Jamey Johnson
It Is Well With My Soul by Selah
Live This Life by Big and Rich
My Way by Frank Sinatra
Spirit in the Sky by Norman Greenbaum
Sunshine on my Shoulders by John Denver
Take My Hand, Precious Lord by Elvis Presley
Tears in Heaven by Eric Clapton
To Be by Blue October
We'll Meet Again by Vera Lynn
What a Wonderful World by Louis Armstrong
When I Get Where I'm Going by Brad Paisley ft. Dolly Parton
You Raise Me Up by Josh Groban
Please see below for descriptions of each of the songs listed above, along with video/audio clips and options to download or purchase.
1. Ain't No Mountain High Enough by Marvin Gaye (1967)
First up we have this upbeat tune, recorded by Marvin Gaye and Tammi Terrell in 1967. A song familiar to those both young and old, Ain't No Mountain High Enough is the perfect song for grandpa's funeral. The Motown vibe is ideal if he was of a happy-go-lucky nature or would have wanted his service to be anything but sad.
This classic song offers you, as a grandchild, a sense of joy in knowing that nothing will ever separate you from the love your grandpa had for you, and you for him.
2. Believe by Brooks and Dunn (2003)
Featured on their album Red Dirt Road, Believe by country music duo Brooks and Dunn conjures up images of simple life in the country, old friends, and finding comfort in happy memories after learning that someone who was close to you your whole life has passed away.
There are Christian references in this beautiful country song; it serves as a reminder that death is not the end. If that reminds you of your grandpa, this song may be the perfect choice for his funeral.
3. Bridge Over Troubled Water by Simon and Garfunkel (1970)
Ranking number 48 on Rolling Stone's 500 Greatest Songs of All Time, Bridge Over Troubled Water could easily rank in any top list of funeral songs, especially those for grandpa.
The comforting lyrics and signature clear, calm vocals of Art Garfunkel illustrate a beautiful reminder that those we lose are still with us, guiding us through both the happy and difficult times of life.
4. Danny Boy by Celtic Woman (2005)
English lyricist Frederick Weatherly wrote this Irish folk ballad in 1913. Set to the olden tune of "Londonderry Air," Danny Boy has been made popular throughout the decades by many famed artists, including Bing Crosby, Andy Williams, Patti LaBelle and many more. Most recently Celtic Woman covered it with a more traditional and classical air.
Danny Boy does justice to all the feelings of losing someone very dear, missing them greatly, and visiting them at their place of rest throughout the years. The final verse looks forward to the day that you are united once again.
5. Free Bird by Lynyrd Skynyrd (1973)
Free Bird is another one of those more upbeat tracks that will be perfect for your grandpa's funeral, especially in the case that he was a classic rock fan. It is easily recognizable, so don't be surprised if you hear those around you start singing along to it!
If your grandpa was a carefree spirit, outgoing, and someone who never met a stranger, this track may be the perfect song to play at his funeral. Just be aware the full version is over nine minutes long!
6. Grandpa by Justin Moore (2009)
With his signature twang, country singer-songwriter Justin Moore sweetly captures the essence of a grandfather country born-and-raised in this 2009 release. Choose this song for the funeral if yours was a simple man who found his happiness and pleasures in the simple life.
7. Hello Again by Neil Diamond (1980)
World-renown musician Neil Diamond takes a break from his usual soft rock style and goes for a gentler, yet still powerful, melody in Hello Again. Other artists, including Celtic Thunder, have made it popular since its release almost four decades ago.
With his smokey, soulful vocals, Diamond describes missing someone deeply and just wanting to talk with them once more in Hello Again. This song was featured in the 1980 film "The Jazz Singer."
8. How to Say Goodbye by Michael W. Smith (2006)
How to Say Goodbye by Christian artist Michael W. Smith could be about saying goodbye to anyone you love. It could be a goodbye to a child growing up and going off to college, to a daughter getting married, or to a sibling moving out of town. The beauty of this song is that it could easily be about saying goodbye to grandpa too, especially if you took care of him leading up to his final days.
9. In Color by Jamey Johnson (2008)
This country tune by Jamey Johnson is one of the more moving tracks to make it to our list of 21 best funeral songs for grandpa.
In this song, a child speaks with his grandfather about old black and while photos he has come across, and learns the story behind each of them. In Color may be especially relevant in the case that your grandpa served in the military.
10. It Is Well With my Soul by Selah (1999)
It Is Well With My Soul is a classic hymn that has been sung in churches for well over a hundred years. Christian musical group Selah brought new life to the tune with this 1999 release. Selah's version includes a lovely prelude sung in the central African language of Kituba.
Originally penned in 1876 by Horatio Spafford following a series of painful and traumatic personal events, It Is Well was set to a melody composed by musician Philip Paul Bliss and the rest is history. The song encourages us to trust in God even in the most difficult of times. This assurance can bring the believer true peace, even while mourning the loss of a loved one.
11. Live This Life by Big and Rich (2004)
Country duo Big Kenny and John Rich released Live This Life in 2004 as the final track of their album Horse of a Different Color. The song provides a gentle melancholy as well as powerful lyrics, a marriage that provides just the right amount of emotion to make it a good choice for grandpa's service. The angel imagery and other religious themes remind you that you can always find hope, no matter what else is going on in your life.
Fun fact about Live This Life: The female vocals heard in the background of the song are those of country singer Martina McBride.
12. My Way by Frank Sinatra (1969)
Frank Sinatra's 1969 version of My Way was translated from a French tune, Comme d'habitude. Claude Francois and Jacques Revaux had composed the original just a couple of years prior. Canadian musician Paul Anka fell in love with the song and persuaded Sinatra to cover it.
My Way tells of a man's arrival to the end of his life, and his hope that his loved ones will not be grieved over his passing because he lived his life just as he wanted to.
13. Spirit in the Sky by Norman Greenbaum (1969)
Here is another great tune for all those grandpas out there who were big classic rock fans! Norman Greenbaum's Spirit in the Sky offers the listener a happy, upbeat feeling.
This is a great jam if you want to stay away from the slow, sad songs often heard at funerals. It's ok to bring mourners out of their sadness, at least for a little while, to celebrate and remember with joy the vibrant man your grandfather was.
14. Sunshine on My Shoulders by John Denver (1971)
Are you looking for a happy song, but one that is not too upbeat like those mentioned above? That is a fine balance, and this song fits the bill.
Sunshine on My Shoulders provides a simple look at love and what it means to wish the best for someone. Folk rock legend John Denver brings this beautifully simple tune to life with his earthy vocals.
15. Take My Hand, Precious Lord by Elvis Presley (1957)
Of the many classic gospel songs covered by Elvis Presley, Take My Hand, Precious Lord is definitely one of the earliest he recorded. As such, the song maintains an authentic vintage vibe perfect for your grandfather.
With lyrics originally penned by the Reverend Thomas A. Dorsey, this old hymn reminds the believer that the Lord offers continuous guidance, both to us who are alive and to those he has already called home.
16. Tears in Heaven by Eric Clapton (1992)
Eric Clapton wrote this song following the tragic death of his young son in 1991. In it, he chronicles what it's like to grieve the loss of his child every day. At the same time he knows that he'll see him again in heaven, where tears will be no more.
Even though Clapton wrote this song for a child, you can easily use it to honor anyone who was loved and lost, including a grandfather.
17. To Be by Blue October (2013)
Texas rock band Blue October released To Be as the final track on their 2013 album Sway. The lyrics begin towards the end of the song, and they are spoken rather than sung. The words talk about allowing God's will to work out how it will, and are often spoken during AA meetings. To Be may be used as an appropriate tribute for the man who had overcome an addiction of any kind.
18. We'll Meet Again by Vera Lynn (1939)
One of the oldest recordings on our list, We'll Meet Again was penned by Ross Parker and Hughie Charles. British singer Vera Lynn recorded this standard version in 1939.
Released just as the horrors of World War II began to unfold, this big-band era classic became an anthem of sorts to honor all those who went away to war and never made it back home to their families. It is an ideal choice for the grandfather who served in the military.
19. What a Wonderful World by Louis Armstrong (1967)
This song is perhaps the happiest one to make it to our list of funeral songs for grandpa. It's considered a timeless classic, beloved by every generation since its debut in 1967. Louis Armstrong's What a Wonderful World reminds us that life is beautiful and will always go on.
20. When I Get Where I'm Going by Brad Paisley ft. Dolly Parton (2005)
When I Get Where I'm Going is may be the most perfect country song to honor grandpa. The song does just that with comforting lyrics and the harmonious croons of Brad Paisley and Dolly Parton.
This has been a popular choice for a funeral song since it release in 2005. Brad and Dolly sing about looking forward to the day when they will be reunited in heaven not only with a grandfather who has passed, but also with the Lord.
21. You Raise Me Up by Josh Groban (2003)
Featured on his second studio album Closer, You Raise Me Up is one of Josh Groban's most popular songs to date.
Originally composed by European duo Secret Garden in 2002, Groban's version has become a popular choice for funerals. The comforting vocals and uplifting lyrics make it ideal to honor grandpa.
---
This concludes our list of the 21 Best Funeral Songs for Grandpa. It is our hope and prayer that you have found some inspiration here as you search for the perfect tracks to play at your grandfather's service. At the very least we hope that you haven taken some personal comfort as you browsed through our list.
Still looking for memorial-themed songs? We have an extensive list of the best funeral songs of all time. Check out ultimate list here.
Pin It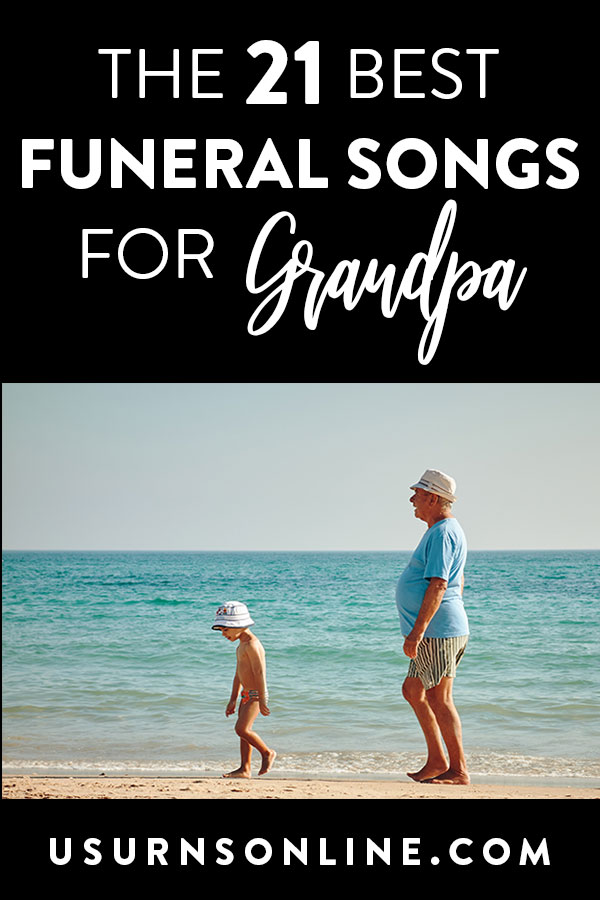 Aubrey is a lifelong writer who has served in the funeral industry since 2016. After graduating from Dallas Institute of Funeral Service, she knew she wanted to continue to serve families through her writing, but didn't know how.
Soon after, Aubrey experienced a "lightbulb" moment and started her eulogy writing business, Eulogies by Aubrey, in 2019.
Aubrey has written professionally since 2012, covering not only funeral-related topics and gift trends, but also for TV guide listings, as well as legal topics. She began writing for US Urns Online in 2019.
Aubrey's work has been featured in Huffpost, Coming of Age Magazine, and 1800Flowers.com. Increasingly interested in prenatal and postpartum mental health, as of 2023 Aubrey is a trained and certified birth and bereavement doula (SBD), and is currently studying toward her degree in Health Science. She also holds additional certifications in Cremation Arrangement (ICCFA) and Burial at Sea (NEBAS).