Today we are going to look at the 21 best jazz funeral songs.
Few genres of music can carry the emotional and sentimental impact that jazz does. Often considered "America's Classical Music," its beloved bent or "blue" notes express melancholy in an unparalleled manner, while its forward momentums can brighten and uplift the mood unlike any other.
Jazz is all about taking something shared (like loss or sorrow) and making it into something personal, speaking to the heart of the listener. And speak it surely does.
Whether the one who has passed was a musician themself, an avid listener of the genre, or you just find it comforting and soothing to your soul, jazz is a common choice for many memorial services. We've gathered this list of timeless classics and favorites to make choosing the right tracks an easy, enjoyable process.
21 Best Jazz Songs for Funerals
Our website is supported by our users. We sometimes earn a commission when you click through the affiliate links on our website. See our privacy policy & disclosures for more information.
1. Blue in Green by Miles Davis (1959)
A simple but evocative melody, "Blue in Green" is a classic which gets its title from a type of melancholia by the same name. It describes that sudden feeling of sorrow or nostalgia during a time that should be happy.
Feeling "blue" in a "green" time of prosperity and joy, often due to loss or tragedy.
2. What a Wonderful World by Houston Person (2004)
This beautiful tune is well recognized by all for its positive and sweet outlook, and this particular rendition is defined by calm and nostalgic feelings. Think back on all of those wonderful times spent in this wonderful world with those we love.
3. Dear Lord by John Coltrane (1970)
Dear Lord is a simultaneously upbeat and mournful tune. Released posthumously, this track revealed a softer, more emotional side to Coltrane's work, and that is evidenced well in this lovely song.
4. Everything I Wanted by Billie Eilish (Jazz Remix by Illuid Haller) (2020)
This captivating remix of Eilish's "Everything I Wanted" is equal parts soothing and haunting. Carrying the same emotional impact of the original song, it encompasses that desire to take comfort in our loved one's presence even if it's just in our dreams.
Related: Modern Funeral Songs
5. Here's That Rainy Day by Frank Sinatra (1959)
Frank Sinatra's voice is just the embodiment of longing on tunes like this. Sorrowful yet sweet, Sinatra speaks of that day we all wish would never come. The moment when love feels like a cold, rainy day after our dear one is gone.
6. Peace Piece by Bill Evans (1958)
Living up to its title, "Peace Piece" brings such strong feelings of calm and serenity. A piano ballad, the lilting tune is breathtakingly beautiful with undertones of sadness.
Evans was well known in his lifetime to be able to communicate emotion through his playing, and this piece is no exception.
7. Ev'ry Time We Say Goodbye by Ella Fitzgerald (1944)
Few individuals can communicate with their voices the way Ella Fitzgerald could. This beautiful classic carries with it so many of the emotions we go through when we have to say goodbye. It's as though a part of our own soul goes with our loved one.
8. If Ever I Would Leave You by Stan Getz (1963)
A lovely, swelling piece, If Ever I Would Leave You is short, but so very sweet. It brings to mind all of the seasons of life lived, loved and enjoyed by the one we've lost. Timeless and beautiful.
9. Bye and Bye by Louis Armstrong (1959)
A cheerful and upbeat tune, Armstrong's Bye and Bye speaks of the day we'll be reunited with our loved ones in the "sweet by and by." What a wonderful, happy reminder to look forward to that bright day.
10. Round Midnight by Ella Fitzgerald (1964)
How often we experience this type of sadness after a loss. Daytime can be full of distractions and busyness to keep our minds occupied, but once night falls we're left with our longing feelings. Ella's beautiful expression of this is so relatable and intimate.
11. Moon River by Sarah McKenzie (2014)
This beautiful, modern rendition of the timeless classic delivers a sweet, somber message of longing. We often wish to follow the ones we've lost, but are reminded that there is indeed "a lot of world to see" still and they'll be waiting for us just around the bend.
12. Lay me Down by Sam Smith (Sax Cover by Jonny Crane) (2020)
This gorgeous saxophone cover of Sam Smith's Lay Me Down more than does justice to the original recording. Maintaining its sorrowful tone, Crane's interpretation is both powerful and moving.
13. Tenderly by Chet Baker (1956)
Tenderly is a soft, emotional tune that conjures up warm feelings of nostalgia and sweet remembrance. The gentle singing of the trombone is so comforting and seems to almost embrace the listener.
14. Love is Here to Stay by Tony Bennett & Diana Krall (2018)
Tony Bennet was the voice of an era, and it's very clear why in this heartwarming ballad. Love is Here to Stay is a strong reminder that no matter what happens in the course of life, and death, love will remain strong and true when we continue to cherish it.
15. So What by Miles Davis (1959)
So What is a relatively simple, yet groovy modal jazz tune. Miles Davis, known as the greatest jazz artist of all time, works his magic on this simple track to make it a timeless masterpiece and a favorite of any jazz aficionado.
16. Just a Closer Walk with Thee by Louis Armstrong (1960)
Armstrong's powerful rendition of the beloved hymn Just a Closer Walk with Thee is delivered as a prayer more than anything. Moving and reverent, it pays homage to the spirituals of the past while blending with the soulful jazz Louis was known for.
Related: Christian Funeral Songs
17. Reflections in D by Duke Ellington (1953)
Duke Ellington's Reflections in D is one of the most iconic jazz piano ballads of all time. A floating, lush soundscape gives it a dreamy quality and conjures warm feelings of sentiment and nostalgia.
18. Someone You Loved by Lewis Capaldi (Sax Cover by Daniele Vitale Sax) (2020)
Though not originally written as a jazz ballad, this cover of Lewis Capaldi's Someone You Loved captures that quintessential jazz essence via a wonderful saxophone interpretation. All of the soul and power is there in abundance, communicating both love and loss.
19. Last Night When We Were Young by Peggy Lee (1956)
A nod to time's way of passing so quickly, Last Night When We Were Young is a somber, loving reminiscence of days gone too quickly. Lifetimes seem like a blur when we look back, but thankfully we are left with so many beautiful memories.
20. The Lost and Found by Gretchen Parlato (2011)
A modern contribution to the jazz scene, Parloto's The Lost and Found carries with it that floating, drifting feeling we are often left with after a loss. Finding our footing after something so earth shattering can be a difficult but beautiful journey.
21. Dream a Little Dream of Me by Ella Fitzgerald & Louis Armstrong (1950)
One of the most iconic duos of all time, Ella Fitzgerald and Louis Armstrong's beautiful Dream a Little Dream of Me is a sweet, sentimental farewell full of love and warmth. Our loved one may only occupy our dreams and memories now, but they are never far from our hearts.
We may still "linger on here" though our continued love keeps them close.
Read Next: Instrumental Funeral Songs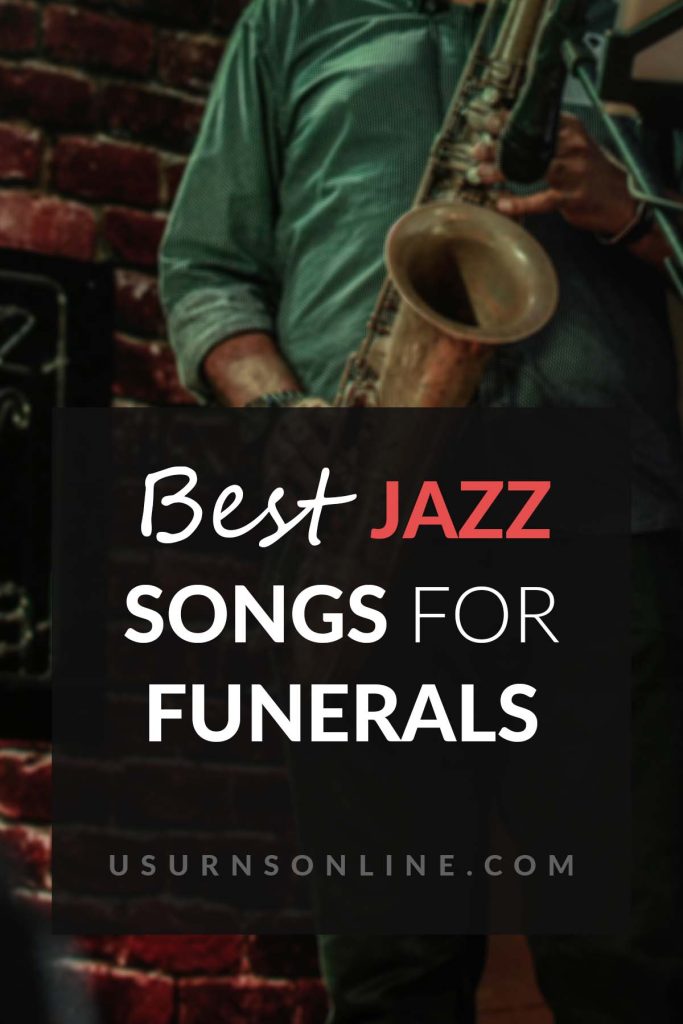 With a heart full of empathy and a desire for supporting those in mourning, McKenna is someone who understands the profound impact of loss and the myriad of emotions that accompany it.
With the attention to detail gained through an M.A. in Fine Arts (Pensacola Christian College), McKenna strives to address the questions that often accompany grief: How do you navigate the intricate emotions that arise when you lose a loved one? What resources are available to assist you in your journey towards healing? How can you find the strength to move forward while cherishing the memories of your loved ones?
With a unique blend of skills in writing, graphic design, SEO, and editing, she is dedicated to crafting meaningful and visually captivating content that resonates with you during times of grief.
McKenna has been writing for US Urns Online since 2022, where she serves as an author and content editor.